Work started early and ended early, so I was left with four-and-a-half hours of free time to explore Kansas City. And since there's probably only ten minutes worth of crap to see here, that would be plenty of time, wouldn't it?
Ummmm... no. Not by a long-shot.
I had been here a couple times before, but assumed there wasn't much going on, so I never really made an effort to see what KC had to offer. Now I know this was a huge, huge, mistake.
And I found this out pretty much by accident.
On a previous trip, I had been to the Kemper Museum of Contemporary Art. This time I wanted to go to the The Nelson-Atkins Museum of Art, which is kind of famous for the three giant shuttlecocks planted in front...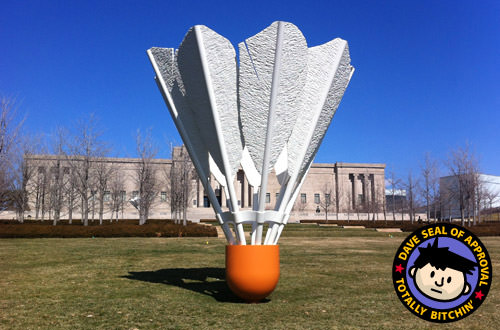 Inside, there is an impressive and varied collection from many different genres. I was particularly impressed with their European works, which has a terrific impressionist room. HIGHLY RECOMMENDED!
---

As I was driving to an art supply store, I saw a sign for the Negro Leagues Baseball Museum. I like baseball, so I thought it might be worth a stop. I did keep my enthusiasm in check, however, because how great could it be? Probably just a bunch of glass cases filled with old stuff, right?
Ummmm... no. Not by a long-shot.
This has to be one of the most impressive shrines to the great sport of baseball that I have ever seen. And I have seen a lot of them. I was completely and utterly blown away by the amazing story they tell, and the incredible way they tell it. It's a beautiful, important, and wholly wonderful museum that manages to do a lot within a little space...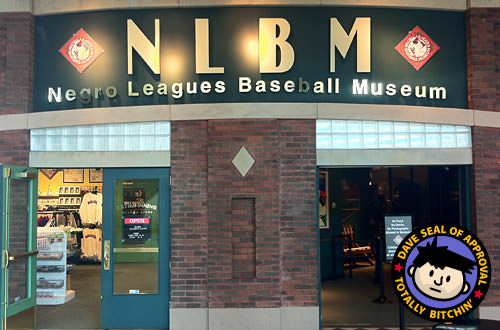 I expected to spend 20 minutes here. I ended up spending an hour. I could have stayed for another. The only down-sides are 1) They don't allow photos and, 2) THEY DON'T HAVE A MUSEUM BOOK YOU CAN TAKE HOME!! This was devastating, because if any museum is crying out for a book, it's this one. I'd have even settled for a book of the quotes that are posted all over the place. Like this utterly messed-up and mind-blowing one made in response to the idea of integrating the Negro Leagues players with the Major League...
"If colored clubs were admitted there would be in all probability some division of feeling, whereas, by excluding them no injury could result to anyone."
— Raymond J. Burr, Philadelphia Pythians Representative
That's right... no injury for anyone! EXCEPT THE BLACK PLAYERS YOU RACIST IDIOT! I swear, a good chunk of the museum is very, very difficult to explore. You get to learn all about the things that these sportsmen went through just to play. Like going without food on road games because there was no place to stop that would serve "coloreds." But lest you think that the experience of being a player in the Negro Leagues overshadows the game of baseball here... it doesn't. There's loads of amazing baseball artifacts, trivia, and stories. Like I said, one of the best baseball museums you'll find anywhere. Best $8 I've ever spent. HIGHEST POSSIBLE RECOMMENDATION!
---

As if having The Negro Leagues Baseball Museum wasn't enough... the same building houses The American Jazz Museum! I enjoy some jazz, but am not the biggest fan of the genre. But... the ticket was only $2 extra when bought with an NLBM ticket, so I went for it. I expected to spend 5 or ten minutes here. I ended up spending a half-hour, and could have easily stayed longer. The place is amazing. Just amazing. It's beautifully constructed with vibrant, exciting interactive displays and plenty of awesome memorabilia. All the greats are here from Ella Fitzgerald and Louis Armstrong to Duke Ellington and Charlie Parker and everyone in-between. Wish I could have taken photos to share, because it's that well done. HIGHLY RECOMMENDED!
---

Looking for something else to do, I spotted a pamphlet for the Kansas City Federal Reserve Bank. They have a visitor center with a massive presidential coin collection plus you get to look inside the vault to see the people working with the money there! SOLD!
Except I took a wrong turn and ended up at something called "The National World War I Museum." Oops. But since I'm here, I might as well take a look. Probably just a bunch of old junk sitting on shelves or something, right?
Ummmm... no. Not by a long-shot.
I have been to a lot of museums around the world. Seriously, a LOT of them. I can tell you right now that this mind-bogglingly amazing museum can stand shoulder-to-shoulder with the very best of them. It is frickin' incredible. AND I HAVE NEVER HEARD OF IT BEFORE IN MY LIFE! I am sick at the thought that the only reason I came here was because of a wrong turn...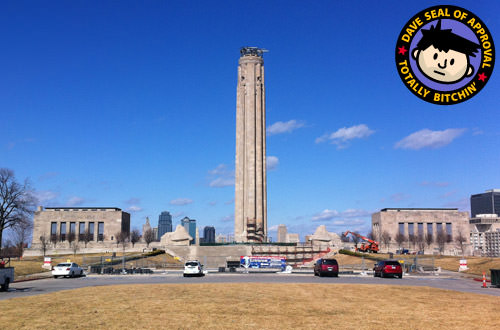 I spent two hours here. I could have spent two days. This museum is the very definition of "destination-worthy experience." You will not only learn a lot about The First Great World War, but you will see a lot of amazing stuff from that era. I first went to "The Main Hall" which is actually underneath that tower you see there. The displays are nothing short of jaw-dropping, both for how beautiful they are and how informative they are...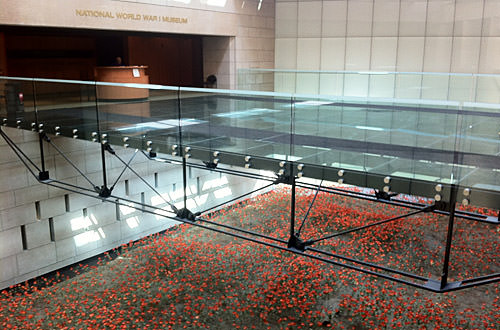 You enter the museum by walking across a glass bridge over a field of poppies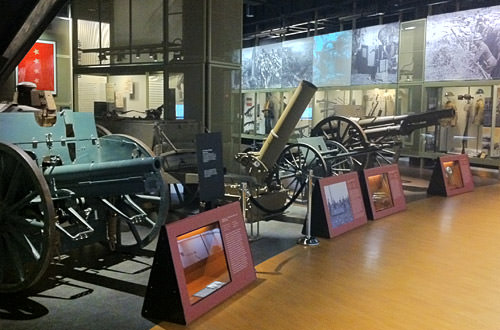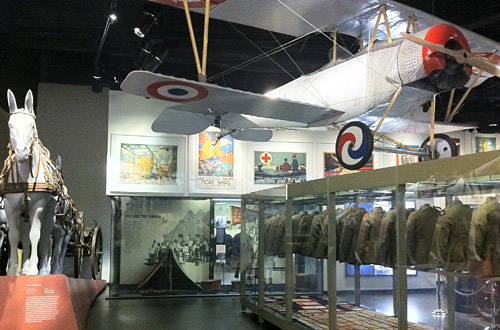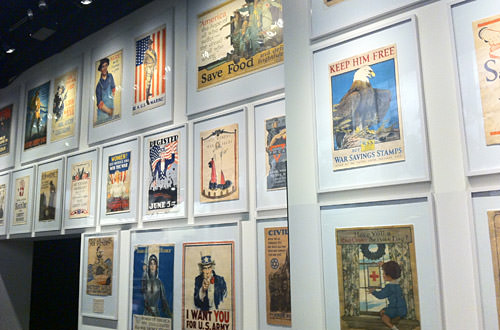 From there I went up "Liberty Tower" to get a view of the city...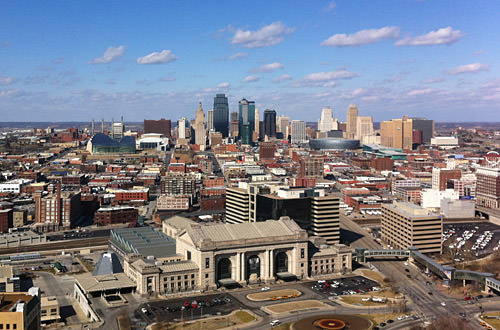 And then I went to the "Memory Hall" exhibits (that's the building to the left of the tower in my first photo)...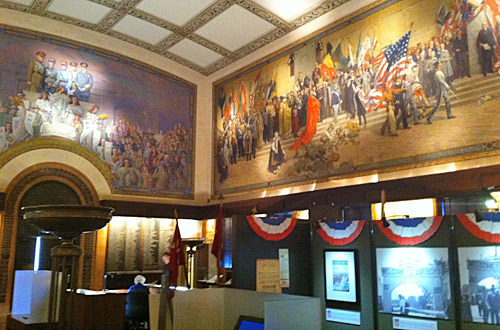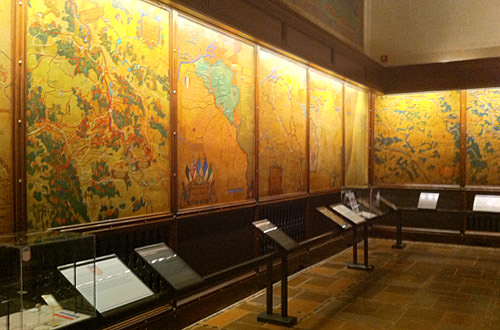 Then I went to the "Exhibit Hall" exhibits (that's the building to the right of the tower in my first photo)...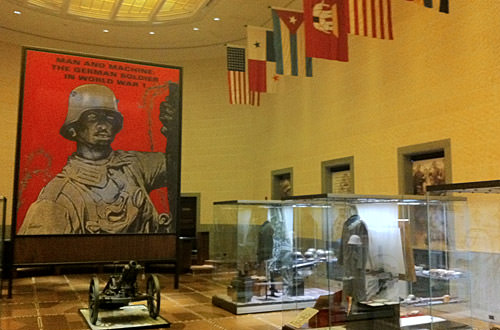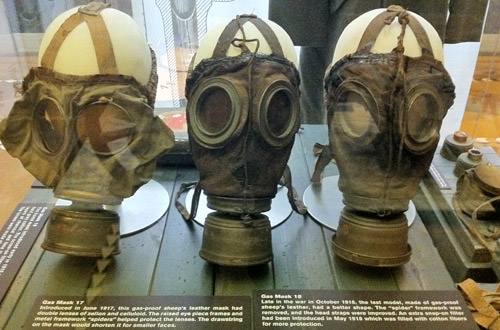 The sheer depth and breadth of the story they tell here still has me reeling. It's truly a world-class museum right here in Kansas City... and you get to see all of it for a bargain-basement price of $6. YES, YOU READ THAT RIGHT, SIX DOLLARS! Just go. Book your plane ticket and go. HIGHEST POSSIBLE RECOMMENDATION.
---

After forcibly tearing myself away from the National World War I Museum, I made my way to my original destination... the Kansas City Federal Reserve Bank Money Museum. It's a small museum, but impressive and fun. The only place you can't take pictures is in The Vault (which is a shame, because the money robots are cool!)...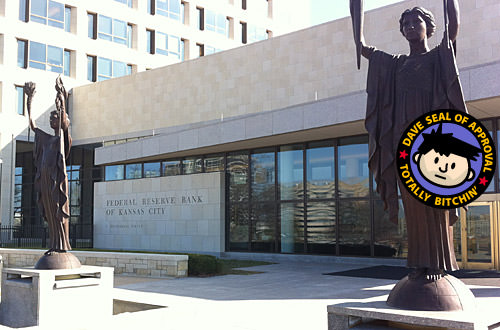 After getting screened at security and going through a metal detector and such, you can walk through the exhibits and see the Presidential Coin Collection... featuring all the coins issued during the terms of all our presidents...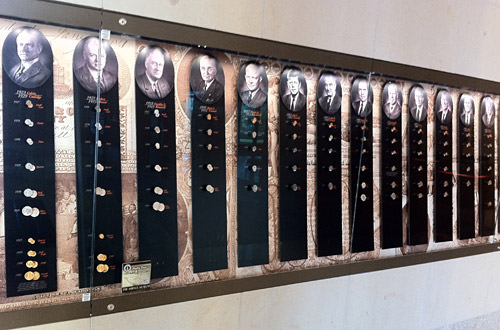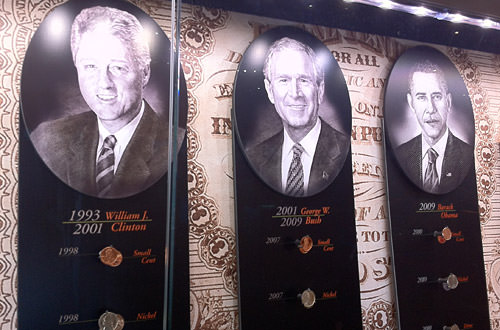 Coins from President Washington all the way to President Obama!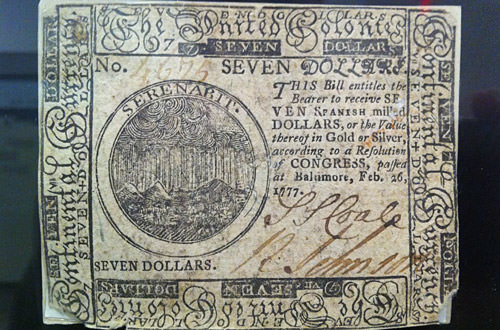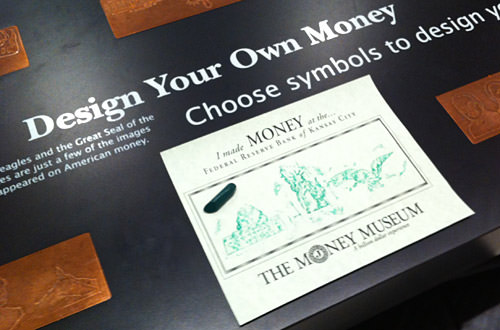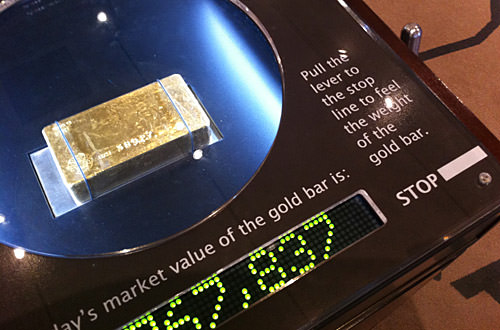 As if all that wasn't enough, they've got a really nice hard-bound souvenir book for just $16 plus a bag of FREE MONEY! Yep! Everybody who visits the museum gets their own bag full of money...
...which has been shredded into the tiniest possible pieces.
But still, pretty cool. And well-worth a visit. HIGHLY RECOMMENDED!
---

After getting caught up with work, I decided to hit one more museum... The Hallmark Cards Visitor Center!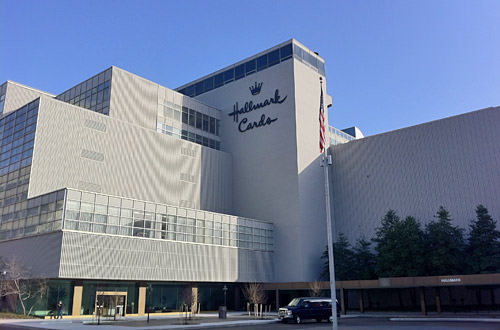 It's not very comprehensive, but gives a decent overview of the company and the stuff they make... from cards and bows to Keepsake Ornaments and gifts...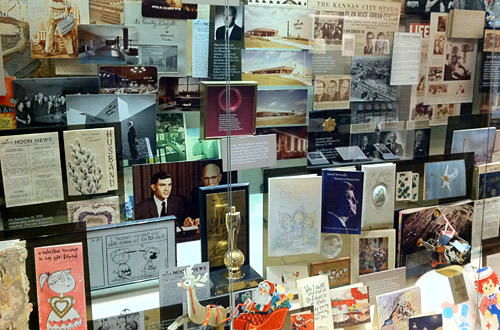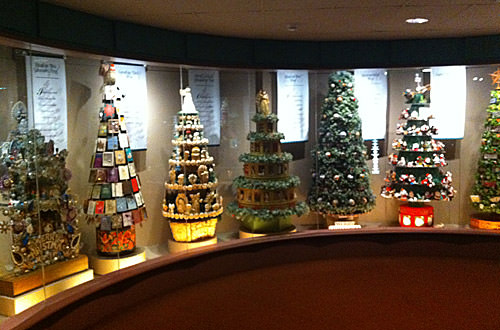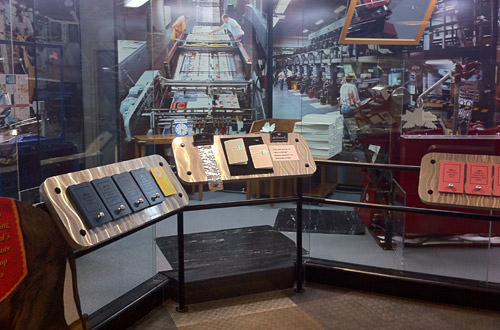 Though my favorite part was the bow-making machine which creates a souvenir you get to keep!
Overall a fun diversion... but not a critical one. I almost wish I would have gone back to the National World War I Museum.
---

And I'm sure I'm just scratching the surface of what Kansas City has to offer the wayward tourist. For example, I know there's a Harley Davidson Museum north of here (though it looks similar to the ones I've already been to in Wisconsin and Pennsylvania).
If only I had more time to see it all.
Anyway... I've got to get back to work now. Hopefully I've done my part to encourage you to take a trip to KC now that you know of some of the really cool stuff that's here waiting for you.