Posted on March 13th, 2020

I live each day in a Benadryl-induced haze so that people don't think my allergies are coronavirus symptoms. That would be bad enough if not for the fact that I keep getting curve-balls thrown at me.
Take this morning, for example.
I worked late, late, late last night and was still dead-tired when my cats came running in after the Alexa alarm for their 7am feeding went off. So I dragged my ass out of bed and made my way past the landmine of cat toys strewn in my path to give them their food and get some household chores out of the way. At 8am I decided to go back to bed for a half-hour nap before heading into the office.
Five minutes after my head hit the pillow, Jake and Jenny were running into my bedroom at top speed. I had no idea what brought that on... until a second later when the yard-care people fired up a thatcher so they could groom the lawn for Spring. The noise was huge, the cats were freaked, and I wasn't going to get any sleep.
Then, at 8:30 the Alexa alarm I set to "wake me up" went off, which got the cats all excited because they thought it was feeding time again when they heard it.
As I was headed to the shower I realized that the thatching noise had stopped and it was quiet... even though I only heard them working on the side of my home and nowhere else. I thought perhaps the thatcher had broke down and looked outside to see if there was a problem.
Oh there was a problem alright...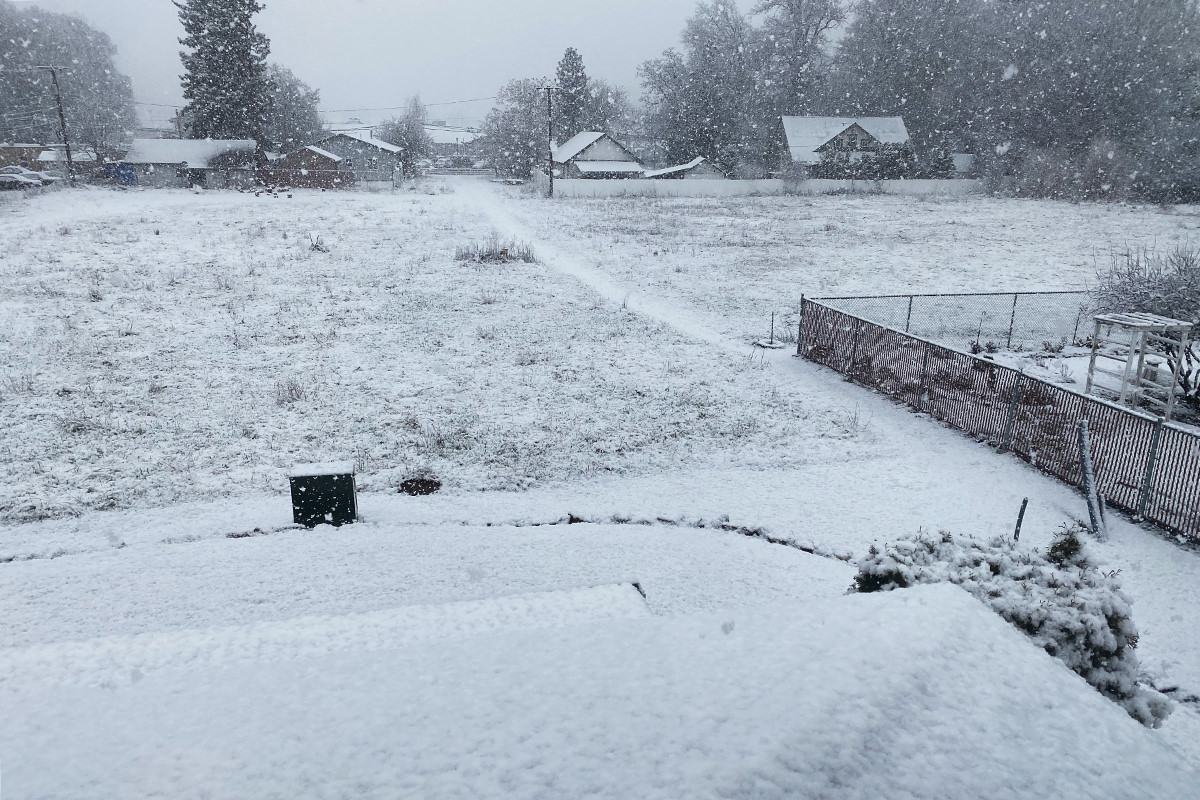 Great.
Might as well go to work then.
My cats were still waiting for their second breakfast when I trudged down the stairs...
Note that Jake is ON THE TABLE WHERE HE KNOWS HE'S NOT SUPPOSED TO BE!
I'm all like "SERIOUSLY? YOU JUST HAD BREAKFAST 90 MINUTES AGO!!" But I was feeling sympathetic from the noisy yard work that scared them, so I gave them kitty snacks before heading out the door.
Where I had this greeting me...
Guess I converted my garage into a wood shop too soon?
I am going to try and do as little work-work as possible this weekend so I can get caught up on house-work that's been piling up. Because, just like with the snow that's currently falling, I really don't need an avalanche to bury me.
I'm buried enough.
Posted on December 20th, 2019

Yesterday is was overcast but generally pleasant weather. Then the next thing I know it's snowing. It's snowing a lot. I generally accept that the location I live at is going to be filled with snowy winter days, so it's not the actual snowfall that bothers me. It's the people driving in it.
My five minute drive home took closer to 20 because everybody in Snow Central has forgotten how to drive in the snow. Once I got home, the garbage and recycle cans were put away, Fake Jake got a snack when I checked to make sure his shelter was snow-free, and I shoveled a path for him so he can get to the places he likes to go. Though most of his time was spent sitting on my sidewalk runner waiting for the snow to stop...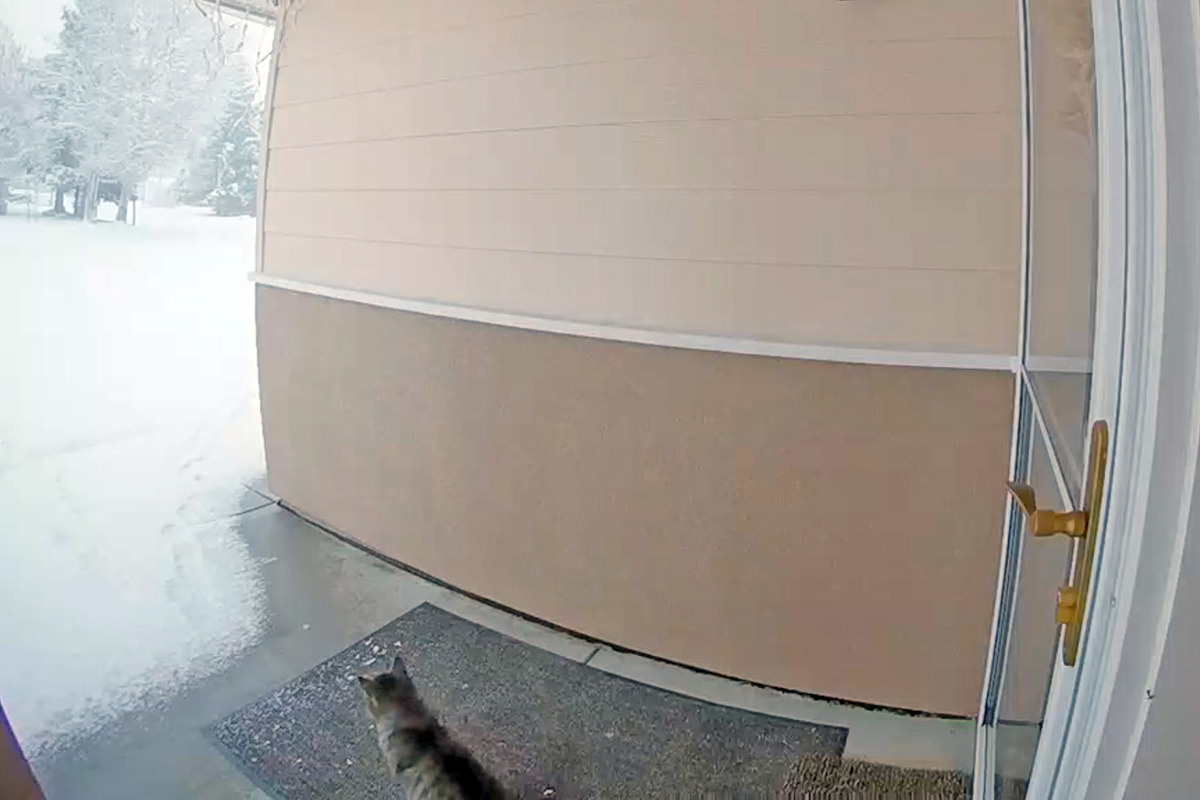 Alas, it was not to stop any time soon and he had to trudge through a little snow to get back to his warm and comfy spot.
A quick look at the forecast said that it would be stopping and turning to rain in the evening, but it never did. It just kept snowing and snowing and snowing.
When I finally turned in at 1:00am, there looked to be a foot accumulated. Which means Fake Jake will be running up and complaining that his path is blocked when I get home tonight. I'm really getting too old for shoveling all the way around my house, so perhaps it's time to invest in one of those "power shovels." I didn't like that they had a power cord and had to be "scooped," but now they have cordless models from Earthwise with wheels that look pretty well-constructed and have decent reviews...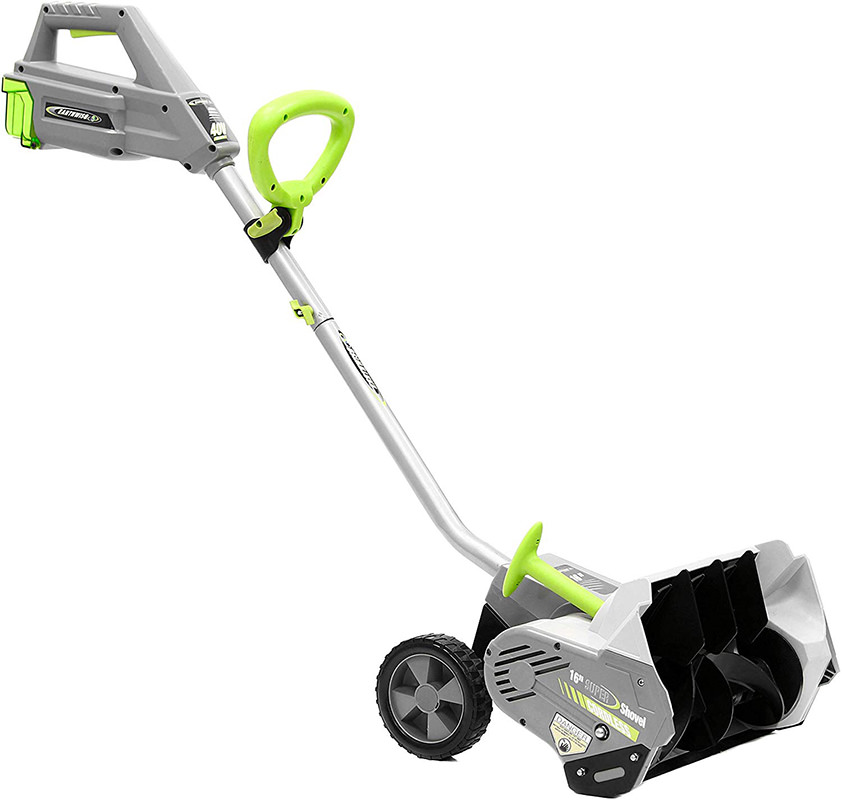 Guess that will be what I'm saving up for in the New Year. Assuming it continues to dump snow like it has been.
The last thing I want is for a cat who knows where I live to be mad at me.
Posted on December 11th, 2019

I have been working day and night to complete a project by my Friday deadline. It hasn't been easy because my brain has turned mooshy and it's difficult to think when you have a mooshy brain.
One consequence of concentrating everything I have on work is that I am completely ignoring the outside world. To be honest, I'm probably better off. When I was flipping through channels so I could get to Hallmark, I landed on some kind of news program discussing some people's desire for a "second civil war" if President Trump is impeached, and that was enough. I mean, come on. He did it. There is overwhelming evidence he abused the power of his office for personal gain and should be impeached... and quite possibly removed. Cases like this is why impeachment exists! And yet... there are people who say this should be ignored because they are so caught up in the non-stop lies of the Trump Administration that they refuse to listen to the truth. Seriously, if President Obama had done even the tiniest fraction of the crap Trump has done, these same people would be calling for him to not only be impeached and removed, they'd want him to be executed. It's complete madness.
But oh well. Such is the world we live in.
Anyway...
I had my nose in my laptop and didn't look outside all night. When I did, I was surprised to see that it's snowing out...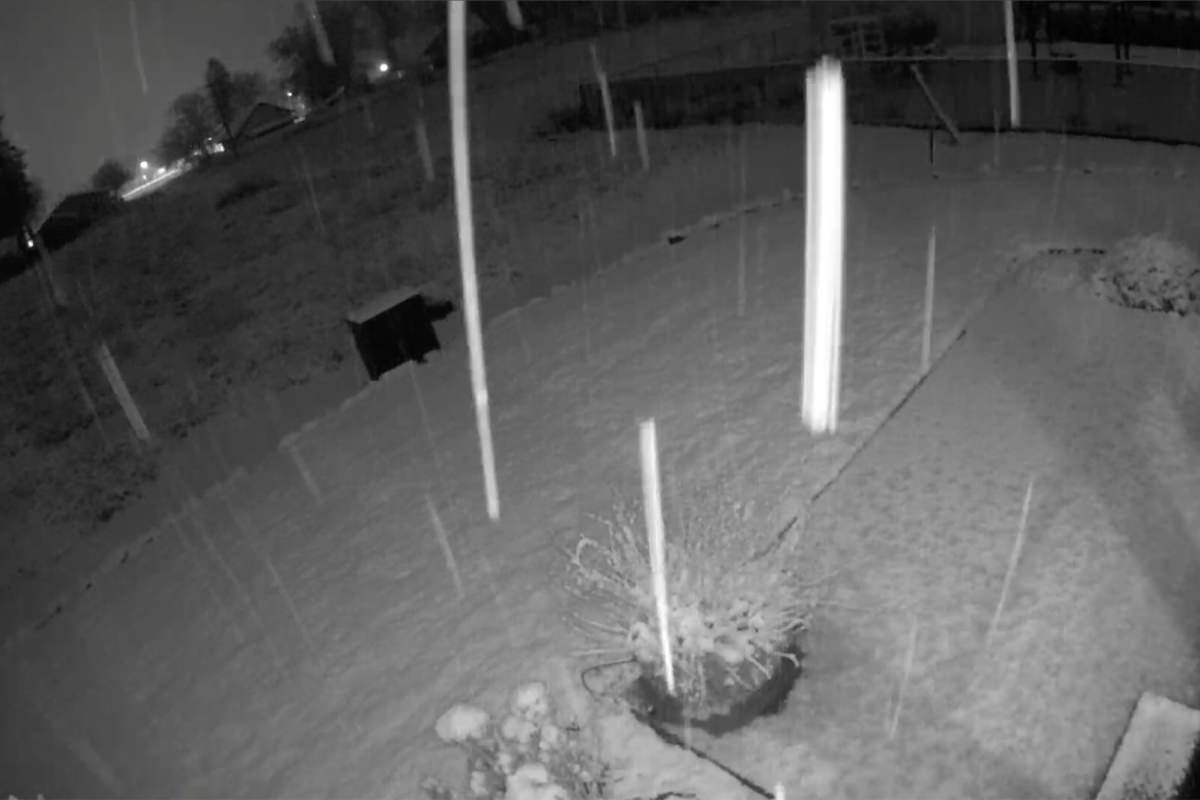 Only time will tell if it will last. Tomorrow's forecast says it will be sunny skies through the afternoon with the temperature gettiing up to 42 degrees... which then has a 70% chance of leading to rain in the evening. In which case, bye bye snow. Personally, I would be happy if the snow didn't stick around and hold off until I'm done traveling on the 31st.
But since when do I get what I want?
Some little kid who is much more pure of heart than I is probably wishing for a white Christmas and we all know who Santa is going to listen to.
Posted on September 30th, 2019

When I drove over the mountains on Saturday the weather was pretty harsh. Snow was really coming down, and it was sticking to the road... in September! Guess it's a good thing I got new snow tires put on, though I would have been okay without them. The snow was evaporating as soon as you drove over it.
Coming back home today promised to be a much different experience because the weather had turned beautiful again...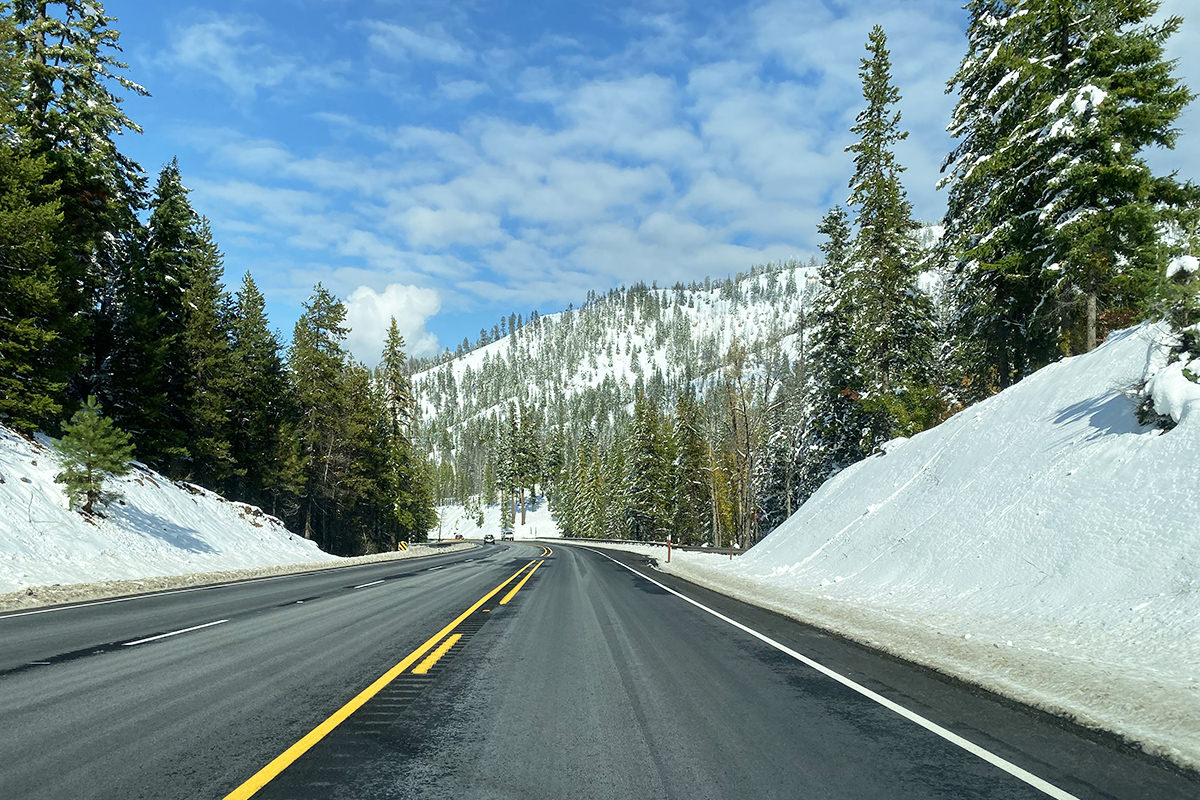 Oddly enough, Washington State doesn't require you to carry chains until November 1st. I've got mine in my trunk already, of course. Last year they ended up being required for a trip over in December, which was the first time in a decade I've had to use them. If this snow keeps up, I'll likely be using them again this year.
Such are the perils of living in a winter wonderland.
Posted on February 28th, 2019

This has been a weird, wacky winter.
To begin with, our snow came late this year. For a while I was worried that we were in for a drought come summertime because there wasn't much of a snow pack in the mountains. After a couple false starts, the snow came down in earnest, and now it's piled up like a "normal" winter here.
Except...
We keep getting warm spells in-between the snowfalls. Warm blue skies will pop up, things will start to melt, you'll think that winter is over... and then it snows again.
Last night as I was watching television there was a rumble coming from the catio. When I looked out the window, I saw that a pile of snow had fallen off the roof, obliterating the path that Fake Jake uses to get to his food and bathroom spot. At first I thought I'd write a note to remind me to shovel it out in the morning... but then I felt bad if poor Fake Jake had to pee in the middle of the night, so I grabbed my snow shovel from the trunk of my car and headed out back to get to work.
Except I couldn't open the door...
Because of all the warm days, the catio screen door was blocked. The water drips off the roof down these massive icicles, forming a pile of ice in front of the door. Making it impossible to open. So instead I had to trudge through snow all the way around the house so I could even get to my patio...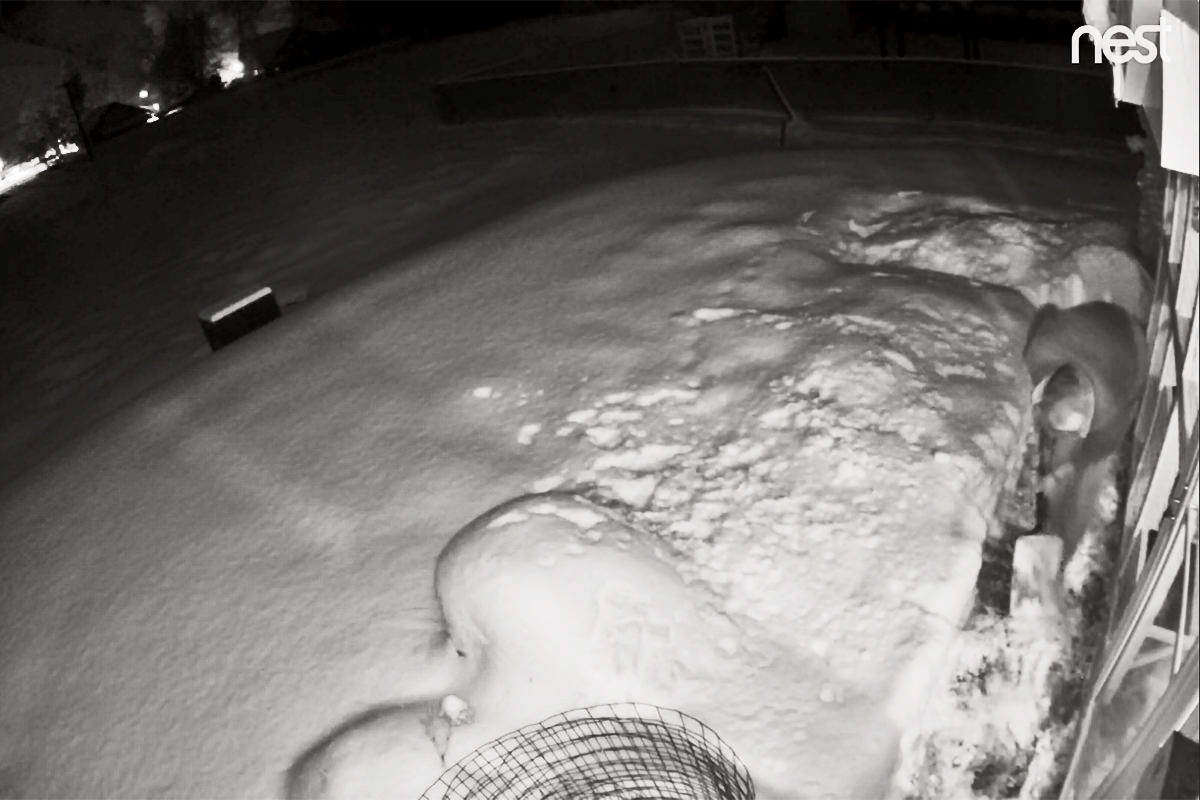 Then I had to trudge back to get a hammer. The icicles were so big that I couldn't snap them off or break them with my shovel. Instead I had to get a hammer and chip away at them. The last thing I want is for Fake Jake to be walking there and have icicles fall and impale the poor guy.
My neighbors probably didn't appreciate my banging away after midnight, but it was all for a worthy cause.
This coming summer I need to work on clearing a pathway under my eaves to make it easier for Fake Jake to navigate in the winter. Right now it's all rocks, which are difficult to walk on, so I need to come up with something different. I also need to see about adding some kind of overhang to my pergola plans so that there's no ice buildup outside the catio. Some kind of snow removal tool in the design would be good too.
Ugh. I hope spring gets here soon so I have time to get everything done that I need to do before next winter rolls around.
Posted on March 1st, 2018

The weather has been weird lately.
Just when you think that Winter is over and Spring us here, it snows. Lately any new snow hasn't been sticking around long... the sun or rain washes it away... but there's still been old snow hanging around.
Until this week, when the last of it finally melted...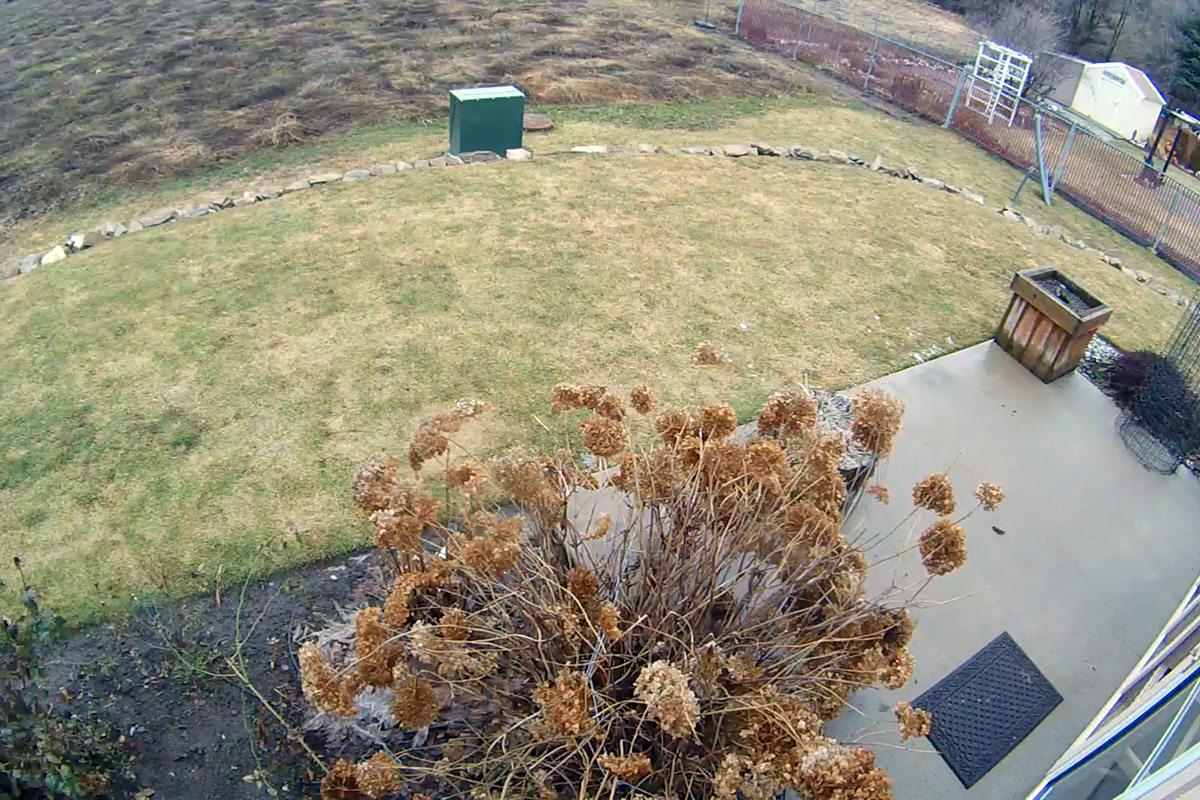 And so... I guess that's that for Winter. At least in my neck of the woods.
Though never say never, because we could end up in a blizzard tomorrow if Mother Nature has other plans.
Posted on January 11th, 2018

Snow is frickin' dumping down today.
I mean really coming down.
I had to drive to The Big City and back for a dentist appointment and ended up regretting that I didn't cancel it. The roads were plowed earlier in the morning, but conditions worsened since then and there's a pretty big accumulation of snow and slush you have to drive through... even on the highway. Also? People are driving like frickin' morons. One person in a small van thought that they would cruise around us cars driving at a SANE speed for the conditions. I watched as they got sucked into the slush and rammed their vehicle straight into the center barricade. I was laughing my ass off as I passed. Maybe I shouldn't have... perhaps the driver had an emergency... but 99 times out of 100, this kind of thing happens to people who get what they deserve for driving stupid. It's just fortunate they didn't take anybody else down with them.
Oh... and on the way back from the dentist I stopped for lunch. As I was getting out of my car, I heard a guy screaming "OH YEAH! FUCK YOU! DON'T SLOW DOWN, ASSHOLE! I DON'T FUCKING CARE! FUUUUUUCK YOOOOUUUU!" which was subsequently repeated all over again.
Turns out he was shoveling the sidewalk and when cars drove by he was getting totally douched in dirty slush water. He was not happy. Didn't help that he was absolutely not dressed for the job in non-waterproof clothing and was probably soaked down to his tookus. Oh well. Live and learn, buddy. Live and learn.
I honestly don't mind winter weather. I've lived in it since I was 5 years old and learned how to drive in it since I first started driving. No, I don't like having to clean snow off my car, but snow is pretty, and I've grown accustomed to having it around town...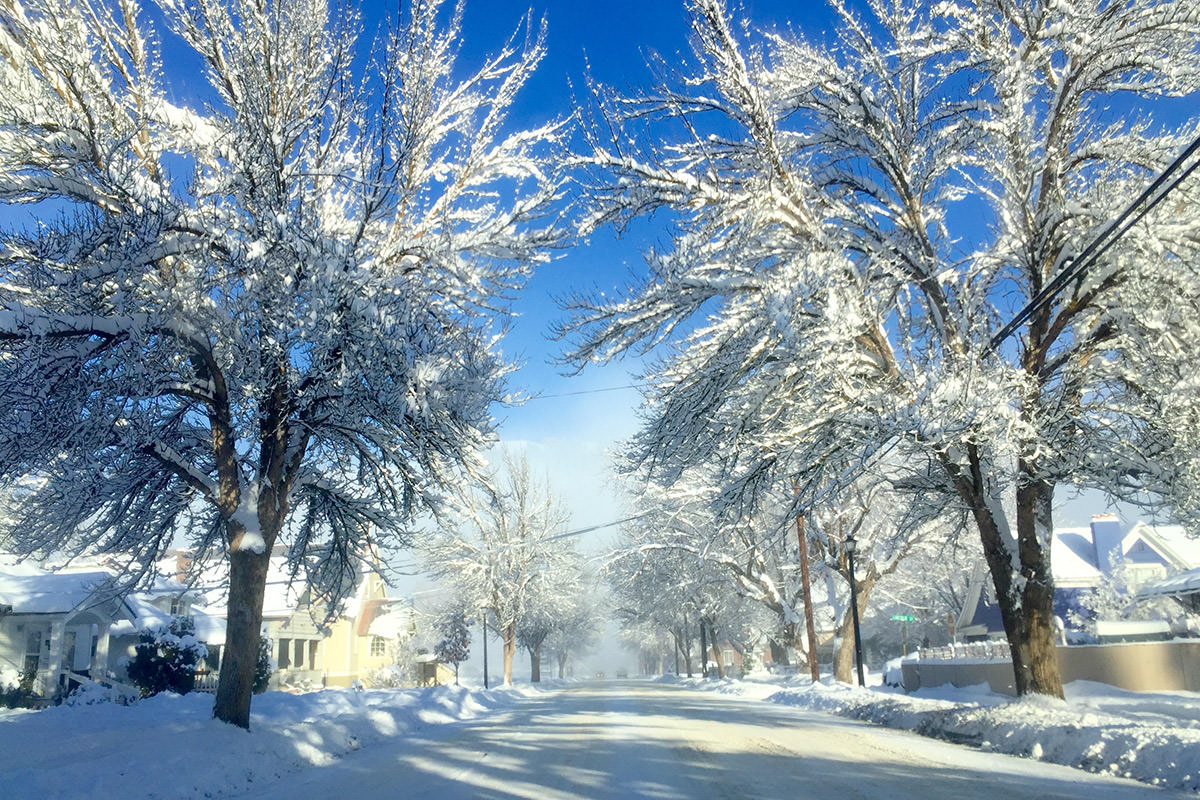 Except...
I usually end up hating it from Day One as well as liking it, because people are stupid assholes.
That's true for most things though.
Posted on November 9th, 2017

I have several trips to make over the mountains in the next two months. Generally, this is not a big deal because the highways department does a pretty good job of keeping the roads cleaned off. If you have winter tires, drive carefully, and take it slow, there's not much to it.
The problem is All The Other People because, unfortunately, the highways department can't keep them cleared off the road.
My drive over this afternoon was fairly typical, with too many people not paying attention and driving like maniacs. Dangerous any time, yes, but with snow and pouring rain? Double danger. And you just know that if anybody ends up getting hurt or killed, it won't be the idiot who is responsible... it will be somebody like me who is trying their best to keep out of their way.
Also fairly typical.
One down, nine to go...
Posted on October 9th, 2017

Yesterday as I was driving over the mountains I noticed that the snow-line had lowered to an alarming degree.
Winter is indeed coming.
And soon...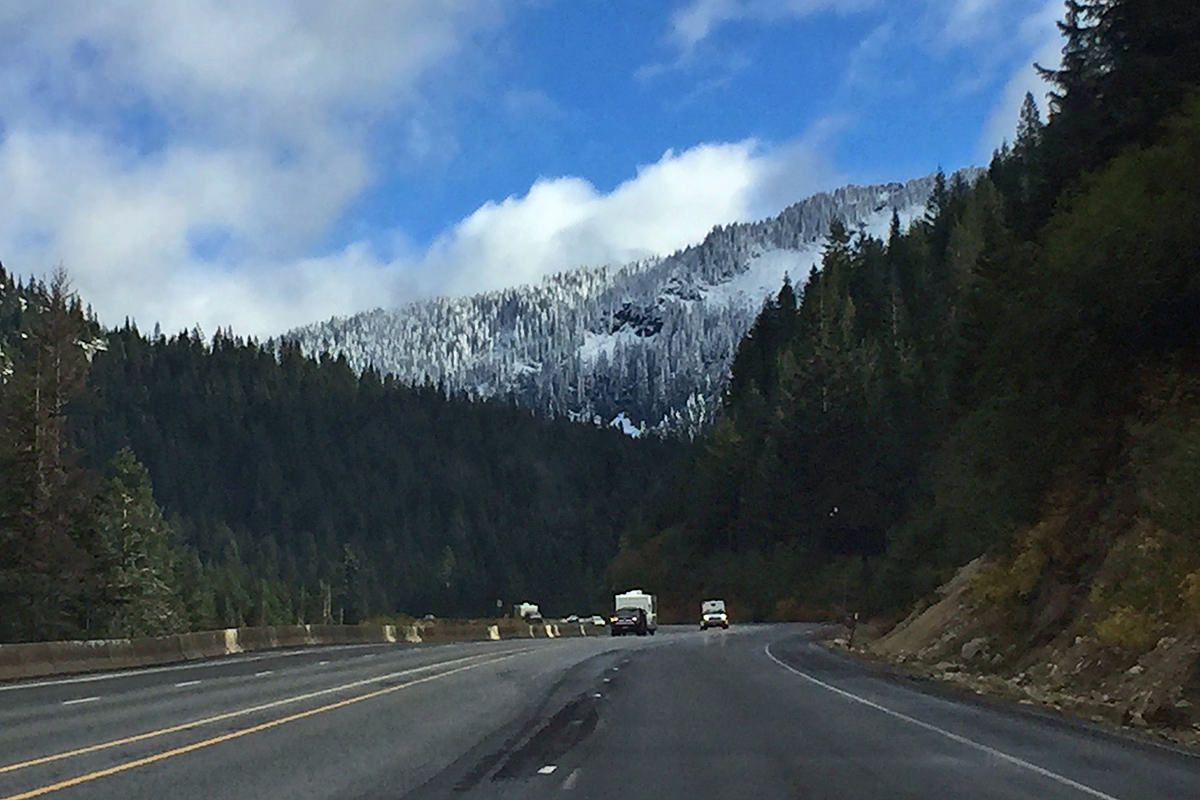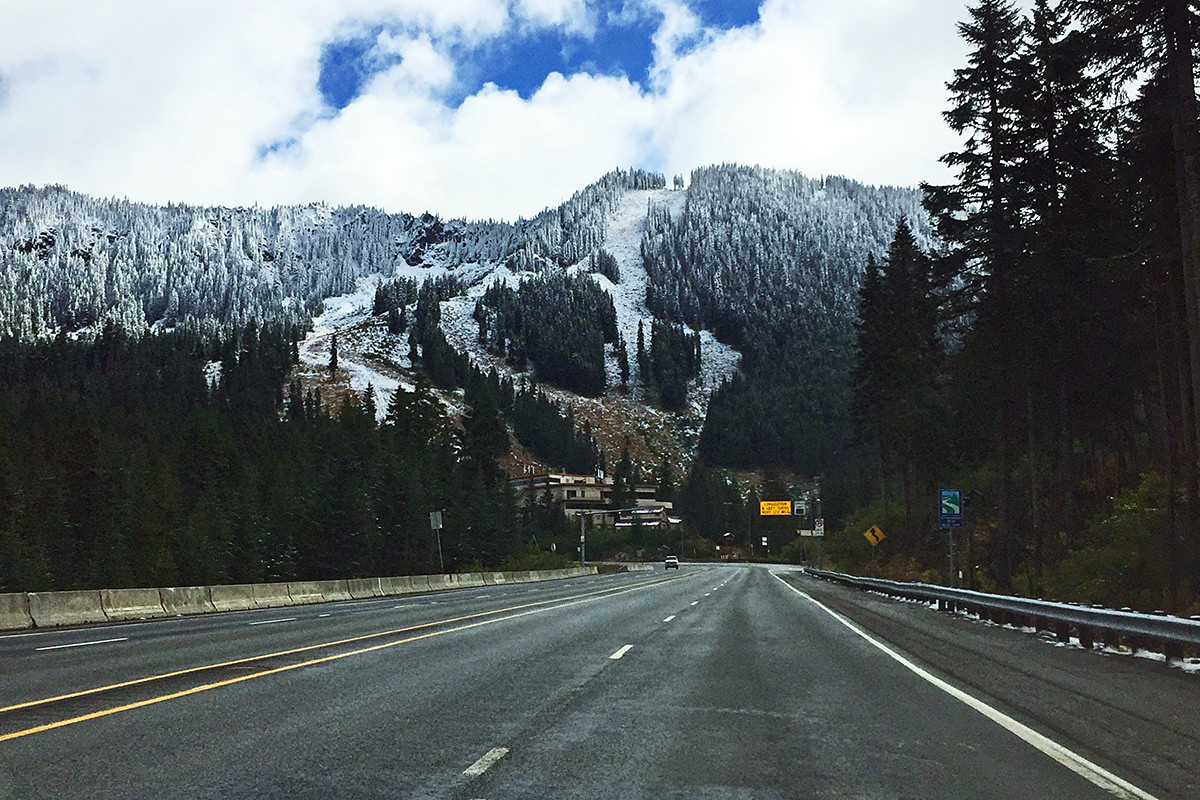 I guess I don't mind so much. But it would be nice if we could at least put off snow at my home until November rolls around.
Posted on February 8th, 2017

And so we're in the middle of yet another winter storm warning.
It's strange. I haven't seen this kind of snow in a long time, and yet... it's still not what it used to be. When I was a kid, we could literally tunnel under it from yard to yard. When my mom was a kid, she could jump off the roof into it. And yet... still a lot of snow.
The pile of snow in my yard is massive. Over five feet tall now. Not all of it is from my driveway though. The neighbors apparently think that all the snow on the street should be piled up in my yard as well. Here's what it looked like on Monday...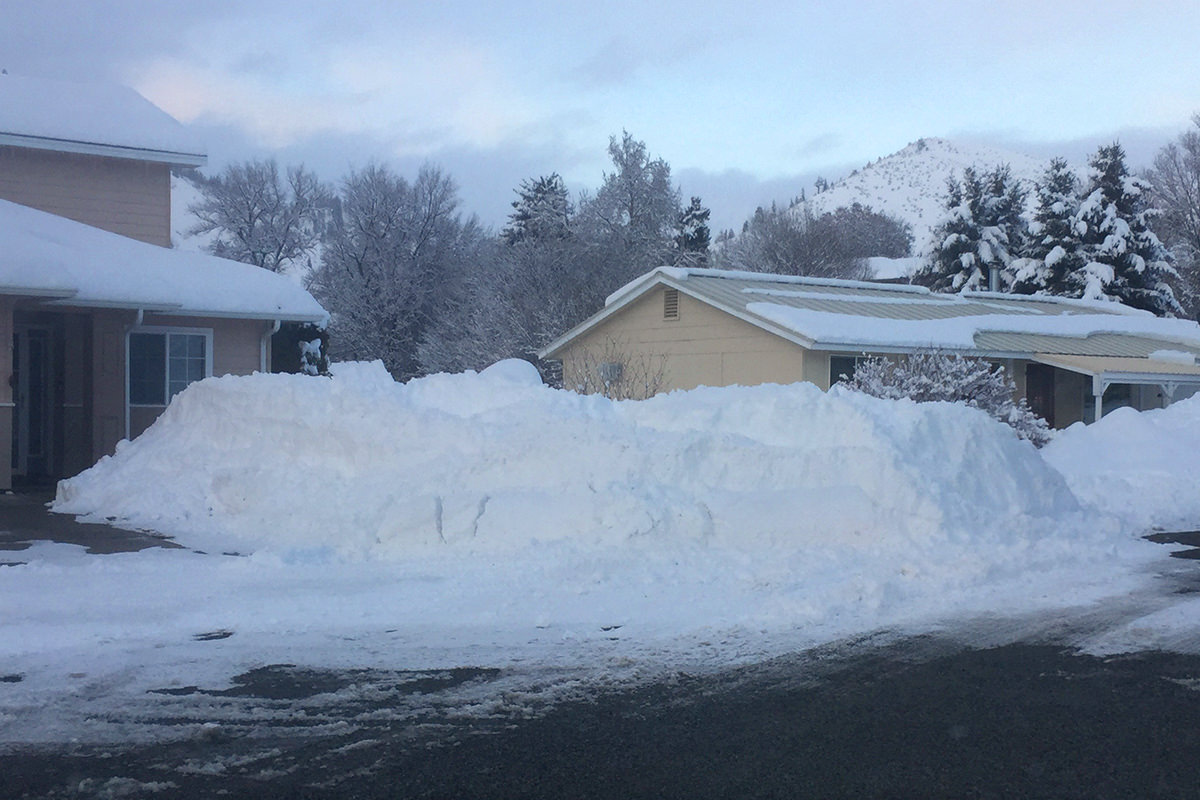 There's probably been a foot more snow since then. Here's the view out my kitchen window...
The cats love it though.
When it's snowing heavy, they're out in the catio batting at the snowflakes as they fall. When the snow spills in through the fence, Jake likes to lick it like a snowcone.
Tomorrow an ice storm is forecast, which is terrific news for driving on already-hazardous roads.
When I came home from work this evening, the streets in my neighborhood had not been plowed. Which means you have to go slow and work your way through. What you don't want to do is stop, because then you run the risk of getting stuck and not being able to start again.
Usually this is no problem. But when I turned onto the street that leads to my street, a woman was out shoveling with her dogs. Dogs that decided to run in front of my car. Needless to say, I was pissed. Control your fucking animals. I slowed down as much as I dared in an effort to work my way around the idiots, and nearly got stuck twice.
So when I turned onto my street and saw another dog out, I decided I wasn't stopping. I was going slow enough that the fucker could just get out of my way. Except he didn't, which led to me laying on the horn and nearly getting stuck again.
Why in the hell do people get a dog and not fence them up or keep them inside so they don't get hurt?
If this happens again and I end up getting stuck, I'm going to track down the owner and THEY can come shovel my car out of the street. I ain't doing it.
Welcome to my winter wonderland.