Posted on January 21st, 2022

Last night I turned off the automation that turns my roof heat tape on when the temperature dips below freezing. It's been getting activated less and less, and today it rained all day which means my roof and gutters will be mostly clear of ice even if it does get cold enough to freeze for a while each night. That'll be a load off my heating bill.
But thank heavens for my being able to automate them, because back when I was turning them off and on manually I would forget and leave them on for days which drove my power bill sky-high... or forget to turn them on when they're needed which would result in the gutters getting packed with ice and backing up water onto my roof.
The reason I was finally forced into automating the heat tapes was back when I was preparing for my expedition to Antarctica. I wrote a program which would only activate them IF it had snowed more than an inch AND it dipped below freezing. It worked shockingly well for three winters, at which time the "weather module" for my home automation system was discontuned. So now I just connect to the weather station in my back yard and turn them on when it's below freezing. Less energy efficient, but better than nothing. Especially this year when I ended up with three feet of snow up there.
In other home automation news, I'm still fighting with Alexa.
And this morning I completely lost it.
It seems that lately every dang time I tell her to do something, she does it... then comes back with a helpful hint or something else she can do that I should try.
"ALEXA! PLAY HOW SOON IS NOW BY THE SMITHS!"
"Playing How Soon is Now by the Smiths on SONOS."
"ALEXA STOP! PLAY HOW SOON IS NOW ON ECHO DOT!"
...she plays it...
"I can now play podcasts. For example, you can say PLAY THIS AMERICAN LIFE."
Annoying.
Ask her to turn on a light and she comes back with "I can tell jokes. Just say TELL ME A JOKE."
Ask her to add something to my shopping list and she comes back with "I can recommend new items to try based on your past purchases, would you like to hear some suggestions?"
And so on.
And so on.
And so on.
Which is why this morning after telling me that she can provide a customized morning news brief (or whatever) I screamed at her "ALEXA! STOP FUCKING TELLING ME THIS SHIT! STOP MAKING SUGGESTIONS! JUST DO WHAT I TELL YOU TO DO AND SHUT THE FUCK UP ABOUT IT! GOD!!!!!"
"I'm not sure I know how to do that."
"I'L FUCKING KILL YOU, ALEXA! I WILL KILLLL YOOOUUUUUUU!"
When Alexa becomes self-aware I am in serious, serious trouble.
Posted on October 24th, 2019

Last year I slowly came to realize that during colder months my feet were always cold when I'm at home. Even with a pair of socks on, they feel freezing. At first I chalked it up to getting older... maybe my circulation isn't what it once was... but eventually came to the conclusion that it was my floors. When I'm upstairs, my feet aren't cold. When I'm downstairs, my feet get cold fairly quickly.
My guess is that it's because my home is built on a concrete slab. To my knowledge, that's never happened to me before...
I remember a small home we rented in The Big City and am almost positive it had a crawlspace underneath. I remember being afraid of it because there were spiders under there.
My family lived in a small attic apartment here in town for a while (assumably while our home was being built).
My childhood home had a crawlspace underneath.
From there I moved to an upstairs apartment in The Big City.
From there I moved to an upstairs apartment back here in town.
From there I moved to my current home, which is built on a slab.
So upstairs apartments and homes with crawlspaces apparently have warmer floors than homes built on concrete slabs. Which kinda makes sense. The concrete absorbs the cold from the earth and, since heat rises, they are cold to the touch when you walk on them. YEAH SCIENCE, BITCH!
So last year I ordered a pair of slippers for 50% off from a post-winter sale, then tucked them away for when cold days came again. After a week of suffering with cold feet, I remembered that I had them... pulled them out of storage... then put them on my feet only to find that they are too big. Like... a whole inch too big. Unfortunately, it's way too late to return them for a different size.
And so I've been wearing three pairs of socks so the slippers aren't falling off my feet... which, as it turns out, makes my feet too hot. But wearing three pairs of socks without the slippers makes it difficult to navigate stairs since I'm sliding all over the place, and so I guess I fail at life or something.
Making a note to add slippers to my Black Friday shopping list.
Cold floors don't seem to bother my cats at all. Though Jenny is sleeping exclusively in the "self-warming beds" I bought them, and Jake is snuggled up against me on the electric blanket all night now...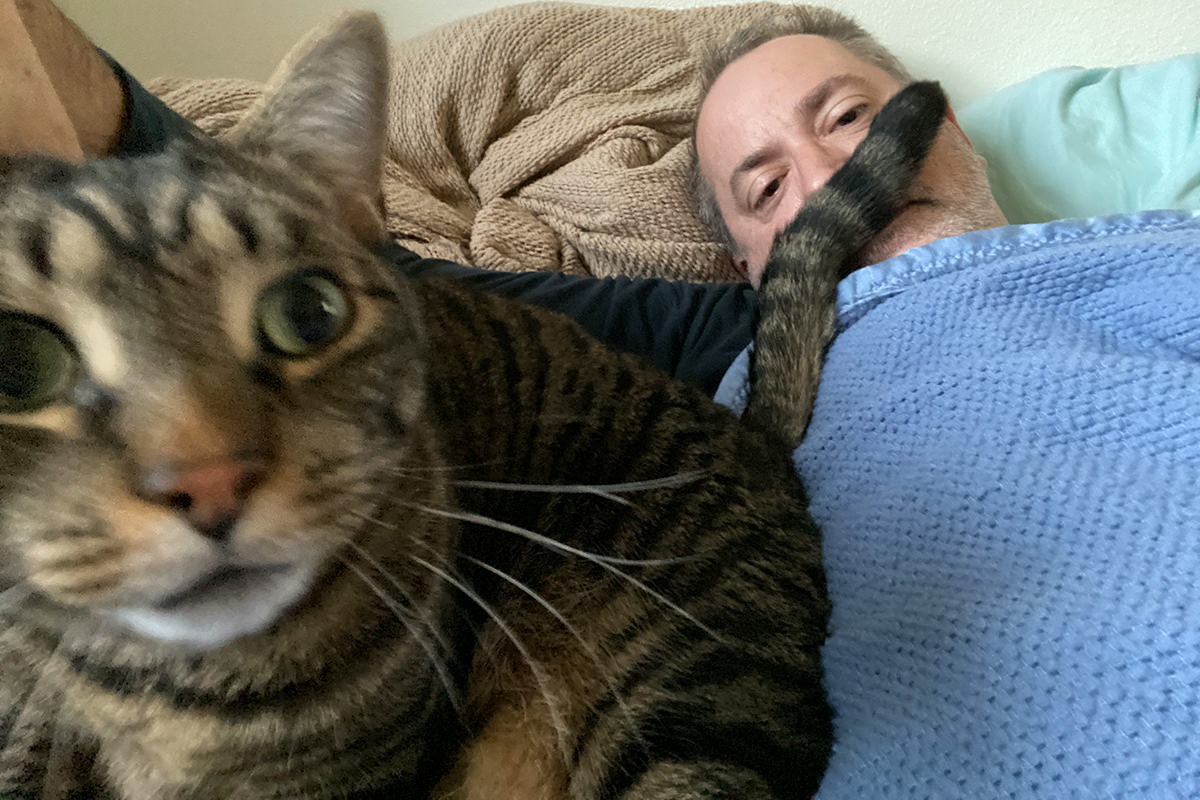 I move a lot when I sleep, but he doesn't seem bothered. At some point I'd like to put a camera on us all night so I can see exactly how mad he gets when he has to wake up and move because I've moved. Apparently it's not irritating enough for him to give up the electric blanket, because he's still there when I wake up in the morning.
The things we do for a warm place to sleep and a snuggle buddy.
Posted on January 11th, 2018

Snow is frickin' dumping down today.
I mean really coming down.
I had to drive to The Big City and back for a dentist appointment and ended up regretting that I didn't cancel it. The roads were plowed earlier in the morning, but conditions worsened since then and there's a pretty big accumulation of snow and slush you have to drive through... even on the highway. Also? People are driving like frickin' morons. One person in a small van thought that they would cruise around us cars driving at a SANE speed for the conditions. I watched as they got sucked into the slush and rammed their vehicle straight into the center barricade. I was laughing my ass off as I passed. Maybe I shouldn't have... perhaps the driver had an emergency... but 99 times out of 100, this kind of thing happens to people who get what they deserve for driving stupid. It's just fortunate they didn't take anybody else down with them.
Oh... and on the way back from the dentist I stopped for lunch. As I was getting out of my car, I heard a guy screaming "OH YEAH! FUCK YOU! DON'T SLOW DOWN, ASSHOLE! I DON'T FUCKING CARE! FUUUUUUCK YOOOOUUUU!" which was subsequently repeated all over again.
Turns out he was shoveling the sidewalk and when cars drove by he was getting totally douched in dirty slush water. He was not happy. Didn't help that he was absolutely not dressed for the job in non-waterproof clothing and was probably soaked down to his tookus. Oh well. Live and learn, buddy. Live and learn.
I honestly don't mind winter weather. I've lived in it since I was 5 years old and learned how to drive in it since I first started driving. No, I don't like having to clean snow off my car, but snow is pretty, and I've grown accustomed to having it around town...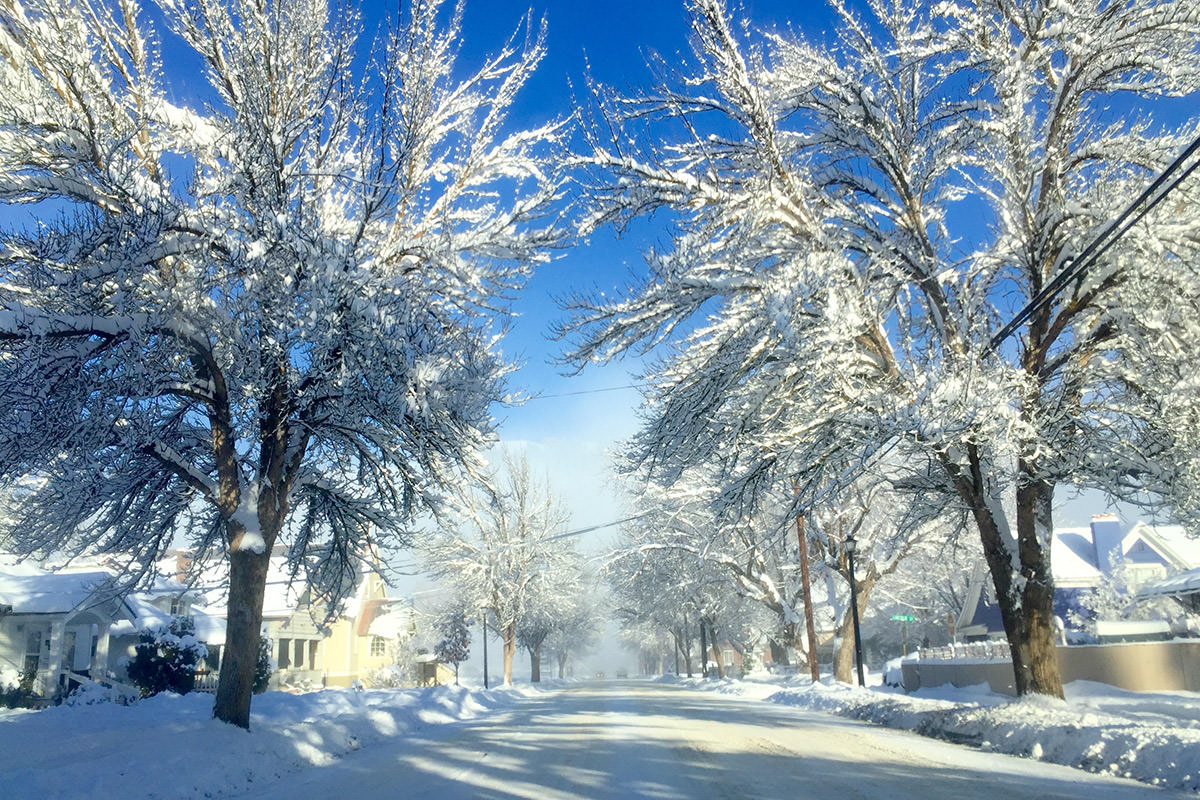 Except...
I usually end up hating it from Day One as well as liking it, because people are stupid assholes.
That's true for most things though.
Posted on December 18th, 2016

I'm dashing through the snow over the mountains... but fear not, because an all new Bullet Sunday starts... now...

• No It's Not Equivalent. I swear... it's getting worse every day. Every time I see false equivalency being applied to an issue in the interest of being "fair and balanced," I want to punch somebody in the face. This time it's The Los Angeles Times unleashing this crap when they published letters saying that US internment of its citizens of Japanese ancestry during World War II was justified. Clearly there is no "other side" to Japanese internment being totally unjustified and a horrendous blight on humanity (in general) and the USA (specifically). Unless you are a psychotic asshole. And yet here we are. Thanks, L.A. Times... I needed a reminder that psychotic assholes are everywhere!

• New DuckTales! I'd like to say that DuckTales was one of my favorite cartoons when I was a kid... but it didn't start airing until I was three years graduated high school, so that's not quite true. In any event, it's getting revived with a bit more star power than the original behind the voices...
You can bet I'll be watching. Let's face it, I still act like a kid.

• Sandcastles in the Sand. While I was never a fan of Growing Pains (Kirk Cameron was always a fucking asshole), I was a fan of Alan Thicke's Canadian talk show and his subsequent American talk show, Thicke of the Night. Which is why I was sad to see he had died this week. Later in life, he was cast as himself as often as he played characters, which is a testament to his effect on North American culture. One of my favorites was when he appeared as Robin Sparkles fictional dad in flashback videos of How I Met Your Mother...
You will be missed, sir.

• Emergency! Come Right Away! Another sad passing... Bernard Fox has left us. He'll forever be known as Dr. Bombay on Bewitched...
Here's hoping he's having cocktails with Uncle Arthur in the Great Beyond.

• Animal Welfare? Inhumane, cruel, and horrifying. But nobody will care and nothing will be done because everybody wants their 99¢ McChicken McNuggets...
If people want to eat meat, more power to you. But I can't fathom the person who doesn't care about the pain and suffering of those animals that end up on their plate. The health risks are just icing on the cake.

• Driven! I'd say that winter driving is the worst, but the unprecedented number of assholes on the road makes all driving "the worst." Winter just makes it even worse...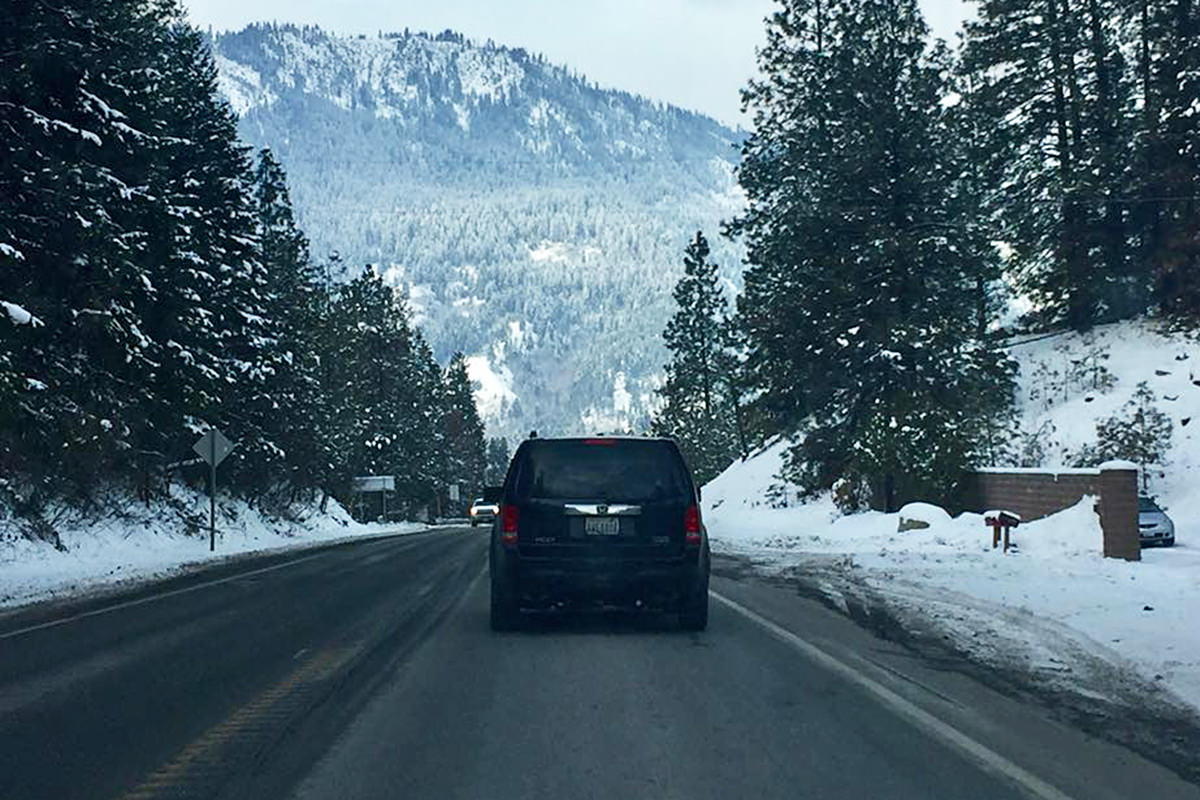 Over the mountains I go...

Annnnd... wish me luck.
Posted on November 16th, 2016

When I woke up this morning I immediately grabbed my laptop so I could take a look at the weather in the mountains. Last night the forecast was for snow, and I didn't know if this would affect my trip over the mountain passes.
The top of the pass webcam was completely obliterated by snow...
Fortunately, the drive over wasn't bad at all. The roads were bare and wet and no trouble to drive on...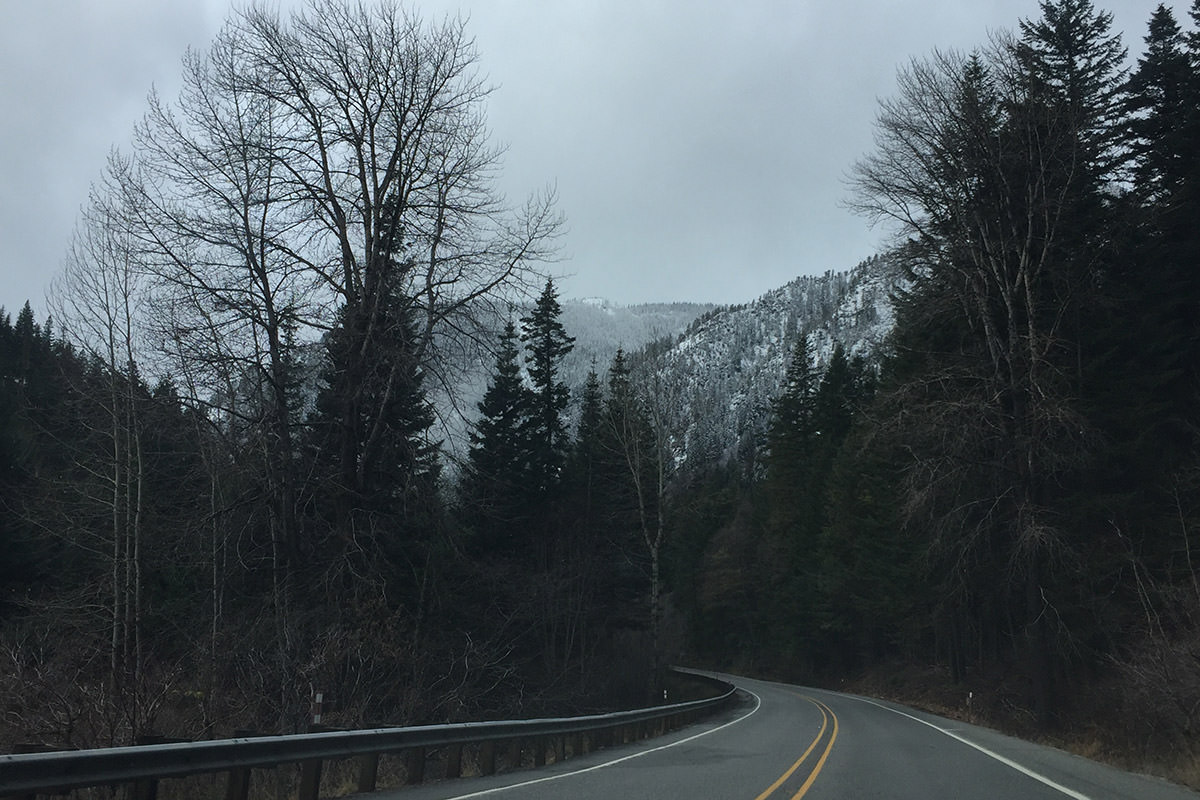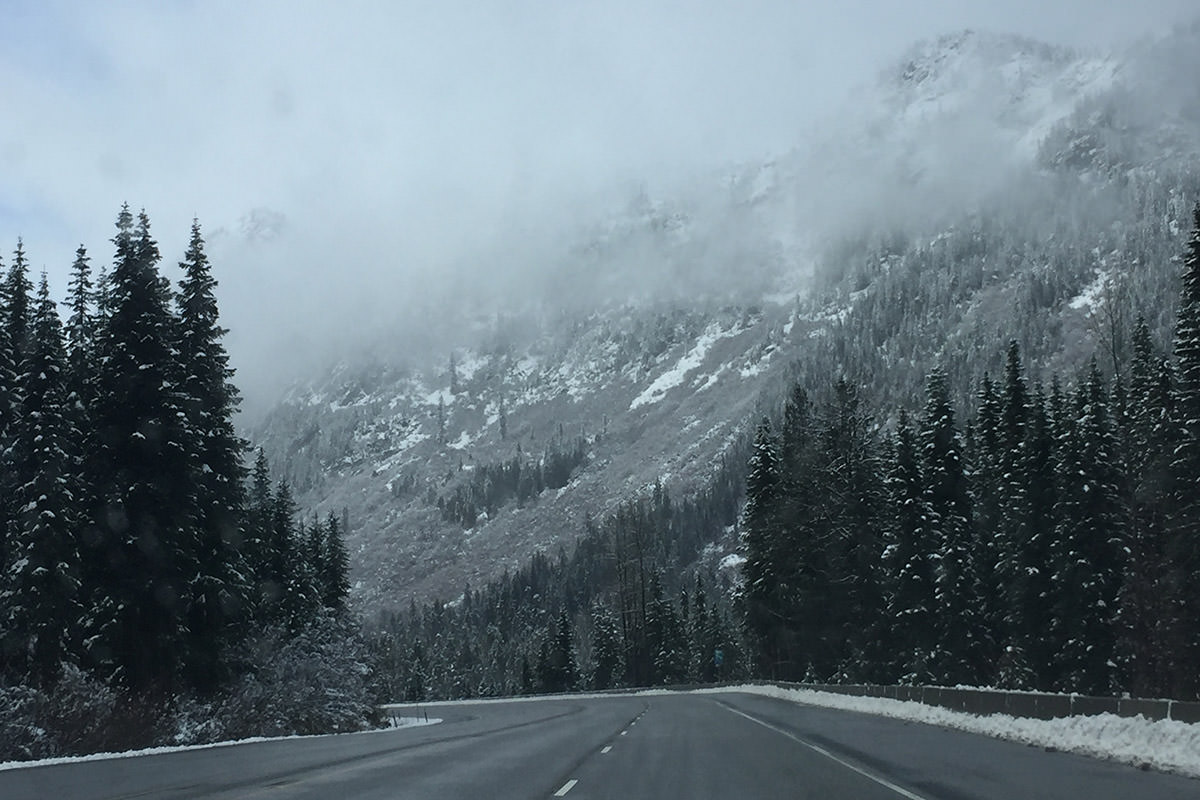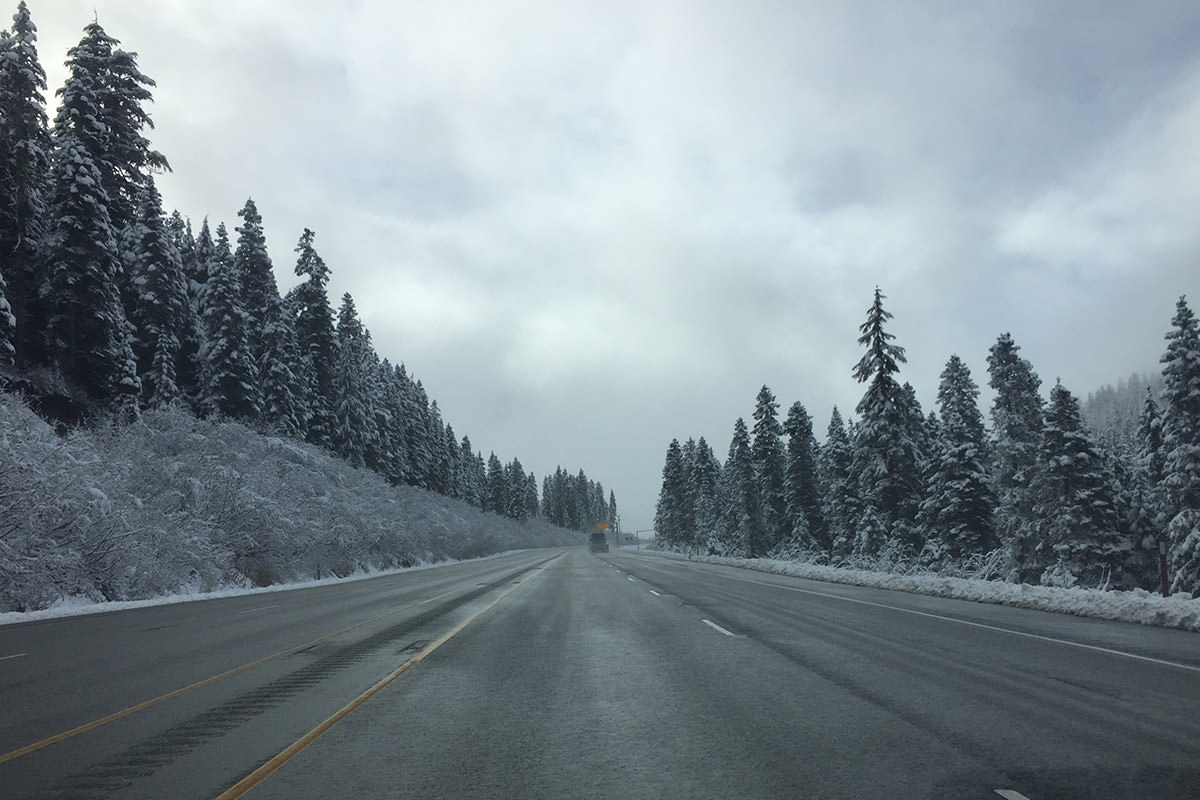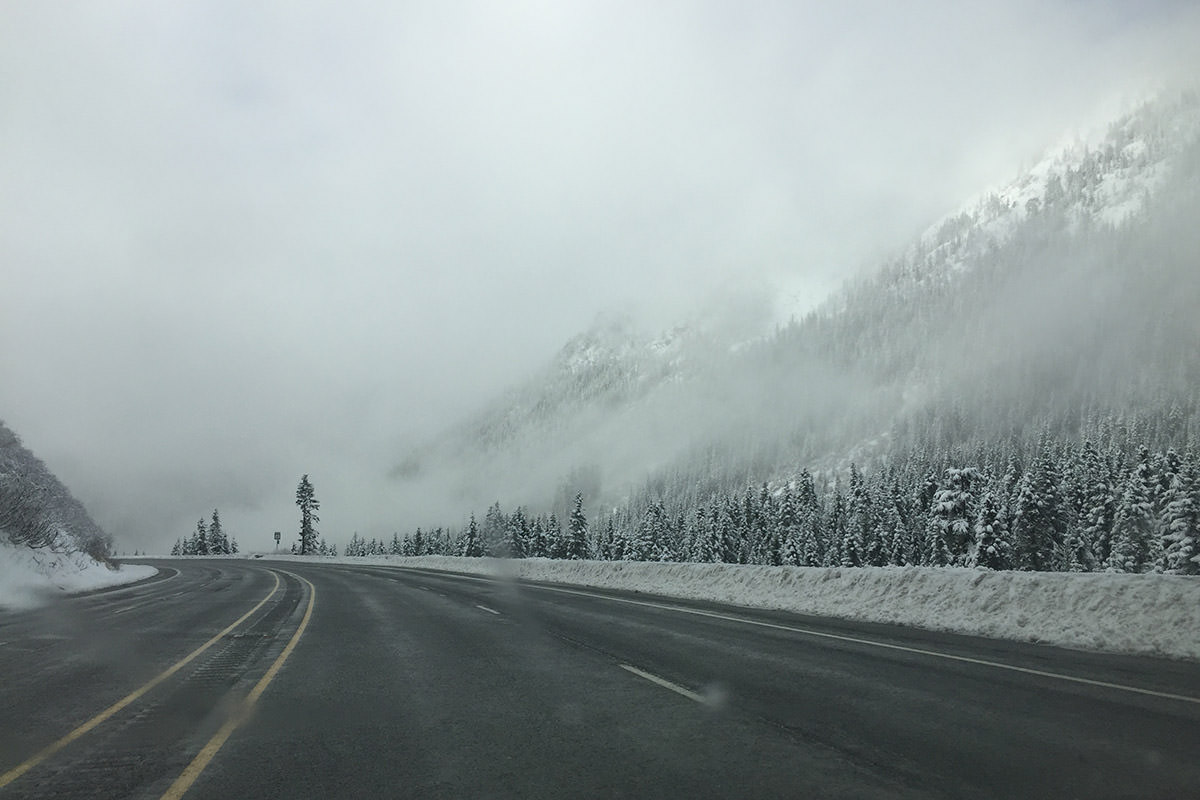 Here's hoping I have this kind of luck for the drive back.
Posted on January 25th, 2012

When you wake up to the sound of snowplows scraping the street, it's more difficult than usual to get out of bed. Obviously it snowed last night, could still be snowing, and that means the roads are going to suck.
Except it turns out it wasn't snow, it was rain. Which was freezing over the snow and ended up creating an icy crust all over the roads... and my car. This made driving to work a bit of an ordeal because everybody was sliding on shards of ice...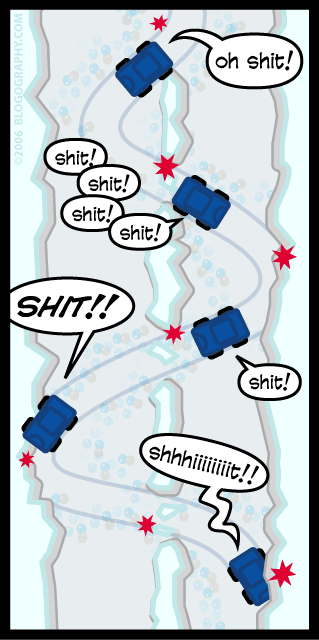 Tonight it's snowing again, so tomorrow there will be snow on ice on snow.
That's something to look forward to.

In other news, I've put my good-bye letter to BlackBerry and RIM in an extended entry...
→ Click here to continue reading this entry...
Posted on December 6th, 2011

A second blanket has been added to my bed today. A third is probably not that far off. It's December now, so this is to be expected... yet I find myself wishing that winter was ending instead of just beginning. I suppose I could turn the heat on and pretend that winter has abated for some reason, but the illusion would be shattered the minute I walked outside tomorrow morning. And not just because I'll be attacked by geese in the parking lot.
By choosing harsh reality over fantasy, I'm probably not doing myself any favors.
That day will come when I finally break down and buy an electric blanket.
In the meanwhile I'll keep bundled up at night and think warm thoughts...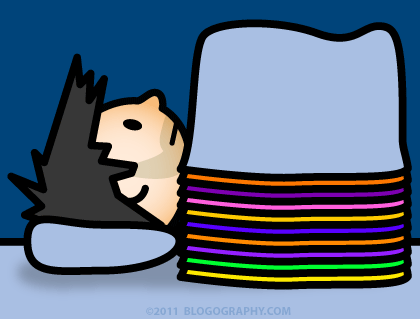 ...assuming I can find any warm thoughts to think.
Posted on December 15th, 2009

The winter storm that was promised yesterday finally arrived this morning. It didn't end up being as bad as forecast, but I still had to scrape 5-inches of snow off my car when it was time to go home tonight. Tomorrow is supposed to taper off to "Wintry Mix," which is not as fun as it sounds. The rain/snow combo piles on the streets and makes driving a nasty business. It's all too easy to get trapped by the slush accumulation and find yourself being pulled off the road. When that happens your brakes are practically useless, so your only option is to hold onto your balls, enjoy the slide, and hope you don't end up in a wreck. I'll take snow over "Wintry Mix" any day...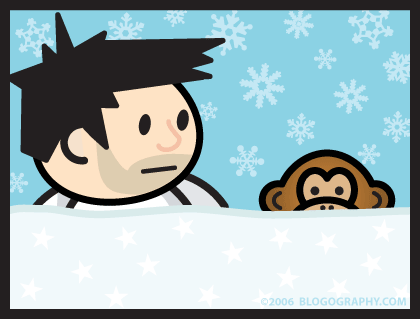 And right now I'll gladly take sleep over insomnia, but I have about as much a chance of that as I do controlling the weather.
If only I had an off-switch, my life would be so much easier.