I am staying all alone. In a huge house. On a dark street. In rural Georgia.
What's the worst thing I could do right before bedtime? Watch the latest creepy episode of The Walking Dead... which is taking place just 15 minutes from my bedroom, that's what!
Now, I am not one to scare easily. I could sit through a marathon of horror flicks before bedtime and not give it another thought. But tonight every creak in the floorboards... every leaf scuttering down the roof... every branch tapping on the window... every noise in the night... it all added up to make me, well, not scared really... but uneasy.
Needless to say, last night was rough going in the sleep department.
There may not be any real undead wandering around Georgia, but I certainly feel like a zombie today...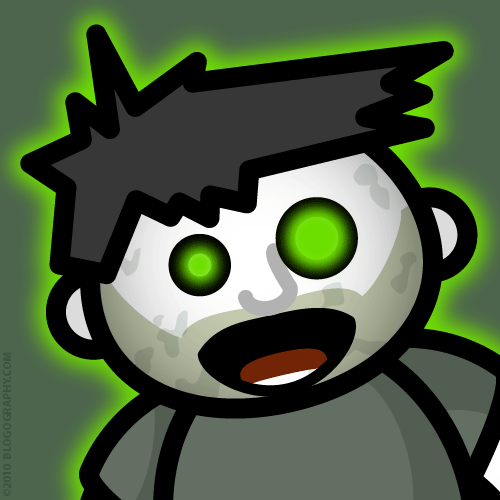 In other news, LEGO Harry Potter (Years 1-4) for iPhone is pretty sweet. And I don't even like Harry Potter! But I do like the LEGO games (LEGO Star Wars, LEGO Batman, and LEGO Indiana Jones are awesome!). In the game you can play Harry and dozens of other characters you unlock, then run around solving puzzles and collecting LEGO studs to buy stuff. Just like all the other LEGO titles, you can play through each level multiple times as different characters to unlock even more secrets with their special abilities.
The game looks a-m-a-z-i-n-g, taking full advantage of the Retina Display resolution of my iPhone 4. The cut-scenes are all extremely detailed and well-thought out...

Get used to this load-screen, you'll be seeing it a lot.

A lot of work went into this London cut-scene!

LEGO humor in full force: note the Harry Potter mini-fig on his keychain!
The game screens are no less detailed, but you're viewing them from rather far away, so you're not seeing game elements at their fullest. Still, an impressive picture...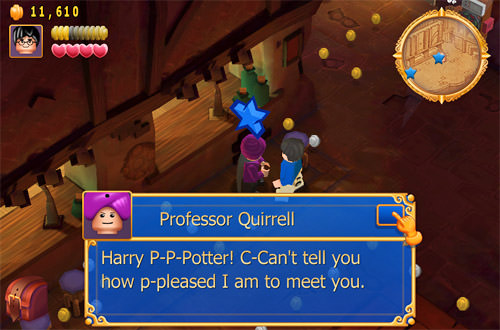 Zooming in, you can see the clarity of the hi-res Retina Screen graphics (I'll bet the game looks incredible on the iPad!)...
Despite the fun I'm having with it, there are some problems, however. First of all, the load screen comes up A LOT, and scenes take a while to transfer. This results in a lot of staring at the load screen over and over again. It gets old in a hurry. But the biggest (and only major) offense is the control system. You control characters and interact with objects by dragging your finger across the screen... effectively covering up what you're supposed to be looking at! It's tough to solve puzzles when your finger is obliterating them. It's hard to control Harry when your finger covers him up. It's a heinous oversight that I don't understand. I can only hope that they eventually update and give you the option of controlling things with an on-screen D-pad. It would improve the game 200%.
All-in-all, you can't beat the mind-boggling price of just $4.99. It's a fraction of what you'd pay on the Nintendo DS, Wii, XBox, or Playstation versions! If you have a supported device to play it, LEGO Harry Potter (Years 1-4) is well-worth the download.
I just wish I had the time to actually play it. :-(
&nbsp
And lastly...
These "It Gets Better" videos just keep flooring me. The crushing despair, fear, and pain that people go through every day just for being "different" is almost impossible to believe. If we weren't seeing the tragic consequences of the bullying in the news, it would be impossible to believe. I just can't fathom how somebody could intentionally make another human being feel as though their life was worth so little that death is the only option left. It's sickening on a level that makes my heart ache just to listen to it. But we must listen to it, because things have to get better. For all of us.
This video from people at Disney/Pixar is pretty amazing and hopeful...
I wish I wouldn't have to keep wishing that all the bigoted assholes who make this world such a horrible place would hurry up and die so we can have a world I'm not ashamed to live in.
Because, in truth, it makes me no better.
But I'm somehow okay with that.

It's heatwave edition of Bullet Sunday!
• Hot. It's eighty-eight degrees Fahrenheit outside.
• Hotter. I am guessing it's ninety-eight degrees Fahrenheit inside... because the air conditioner is broked. I try to compensate by eating ice cream and drinking ice water, but it's just not happening. All that does is make me realize how bloody miserable I am when I stop.
• Up. I saw Pixar's latest animated miracle, Up, and found it to be scrumtrelescent.
• Upper. Seriously, Up is one of the most beautifully animated spectacles ever made. That wouldn't be saying much if the story sucked, but this is Pixar, so the story is genius as usual. Crotchety old widower Carl Fredricksen decides to have the adventure of a lifetime by tying thousands of balloons to his house and floating to South America. Unfortunately, an overly-helpful and annoying Wilderness Scout named Russell accidentally gets taken along for the ride. Hilariousness ensues. I don't know if Up displaces Monsters, Inc. and The Incredibles as my favorite Pixar movie... but it comes darn close. I'd call the film "flawless" except I did have two small problems and one bigger problem with it. To avoid spoiling things, I've dropped that in an extended entry.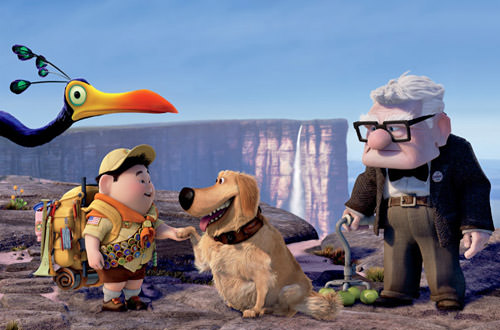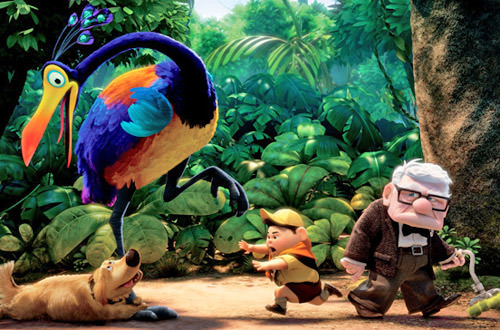 • Twitter. I already feel as though Twitter is a massive waste of time... especially when things like "blip.fm" get involved and people are tweeting every frickin' song they listen to (Why should I care about your bad taste in music? Do people actually click on blip.fm links?). Or, even worse, those who live-tweet television shows and sporting events. Why would I want to read tweets about something I don't even want to watch? Or, if I am watching, I ALREADY KNOW WHAT'S HAPPENING AND DON'T NEED TO READ ABOUT IT! Factor in other annoyances like re-tweets, private conversations, and Follow Friday (SERIOUSLY, IF I WANT TO KNOW WHO YOU FOLLOW, I'LL VISIT YOUR FOLLOWERS PAGE!)... and Twitter is mostly noise anymore (don't even get me started on blog post announcements which announce posts that I've ALREADY READ from a webfeed subscription). Bleh. I wish I wasn't so addicted to Twitter. My life would be a lot simpler.
• Twitterer. But now the ultimate Twitter annoyance has struck... TWITTER GAMES! I keep getting "SpyMaster" invitations, and it's only a matter of time before "Mob Wars" invades. This may very well be the last straw for me. If I can't find a Twitter client that gives me the ability to filter out all the distracting shit that is clogging up my feed, I may just give up. Or unfollow a couple hundred people.
And now I really need to catch up on some sleep. If you've already seen Up, and want to read me nit-picking over this excellent movie, that's in an extended entry...
→ Click here to continue reading this entry...