Posted on July 27th, 2013

Back in the Netherlands for one last day of vacation time.
The "Pixar 25 Years of Animation Expo" has been traveling around the world since it first began in New York back in 2005. With each new stop, it gets updated with material from their latest works, so now it's actually more like the "Pixar 34 Years of Animation Expo." And it's currently showing in Amsterdam, so off we went...
The expo is pretty great, mostly focusing on the artwork that goes into a Pixar production before it ever gets to a computer... but they've got a few exhibits dedicated to showing how the computer art is created as well. But the highlight of the show has to be a giant beautifully crafted zoetrope featuring the Toy Story characters. It's Pixar animation of an entirely different kind, and well worth checking out.
From there it was time to cash in some of my Reward Certificates at the Hard Rock Cafe Amsterdam. I had been dying for a Coke to wake me up all day, but the Coke machine was broken, so I started going into withdrawals right there in the restaurant while waiting for my lunch.
After a Coke-free meal we stopped at Ben & Jerry's for ice cream, which is always a treat because they've got an awesome mural painted on the walls...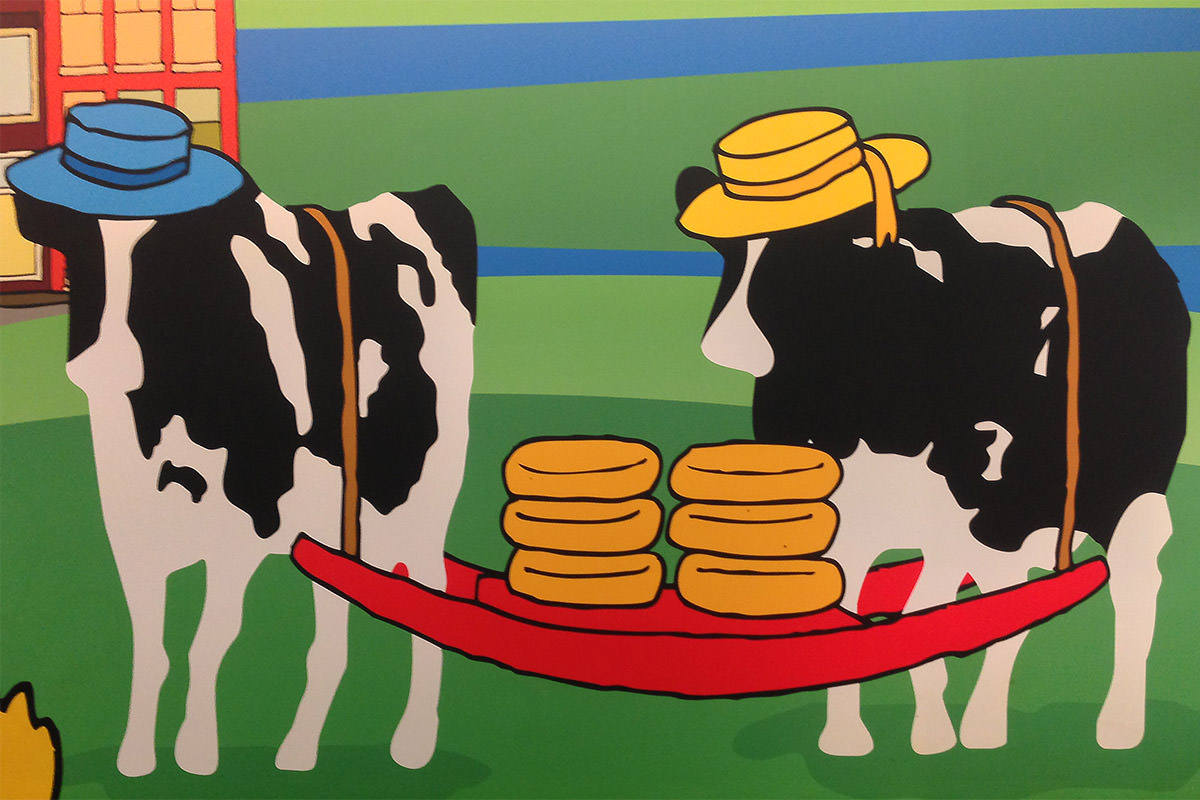 We were going to see the Greatest Illusion Show on Earth because, honestly, how could you not... but being lazy at Casa de DutchBitch sounded more appealing, so Hans Klok will have to wait for another time...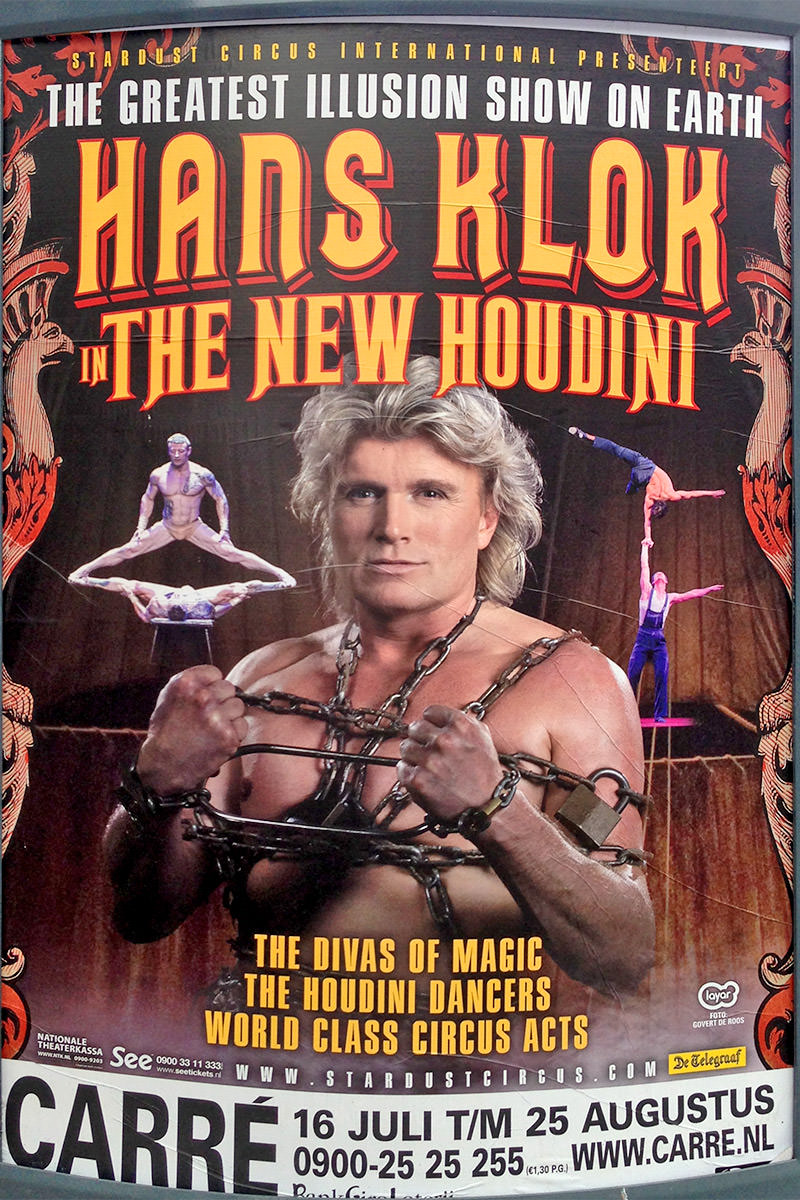 And there it is... the end of my week's vacation. Tomorrow it's back to Schiphol Airport and my flight home.
Posted on April 14th, 2012

And so it was that we came unto the Hard Rock Cafe Amsterdam for the merriment of Bitchsterdam 3 and a grand time was had by all. The DutchBitch was there, of course, along with Breigh and her husband Xander. And I finally got to meet Invader Stu as well...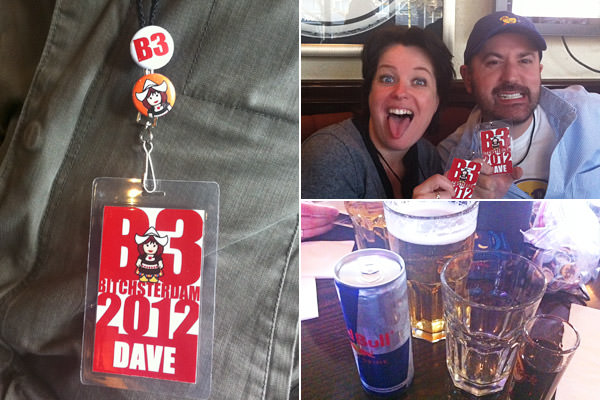 Unfortunately, the battery on my pocket camera was dead, so I only have these few photos from my iPhone. If any of us had thought to take a group photo, it would have looked something like this...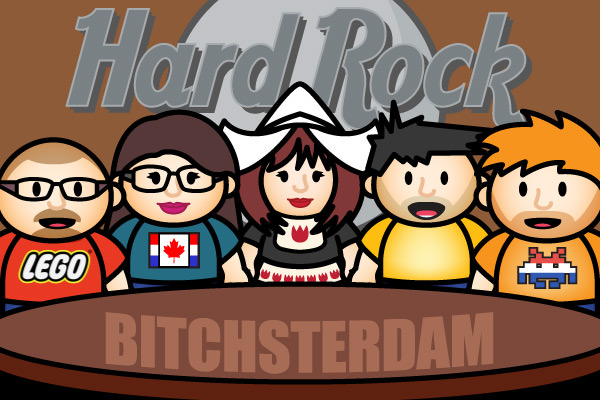 I can't wait until Bitchsterdam 4!
Posted on April 12th, 2012

Half the time when I am traveling I'm working. The other half of the time I am playing tourist and have a schedule of things I want to see. The wonderful thing about being in Amsterdam today was that I didn't have work or an agenda... I could just wander along the canals and soak in the city.
And when it comes to aimless wandering, Amsterdam is pretty hard to top. I could do that for days and not get bored, because it's just so dang beautiful...
After a while, I came across the Anne Frank House Museum. I've tried visiting here at least three times, but the line is usually absurdly long...
But when I checked, it wasn't even around the corner. So, 35 minutes later, I finally got to see it...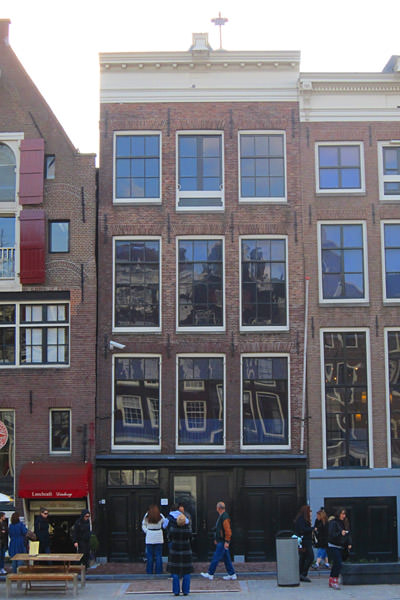 It was both fascinating and heartbreaking, and now I know why people are willing to stand in line for such a long time to see it. After that I started wandering the canals again and saw this...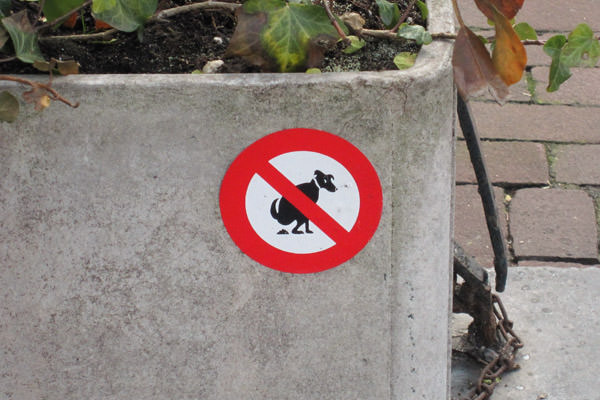 It didn't say anything about humans not being allowed to poop there, so I took a dump in the planter. And then... then... I saw something really bizarre. A boat dredging up bicycles from the bottom of the canal. You'd think that they might find one or two from careless people accidentally dropping them in, but you'd be wrong...
A HUGE pile of bikes. They brought up a half-dozen just as I was standing there watching...
The DutchBitch tells me that people get drunk and drive their bikes into the canals all the time, so they have to clear them out every couple of years. Scary.
I stumbled across Amsterdam's brand new Apple Store. It is absolutely glorious, featuring a glass spiral staircase that's mind-bogglingly terrifying for people like me who are afraid of heights (if only they would let me photograph it). Apple does a good job of finding beautiful buildings to build into, and this one is no exception...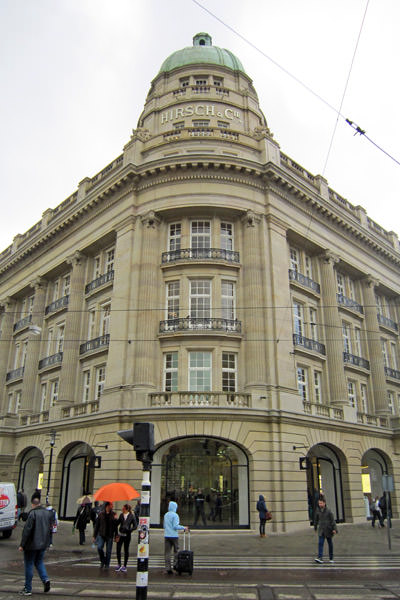 After lunch with some friends in the city, I was given a coupon for Het Scheepvaart Museum (Maritime Museum) as the rain came in. It's a pretty fantastic place...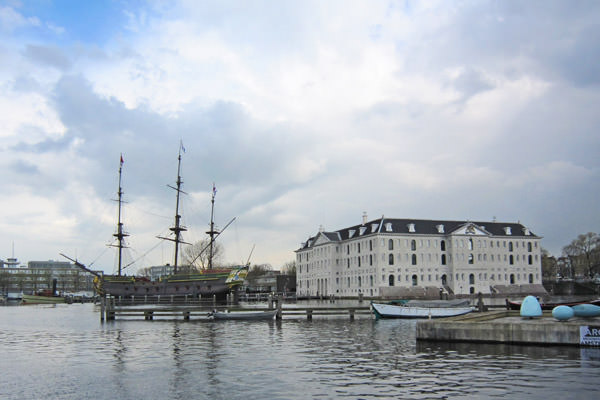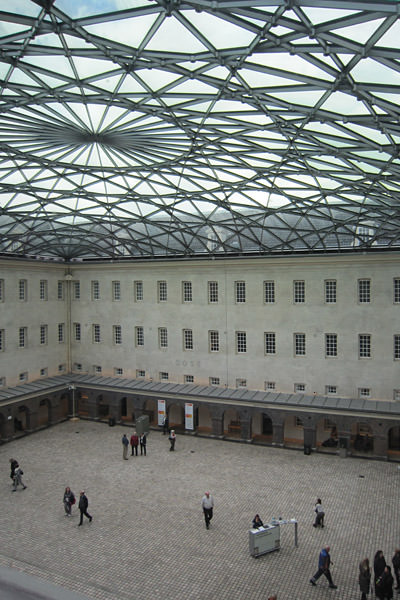 The displays they have there are incredible. I mean really incredible. I wish they had more of them...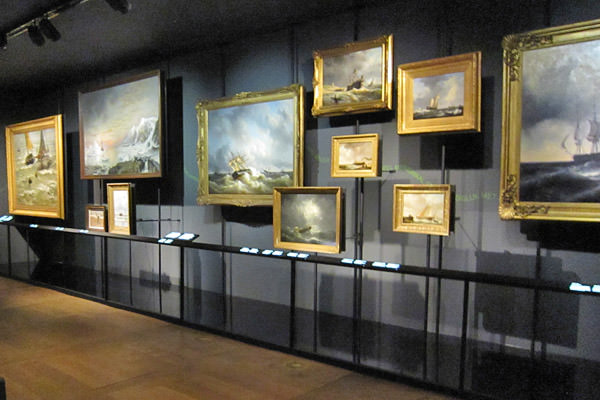 You can also go out on an old ship, which is pretty nifty...
By the time I had finished and headed back to the train station, the sun was out again...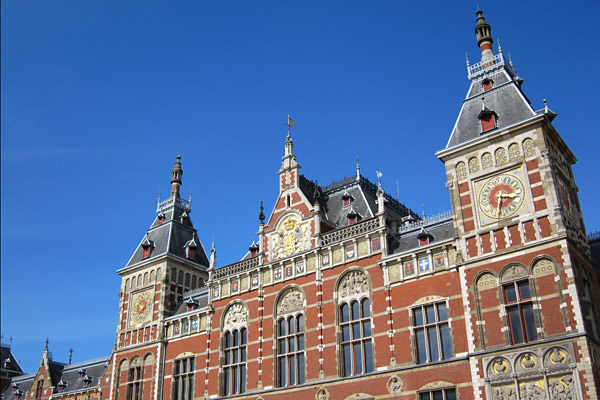 All in all, a perfect day of new experiences for me in Amsterdam. How sweet is that?
Posted on April 11th, 2012

Despite having been to the Netherlands dozens of times, I've never gone out to the bulb fields when they're in bloom. Usually I've been here at the wrong time... but other times when they've been in season, I've had to work or didn't have transportation or something goes wrong.
Today The DutchBitch finally fixed all that. I have to say though, they're not quite as impressive as the postcards lead one to believe...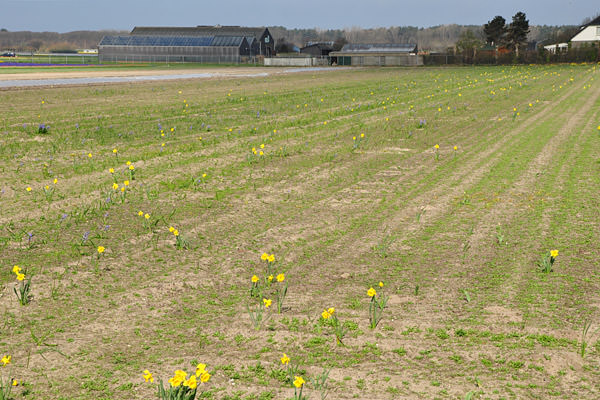 I lie. They're everything you'd imagine and more.
And while a photograph can only partially communicate just how beautiful it is to be standing in front of flowers that stretch out to the horizon, the thing that really got to me was the smell. I don't know why I never thought of it before, but the bulb fields smell incredible. In particular the Dutch Hyacinth, which is almost other-worldly.
The bright colors don't record that well on a digital camera sensor, which makes photographing the field a bit of a trial (where is film when you need it?), but it's still a great subject to take pictures of.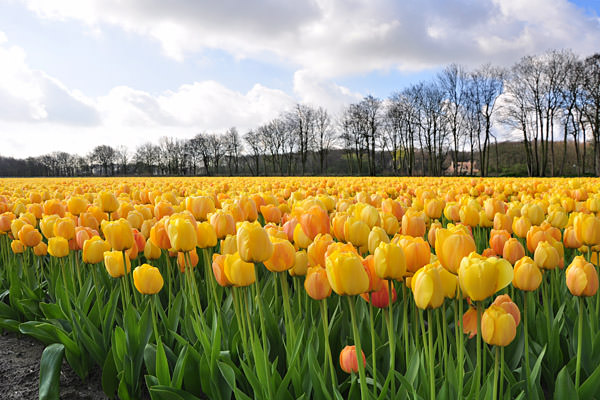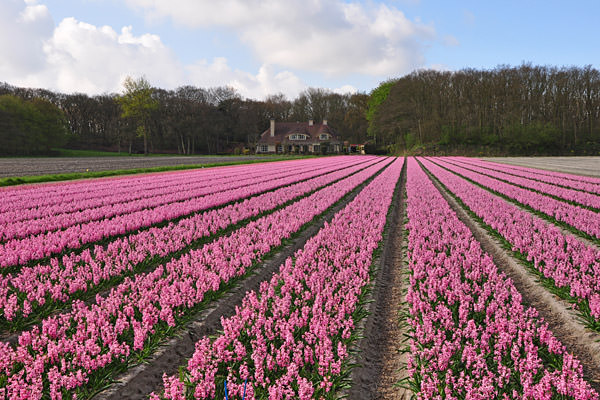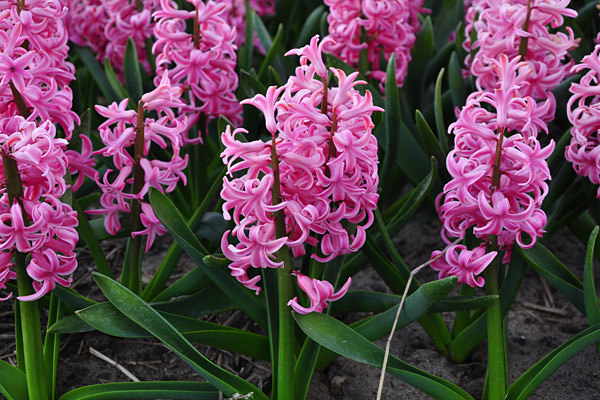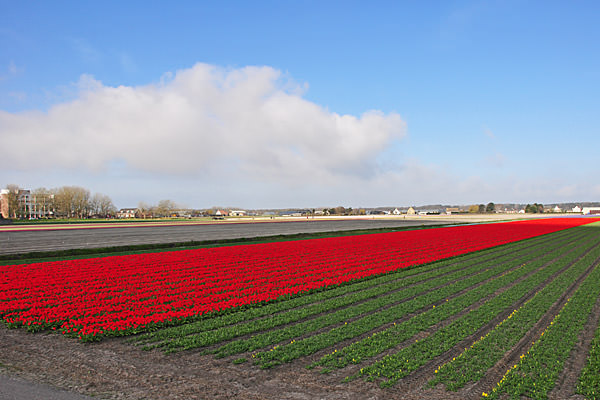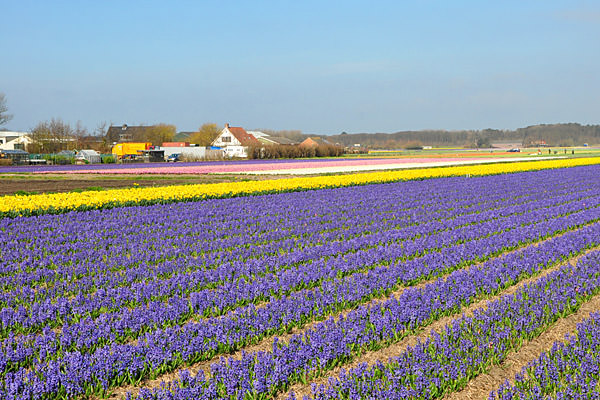 Eventually all the flowers are cut down so the bulbs can be harvested then re-used or sold...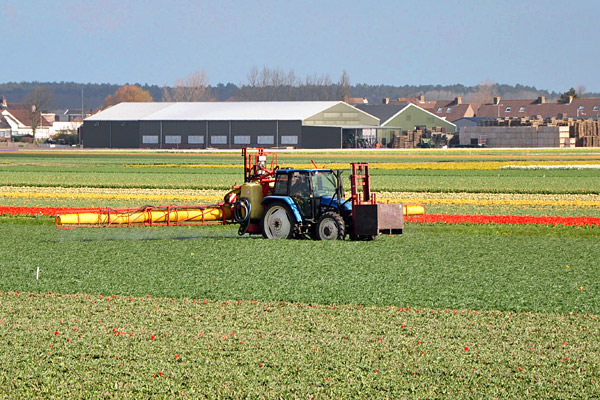 And thus the Circle of Life begins again.
Posted on February 5th, 2011

Today was a "wasted" day spent traveling. It all started when I woke up early so I could catch the hotel courtesy shuttle to the airport for my 7:00am flight. Except the hotel LIED about having a courtesy shuttle, so I instead paid a taxi €15 ($20) for a three-minute ride to the airport. I would have walked, but it was pitch-black and I'd have to travel over two ditches and through a construction site to get there. When I had attempted it previously, I had barely made it there alive in broad daylight, so I figured my life was worth the $20.
The flight from Málaga to Paris was uneventful except, of course, having to deal with Charles de Gaulle airport once I arrived. Since I was avoiding the dreaded Terminal 2G this time, I thought it would be smooth sailing. Except it wasn't. Getting from 2D to 2F still required exiting and re-entering security, which is stupid as fuck. At least I had time to use the bathroom this time. Barely.
If forced to choose between a kick to the balls and having to transfer planes at Charles de Gaulle Airport, I'd have to give it some serious thought.
And then choose the kick in the balls, because that's a pain which will eventually end.
Weather at Schiphol Airport in Amsterdam was mostly gusting winds, which had been canceling flights all morning. Fortunately, I made it out and arrived only 20 minutes late because...
PATATJES MET!!!
DutchBitch drove to the airport for a quick meet-up, where she bought me some DutchyLand deliciousness...
Since I had missed meeting up with Dutchy when she was last in Florida, it was nice to get caught up for an hour-and-a-half. I also had to tell her about the sphincter-puckering landing my plane made into Amsterdam. I've flown in some pretty crazy shit and don't scare easily, but the wind was so bad that I thought for sure we were going to crash into the runway and explode. What an awesome way to die that would have been. DutchBitch promised to toss some patatjes met out onto the flaming remains of my plane if the worst were to happen, so at least I would have died happy.
Alas, our chat was over far too quickly, and it was time for me to catch my flight back to Cologne. This time the flight was fine. My luggage didn't get lost in Paris. And my airport hotel which promises a courtesy shuttle actually has a courtesy shuttle. So I guess it's all good in the end.
Until tomorrow when I fly back home...
Posted on October 3rd, 2009

The day started off with an interesting twist... the hot water heater in Dutchy's house went kaput. The ladies managed to track down a hot shower for themselves (use your imagination here, heaven only knows I did), while I volunteered to stay behind and take a cold shower. So as to spend as little time as possible being chilled, I devised a plan whereas I would hose myself down, suds myself up, then rinse myself off.
It was a good plan. At first. Hosing myself down wasn't too bad, as it only involved a few seconds of contact with the icy water. Sudsing myself up was equally trivial. Where things went terribly wrong was in the last step.
Because it takes considerably longer to rinse soap off than to put it on.
And the entire time I was standing under that freezing stream of water... I could Not. Stop. Laughing.
Which probably made a terrific impression on Dutchy's neighbors, hearing a guy laughing hysterically while in the shower (let's hear her try to explain THAT one away!).
What finally made the laughter stop was when I looked down and saw the my once-magnificient pooferflargen had shrunk to the size of a peanut. There's just nothing funny about that.
Fortunately, Dutchy's cat was nonjudgmental on my plight...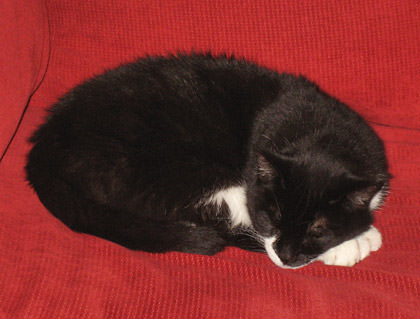 But the morning's adventure in shrinkage was all made worthwhile when Dutchy made my wildest fantasty come true... her and Penelope took me to a snack bar so I could get some frites met mayo...
But the awesomeness did not stop with the fries and mayo.
It was taken to the Next. Level.
Because I was able to also have a cheese sandwich as well. A cheese sandwich made with "Old Cheese." Beautiful, sexy, tasty, aged Dutch cheese. On a roll. That looked like this...
While I looked like this...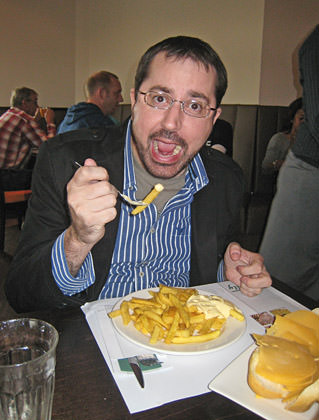 Then, after a lunch so delicious I achieved orgasm, we went wandering in the local shops so I could make fun of the native products. I think this one speaks for itself...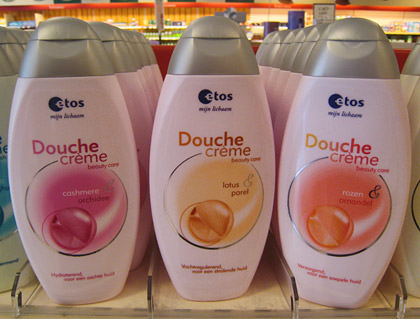 Unless you're familiar with the French language, in which case it seems perfectly sane.
But if you are not familiar with the French language, you may be wondering how much more hilarious a product name could get than "Douche Creme."
I'm glad you asked...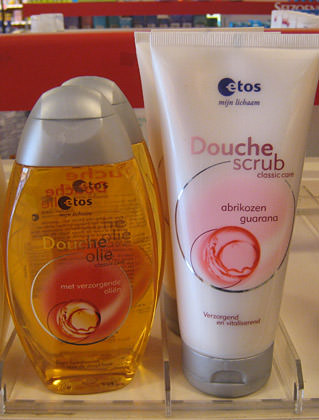 I can't quite decide which one I like best. There is a case to be made for both Douche Oil and Douche Scrub. But there was no time to debate the merits of these douchey products because Bitchsterdam was at hand, and we had to head up to Amsterdam. Where we ran across a new batch of elephants! Including this beauty...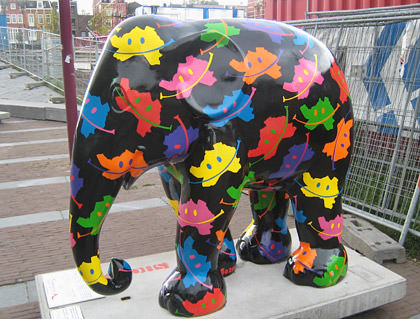 ... on the way to the Hard Rock Cafe...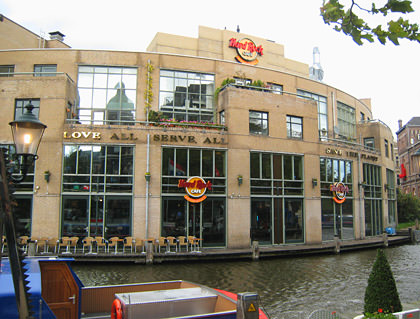 Where an amazing group of people consisting of Mr. Geeky Tai-Tai, Geeky Tai-Tai, Bra-Dutch, The Dutch Bitch, ME!, and The Lady Penelope got together for a wonderful night of food, drinks, and a lot of laughs...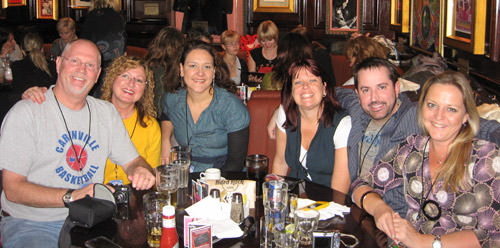 Despite all that, there was still time for my Jägermeister habit to corrupt the innocence of Penelope's seasoned wine-loving palette...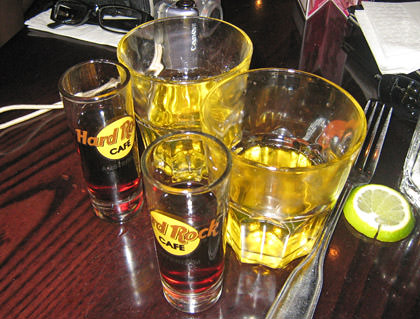 All-in-all in was a wonderful evening at the Hard Rock Cafe...
Because I was the luckiest bastard on the planet this night, as I got to go back home with THIS...
All my thanks to The Dutch Bitch, for hosting such a fantastic event!
Posted on October 1st, 2009

Coming over to Europe, I smoosh two days into one. Going back home, I make one day into two. It's a not-so-pleasant consequence of international travel... but I'm kind of used to it by now so it doesn't bother me that much.
Here was my "day" Wednesday and Thursday, which I am now calling "Wedthurday"...
I got up early to drive to Seattle...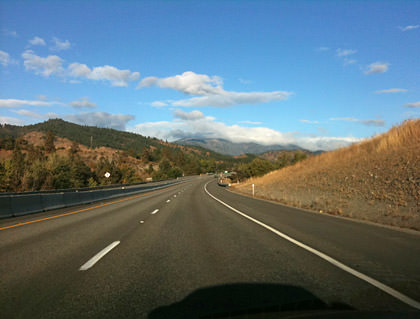 Was surprised to see there's already snow starting in the mountains...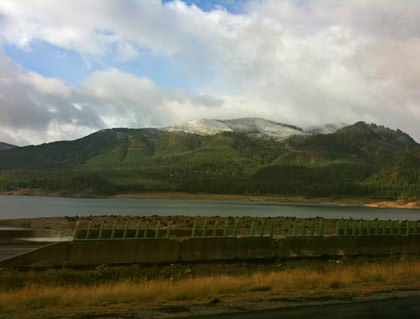 Hopped on a plane to Amsterdam...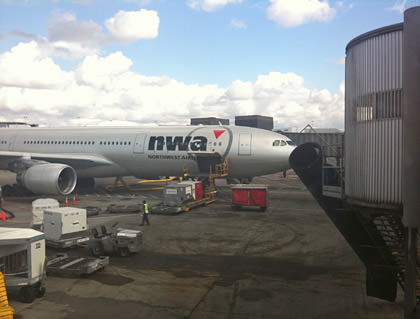 Was served warmed nuts while I watched movies (The Proposal and Terminator Salvation)...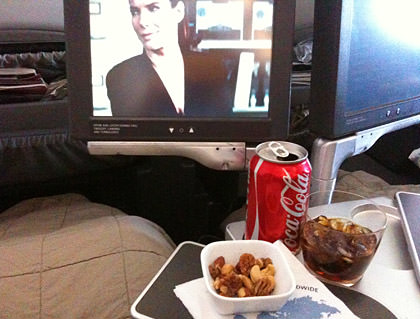 Got a butter flower with personal salt and pepper shakers with dinner...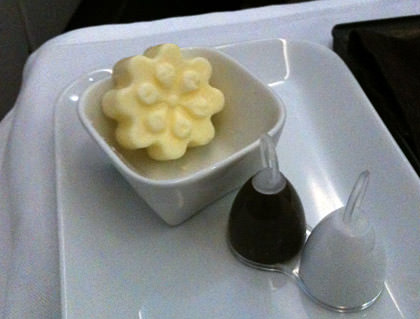 Watched my progress as I approached DutchyLand...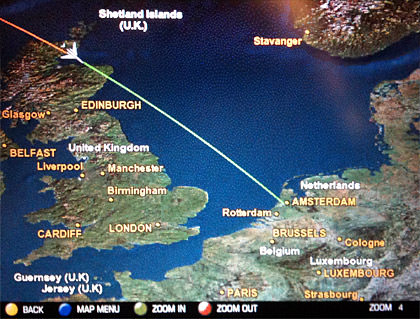 Got a "bagel" before landing...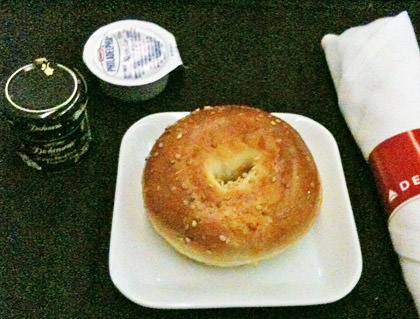 Landed at Schiphol Airport in the early morning...
After The DutchBitch was kind enough to pick me up from the airport, she went to work... and I took the train into Amsterdam to have lunch with some friends! I arrived a couple hours early, so I wandered to the wonderful Van Gogh Museum.
I love the Van Gogh Museum. The world never seems so big than when looking at it through Vincent's eyes. On top of that, the museum itself is really nice with some great architecture to it...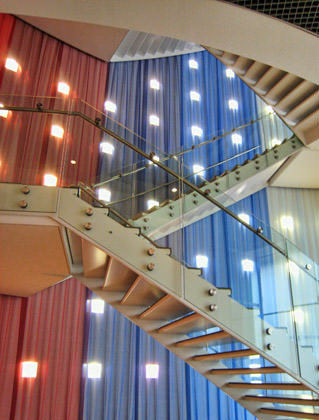 After a great lunch with some good people, I decided to stroll through Amsterdam for a while before heading back to DutchyLand...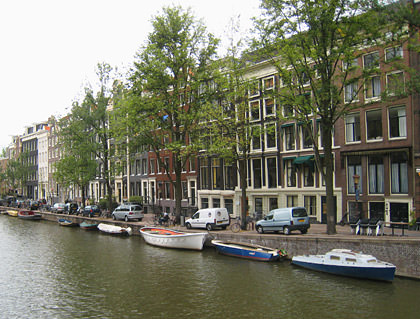 Just like many large cities, Amsterdam has some public art projects. My favorite is still the Bears of Berlin, but they've got elephants going on that are quite cool too...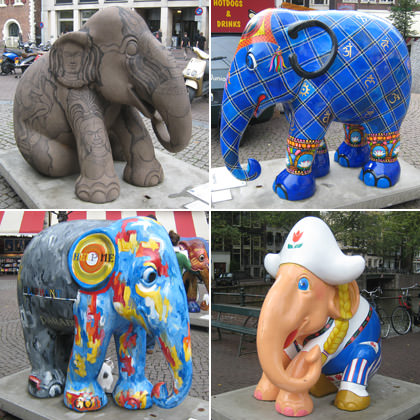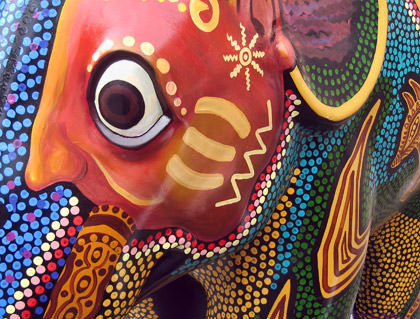 Then it was the train back for dinner with Dutchy and some blogger talk.
Not bad for a 36-hour day!
Posted on September 30th, 2009

And I'm off for a wild weekend in DutchyLand with the Bitch that is Dutch...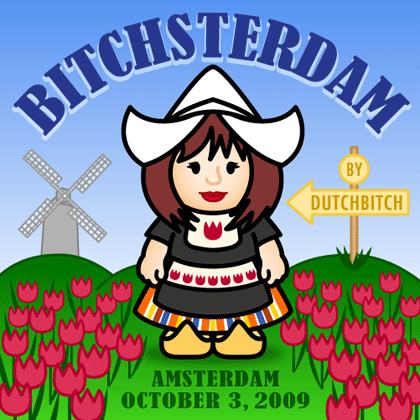 Also in attendence will be the Lady that is Penelope and the Tai-Tai that is Geeky.
With a roster like this, only time will tell if I manage to survive the event.
Here's hoping that if (by some miracle) I do survive, I'll not be permanently damaged...