It's heatwave edition of Bullet Sunday!
• Hot. It's eighty-eight degrees Fahrenheit outside.
• Hotter. I am guessing it's ninety-eight degrees Fahrenheit inside... because the air conditioner is broked. I try to compensate by eating ice cream and drinking ice water, but it's just not happening. All that does is make me realize how bloody miserable I am when I stop.
• Up. I saw Pixar's latest animated miracle, Up, and found it to be scrumtrelescent.
• Upper. Seriously, Up is one of the most beautifully animated spectacles ever made. That wouldn't be saying much if the story sucked, but this is Pixar, so the story is genius as usual. Crotchety old widower Carl Fredricksen decides to have the adventure of a lifetime by tying thousands of balloons to his house and floating to South America. Unfortunately, an overly-helpful and annoying Wilderness Scout named Russell accidentally gets taken along for the ride. Hilariousness ensues. I don't know if Up displaces Monsters, Inc. and The Incredibles as my favorite Pixar movie... but it comes darn close. I'd call the film "flawless" except I did have two small problems and one bigger problem with it. To avoid spoiling things, I've dropped that in an extended entry.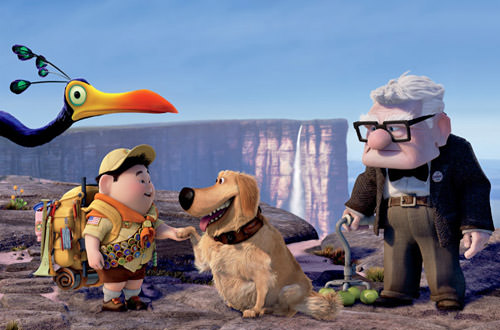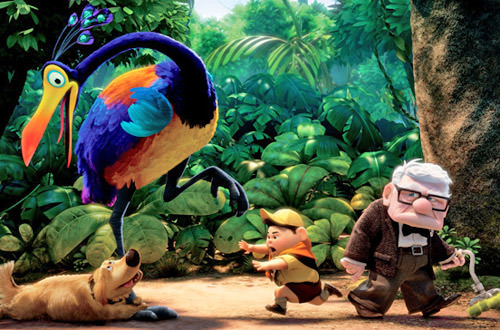 • Twitter. I already feel as though Twitter is a massive waste of time... especially when things like "blip.fm" get involved and people are tweeting every frickin' song they listen to (Why should I care about your bad taste in music? Do people actually click on blip.fm links?). Or, even worse, those who live-tweet television shows and sporting events. Why would I want to read tweets about something I don't even want to watch? Or, if I am watching, I ALREADY KNOW WHAT'S HAPPENING AND DON'T NEED TO READ ABOUT IT! Factor in other annoyances like re-tweets, private conversations, and Follow Friday (SERIOUSLY, IF I WANT TO KNOW WHO YOU FOLLOW, I'LL VISIT YOUR FOLLOWERS PAGE!)... and Twitter is mostly noise anymore (don't even get me started on blog post announcements which announce posts that I've ALREADY READ from a webfeed subscription). Bleh. I wish I wasn't so addicted to Twitter. My life would be a lot simpler.
• Twitterer. But now the ultimate Twitter annoyance has struck... TWITTER GAMES! I keep getting "SpyMaster" invitations, and it's only a matter of time before "Mob Wars" invades. This may very well be the last straw for me. If I can't find a Twitter client that gives me the ability to filter out all the distracting shit that is clogging up my feed, I may just give up. Or unfollow a couple hundred people.
And now I really need to catch up on some sleep. If you've already seen Up, and want to read me nit-picking over this excellent movie, that's in an extended entry...
→ Click here to continue reading this entry...