Posted on June 17th, 2019

I tend to ignore Taylor Swift, only becoming aware of her when one of her songs grabs me on internet radio or something.
But then Taylor performed the song ME! At the billboard music awards with Brendon Urie (from Panic! At The Disco), and she instantly became impossible to ignore. Not only was it a great pop song, but the spectacle which accompanied it was fantastic...
The actual video for ME! (on which the Billboard performance was based) was equally amazing, using CGI to excellent effect...
And then today she released the video for her follow-up single, You Need to Calm Down, featuring a star-studded cast that completely delivered...

Yes, haters, please... have several seats and just shut the fuck up. Your shade ain't going to make anybody less gay, and your homophobic bullshit is tired to people just trying to live their life...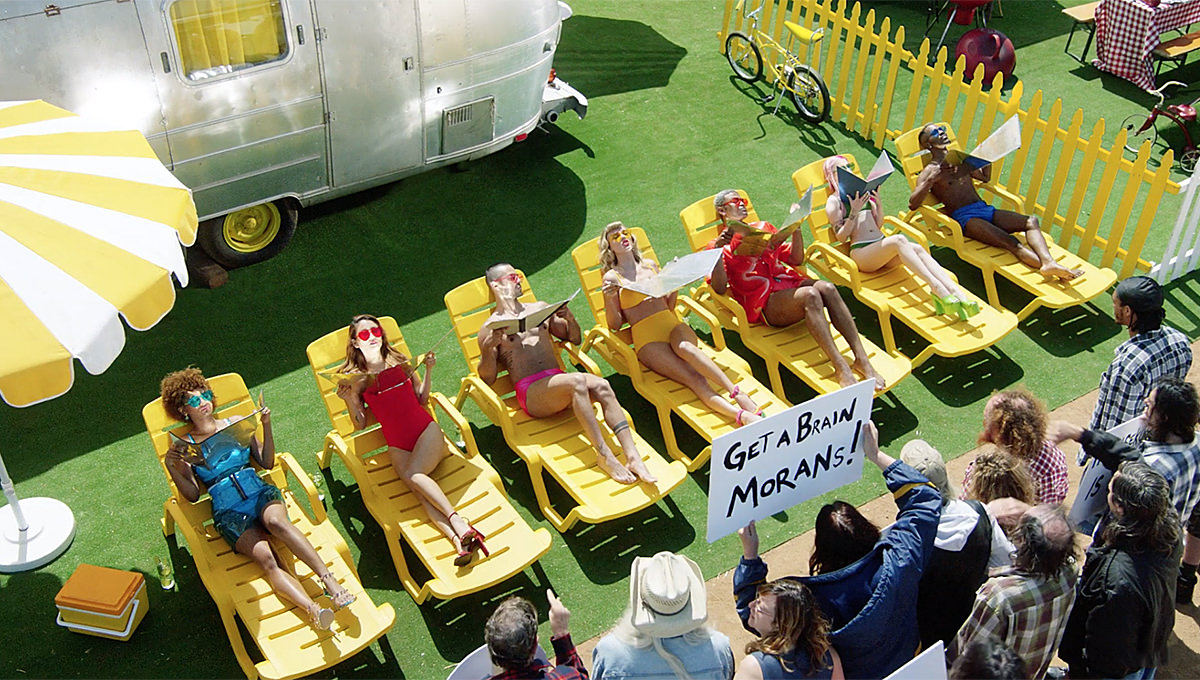 A few things...
• And so I guess the feud between Taylor and Katy Perry is over...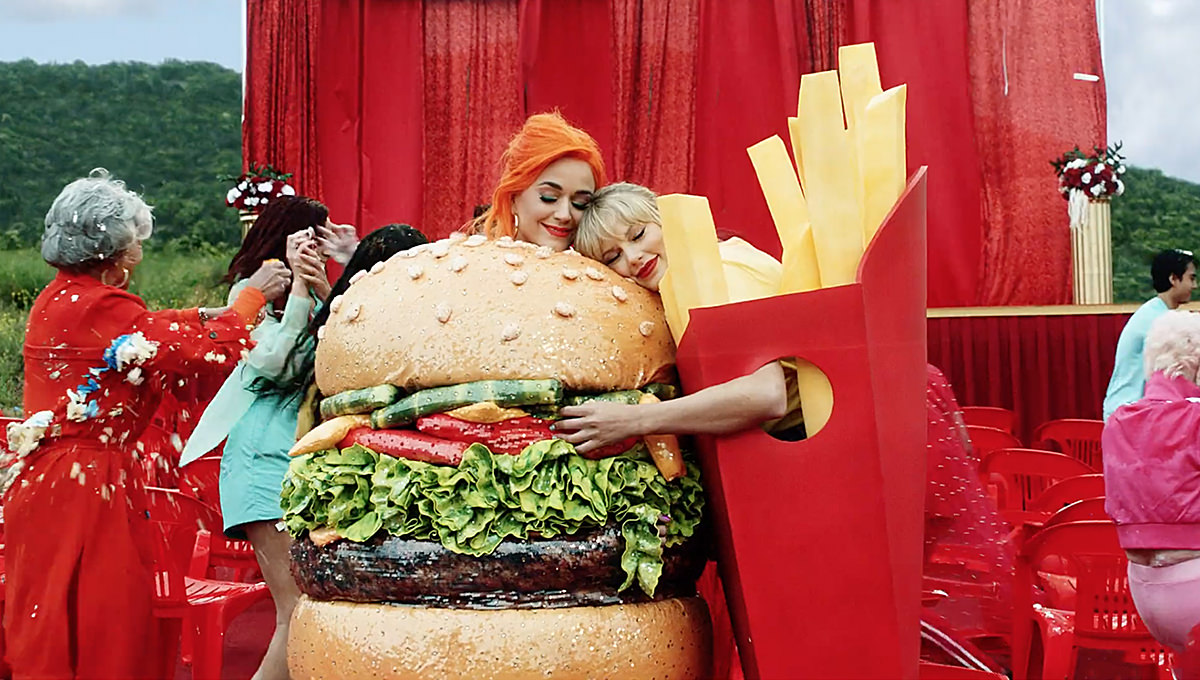 • Trailer Trash Taylor is my favorite Taylor...

• I really hope that Laverne Cox finds a new show to land on post Orange is the New Black...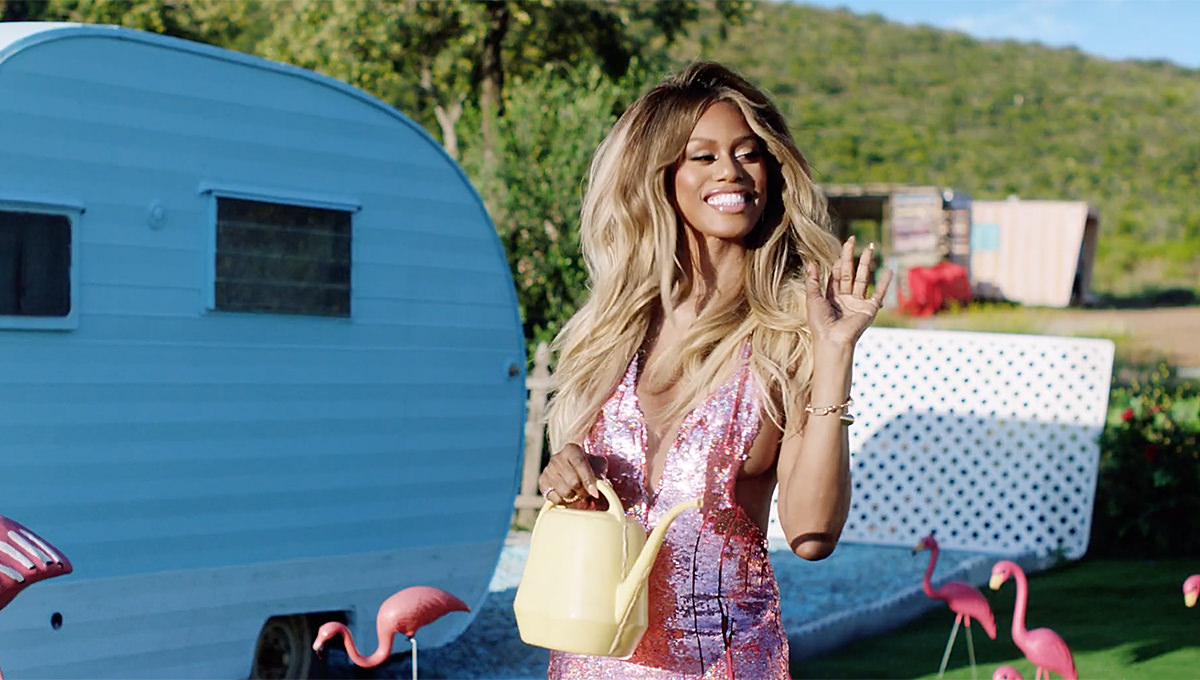 • Oh hey there, Hannah Hart...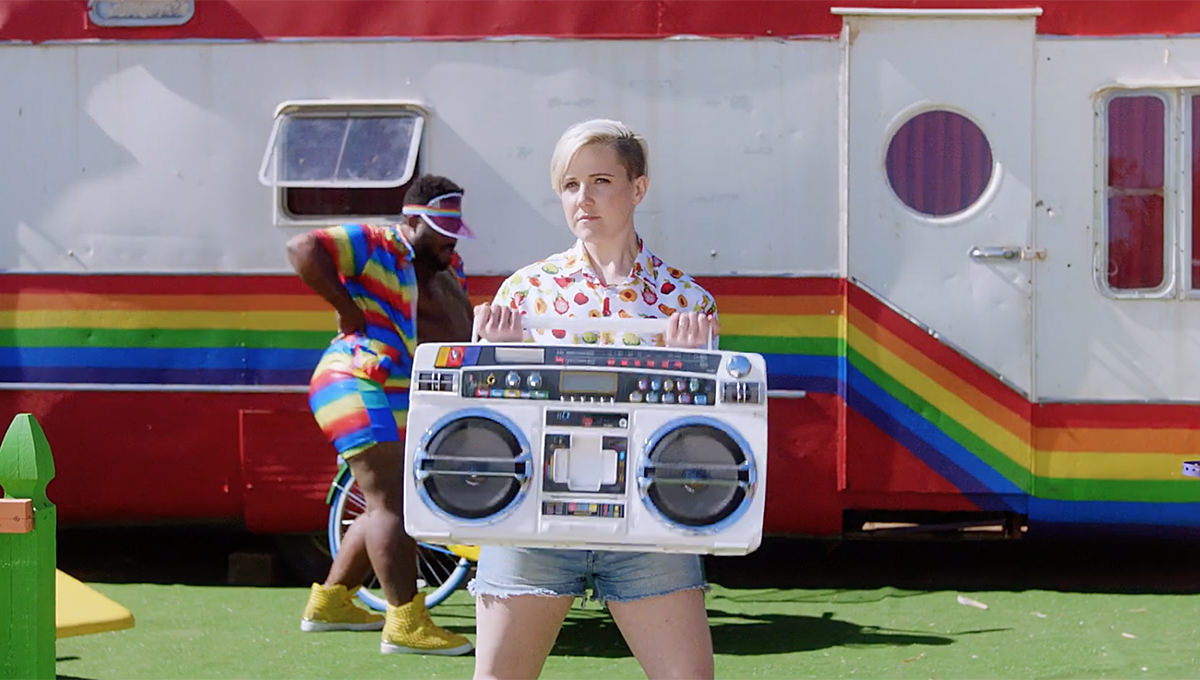 • Oh hey there, Tan France...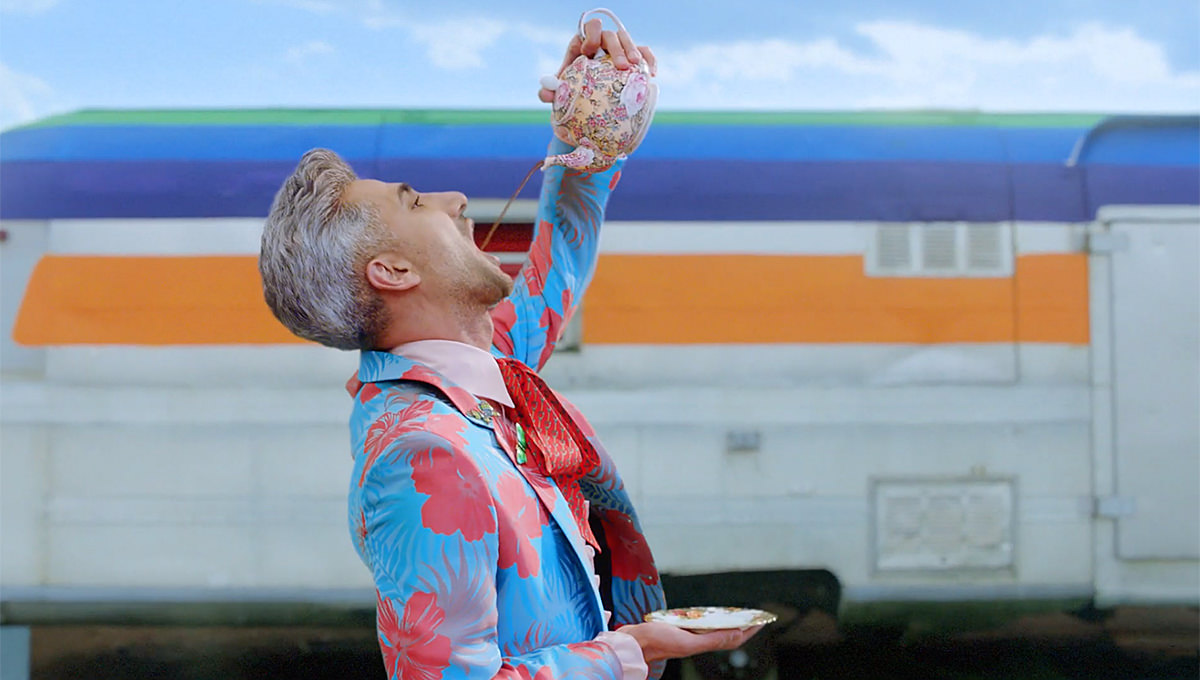 • And there's Ellen DeGeneres getting a tattoo from Adam Lambert which says "CRUEL SUMMER," assumably the name of Taylor's next single...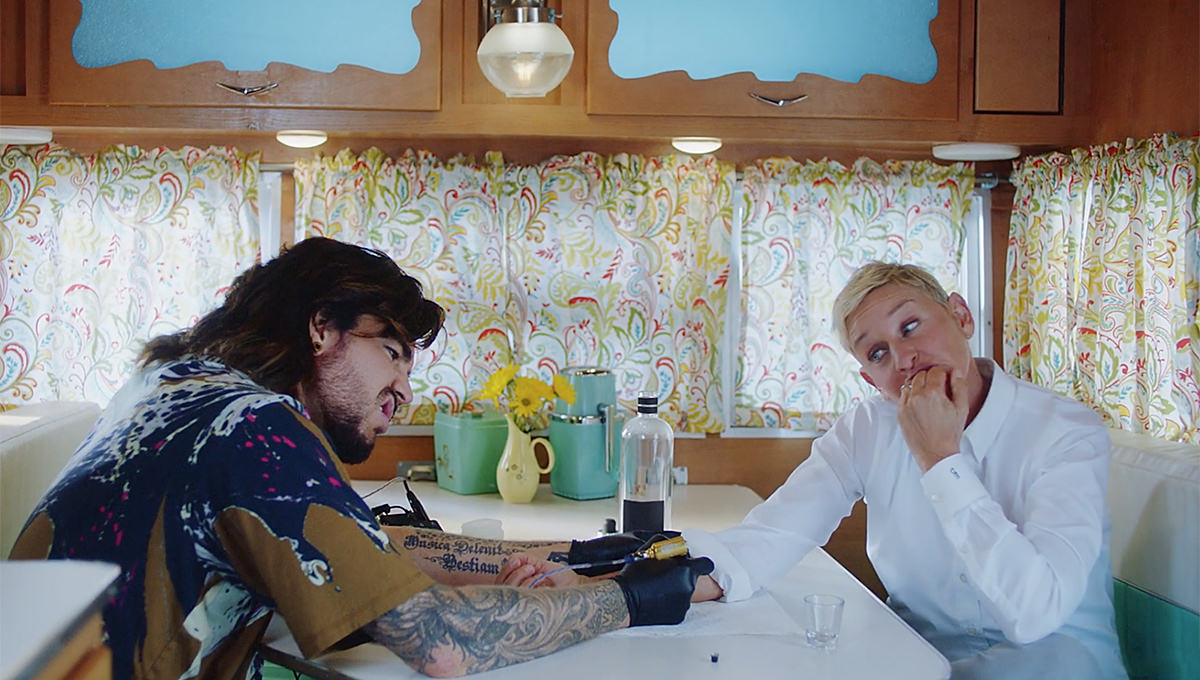 • Oh hey there, Ryan Reynolds...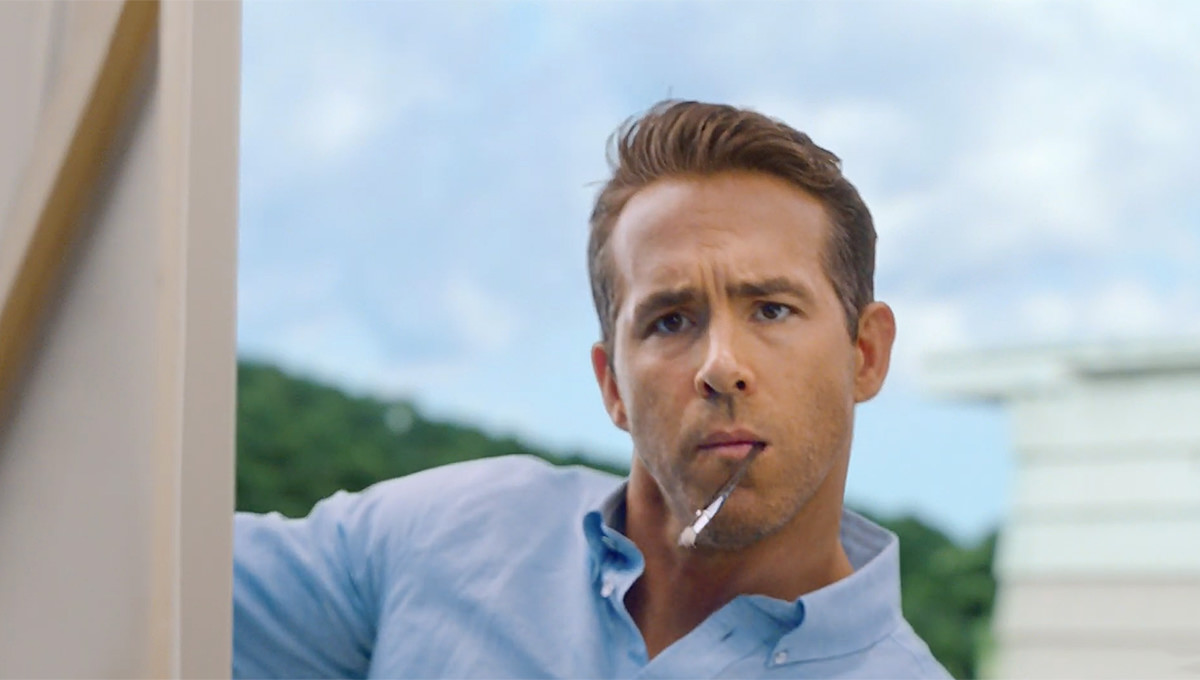 • And, lastly... oh hey there, RuPaul...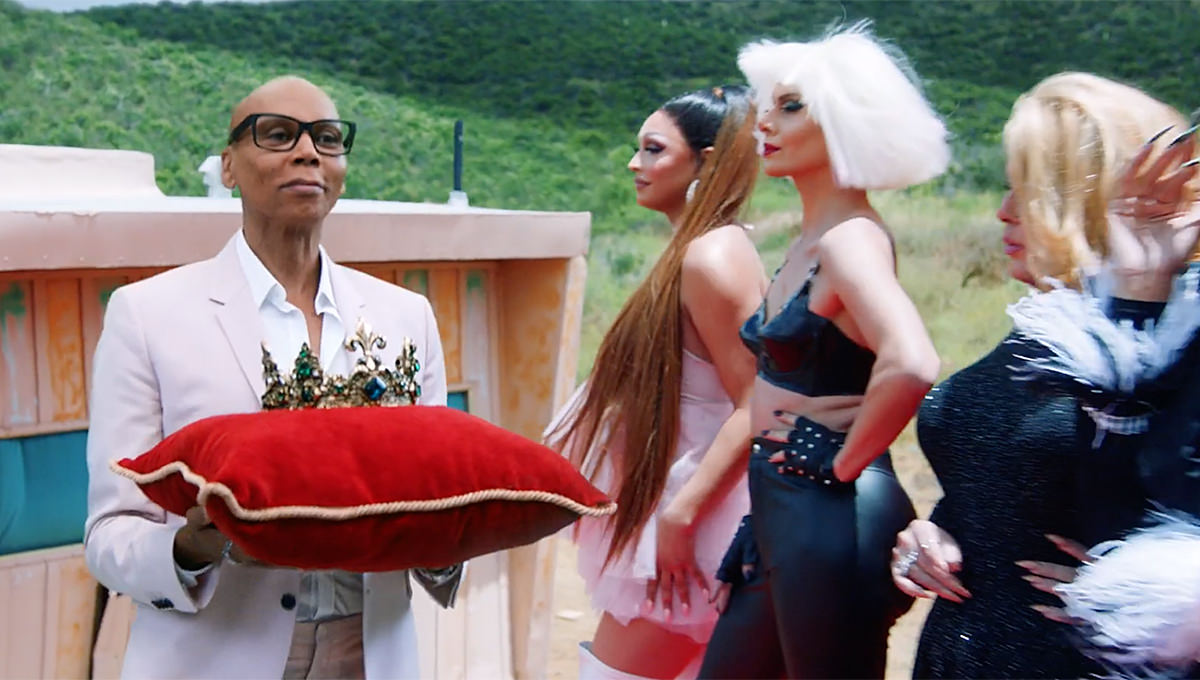 I'm sure that there will be those who say Taylor Swift is merely cashing in on affiliating with LGBTQ Pride Month, but I think that's a bit of a reach. Far safer for her to just keep on doing what she's been doing and not rock the boat so she doesn't endanger her revenue stream. But instead she's proclaiming herself an ally and trying to use her fame for something good. If nothing else, she's setting a good example for her legions of young fans.
So bravo, Miss Swift.
Posted on April 8th, 2018

Time for you to do that voodoo that you do so well... because a brand new Bullet Sunday starts... now...

• KATY?!?! I don't watch American Idol, but I happened upon a commercial where I saw that Katy Perry is a judge now, so I had to check it out. Her new look is amazing...
Modern rock glam with a punk sensibility stirred into the mix? Yes please.

• Shiplap! Shiplap! Shiplap! And so the final Episode of Fixer Upper has come and gone. I didn't sob uncontrollably as expected. There are many home renovation shows I enjoy watching... but none of them... NOT ONE... can compare to the taste level of Joanna Gaines. In all these years, I can't think of a single thing on any of her projects where I've thought "Well that's horrible!" Sure there are some decisions she makes that aren't my favorite... but it's rare, and it's never so bad I would rip it out if it were in my home. Joanna's Behind the Design starts on the 11th, and there's 15 half-hour episodes to be had. After that? I guess it's game over...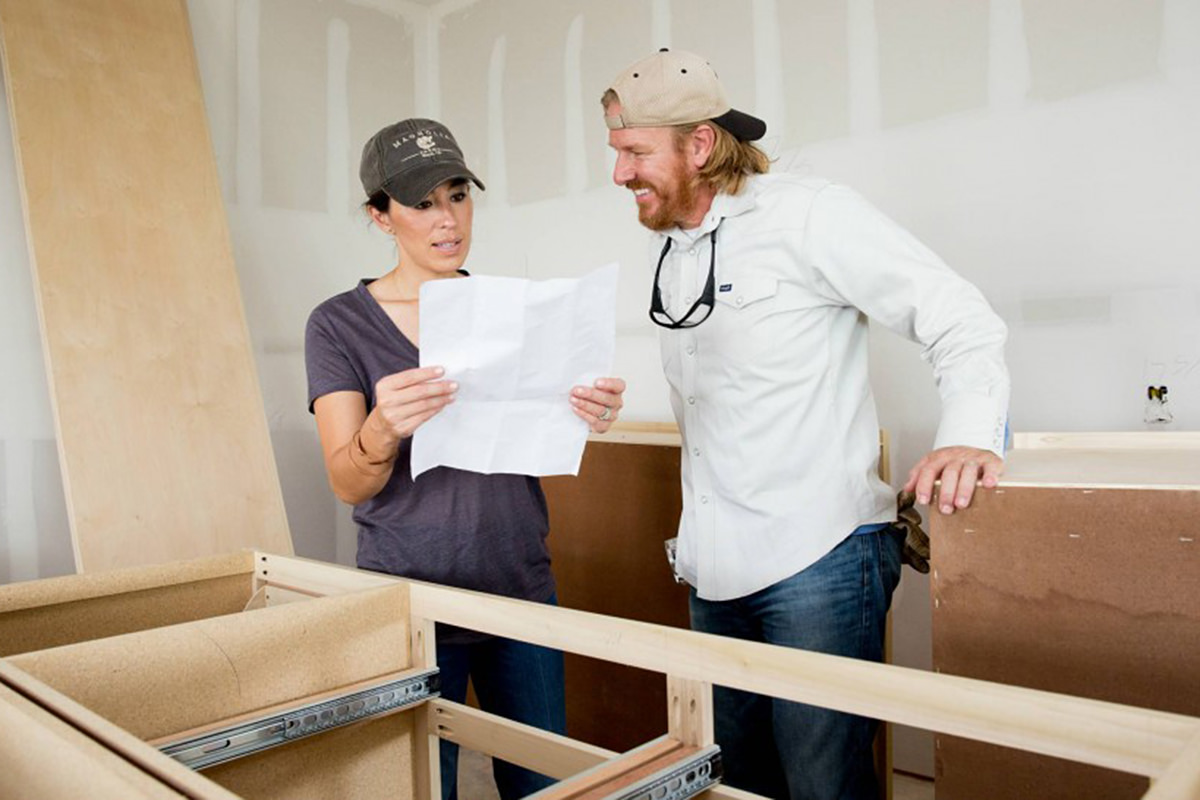 My favorite of all the design shows, Fixer Upper will be missed.

• Pro! APPLE IS CONSULTING WITH THE PEOPLE WHO WILL BE USING THEIR SHIT? WELL THAT'S A WELCOME AND PLEASANT FUCKING SURPRISE! I've been absolutely furious that self-proclaimed "pro" Macs are anything but "professional." They're designed to be pretty rather than functional, and Apple keeps ripping out features that pros actually need. Though something tells me this is a case of "too little too late," as many professionals I know have moved to Windows. My mind reels over how Apple has abandoned a market they used to own. Makes me wonder how much longer they plan to make Macs at all.

• Solo! A new trailer was released for the Han Solo Star Wars prequel. It looks pretty great... but the plague of problems that have descended on the film has me wondering if this is just showing some of the best bits and the rest of the movie if going to be crap...
I guess we shall see. I am really hoping that the movie is great compared to the mixed bag we got last time. Though the special effects, settings, and battles were amazing, I wasn't really happy with the story for The Last Jedi, which had some of the stupidest bits since the prequels...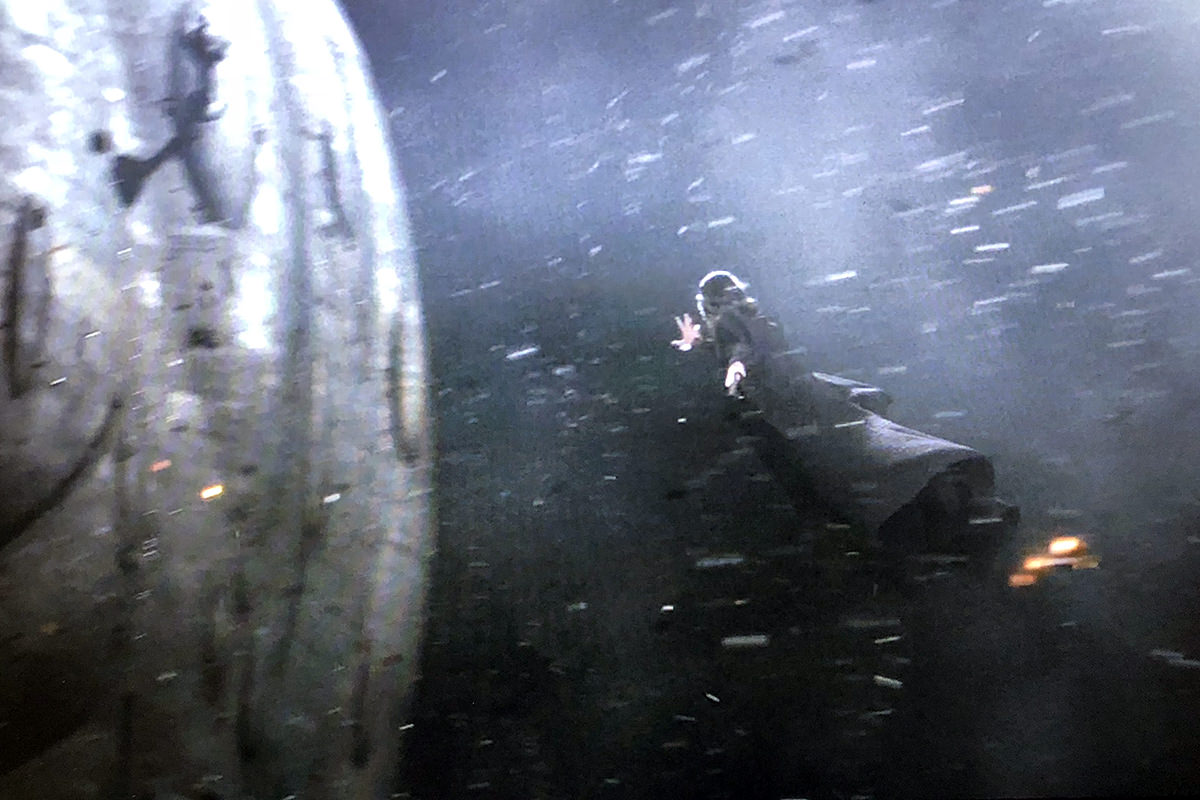 I mean... Space Leia? What in the hell were they thinking?

• Incredible! As a huge, huge, mega-huge fan of the first Incredibles movie, I am anxiously awaiting the sequel. Seeing awesome marketing materials like this doesn't make me any more patient...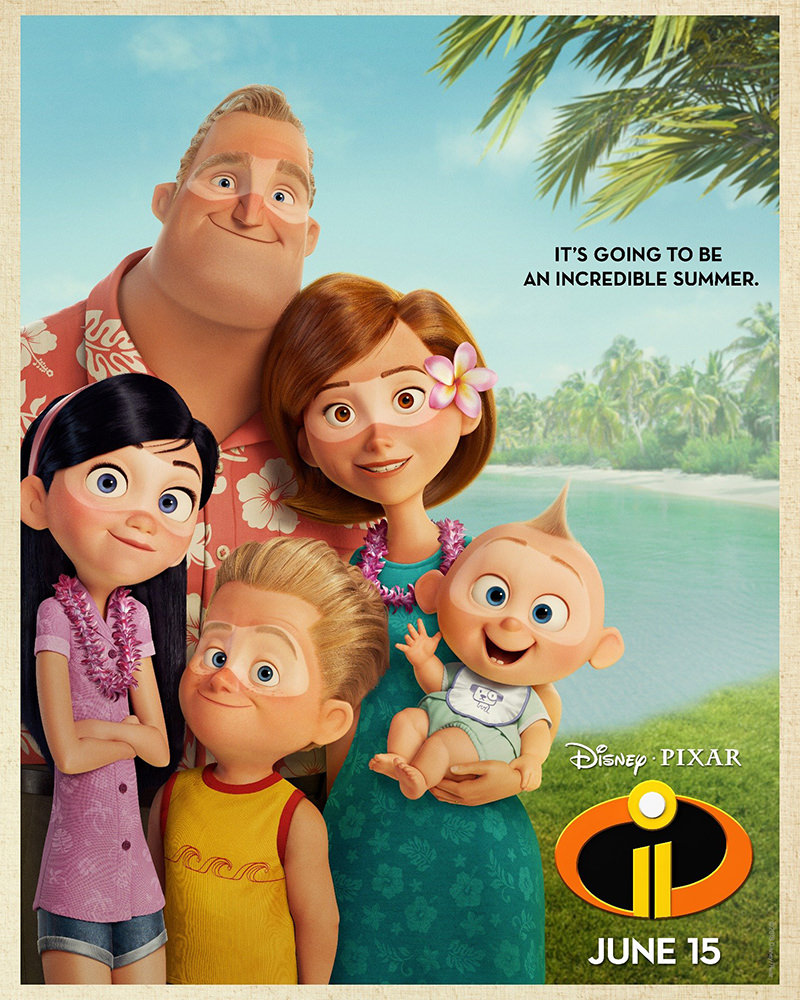 Hopefully they kept the design sensibility that made the first movie so stylishly iconic.

Later, gators!
Posted on February 22nd, 2017

Katy Perry has a catchy catalog of hits which she supports with a variety of excellent music videos. She's an artist of talent and vision, and I've always respected her for the visual "world" she creates, even though I've not always been a fan of her music.
Her latest video for Chained to the Rhythm has just been released, and my estimation of her has ticked up a notch.
Yes, it's unnecessarily complex in spots for a pop song, but I do like it... and the video is amazing. On the surface it's all clever eye candy... but there's some depth there.
And a message...
Good luck getting that hook out of your head. It's been stuck in mine all day.
You're welcome.
UPDATE: KAty performed the song at The Brits and it was pretty spectacular...
A lot of work went into that performance!
Posted on June 23rd, 2012

I was an hour late getting to work because I was having a bit of a waffle crisis this morning.
Once I finally got there, it started dumping down rain. This was very bad timing on the weather's part because there's a parade going on downtown this evening. Apparently the rain eventually realized its mistake, as it retreated before the festivities began. Since I had no plans to attend the parade I shouldn't have cared about the weather one way or another, but was kind of glad I didn't get drenched going out to my car when it was time to go home.
I live just five minutes from work. But Since I had three errands along the way, it took me two hours to get home.
I should say that usually I live five minutes from home. Thanks to half the town being closed off for the parade, tonight I lived fifteen minutes from work. I guess this means my errands lasted only an hour-and-forty-five minutes, but it sure seemed like two hours.
Now that I'm home, it was time for inevitable frozen pizza dinner.
I say "inevitable" because frozen pizza takes no thought or effort. It's the microwave popcorn of Saturday-night dinner. Or it would be if microwave popcorn wasn't already the microwave popcorn of Saturday night dinners. If only I had microwave popcorn I wouldn't have had to settle. But the idea of fighting parade traffic for a trip to the grocery store was more than I could bear after the nearly two hours I spent just getting home.
It's at times like this when I'm safe at home while people are fighting for their lives in a parade that I think about how Katy Perry totally ripped off her Fireworks super-powers from the X-man formerly known as "Jubilee." Somebody at Marvel Comics should sue...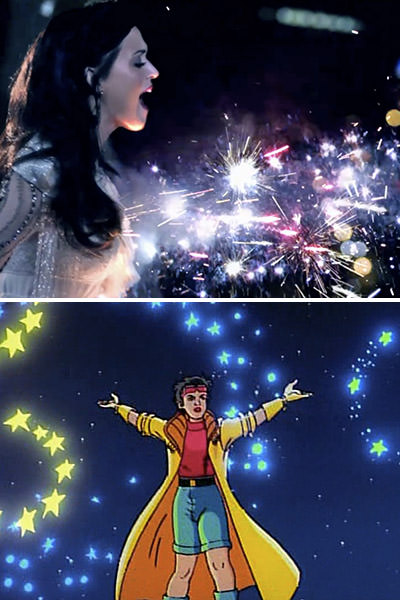 And by "sue" I mean "ask Katy Perry to appear in the next Avengers movie." Because, seriously, everything that Katy Perry touches turns to gold!
And now I suppose I should finish polishing all those imaginary trophies I won in that desert submarine competition. Tomorrow I have to do this all over again (sans parade) and that tarnish isn't going to remove itself.
Please remind me to pick up some microwave popcorn so I can have a decent dinner tomorrow night.