After two weeks of non-stop travel torture, I'd like nothing better than to take a handful of pills and sleep all day. But we can't have that... it's Bullet Sunday!
• Violence. I was deeply saddened to hear of the bomb attacks on the wonderful island of Mallorca. Having fallen in love with the place earlier this year, it's a nasty reality check... much like the Bali bombings of 2002. I gave up a long time ago trying to understand what motivates somebody to harm innocent people, but that doesn't help quell the frustration I feel every time something like this happens. I'm wondering exactly what kind of global disaster is going to have to occur before mankind can put this kind of self-destruction behind them and move forward together. Hopefully it will be a disaster that's survivable, because there's too many beautiful things here worth being appreciated...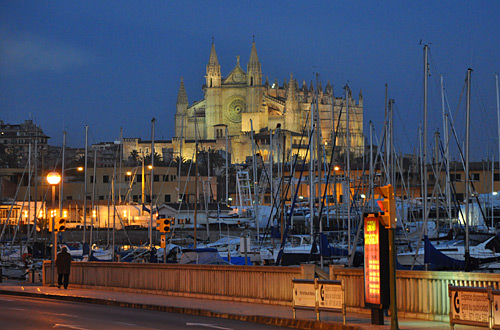 • Dreaming. Unlike most people, my dreams are no fun. That's because, unlike most people, I can never get lost in a dream like it's some kind of fantasy world I'm inhabiting. Oh no. When I dream, I know I'm dreaming. It's hard to explain, but it's like I'm looking AT a movie of myself rather than actually being IN the movie. So, for me anyway, dreams are not an escape... but instead badly-written entertainment. But lately my dreams have become something... different. I still know I'm dreaming, but I'm inside the dream rather than merely an observer. While not as much fun as most people's dreams, it's definitely a step in the right direction. And what am I dreaming of lately? Alpamayo Mountain. And I have no idea why. I've never been there. I barely know it exists. And yet, there it is, night after night...

Astounding photograph by Brad Mering.
Maybe I'm supposed to go there? Or maybe I just enjoy the scenery? I dunno, but it is a lovely mountain.
• Noble House. My favorite novel of all time is Noble House by James Clavell. I have read it several times, and enjoy it more with each reading. I own four editions of the book, and see that there's a new over-sized paperback edition that's been released, so I'll be owning a fifth soon. There's just something about the numerous sub-plots that combine to create an epic, lengthy, brilliant masterpiece that I can't get enough of...
MEANWHILE... somebody read my Hundred Things where I mention that Noble House is my favorite book, and decided to write and tell me that if this was my favorite then I was "stupid." I was then given a list of other books which, in his not-so-humble opinion, were vastly superior. Including such classics as Catcher in the Rye, The Grapes of Wrath, and anything by Hemingway. Usually, I just delete stupid-ass emails like this without a second thought, but instead decided to write back and ask what it was about Noble House that he didn't like. Was it too long? Did he think it was too complex? Did he not like the Asian setting? What? He wrote back the next day and said that he hadn't read Noble House and that he didn't need to read it to know that it was not deserving to be anybody's favorite book when there were such obvious better choices out there.
Yes. I'm the stupid one in this scenario.
• Kitty. Tim Burton movies are pretty much hit-or-miss with me. The quirkiness that he infuses into his projects make them unique, but sometimes he goes too far and I can't get into the film. His latest movie Alice in Wonderland, however, seems to be a perfect outlet for his talents. There's plenty of crazy stuff in the original Lewis Carroll tale for him to build upon in his "sequelesque" story. And just seeing his treatment of the Cheshire Cat is enough to make me want to see it...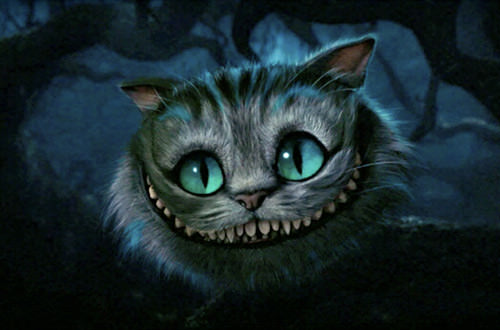 If nothing else, it's going to provide a whole new level of stupid LOLCat jokes.
And that's all she wrote this Sunday, because now it's time for The Comedy Central Roast of Joan Rivers! It's not that I think the roasting itself is going to be that much of a challenge... Joan Rivers is an easy target... but hearing Joan fire back at her roasters at the end should be great fun.