AND LO DID TIM COOK DESCEND FROM THE HEAVENS TO BESTOW UPON THE WORLD NEW APPLE PRODUCTS, AND IT WAS GOOD!
Or not. I haven't quite decided. But there was indeed an Apple Event™ today, and Tim Cook did indeed drop a bunch of stuff on an undeserving world. As usual, I just can't seem to shut my mouth about it, so here we go. If you want to watch the actual Apple Event™ before reading my commentary (or watch as you read) then here you go...
AppleTV+
Some of the forthcoming movies and shows look interesting to me. The addition of Friday Night Baseball is an intriguing idea, but the only way I would want to watch it would be if they're showing a Red Sox game, so who knows how useful this will be to me. I'm not quite understanding where Apple is going with all this. Television series (like my beloved Ted Lasso) and movies (like the wonderful CODA) make sense. But baseball? I don't get it. This is not a big missing piece that is filling a hole in Apple's lineup to attract subscribers.
iPhone 13
Whoop-dee-doo. A new green shade for iPhone 13 and iPhone 13 Pro. It kinda makes me upset that A) Apple adds colors after you've already bought the latest model... and B) the Pro models always get "sophisticated" (i.e. boring) colors. Let me know what I can have when a product is released. And, for the love of God, give the Pro users cool bright colors like the non-Pro models get. I want my (PRODUCT)RED iPhone Pro, dammit.
iPhone 13 SE
This is the "budget" model iPhone that's not exactly "budget." But it is a more affordable option for people wanting a newer, faster iPhone with a better camera and 5G. What's surprising is that the SE is actually more bang for your buck than what you get with a standard model iPhone 13. Because with the exception of FaceID (which I love) this is a pretty sweet feature-packed mobile phone for $430.
iPad Air 2022
Yada yada yada... better, faster, stronger than the last model. This means nothing to me, because what I want is a 17-inch iPad Pro. That's all I want. Until they offer one that's sized for graphic artists, there's no need for me to upgrade from my iPad Pro 12.9-inch model. But for somebody wanting an iPad that slays? This is for you. This is the model I would have bought for my mom. In purple. At $600 it ain't cheap, but there's a lot of bang for your buck in that price tag. Inexplicably, by adding the M1 chip, Apple pushes this into "Pro" territory, which makes me wonder why they have "Pro" models at all. Unless there's new "Pro" models around the corner which will leapfrog this new Air? M2 perhaps?
Mac Studio
Studio Display
And here we go. Pro users want to upgrade their machines faster than the average iMac user. But it's always a waste because the 27-inch display on the iMac Pro is integrated with computer, so getting rid of one means you're getting rid of both. And the trade-in value ain't that great. So separating the computer from the display makes a lot of sense. Unfortunately, doing so means that you have to pay more to get what you need (even though upgrading will be cheaper because you can hang on to the monitor (and this monitor is really sweet, featuring 5K, great sound, and a very good camera)...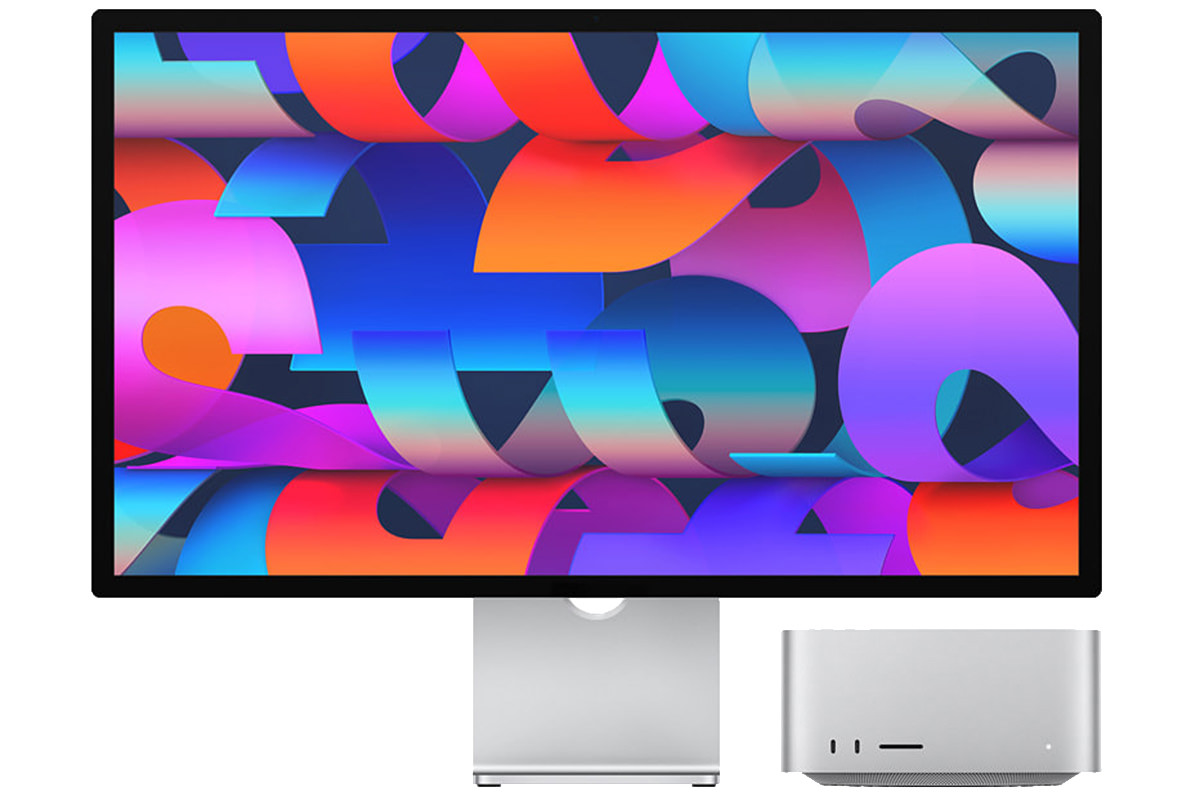 My MacBook Pro with M1 Max is the ideal laptop because it redefines power computing on the go... all while getting sublime battery life. I couldn't be happier with it. Finally an actual Pro laptop! The new Mac Studio allows you to choose between this very capable chip... or the shiny new M1 Ultra. This beast of a processor is essentially "ultra-fusing" two M1 Max chips together into a single processing unit that's more powerful and efficient than using two separate chips that are soldered to the motherboard. Plus the system sees it as a single chip, so developers don't have to do anything special to take advantage of its power. Naturally, I covet a computer using one of these chips... but, even with the intensive work I do, it's likely overkill. Hopefully my office will spring for one of the cheaper models for me, because my 8 year old iMac is dying and takes forever to do simple tasks.
The $2,000 and $4,000 price tag is a lot of cash. But when compared to equivalent high-end PCs it's actually a pretty fair price. And compared to the iMac Pro it's replacing (at $5000) it's a hot bargain. Then there's the Mac Pro, which is still for sale on Apple's website and still using Intel chips. They start at $6000. I'd rather max out a Mac Studio for that kind of money. At least until Apple upgrades the Mac Studio to whatever ungodly powerful chips they're developing.
And that was all she wrote.
And speaking of "she"... interesting to note that all the developers interviewed when talking about the M1 Ultra were women. Appropriate as we celebrate "International Women's Day," I guess. Hopefully all these women are getting equal pay for their work... because that would be something to really celebrate.
But anyway...
Here's the Apple product matrix as it currently stands...
| | ENTRY | MID-RANGE | PRO |
| --- | --- | --- | --- |
| iPhone | iPhone SE | iPhone | iPhone Pro |
| iPad | iPad Air/Mini | iPad | iPad Pro |
| iMac | | iMac 24" | |
| Mac | Mac mini | Mac Studio | Mac Pro |
| MacBook | MacBook Air | | MacBook Pro |
| Watch | Series 3 | Watch SE | Series 7 |
So... inconsistent and all over the map then. Steve Jobs must be turning over in his grave.
Though Steve was innovating in a different, simpler age. Tim Cook seems to be more interested in filling needs than filling boxes, which is probably how it should be. No, it's not simpler than having a neat matrix with clearly-defined labels... but it does make sure that people will get devices that are a good fit for what they are wanting to do with it and how much money they have to spend. And that's probably a better approach.
I dunno.
All I do know is that I wish money was not an option, because I would just buy the biggest, baddest, most expensive model of everything Apple makes every time they release it.
Fantasyland is so much nicer than Reality.