Oh look! Today was yet another Apple Event!
Tim Cook started things off with Dear Apple... which is dramatic readings of people who have written to him saying how much Apple has improved their lives... and saved their lives! It's like, okay, we get it, and it's probably smart to focus on this (thanks for at least trying to be clever about it), but this is kinda a weird way to kick off excitement for new products, isn't it?
Let's get to it, shall we?

APPLE WATCH SERIES 8
Here's the thing. I love my Apple Watch. It helps me monitor my sleep and can do some handy things so I don't have to grab my iPhone as much.
Temperature Sensor! — This is actually pretty darn cool in helping people with ovaries track their menstrual cycle. Good on Apple for thinking of it. Not that this is useless for men... being able to know if you have a low-grade fever when you otherwise might know about it is important in the age of COVID. Nice.
Sleep Tracking! — I have complained... loudly about how bad Apple's sleep-tracking app is. It's so bad that I never use it... I use AutoSleep which is much more capable. Except now Apple has tried their best to mimic what I've been using, which is great that they finally got off their asses... but kinda sad for apps like AutoSleep that filled the gaps while Apple ignored them. I just hope that the new app won't be so damn stupid about requiring you to enter you sleep/wake times! AutoSleep doesn't require this, it just measures when I sleep. So if I manage to take a nap, it's recorded. I guess we'll find out.
Safety! — The fall detection on my watch didn't detect the one actual fall I took... but has falsely detected me "falling" in the shower at least a half-dozen times. So I'm not sure if I can trust the new "car crash" sensor. Though Apple sure makes it sound compelling, so maybe? Seems a smart feature to have... especially if you crash and end up incapacitated.
Low Power Mode! — I thought that "theater mode" already did this?
International Roaming! — Might have been nice when I was traveling internationally a lot. Except I've never felt the need to buy a cellular model. My phone is always with me.
Here's the promo...
One of my biggest complaints from Series 6 is still here! I just checked... Apple still doesn't allow me to "customize it your way" the way I want to customize it. This is so damn stupid. Maybe if I go to an actually Apple Store they could help me? I want a Project RED case with a Black Solo Loop. The only way to do this online? Buy a Project RED watch with a band I don't want and won't use... then pay another $50 to get the Black Solo Loop...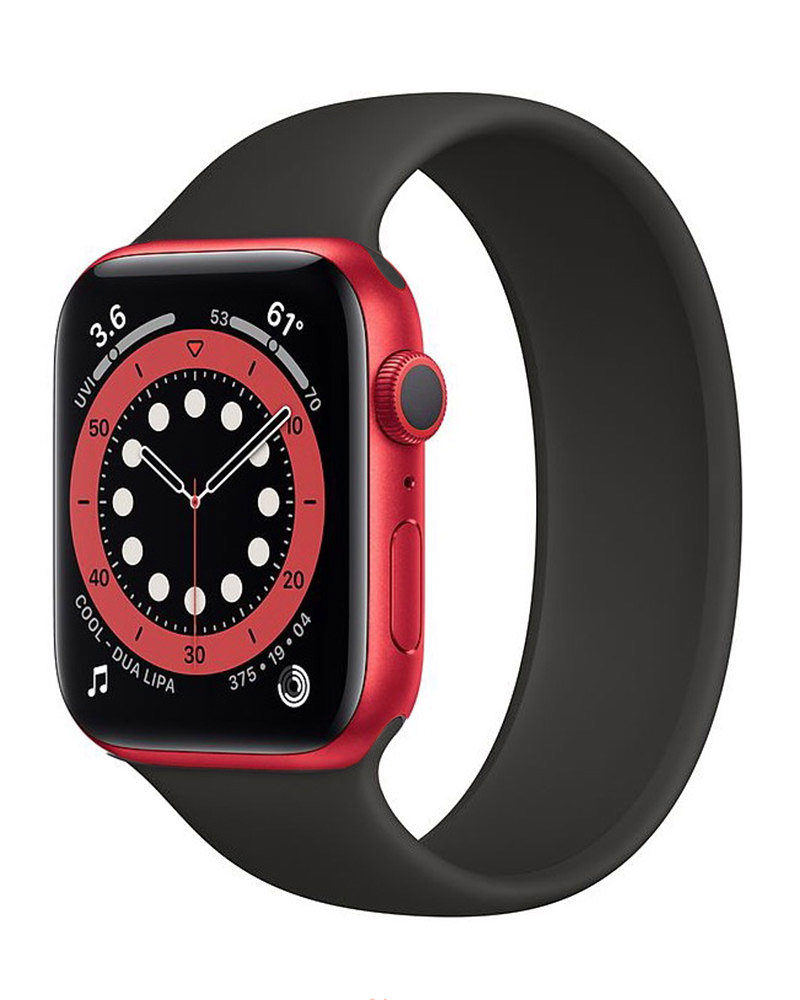 Pretty crappy, Apple.

APPLE WATCH LE
I don't know if saving $150 for a lighter feature set would be the best choice for me... but it's nice that Apple is at least trying to be a little sensitive to the fact that people don't have shitloads of money laying around. From what I can tell you lose always-on display, edge-to-edge display, Blood Oxygen and ECG reading, and "fast charge." So... not a lot, actually. A smart choice if you want a more basic watch that still have a lot to offer.

APPLE WATCH ULTRA
Apple's long-rumored "super watch" is actually pretty compelling. If it weren't so darn HUGE it might be something I'd consider (if I had $799 to spare).
Action Button! — Now, why can't the other watches have this? No, it wouldn't be as big and you couldn't poke it with gloves like the Ultra version, but it would still be handy to have that button customization feature! BOOOOO!
Display! — Yeah, yeah, it would be nice to have this super-bright display on my watch so I can read it in the sun, but it's understandable that you'd need to have a watch this huge to hold a battery to make it actually work.
Big Battery! And, yeah, having three days of battery life would be nice, but I can get almost two days with my watch in "theater mode" so I'm not crazy jealous about it.
New Bands! — The bands for this watch are something I'd love to take a look at. Alas, not one of them is available for the 41mm watches, which is kind of shitty.
Enhanced Precision GPS! — Not something I'd ever need... but I guess it's kind of cool if you need it for training and what-not. Not really sure why the other watched can't have the L5 hookup, but oh well.
New Compass! — Now, come on. Would it really be all that difficult to give the other watches a compass that works well? It's kinda a bummer that you have to pay $400 more to get a watch that handles this better than the (let's face it) poor compass in the other watches.
86db Siren! — That doesn't seem all that loud... but it might be loud enough to make a difference in calling for help when you fall off a trail or something.
Underwater! — Yeah, this is all frickin' cool. Not that you'd want to get rid of your SCUBA dive computer, but it's pretty nice from the standpoint of being able to integrate with apps (like the Oceanic+ app that they demoed). If I were a diver, I'd probably ignore the huge size of the watch just to have that feature.
Ultimately, I really like this watch. I just could not deal with how astoundingly big it is (SERIOUSLY! JUST LOOK AT IT IN THE AD WHERE IT'S SHOWN ON PEOPLE'S WRISTS! HOLY CRAP!). Even for the features you get. I have to say... the advertisement that they came up with for the watch is unintentionally hilarious with its overly-dramatic overtones...
I mean, come on... adventure can be fun too! It's not always so dire!

AIRPODS
I used my Airpods to death when I was traveling constantly. And the "Pro" pods were my favorite travel pods I've ever used. Not only did they not fall out constantly like the old model version, but they had that spatial sound mode that was brilliant. But now that I'm not traveling? Rarely use them. I prefer my Beats. The new "Pro" AirPods that got released today are said to improve sound quality, but I sincerely doubt it's going to be groundbreaking compared to the ones I have now. The enhanced noise cancelation, better battery life, and adaptive transparency mode would be pretty sweet though. And how awesome is the swipe volume control?

iPHONE 14
Since I've bought the "Pro" version all the way back to the iPhone X, I'm not sure about what features are improved compared to the iPhone 13. But it sure can't be much.
Colors! — once again you can get the Product RED color for the lower-end iPhone, but I'll bet every dollar I have that you won't be able to get a Product RED color for the Pro model. Infuriating.
Max! — The iPhone mini is gone, replaced by an iPhone Max. I can't go back to the "regular" size after living with the Max, so I'm happy this is an option for people who don't need Pro features.
Camera! — I am more interested in how well the camera works than any other feature. I don't even care so much about making calls if my camera is dope. Fortunately, the iPhone 14 looks to have a pretty good duo-lens camera that will be more than acceptable to most people. While other phone manufacturers have features which exceed what Apple has done... I honestly think that the photos you get off iPhone are better due to Apple's advanced processing on their Photonic Engine. It's nice to know that iPhone 14 isn't lagging too far behind in this regard. Especially in low-light conditions.
Crash Detection! — Makes sense that if the Watch is getting this, the iPhone is as well.
SOS Satellite Connectivity! — Very, very nice. Especially if you are often in areas where there's no cellular signal. And Apple looks like they have made it as easy to use as possible, which is incredibly smart. I feel I should get an iPhone 14 for the emergency satellite connection alone. Give how horrendously shitty T-Mobile coverage is... even when I'm in a city which is supposed to have great coverage... it might be the only way to call for help if I'm in desperate need while walking down a city street! =sigh= I really need to see if Verizon has an old people plan like T-Mobile so I can actually make calls and use cellular data again. I dropped to 2 bars on LTE while driving through a city of 35,000 people today! But, hey, the price for T-Mobile's crap service cannot be beat if you're age 55+! — I just hope to heaven that people don't tie up emergency services with this unless it's an actual dire emergency.
Sustainable! — Say what you like about Apple, but the fact that they are so good about trying to keep e-waste out of landfills is terribly important and admirable.
All-in-all... this is a pretty good bargain when it comes to iPhones.

iPHONE 14 PRO
And here we go (boy is Tim Cook excited! Must be great!)...
Purple! — Yeah, I really want that purple iPhone, even though I
I'm An Island! — The pill cut-out on the screen is kinda dumb. But here's Apple putting lipstick on a pig in a way that's actually pretty cool. The way the "Dynamic Island" works is darn clever and conceals the fact that you've got a cut-out for cameras on the front of your iPhone. So... not so dumb, actually. Pretty impressive, in fact. I love it, even though I'm not entirely sure what's going to get covered up when your "island" has junk in it?
Screen! The display on Apple's iPhones has always been great, and it's amazing to me that they can keep getting better, brighter, with more dynamic range. Yes please.
Always On! The always-on display is a long, long time coming... and it's a bit embarrassing that Apple has taken so long to get here. Though the way that they've given the display an ability to drop to such a low refresh rate to save battery is probably a big reason why it's taken them a while. They wanted to do it right. The funky lock-screens are fun, but I don't know that this is anything I've been dying for.
Chips! — The new A16 Bionic is faster, of course, but I really don't do much on my phone that will take advantage of this. Maybe I should start intense gaming or something? Nice that the battery life just keeps getting you more bang for your buck. The efficiencies built-in are very important to Apple because conserving battery life is important to their customers.
Camera! — And... here's why I'll be upgrading my 13 Pro to the 14 Pro (thanks to my belonging to the Apple iPhone Upgrade Program, I can actually afford to do that!). The new lenses, 48 Mp "quad sensor," and camera functionality are more than worth it. A DSLR just isn't necessary to me anymore, and this makes that even more true. The light-gathering ability of the larger sensor makes my mouth water. Just look at how gorgeous the shots you can get are! All in ProRAW at 48MP resolution. So great.
ProRes DolbyVision! — While the quality of iPhone photos vs. other phones can be debatable, I don't feel the same about video. The iPhone is leagues above what I can get out of the Samsung, and the way Apple keeps pushing it to be better means it's more true than ever.
Price! — How in the heck are they keeping the price the same? Everybody... including me... thought for sure that Apple would be jacking up the price!
The promo video is pretty good at hitting all the sweet spots...
Like I said... the camera makes it all worthwhile to me, so I'll be using my option in the Apple iPhone Upgrade Program to upgrade. Probably in Purple. Maybe in Black. BUT DEFINITELY NOT IN PRODUCT RED, HUH APPLE?!???

THE END!
So... no real surprises, I guess. Just incremental improvements with no revolutionary innovations. Again. One day there is going to be some paradigm-altering new feature at one of these things. The question being... will it have come from Apple first?