IT'S LET'S WATCH A MOVIE WEEK! Where I live-blog me watching a film and comment along the way! Most of these films I watched a while back, I just wanted to hold off talking about them until more people had a chance to see them. Because of the pandemic, and all that.
Today's movie is one I saw way back in January. But not so long ago it was released on home video... Spider-Man: No Way Home!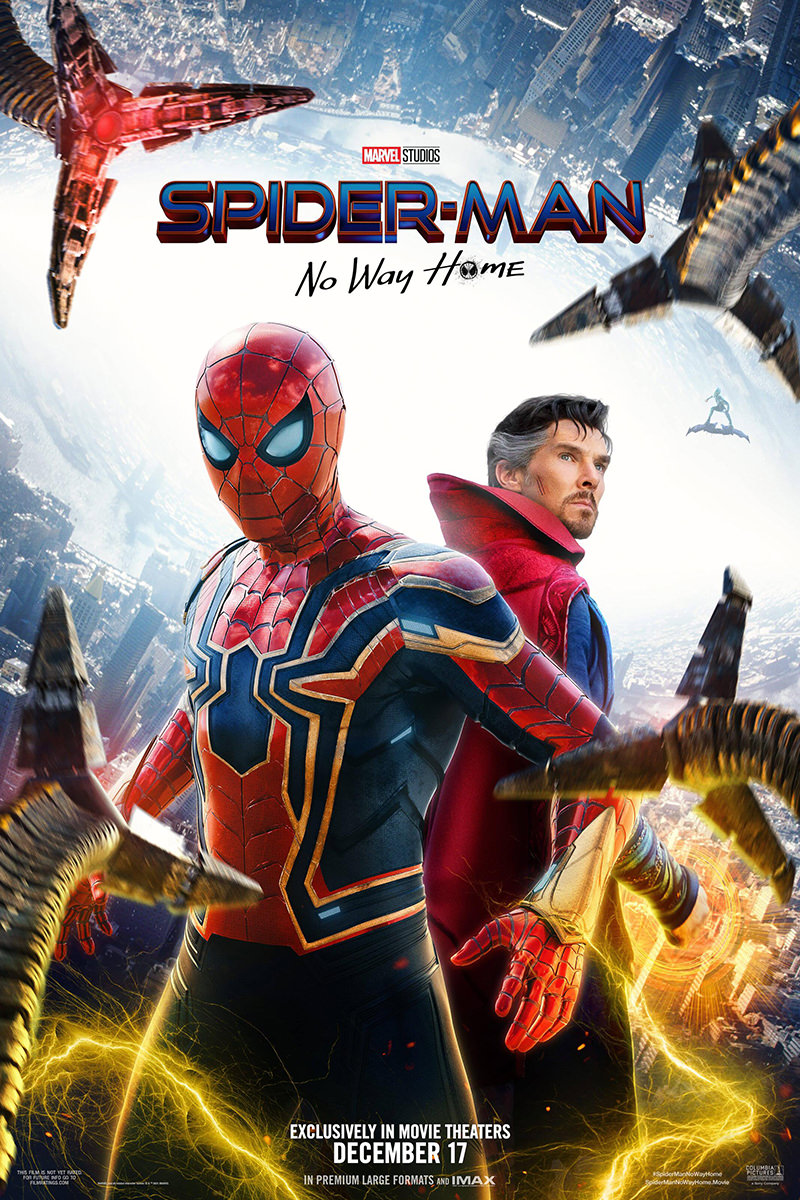 If you haven't seen it yet, this will obviously be a spoiler-filled entry. And probably not make a lot of sense. You've been warned.

If you're somebody who just wants me to summarize and not have to read through the smalltalk to see how I felt, here you go: Spider-Man: No Way Home had potential to be a convoluted disaster, but ended up being one of the most comic book comic book movies to ever be released. Thanks to a terrific script, plenty of surprises, and capable acting, I enjoyed this movie a lot. Like a lot a lot.
GRADE: A
We start where we left off... Mysterio, thought to be a hero by the world at large... accuses Spider-Man of his murder, and reveals his secret identity to the world. So now, much like the comic books, Spider-Man is Public Enemy Number One (spurred on by the deranged ravings of J. Jonah Jamison). There's a million ways that this could have been resolved (has been happening in the comics for decades), but I did not anticipate where it would lead. At all. And I wonder if the writers knew how they were resolving it when they wrote the ending to the previous films.
Aunt May and Happy Hogan are breaking up. Bummer, Happy. First you lose Tony Stark, now this.
HERE COME THE FEDS!
"Nick Fury has been off-planet for the last year." We, of course, know that he has been on vacation while the Skrull leader Talos has been impersonating him... but Peter had no idea, and it's weird to me that he never looks into it at all in the rest of the film.
Zendaya brings so much to the table as M.J., and I don't know that she gets enough credit for that. Her interrogation time is priceless.
Ha! Classic Ned.
And then there's Marissa Tomei. Sigh. I know that she doesn't have the star power that she used to have. But it still shocks me that she agreed to be in the Spider-Man movies. She's perfect for this version of Aunt May, and it's so nice that casting put her in the role. It will be very strange to not have her be a part of these films any more, and she will be missed.
It had been rumored for a while that Charlie Cox was going to appear as Daredevil (or, to be more accurate, Matt Murdock) in this film. I still got a thrill when this scene unfolded. Cox is so good in the role. And this being the precursor to him (and the other Netflix Marvel Studios characters) being folded into the MCU where they belong was a treat.
I hope that Jon Favreau sticks around even though all his ties to the MCU are gone after this film is done (Tony is dead and he doesn't even know who Peter is). He's comic relief without being stupid comic relief, and adds a lot of value to these movies.
"How did you just do that?" — "I'm a very good lawyer" THIS. This right here is why DC can't reach the heights that Marvel gets to. They don't get why continuity is important. What value it can bring. And how throw-away lines like this can thrill fans that devote themselves to these movies. And yet it's still funny even if you never saw Daredevil.
"Go get 'em, Tiger!" Cute that they managed to work this classic M.J. Watson line into the movie in a way that works, because Zendaya's M.J would never say it.
Flash's book is Flashpoint... they literally beat DC to the punch with their own event (not to mention the Ezra Miller Flash: Flashpoint movie that's coming one of these days (or not, since Miller was just arrested... again).
It's just a bit part cameo piece, but I love that they brought back Peter's teachers for an appearance (I've been a fan of Martin Starr forever). I will say, however, that it's bizarre that there are people who consider him to be a hero while still others consider him to be a villain at the same time. They do write this off as the guy being a conspiracy theorist, but still.
Peter said earlier that he's broke. How was he going to pay for college? Stark didn't leave Peter any money in his will?
I've read that part of the licensing agreement for Sony allowing Spider-Man to be a part of the Marvel Cinematic Universe films is that at least one major MCU character has to appear in every solo Spider-Man film. Iron Man in the first one. Nick Fury in the second one. And now Doctor Strange in the third one. Personally, I love the cross-pollination of characters between films. It's this interconnectivity that makes all the Marvel Studios stuff so dang brilliant. But they are always careful to make sure that these guest appearances enhance instead of overshadow Spider-Man. And having the Master of The Mystic Arts (plus Wong!) show up was perfect for both Sony and Marvel because it opens up so many doors for both their efforts.
The winter wonderland going on in the Sanctum Sanctorum is fantastic. Both visually and for comedic effect (Strange slipping when he lands was a laugh-out-loud moment for me).
Wong! Boy I hope that we get a Wong Disney+ series.
Wong being elevated to Sorceror Supreme is fantastic. It does nothing to diminish Doctor Strange but does everything to elevate Wong!
"...but I'll allow it." Ha! Nice nod to Tony Stark there.
COME ON! WE DESERVE A WONG DISNEY+ SERIES!
"They shot an episode of The Equalizer here in the 80's." A part of me wonders if that could actually be true!
The Doctor Strange magical effects have been amazing since Day One. And here we are again.
LOL. The object that Thor knocked over in Thor: Ragnarok is knocked over again.
Benedict Cumberbatch was the only choice to play Strange. I am more convinced with each passing movie.
In many, many ways, I will not be sad to see the Iron Spider suit go bye-bye. I've said it multiple times, but so much of what makes Spider-Man be Spider-Man is that he's a kid on his own. All this fancy Stark tech has been fun... but I want to see a stripped-down Spider-Man for the next movie, and it sounds like that's what we're going to get.
We knew, of course, that Doctor Octopus would be appearing. But despite the advance notice, it was still fantastic to see Alfred Molina as this character again. Re-casting after re-casting after re-casting gets tired, so why not just go back to the best? Albeit with a little de-aging CGI thrown in.
What made the Doctor Octopus of Spider-Man 2 work so well is that many times his mechanical arms were physical effects instead of CGI. In many scenes they felt real. These CGI arms are very cool (and probably more comic book apropriate) but they have a more "unreal feel" to them. Not necessarily in a bad way, but it does make me appreciate the job that they did the first time around back in 2004.
See... this tech stuff with nanites is not Spider-Man to me. Cool (and funny) as it is.
Tom Holland has always been perfect to play Peter Parker because of scenes like this. Peter's confident but hesitant, and getting that tone right is not easy. And of course his amazing athletic ability fits Spider-Man to a T.
And, of course, it's nice to have Willem Dafoe back! (which is a relief, because while Dane DeHaan was fine, his Green Goblin was stupid).
"The Multiverse is Real!" Welcome to the real start of Marvel Phase Four!
This is the one thing about this movie that doesn't really work for me. Ned, out of nowhere, has magic in his family and tingling in his hands... paving the way for him to be able to use the Sling Ring. Eh. Feels forced.
"Otto Octavius?" Yeah, yeah. But back when all these characters were created, the silly names were considered cool.
The throwaway gags in this film are on-point.
The "Mystical Spider-Man" suit is cool... but not as cool as it could have been. It's pretty much just a red and gold version of his usual suit.
Wait... Electro knew who Peter Parker is? How was he drawn to this universe, because I'm pretty sure that was not a part of his story. And why is he a buff Jamie Foxx instead of nerdy Jamie Foxx? Even The Lizard wants to know! Alas, no answers.
Having JK Simmons return as J. Jonah Jamison is a fun touch. But turning him into a supplement-pushing Alex-Jones-type on a streaming video show is brilliant.
The concept behind "fixing" the villains before sending them back to die is a wacky one. How, exactly, does that benefit them? "Change their fate?" I guess. But it seems as though they were snatched just before they died and will return in the same point in time... to die.
Why is it when the heroes fight each other it's always a more interesting battle than when they fight villains? Though it's sad that The Cloak of Levitation, which was friends with Peter in Avengers: Infinity War is now forced to fight him. It is more than a little odd that magic could be defeated with... math?
The Lizard dishing out prophecy right here.
"I'll do it!" — "No way that's his girlfriend." The fact that Tom Holland and Zandaya are dating in Real Life is a hilarious dig.
Now this was an interesting moment that slipped by me in the theater. Electro is reacting to the power source of the fabricator... which is an Arc Reactor. That makes his little speech to The Sandman hit a lot different. And makes when he actually steal the Arc Reactor make a lot more sense. Out of all of them, he's the one you never really buy as anything except a villain. Though his "Are these your LEGO" comment is totally hilarious.
PLEASE come up with a way to keep Jon Favreau in the MCU.
Now see... this is where Willem DaFoe makes you think that he's the only guy who can play the part. He goes from Norman Osbourne to Green Goblin in disturbingly quick order.
Killing off Aunt May, essentially having her take the place of Uncle Ben's role in the comics with the "With Great Power Comes Great Responsibility" line, is an important part of what makes the story arc for this movie work. And makes the end hit way harder. So... I get it. But boy will I miss Marissa Tomei in these films.
What this newfound magical ability could mean for Ned going forward is both frustrating and exciting. But, then again, they could easily let it be forgotten along with Peter Parker. Whatever the case, it's better than turning him into the Hobgoblin like they did in the comics.
Andrew Garfield was a great Spider-Man... a not so great Peter Parker... but that was likely not his fault since he was saddled with some shitty, shitty films. And, I gotta say, him getting a little redemption here is truly nice. He deserves it. And let me tell you, I would not be mad at all if he got another Spider-Man film or series or something.
Toby Maguire was a great Peter Parker... and a good Spider-Man. And his first two films were magic. But that third one? Holy crap. It's also truly nice that he got redemption with this flick. And, yeah, seeing him in another Spider-Man project would also be nice. He's so good at his role in this story.
As well-written and well-acted as this grief scene is, they really pushed it too hard. The entire movie stops all momentum... especially considering that you go from this to science lab stuff and even more angst.
The Toby Maguire Spider-Man having organic (instead of mechanical) web shooters is something I disagree with to this day. Part of what makes Spider-Man so cool is that he's smart and creative. And he came up with his trademark webs because he scienced it.
LOL. Lady Liberty is all decked out for honoring Captain America... and it's all thanks to Rogers: The Musical as we saw in the Hawkeye Disney+ series!
Spider-Men comparing notes. As I mentioned, my fear with this film was that having two additional Spider-Men would be taking away from Tom Holland's character in his movie.
A far, far better Electro suit than the big blue battery look in the Amazing Spider-Man 2. And the nod to his absurd comic book mask was a nice touch.
This Spider-Men vs. villains battle is entertaining but, again, the fight with Doctor Strange was more interesting.
This movie was SO well-written. And given all the things they needed to accomplish, it's a frickin' miracle.
I'm sure analysis was done on all the people/creatures making their way through the multiverse breach, but you really can't tell. One guy is big. Maybe it's a Thanos! He probably knows who Peter Parker is... I mean he knew Tony Stark. Or maybe it's Darkseid? (LOL!).
So... the entire world stops falling apart long enough for Peter to say good bye. That's nice.
Okay. I know that it would be easy to be all "IT'S MAGIC, OKAY!" to explain all the wild inconsistencies that were created when everybody who ever knew Peter suddenly forgets he ever existed. But it's so sloppy and messy. In the end, it's admirable how he decided to let and M.J. and Ned continue to forget him because their lives will probably be better because of it. Or, at the very least, safer. And seeing him end up exactly where the comic books had him forever will make for an interesting next chapter to be sure. But it's like... come on. I grew to really like the MCU Spider-Man. I can only hope that where they go next will make for the same great stories that this past trilogy did.
So where did Peter get the money to rent an apartment in New York City when he's not just broke... but doesn't exist? Or does he exist? Does he have a social security number to be able to work? I dunno. But that shiny spandex Spidey suit is pretty cool.
All the Spider-Man films have had flawless music choices (The Ramones was welcome and wholly unexpected). But Schoolhouse Rock? VERY cool. That it's a De La Soul version is all the better.
The mid-credits scene attempts to pull Sony's Venom into the MCU (albeit briefly) all the while setting up the MCU with a Venom of their own. And, I gotta say, if they bring back Tom Hardy, I wouldn't be mad at all. And, yes, that was really Dani Rojas from Ted Lasso tending bar.
Having the post-credits scene be a preview of a future movie is a real copout. But given that Spider-Man: No Way Home was supposed to come out after we saw Doctor Strange In the Multiverse of Madness, I'll give them a pass.
And there you have it. The End. Of yet another spectacular Spider-Man movie in the MCU. Given that there's a new triology of films in development and Tom Holland is returning, I look forward to even more great Spider-MCU-flicks in the future.