Since returning from hiatus, there have been a number of half-finished entries floating around that I've been meaning to finish up and post. This is one of them.
My love of comic books and movies have collided in amazing ways last year... Captain America: Civil War, Deadpool, and Doctor Strange were incredible. Unfortunately there were also boat-loads of crap courtesy of DC Comics, who just can't seem to get their shit together... X-Men: Apocalypse and Batman vs. Superman were complete garbage.
There were three other super-hero films I saw in 2016, how did they fare, I wonder?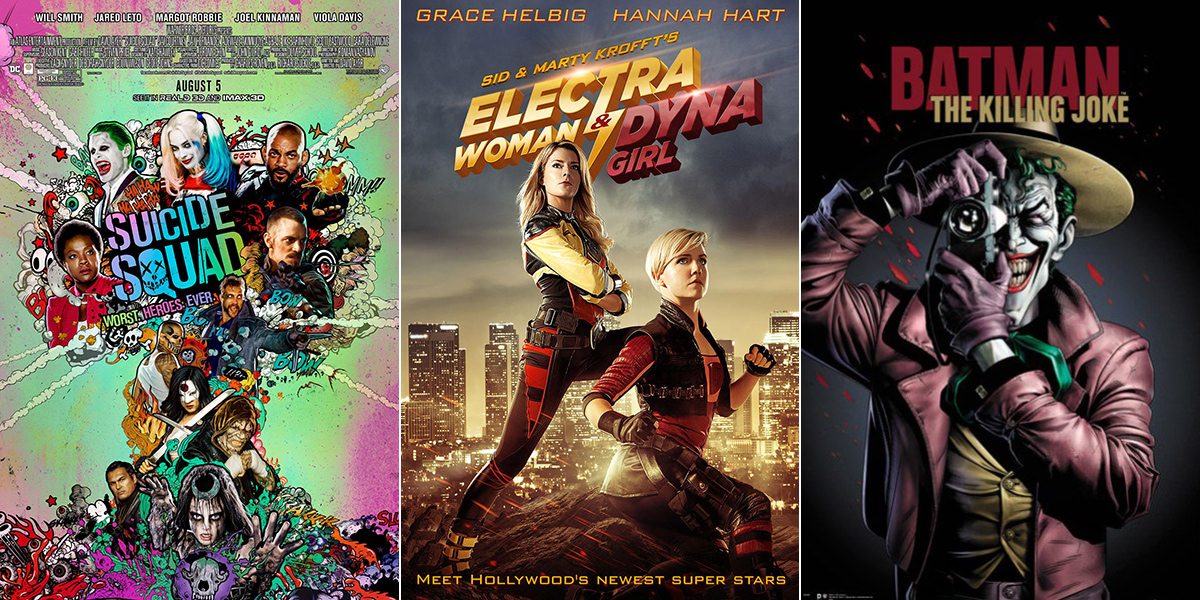 • Suicide Squad. DC Comics' concept of super-villains being forced to become a covert team of super-heroes has been going on in the comic book world since the late 80's. While passably entertaining on occasion, I never saw much potential as a movie franchise, yet here we are. The result is an epic mess that is a notch above the shitty Man of Steel and Batman vs. Superman films... but not by much. The moronic, scattershot plot populated with a bloated cast of forgettable characters and filled with ridiculous dialogue and forced humor (that wasn't funny) ended up being just... bad. Unless you can be entertained by random special effects blowing shit up between periods of utter tedium, there's no entertainment to be found here.
And now... I'm just going to get this out of the way... Jared Leto's "Joker" was total shit. The look was apparently copied from the comic arc Batman: Endgame, which wouldn't have been too terrible, except they added metal teeth, a bunch of tattoos that were utterly stupid (why the fuck would The Joker ink "damaged" on his forehead?), and then made him a frickin' drugged-out buffoon. A massive downgrade from Heath Ledger's brilliant take in the The Dark Knight. The rest of the cast? They fare somewhat better. Viola Davis was her incredible self and dominated her every scene as Amanda Waller. Will Smith's Deadshot was pretty much Will Smith being Will Smith, but at least he's entertaining. Margot Robbie was designed to be a stand-out as Harley Quinn and, when it works, it's the best thing about the movie (though I still think the character will never be better than she was in Bruce Timm's Batman: The Animated Series). Every other character was just window dressing with nothing of substance to do and mostly boring.
I'd get into the story, but that would be pointless. It's pretty much Suicide Squad vs. magical zombies and there's pathetic little character development or consequences for anything. RATING: D
• Electra Woman and Dyna Girl. It would be insanity to put a cheesy Sid & Marty Krofft Batman parody remake up against anything Marvel is doing when it comes to the super-hero film genre. This is not that kind of film. But I found Electra Woman and Dyna Girl infinitely more fun and entertaining than anything DC has put out lately. Based on the Krofft Saturday Morning live-action kid's show of the same name (starring Days of Our Lives' Deidra Hall!), the movie features online media stars Grace Helbig and Hannah Hart as two normal humans named Lori and Judy who dress up and play super-heroes in a world filled with heroes that have real super-powers. Eventually they get "noticed" by a super-hero publicity agent who turns them into the super-powered heroes they dreamed of becoming. Using gadgets dreamed up by genius Frank Heflin, Electra Woman and Dyna Girl hit the big-time and become crime-fighting media sensations. This leads to a rift in their friendship that comes just as the rise of the first super-powered villain to appear in ages. Hilarity (and some surprisingly entertaining antics) ensue. What's surprising about the movie is how it manages to be faithful to the original show, yet be completely fresh, new, and different. And pretty damn funny. For what it was designed to be, Electra Woman and Dyna Girl is a success. RATING: B-
• Batman: The Killing Joke (animated). Considered one of the best Batman stories to come out of the comics, The Killing Joke has been both praised and mired in controversy since its release in 1988. Praised because it featured Alan Moore and Brian Bolland's thoughtful look at the origin and longtime relationship between Batman and The Joker... controversial because of its misogynistic overtones in the crippling of Barbara (Batgirl) Gordon as a throw-away plot element. Ultimately I liked the book, but understood that it had some serious story issues that would be too much for some comic book fans. So when I heard that DC was turning it into an R-rated animated film, I was curious. Would they stay close to the original story... or would they try and fix some of the things that caused no small amount of backlash?
Turns out it's Option #3... LET'S MAKE THE STORY WORSE IN EVERY POSSIBLY WAY! I hated this film. There's a myriad of problems that ruin any chance of Batman fans embracing the movie... even if they liked the story on which it was based. Primary of which is that they have Batman and Batgirl in a sexual relationship, which is fucking absurd. Once that bullshit is out of the way, the film tries to get back on track... but the damage has already been done. RATING: F
Time to update my "Y2K Super-Hero Comic Book Renaissance" scorecard with another brilliant Marvel effort...
The Avengers... A+
Avengers: Age of Ultron... A
Batman Begins... A
Batman Dark Knight... A+
Batman Dark Knight Rises... A
Batman vs. Superman: Dawn of Justice... D
Big Hero Six... A+
Blade... B
Blade 2... B
Blade Trinity... B-
Captain America... A+
Captain America: The Winter Soldier... A+
Captain America: Civil War... A++
Catwoman... F
Daredevil... B-
Daredevil (Director's Cut)... B+
Deadpool... A
Doctor Strange... A
Electra Woman and Dyna Girl... B-
Elektra... D
Fantastic Four... C
Fantastic Four: Rise of the Silver Surfer... D
Guardians of the Galaxy... A+
Ghost Rider... C
Ghost Rider: Spirit of Vengeance... D
Green Hornet... D
Green Lantern... C+
Hellboy... A
Hellboy 2: Golden Army... A
Hulk... C-
Incredible Hulk... B
The Incredibles... A+
Iron Man... A+
Iron Man 2... A-
Iron Man 3... A+
Jonah Hex... F
Kick-Ass... B+
Kick-Ass 2... B-
Man of Steel... F-
Punisher... C+
Punisher War Zone... C
Scott Pilgrim vs. The World... C
Spider-Man... B+
Spider-Man 2... A
Spider-Man 3... D-
Suicide Squad... D
Amazing Spider-Man... D
Amazing Spider-Man 2... D-
Superman Returns... C+
Thor... B+
Thor: The Dark World... B
Watchmen... B
The Wolverine... B
X-Men... C
X-Men 2: United... D
X-Men 3: Last Stand... F-
X-Men Origins: Wolverine... D
X-Men: First Class... B
X-Men: Days of Future Past... B-
X-Men: Apocalypse... D+