Posted on July 7th, 2022

Thor: Love and Thunder is great. Not as great as Thor: Ragnarok, but I enjoyed it quite a lot.
Especially the mid-credits scene at the end, which is glorious. I'd stay off the internets until you've seen the movie so it doesn't get spoiled... but it's a doozy. Especially if you're me. As if that weren't enough, there's Russell Crowe as Zeus. And he plays it in a way I was most definitely not expecting...
As has become my custom, I am not reviewing any films until they are released on home video... trying to avoid spoilers for people who may not be able to go to the theater in the Age of COVID.
But if I were to tease my thoughts? It's a worthy successor to Thor Ragnarok which could have taken itself a bit more seriously, but is another awesome Thor adventure just the same.
Posted on June 22nd, 2022

Last night I waited until midnight for Ms. Marvel, as usual, then saved everything else for today when I could find time. It was a lot of TV packed into a day...
Umbrella Academy Season 03
While it had some very good moments, this fell short of the first two seasons for me. Not as twisty, smart, and interesting. But there were also some changes that surprised me. In the first two seasons I loathed Vanya and loved Allison. This year that completely reversed... Loved Viktor, outright detested Allison (fucking hated her this season). But my favorite in all seasons is Number Five, even though he had less to do this time around. I can't go much further without delving into spoiler territory, but suffice to say I enjoyed the third season and sincerely hope we get a fourth.
Ms. Marvel Episode 03
Beautiful, joyous, and clever. And boy did they really go there with Kamala using her powers! Really great to see, as I was starting to worry that they were going to pull a Moon Knight and not really do anything interesting with her. I don't know if this quite eclipses how amazing I found Hawkeye to be, but I am already hoping for another season after she appears in The Marvels.
Obi-Wan Kenobi Episode 06
I've enjoyed every episode of this series despite the fact that there really couldn't be any surprises since we know how everything has to turn out. Even the "surprise" at the end wasn't much of a surprise because it was foreshadowed heavily in one of the earlier films. Despite this being a series that was meant to be complete, I would not at all object to seeing what else happened with Obi-Wan before Star Wars happened. Ewan McGregor is just too darn good to let go.
Doctor Strange and the Multiverse of Madness
On second viewing, I actually appreciate this movie more than I initially did... even though I still think that Wanda was done dirty. I enjoyed this flick the first time around, sure, but it just didn't feel that the multiverse was used to great effect. Spider-Man: No Way Home was smarter about it, and this one just felt like an afterthought. That being said, America Chavez managed to fit into the story in a way that felt meaningful, and seeing the Illuminati portrayed so beautifully left me wanting more. A lot more.
And now... it's 1:00am and time for bed. Past time for bed. I'll just have to make up for all the sleep I didn't get tomorrow night.
Posted on June 21st, 2022

Just mentally preparing for tomorrow
That's when Umbrella Academy Season 03, Ms. Marvel Episode 03, Obi-Wan Kenobi Episode 06, Doctor Strange and the Multiverse of Madness, and who knows what else is releasing.
I'd take the day off from work... but, alas...
Posted on June 19th, 2022

Happy Father's Day to all the dads out there! As for me? I don't get to celebrate being a cat-dad... because an all new Bullet Sunday starts... now...

• Tokio! I first heard of the German band Tokio Hotel years ago when I was in Italy, I think. They were getting some notice from their debut album Schrei (probably because they were so young when they recorded it). It's a dang good album if you like hard rock. Fast-forward to yesterday and I happened across a new song from them called When We Were Younger which was quite surprising for three reasons. 1) It's in English. 2) It's pure pop. 3) It's actually really good, and I've been playing it on repeat for a day now...
Great, right? But it's the end where they say "Together since 2001" where it kinda gets you. All those photos are of the band as kids... essentially growing up before your eyes...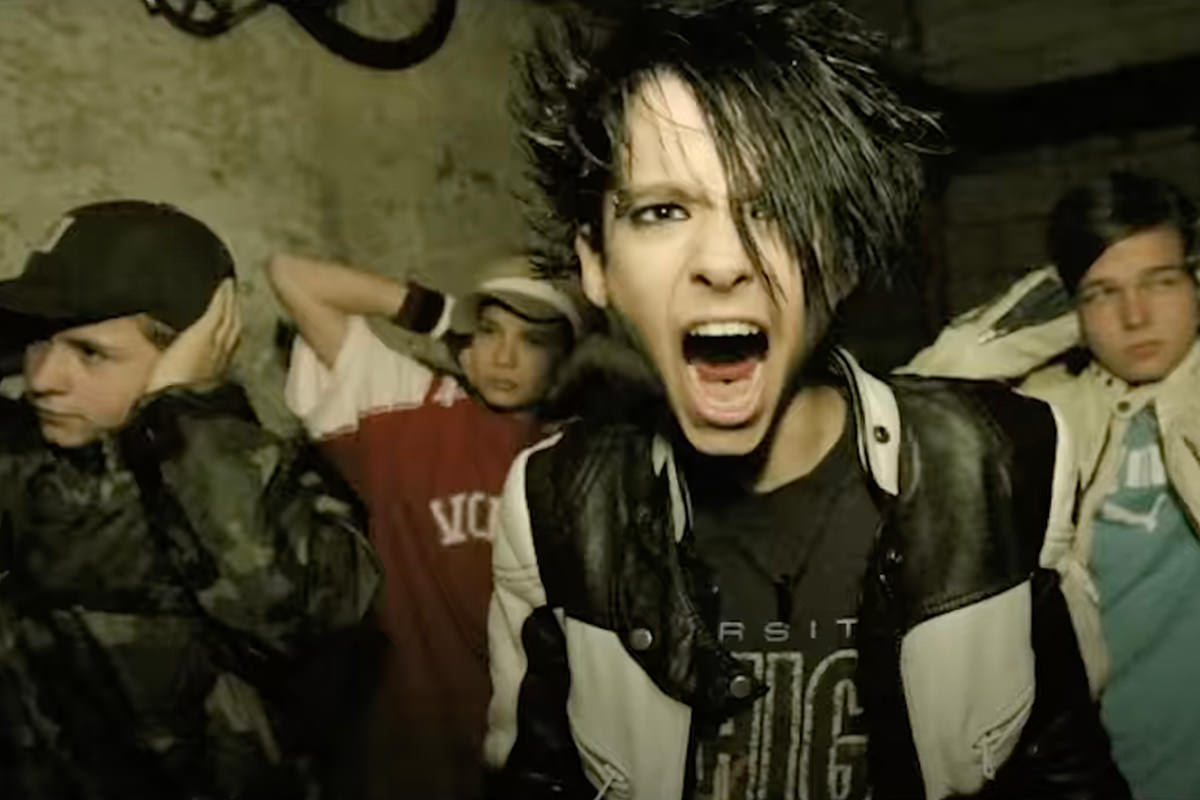 I love stuff like this.

• Smooth! Welp. Cooper Raiff has 1000% done it again. How he manages to not take the easy or expected route... but still manages to create such satisfying movies is beyond me. All this and he's actually a really good actor on top of of being an exceptional writer and director. The setup for Cha Cha Real Smooth is like films you've seen dozens of times before... and yet the payoff is so much better because it's not like films you've seen dozens of times before. You end up feeling completely different about some characters at the end than you did in the beginning, and that takes true talent to accomplish because most times when this is attempted it just feels so fake and unearned.
In both Shithouse and Cha Cha Real Smooth there's that one scene which really crushes you. And in Cha Cha Real Smooth you never see it coming. Really looking forward to whatever Cooper Raiff does next.

• She's a Beauty! Well, you are (here's a link in case TikTok is being a dick)...
Ukrainian and Czech are close enough to Russian that I got those. I haven't studied Japanese in forever, but that one was easy. I thought I would have had a shot at Chile, Puerto Rico, and Spain... but the only other one I got was USA!

• Raise the Roof! I've never been to The Palace theater in New York City. But I have stayed at The Doubletree hotel that was built around it. I had read a while ago that they were planning on doing something extraordinary... raise The Palace 30 feet in the air so they can build a new hotel and entertainment complex around it. That's now been completed, and how they went about it is fascinating...
I'm not a "Broadway guy" but I admit to wanting to see how this all works out. It all looks pretty darn incredible.

• Oh Jodie! I missed the entire last season of Graham Norton because Philo didn't record it. On the episode I'm watching now, Coldplay is singing "My Universe" (with a cool BTS video background) and it's great. BUT THE BEST PART is that Coldplay super-fan Jodie Whittaker from Doctor Who was on the show, and this happened...
After it was over, they went back to the couch and Jodie mentioned that she has her alarm set for next week so she can try to get tickets for when Coldplay is playing Wembley. Well, needless to say, Jodie now has tickets to go to see ColdPlay. And it will be one of the greatest missed opportunities ever if they don't get her on stage!

• Seriously? BWAH HA HA HA HAAAAA! no.

• This time... There's a very good sleight of hand magician on TikTok named Mat Franco who is constantly having to re-do his tricks because people believe that he's not being honest about what he's doing. Like this one, for example (here's a link in case TikTok is being a dick)...
And here we go again (here's a link in case TikTok is being a dick)...
Fortunately, the guy is patient enough to keep humoring everybody. But you'd think that eventually people would just enjoy the show.

• Pixar! I responded to a meme where people were ranking all the Pixar films. My Top 5 hadn't changed in years... until Luca came out, which I loved...
Monsters, Inc.
The Incredibles
Up
Toy Story 3
Luca
Toy Story
Finding Nemo
Coco
The Incredibles 2
WALL-E
Brave
Encanto
Ratatouille
Toy Story 2
Turning Red
Finding Dory
Soul
Monsters University
Inside Out
Onward
Toy Story 4
Cars
The Good Dinosaur
A Bugs Life
Cars 2
Cars 3
Yeah, not a fan of the Cars films. But even a bad Pixar film is better than most.

And now back to your regularly scheduled Sunday.
Posted on June 13th, 2022

The film I am most looking forward to this year? Thor: Love and Thunder.
What Taika Waititi did with Thor in Ragnarok still boggles my mind. It was completely new and fresh... yet respected Jack Kirby's aesthetic in a retro way that was thrilling to watch. It was also funny in smart way that didn't turn the characters and story into a joke. To accomplish all that requires somebody with massive vision and talent. And now Taika is back with this...
So... yeah. Might be worth risking whatever new COVID variant is out there to see this one in the theater.
Posted on June 12th, 2022

It's another cold and rainy Sunday, but I'm not letting it get me down... because an all new Bullet Sunday starts... now...

• More Bargains! ZOMFG! Keith, Evan, and Shea are back with more Bargain Block! Easily my favorite home renovation show, I was thrilled that it was renewed for a second season... and would subscribe to discovery+ just to watch this one program!
It will be interesting to see how the concept of the show has to change to meet with rising house prices. The entire show was built around the idea of taking homes so trashed that they could be bought for almost nothing and turning them around. But now even trashed houses cost money.

• RITZOREO? What the-?!?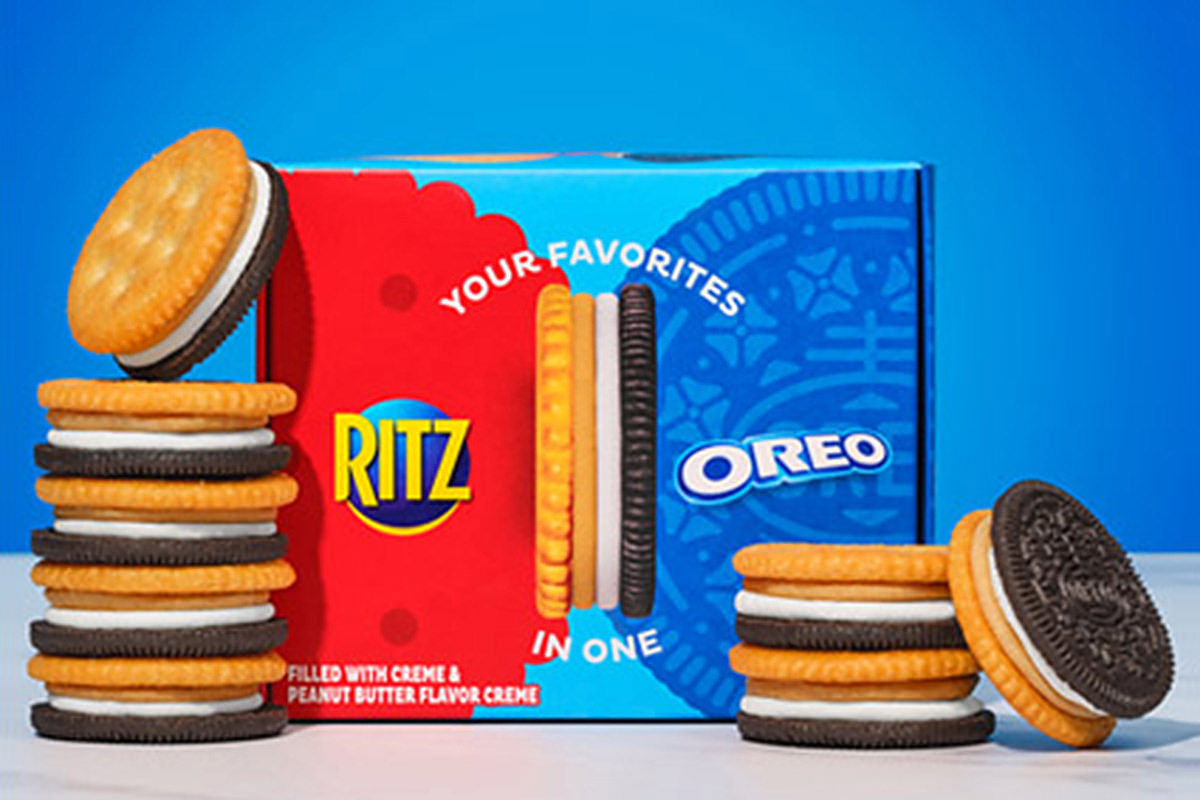 Why? I'm not going to say it's terrible because I haven't tried it... but this just looks like a complete disaster. Even so, if I see these I will buy them.

• Strange! If the new Thor and Black Panther films weren't being released this year, this would be the movie I most want to see...
There needs to be more science fiction animated films. Let me restate that... there needs to be more good science fiction animated films. Hopefully this is good and performs well so we get more.

• Welp! This is actually kinda scary.
But what isn't scary now-a-days?

• Smart! Hacks fell apart for me in the second season. It just kinda meandered around, and the "life" that the first season excelled at felt more sporadic. But boy oh boy did they stick the landing on the last episode of this season. It really has me hoping that HBO Max picks it up for a third season, because the way it ended felt final... but actually opens up some interesting avenues for all the characters...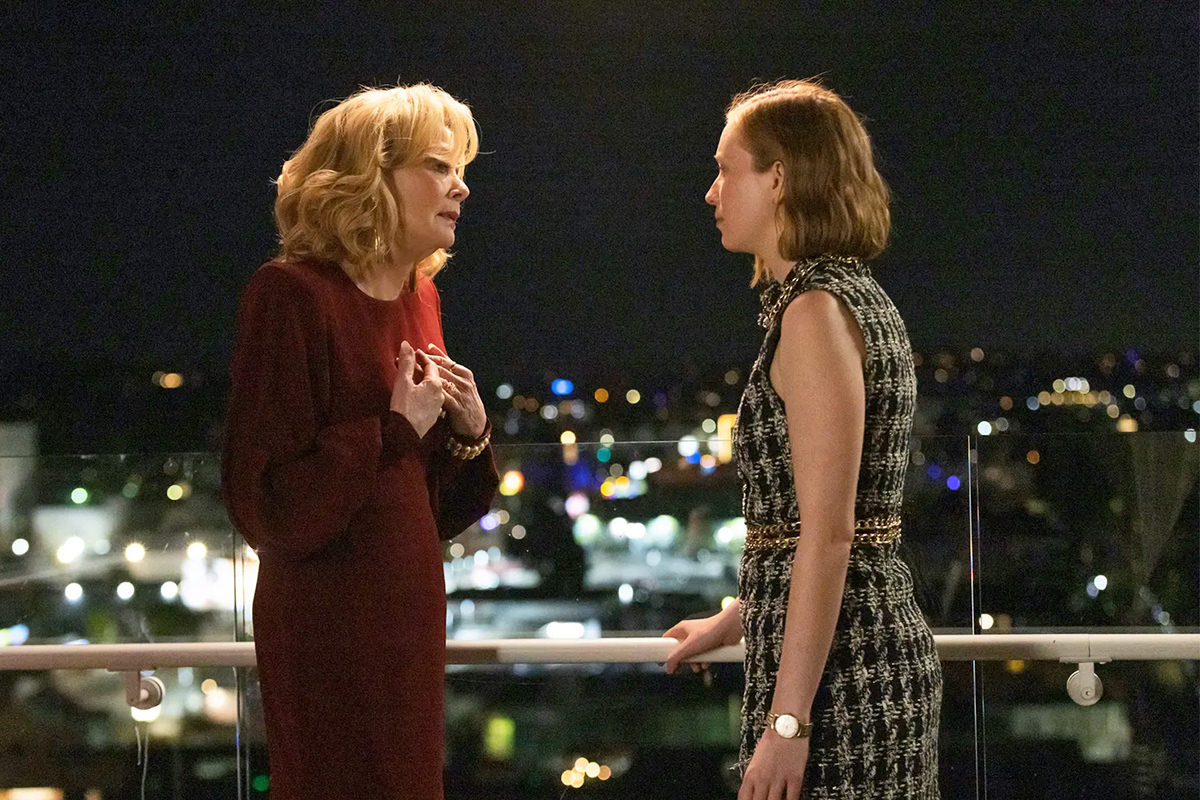 Plus... Jean Smart.

• Ouch! As a huge fan of Ben Wishaw, I was compelled to watch his latest series This is Going to Hurt. He plays a London doctor working in the gynecology department in a busy NHS hospital. It has graphic depictions of medical procedures that are tough to watch. The way that women get ripped into for caesarean births is unbelievably rough... almost violent. But even a straightforward birth looks double-tough. From this perspective, it's probably a good idea for men to watch this show and gain a new perspective on what women go through giving birth. It's probably NOT a good idea, however, for expectant mothers to watch this. Because... damn!
I honestly don't know how Ben Wishaw makes his roles look so effortless... even when they are wildly complex like this one is.

• Happy Tenth! This past week marked the tenth anniversary of my first tattoo! I had wanted a cartoon skull and crossbones tattoo forever, and the first drawing I made of it was 26 years before it was actually inked. The only thing I changed from my original drawing was that I made it bolder with much thicker lines because I didn't want it to look like something I could cover up easily. I never once changed my mind about what I wanted in 26 years, so I was committed and didn't want to half-ass it...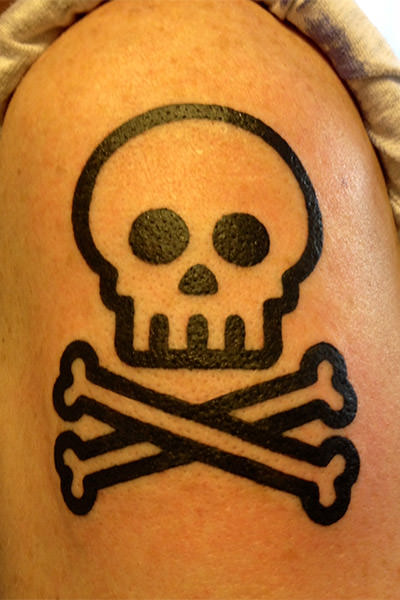 One of these days I really need to get back to San Francisco for another tattoo. I have zero regrets on any work I've had done, and my only true regret is that I didn't start getting tattooed earlier so I'd have more ink on me.

And on that happy note... hope your weekend was a good one now that it's almost over.
Posted on May 29th, 2022

A three day weekend (for a lot of us here in the good ol' U.S. of A. isn't even the best thing to look forward to this fine Sunday... because an all new Bullet Sunday starts... now...

• You're Our Only Hope! I was not expecting the world from the new Obi-Wan Kenobi series on Disney+, even though it was focusing on one of the best parts of the shitty Star Wars prequels. But, then again, The Mandalorian proved that it could be good if they wanted it bad enough...
Well, apparently they did want it bad enough, because the show is looking darn good from the first two (or six) episodes which have aired. I don't want to spoil a single frame, as I was careful to not learn too much about it before it started running. Suffice to say that the premise for the series is not what I expected, despite being a very good one (and kinda obvious). Even if you've given up on Star Wars, this might be worth a look.

• More Hope? This past week was Star Wars Celebration, the annual lovefest for A Galaxy Far, Far Away. The most interesting thing to come out of it was the trailer for Andor, which I've been anticipating for what seems like an eternity...
Looks great, doesn't it?

• Mavericky! Top Gun is one of those seminal 80's films that I have seen multiple times since first seeing it in the theater. When they came out with a sequel: Top Gun: Maverick I kept my expectations in check, because it seemed absurd that they could possibly have more to say. Or at least not enough to warrant a sequel. But it was actually quite good despite covering a lot of the same territory. This is largely thanks to very cool practical fighter plane shots which were far better than a bunch of CGI special effect shots could have ever been...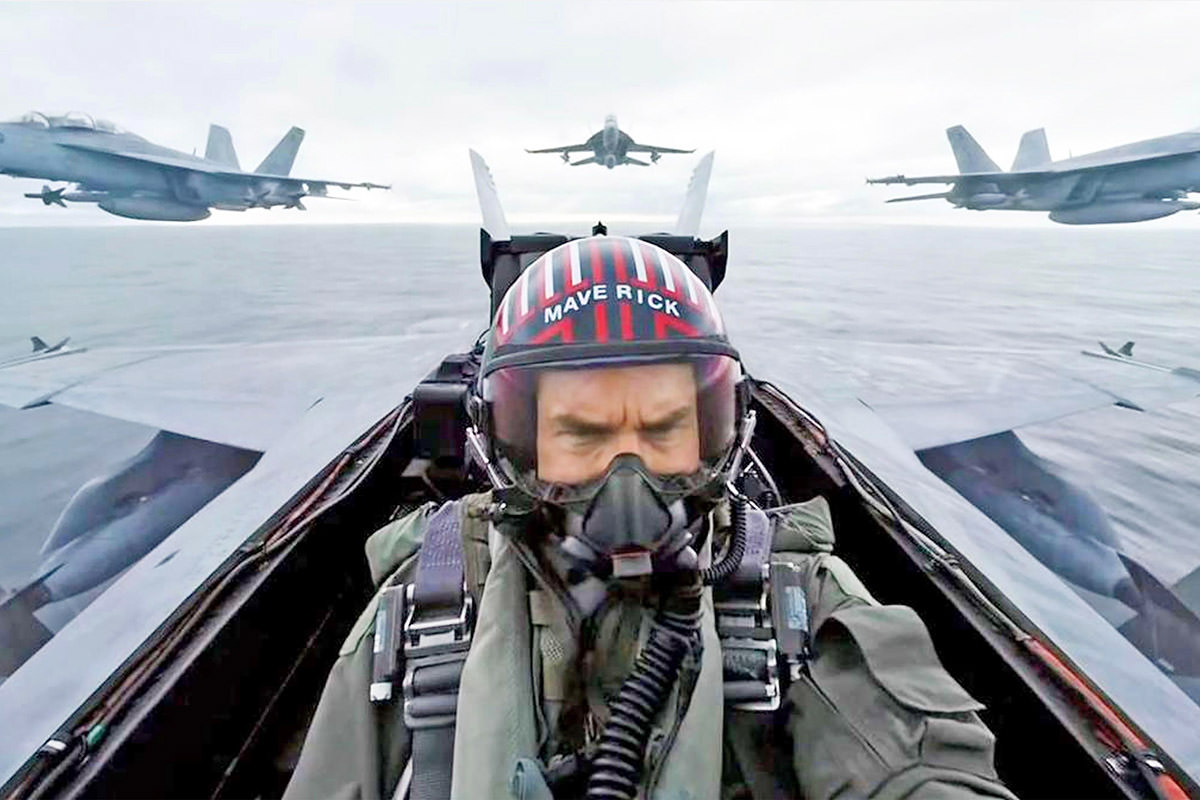 Tom Cruise was... well... Tom Cruise. Jennifer Connelly was good as she always is. And Miles Teller, who hasn't impressed me much in anything he's ever done, inhabited his role as the son of Goose in a way that really made you believe he could be the son of Meg Ryan and Anthony Edwards. Do I think it was risk getting COVID to go see? Probably not. But it should have no problem making my best-of list for 2022 because of the huge dose of retro thrills it provides.

• Thanks, Jims! While there's a lot of attention being focused on Obi-Wan Kenobi, Top Gun: Maverick, and the return of Stranger Things, I can tell you right now that the entertainment to beat is Shoresy. Based on the unseen (but not unheard) hockey-playing character from Letterkenny, it's a fantastic (and very funny) look at "the dirtiest player in the game"...
If you're a Letterkenny fan, this is a no-brainer. But even if you aren't this is nice diversion from the horrors of the real world.

• Fletch! I was very sad to hear that Andrew "Fletch" Fletcher from Depeche Mode had died. As one of my all-time favorite bands, I've collected all their music and have seen them in concert a half-dozen times. Rest in Peace, sir...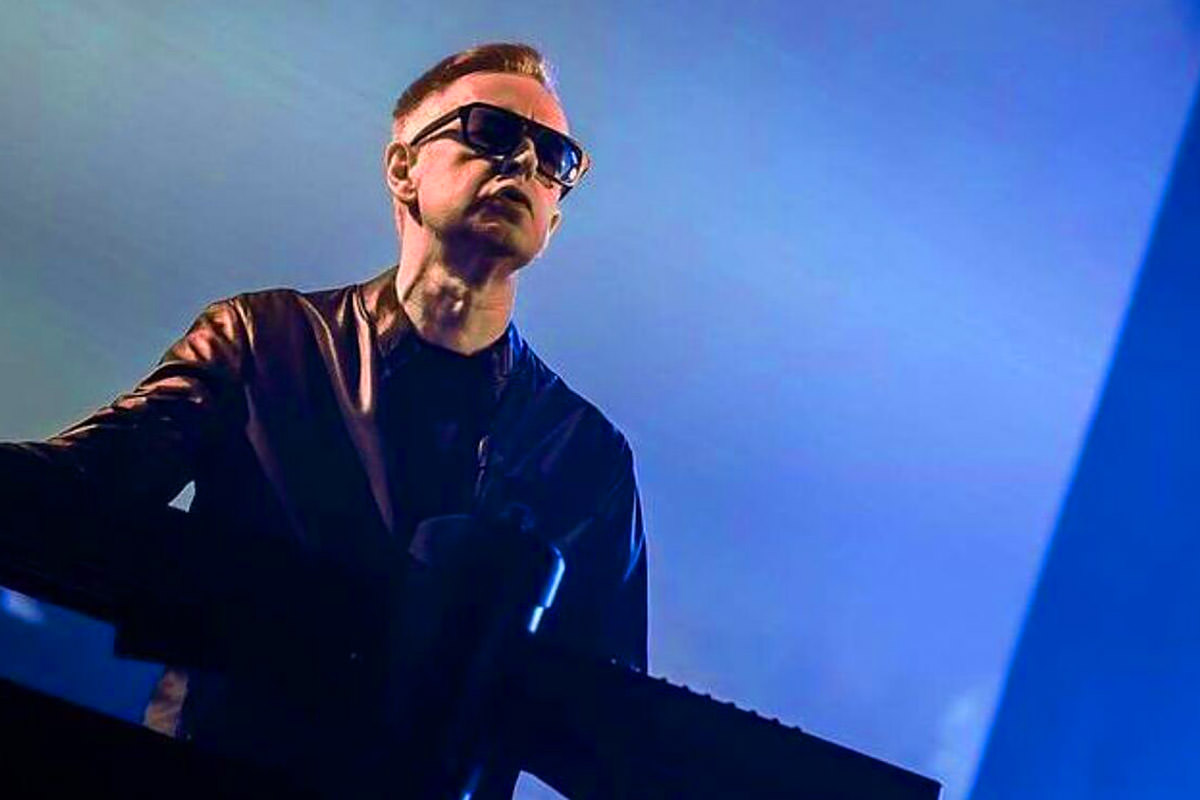 • Less Strange? And speaking of Stranger Things... I'm more than a little disappointed in Season 04. Each episode is bloated in a bad way, focusing more on distraction, filler, and "side-quests" than the show I was hoping to tune in for. And it's like why? Why deviate from what made the show so darn good in Seasons 01-03? I guess everybody wanted a bigger paycheck and the only way to get it was to film more material? I dunno. The show isn't exactly bad... but I'm really hoping they stick the landing in the final two episodes in five weeks to make this time investment worthwhile.

• Subway. This video from Last Week Tonight is fascinating stuff. And you OWE it to yourself to watch the Korean Meatball Drama at the end! Glorious...
The fact that Subway knew that Jared was a kid-raping pedophile and ignored it so he could keep selling their sandwiches means that they can fuck off forever. Interesting to note that Kidfuckers is the ONLY chain restaurant in my small town, which is just further evidence that they do indeed push their franchises to the breaking point and put them everywhere.

Until next Sunday then...
Posted on May 24th, 2022

I've been watching a series, The Offer, on Paramount+. It's about the making of The Godfather with all the crazy shenanigans that went on behind the scenes. It's a hot bloated mess of a series which has, at most, 6 episodes worth of material that's been dragged out to ten episodes (seven of which have aired). But the stuff that's actually relevant is entertaining enough to maintain my interest, so I endure.
The biggest surprise of the show has been who they got to play Marlon Brando... Alex Karev from Grey's Anatomy! I haven't watched the show since Season 02, so it took me a minute to recognize him, but he did a darn good job in an impossible role... so much respect to Justin Chambers.
Watching the series naturally lead to me to rewatching the entire The Godfather trilogy because I just can't help myself. I've seen them all a dozen times, but they're films I can watch over-and-over, and so I do.
The Godfather...
...is a problematic movie featuring time jumps that are glossed over quite badly, resulting in a choppy mess. It also has some violence that's almost comical in implementation. But then it has some of the most mind-bogglingly fantastic performances ever committed to celluloid. Say what you want about Marlon Brando, but he was glorious in his every moment on-screen. And then there's Al Pacino with his riveting, star-making role that culminated in one of the best finales of any film ever made.
The Godfather, Part II...
...is equally problematic in that the dual-narative structure, while ambitious, was better in concept than implementation. That being said, I love it every bit as much as the first film. The cinematography and set decoration create a lush, gorgeous world for the characters to inhabit, and are almost as memorable as the characters. Pacino's cold and calculating take on Michael Corleone is about as compelling as it gets. And De Niro's performance is flawless from the moment he walks on the screen.
The Godfather, Part III...
...in the interest of full disclosure, I was not a fan of this film when it debuted in 1990. Some nutty story beats married to an abysmal performance by Sofia Coppola in a key role plus Robert Duvall's absence left me cold. It was an unsatisfying conclusion to the trilogy. Over the years it's grown on me, however. I love the way the ending harkens back to the first film (with Connie, a character I couldn't stand in the first two films playing a satisfying part), and the way that Michael watches his world spin out of control while he's helpless to do much about it. While I don't think it's in the same league as the first films, it doesn't diminish them in any way, so I've made my peace with it.
There was a rumor that they were planning on picking up the movies again, but focusing on Vincent (Andy Garcia) as the next generation of Corleone. While I think that a film focusing on a hot-headed Don who wanted to watch the world burn could have been interesting, I'm grateful that it never happened though. The time frame for these films had passed and the only reason to go on would be to exploit a great franchise for the money instead of anything creative.
Not that this has ever stopped Hollywood in the past, of course.
Posted on May 23rd, 2022

As you may (or may not) have noticed, my blog wasn't updating this past week-and-a-half.
I continued to write as I always do, but when I went to post anything to the site, Blogography returned an error saying that my "connection had been refused." I automatically assumed that my WordPress installation was borked because it keeps happening with increasing regularity.
But this time it wasn't WordPress's fault.
Eventually I figured out that the VPN node I had been using to access the internet was the same node used by somebody trying to hack my blog. When my security plugin on WordPress detected the attempt, it blacklisted the IP address. When I switched to a different VPN node, I was able to post everything that had been stacked up.
What are the odds?
This does have me concerned that people who use VPNs (and, seriously, everybody should be using VPNs) are going to have increasing difficulties attempting to reach content on the internet.
And where would the internet be without Blogography?
Far, far worse off, I'd imagine.
And, oh yeah... the trailer for the new Mission: Impossible movie dropped today! It looks bonkers cool!
This entire franchise has had some great stories. And the stunts are incredible. Can't wait!
Posted on May 22nd, 2022

The sun may be shining outside where I'm at, but I'm not out enjoying it as I should be... because an all new Bullet Sunday starts... now...

• Breakfast! The season finale of Saturday Night Live was fairly mediocre... despite having Natasha Lyonne hosting and great send-offs for Kate McKinnon, Aidy Bryant, and Pete Davidson (and apparently Kyle Mooney is leaving as well?). HOWEVER... it introduced me to Japanese Breakfast, a band I never knew existed but fell in love with immediately. This has to be one of my favorite SNL performances ever...

• The Valet! I'm a huge fan of Eugenio Derbez, and his new movie The Valet on Hulu is great. At first I worried that it wasn't taking advantage of his talents, but boy did he bring it in the end...
Worth your valuable time. And we're also getting a second season of his show "Acapulco," which is something else you should be watching.

• Baymax! My favorite animated character since Stitch from Lelo & Stitch and Sully from Monsters, Inc. has his own show...
And how great is it that they kept the other characters from Big Hero 6 to be in it as well?

• Umbrella Academy 3! I've been in awe at just how good the Netflix adaptation of the Umbrella Academy comics have been... actually improving on the material in some ways. And now we're at Season 03 and it's looking as cool and bonkers as ever...
With Netflix being an absolute shit-show as of late, and their tradition of killing shows after 2 or 3 seasons, I'm more than a little worried about getting Season 04.

• She-Hulk! This is what happens when a show looks like it has a very good chance of exceeding your expectations. People of earth, I give you She-Hulk: Attorney at Law...

• Marvel! And now that Ms. Marvel is nearly upon us, Marvel Studios is giving us a bigger taste of what's to come...
I. Cannot. Wait.
If nothing else, casting Tatiana Maslany in the lead is 100% pure win.

• Heartstopper Redux! And lastly, the news I've been waiting for ever since I watched the show... Netflix has renewed Heartstopper for two seasons...
While this is incredible news... had they waited any longer, the actors would be getting too old to play their characters... it's also a bit disappointing. From my estimation, they'll need four seasons to get through all the graphic novel material which has defined Nick & Charlie's relationship, so why not renew for three? And boy oh boy do I hope that they fold in more material for Charlie's sister, Tori (or, better yet) give her a series of her own and adapt Solitaire). In any event, not all the news coming out of Netflix is bad, it seems.

And now I need to get outside and tie up some of my flowers before they take over my yard!