Posted on April 17th, 2023

It's no secret that Batman is my favorite comic book super-hero. Mainly because he's not "super" at all, but is instead a mere mortal with an amazing skill set that is able to hold his own with god-like beings. A good writer can make that interesting. A great writer can make that phenomenally entertaining.
At his core, Batman is a detective. The best Batman stories utilize this in one way or another. When I first started reading comic books, there were two titles devoted to him... Batman and Detective Comics, the latter being more detective-oriented than just a guy dressed as a bat pummeling bad guys.
Bringing the character to film has been a mixed bag over the years. Some efforts are good. Some efforts are very good. And a few are extraordinary.
And here's how I rank them out...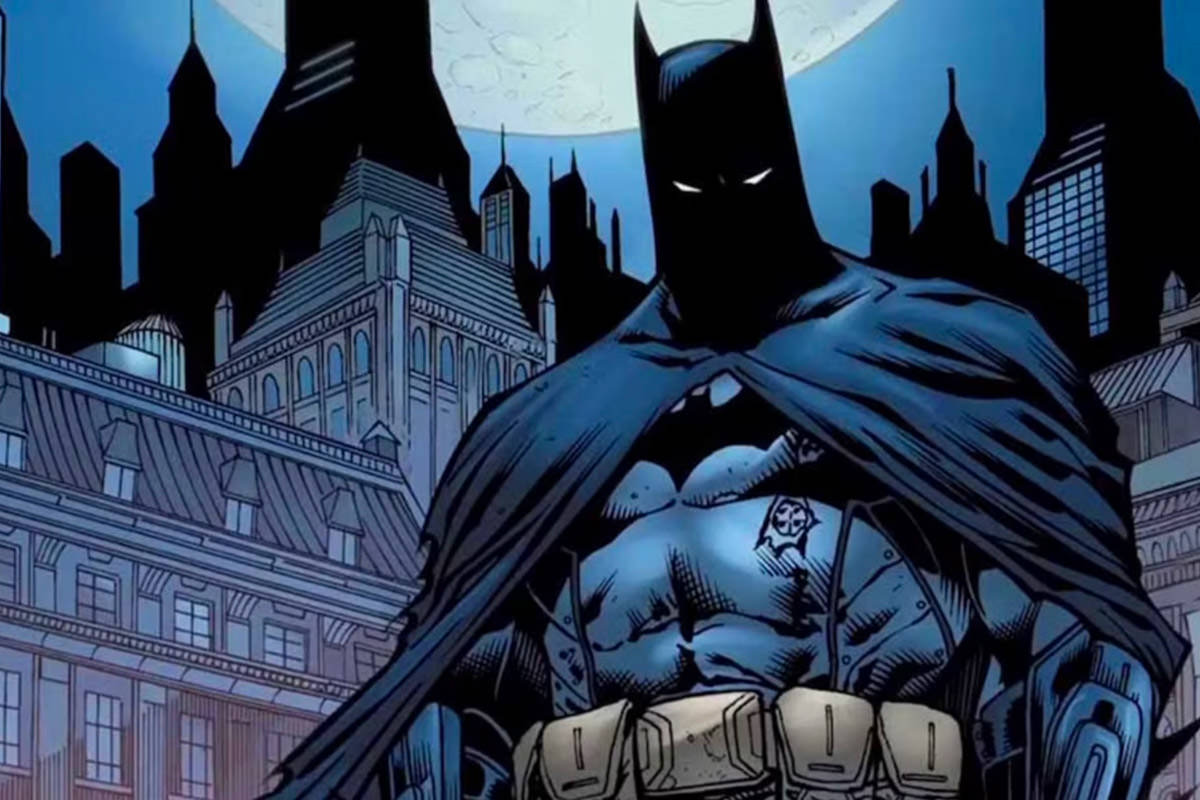 The Dark Knight - The best of the best of the best when it comes to cinematic Batman. Heath Ledger gave us the Joker we've always deserved, and I maintain that Bale's Batman works better than any other on the Big Screen.
Batman: Mask of the Phantasm - The Batman animated series is some of the best Batman ever made. And Mask of the Phantasm is in my top ten out of all of it.
Batman Begins - I don't know that The Scarecrow works as a big screen Batman villain, but Nolan's debut bat-movie certainly gave it the best shot possible. Though I'd argue that the Nolan Trilogy's MVP is Morgan Freeman as Lucius Fox, and that's particularly true in this film.
The LEGO Batman Movie - Will Arnett delivers the cheesy that makes LEGO Batman work so well. But that would be useless without a good story, and this one had it.
Batman & Mr. Freeze: SubZero — Like Mask of the Phantasm, the fact that this spun out from The Animated Series did not diminish my love of the movie one bit. Everything about the film was beautifully realized, and there are days that this is all the Batman I need.
The Dark Knight Rises - This was an actual ending to the Nolan Trilogy, which surprised me given how it mostly closed the door on Christian Bale's character. That being said... Bane as the villian seemed like quite a stretch, but kudos to Tom Hardy for making him as memorable as possible.
Batman - Probably one of the more important bat-movies made because it reinvented the character in a way that made him slightly more serious instead of the buffoonery we got with the television show. Keaton brought a psychological edge to Tim Burton's vision, while Jack Nicholson made Joker what he needed to be in order to be taken as a serious threat.
Batman Returns - This wasn't a great sequel to Batman, but Michelle Pfeiffer and Danny DeVito just killed it as villains which took things next level and saved the movie.
Batman: The Movie - Hey, the classic Adam West Batman was the only game in town for quite a long time... and "The Movie" was the ultimate finale to the first season of the show. While absurdly silly (Bat Shark Repellant?) it was a pretty good for what it was. And more respectful than any of the turds that dropped out of Zack Snyder's ass.
Batman Forever - The Joel Schumacher movies betrayed absolutely everything that Tim Burton had carved out... but at least this one has Jim Carrey and Tommy Lee Jones.
The Batman - I do not for the life of me understand the critical acclaim for this shitty Batman movie. It is just awful in every possible sense... despite Robert Pattinson doing a decent job over a flawed script and Zoë Kravitz being a great Catwoman with a terrible story.
Justice League (The Snyder Cut) - This was a shitty movie with a shity, stupid take on Batman that made me a little crazy because I knew there was no coming back from this disaster.
Batman and Robin - I wouldn't have thought that Joel Schumacher could possibly crap out a worse movie than Zack Snyder... but here it is. Every last thing about this horrific mess was tragic, and it's unreal how much money they sunk into something this bad.
Batman v Superman: Dawn of Justice - First Zack Snyder turned in a truly dreadful Superman movie, and then he unleashed this pile of shit. It was a stupid concept plagued by a stupid story plagued by awful choices at every turn.
Justice League (Theatrical Cut) - This is easily one of the worst super-hero films ever made. And then they had a bad movie turned into a worse movie by having Joss Whedon "joke it up" so it was more Avengers-like than the dark, dour, joyless, car-fest that Zack Snyder was intent on making. So bad. So very, very bad.
Posted on April 13th, 2023

I like to keep on top of cinema. I belong to a number of forums devoted to film... both foreign and domestic. I follow a bunch of movie news sites on social media. I pore through streaming sites to see what's been released that looks interesting to me for one reason or another.
But every once in a while something comes along which takes me completely by surprise. It's a movie or TV show that I most definitely should have heard of, but didn't for some reason.
And that pretty much sums up Frequently Asked Questions About Time Travel...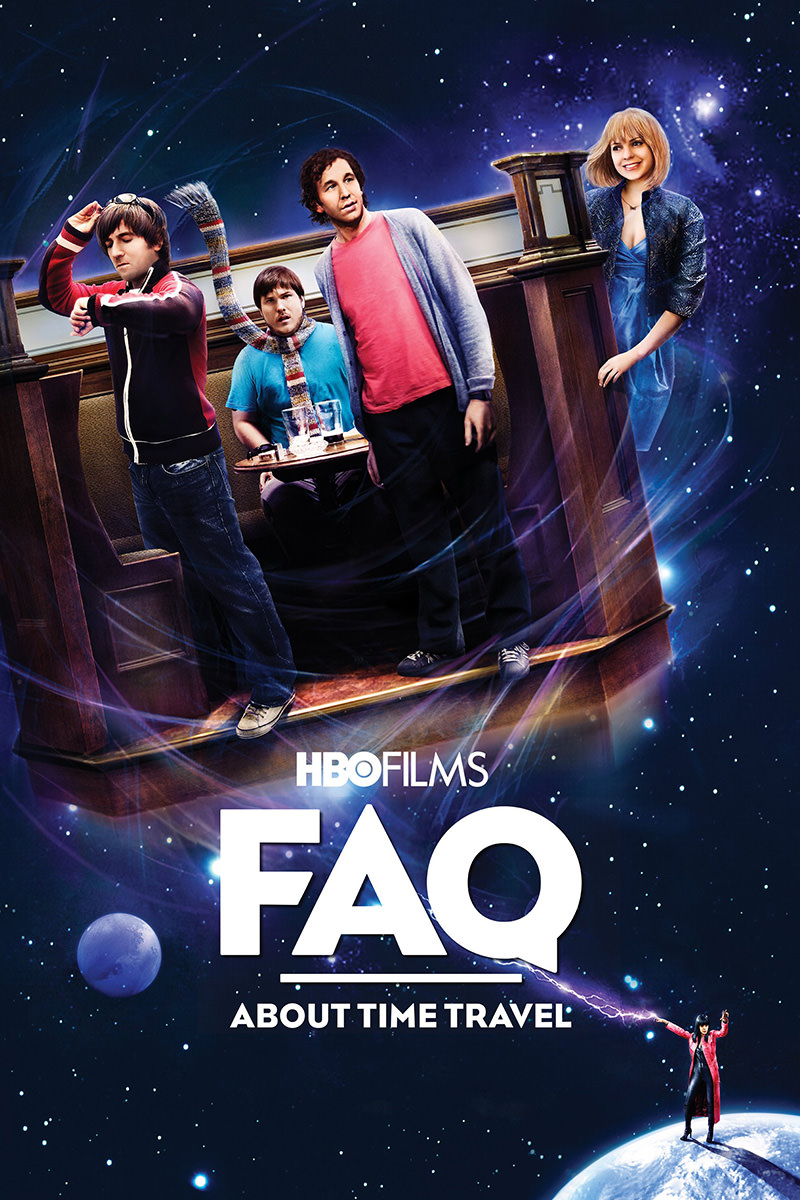 It's science fiction. It's British. It stars Chris O'Dowd and Anna Faris. It has an indy vibe. ANY of these factors mean that it should have crossed my radar, because all of these factors are things that I enjoy. And yet... here it was... just popping up on HBO like it's been there all along. AND IT'S FROM 2009?!?
It has very mixed reviews. And I get it. This is not a big-budget time travel flick with a massive budget and simple story. It's more intimate and complex than that. But I loved it. Very smart and clever with good ideas and a phenomenal cast. And it's funny. Very happy to have happened across it when I brought up HBO Max tonight.
After watching Frequent Questions About Time Travel, HBO recommended a film by Martin Scorsese that I have never heard of before... The Big Shave. And I thought "Well that's an odd title for a movie, I had better watch it!"
THIS IS ONE OF THE MOST DISTURBING THINGS I HAVE EVER SEEN AND IT IS ONLY SIX MINUTES LONG! WTF?!? It's from 1967... and I am now traumatized. Apparently it is a commentary on the Vietnam War. And because trauma loves company, I found it on YouTube to share with y'all (they don't allow embedding, so you have to click this link).
At first I was all "THIS is how Scorsese started filmmaking?!?" But then the more I thought about it, the more it makes perfect sense.
And then I fell through a rabbit hole on this film, Googling everything I could find out about it.
Many film critics have interpreted the young man's process of self-mutilation as a metaphor for the self-destructive involvement of the United States in the Vietnam War, prompted by the film's alternative title... Viet '67.
The guy who starred in this short film, Peter Bernuth, has only this single credit in his IMDB profile. This is where his acting career began and ended.
He lived in Coral Gables, Fla., and was chairman of Bernuth-Lemboke, which imports and distributes wood preservatives and other chemicals from Europe. A native of Long Island, Peter moved the company to Miami in 1977. Peter came to Princeton from Hotchkiss School, majored in English with a thesis on the poetry of George Herker and was a member of the swimming and lacrosse teams and belonged to Ivy Club. In the early 1970s he was active in politics, running a congressional campaign for Ed Koch and then the New York office after Koch was elected. In Florida he was on the boards of his sons' schools, St. Stephen's Day School and Palmer Trinity.
He died in 1994 after fighting cancer for a year.
He was survived by his wife and three sons.
William Farmer remembers: I went to Europe with Peter the summer of "62. We got free passage to Tripoti on board a German freighter provided we would work on deck maintenance with the crew. Trip took 18 days and we loved the pattern of starting drinking beer around noon with the crew, all young guys, and playing cards or arguing into the night. We went to Spain together. Peter was an aficionado following in Hemingway's footsteps. He arranged for us to attend major bullfighting ferias in several cities. One of Hemingway's favorites, Ordonez, was still fighting, and we saw him in Malaga. We also found a free place to stay in nearby Torremolinos (before it bacame an international beach resort), in an abandoned house being readied for demolition as some kind of hotel. A bit of straw and a beach towel was all that was needed. Washups in the drug store bathroom (tip the woman attendant a couple of pesetas), or just go in the Mediterranean. Residents were a couple of English girls, a German guy and an American pre-hippy who taught us about the new thing called "pot."
Life is weird, in general. The internet is weird, specifically.
Posted on April 11th, 2023

GAAAAAAAAAAAH!
We have to wait until NOVEMBER to get to see The Marvels, which is many months too long.
Especially when you look at this incredible new trailer that just dropped...
They came up with a great way to make this crossover happen, and Kamala Khan is adorable.
But it's seven+ months away.
Bummer.
An even bigger bummer is that Disney is dictating that Marvel slow down its output. "Quality over Quantity." And yet... in my mind it's not the movies that are suffering. Granted, I haven't seen Ant-Man and The Wasp: Quantumania yet, but there hasn't been many missteps (only Eternals comes to mind, because it was a bit of a mess... but it's also a fun watch). No, for me it's the television shows that aren't up to the quality they should be.
But I haven't hated any of them.
I thought WandaVision and The Falcon and the Winter Soldier were okay. Loki was good. Hawkeye was fantastic. Moon Knight was a disappointment. Ms. Marvel didn't live up to its potential. And I thought She-Hulk was good, but the ending leaned too hard into the whole fourth-wall-breaking stuff and short-changed the emotional stakes of the show.
Of the upcoming shows... Secret Invasion looks fantastic. Loki will likely be good. Ironheart could be great... if the story is worth watching. Echo I don't care about... unless it is guest-star heavy. Agatha: Coven of Chaos will likely not be my cup of tea (although I will absolutely watch it). And then there's Daredevil: Born Again... holy crap am I excited for this series. Charlie Cox's Netflix show was amazing, and his guest spot in She-Hulk was as good as it gets. I love the idea that he might be a little more upbeat and fun rather than the never-ending gloom of the Netflix show. She-Hulk shows that he can be serious... but also fun and exciting to watch. I hope they give him an overwhelming villain to really show off his abilities.
Marvel has done a great job bringing their comic book characters to live action. I seriously hope that their "stepping back" doesn't kill the momentum they've been building. Because we've got Secret Wars coming up, and that has such exciting possibilities that the potential for success is extremely high (assuming they really take advantage of what Secret Wars was and could be).
Posted on April 7th, 2023

I save a lot of stuff throughout the week, then choose the top six or seven items for that week's Bullet Sunday post. But with this one I just can't wait.
I saw this video which shows how the book Dune compares to the movie Dune: Part One and was so frickin' impressed that I re-watched it on my television. I've read the book at least a dozen times... watched the movie a half-dozen... and this video flawlessly shows how smart choices have to be made when filming an "unfilmable" novel.
Dune: Part One leaves a lot of stuff out, because you pretty much have to, but the stuff they jettisoned built a movie that honored the spirit of the original in a way that you could only dream of...
So many movies fail... badly... by either keeping too much or keeping the wrong stuff... or making changes that ruin the story. Dune: Part One is an example of how you do it right, even though the video points out that some things get lost that changes how you perceive the story.
But hopefully if people enjoyed the movie they'll read the book to get all that stuff back. The movie adaptation really doesn't change anything in a way that no longer makes sense when you experience the source material, which is exactly how you should do it.
Posted on April 6th, 2023

UPDATE: Ironic to note that after I wrote this entry, I was watching a movie when all of a sudden my Sonos Arc soundbar made a loud POP then the sound cut out. It was seriously loud. I thought that the dresser fell over in the guest room or something. I thought it had blew out, which seemed impossible given that I didn't even have the sound up that loud, but after unplugging and plugging back in, it was find. Until it happened again! After some Googling, I found that this is a KNOWN ISSUE and Sonos hasn't done shit about it. Apparently it has to do with several audio sources, including Xbox and newer-generation AppleTV 4K. Like the one I just bought. So, yeah, not sure where I go from here. I guess I call Sonos and complain (as everybody else has done) and hope they get off their fucking asses and fix the problem. Though this has been an issue for over a year and nothing's been done, so who knows. In the meanwhile, I've gone back to my original AppleTV 4K in the hopes that the Sonos problem will abate until it's resolved. If it gets resolved.
UPDATE-UPDATE: Two days running off the old AppleTV 4K, and no pops. I switch back to the Rev. 3 AppleTV 4K and they start up again. WTF?!? I am assuming that Apple is using HDMI and Atmos standards to make their little box... so what's the deal with Sonos? Frustrating. Am I never going to be able to update my media sources now?
---
When it comes to the Dolby Atmos spatial audio on my Sonos Arc soundbar, I was less than impressed. Despite buying a Sonos mount, positioning the soundbar 4-inches below my television as instructed, and cranking the height channel to maximum, I just wasn't feeling it. I'd watch scene after scene of the best Atmos mixes available, confirm that Sonos was receiving Atmos sound, and never heard anything of any substance. It was a heck of a punch to the gut after paying the money it cost me.
Then Sonos released the Era 300 (which I reviewed here) and all of that was supposed to change.
And so I bought into their game, fully expecting to return the speakers when they let me down as the Sonos Arc had done.
But then they actually ended up worth being the price of admission. Once I adjusted the rear speakers to point slightly inward... increased the height volume to maximum... increased the treble by a lot... increased the bass by a bit to compensate... and increased the surround audio a touch... it all kinda came together. The only thing I could do to improve it further would be to add a wall in my open living space so that the left channel could reflect instead of drift towards my kitchen. Something that's not in the cards, alas.
But still... darn good. Mostly for spatial audio music, because the Atmos mixes we get for home video is lacking. Though the situation is improving, some movies are more impressive than others. Below is a list of my favorites. My top two are films by Denis Villeneuve, who seems to take spatial audio very seriously.
Blade Runner 2049 (2017 - Denis Villeneuve)
How this movie didn't make a billion dollars is beyond me. It is an absolute masterpiece. Not only is it an impossibly good sequel to one of the most incredible films ever made... it manages to capture the atmosphere that made the original so mind-blowing. All while having a great story and flawless casting. It's a miracle on-screen. It's glorious to behold. And when it comes to the Atmos sound design? You're in the film. The many voluminous spaces fill your room with echos and reverb. Music is lush and all-encompassing. Small moments... like striking a piano key... are made to feel huge. You feel the rain falling on you in the dreary, brutalist environment of 2049's Los Angeles. Explosions rock your soul. The Atmos is meticulously crafted to be exactly what it needed to be, and makes me appreciate the movie all the more.
Dune (2021 - Denis Villeneuve)
It is one of my favorite novels of all time. I've read it a dozen times. It is impossible to adapt into film. But it's been adapted twice. The 2000 TV series was a mess. I actually did enjoy the 1984 David Lynch film (which holds up very well, actually), but it was more style over substance. The Denis Villeneuve Dune, however, is genius. The writing team behind it acted like a skilled surgeon... knowing exactly what to cut while keeping the soul of the novel. And the Atmos soundscape that was crafted for the film is everything you dream about when your sound system can take advantage of it.
John Wick 3: Parabellum (2017 - Chad Stahelski)
There are few franchises more deeply satisfying than everybody's favorite emo-assassin, John Wick. Each installment ups the ante in cool ways, and the brilliant Atmos soundtrack is no exception. Parabellum does an amazing job of creating immersive sound that gets better with each new movie. From rain pouring down from the sky to bullets bouncing around a room, you're there in the middle of the unrelenting action. And oh what action it is.
Doctor Strange in The Multiverse of Madness (2022 - Sam Raimi)
Disney/Marvel spends a great deal of money to make their movies a fantastic experience. But when it comes to their Atmos mixes for home video, they've been hit-or-miss... but mostly miss. You hear the film in the theater and it's great... then listen to it at home and it's kinda not. I guess the spatial audio is not a straight 1-to-1 conversion and requires work that Disney doesn't want to pay for. But it's been getting better since Avengers Infinity War & Endgame, and Multiverse of Madness is one of the best so far. The inter-dimensional jumping sounds very cool, but there's other more quiet moments with birds chirping and air moving that are just as nicely done... as it should be.
Avengers: Infinity War & Endgame (2018/2019 - Anthony & Joe Russo)
The movies themselves were among the best super-hero flicks to ever be released. Smart story-telling combined with amazing special effects. And sound. You can tell that some serious money was put into the Dolby Atmos positioning, because so many scenes were beautifully mixed. And that battle at the end is where it all comes to a head.
Mission Impossible: Fallout (2018 - Christopher McQuarrie)
It hadn't occurred to me to check out this movie until somebody in a Sonos forum recommended it. Very nice. There are scenes where the auditory positioning is meticulously crafted, but not in a way that sounds artificial. No easy feat.
John Wick 2 (2017 - Chad Stahelski)
Unlike the consistent spatial audio in John Wick: Chapter 3, the Atmos effects are a bit more hit-or-miss with the second chapter. The ones you get are brilliant... then they just... disappear. You'll get a few scenes where obvious height queues could have been used, but weren't. It's a shame, and I'm not sure why this is. Maybe budget? In any event, the sound design is still top-notch. It just could have been more.
What surprised me most was the Atmos mixes I liked the least. I read over and over and over that my favorite movie of 2015, Mad Max: Fury Road had some of the best Atmos work to date. And yet... I was seriously underwhelmed by the overhead effects, which were so random as to be distracting (unlike John Wick 2 where you can forget about it). The height channel would pop up when it wasn't needed... then be missing when you'd expect them to be there. It's bizarre. But still an incredible movie. I just think it sounds better with a 5.1 mix.
Which is rare.
Most times, the Dolby Atmos mix is incredible... even when it's not consistent. And finally... finally... I can hear it in my home theater thanks to the Sonos Era 300's.
Posted on April 5th, 2023

Building a truly great home theater is expensive. Over the years I have tried to create the best that I can afford. Which decidedly does not involve building a custom theater room. I just do the best I can with my living room. That, paired with the fact that electronics tend to get cheaper over time, has helped.
My sound recently got a major upgrade with a pair of Sonos Era 300's. Their ability to render a pretty good height channel for Dolby Atmos out of my Sonos Arc may not be as incredible as actual dedicated height speakers, but it's cheaper than ripping apart my walls to wire them in.
I wanted a cool $3,000 OLED TV when my old TV died, but that's way, way out of my budget. Instead I bought a mid-range Sony 65" KD65X80J for $780 on sale. It's far from perfect, but it has decent brightness, HDR color fidelity to display DolbyVision, and can pass-through Dolby Atmos sound. Which makes it worth paying $300 more than a cheaper model (until I check my wallet... then I'm all "What was I thinking?").
Which left me to my media source.
Early streaming efforts were pretty crappy. Color fidelity was awful. Motion artifacts were terrible. And resolution was abysmal. So I invested in a Samsung Blu-Ray 4K UHD player. The picture quality was outstanding. So sharp and saturated. But I could never get the advanced audio to work. Sonos couldn't handle DTS, it can only process Dolby Atmos. But some discs only came with DTS, which meant that I had to rely on conversion by other components, which usually didn't work and got me Dolby 5.1 instead. Rather than wasting money on Blu-ray Discs that may or may not give me the audio I was paying for, I abandoned it. And was thrilled about it, since most discs had a STOP PIRACY warning which you were forced to look at and couldn't fast-forward past (which is fucking stupid... I bought your fucking disc, didn't I?).
Then Apple came out with AppleTV 4K. It could stream much, much better quality 4K video in full HDR10 DolbyVision color, complete with Dolby Atmos. Which is to say that every movie I purchase from the iTunes Store which supported spatial audio would be in Dolby Atmos format for my Sonos system. Yay. When comparing the two visually and audibly, it's darn close to Blu-Ray UHD video quality. The only time I could tell was if I paused the video and compared it frame-by-frame. And so I started buying all my movies digitally, which is cheaper and easier than Blu-Ray anyway. Even if it does mean that I'm always under threat of the stuff I buy getting jerked from the iTunes Store and having nothing to show for it (which should be illegal... at the very least I should get my money back). It's a pity that the user interface for AppleTV continues to be incomprehensibly shitty, but I guess nothing is perfect.
So now I only use my Blu-Ray player for old movies that I am not able to re-purchase as digital, and it's not worth the hard drive space to rip them.
As for DolbyVision? Here are some of my favorites which are taking advantage of the HDR color gamut and video quality...
Bullet Train (2022 - David Leitch)
When it comes to all the benefits that DolbyVision offers, few movies come as close to perfection as Bullet Train. From the incredible colorscapes of Tokyo to the vivid lighting on the train in question, there's some real visual magic happening here.
Atomic Blonde (2017 - David Leitch)
Two strange things on this phenomenal Charlize Theron flick. 1) Though the video is in glorious DolbyVision, the sound is not in Dolby Atmos... which is bizarre. 2) When I went to add it to my list and look up the director, I had no idea that it would be the same guy that did Bullet Train! David Leitch very obviously knows how to use the extended gamut in his work. And with Atomic Blonde, he used it to beautiful effect. Most of the film is rendered in cold blues and greens and the HDR allows that to happen while still allowing very good definition. And when warm colors pop up, they add a remarkable contrast that really sets the scene on fire. I just don't understand why we didn't get Atmos, which would be amazing.
Pixels (2015 - Chris Columbus)
About half-way through the movie when the aliens invade, their hyper-saturated pixel forms are so beautifully saturated against the backdrop of the real-world that it kinda messes with your head. But in a cool way. It's a surprisingly effecting use of HDR which turns a mediocre movie into something beautiful to look at.
John Wick 2 & 3 (2017 & 2019 - Chad Stahelski)
David Leitch, who directed the first two movies on my list, is executive producer on the Wick franchise. Whether it's a coincidence that the colors on these film is also fantastic I don't know. But it's an interesting thing to note given how fantastic these films look in DolbyVision.
Avatar: The Way of Water (2022 - James Cameron)
Look, the color in this movie is incredible, as you would expect from something that's artificially rendered. They can make every last object whatever color they want... however saturated they want. They can add glows or artificial lighting... it's all on the table. So, yeah, in DolbyVision this is phenomenal. And if I had an OLED television, it would be fucking mind-blowing. But it's a video game. It's a cartoon. It's not real. You cannot compare it to actual movies in the Real World. Because even if the Real World footage has been color-graded and processed, it's still... real. And yet... if you want to see stunning visuals unlike anything else, here's your movie.
The LEGO Batman Movie (2017 - Chris McKay)
I actually had to watch this in DolbyVision... and without DolbyVision... at the same time to see if what I was seeing wasn't my imagination. I couldn't tell if my mind was filling in the blanks or if the depth and detail I was seeing was actually there. And it is. They use color like a bomb in most every scene, exploding it over everything. But not in a bad way. In a beautiful, lush way that's just there.
Any Disney/Pixar Film Using DolbyVision
Animation, with its rich, saturated colors, should be the perfect way to showcase DolbyVision. And, for the most part, it is. Movies like The Incredibles 2 and Monsters Inc. look fantastic in an HDR colorspace.
Blade Runner 2049
This movie has some incredibly saturated visuals that look amazing in HDR. But DolbyVision is more than just pretty, saturated colors. It's also about having very well-defined details in the shadows... and making sure that there's definition when the color pallet is washed out. In that respect, Blade Runner 2049 is absolutely stunning.
Posted on April 4th, 2023

In the right hands, I'm convinced that anything can become good entertainment.
But Barbie? As a feature film?!?
Well... yeah, apparently. It looks as if Greta Gerwig and an endless cast of stars may actually have managed to find a way to make it work. The new trailer looks visually exciting, and they have really leaned into what makes Barbie be Barbie. I mean... have you seen this?
Interesting how they are leaning hard into Magic Earring Ken, the gayest of all Ken dolls...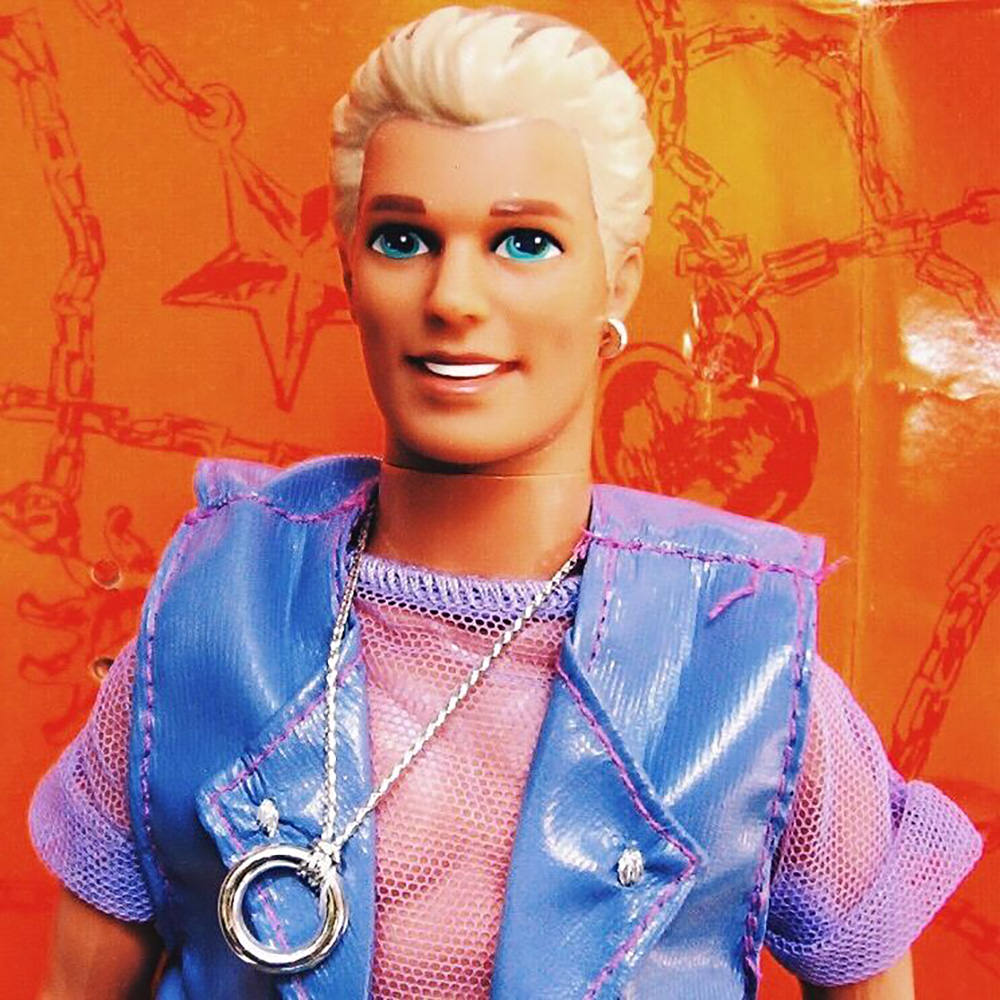 I tell you what... my respect for Ryan Gosling just keeps growing. The guy is fearless.
I'm not saying that I'll be running to the theater to see Barbie... but I will absolutely give it a rent on home video.
How could I not?
Posted on April 3rd, 2023

The point of this post is in the title... AppleTV is shit. But it's the best shit you can buy for streaming.
I'm not going to run through my many complaints. If you've read this blog for any amount of time, you've probably already heard it all. If you haven't heard it? The GUI (graphic user interface) is fucking horrendous. If you own more than twenty movies or television shows, scrolling through all of them is a nightmare. Apple provides no alphabetical index on the side so you can at least jump to the first letter of the title you're looking for. It's fucking stupid.
But anyway...
Since the quality of the picture is so radically better when viewed through the AppleTV device instead of the GoogleTV app for AppleTV, I decided to ditch my AppleTV 4K (2017 Revision 1) for the newer AppleTV 4K (2022 Revision 3). And because I want to be sure that I get the smoothest possible playback, I purchased the "better" version which has Ethernet and 128GB.
The difference between Rev. 1 and Rev. 3 are slight at the start. Both support 4K DolbyVision HDR10 UHD playback. Both support Dolby Atmos. You have to pay extra for Ethernet now, but my Rev. 1 had Ethernet as standard. But then there's the improvements which really count... my old AppleTV was a slow mess with its A10X chip. It's radically snappier with the new A15 Bionic chip. I'm also working with the 128GB vs. the 32GB I used to have. And then there's the fact that Apple finally future-proofed their tech by using the HDMI 2.1 standard instead of the old 2.0. I am using Ethernet instead of WiFi, but if I were to use wireless, the new model comes with WiFi 6. The new one is also smaller and feels lighter than the old one too. As if all that wasn't enough, it contains a Thread mesh networking radio to become a border router for your HomeKit shenanigans and Matter Smart Home devices.
But the most welcome change? The controller...
Apple ditched their shitty fucking touchpad controller for a new controller that has a good heft and actual directional buttons. Which means that navigation doesn't randomly jump all over the place like it used to. I have no idea why it took them this long to replace that technology FAIL. But look how long it took them to replace their heinously shitty "butterfly keyboard" on their laptops. And... oh yeah... you can charge with USB-C instead of the ten-year-old Lightning connector that nobody else in the industry is using. Yay. Alas no charging indicator... you have to look up the battery level on your AppleTV.
The navigation buttons surround a select button to form a "clickpad" that's also touch-enabled, which is very cool for whizzing through video. You also have a dedicated power button(!) and a mute button(!). It almost as if Apple is listening to what their customers want! Color me shocked. Regardless of why they did it, Apple has gone from my most hated remote ever to my favorite remote ever.
I dare say that the remote upgrade is reason enough to upgrade. Mostly because I am actually using it instead of avoiding it and using a 3rd party remote.
When compared to Amazon FireTV, Google Chromecast, and Roku, AppleTV is way ahead (except for the navigation GUI, which is still the absolute worst). The only competitor they have in this space is probably the NVIDIA Shield, which offers more flexibility and connectivity, but looks like absolute ass. I borrowed one from a friend who tested it and ended up preferring it to my old AppleTV, but not the new AppleTV Rev. 3.
So... yeah... my home theater setup is now complete.
Over the next couple of days I'll be talking about the DolbyVision and Dolby Atmos that I'm getting through my AppleTV box. If that's not for you... then I guess I'll see you on Thursday!
Posted on April 2nd, 2023

Spring has been one cold day after another for me on this 800th run at the bullets, but I am undeterred... because an all new Bullet Sunday starts... now...

• Invasion! When Secret Invasion was unleashed in the comic book world, it made for a wacky, weird, and wonderful story. Shape-changing Skrulls had been impersonating some pretty major players, and as everything unfolded you really didn't know who was going to be next. It's highly doubtful that the MCU will be able to go in this direction... it would be a massively expensive series if they did... but I'm still anticipating a few surprises along the way...
This has very much the feel of a Cold War thriller... except the deep-cover spies are Skrulls. And just look at the cast they got! Very excited to see where this leads... and what comes of it. If there are long-term consquences, it could make for some sweet stories later on.

• Singer! John Singer Sargent is one of my favorite painters... bridging the gap from the impressionists I love and the realists I admire. This short video gave me a new appreciation for his work, and is worth your valuable time to watch...
I love videos like this.

• Fun with Flags! And speaking of videos I love, CGP Grey makes some of my favorites...
I have no idea how he comes up with his ideas, but he has never released a video that wasn't fascinating. Even when they're as short as this one.

• Behind the Scenes! If you love the movie Arrival as I do, this is a real gem. But... spoilers... if you haven't seen it. Definitely watch the movie first...
The process that happens from story to screen is sometimes as fascinating as the film itself. Arrival is all kinds of interesting even without this. But with it?

• ZOMG! ZOMG! ZOMG! ZOMG! New Wes Anderson! This looks fantastic...
All of his films have a similar look and similar quirks to their characters. What makes them well worth watching is that all the stories are so different.

• Scotty! They are making a Scott Pilgrim animated series for Netflix... and all the actors from the movie are returning to voice their characters! I love it when massive stars like Chris Evans, Jason Schwartzman, and Aubrey Plaza signs on to do little projects like this. Obviously not a cash-grab for them... they just wants be a part of it. Very much looking forward to this, even though I thought Michel Cera was miscast in the original film.
Interesting to note that Young Neil is not so young any more! None of them are! The movie was THIRTEEN YEARS AGO!

Back under the blankets I go.
Posted on March 30th, 2023

I have a love/hate relationship with Sonos Home Audio.
On one hand, they are very good speakers. The sound I get from a single Sonos One (the cheapest, smallest speaker in their lineup) is better than I get from the speakers on my pricey Sony television. Sonos speakers are very well balanced to handle just about everything. Music sounds just as good as audiobooks which sounds as good as TV shows and movies.
But on the other hand, Sonos can be incredibly frustrating. When I replaced my Sonos PlayBar with a Sonos Arc, I spent a full hour talking with their support to get everything working. It was supposed to be an easy, no-brainer task, but it sure didn't end up that way for me. And then there's weird networking drop-outs that happen at random and can be a real bitch to resolve considering the only thing I ever get told is "IT'S BECAUSE YOUR WI-FI NETWORK SUCKS!!!" (as if I have some kind of cheap-ass Wi-Fi router buried in the basement instead of dual AmpliFi Alien routers in a mesh network that blankets my home with perfect Wi-Fi).
In the end I am happy enough with Sonos to ignore its shortcomings (no line-in is fucking stupid on a level of fucking stupid that has me reconsidering what I consider to be fucking stupid given how expensive their speakers are... and don't get me started on not being able to use dedicated left and right channels for surround sound). I have quite a few of their products collected from Black Friday sales over the years, and most rooms in my house are covered with Sonos sound. Heck, I even have Sonos in the bathrooms so I don't have to miss what's happening on my television shows when I have to get up and go pee.
And then Sonos decided to get cute and offer a new line of "Era" speakers. The Era 100, which takes the place of their entry-level Sonos One speaker... and the Era 300, which takes the place of their long-abandoned Play 3 speaker.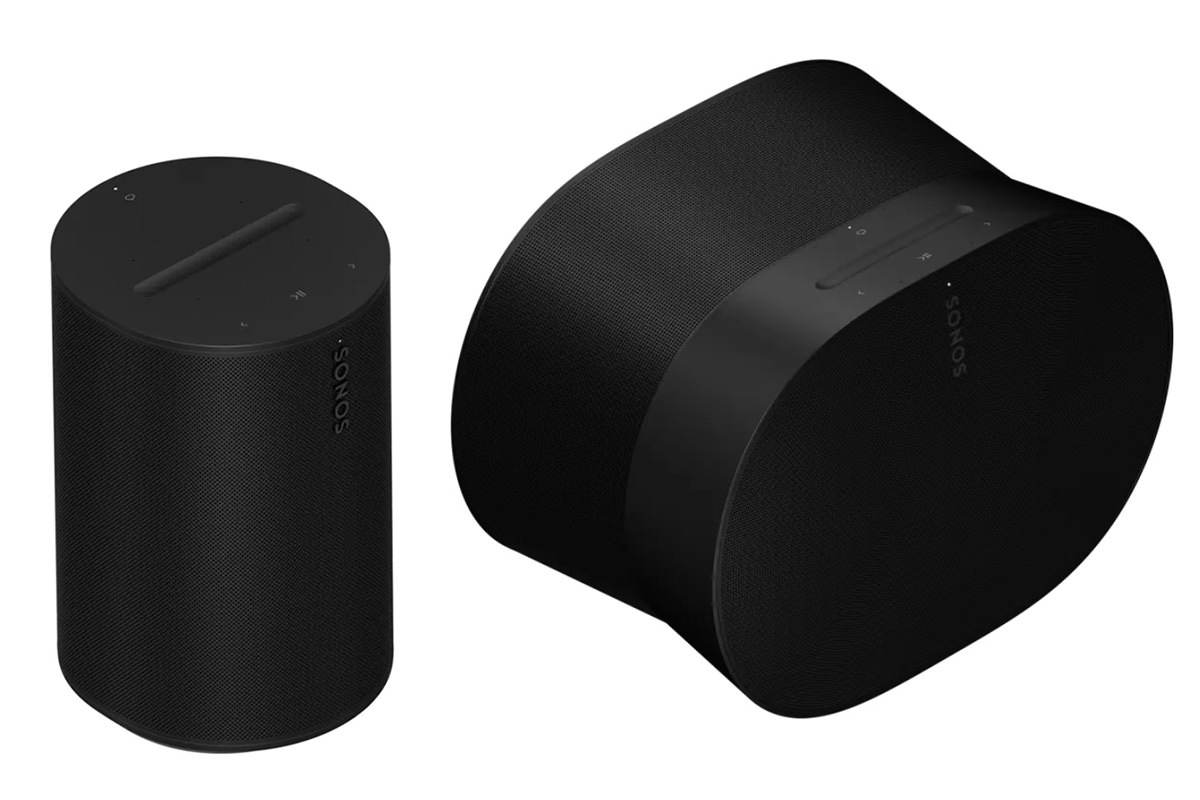 At first I was going to safely ignore their new offerings because I have neither the money nor the desire to expand upon my speaker collection.
But then I learned that the Era 300 is designed from the bottom up to support Dolby Atmos and I was intrigued. Dolby Atmos allows precise sound placement within a room. This is usually reserved for theaters which can install speakers all the way around the seating area... along with the ceiling... so that the action can move around the room to match what you are seeing. It's a pretty nifty trick. The technology is something that is supposed to be supported by my Sonos Arc soundbar, but the effect is minimal to the point that it might as well not even exist at all.
The Sonos Era 300 has an up-firing speaker that looked substantial enough to actually maybe kinda support actual Atmos sound bouncing down on your from above...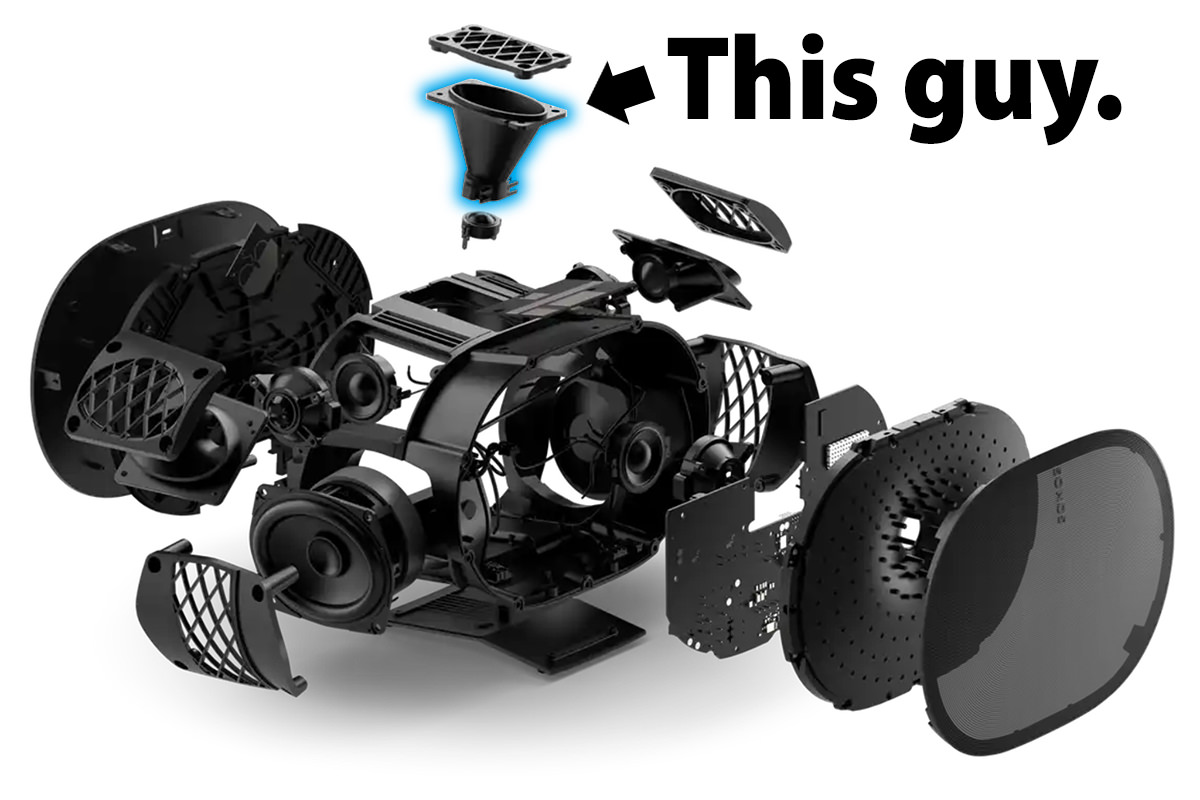 So I used my final two Sonos upgrade credits and all the Black Friday money I had left after buying Neon Bad Monkey and pre-ordered a pair of them.
And now they're here.
And I'm just going to cut to the chase here. They are... pretty good.
Because whether or not you have great Atmos sound largely depends on the audio mix that movie and television studios add to their products. I've tested these speakers for hours with all kinds of movies available in Dolby Atmos, and it's very rare that I find myself going "Whoa!" because some sound playing above me was distinct enough to catch me by surprise. No, for the most part, you're largely just getting a better, fuller surround sound experience. Back-To-Front and Front-To-Back audio is far more distinct with those up-firing speakers because you can feel the "movement" better. Far better than I did with my Sonos Ones as rear speakers. For that reason alone I am quite happy with my purchase. And who knows? Maybe as more and more people have Dolby Atmos available at home, studios will start doing better mixing so that my speakers can take advantage of it.
Now lets get to the Dolby Atmos experience that's truly worth it... Atmos Music!
I tell you what... I had read that Apple was partnering with Sonos so that their spatial audio tracks would play on Sonos hardware... but I wasn't thinking of that when I fired up some music to see if it sounded good from the 300s. A couple tracks played and I was suitably impressed.
Then the song If You're Too Shy (Let Me Know) by The 1975 dropped and I thought I was hallucinating. Lead singer Matt Healy's vocals were IN FRONT OF the music. And acoustical queues were all over the room. If I closed my eyes, it was as if The 1975 were set up in my living room. Then I remembered about the Apple Music Atmos thing and, sure enough...
For many Dolby Atmos music tracks, what you hear is flat-out mind-blowing. The 1975 remixed all their stuff, and (for the most part) it's incredible. Some songs are more experimental than others. Some songs push it too far to the point of distraction. But most of the songs are perfectly rendered in a way that makes the whole experience... maybe not better... but perhaps nicely different.
All of a sudden I was scouring all my favorite tracks to see if they had Atmos mixes available.
And it was like discovering music all over again.
Yes, there are instances where the Atmos is a gimmick that doesn't work. But for others? It runs the gamut. The biggest surprise was Kacey Musgraves Golden Hour. Whomever came up with her mixes just knocked it out of the park (with a couple notable exceptions which are gimmicky as hell). It. Is. Sublime. In Oh, What a World when that banjo hits, I had chills running up my spine. It's a fantastic experience. My favorite Post Malone tracks were wonderfully mixed for spatial audio. The newest Taylor Swift album is beautiful. And some bands you just know were hopping on the bandwagon early with Atmos remixes... like ODESZA. The track they did with Namoi Wild, Higher Ground, feels like her vocals are ON TOP OF the music. Or something. I can't even begin to explain it. But it's fantastic. Of course, it was a great track even before spatial audio...
The highest praise I can offer for spatial audio and Dolby Atmos music is that, when mixed right, the vocals never get lost in the music. They are always distinct and rendered front-and-center. One of the best songs to hear this is with Miley Cyrus's Flowers. There's places that she harmonizes with herself. But when listening to it without Atmos, the voices blend together. With Atmos, however, the harmonizing backing vocals are... like... elsewhere. They don't merge or compete... they're just another part of the music. I don't know quite how to explain it. But once I hear the difference... then go back to regular stereo... I can no longer un-hear it because the Atmos version feels like it's the way you're supposed to be hearing it.
So... probably not returning my pair of 300s... even though there's some bullshit right out of the gate.
First of all, Sonos finally... FINALLY... added bluetooth and line-in to their speakers. But when you configure them to be part of a Dolby Atmos setup... YOU NO LONGER CAN USE THEM FOR EITHER! WHAT THE BLOODY FUCK, SONOS??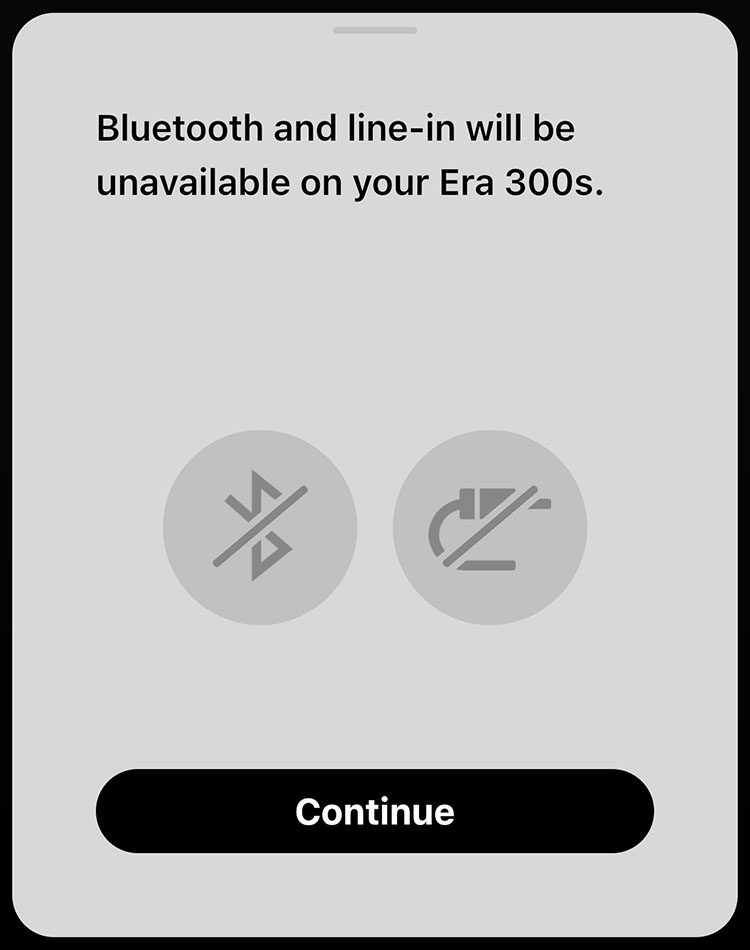 When that message popped up, it was all I could do to keep from throwing my phone against the wall. I was more than a little upset... I was fucking pissed.
I'm sure that Sonos will come up with some kind of bullshit excuse to explain it away, but the simple fact is that you could easily... easily... just have the speaker ignore all other input once the line-in is receiving input. This is not fucking rocket science. The fact that I can't just plug into one of my pricey new speakers with a frickin' line-in is so far beyond rage-inducing that I honestly don't know what to do with my anger from it.
But at least there's the option for a line-in... AT ALL.
If I were flush with cash I'd likely buy a single Sonos Era 300 for my bedroom and run a line from my television. That way I could have darn good TV sound along with a kick-ass speaker for music (the stereo separation from a single 300 is surprisingly good).
BUT WAIT, THERE'S MORE!
Assuming I win the lottery tomorrow, it's not enough to just buy a $450 Sonos Era 300 speaker for my television. YOU ALSO HAVE TO BUY A FUCKING $20 MINI-PLUG DONGLE! It's like... holy shit. There's fleecing your customers, and then there's Sonos fucking gouging their customers. This is pretty disgraceful.
So... to summarize in bullet points...
Setup actually worked like it was supposed to this time. I had an immediate software update I had to send to the Era 300's, but I was up and running in minutes.
I love that the power cord plug is smaller now. My rear speakers are on a slim shelf that I drilled holes in so the cords are hidden. But the Sonos Ones had a big-ass plug which meant I had to use a metal rod to smash it through the hole. The new Era plugs are more compact and just pop through. Easy!
I've had mixed results with Sonos TruePlay tuning (where you walk around the room waving your phone around while the Sonos app listens to tones and calibrates the speakers so their sound is best rendered in your room). The first time I tried it years ago, I loved it. Then the last couple times I thought the calibration was pretty bad and removed it. This time the jury is still out. I think it made my Atmos music sound better... but the movies I tried after calibration didn't sound as bright and the overhead sound was muted. I'll probably keep TruePlay on but fine-tune the EQ and upward sound levels.
The line-in garbage mentioned above is fucking bullshit. I am outraged that not only is it fully disabled when you use them as surrounds... but you also have to buy a fucking dongle. It's as if Sonos said "WELL, YOU WANTED A LINE-IN, SO HERE IT IS... TOO BAD WE FUCKING BROKE IT!
Until more studios really invest in doing Dolby Atmos mixes that are killer, I wouldn't buy these speakers just for movies with Dolby Atmos. It's just not a big enough upgrade given how many mediocre mixes are out there claiming to be "Atmos."
The "killer app" on the Era 300s is Dolby Atmos music. Spatial audio provides an experience I haven't heard before and, for the most part, I absolutely love it. As more and more artists go back and remix their music (or remix the mixes that aren't that great) I think this is reason enough to give them a listen and see what you think.
Yes, the price of Sonos gear is as heinous as it ever was. About the only justification I can offer is that they feel quality. They are noticeably heavy and seem built to last. And, needless to say, the sound quality is darn good given the size. Exceptional even. I have never had a complaint about the sound I get... and even a meager little Sonos One provides a great experience. Sonos is one of those companies where I think the cost is likely worth it. That being said, every piece of my Sonos gear was bought on sale because... damn.
All my stuff was purchased directly from Sonos because I like that they offer a money-back-guarantee when you purchase from them. It's the least they can do given how much money it costs. If you are on the fence, it's worth investigating whether the shop you're buying from can offer a guarantee. Pretty sure not all of them do.
If you are a long-time Sonos customer, Sonos will give you "upgrade credits" which knock 15% off the price of their wares. For every speaker you own that's old enough to earn a discount, you get one credit to use on another speaker to replace it. Except you don't have to return your old speaker... you get to keep it! If you registered your products with Sonos, be sure to look at your account and see what's available. I saved nearly $70 each on the 300s, which is serious money.
A lot has been said about how "ugly" the Sonos 300s are. Personally, I'm not seeing it. I am very sensitive to design aesthetics and actually really like the look of them. When sitting on the shelf behind my couch, they look nice from any angle and have an impressive heft to them that makes me confident a cat isn't going to knock them off (if they were to ever climb up on those shelves, which they rarely do).
I did not buy any Era 100s and really have no plan to do so. The improvement over my Sonos Ones seems minimal, as there's no up-firing speakers for rendering Atmos. The stereo separate looks like it might be pretty good... but since the speaker is so narrow, I'm not sure how noticeable it would be.
And there you have it.
If you've got a showroom somewhere near you with Sonos gear, it might be worth a look if you're thinking about investing in new speakers.