Posted on December 21st, 2020

"Get used to disappointment."
— The Dread Pirate Roberts, The Princess Bride
If there's one thng I can count on, it's that any celestial event worth getting excited about will take place in the Winter when the region in which I reside is completely obliterated by cloud cover. It happens all the time.
This year it's the "Great Convergence of Jupiter and Saturn" which happens every 20 years, but hasn't been this close in nearly 800 years. The last time it was like this for us earthbound natives was March 4, 1226.
Foolish mortal that I am, I did attempt to take a look though.
What I wanted to see...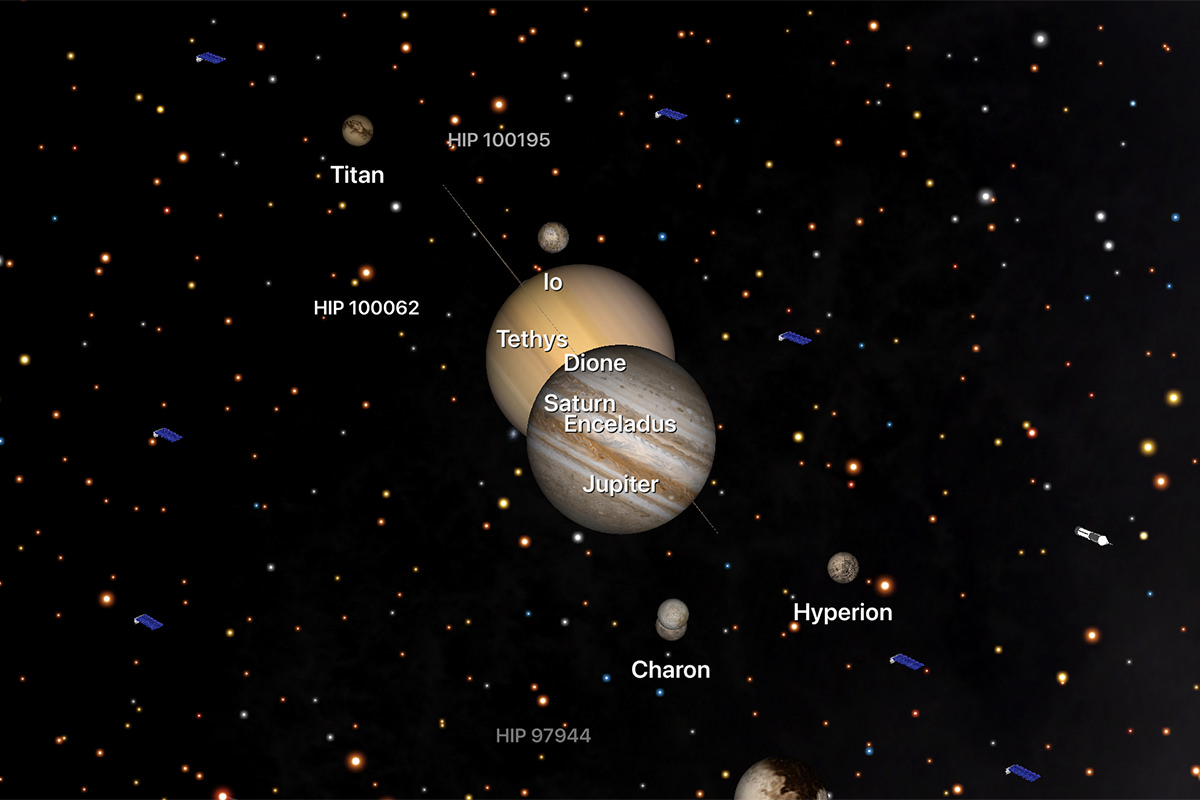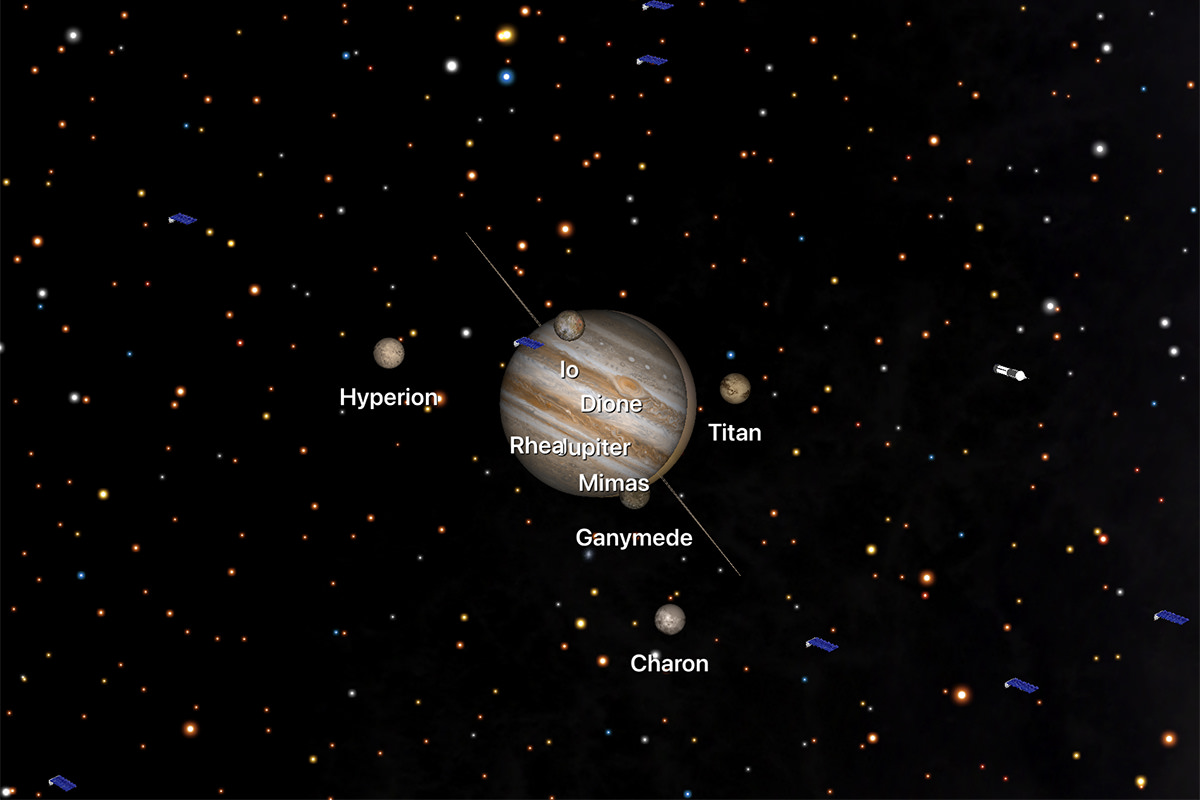 What I actually saw...



Typical. I don't know why I expect to experience anything but disappointment this year.
Or most years, if I'm being honest.
Posted on May 5th, 2019

It's Cinco de Mayo! It's also great day to be alive... because an all new Bullet Sunday starts... now...

• Chewy! Peter Mayhew, most famous for playing Chewbacca in the Star Wars movies passed away this week. He sounded like a wonderful, generous man...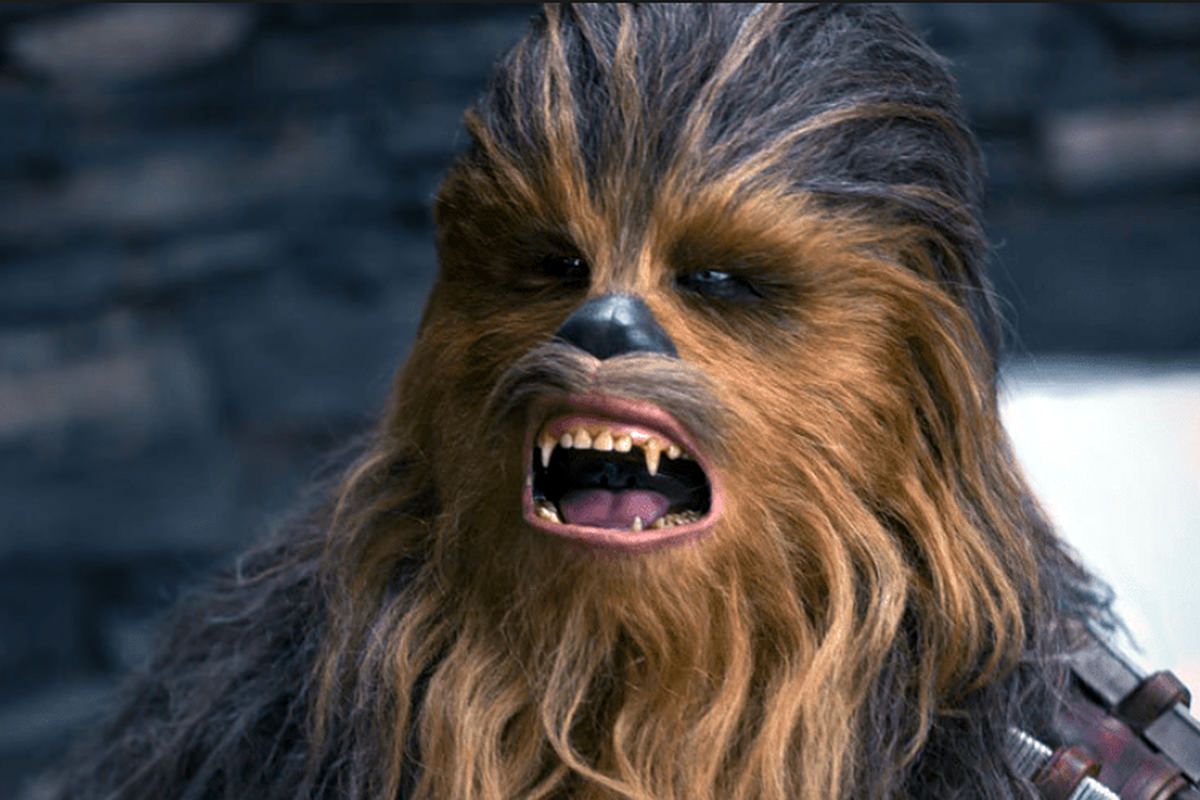 Rest in peace, sir. You crafted a character that captured my imagination and made me love a walking carpet.

• Mattress Wars! This is some shady shit right here...
I never trust online review sites. I rarely trust reviews on any site. Unless it's coming from somebody I know and/or trust, it's just bullshit noise. And yet... I still read them in an attempt to be informed as to my purchases. =shrugs=.

• Boca? Last year Kraft abandoned their Original Boca Burgers and Vegan Boca Burgers. They instead came out with a new "Boca Burger" which is nothing like the original despite still saying "original" on the box. It tastes like shit. The Vegan burger was discontinued entirely. Recently on their Facebook page, they unleashed this steaming pile of bullshit...
Our consumers told us that their experiences with our vegan burger were better represented by a turkey burger. With this new insight, we renovated our vegan burger to better deliver on taste, texture, and flavor under the new "Turk'y Burger" banner.
Vegans no longer want a vegan burger, they want a turkey-tasting burger? Yeah that sounds like it totally happened. Now that Kraft has completely abandoned all the things people loved about the Original and Vegan Boca Burgers, hopefully some other company will step in and make an ACTUAL Original Boca-inspired burger that people actually want to eat. Personally, I think Kraft is run by lying pieces of shit who just wanted to make a cheaper burger, didn't give a crap if it tasted nothing like a Boca Burger, then decided to sell it with outrageous levels of lying. Whatever. Not buying it. Go fuck yourself, Kraft. Why buy Boca Burger if you weren't interested in making Boca Burgers?

• Chalk! I ran across this video on chalk, of all things, and found it more interesting than I thought I could...
I haven't used a chalkboard for decades. But after watching this? I have an overwhelming desire to get me some Hagoromo Fulltouch chalk and write on one! Probably cost me $5 to buy a stick, but apparently it's an experience that needs to be had.

• Deep Sky! I've professed my love of all things GigaPan more than a couple times. But now they've got something really interesting going on. They've combined thousands of photos from a tiny area of sky about the size of the moon in the sky. The result? A Hubble Telescope GigaPan Image!
This is so cool...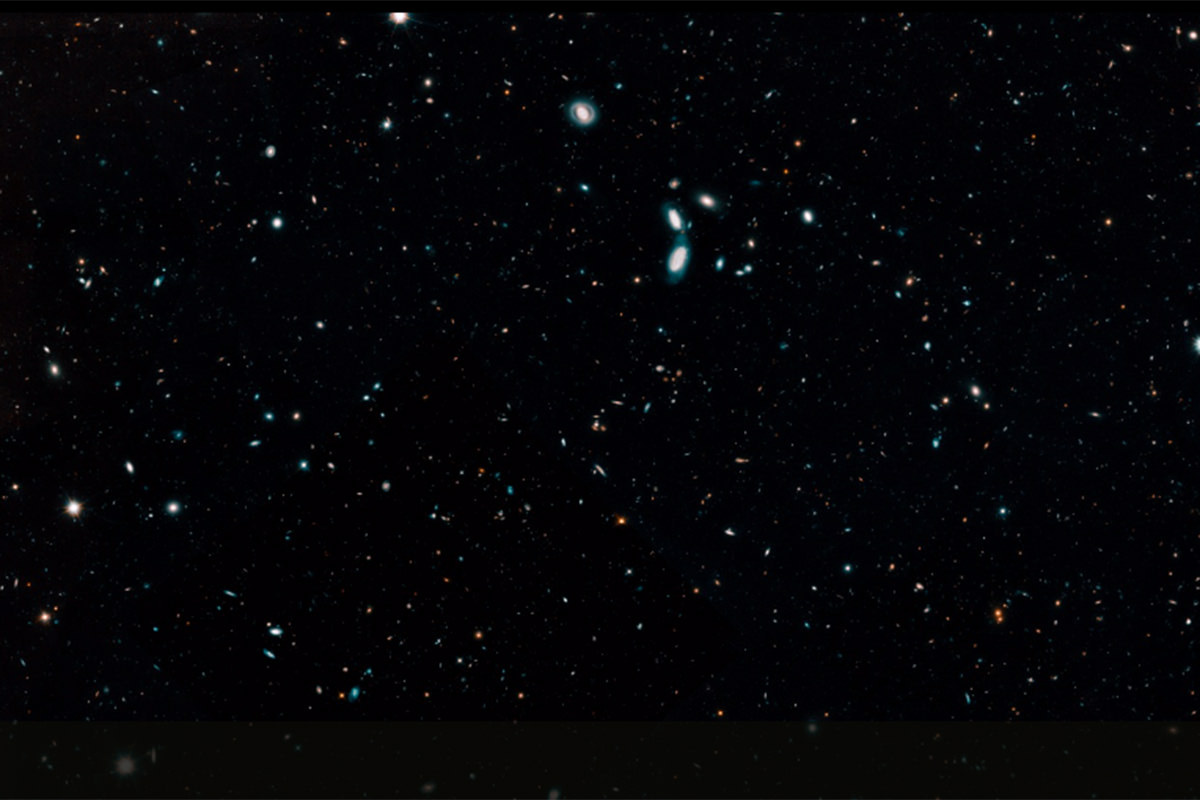 And zoom...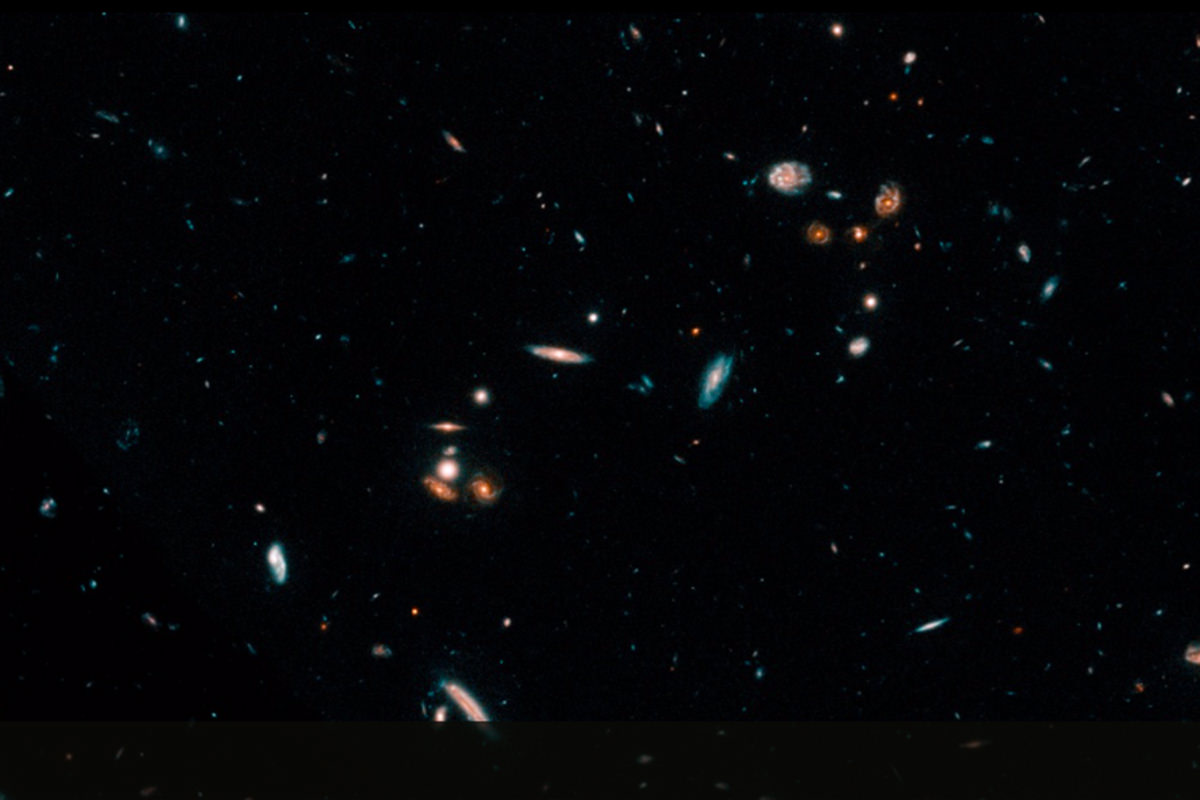 And zoom...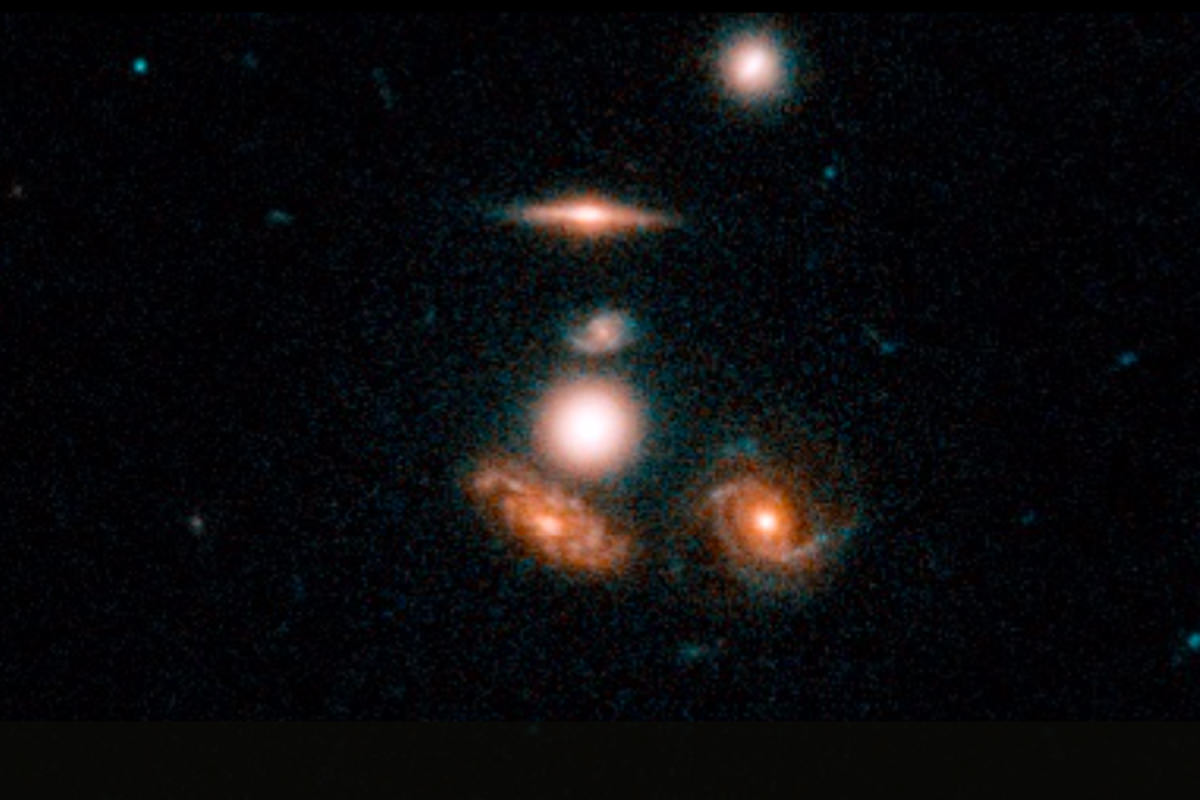 Yeah, you'll want to head over to the GigaPan site to play with this yourself. It is positively astounding the number of galaxies that can be found in such a small section of our sky. Google says that the average number of stars in a galaxy is 250 billion ± 150 billion.

• Follow the Money! Veronica Mars is one of my favorite television shows of all time, which is why it's so great that it's getting revisited. First with a movie... now with a new series from Hulu...
Here's hoping that it's the first of many new seasons!

• Boo Pricing! Recently Hulu lowered their prices. Apparently they understand that with so much new streaming competition that they need to be competitive. Netflix, on the other hand, is taking the opposite tact. Recently when I visited their site I was forced to accept their new pricing before they would even let me access the content that I pay for...
Well... let's see... Netflix has canceled all the Marvel shows (the reason I signed up in the first place), so I suppose this is where I tell them to take their price increase and go fuck themselves with it. Except... they do add a comedy special I enjoy from time to time. So I guess my solution will be to drop the service, then pick it up for a month a couple times a year. Maybe if everybody does this, they'll get the fucking message. Because, sure, I love having original content (when it's good) but there's a limit as to how much I can afford to spend on it.

• Thrones! The first part of this episode was exactly what it needed to be... the calm before the storm. And then the storm began. And while the result of the initial encounter was tragic and earlier than expected, it WAS expected. There are a list of things that really must happen before the story ends. And we're almost there. So now it's all about the unknowns. There's things you'd like to happen. Things you'd hate to happen. Things that, hopefully, unexpectedly happen. And two episodes left for it all to happen in. Hopefully in way that makes sense, which the back-end of this episode really did not. Does nobody ride ahead and make sure that your way is safe any more? Insanity.

• It's Not Me It's You! Last Sunday HBO unleashed an episode of Game of Thrones that took 55 nights to film. It was a massive battle that had been building for years, and was an epic sight to behold. At least it would have been had they not filmed it so fucking dark that you couldn't see a damn thing. It was a horrific mess. Even when there was light enough to see something, they filmed it so close that you still couldn't tell what was going on. Needless to say, a lot of fans were extremely pissed off. Now the cinematographer for the episode said that It's not Me, It's Your TV Settings. Which is a load of shit, of course. I have a high-end 4K television and a fiber internet connection. I black out my entire living room when watching. This is NOT my fucking fault... or that of my internet... or that of my television... or that of my viewing environment.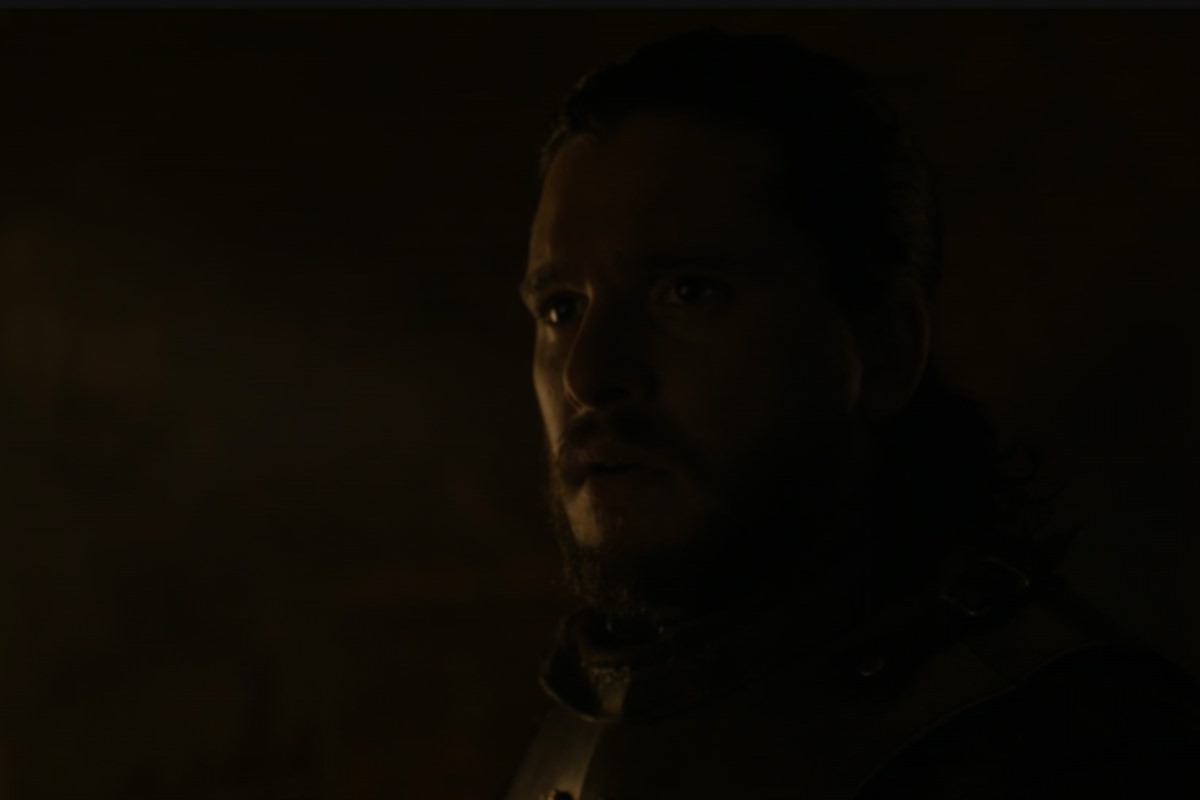 The cinematographer's job was to create media which could be displayed and understood in the way that people would be consuming it. Namely, streaming over the internet with compression, limited gamut, and a normal television. Not in an idealized fantasy theater with Blu-Ray 4K Ultra HD signal and a $15,000 OLED TV. Which means he completely, utterly, and totally failed to do his job. And fuck him for saying otherwise. My hope is that HBO will listen to their customers and spend the money to re-key the lighting, then rebroadcast it so people can actually see the shit. If not? Fuck them too.

And that's all he wrote for bullets this week. Tune in next week when I'll try to find more to complain about!
Posted on September 27th, 2015

THE END OF THE WORLD IS UPON US, because a blood-soaked super-moon edition of Bullet Sunday starts... now...

• Blood! As usual when anything cool is happening in the heavens, Redneckistan is having none of it. Apparently we've still got fires raging, because tonight's Super Blood Moon Eclipse was obscured as it crested the horizon. It wasn't until it climbed out of the haze that the moon was sharp enough to photograph. Unfortunately, the eclipse was retreating by then...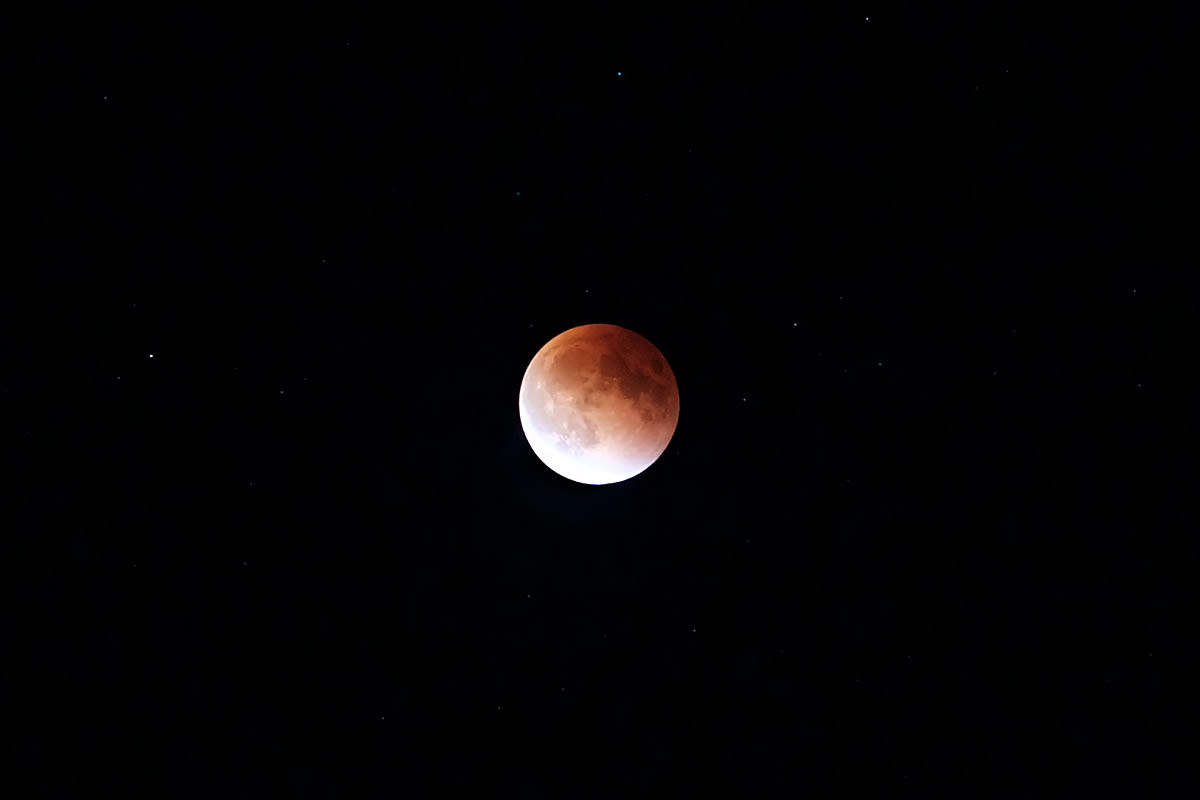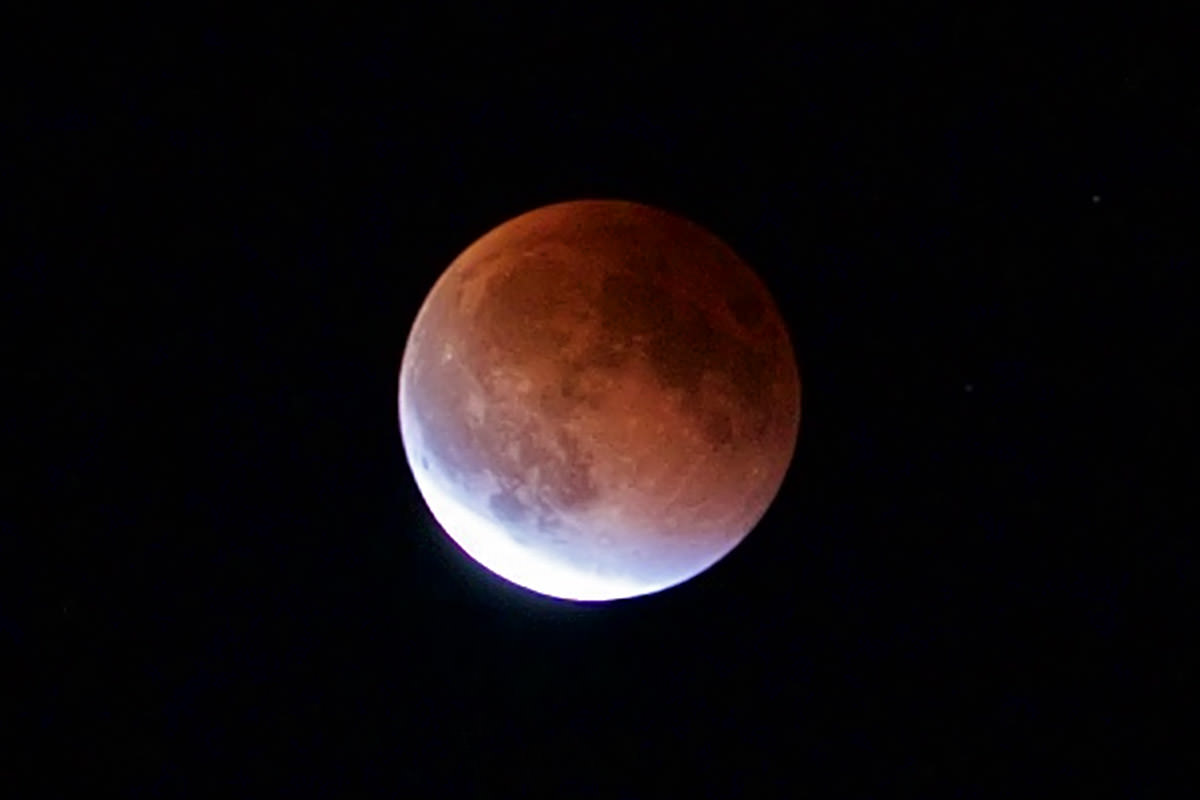 It was pretty tough to photograph because the exposed moon is so bright... but oh well. Better than nothing, I guess.

• Pope! My favorite Pope was John Paul II (whom I actually got to see... kinda... back in 2000)... but this new Pope is growing on me. His address to Congress was terrific, yes... but this is the story of his visit I like best.

• Jafar! So good...

• Fuckabee! Anybody thinking that Donald Trump is the biggest fucking douche to ever run for president is not paying attention. It would be fantastic if, after losing his bid for the presidency, we would never hear from fucking Mike Huckabee ever again... but assholes this big never truly go away, do they?

• Jimpire! If you are a fan of Empire, then this parody by Jimmy Fallon and Company is a must-see...
Higgy... Higgy... stop!

• Biker! And, before we go, a story to warm your heart...

Photo from Pat Doody

Annnnd... no more super-moon for you!
Posted on September 19th, 2015

I have to get up at 3:00am again tomorrow.
That's just six hours and twenty minutes from now, and I still have to pack and overnight bag.
The reason I'm not packing right now is because of this...
Dude! No Pluto?
Traitor.
I understand the massive scale of our solar system, but it's still mindblowing to see it all laid out like this.
Though, to be honest, it was mindblowing just seeing the distance from the earth to the moon in scale.
Posted on January 13th, 2013

Stop staring at those Golden Globes... because Bullet Sunday starts now...

• Good. If you have a passing interest in astronomy... or even if you just like staring at beautiful stuff... then you have got to check out Phil Plait's Bad Astronomy blog over at Slate. I've been a fan of his for years when he was at Discovery, but he's really been be posting some amazing images lately...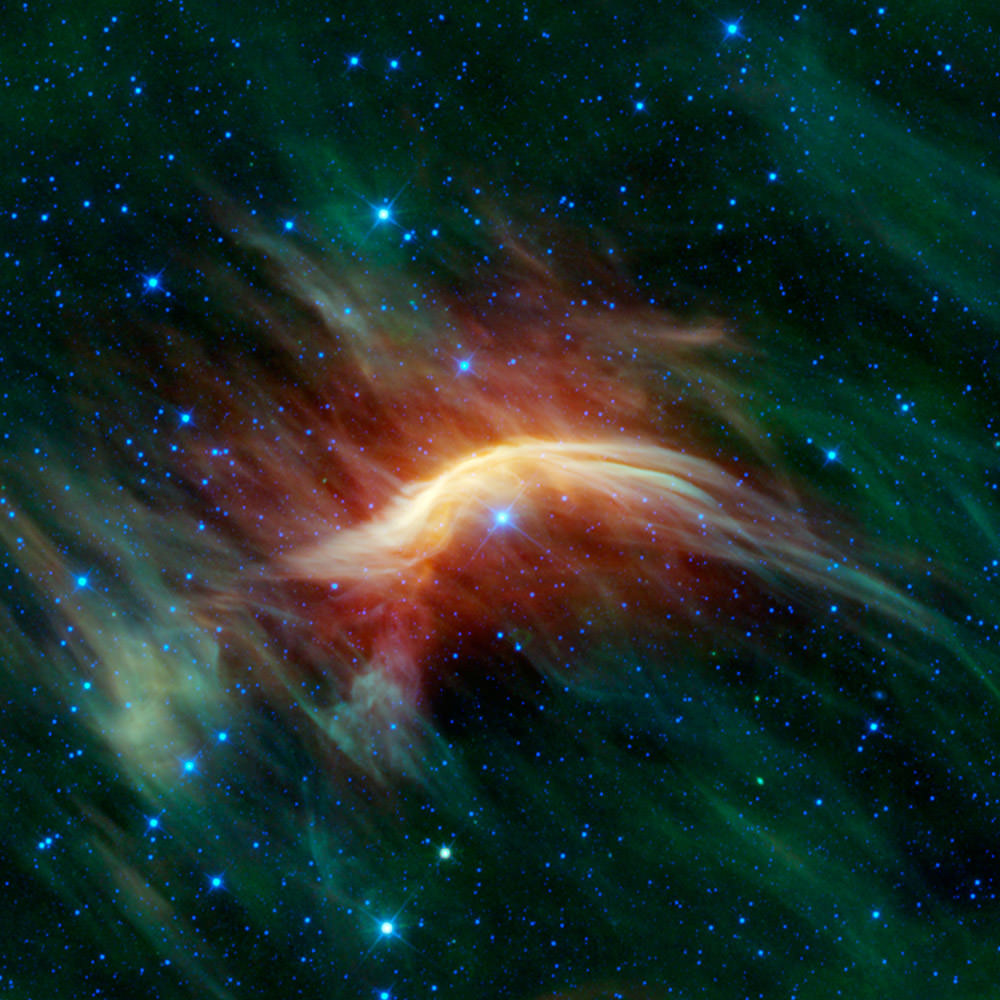 You'll probably want to look at the Big Picture over at Bad Astronomy.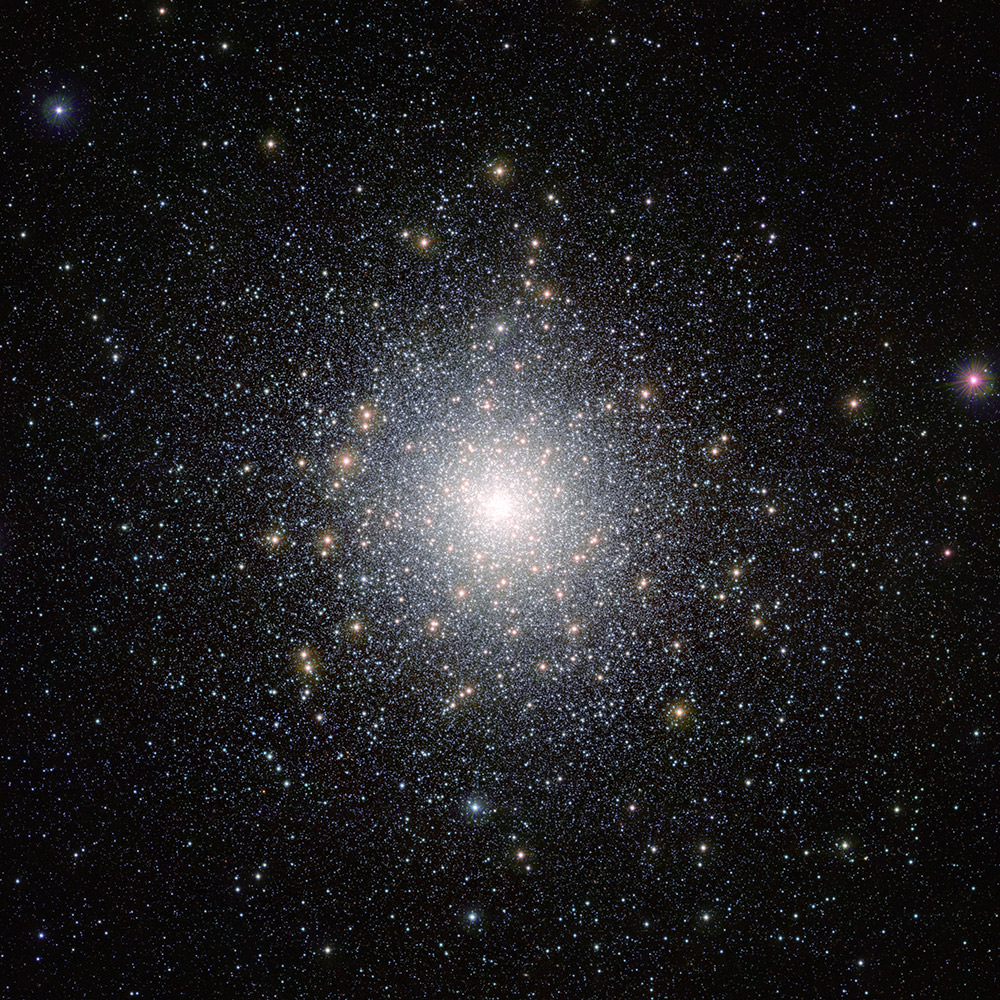 No shit, go check out the hi-res on this one. Mindblowing.
And in-between, Mr. Plait is still dishing up fascinating facts about the universe... and cool stuff worth knowing about our home back here on earth. Be sure to check it out.

• Cookies. Look, if a site requires me to enable cookies in order to use their shopping cart, that's fine. If I want to shop there bad enough I'll enable the stupid cookies, even though I don't want to. However... I am NOT going to be forced into enabling cookies just for looking at your website. And if you go to Target.com, that's exactly what they do ON PAGE ONE...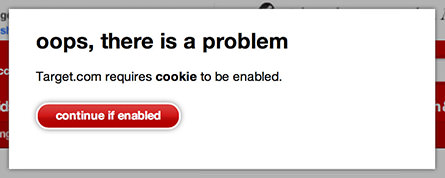 All I wanted to do was to find a local Target store at a given address. Why in the hell does that require cookies? Stupid. Stupid. STUPID!

• Backlog. Being a man and talking about rape and violence against women can be a tricky situation... even if you are condemning these reprehensible acts of brutality and cruelty. I've learned the hard way how just one misinterpreted word can get you verbally eviscerated, regardless of your good intentions. Even trying to be sympathetic can sometimes get you smacked down. Ultimately, it all comes down to one thing... "You're a man. You'll never know what it's like."
And women are, of course, correct. Men can't know what it's like for a woman to deal with rape... or even the fear that comes from the threat of rape.
So this is a subject I shy away from, even though I have strong feelings about it. Namely, that rape is an unforgivable criminal act which should result in the rapist being evicted from humanity. Permanently.
But, back to reality...
Certainly preventing rape should be goal #1. But if rape occurs, then making sure the rapist pays for his crime and ensuring he can't rape again is imperative. Thanks to a post over at SueBob's blog, I've learned that there exists a massive backlog of rape-kit evidence that has yet to be processed. Meaning there are rapists out there who are free to rape again since the evidence of their crime is sitting in a room somewhere instead of getting them convicted. If this makes you as angry as it does me, there's a site called End the Backlog you should take a look at.
And if you're looking for a place to donate some money, Mariska Hargitay's Joyful Heart Foundation "helps survivors of sexual assault heal their minds, bodies and spirits and reclaim their lives," and is deserving of your support.

• Accused. Of course, being a man, I would be remiss if I didn't point out that being falsely accused of rape can have consequences every bit as horrendous. You. Can. Lose. Everything. Your family. Your wife. Your children. Your friends. Your neighbors. Your job. Your livelihood. Your life. And, even if the truth eventually comes out, your life will never be the same because the original accusation never goes away. People may learn that you're innocent, but you'll always be that guy who somebody accused of rape. And don't get me started on how damaging false accusations are to actual rape victims trying to build cases against the bastard who violated them. Every lie that comes to light makes it that much harder to prove a truth.
So, yeah. If you are a rapist, you deserve everything you get. And more. But if you're innocent? That's the stuff of every man's worst nightmare. Case in point? Nancy Grace's relentless, ruthless public persecution of the Duke Lacrosse Team for gang rape. Day after day she poured on the outrage, pronouncing them GUILTY despite the three accused players' repeated denials (not to mention inconsistencies from the accuser). And when the guys were found innocent? Not even an apology from that fucking publicity whore, Nancy Grace (may she burn in hell for all eternity).
All I'm saying is that the consequences of falsely accusing somebody of rape should be so severe that it's not a viable option when a woman wants to deal damage to a man. Or when she wants to escape the consequences of a consensual act. Or for any reason, really. But it's a scary area to tread because you don't want to make it so that women who have been raped are afraid to come forward. I don't pretend to know what the answer is here, but when working to make sure rapists are punished, I'd hope that the accused innocent will be considered in the conversation.

• Guilt. "A New Hampshire lawyer who works with a virulently anti-gay Christian-right organization has been found guilty of child pornography charges after videotaping her own daughter having sex with two men on multiple occasions." —Salon
I am done being shocked by fucked-up news like this. These assholes ruthlessly vilify consenting adults over their sexuality... and it always seems like those who yell the loudest are the most guilty of doing horrendous shit...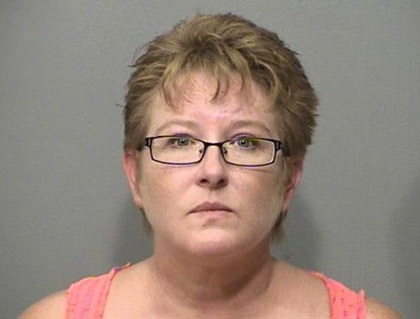 "My favorite book is The Bible!"
This piece of crap worked overtime to persecute and deny equality to innocent people... but then spent her off-hours forcing her FOURTEEN-YEAR-OLD DAUGHTER to repeatedly have sex with TWO MEN while she filmed it. Apparently she felt her professional life was somehow "compensating" for the fucking atrocious stuff she did behind closed doors. Which begs the question... what's going on with all these other anti-gay bigots who are screaming to the rafters with their less-than-righteous fury? I am sickened at the possibilities. But no longer surprised when it shows up in my newsfeed. How sad is that?

And... I really, really wish I had another day in this weekend.
Posted on February 26th, 2012

Don't touch that mouse, Bullet Sunday starts... now.

• Higgs Boson. For science geeks like myself, Saturday was kind of a special day, as we were granted an audience with Professor Peter Higgs via a rare interview in The Scotsman. Fresh off of winning the Edinburgh Award, he made the bold prediction that the stupidly nicknamed "God Particle" that bears his name will finally be found this summer after 48 years. Bring on the Nobel Prize.

• Joke. Really? Attacking President Kennedy now? I gotta hand it to Rick "Piece of Shit" Santorum, he's got balls the size of watermelons to be trash-talking one of this country's most beloved presidents. Especially when Santorum is so petty and insignificant in the grand scheme of things...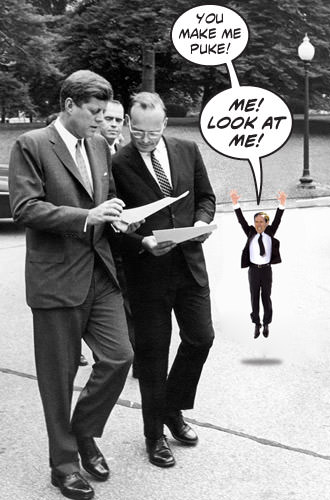 Santorum's tiny, insignificant, flea-like body from Ambro
How embarrassing. At some point even the craziest of crazies who are supporting this moron are going to wake up and say "What the fuck?!?"

• Astronomical. Apparently there was a spectacular alignment of planets happening in the heavens this weekend. Venus, Jupiter, and the Moon are all lining up to some kind of cool visual. I wouldn't know, of course, as the sky was totally overcast...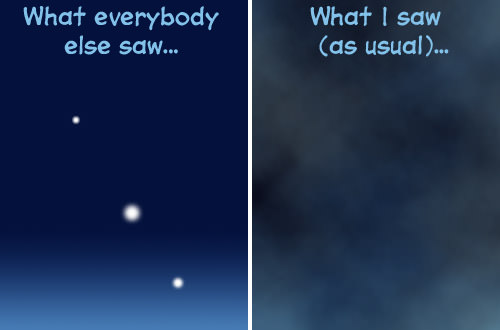 I swear, no astronomical events ever happen here. I get screwed by the weather every time.

• Finally. One of my favorite actors ever, James Earl Jones, was finally given his due with a Lifetime Achievement Academy Award...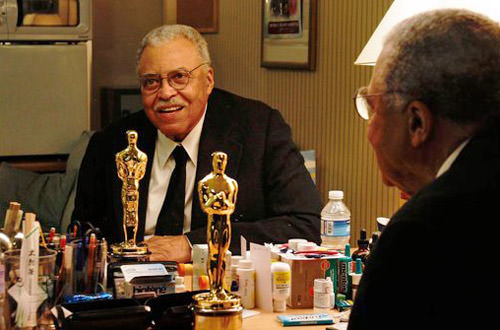 Photo from Luke Macgregor/Reuters
Can you imagine any of his movie appearances with somebody else in the role? Field of Dreams? The Lion King? Sneakers? The voice of CNN? THE VOICE OF DARTH VADER?!? No. No you can't. He's and incredible talent, and seeing him get an Oscar makes the award almost relevant again.

• Oscar. I am not a fan of the Academy Awards. They so rarely get it right when it comes to those deserving of a win. Case in point?
Captain America: The First Avenger — Best Picture.
Robert Downey Jr — Best Actor for Sherlock Holmes: A Game of Shadows.
David Fincher — Best Director for The Girl With the Dragon Tattoo. Stanley Tucci — Best Supporting Actor for Captain America: The First Avenger.
Meryl Streep — Best Actress for The Iron Lady.
Jennifer Aniston — Best Supporting Actress for Horrible Bosses.
And how many of those trophies were correctly awarded? One. Congratulations Meryl. You're amazing as always.

And now... I've got to pack a suitcase...
Posted on August 25th, 2011

Yesterday was the five-year anniversary of Pluto being demoted from "planet" to "dwarf planet."
It all happened because astronomers are finding a shitload of planetoids orbiting the sun beyond Pluto's orbit... some of which are bigger than Pluto. Rather than declare that they're all planets, they decided instead to demote Pluto so none of them are planets.
Personally, I think it was a monumentally shitty decision. Yeah, it makes sense from a scientific classification standpoint, and I get that. But Pluto should have been grandfathered in and kept the planetary status it's had since 1930. The planetary status it had when I made my science fair project in Middle School...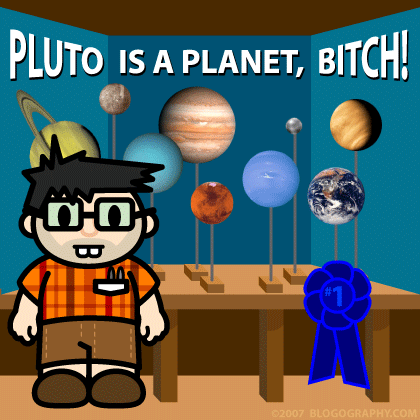 What drives me a little nuts here is that a group of people made this awful decision with no involvement from any of us. There wasn't a vote. there wasn't any conversation. One day Pluto just wasn't a planet anymore.
Which made yesterday the fifth anniversary of SUCK!
Or not.
Because yesterday was ALSO a monumental day for fans of the best new show from this past television season... Happy Endings!
ABC finally decided to bless us with the long-lost mysterious "missing episode" of the show. It wasn't the best of the bunch, but it was still better than most of the crap on television, so I have no idea why they skipped it in the first place.
In any event, it has me really looking forward to new episodes come September. As does this promo shot they've released...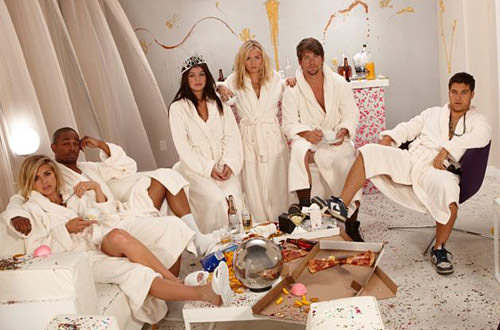 And speaking of photos... the stuff leaking off the set for the new Avengers movie looks amazing...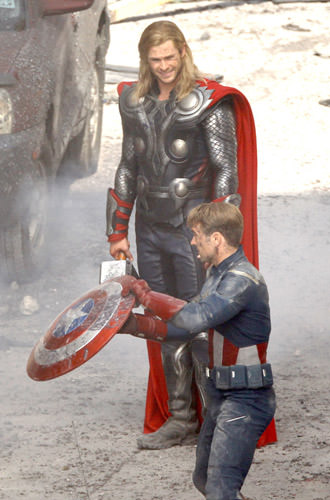 If only DC Comics could get their shit together the way that Marvel Comics has. To see a Justice League movie that teams up Batman, Superman, Wonder Woman, Green Lantern, and the Flash would be freakin' insanely awesome.
Or insanely stupid, if they got the wrong writer and director.
Perhaps I should be careful what I wish for.
Posted on January 26th, 2010

I don't know when it happened, but I'm betting it was after I watched Pixar's WALL-E.
I've started to anamorphize inanimate objects.
I find myself attaching emotions and feelings to things like my iPhone and my television remote control. I dropped my iPhone a while back and have been worried that it hates me for it ever since. I spilled Orange Crush on my television remote and felt it resenting me for days. This is new for electronics, but I've done it for years with living things... which is why I can't bring myself to kill a wayward spider in my home, and instead take him outside...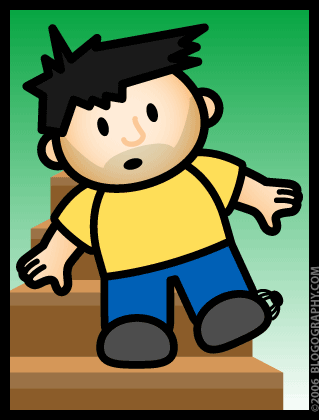 I just don't need that on my conscience.
Unfortunate little spider.
Anyway... today I read that the Mars Rover, "Spirit," has been stuck in sand on the red planet for the past 10 months, and now scientists have given up on ever getting him out. All they can do is try to get him to turn towards the sun so his solar panels can collect enough energy to keep him from freezing in the Martian winter. The hope is that even though he can't move, he can still be useful for scientific research if they can keep him alive.
As you can imagine, I'm pretty upset at the thought of poor little Spirit stuck and freezing up on Mars...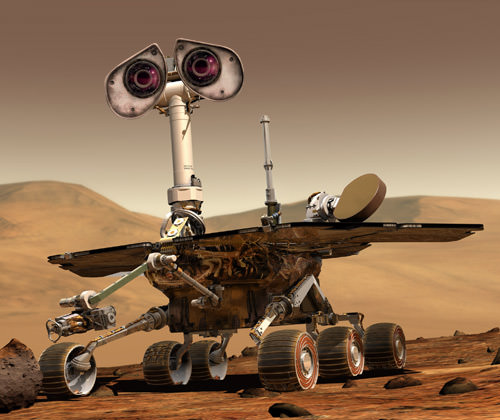 As if I didn't have enough things to worry about.
I suppose asking NASA to stage a multi-billion-dollar rescue mission is out of the question?