Posted on April 5th, 2023

Building a truly great home theater is expensive. Over the years I have tried to create the best that I can afford. Which decidedly does not involve building a custom theater room. I just do the best I can with my living room. That, paired with the fact that electronics tend to get cheaper over time, has helped.
My sound recently got a major upgrade with a pair of Sonos Era 300's. Their ability to render a pretty good height channel for Dolby Atmos out of my Sonos Arc may not be as incredible as actual dedicated height speakers, but it's cheaper than ripping apart my walls to wire them in.
I wanted a cool $3,000 OLED TV when my old TV died, but that's way, way out of my budget. Instead I bought a mid-range Sony 65" KD65X80J for $780 on sale. It's far from perfect, but it has decent brightness, HDR color fidelity to display DolbyVision, and can pass-through Dolby Atmos sound. Which makes it worth paying $300 more than a cheaper model (until I check my wallet... then I'm all "What was I thinking?").
Which left me to my media source.
Early streaming efforts were pretty crappy. Color fidelity was awful. Motion artifacts were terrible. And resolution was abysmal. So I invested in a Samsung Blu-Ray 4K UHD player. The picture quality was outstanding. So sharp and saturated. But I could never get the advanced audio to work. Sonos couldn't handle DTS, it can only process Dolby Atmos. But some discs only came with DTS, which meant that I had to rely on conversion by other components, which usually didn't work and got me Dolby 5.1 instead. Rather than wasting money on Blu-ray Discs that may or may not give me the audio I was paying for, I abandoned it. And was thrilled about it, since most discs had a STOP PIRACY warning which you were forced to look at and couldn't fast-forward past (which is fucking stupid... I bought your fucking disc, didn't I?).
Then Apple came out with AppleTV 4K. It could stream much, much better quality 4K video in full HDR10 DolbyVision color, complete with Dolby Atmos. Which is to say that every movie I purchase from the iTunes Store which supported spatial audio would be in Dolby Atmos format for my Sonos system. Yay. When comparing the two visually and audibly, it's darn close to Blu-Ray UHD video quality. The only time I could tell was if I paused the video and compared it frame-by-frame. And so I started buying all my movies digitally, which is cheaper and easier than Blu-Ray anyway. Even if it does mean that I'm always under threat of the stuff I buy getting jerked from the iTunes Store and having nothing to show for it (which should be illegal... at the very least I should get my money back). It's a pity that the user interface for AppleTV continues to be incomprehensibly shitty, but I guess nothing is perfect.
So now I only use my Blu-Ray player for old movies that I am not able to re-purchase as digital, and it's not worth the hard drive space to rip them.
As for DolbyVision? Here are some of my favorites which are taking advantage of the HDR color gamut and video quality...
Bullet Train (2022 - David Leitch)
When it comes to all the benefits that DolbyVision offers, few movies come as close to perfection as Bullet Train. From the incredible colorscapes of Tokyo to the vivid lighting on the train in question, there's some real visual magic happening here.
Atomic Blonde (2017 - David Leitch)
Two strange things on this phenomenal Charlize Theron flick. 1) Though the video is in glorious DolbyVision, the sound is not in Dolby Atmos... which is bizarre. 2) When I went to add it to my list and look up the director, I had no idea that it would be the same guy that did Bullet Train! David Leitch very obviously knows how to use the extended gamut in his work. And with Atomic Blonde, he used it to beautiful effect. Most of the film is rendered in cold blues and greens and the HDR allows that to happen while still allowing very good definition. And when warm colors pop up, they add a remarkable contrast that really sets the scene on fire. I just don't understand why we didn't get Atmos, which would be amazing.
Pixels (2015 - Chris Columbus)
About half-way through the movie when the aliens invade, their hyper-saturated pixel forms are so beautifully saturated against the backdrop of the real-world that it kinda messes with your head. But in a cool way. It's a surprisingly effecting use of HDR which turns a mediocre movie into something beautiful to look at.
John Wick 2 & 3 (2017 & 2019 - Chad Stahelski)
David Leitch, who directed the first two movies on my list, is executive producer on the Wick franchise. Whether it's a coincidence that the colors on these film is also fantastic I don't know. But it's an interesting thing to note given how fantastic these films look in DolbyVision.
Avatar: The Way of Water (2022 - James Cameron)
Look, the color in this movie is incredible, as you would expect from something that's artificially rendered. They can make every last object whatever color they want... however saturated they want. They can add glows or artificial lighting... it's all on the table. So, yeah, in DolbyVision this is phenomenal. And if I had an OLED television, it would be fucking mind-blowing. But it's a video game. It's a cartoon. It's not real. You cannot compare it to actual movies in the Real World. Because even if the Real World footage has been color-graded and processed, it's still... real. And yet... if you want to see stunning visuals unlike anything else, here's your movie.
The LEGO Batman Movie (2017 - Chris McKay)
I actually had to watch this in DolbyVision... and without DolbyVision... at the same time to see if what I was seeing wasn't my imagination. I couldn't tell if my mind was filling in the blanks or if the depth and detail I was seeing was actually there. And it is. They use color like a bomb in most every scene, exploding it over everything. But not in a bad way. In a beautiful, lush way that's just there.
Any Disney/Pixar Film Using DolbyVision
Animation, with its rich, saturated colors, should be the perfect way to showcase DolbyVision. And, for the most part, it is. Movies like The Incredibles 2 and Monsters Inc. look fantastic in an HDR colorspace.
Blade Runner 2049
This movie has some incredibly saturated visuals that look amazing in HDR. But DolbyVision is more than just pretty, saturated colors. It's also about having very well-defined details in the shadows... and making sure that there's definition when the color pallet is washed out. In that respect, Blade Runner 2049 is absolutely stunning.
Posted on April 4th, 2023

In the right hands, I'm convinced that anything can become good entertainment.
But Barbie? As a feature film?!?
Well... yeah, apparently. It looks as if Greta Gerwig and an endless cast of stars may actually have managed to find a way to make it work. The new trailer looks visually exciting, and they have really leaned into what makes Barbie be Barbie. I mean... have you seen this?
Interesting how they are leaning hard into Magic Earring Ken, the gayest of all Ken dolls...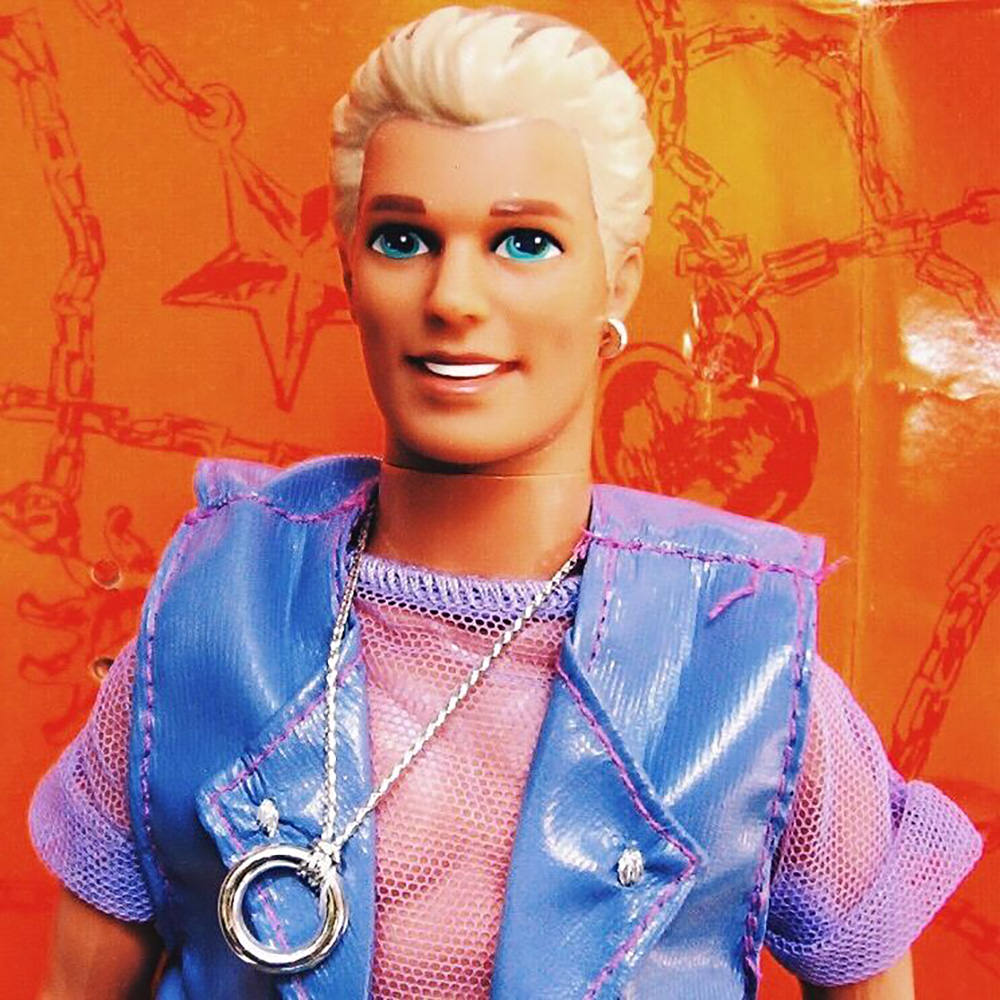 I tell you what... my respect for Ryan Gosling just keeps growing. The guy is fearless.
I'm not saying that I'll be running to the theater to see Barbie... but I will absolutely give it a rent on home video.
How could I not?
Posted on April 3rd, 2023

The point of this post is in the title... AppleTV is shit. But it's the best shit you can buy for streaming.
I'm not going to run through my many complaints. If you've read this blog for any amount of time, you've probably already heard it all. If you haven't heard it? The GUI (graphic user interface) is fucking horrendous. If you own more than twenty movies or television shows, scrolling through all of them is a nightmare. Apple provides no alphabetical index on the side so you can at least jump to the first letter of the title you're looking for. It's fucking stupid.
But anyway...
Since the quality of the picture is so radically better when viewed through the AppleTV device instead of the GoogleTV app for AppleTV, I decided to ditch my AppleTV 4K (2017 Revision 1) for the newer AppleTV 4K (2022 Revision 3). And because I want to be sure that I get the smoothest possible playback, I purchased the "better" version which has Ethernet and 128GB.
The difference between Rev. 1 and Rev. 3 are slight at the start. Both support 4K DolbyVision HDR10 UHD playback. Both support Dolby Atmos. You have to pay extra for Ethernet now, but my Rev. 1 had Ethernet as standard. But then there's the improvements which really count... my old AppleTV was a slow mess with its A10X chip. It's radically snappier with the new A15 Bionic chip. I'm also working with the 128GB vs. the 32GB I used to have. And then there's the fact that Apple finally future-proofed their tech by using the HDMI 2.1 standard instead of the old 2.0. I am using Ethernet instead of WiFi, but if I were to use wireless, the new model comes with WiFi 6. The new one is also smaller and feels lighter than the old one too. As if all that wasn't enough, it contains a Thread mesh networking radio to become a border router for your HomeKit shenanigans and Matter Smart Home devices.
But the most welcome change? The controller...
Apple ditched their shitty fucking touchpad controller for a new controller that has a good heft and actual directional buttons. Which means that navigation doesn't randomly jump all over the place like it used to. I have no idea why it took them this long to replace that technology FAIL. But look how long it took them to replace their heinously shitty "butterfly keyboard" on their laptops. And... oh yeah... you can charge with USB-C instead of the ten-year-old Lightning connector that nobody else in the industry is using. Yay. Alas no charging indicator... you have to look up the battery level on your AppleTV.
The navigation buttons surround a select button to form a "clickpad" that's also touch-enabled, which is very cool for whizzing through video. You also have a dedicated power button(!) and a mute button(!). It almost as if Apple is listening to what their customers want! Color me shocked. Regardless of why they did it, Apple has gone from my most hated remote ever to my favorite remote ever.
I dare say that the remote upgrade is reason enough to upgrade. Mostly because I am actually using it instead of avoiding it and using a 3rd party remote.
When compared to Amazon FireTV, Google Chromecast, and Roku, AppleTV is way ahead (except for the navigation GUI, which is still the absolute worst). The only competitor they have in this space is probably the NVIDIA Shield, which offers more flexibility and connectivity, but looks like absolute ass. I borrowed one from a friend who tested it and ended up preferring it to my old AppleTV, but not the new AppleTV Rev. 3.
So... yeah... my home theater setup is now complete.
Over the next couple of days I'll be talking about the DolbyVision and Dolby Atmos that I'm getting through my AppleTV box. If that's not for you... then I guess I'll see you on Thursday!
Posted on April 2nd, 2023

Spring has been one cold day after another for me on this 800th run at the bullets, but I am undeterred... because an all new Bullet Sunday starts... now...

• Invasion! When Secret Invasion was unleashed in the comic book world, it made for a wacky, weird, and wonderful story. Shape-changing Skrulls had been impersonating some pretty major players, and as everything unfolded you really didn't know who was going to be next. It's highly doubtful that the MCU will be able to go in this direction... it would be a massively expensive series if they did... but I'm still anticipating a few surprises along the way...
This has very much the feel of a Cold War thriller... except the deep-cover spies are Skrulls. And just look at the cast they got! Very excited to see where this leads... and what comes of it. If there are long-term consquences, it could make for some sweet stories later on.

• Singer! John Singer Sargent is one of my favorite painters... bridging the gap from the impressionists I love and the realists I admire. This short video gave me a new appreciation for his work, and is worth your valuable time to watch...
I love videos like this.

• Fun with Flags! And speaking of videos I love, CGP Grey makes some of my favorites...
I have no idea how he comes up with his ideas, but he has never released a video that wasn't fascinating. Even when they're as short as this one.

• Behind the Scenes! If you love the movie Arrival as I do, this is a real gem. But... spoilers... if you haven't seen it. Definitely watch the movie first...
The process that happens from story to screen is sometimes as fascinating as the film itself. Arrival is all kinds of interesting even without this. But with it?

• ZOMG! ZOMG! ZOMG! ZOMG! New Wes Anderson! This looks fantastic...
All of his films have a similar look and similar quirks to their characters. What makes them well worth watching is that all the stories are so different.

• Scotty! They are making a Scott Pilgrim animated series for Netflix... and all the actors from the movie are returning to voice their characters! I love it when massive stars like Chris Evans, Jason Schwartzman, and Aubrey Plaza signs on to do little projects like this. Obviously not a cash-grab for them... they just wants be a part of it. Very much looking forward to this, even though I thought Michel Cera was miscast in the original film.
Interesting to note that Young Neil is not so young any more! None of them are! The movie was THIRTEEN YEARS AGO!

Back under the blankets I go.
Posted on March 30th, 2023

I have a love/hate relationship with Sonos Home Audio.
On one hand, they are very good speakers. The sound I get from a single Sonos One (the cheapest, smallest speaker in their lineup) is better than I get from the speakers on my pricey Sony television. Sonos speakers are very well balanced to handle just about everything. Music sounds just as good as audiobooks which sounds as good as TV shows and movies.
But on the other hand, Sonos can be incredibly frustrating. When I replaced my Sonos PlayBar with a Sonos Arc, I spent a full hour talking with their support to get everything working. It was supposed to be an easy, no-brainer task, but it sure didn't end up that way for me. And then there's weird networking drop-outs that happen at random and can be a real bitch to resolve considering the only thing I ever get told is "IT'S BECAUSE YOUR WI-FI NETWORK SUCKS!!!" (as if I have some kind of cheap-ass Wi-Fi router buried in the basement instead of dual AmpliFi Alien routers in a mesh network that blankets my home with perfect Wi-Fi).
In the end I am happy enough with Sonos to ignore its shortcomings (no line-in is fucking stupid on a level of fucking stupid that has me reconsidering what I consider to be fucking stupid given how expensive their speakers are... and don't get me started on not being able to use dedicated left and right channels for surround sound). I have quite a few of their products collected from Black Friday sales over the years, and most rooms in my house are covered with Sonos sound. Heck, I even have Sonos in the bathrooms so I don't have to miss what's happening on my television shows when I have to get up and go pee.
And then Sonos decided to get cute and offer a new line of "Era" speakers. The Era 100, which takes the place of their entry-level Sonos One speaker... and the Era 300, which takes the place of their long-abandoned Play 3 speaker.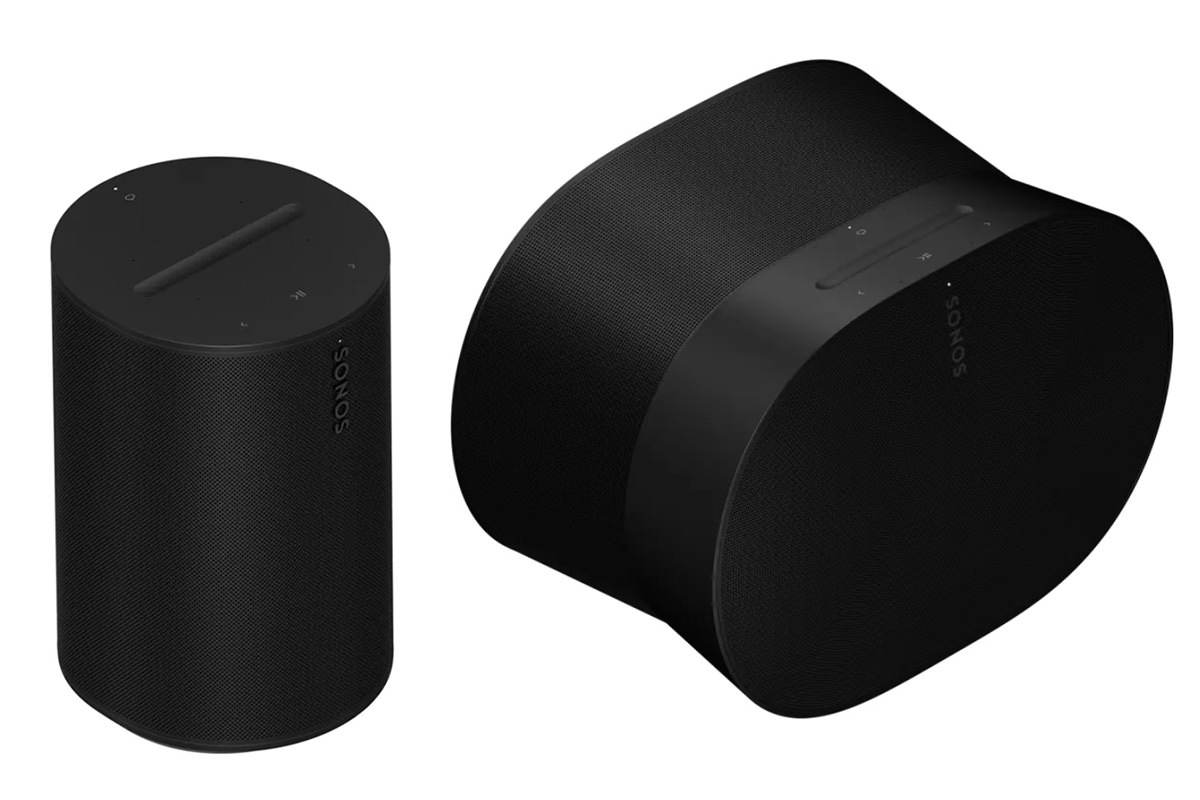 At first I was going to safely ignore their new offerings because I have neither the money nor the desire to expand upon my speaker collection.
But then I learned that the Era 300 is designed from the bottom up to support Dolby Atmos and I was intrigued. Dolby Atmos allows precise sound placement within a room. This is usually reserved for theaters which can install speakers all the way around the seating area... along with the ceiling... so that the action can move around the room to match what you are seeing. It's a pretty nifty trick. The technology is something that is supposed to be supported by my Sonos Arc soundbar, but the effect is minimal to the point that it might as well not even exist at all.
The Sonos Era 300 has an up-firing speaker that looked substantial enough to actually maybe kinda support actual Atmos sound bouncing down on your from above...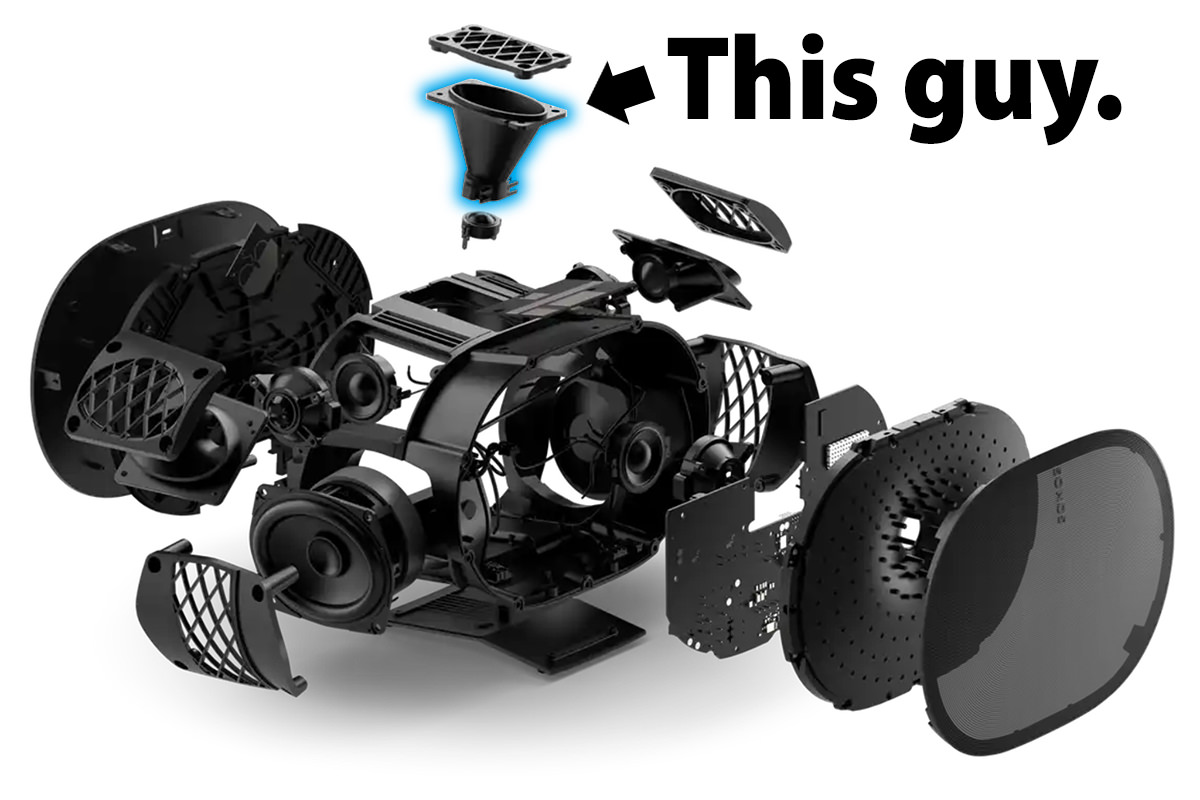 So I used my final two Sonos upgrade credits and all the Black Friday money I had left after buying Neon Bad Monkey and pre-ordered a pair of them.
And now they're here.
And I'm just going to cut to the chase here. They are... pretty good.
Because whether or not you have great Atmos sound largely depends on the audio mix that movie and television studios add to their products. I've tested these speakers for hours with all kinds of movies available in Dolby Atmos, and it's very rare that I find myself going "Whoa!" because some sound playing above me was distinct enough to catch me by surprise. No, for the most part, you're largely just getting a better, fuller surround sound experience. Back-To-Front and Front-To-Back audio is far more distinct with those up-firing speakers because you can feel the "movement" better. Far better than I did with my Sonos Ones as rear speakers. For that reason alone I am quite happy with my purchase. And who knows? Maybe as more and more people have Dolby Atmos available at home, studios will start doing better mixing so that my speakers can take advantage of it.
Now lets get to the Dolby Atmos experience that's truly worth it... Atmos Music!
I tell you what... I had read that Apple was partnering with Sonos so that their spatial audio tracks would play on Sonos hardware... but I wasn't thinking of that when I fired up some music to see if it sounded good from the 300s. A couple tracks played and I was suitably impressed.
Then the song If You're Too Shy (Let Me Know) by The 1975 dropped and I thought I was hallucinating. Lead singer Matt Healy's vocals were IN FRONT OF the music. And acoustical queues were all over the room. If I closed my eyes, it was as if The 1975 were set up in my living room. Then I remembered about the Apple Music Atmos thing and, sure enough...
For many Dolby Atmos music tracks, what you hear is flat-out mind-blowing. The 1975 remixed all their stuff, and (for the most part) it's incredible. Some songs are more experimental than others. Some songs push it too far to the point of distraction. But most of the songs are perfectly rendered in a way that makes the whole experience... maybe not better... but perhaps nicely different.
All of a sudden I was scouring all my favorite tracks to see if they had Atmos mixes available.
And it was like discovering music all over again.
Yes, there are instances where the Atmos is a gimmick that doesn't work. But for others? It runs the gamut. The biggest surprise was Kacey Musgraves Golden Hour. Whomever came up with her mixes just knocked it out of the park (with a couple notable exceptions which are gimmicky as hell). It. Is. Sublime. In Oh, What a World when that banjo hits, I had chills running up my spine. It's a fantastic experience. My favorite Post Malone tracks were wonderfully mixed for spatial audio. The newest Taylor Swift album is beautiful. And some bands you just know were hopping on the bandwagon early with Atmos remixes... like ODESZA. The track they did with Namoi Wild, Higher Ground, feels like her vocals are ON TOP OF the music. Or something. I can't even begin to explain it. But it's fantastic. Of course, it was a great track even before spatial audio...
The highest praise I can offer for spatial audio and Dolby Atmos music is that, when mixed right, the vocals never get lost in the music. They are always distinct and rendered front-and-center. One of the best songs to hear this is with Miley Cyrus's Flowers. There's places that she harmonizes with herself. But when listening to it without Atmos, the voices blend together. With Atmos, however, the harmonizing backing vocals are... like... elsewhere. They don't merge or compete... they're just another part of the music. I don't know quite how to explain it. But once I hear the difference... then go back to regular stereo... I can no longer un-hear it because the Atmos version feels like it's the way you're supposed to be hearing it.
So... probably not returning my pair of 300s... even though there's some bullshit right out of the gate.
First of all, Sonos finally... FINALLY... added bluetooth and line-in to their speakers. But when you configure them to be part of a Dolby Atmos setup... YOU NO LONGER CAN USE THEM FOR EITHER! WHAT THE BLOODY FUCK, SONOS??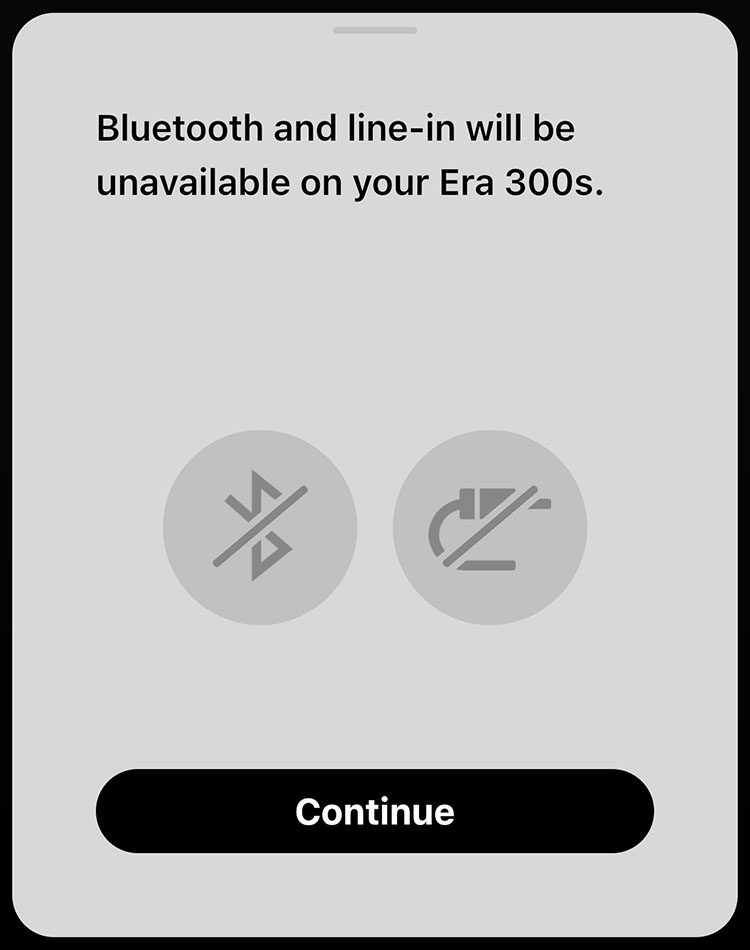 When that message popped up, it was all I could do to keep from throwing my phone against the wall. I was more than a little upset... I was fucking pissed.
I'm sure that Sonos will come up with some kind of bullshit excuse to explain it away, but the simple fact is that you could easily... easily... just have the speaker ignore all other input once the line-in is receiving input. This is not fucking rocket science. The fact that I can't just plug into one of my pricey new speakers with a frickin' line-in is so far beyond rage-inducing that I honestly don't know what to do with my anger from it.
But at least there's the option for a line-in... AT ALL.
If I were flush with cash I'd likely buy a single Sonos Era 300 for my bedroom and run a line from my television. That way I could have darn good TV sound along with a kick-ass speaker for music (the stereo separation from a single 300 is surprisingly good).
BUT WAIT, THERE'S MORE!
Assuming I win the lottery tomorrow, it's not enough to just buy a $450 Sonos Era 300 speaker for my television. YOU ALSO HAVE TO BUY A FUCKING $20 MINI-PLUG DONGLE! It's like... holy shit. There's fleecing your customers, and then there's Sonos fucking gouging their customers. This is pretty disgraceful.
So... to summarize in bullet points...
Setup actually worked like it was supposed to this time. I had an immediate software update I had to send to the Era 300's, but I was up and running in minutes.
I love that the power cord plug is smaller now. My rear speakers are on a slim shelf that I drilled holes in so the cords are hidden. But the Sonos Ones had a big-ass plug which meant I had to use a metal rod to smash it through the hole. The new Era plugs are more compact and just pop through. Easy!
I've had mixed results with Sonos TruePlay tuning (where you walk around the room waving your phone around while the Sonos app listens to tones and calibrates the speakers so their sound is best rendered in your room). The first time I tried it years ago, I loved it. Then the last couple times I thought the calibration was pretty bad and removed it. This time the jury is still out. I think it made my Atmos music sound better... but the movies I tried after calibration didn't sound as bright and the overhead sound was muted. I'll probably keep TruePlay on but fine-tune the EQ and upward sound levels.
The line-in garbage mentioned above is fucking bullshit. I am outraged that not only is it fully disabled when you use them as surrounds... but you also have to buy a fucking dongle. It's as if Sonos said "WELL, YOU WANTED A LINE-IN, SO HERE IT IS... TOO BAD WE FUCKING BROKE IT!
Until more studios really invest in doing Dolby Atmos mixes that are killer, I wouldn't buy these speakers just for movies with Dolby Atmos. It's just not a big enough upgrade given how many mediocre mixes are out there claiming to be "Atmos."
The "killer app" on the Era 300s is Dolby Atmos music. Spatial audio provides an experience I haven't heard before and, for the most part, I absolutely love it. As more and more artists go back and remix their music (or remix the mixes that aren't that great) I think this is reason enough to give them a listen and see what you think.
Yes, the price of Sonos gear is as heinous as it ever was. About the only justification I can offer is that they feel quality. They are noticeably heavy and seem built to last. And, needless to say, the sound quality is darn good given the size. Exceptional even. I have never had a complaint about the sound I get... and even a meager little Sonos One provides a great experience. Sonos is one of those companies where I think the cost is likely worth it. That being said, every piece of my Sonos gear was bought on sale because... damn.
All my stuff was purchased directly from Sonos because I like that they offer a money-back-guarantee when you purchase from them. It's the least they can do given how much money it costs. If you are on the fence, it's worth investigating whether the shop you're buying from can offer a guarantee. Pretty sure not all of them do.
If you are a long-time Sonos customer, Sonos will give you "upgrade credits" which knock 15% off the price of their wares. For every speaker you own that's old enough to earn a discount, you get one credit to use on another speaker to replace it. Except you don't have to return your old speaker... you get to keep it! If you registered your products with Sonos, be sure to look at your account and see what's available. I saved nearly $70 each on the 300s, which is serious money.
A lot has been said about how "ugly" the Sonos 300s are. Personally, I'm not seeing it. I am very sensitive to design aesthetics and actually really like the look of them. When sitting on the shelf behind my couch, they look nice from any angle and have an impressive heft to them that makes me confident a cat isn't going to knock them off (if they were to ever climb up on those shelves, which they rarely do).
I did not buy any Era 100s and really have no plan to do so. The improvement over my Sonos Ones seems minimal, as there's no up-firing speakers for rendering Atmos. The stereo separate looks like it might be pretty good... but since the speaker is so narrow, I'm not sure how noticeable it would be.
And there you have it.
If you've got a showroom somewhere near you with Sonos gear, it might be worth a look if you're thinking about investing in new speakers.
Posted on March 28th, 2023

Pixar has been really hit or miss with me lately.
Onward and Soul were disappointing. Luca was glorious. Turning Red and Lightyear were okay, but far from the greatness I expect out of the studio.
Then today we get the first full trailer for their upcoming June release, Elemental...
Other than Catherine O'Hara, I'm not familiar with the rest of the cast, which is a bit odd. When it comes to the movie itself, it looks like a mash-up of Inside Out and Soul, but not in a bad way? I guess? I mean, I'll definitely watch it when it hits Disney+, but it's not having me excited enough to run to the theater.
That's reserved for Adrian Molina's follow-up to Coco which is called Elio. It's coming out a year from now.
Posted on March 21st, 2023

When it comes to a list of movies I love and have watched a multitude of times, Amélie would most certainly be on that list. Not only was it beautiful to look at, had an exceedingly smart and clever story, and made me fall in love with Audrey Tautou... but it was just fun. It had a whimsy and joyfulness that most movies... don't.
Plus it has a wonderful life lesson that is a genuine teaching moment to all humanity.
If you haven't seen it, I offer my highest possible recommendation...
And now genius director of the film, Jean-Pierre Jeunet, has released a shocking expose on the character 22 years after the film was released!
Well, it's a joke, but it's actually a darn impressive retrofit of the characters true nature. If you haven't seen the original film, this won't mean anything, so go watch Amélie first...
It all makes perfect sense!
Nice to know that Jeunet has a sense of humor about his work. Probably why he's such a freakin' genius.
Posted on March 19th, 2023

A bit of a Summer setback for me today as the weather turned cold as balls, but never fear... because an all new Bullet Sunday starts... now...

• Zipline! Whenever I run across something incredibly cool that has been around a while... but I never heard of... that's gold right there. Take this drone delivery system that's been running for SIX YEARS. And I had no clue. This will be one of the coolest things you see in a bit...
Fantastic. Ingenuity like this gives me hope for the future.

• 1D! I keep running into songs by One Direction that kinda blow my mind. Like this song, which I had never heard before. I was scrambling to Shazam it thinking it was brand new. Nope...
It actually feels like a classic soft rock hit or something.

• Topol! The Flash Gordon movie from 1980 was absolute genius... even if most people didn't see it that way. I've seen it a dozen times or more, and will likely watching it many times more. A big part of what makes the movie work is the over-the-top performances, among them being Chaim Topol's performance of Dr. Hans Markov...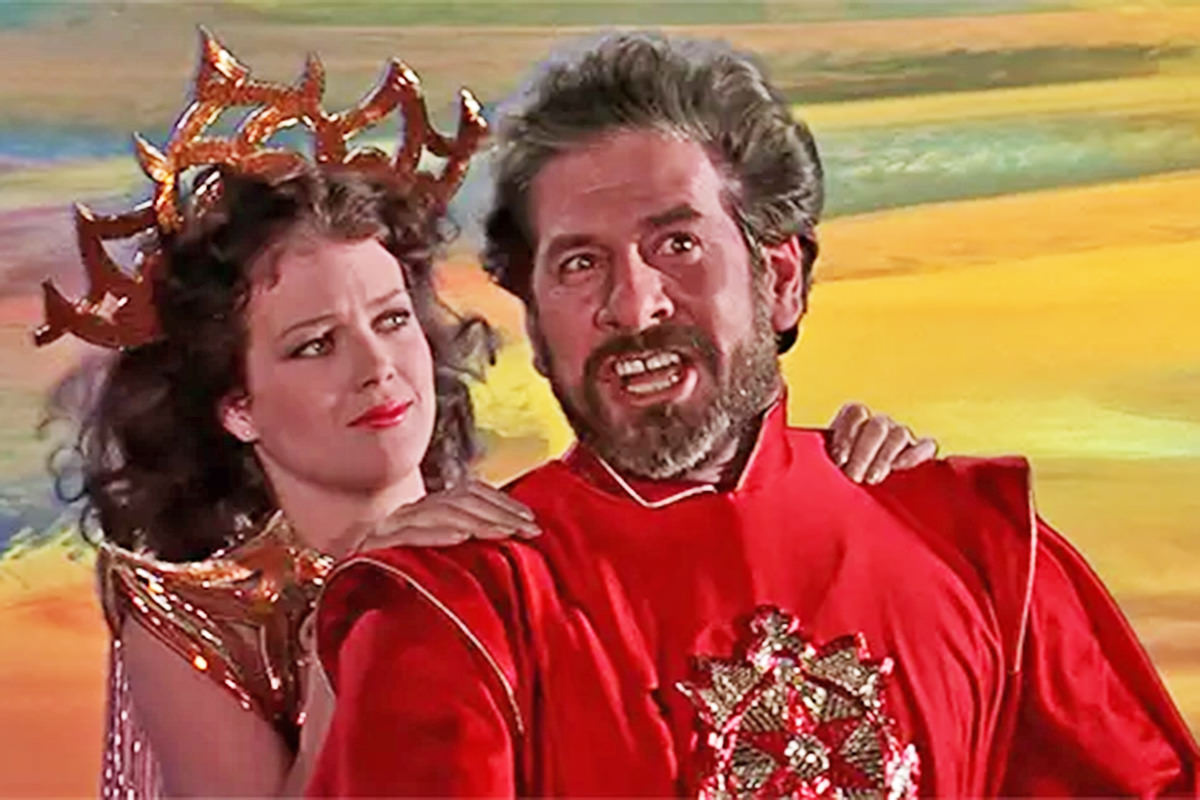 But that's not my favorite role of his. This honor goes to Columbo on the James Bond flick For Your Eyes Only, where he chewed up the scenery unapologetically...
Sadly, Topol passed away a couple weeks ago... but his legacy will live on with his works.

• Hyper-Real! I will never complain about any of my tax dollars going to NASA to explore our solar system and our universe. On the contrary, I wish more of my tax dollars went to NASA. Especially when I see images like this...

Image Credit: NASA, ESA, JPL, SSI, Cassini Imaging Team
You can get a much better view and more information on Saturn's moon Hyperion by going to NASA's website.

• TO INFINITY...! The stuff that you can do with LEGO truly knows no bounds. Take this infinite domino track...
Pretty nifty, isn't it?

• Cunk! Finally got around to watching Cunk on Earth (Netflix)... and it's madness. Absolute madness. Mostly because she sounds like a lot of real-life people...
It's relentless. She doesn't stop unleashing stupid. Ever. It just keeps going. And I am deceased.

• WORF! The first season of Star Trek: Picard was just okay, though the ending was messy. I didn't like the second season because it was a scattered crapfest and tried to shoehorn in characters that should have never been there in the first place. But this THIRD season? Holy crap. Quite probably the best Next Generation show I have ever seen. Cinematic and exciting. It will be very interesting to see if they can wrap it all up in a satisfying manner given that this is the last season we're getting. And ZOMG... WORF! His character has made a radical shift that's absolute genius, and Michael Dorn is playing him with such deft ease...
It makes me wish that this is what we were given from the start. Paramount+... please give Worf his own series ASAP, dammit!

• Flerfer! The thing I will never, ever understand is how there are people thinking that the earth is flat. It makes absolutely zero sense from every possible observable fact. We new about the earth being a sphere thousands of years ago. And yet... ignorance is still here. Which is why I love videos like this....
Of course it makes no difference how many facts you throw at Flerfers. Logic, reason, and common sense has already been thrown right out the window.

And away with you! Begone!
Posted on February 26th, 2023

The weather continues to be a hot (then cold) mess, but I'm committed to warm vibes... because an all new Bullet Sunday starts... now...

• Puppers! Every week I click on the latest one of the "We Rate Dogs" videos to see if the dogs were good again this week... and every week I have to really hold it together so I don't burst out in tears. This week is no exception (here's a link in case TikTok is being a dick)...
Good doggies.

• DIE! TikTok is overrun with funny videos which use music from the Dumb Ways to Die song. I decided to look up the entire thing and was surprised to find that there's a cute video to go with it...
Most of us are going to die dumb. It's a part of life.

• COOKIE! HOW DARE THEY! HOW DARE THEY GIVE A NATIONAL TREASURE LIKE THE WORLD'S ONLY COOKIE FLUTE TO LIZZO TO PLAY?!? OF ALL PEOPLE! I mean, sure, she's a world-class renowned flautist, BUT I AM DISGUSTED TO MY VERY CORE! SHOW SOME RESPECT, SESAME STREET! THESE ARE OUR COUNTRY'S TREASURES!!!
You laugh, but I'm betting Tucker Carlson is writing a rant about it as I type this. The dumbass went off with his manufactured outrage over candy mascots, so you just know his panties are in a bunch over this.

• Busters! The movie We Have a Ghost is actually not half bad. They gave Jennifer Coolidge hair by Tammy Faye, which is epic. And, let me tell you, David Harbour deserves all the awards. His character can't speak, so he has to sell every scene by force of will, and he does a fantastic job with it...
Streaming now on a Netflix near you.

• Facts. There is an actual danger to kids in this country. And it ain't drag queens...
Drag queens have been entertaining people for decades. Hell, Bugs Bunny was in drag in a number of his cartoons. But now that bigots are wanting to divert attention away from what's going on in their own back yards, it's suddenly a problem. Milton Berle and Flip Wilson want their wigs back.

• Life! And while we're on the subject... NEWSFLASH: Proposed South Carolina bill could make abortion a death penalty eligible offense. — Preserving the sanctity of life... as only death can. Jesus.

Onward and upward...
Posted on February 23rd, 2023

Thursdays are quickly becoming my favorite day of the week. It means that there's only one more work day until the weekend... and it also means that new episodes of Poker Face and So Help Me Todd are airing. Well... not so much So Help Me Todd, because CBS keeps fucking around with their air dates (no new episodes until March 2nd and the previous episode was all the way back on February 2nd).But a really good new episode of Poker Face was to be had.
And, like every episode, I'm like HOW? How did they get such stellar guest-stars for each episode? This time we got Nick Nolte, Tim Russ, Luis Guzmán, and CHERRY JONES?!? And holy shit does Cherry deliver! The entire episode hinges on her performance, and she doesn't falter...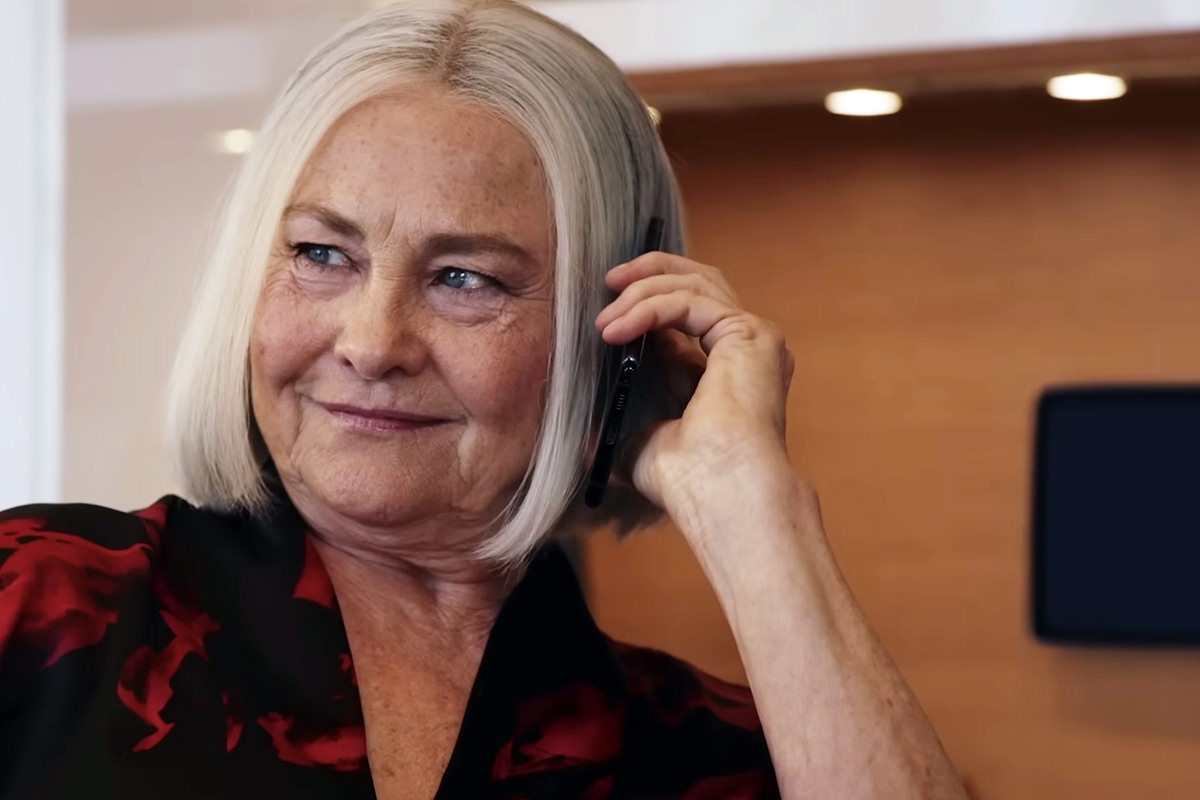 This show is glorious. IT'S GLORIOUS!!! Very much Columbo for a new generation.
After the episode was over, I put on Babylon because the cast was excellent. Except it's easily one of the worst movies I have ever seen. It's like they were all... let's just film extravagant shit and force feed it to people OVER THREE HOURS. Awful. It looks pretty and is shot beautifully, but that's it. What a waste of money and talent...
So I guess not everything on Thursday is bullet-proof after all. I should have just re-watched Poker Face.