Posted on April 3rd, 2022

Don't worry about the world, worry about me... because an all new Bullet Sunday starts... now...

• TREK! Star Trek: Strange New Worlds looks SO good...
Here's hoping that Paramount+ doesn't turn it to whiny bullshit like they did with Star Trek: Discovery (that show started amazing too, but has devolved into the worst Star Trek ever).

• le Carré! I never saw The Night Manager 2016 mini-series adaptation of the le Carré novel... but it's on Amazon Prime Streaming, so I've had it running today. It was very good. The performances are all sublime. And that ending... delicious...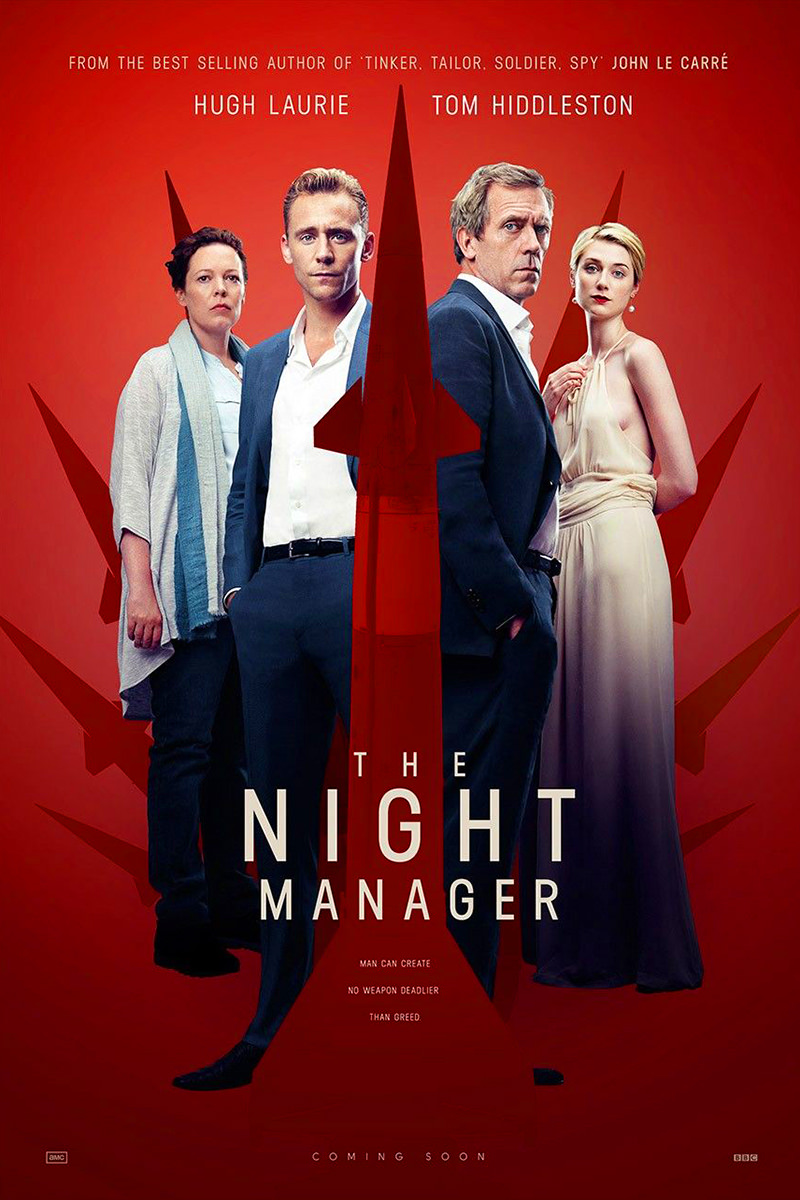 If you're looking for binge-worthy television and like the spy genre, it's worth a look.

• Holy! A while back, a-ha came up as one of my favorite bands and I commented that it's such a shame that so few people know of their albums after their smash-hit first release. It remains some of my favorite music ever made. AND EVER SINCE I have had their song Holy Ground stuck in my head. But not just the song (though I've always found it gorgeous and haunting) what's stuck there is a crappy fan edit that mashes up the studio recording with the video of a live performance and scenes from the movie "Troy." It contextualizes both the song and the film in a way that elevates them both...
I wish it was available as a hi-res, better-quality video, because it really is beautiful. And I'm dying to know how the person who cut this together came up with the idea.

• Fooling'! Sometimes you kinda have to wish that April fools' jokes were reality, right?
I hope I never see this in grocery stores, because I will buy it in bulk and smear this stuff on everything I eat.

• Mavericky! I hate to say it... but this actually looks like it's going to be good. It's certainly going to have plenty of edge-of-your-seat action, it looks like...
Very cool that they got Val Kilmer to appear. Though, much to my horror, the only thing that enters my head any more when I hear "Maverick" is this...
Lord. And apparently she (Palin, not Tina Fey) is running for office again. Or something. I'm too afraid to look into it.

• Horse Dewormed! Wow. I may shit my pants in disbelief.

And speaking of shitting my pants, time for me to put away the bullets and see what's being reported in the news.
Posted on December 29th, 2010

2010 -> AUDIO -> VIDEO -> DAVE
All things considered, 2010 was a bitchin' year for 80's music whores like myself because OMD, a-ha, and Duran Duran all came out with awesome new albums. Then 80's throwback Goldfrapp dropped an album straight out of Xanadu. Two of my indie favorites, The Weepies and Matt & Kim came out with some great new stuff. And I discovered an amazing band (new to me!), Mackintosh Braun, thanks to Grey's Anatomy (of all places). As if that wasn't enough, Daft Punk managed to put out a soundtrack for TRON that didn't suck. It all added up to a lot of music purchases for me this year.
Here is a list of my favorite albums from 2010: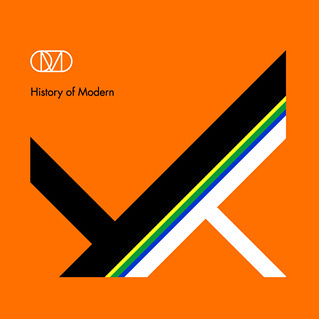 #1 History of Modern by Orchestral Manoeuvres in the Dark.
As a long-time fan of OMD who was overwhelmingly underwhelmed by their "last" album back in 1996 (titled Universal), I was almost dreading the announcement that a new album was coming out. The last thing I wanted after 14 years was another disappointment. But a part of me was hopeful, and that hope was rewarded in spades with History of Modern. Easily one of their best albums, it's a return to glorious form for original members Andy McCluskey and Paul Humphreys. Each song feels like a love-letter to their fans and serves as a reminder as to just how good OMD's music is. I love every track save one (the badly misplaced New Holy Ground) and would be hard-pressed to pick a favorite, as it changes with each listen. Right now I'm in love with Green and History of Modern, Pt. 2, both complex and haunting tracks that stick in your head. Last week it was Sometimes and Sister Marie Says. All I can do is hope that they tour the USA and bless us with an equally-awesome follow-up album in 2012.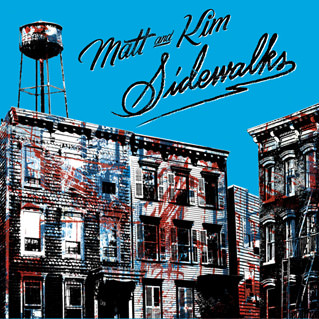 #2 Sidewalks by Matt and Kim.
When I first heard Matt and Kim's debut album, I remarked that it was if I had discovered music again for the first time. Then they broke into mainstream with their brilliant follow-up, Grand, and my love for Matt and Kim was sealed. They have a... joy... for music that you just can't find anywhere else. When I heard they were coming out with something new, Sidewalks, I was prepared to be blown away once again. Oddly enough, that didn't happen. The once raw and unrefined sound that made Matt and Kim be Matt and Kim had been replaced with something more polished which had worn away all the rough edges I came to love in their sound. Kim's wildly unapologetic brashness when banging on those drums had been subdued to levels so small that it was almost as if her kit had been put on half-mute or something. And so I spent the first week being mildly disappointed. But I never stopped listening. I played it again and again and again. And fell in love with Matt and Kim all over again. From the minute I hear the opening bars of Block After Block, I'm hooked. This is an amazing album in its own right, even if it deviates from the Matt and Kim sound I had grown accustomed to. For their next effort, I'm hoping they take a half-step backwards while they're moving forward.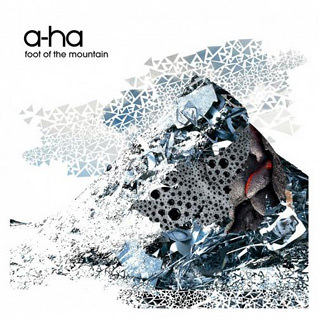 #3 Foot of the Mountain by a-ha.
For reasons I cannot understand, a-ha is relegated to one-hit-wonder status here in the USA (they're the Take On Me guys!), even though they went on to create some of the most amazing music I've ever heard. So when the boys announced they'd be breaking up after their Foot of the Mountain album and tour, I was more than a little upset. The first thing I did was get my hands on the CD as an import since a-ha doesn't get their stuff released here in the US. The next thing I did was buy a flight to New York and tickets to their farewell show. All I can say is that if the band simply had to retire, they couldn't have picked a better album or tour to go out on. Much like OMD's effort, Foot of the Mountain is a true return to the sound that made everybody fall in love with a-ha. With the exception of the mind-bogglingly bad final song Start the Simulator (WTF?!?), every track is gold. My favorite song is Mother Nature Go to Heaven which has the band firing on all cylinders... Morten Harket's haunting vocals being lovingly tempered with Magne Furuholmen's keyboards and Pål Waaktaar's guitar and lyrics. It's everything I love about the band summed up in 4 minutes, 9 seconds. Add the beautiful title track and seven other amazing songs and you're left with my third favorite album of 2010, but it's probably the one I'll remember the most since it's their last.
#4 Where We Are by Mackintosh Braun.
This album came out of nowhere from a band I had never heard of. I was watching an episode of Grey's Anatomy and, not for the first time, found myself Googling to find out what the awesome song was that was playing. Turns out it was Could it Be by Mackintosh Braun. A quick trip to the iTunes Store and I was running through the tracks like mad, floored by the dreamy sound that was oozing out of my speakers. I bought the album without hesitation, and it's been in heavy rotation ever since. The following week, Grey's featured another track Made For Us, which is yet another winner. Hell, every track is a winner. My favorite is Familiar which is not only plays like something out of a dream, but has a stunning musical progression that builds and falls like waves cresting in your mind. I kept hoping that I'd get tired of Where We Are so I'd be moved to purchase their debut album The Sound from 2007. Mostly because I wanted to appreciate each work separately. But I never got tired of it, and ended up buying The Sound anyway. It's a less mature album (and surprisingly simple in parts), but still an enchanting listen. Where We Are one-ups it, and I expect great things from the band in the future.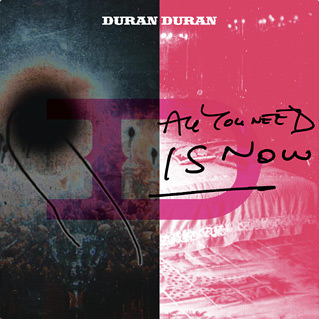 #5 All You Need is Now by Duran Duran
Back in 1985 Arcadia dropped "the best album Duran Duran never made" with So Red the Rose... 25 years later, Duran Duran is back, and managed to come up with a last-minute 2010 miracle: All You Need is Now... easily their best effort in 17 years. With this release Duran Duran is back in full-form, giving us a great title track plus gems like Leave the Light On and Being Followed. It's no Rio or Seven and the Ragged Tiger, but it made this fan very happy that it wasn't another Liberty or Thank You either.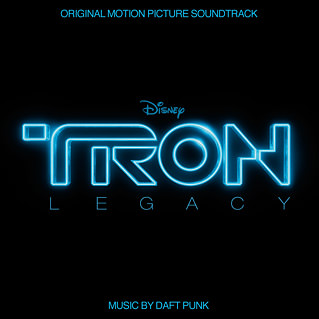 (Honorable Mention) Tron: Legacy (Soundtrack) by Daft Punk.
While electronica house music has never been a favorite genre, it would be hard to ignore the works of the French duo Daft Punk. They're crossover success on YouTube with Harder, Better, Faster, Stronger made them an overnight sensation back in 2007. Even so, I had serious reservations about them doing the soundtrack for Tron: Legacy. The last thing I wanted was some house dance music fucking up an otherwise amazing film. Turns out I had nothing to worry about. From the moment the first track Derezzed was leaked, I knew in my gut that Daft Punk was a truly inspired choice to score the movie. Turns out that was only the tip of the iceberg, and the entire album was filled with mind-bending electronica that listens like nuclear-infused ear candy. While I may not listen to it often, Tron: Legacy makes my "honorable mention" for having the good sense not to fuck up the movie it supports (any problems that movie had were not due to the soundtrack).
It's not over yet! Albums 6-10 are in an extended entry...
→ Click here to continue reading this entry...
Posted on May 7th, 2010

I've had several perfect days in New York City. It's not terribly difficult, because the entire world is at your feet the moment you arrive. But, in all the years I've been coming here, this is going to be the day to top.
It started with an evacuation at Times Square.
It ended with an amazing dream concert I've waited half a lifetime to see.
That concert would be a-ha's Ending on a High Note farewell tour. For better or worse, a-ha will forever be known as the "Take on Me Guys" here because they're pretty much a one-hit-wonder in the USA. Probably because most of their follow-up albums were never released here, which is a damn shame because they had some amazing music in the years that followed.
The show was, as expected, flawless. Morton Harket's stunning vocals were as good as ever as they tore through a catalog of the band's hits. Sure there were some tracks I wanted to hear that were left out, but if they had put in everything I wanted the concert would have lasted five hours.
Still, it was a brilliant performance, and made me sadder than ever that the band is breaking up...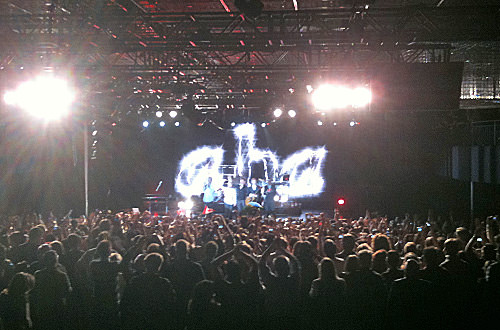 Good bye and thanks, guys.
That's the last of my favorite 80's bands that I needed to see in concert*, so I guess my life is complete now.
Going back to the beginning, my day started in Times Square... just as they decided to evacuate it. A cooler was left at West 46th Street, and the police (wisely) decided it's better to be safe than sorry...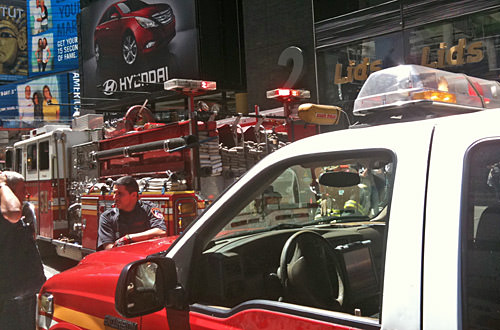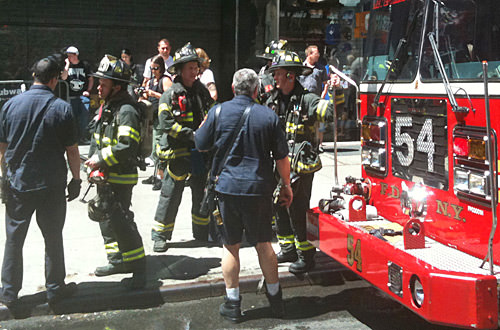 Things ended up being a false alarm, but it's comforting to know that the NYPD is taking no chances. I must have gotten a dozen tweets, emails, and texts from people saying things like "ARE YOU CRAZY?" and "BET YOU WISH YOU WEREN'T IN NEW YORK NOW!" or whatever. I ended up ignoring all of them because (no offense) I just don't give a crap. Travel is ALWAYS dangerous... and, yes, New York is probably more dangerous than other places I could go just this moment. But that's not going to stop me from coming back. If my options are to stop traveling to amazing places like this... or to sit in my house for the rest of my life and fret about how dangerous the world is... I'll take my chances out in the world. Because I'd rather die doing what I want to do than doing nothing at all.
Anyway, the weather was absolutely fantastic, so I scuttled my plans to visit galleries all afternoon and decided to instead just ** be ** in New York. But where to begin? Ultimately, I decided to visit all of the Gowalla "Featured Spots" in Manhattan. It took several hours, but I made it (and even added Yankee Stadium in The Bronx!)...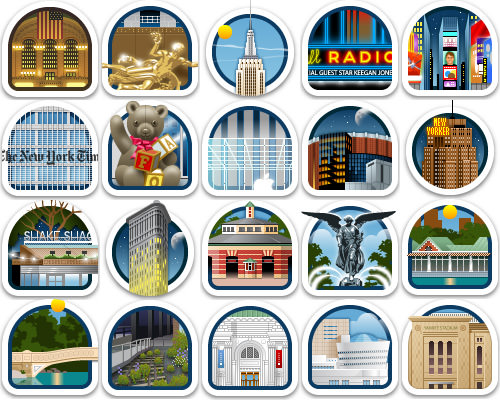 What a great tour! Starting in the upper-left, that would be Grand Central Terminal, Rockefeller Center, Empire State Building, Radio City Music Hall, Times Square, The New York Times, FAO Schwartz, Apple Store Fifth Avenue, Madison Square Garden, New Yorker Hotel, Shake Shack, Flatiron Building, Central Park Carousel, Bethesda Terrace Landscape, The Loeb Boathouse, Bow Bridge, The High Line, Metropolitan Museum of Art, Guggenheim Museum, and Yankee Stadium. Whew... that's a lot of New York City! And I actually walked most of that, only taking the subway four times when the walk would have killed me...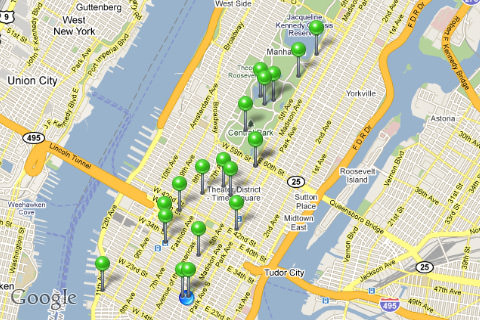 The final stop of my Gowalla Tour... the Shake Shack!
The last cool thing of my day was after I had dinner following the a-ha concert. Dozens of police cars and motorcycles lined up to zoom through Times Square. It was darn impressive, and a great way to end my evening...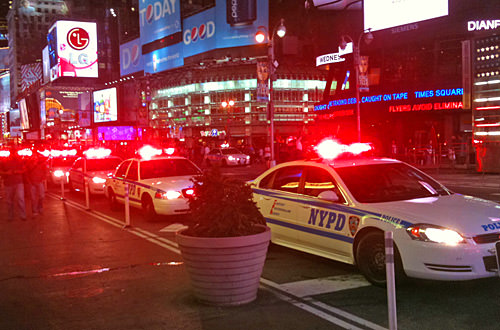 And tomorrow is another day.

*Unless New Order decides to get back together and tour, in which case I have one more band to go.
Posted on January 14th, 2009

I just paid $4.00 for a bottle of Italian Spring Water at my hotel.
I wish I could say that when I close my eyes and drink it, the taste is evocative of Italy... but all I taste is wet. That's a darn shame.
So here I am in San Diego. It's a wonderful place that everybody should visit at least once in their life. If, for no other reason, to make a pilgrimage to the city of my birth. There isn't a temple here in honor of the occasion, but there really should be. Or maybe instead of a temple there could be a statue of me standing in Balboa Park. I dunno. There just needs to be someplace my worshippers can go to go pay their respects and place flowers to celebrate my greatness. And make a donation to the Dave Monument I'm planning to build in the land formerly occupied by Mt. Ranier National Park.
Hmmm... I don't know why it didn't occur to me before, but San Diego would be the perfect place to put my Daveland amusement park! I will convince the city to plow under the San Diego Zoo and put Daveland there instead! What a great location!
Boy, being back to the city of my birth really has me firing on all cylinders tonight.
And speaking of San Diego... there's a few people in town wanting to meet up for dinner on Friday night, if you're in the area and would like to come along, please send me an email ASAP so we can make plans. My email address is at the top of the sidebar on every page.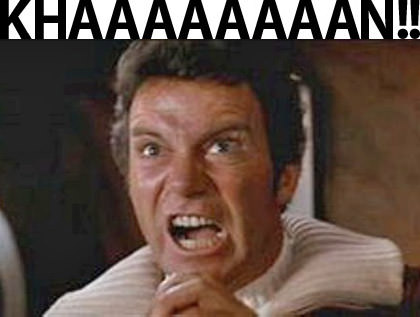 Unfortunately, I landed to learn of the terrible news that Ricardo Montalban had died.
I, of course, loved him as Mr. Roarke on the show Fantasy Island. Every kid growing up in the late 70's did, because he was the epitome of coolness. He'd walk around in those flawless white suits being all friendly and good-natured and "Welcome to Fantasy Island" and stuff. But then he'd occasionally show his darker side... proving that he could be a total badass as well. It's unthinkable to envision anybody else playing the character except Mr. Montalban (indeed, even the brilliant Malcolm McDowell couldn't manage it when there was a failed revival series twenty years later).
But, to me and so many others, Ricardo Montalban will forever be Khan...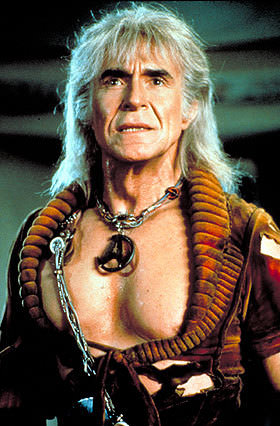 The role of the maniacal villain in the second Star Trek film was not an easy one to play. Indeed, I'd say it was a thankless and impossible role to play. As written, the part was so badly over-the-top... almost to the point of being comical.
Until it was performed by Ricardo Montalban.
He played the character deadly-serious, and turned in a performance so riveting that it cemented Khan as one of the greatest movie villains of all time (indeed, even the brilliant Malcolm McDowell couldn't top it in a follow-up film, Star Trek: Generations). After watching Star Trek II, I fell in love with all things Trek again, and I really have Ricardo Montalban to thank for it. He will definitely be missed.
Even if you don't like Star Trek, you should absolutely check out Wrath of Khan. Montalban's performance is totally worth it. Oh, and don't forget his masterful performance in the first The Naked Gun movie as well!
Lastly, I urge you to read a fantastic blog entry about what it was like working with Mr. Montalban over at Mark Evanier's News From Me site. He was truly an amazing guy and a class-act.
P.S. All my best wishes to my personal hero, Steve Jobs, for a speedy and full recovery.