Posted on August 21st, 2020

Welcome to Technology Week at Blogography, where I will be reviewing tech purchases I've made over the last month or so.
The remote that comes with AppleTV is total shit.
I'm not even kidding. It's absurdly small, easy to fall through the couch cushions and lose, difficult to tell up from down, has a crap "trackpad" for navigation, and is an overall loser for functionality and user experience.
As you might have guessed, I am not a fan.
Before I cut the cord, I had to use an assortment of remotes for my television, satellite box, and AppleTV. I mostly watched satellite TV. and that remote was just fine. But now that I've cut the cord and everything is streaming through apps on AppleTV, this shitty little remote is what I'm using 100% of the time. And I hate it. I hate it. I hate it.
"Surely I'm not the only one who hates this piece of shit! I wonder if there's a third-party remote for AppleTV that has actual buttons and is pleasant to use?"
Turns out there is. The majority of options are programmable remotes, however, and that's overkill for me because I just have the one device now. What I want is a simple remote for AppleTV only.
Enter the Function 101 Button Remote for AppleTV...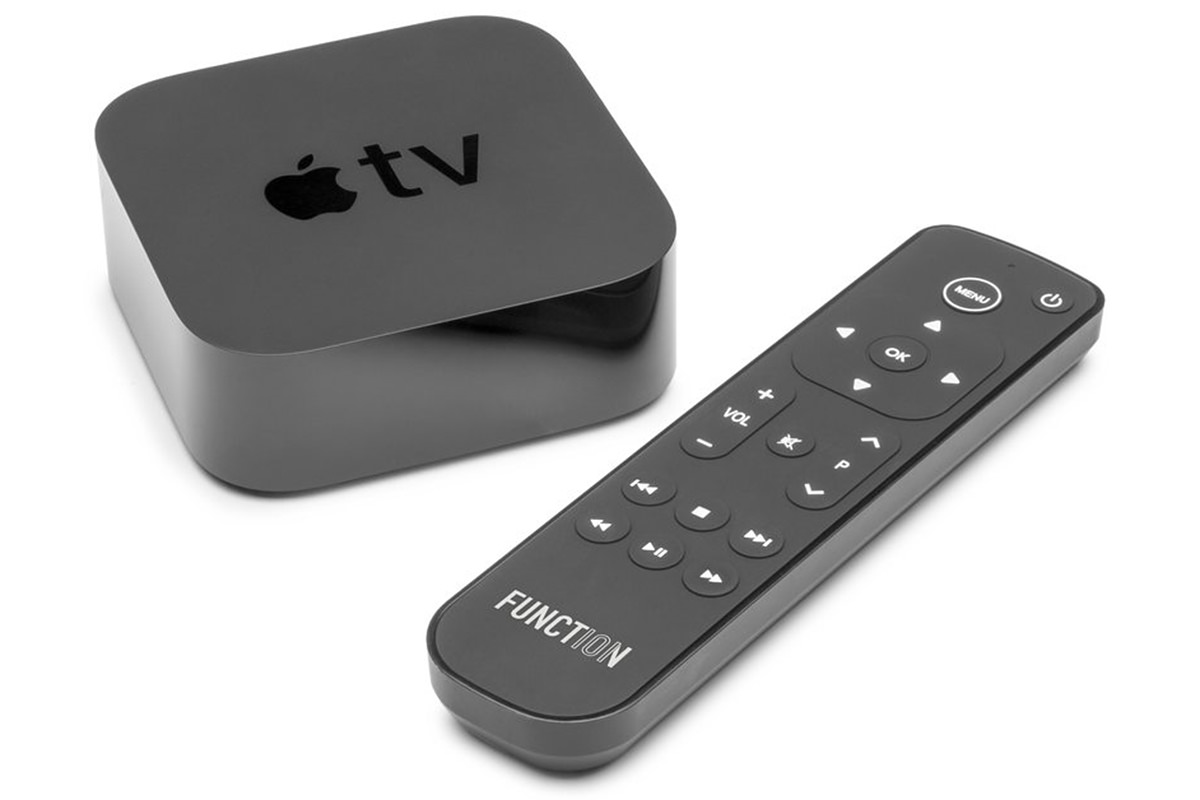 Exactly what I always wanted!
When the remote arrived, I immediately noticed a few great things...
Wonderful soft-touch rubberized surface!
Amazingly responsive and clicky buttons!
Super-comfortable fit in my hand!
Big enough to not slip between my couch cushions!
Alas, it's not all a bed of roses. There are problems to be had.
First of all, there is no "Home" button. I believe this is a technical limitation of AppleTV, because I never had a "Home" button on my Harmony remotes either. Some of the functionality can be had by long-pressing the "Menu" button... but that doesn't work to turn off the AppleTV quickly. Bummer.
Second of all, the button layout is not like the original crappy Apple Remote. This is incredibly frustrating and makes zero sense. I am CONSTANTLY hitting the "Channel Up/Down" instead of volume, which immediately forwards you to the next episode in many apps. This is horrible. If I had been the one to design the remote, I would have laid it out exactly like the Apple remote so you can easily switch between them and have the buttons where you expect them to be...
Third of all, this is an IR-only remote. Which means you must have clear sight of the AppleTV and be pointing the remote directly at it in order for signal to be received.
And Lastly, It did not work with my AppleTV 4K right away. Every time I pressed a button I would get three rapid flashes on the AppleTV, but nothing would happen. It took days of back-and-forth with Function Tech Support (who were very responsive) and it still wouldn't work. Through a lot of Googling, I tried the following suggestions...
Restart AppleTV — Doesn't work.
Unplug/Plug In AppleTV — Doesn't work.
Reset Remote Pairing — Doesn't work.
Reset AppleTV — Doesn't work.
Ultimately it was a suggestion from a friend who's an Apple Store "Genius Bar" employee to Reset & Update AppleTV that got things working. This is a terrible last-ditch effort because you have to sign back into all your apps again. You'd think this would be a simple matter since Apple added a unified AppleTV subscription provider login, but none of the apps seem to use it properly. You tell the app to use your provider login, then still have to jump through hoops to get signed in. Incredibly frustrating.
Ultimately the Function 101 remote is a mixed bag. It's so much better than the crappy Apple remote in form, function, and feel... but the button arrangement is incredibly problematic because it's different from the Apple original which means you're pressing the wrong buttons all the time. This is a shame. If they were to fix this, it would be a seriously good buy at $29.95.
UPDATE: I revised this to reflect that I eventually got the remote working.
Posted on July 3rd, 2020

"Hey Siri, Fuck you, you steaming pile of shit!"
"I won't respond to that."
I have a SONOS smart speaker music system and I am very happy with it. It gives me great sound in every room... from my home theater to my kitchen to my bedrooms to my bathrooms. Thanks to integration with Amazon Alexa, I can control all the speakers with my voice. Or control all aspects of my smart home and ask for information just by talking to the nearest speaker. And thanks to integration with Amazon Music Unlimited, I can tell SONOS to play whatever music I want anywhere I'm at. It's glorious.
The only shortcoming is that SONOS cannot integrate with iTunes Match. Which means all the music I've purchased through iTunes or ripped into iTunes is off-limits. This is generally not an issue, because Amazon Music Unlimited has most everything I own anyway. It can be an issue when I am wanting to play different music in different places because I only have a single license for Music Unlimited... which, I guess, is not so unlimited after all.
Enter HomePod. Apple's answer to SONOS...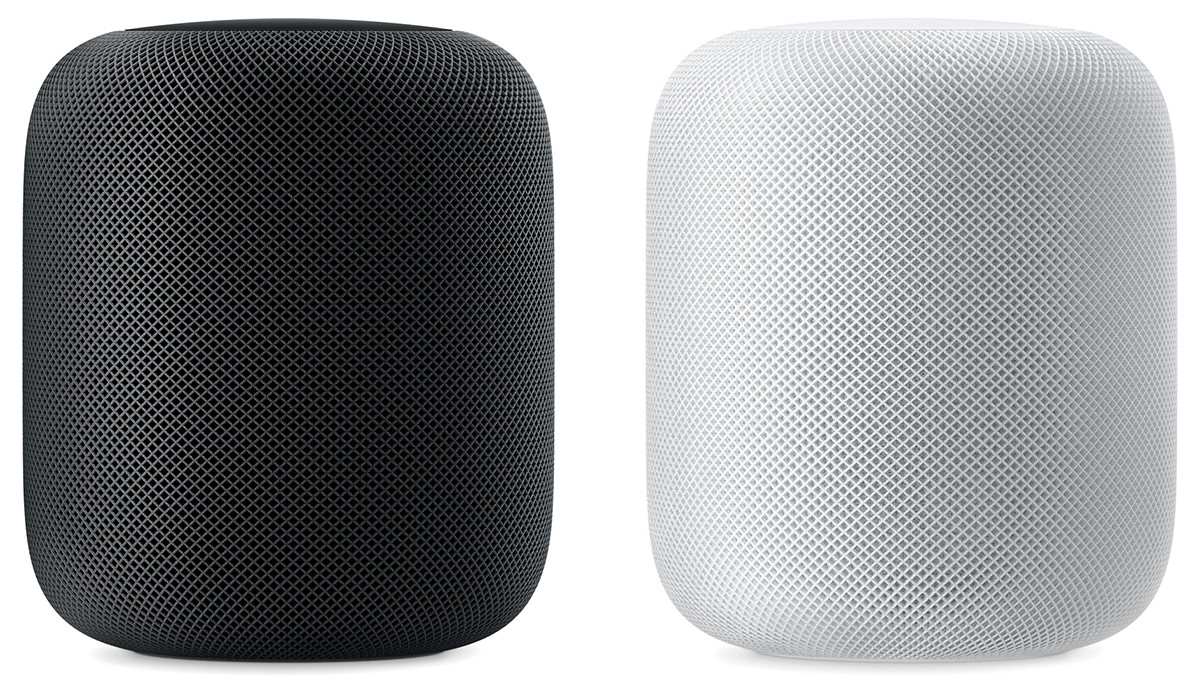 I had no intention of buying one because A) I already have SONOS, and B) they're $300 a pop!
Apparently nobody else is buying them either, because they're regularly discounted to $250. And now Best Buy had them knocked down to $200. Factor in my Best Buy Card cash-back and the credit and cash I had, and I was able to pick one up for around $150.
So why not? I'll just pull the money out of my Black Friday fund. I have plenty of clothes anyway. And it's not like I'm going anywhere thanks to a pandemic raging.
And so...
I'm going to get this out of the way right now... the sound out of this speaker is exceptional! It absolutely trounces my Amazon Echo and the SONOS One. The fidelity, bass, and clarity is off-the-charts fantastic. It cannot, of course, compete with my SONOS home theater setup... because how could it? But for a single speaker? Incredible. Room-filling sound that seriously blows me away. Unlike SONOS which requires you to tune it to a room using your iPhone to listen to itself as you walk around the space, HomePod automatically listens to the space its filling and adjusts itself to fit without you having to do a thing. And it's not just hype... I moved the HomePod to different places in the room and it is absolutely creating magic. So when it comes to the acoustical abilities of Apple HomePod I am 100% sold. Also nice? The sound doesn't drop down (AKA "ducking") when you talk to it like what happens with Alexa devices.
And that's about it for things I like about HomePod. Except perhaps the looks, which are not bad.
Setup is admittedly a piece of cake if you own an iPhone... you just hold iPhone up next to the speaker and it automatically detects it and asks if you want to set it up...
After set up, I asked Siri to play the album 101 by Depeche Mode...
"Sorry, I couldn't find Depeche Mode in your music. If you subscribe to Apple Music, be sure that it is set up properly in the Home app."
Well that's odd. I repeat my request in a half-dozen different ways. Each time I'm told that Siri can't find the music I want to play.
The Apple forums say that individual items sometimes cause problems, but creating a playlist usually works. So I tried creating a playlist called "DM 101" with the album 101 as the only content. I verified that it was showing up on all my devices, and it appeared almost instantly. So sync is definitely working. So then I ask HomePod to play it...
"I couldn't find DM 101 in your music."
After a half-hour trying to figure this shit out, I finally gave up and reset HomePod so I could start over. Maybe there was something I missed? Maybe the OS update didn't register?
Same damn thing.
OVER AND OVER AND OVER AND OVER.
So then I think that I'll just use my MacBook Pro to tell HomePod to play Depeche Mode's 101 directly. I use the Music app to find the song... send it to HomePod... and it's actually playing! At last! But then I close the lid on my MacBook Pro and HomePod stops playing. I wasn't telling HomePod to play my music... I was merely streaming music to HomePod over AirPlay.
Ditto with Music on my iPhone. You cannot control HomePod from there either... only stream to it. The HomePod setup controls are in Apple's shitty Home app, but there's no way to find out why it can't get to iTunes Match. Nothing that even indicates you are set up to use iTunes Match. And, of course, nowhere to type in what I want HomePod to play.
So I reset HomePod AGAIN and go through setup AGAIN.
I tell Siri to play the album 101 by Depeche Mode...
"Sorry, I couldn't find Depeche Mode in your music."
Now I'm actually worse off than I was before. Not only can HomePod not find the album 101, it can't find ANY music by Depeche Mode at all? I HAVE 30 FUCKING ALBUMS AND 197 SONGS BY DEPECHE MODE! AND HOMEPOD CAN'T FIND ANY OF THEM?!?
"Hey Siri, Fuck you, you steaming pile of shit!"
"I won't respond to that."
So here I am... searching the Apple support communities trying to figure out how the fuck I play a damn album that I own and have synced with iTunes Match WHEN THAT'S THE ENTIRE FUNCTION OF APPLE HOMEPOD! I've tried absolutely everything I've managed to dig up on Google. Turning off personalized requests... using playlists... unplugging and re-plugging back in... everything.
I've spent hours searching for solutions in the Apple Communities.
I've reset HomePod three times. Unplugged/plugged numerous times.
I've sat back and waited for an hour, thinking it just needed time to sync stuff.
I've tried controlling via my MacBook Pro and iPhone but can only stream, not control.
What the fuck else is there?
I bought HomePod to play my iTunes Match music. If I wanted to stream my music to a speaker over AirPlay, I WOULD JUST USE MY SONOS SYSTEM SINCE IT HAS AIRPLAY BUILT-IN! Not only that, but I have a Plex server sitting on my NAS with all my purchased music on it. So what happens if I ask Alexa to play it via my SONOS?
"Alexa, tell Plex to play the album 101."
"Playing the album 101 by Depeche Mode."
Can you believe this shit? SONOS/Alexa/Plex didn't even fucking hesitate! It just started playing what I asked, even though it takes THREE SEPARATE SERVICES TO MAKE IT HAPPEN! And of course it sounds amazing because it's using my SONOS Playbar, two SONOS One speakers, and the SONOS Subwoofer...
Meanwhile Apple HomePod can't even make it happen with their own iTunes Match service! How fucking embarrassing.
Time to schedule a call with Apple Tech Support.
Despite scheduling a call and specifying I need help with HomePod, I was put on hold 15 minutes to wait for an Apple HomePod Specialist. Then after I explained the problem, I was put on hold for 22 more minutes. Then the HomePod Specialist came back and said he would transfer me to his supervisor, Mason. AT WHICH POINT I WAS DISCONNECTED!!!
Despite Apple knowing who I am and having my number, nobody calls back. So I call them back. Keep in mind I have been working on this problem FOR THREE HOURS AND 45 MINUTES!
On hold waiting for Apple again, this time for 51 minutes until somebody answered. TWELVE MINUTES LATER I WAS DISCONNECTED AGAIN!
Fuck it. I am returning this HomePod pile of shit. Four-and-a-half hours of my life wasted.
And definitely fuck Apple.
Apple tech support is the absolute WORST! They used to be the gold standard, now they're just the shittiest of the shitty. I haven't had a truly good tech experience with Apple for nearly a decade. You would think that a company with BILLIONS in the bank would do something about it... but, alas. My advice to you if you ever have a problem needing Apple support? Don't even bother trying to solve it on your own. Call immediately. Then, if you happen to solve it while you're holding for hours, then say that when they call... or you get off hold. Because otherwise you're just wasting your time. And Apple doesn't not give a fuck about your time, trust me.
I found that out the hard way when they accused me of not returning my iPhone... THAT THEY TOOK FROM ME AT THE APPLE STORE! A fucking week of my life wasted on that bullshit. I really need to type up that story one day... but I am enraged just thinking about it. Maybe one day.
God how I hate Apple. I really, really do.
Posted on April 24th, 2020

Continuing on from my new iPad 2020 post from yesterday...
I had no intention of buying a Magic Keyboard for my new iPad Pro. I bought the thing for drawing and painting. I don't need a keyboard for that, and adding one essentially turns an iPad into a laptop. I've already got a laptop. And then there's the $350(!) price tag for the thing. Add that to a 12.9-inch iPad Pro ($1,000) with an Apple Pencil ($130), and your total jumps to a whopping $1,480! A MacBook Pro 13-inch is $1300! So why?
But then...
In anticipation of my new iPad arriving, I started taking a look at all the new apps and app updates that have been released since I set up my existing iPad back in 2016. Because once I installed Procreate (the painting/drawing program I use) and the essential stuff I had on my iPhone, I never really looked at anything else. I made an exception for Photoshop for iPad when it was released because, well, it's Photoshop and I was really looking forward to what it might be like on iPad... but that ended in disappointment. Nope. With the exception of trying to blog on my iPad every once in a while, I've used it solely for Procreate and nothing else.
But then...
After looking at all the things I could be doing with my iPad, I decided to take another look at my keyboard options because there's entirely too many apps for which is would be a very handy thing to have. My current iPad has a "Smart Keyboard" which I actually like quite a lot. The keys aren't really keys... they're bubbles that click on the fabric surface, but it's perfectly useable. I could type better on this than I ever could Apple's horrific "butterfly keyboard." The problem is that you can't really type on your lap with it. There's no solid "base" on which to rest it on an uneven surface and it just flops over when you attempt it.
The new "floating" Magic Keyboard is different...
On the plus-side it is very sturdy, has a solid base, can be used on irregular surfaces (like your lap), and types like a dream. Plus... a trackpad! Something that is weirdly (but brilliantly) integrated into what is supposed to be a touch-based device.
On the down-side there's no way to fold the keyboard back and out of your way. In order to use the tablet like a tablet, you have to pop it off the keyboard completely. At which point your iPad is 100% unprotected. This scary and, quite frankly, dangerous prospect has me more than a little worried. It's way too easy to drop a $1000 device and end up with some serious damage if there's no protection on it whatsoever. I don't know if Apple will release some kind of hard case to protect the iPad which can still be used with the Magic Keyboard, but somehow I doubt it.
So let's get into this, shall we?
Given that I blew through all the Apple Cash I had been saving up for the past year to get this (and still had to come up with $60 on top of that!), the biggest question I have for myself is whether or not Magic Keyboard is worth the $350(!) price tag.
The answer is a resounding no.
As high-quality as it feels... as capable as it is... as well as it works... as beautiful as it looks... it's just not worth THREE HUNDRED AND FIFTY DOLLARS(!). I mean, holy crap... that's THREE HUNDRED AND FIFTY DOLLARS(!)... FOR A KEYBOARD!!! I can see it being worth $200 tops. Which is likely what the competitors will be selling for when they get around to it. They may not be as top-of-the-line as an Apple model, but give me a break.
The way it works is to magnetically attach to your iPad. And those magnets are strong. My initial worries about my pricey new tool falling off the keyboard and crashing to the floor were wiped away the minute I attached it. And the Magic Keyboard is heavy. I mean really heavy. It makes my 12.9-inch iPad feel three times as weighty. That's great for making sure that it stays on the table without falling over... but it's terrible for portability. A primary selling-point for iPad is how much lighter and smaller it is than a computer. Well... with this keyboard on it, Apple might as well have added a touchscreen to a MacBook Air and been done with it.
Opening the Magic Keyboard folio is terrible. Because the hinges are all so tight and the Apple Pencil gets in the way, I have ended up accidentally lifting the magnetic cover off the iPad instead of opening it a couple times now. It's easier to open if you take the Apple Pencil off, but should that really be required? And speaking of Apple Pencil, it's kinda stupid that there's no security strap to help keep it attached while charging. The magnets which attach it are strong, but brush the iPad up against something and Pencil still going to come off. This is an inexplicable move, and I wish that there was a model which had SOMETHING to help keep the Pencil in place so I don't lose my $130 stylus. I'm trying to get in the habit of lifting the iPad up and cracking it open like a book when opening it. This is far easier, but way less intuitive.
The "floating" aspect of the design is a mixed bag. Push the iPad to a flatter more normal viewing angle and the bottom of it floats right up next to the number keys, which is kinda a bummer (and also explains why Apple didn't bother to put function keys on this? Talk about a bummer!). And, as I mentioned, you can't flop the keyboard back behind the iPad so it's out of the way. You're either using it like a laptop with your iPad attached or you're not using it at all because your iPad is detached. There is no "best of both worlds" to be had. As mentioned above, the hinges which keep the Magic Keyboard closed and the hinges which allow angle adjustment for the iPad angle are very stiff. Almost too stiff to be comfortable. It makes me wonder if they loosen over time, and Apple made them too stiff so that their pricey keyboard attachment wouldn't be floppy within a year? Something I'm guessing is still a possibility. iPads are light, but they ain't that light. Eventually the hinges have to succumb to the weight, don't they?
Unlike the "Smart Keyboard" on my old iPad, the Magic Keyboard works just fine on my lap when sitting... or propped against my knees in bed. I don't know that it's worth the trade-off of not being able to flop the keyboard around to the back so it's out of the way though.
As for the keyboard itself, the keys are certainly nice enough to type on. Far better than the old fabric-bubble "Smart Keyboard" I was using, which I actually liked just fine, so I'm quite happy typing on it. The keys are backlit so you can more easily type in dark places (which holds true even if you are a good touch-typist because you have to find those keys first!). Sure I would like a bit more "travel" to be really comfortable, but it's not a big deal.
There may be no "Escape" key... no function keys... but there is a "Global" key which summons the on-screen emoji keyboard. This is so much more useful than the crappy little "TouchBar" on my Mac which takes forever to navigate emoji with. I wish they would give us this in MacOS X where we would use the mouse or arrow keys to navigate as quickly and easily...
The trackpad confuses me. In the best possible way. What I find confusing is why I would ever need to use it since I have a massive touch display floating in front of me. Wouldn't it be better to just tap on the screen instead of the trackpad? Well, not always, as it turns out. First of all, your hand doesn't get in the way of viewing the display when you use the touchpad. Second of all, the way the "mouse pointer" works when you use the trackpad is really beautiful. It doesn't just stay an arrow (or, in this case a big dot)... it morphs, changes, and sticks like a magnet as you move it over elements like buttons and text and such (not everywhere and not always, alas, but when it does it's magic). So very elegant and useful. Which is to say it's so very Apple. I dearly love the way the trackpad works with iOS and can't help but wonder if this kind of thing would translate well to MacOS X as well? It's such a nice idea that I'm sure somebody at Apple has looked at it.
On the functionality side... the entire trackpad surface is a button you can press but, unlike on my MacBook which fakes a "click" by providing force feedback when you press down, this trackpad actually physically clicks. I'm guessing this is due to the smaller size making physical clicks more feasible than on the massive trackpad on Apple's laptops. It feels good. Not just for clicking but for tracking and dragging. I wish it had a bit more "tooth" to provide physical sensation for your fingertip, however, because it's really slick. Of course the trackpad supports gestures (like multi-finger swiping) and click-dragging, which work much like my MacBook Pro... though they are a bit more difficult to use on the smaller surface.
The Magic Keyboard comes with a USB-C port on the left-side of the hinge for charging (the resulting power then gets to your iPad through the so-called "smart connector" on the back of it). Apparently it doesn't do data. This is nice, I guess, but the real cool thing here is that it frees up the USB-C port on your iPad for other things! Since the iPad can now communicate with so many external devices (like disc drives or a display), having just one port is kinda silly. Since Apple wasn't smart enough to put two ports on the iPad itself, they at least thought to provide an extra via their keyboard. Another bit of good news... the smart connector allows direct communication between the iPad and Keyboard, no Bluetooth required. Alas the Magic Keyboard's USB-C port is a very stiff fit and takes some effort to plug and unplug the power cable into it. Maybe things will loosen up a bit after a while? I hope not too much... just enough to make things a better fit. On my wish list is a new MagSafe connector that's also USB-C compatible (how is this not a thing?) and USB-C ports on both sides of the hinge instead of just one.
When it comes to actually protecting your iPad, I'm going to say that the Magic Keyboard doesn't do much there at all. There's essentially no cushioning or protection for the sides and corners. Indeed, the only thing you get extending past the iPad structure is part of the weak seam where the Magic Keyboard parts are heat-sealed together! This is shockingly lame, and one of the main reasons I'm so mortified that I paid $350(!) for it. I'd have hoped for some protection, but got practically nothing. The screen is protected and that's it.
One final note that I find kinda silly... there's a cutout for the camera bump on the back. So if you want to take a photo with your iPad, you can lift up the entire iPad/Magic Keyboard assembly and snap a picture... even though the angle of the iPad on the Magic keyboard is really silly for this. Anybody wanting to snap a photo will most likely just pop the iPad off the Magic Keyboard to do it. But, hey, I guess they had to do something to accommodate the camera bump back there, so why not?
And so...
Am I keeping it? Am I willing to just eat the $350(!) cost despite my not thinking it's anywhere near worth that much?
As I understand it, Apple has extended their return window, and so I have some time to decide. But, odds are, I will probably hang onto it. Despite value-for-the-money not being there, it is a really nice keyboard. And given how iPads are so very quickly getting to the point where I will be able to do actual work on them (in addition to the drawing and painting work I do now) I'll be needing a nice keyboard for extended typing tasks.
But THREE HUNDRED AND FIFTY DOLLARS(!) FOR A KEYBOARD? Damn, Apple, that seems absurd... even for you.
UPDATE: The soft-touch vinyl(?) cover is already showing scuff marks, which is rage-inducing. THREE HUNDRED AND FIFTY DOLLARS(!) and you can damage it with your fingernail? Seriously? For that kind of money, couldn't Apple have made it with a tough fabric cover that will hold up to even the most minimal abuse? What a shitty, shitty design decision. Used to be with Apple you paid more because the quality was better. Not so much with this Magic Keyboard embarrassment.
Posted on April 23rd, 2020

The last iPad I bought was the 1st generation 9.7-inch iPad Pro four years ago in 2016. It was my second iPad and, at the time I purchased it, the intent was to use it as a laptop replacement for travel. That didn't work out at all. It just wasn't capable enough for me to do real work on it. Any time I traveled with my iPad, I had to have my MacBook with me as well. Still, it was good for watching movies on the plane.
What the iPad did do for me was revolutionize the way I draw and paint digitally. Thanks to its blazing speed, virtually non-existent parallax, and low latency (with the right app)... plus the fantastic responsiveness of the Apple Pencil stylus... everything changed. I found it to be a better experience for creating art than an expensive Wacom Cintiq tablet paired with a high-end computer! If there was a flaw, it was that the 9.7-inch size was too small for me to work comfortably, and I regretted quite badly that I didn't spend the money to buy the 12.9-inch size.
In November 2018 Apple released their 3rd generation model iPad. It was compelling enough an upgrade from my older model that I started saving $50 a month until I could afford one.
A month ago Apple released their 4th generation model iPad Pro. It was definitely time to upgrade now, but I had only saved up $700 of the $1000 price tag. Then quarantine started dragging on so I figured I might as well blow through some of the vacation money I had been saving since I won't be using it any time soon... and went to order me a new 12.9-inch iPad!
Much to my horror, the specs stated that my 1st generation Apple Pencil wouldn't work with the new model and I would have to spend an additional $130 to buy an upgraded one of those as well. It would be another month until I could get the money together for that, so my plans were put on hold.
Eventually I managed to scrape the money together and order... then today it finally arrived!
And now for my thoughts...
Holy cow is this thing beautiful. And so impossibly thin! It's like a thick sheet of glass with metal on the back. I honestly don't know how they manage it, and thinking of how far technology has come in my lifetime makes my head hurt.
My old iPad was pretty darn fast, even when running modern apps. But this thing is ridiculously speedy. Everything happens instantaneously. There's no delay for anything. It's kinda how like you dream your computer would work... except it's reality. What I don't understand is why Apple put in an A12Z chip instead of the newer, faster, better A13 chip that's in my iPhone. The A12Z has an additional core compared to the A12X from the previous iPad (8 cores instead of 7) which aids in some areas, but it's a minor upgrade at best. If you're going to use a new chip, why not go with the best you already have instead of spending the money to retool an older one with minimal effect?
The "new and improved" $130 Apple Pencil drawing stylus is actually "new and improved." It has a matte surface instead of a glossy one so it also has a more natural texture when you grip it. I also like the thinner diameter (which I know some people do not). But the absolute best part? You don't have to plug it in to charge it! It magnetically attaches to the iPad and charges wirelessly in either direction (nice for lefties and righties)... but only on the right "long-side" of the iPad (when held vertically... it's the top when held horizontally). As a side benefit, the flat "charging" side of the Pencil means it won't roll off the table. Where the Apple Pencil is just frickin' brain dead is that it's not reversible. Most styluses can be flipped to erase something (mimicking a real-life pencil eraser). STILL NO ERASER ON A $130 STYLUS IS UNFORGIVABLE. They do have a tap sensor on the pencil, however. In Procreate a double tap switches to the eraser. Another double tap goes back to your pen. This is a really nice way of working, but I still don't understand why a stylus costing a fraction of what Apple's charging has an eraser end when Apple's doesn't. Even so, I like this stylus 1000% better than Apple's old one. If I have a complaint, it's that I don't understand how it costs $30 more than the previous model.
Back to the iPad itself... the larger size of the 12.9-inch model is far, far better for drawing and painting. Not as comfortable to hold, of course, but much easier than a tablet hooked up to a computer. EXCEPT... thanks to a feature called "Sidecar" you actually can hook your iPad up to your computer if you want to (assuming it's a new enough model to support it)...
But it gets better... MacOS X apps which support pressure sensitivity can inherit this data from the iPad! Below is not a screenshot of my computer screen, it's Photoshop on my iPad in Sidecar mode. I drew a mustache on Jake to show how the pressure sensitivity on brushes allows you to get thicker lines as you press harder...
Not as flawlessly responsive as when using an iPad-native app like Procreate, but still perfectly useable! This is next-level-amazing, because now I won't have to save up $1,200 to get that Wacom Cintiq Pro 16 display tablet I've been dreaming of. My new 12.9" iPad is able to sit in for a 15.6" tablet, and still be useable as an iPad on its own! Disconnect the Cintiq from your computer and it doesn't do anything. iPad truly is the best of both worlds.
Not that I wouldn't love to have an even bigger screen than 12.9-inches but, finances considered, it's absolutely big enough. Still, can you imagine if Apple were to unleash a 16-inch iPad? A 20-inch iPad? As display technology gets more amazing and cheaper, it's gonna happen. The pro creative market pretty much demands it. Apple could match Wacom Cintiq models size-for-size and price-to-price and corner the market with display tablets that are also fully iPad-functional.
The display on this thing is brilliant. I mean really brilliant... as in bright and beautiful. I don't even need to turn the display brightness to maximum like I usually do! Colors are lush and saturated. The refresh rate is a mind-boggling 120Hz and buttery smooth when dragging shapes I've drawn. Just like my older iPad, it's still too slick for me to draw comfortably. To help with this I've ordered a PaperLike 2.0 screen protector which is supposed to feel more like drawing on paper. We shall see. The brightness and color is spectacular, so I am hopeful that the protector won't diminish that any. Apple says that there's a fantastic anti-glare coating on the display, but it looks to have the exact same reflectivity of my old one, so I'm hopeful the PaperLike will help with that too.
I don't think I've ever used the camera on either of my past iPads. My iPhone is better and more capable for taking photos (not to mention handier since it's always in my pocket). Never-the-less, the new iPad Pro has gone dual-lens with a wide and ultra-wide lens if I ever need them. The big technology here is the brand new LiDAR (Light Detection and Ranging) Scanner which can accurately map out your surroundings for things like Augmented Reality. I haven't had a chance to play with this much, and I don't know that it's something I will ever use regularly, but it does give us a hint as to how big Apple is betting on AR for the future.
Something else I haven't used in previous iPads was the front-facing "selfie" camera. But in the age of social distancing when video-conferencing has become the norm, I've found myself actually using it. And Apple's camera works fine... when the iPad is held vertically. But since I use my iPad horizontally the vast majority of the time, it's just bizarre. People can see me fine, but I'm looking off to the side and I got a comment that it's a bit disorienting. You may be thinking "All video conferencing cameras are like that!" and you're right. But it's very noticeable in horizontal mode because the camera is on the side of your screen instead of on top of it. And there's another problem there too... when held in portrait orientation, there's a good chance your thumb will cover the camera needed for FaceID unlock. Apple really, really needs to rethink this and put a camera for both vertical and horizontal orientations. Transmitted sound is really good, and I'm told it's not as "tinny" as my old one when I asked about it during video chat. Likely because Apple says they are using five "studio-quality" microphones.
There's no headphone jack, of course. I have AirPods so this isn't a problem, but I sure wish I could use my high-priced headphones from 1994 with the iPad and not have to use an adapter. Right now, my MacBook Pro is the only thing left which has a headphone jack. That being said, the sound quality coming from the built-in speakers floors me. Just as with my iPhone before this, I cannot comprehend how such good sound can come from speakers so thin! And, unlike the cameras, Apple has made darn sure that your stereo experience is good whether you hold it vertically or horizontally (though horizontal seems to give better dimension to the sound because the speakers are further apart). There are four speakers, two on the top and two on the bottom, and they seem to adjust automatically depending on the orientation of the iPad. So nice!
Given how stubborn Apple can be about cables and connectors, I was pleasantly surprised to see that the 2020 iPad has USB-C instead of Apple's proprietary Lightning connector. Granted, before USB-C was invented Apple had to do something to get away from the "this-side-up" idiocy of older, larger, slower USB connectors... but given how USB-C is on everything else Apple makes and working great, it seems silly to hold out on the iPhone. Hopefully that will be remedied soon.
And then there's the iOS that's running everything...
=sigh=
Having the greatest tablet hardware in the world means very little when the software isn't up to the task. And iOS is mostly there. But not completely. The gesture-based multitasking is just plain bad. It's confusing, complicated, unintuitive, and sometimes I can't even get it to work correctly (and never understand why). Sadly, this makes an otherwise amazing product feel half-baked. Given Apple's long history of sublime user experiences and interfaces, this is baffling to me. There are a number of "proof of concept" videos out there showing better alternatives to how Apple is doing things, yet Apple themselves just sits on their hands? Why? I can only imagine it goes back to their preposterous stubbornness (which was responsible for their laptops having shitty keyboards for years). Well, get off it, Apple. You can do better than this. You need to do better than this. The power users you're courting to break free of the "home and hobby" mindset of a tablet not being a "real" computer isn't going to change until you do.
And so...
In all the ways that matter, the 2020 iPad Pro is not that different from 2018 iPad Pro. It has one more core in the CPU and a LiDAR sensor that's of limited use, and that's pretty much it. But when compared to my 2016 iPad? It's a pretty big upgrade. And not just because I went from a 9.7-inch screen to a 12.9-inch screen... it's faster, smarter, and more capable in every way. And when you couple that with the fact that I can use it as a display tablet when hooked up to my desktop Mac? It's a phenomenal value... even with the $1,000 price tag (or, if you include the $130 Apple Pencil stylus I had to buy, the $1,130 price tag).
We are rapidly getting to the point where computers and tablets are converging. This is more apparent when you look at Microsoft Surface and the slew of touch-screen PCs being released, but things seem more kludgy on the Windows side than with Apple's more purposeful iOS/MacOS convergence. Next year Apple is said to be switching from Intel chips to their custom ARM chips in their Macintosh computers. The next step will be to have an iOS layer on MacOS to run iPad apps natively. Then, once all the apps have gone to iOS for the Mac, the MacOS is no more. As technology gets smaller and faster, it's pretty much inevitable. I have to wonder if it will be less than 10 years before you can get an iOS desktop? I dunno. More likely, it will just be iPad. And if Apple gets off their asses and stops being so stubborn, this might not be a bad thing.
To be honest, I would have rather spent my vacation money on an actual vacation. But, I am quite happy with my new iPad and am grateful to have gotten it ahead of schedule. Hopefully it will unleash my creativity and be worth the price.