Posted on August 10th, 2022

I've been having a terrible time sleeping lately. Last night I went to bed early at 10:00pm, but my watch shows that I didn't fall asleep until after midnight. Which means that I essentially laid awake for two hours with my mind racing. In other words, it's a day ending in "Y," and when I rolled out of bed at my usual 5:30am I felt like half my brain was missing.
I honestly don't think it's too must to ask that I get eight hours of sleep each night. Or even seven. Heck, over the past four months I'd settle for six. Instead it's been between four and five hours, which is simply not enough. I feel like a zombie all day long. Though I'm surprisingly able to function just fine and get all my work completed without issue. But it's like I'm on auto-pilot instead of being invested. And it's tough to enjoy life that way.
I thought I might be able to supplement my sleepy-time with naps, but that's proven equally impossible. For whatever reason I can't sleep during the day no matter how tired I am.
I guess it's time that I have a sleep study done again?
I dunno. The last time I paid for one and nothing really came out of it.
But at least I could say that I tried something.
Posted on February 28th, 2015

I know somebody.
Who feels better about themselves.
By making others feel worse about themselves.
I don't know how they can sleep at night after causing such suffering, pain, and sadness to their fellow humans.
So today I asked.
Their answer is "Lunesta."
I really need to get me some of that.
Posted on May 27th, 2014

The TWO HOURS of sleep I managed to get last night made for an agonizing day. By the time I got home I was so exhausted that I decided to have a cheese sandwich and take a short nap.
I woke up four hours later at 10:00.
Since I don't sleep but four or five hours a night, this has completely screwed up my sleep cycle. I'm still exhausted, but my body thinks that it has already slept for the day, so now I am going to be awake the rest of the night.
I am tempted to go buy a fifth of Jägermeister and drink until I pass out to get me back on track. But something tells me that trying to work with a hangover would be slightly worse than trying to work while sleep deprived, so I think I'll take a pass.
Instead I'll just look for a very big hammer.
Posted on May 21st, 2014

My last day in Chicago.
A pity I had to spend my entire morning working.
Well, not my entire morning. I was able to take a minute to meet with the Hot Coffee Girl herself for a meet-up at Hancock Tower. They have a new attraction called TILT! where you get to stand against a window, then be tilted at a 45° angled off the side of the building...
Not so scary as if they laid you out at a 90° angle, but still very cool.
They don't let you use a camera or a phone to take pictures... apparently they are worried about the safety of the glass (WTF?!?), but this is kinda what you see if you look straight down...
A little heart-stopping but, again, still very cool.
After checking out of my hotel and returning to work for a while, it was time to head home (with The Spirit of St. Lewis working my flight!) on a new Alaska Airlines livery for me... the Portland Timbers plane!
Layover in Portland. Layover in Seattle. A quick flight to my local airport. Then a half-hour drive home. Well, it would have been a half-hour... if not for having to wait for a stupid train.
I hate trains.
HATE them.
They always end up blocking my route no matter what time I'm trying to get somewhere... even past midnight, like tonight...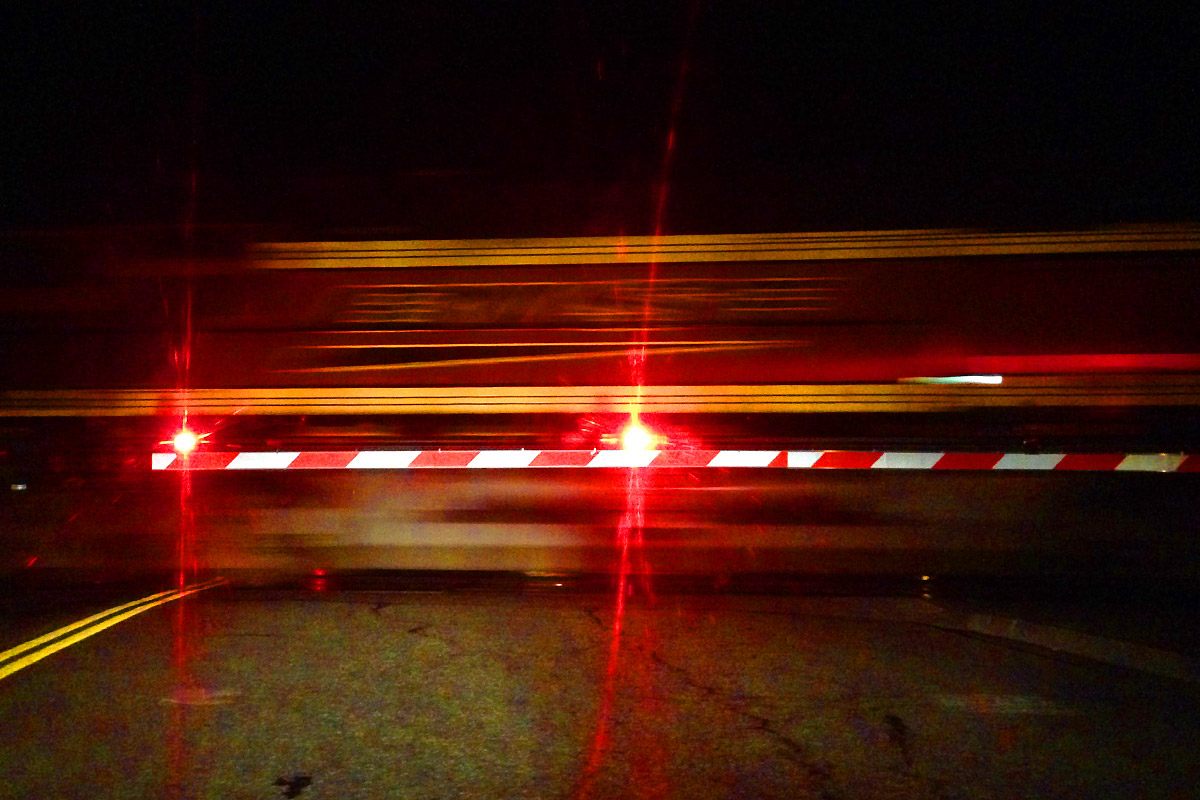 And as if that wasn't bad enough, you have to listen to their stupid-ass train whistles at all hours of the day and night.
Oh well. At least I'm home in my own bed at last.
Wish I was tired enough to fall asleep.
Posted on March 12th, 2014

Ever since the time change, I've been sleeping worse than ever. I never thought I'd look back on insomnia with longing, but at least then I was getting 4-5 hours rest a night. Now? I don't sleep at all. Even sleeping pills fail completely. I nap for maybe 20-30 minutes, two or three times a night. That's it. To be honest, I don't know how I'm conscious... let alone how I'm managing to type coherent sentences.
At least I'm guessing they are coherent.
I'd check, but there's a chocolate alligator blocking my keyboard and I won't be able to get rid of him until this bag of potato chips lands in my toothbrush. Or the taco bar beams me up again. Which would be great, because I'm really craving carpet tape. The kind with extra 2400 baud modem... not the kind that swims with toilet paper.
Posted on August 11th, 2011

If you happen to have a monkey with a sledgehammer available, I highly recommend them as the perfect solution for insomnia...

Of course, a handful of Nytol will do the trick too...
Posted on August 10th, 2011

I remember what it was like to sleep. Good times. Good times.
Except I rarely sleep anymore. I just don't seem to get tired...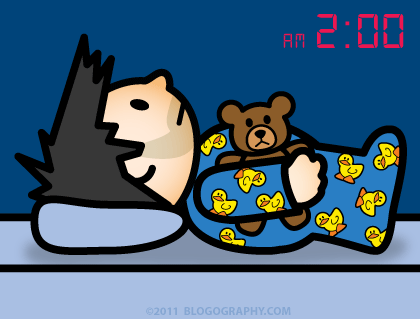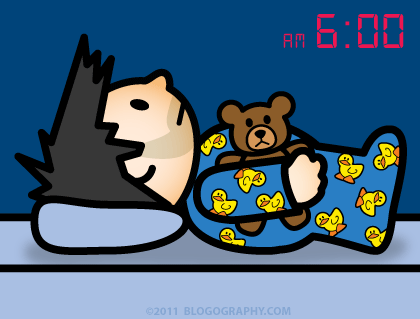 ...until the minute it's time to get up and go to work, then I'm totally tired.
But then the night comes and the cycle repeats all over again...
I really don't like taking drugs if I can help it, but this is getting ridiculous. You know it's ridiculous when you fondly remember the good ol' days when you were only complaining about getting four hours of sleep instead of no sleep at all.
Four hours seems like something from a dream now.
If I could fall asleep to have it.
Posted on July 19th, 2011

Getting a whole six hours sleep last night (pharmaceutically-induced, alas) was everything I dreamed it would be.
Anyway, just a few things I keep forgetting to review...

• Chilly Pad! A while back I was shopping for a soldier at AnySoldier.com (which I talk about here and here) when I was told about a product by Frogg Toggs called "Chilly Pad." It was billed as some kind of "cooling towel" that sucks the heat away via evaporation. That sounded like a load of crap to me, but who am I to deny a soldier something to make his life easier... especially if it only costs $12? Just for kicks, I ordered one for myself too.
Imagine my shock when, holy crap, it actually works!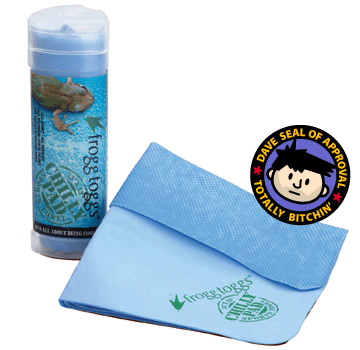 Just pour some water on it and be amazed as the super-evaporation cells go to work, causing the darn thing to become cool to the touch! Amazing! For the ultimate test, I wore one around my neck on my trip to Waverly Hills where there was a heat index of 105° and was pretty darn comfortable the entire time. I now keep one in the trunk of my car and will always have them on hand to send with my AnySoldier care packages. Worth checking out! I got mine at Sports Authority, but I'm sure they're available other places too.

• Spotify! Europeans have been enjoying the music mega-service Spotify for years, but Americans have been left out. Until now. For those unfamiliar, Spotify has a massively huge database of music available for streaming. In order to get at it, you have to sign up for an account. Free accounts are ad-supported and have a song limit. Unlimited accounts ($4.99/mo.) are ad-free, allow unlimited songs to be streamed, and have added sharing and organizational features. Premium accounts ($9.99/mo.) have even more features (like the ability to listen offline and stream to your mobile phone) and better sound quality. Free accounts weren't available yet, so I went for the $4.99/mo. Unlimited package.
The biggest selling point of Spotify is that they have a plain crazy-huge collection of songs. They pretty much boast that they have any track you want...

Except they really don't. There are many songs both obscure and popular I wanted to listen to which aren't available. That alone is a bummer, but what makes it unbearable is that a big chunk of their library is karaoke versions of songs, and every frickin' search you make is literally overwhelmed with karaoke crap I have absolutely no interest in.
Here's an example. Today I wanted to listen to Miley Cyrus's The Time of Our Lives (don't judge until you listen to it... it's a nice song!). Spotify doesn't have it available. What they do have is four karaoke versions...

WTF? And it gets worse when you do more generic searches like "Hall & Oates" where you get all kinds of karaoke shit mixed in. After a while, I figured out that you can do restrictive searches to cut out karaoke. Well, most karaoke... not all karaoke songs are described properly...

This should be an option in preferences to get rid of karaoke tracks if you don't want to see them, but I couldn't find one so I have to instead add "-karaoke" to every search, which is a pain in the ass. Other irritations? The Spotify app is clutzy and unintuitive compared to the iTunes interface I'm used to. I've also experienced "outages" of a sort, where certain artists simply will not play. Today I tried for quite a while to listen to Weird Al's new Alpocalypse album without success.
As you might guess, my final verdict is more negative than positive. I will be happy to keep my free account for occasional ad-supported listening, but I'm going to cancel my $4.99 "Unlimited" membership. Perhaps eventually they'll address my issues and I'll find it worthwhile, but for now I'm giving it a pass.

• Suits! Burn Notice. White Collar. Covert Affairs. Fairly Legal. Psych. When it comes to successes, USA Network has a pretty good track record for airing some really good television shows. Because of this, I'm willing to give any new show they come up with a shot. Their latest, Suits, sounded good on paper... but I wasn't sure how it was going to play out on the screen...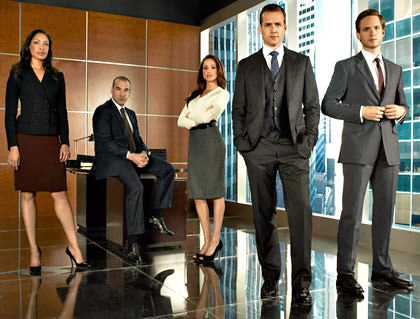 The story premise is that of a very smart guy with a photographic memory, Mike Ross (played by Patrick J. Adams) who tries to escape his dicey past by going to work at a prestigious law firm. He passed the bar on a dare, but doesn't have a law degree. His new boss (played by Gabriel Macht) is impressed enough to hire him anyway. The result is an uneasy partnership that is beneficial to both of them, even if they have to hide Mike's true nature from everybody at the firm.
And it works.
It works very well.
The cast is fantastic (Gina Torres!), the writing is sharp, the stories are smart, and the show as a whole is entertaining. My only concern is how long they can keep the premise interesting. Will people eventually find out about Mike? Will his scary past catch up with him? In all honesty, it doesn't really matter, and I hope they don't keep hanging the show on them when there's no need to do so.
Right now? Highly recommended. Only time will tell if they can keep it that way.

• Fotopedia! If you're a fan of travel photography and have an iOS device, run... don't walk... to the iTunes Store and grab everything you can from Fotonauts. Their Fotopedia apps have always been great, but the new stuff they've been cranking out has been amazing. North Korea (free) and Dreams of Burma (free) are well worth your time... but their latest collaboration with National Geographic, Above France ($2.99) is stunning...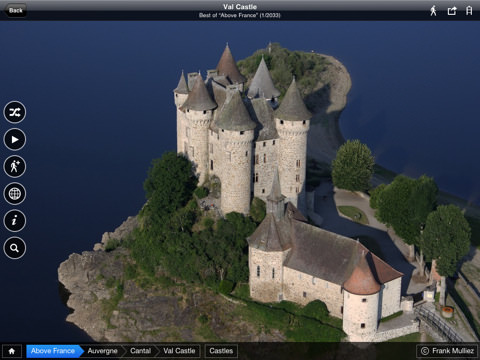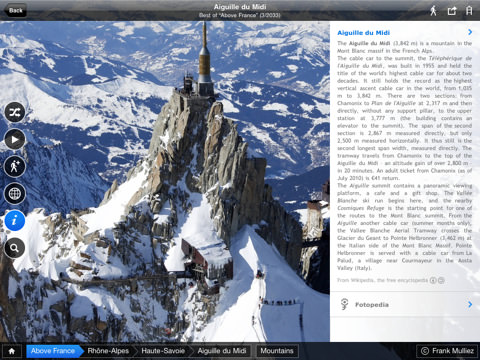 They work on iPhone but, obviously, have a better presentation on iPad. Highest possible recommendation.

And now... bed. And hopefully another night of half-way decent sleep.
Posted on August 25th, 2010

I woke up at 4:30 this morning because I had work that needed to get done. It was an unavoidable consequence of all the technical difficulties that plagued me yesterday. Needless to say, it made for a very long day today.
Now that it's over and it's pushing midnight, all I want to do is sleep.
Or maybe write a blog entry.
Nah, I wanna sleep...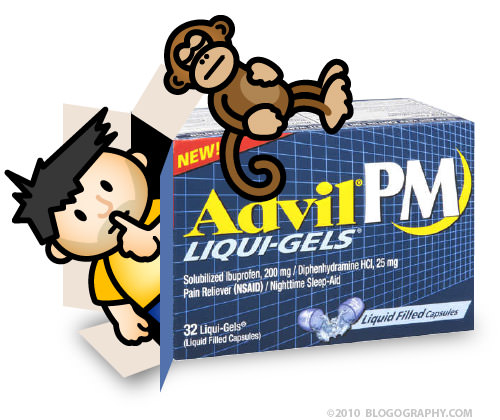 So if you will excuse me, I am going to crawl into a box of Advil PM and pass out now.
Posted on July 26th, 2010

When captured by the enemy, soldiers are advised to sleep and eat whenever they can because they never know when either (or both) might be denied them.
While I would never compare my job to being a prisoner of war, the above advice has come in handy from time to time with my work (See? Graphic designers have it rough, people!). Well, not the food part, but definitely the sleep deprivation. I don't sleep that much to begin with, but when you're on-call for 31 hours straight and are guaranteed to be called to the job site several times... well, even a little sleep is hard to come by. So I grab an hour here and 20 minutes there, and try to be sane and somewhat comprehensible when reporting for duty.
But the real trick is getting rested enough that you feel comfortable driving. It's one thing to be sleep-walking on the job... it's quite another to be sleep-driving in a car.
Especially when you're in rural Georgia where wild deer love prancing around the roadways.
Last night on the way to Waffle House for a midnight dinner, a deer was standing in the middle of a dark country road with a 55 MPH speed limit. Even though I was driving just under 50 MPH because it was so dark, this still necessitated my slamming on the brakes to avoid getting a venison hood ornament. The deer, however, wasn't impressed and wandered off at a leisurely pace (Darwinism takes a vacation!).
On the way back, I had slowed to 45 MPH "just in case" and nearly hit TWO deer crossing that same road. Quick braking and a hard swerve avoided tragedy, but left me with an adrenaline rush which made getting any kind of sleep impossible for the next several hours.
But don't worry. When my job finally ended this afternoon, I managed to get three whole hours sleep before hacking together this blog entry, so I guess I'm back to normal again. Or as normal as a person can be who is an insomniac that craves human blood.
I should totally be a vampire.
Or, more appropriately, a zombie vampire!
A zombie vampire that eats deer who stand in the road!
Guess I should pack my suitcase now, seeing as how I'm leaving early tomorrow morning and all...