Posted on December 9th, 2018

I may have been to Maine and back this week, but that just means I'm locked and loaded... because an all new Bullet Sunday starts now...

• Endings! Obviously the news of the week is that the Avengers 4 trailer finally dropped. It's everything it needed to be, with plenty to unpack. If you don't want to hear about it, best skip to the next bullet...
Okay, first of all, the name... Endgame is lame as shit. For months we've been told that the name was being kept secret because it revealed the plot and gave too much away. But does it really? No. Not even a little bit. LAME!
It's not much of a leap to figure that Ant-Man is going to be the key here. The Quantum Realm and its time-bending properties is an obvious way to undo what was done and bring back all those dusted characters so they can continue to print money for Marvel Studios (and Disney). I also wouldn't be surprised to find that Hawkeye (who looks like he's in his Ronin persona in the trailer) will have a major arc. Odds are his entire family was dusted and that's going to be the push to answer the question: "Why in the hell is he an Avenger?" No sign of Captain Marvel, but we know she's going to be kicking around...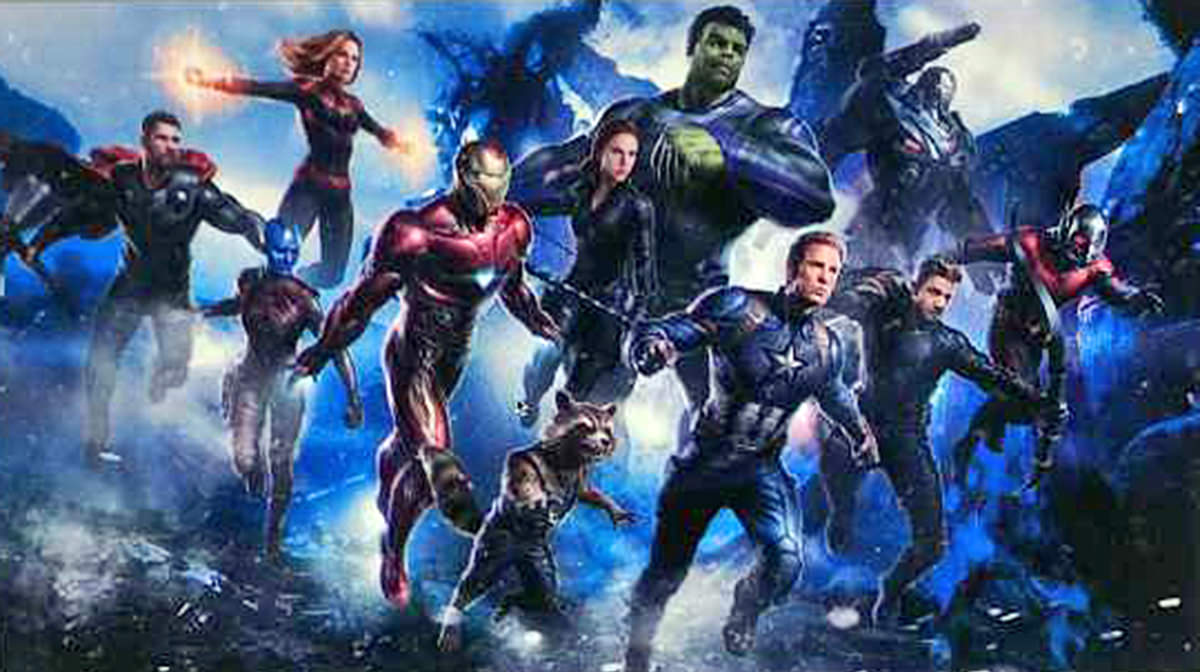 April seems a long, long ways away...

• Pet Shop Christmas! This week I received an email from The Pet Shop Boys wishing a Merry Christmas to their fans. Which is nice, I guess, but it's the way they did it that was so cool...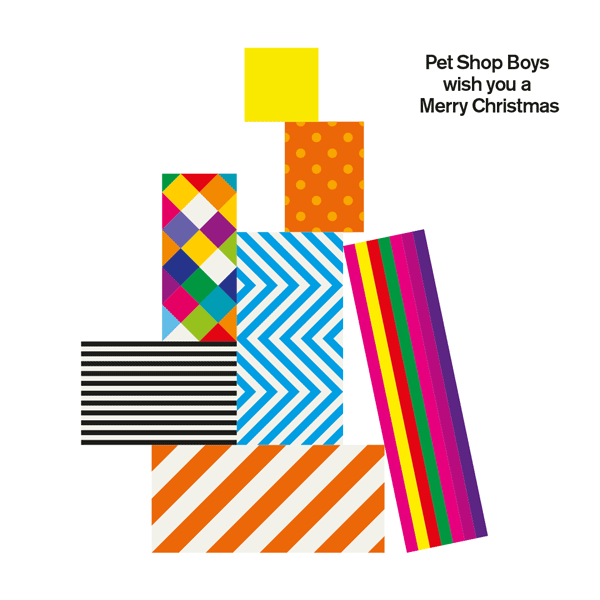 Now, if you're a fan, you'll immediately "get it." But if you're not... does this help?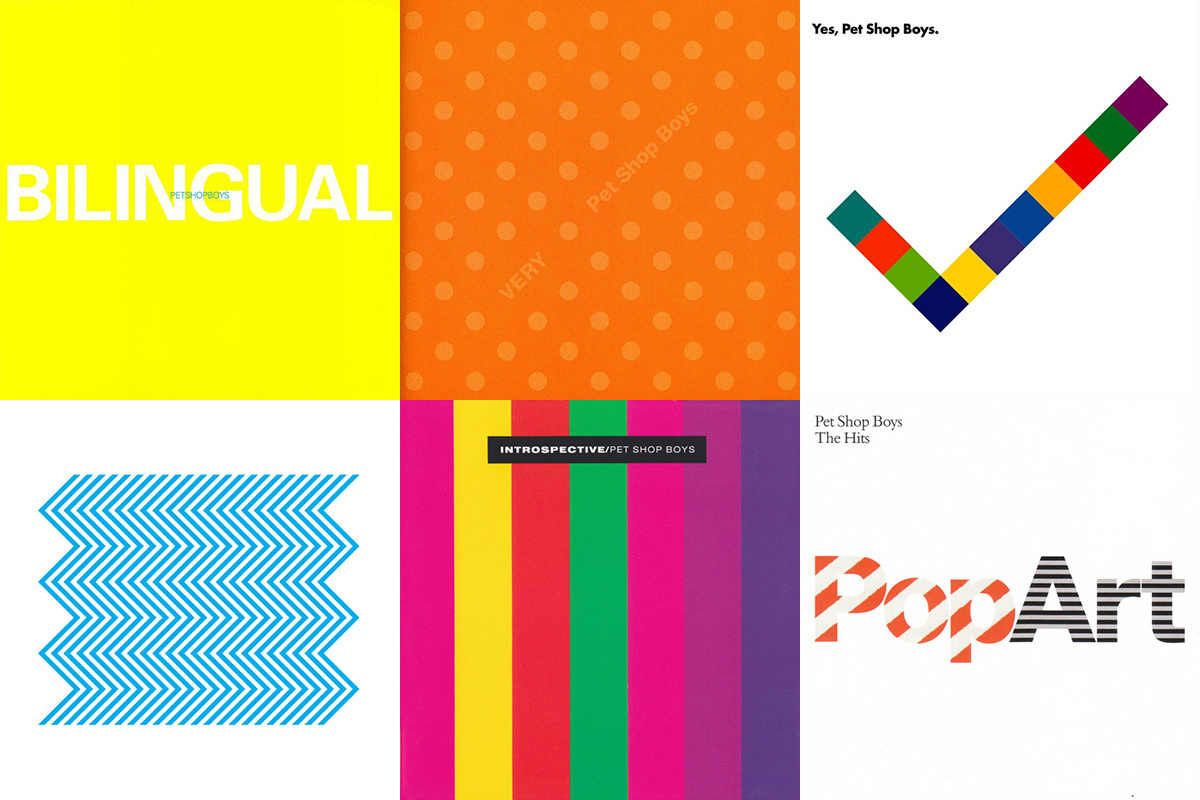 Seriously, how cool is that?

• MIB4! This week we finally learned the title of the fourth Men in Black movie... Men in Black International. It stars Chris Hemsworth as Agent H and Tessa Thompson as Agent M...
The spinoff film will not have Tommy Lee Jones (Agent K) or Will Smith (Agent J) in it, but it will have Emma Thompson reprising her role as Agent O.

• Outlook! As I prepare my home for winter, I ran across something interesting...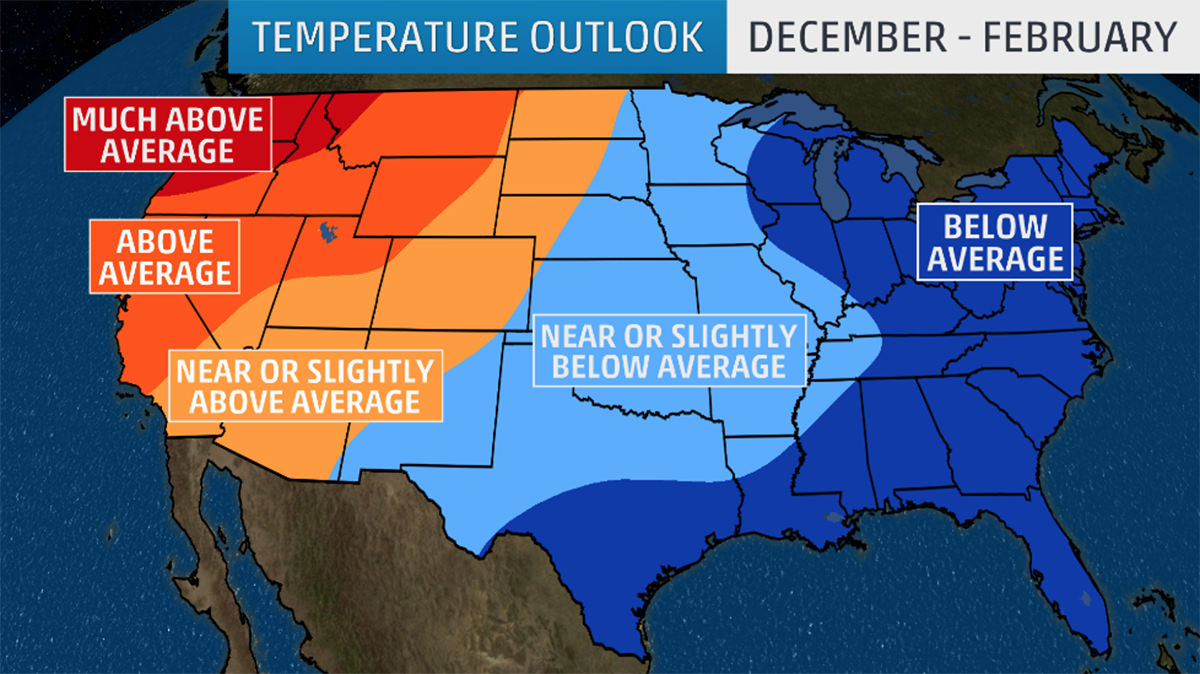 Apparently my region of the country will be "much above average" when it comes to temperature this winter. I'm not quite sure what to think about that, because the nighttime temperatures seem as though they're the same as they've been for years now (which is not as cold as it was a decade ago, I can tell you that). I took a look at weather averages for the past couple years and it reads similar to what's been recorded lately. And while we haven't had any snow yet, I'm guessing it will be on its way any day now? While I'm happy at the idea of saving on heating costs, we really need good snow pack in the mountains or else we'll end up in drought conditions in the Summer. That's something we absolutely do not want.

• NHL! Good news, everybody! Something I've been waiting for... for a very long time, actually... is Major League Hockey coming to Seattle! I became a hockey fan when I got into The Milwaukee Admirals while working in the Mid-West. From there it was a short hop to the Chicago Blackhawks, which has been my team ever since...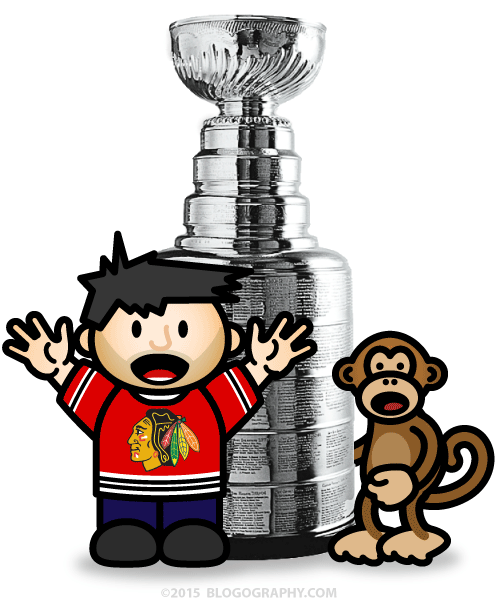 I've been to a couple local games here at home, but love the idea of escaping to an NHL game from time to time. Earlier this week they finally gave Seattle an expansion team, which will debut in 2021. But what will they be called? It's a big mystery. I was greatly amused to find that Bovada is running Vegas odds on it...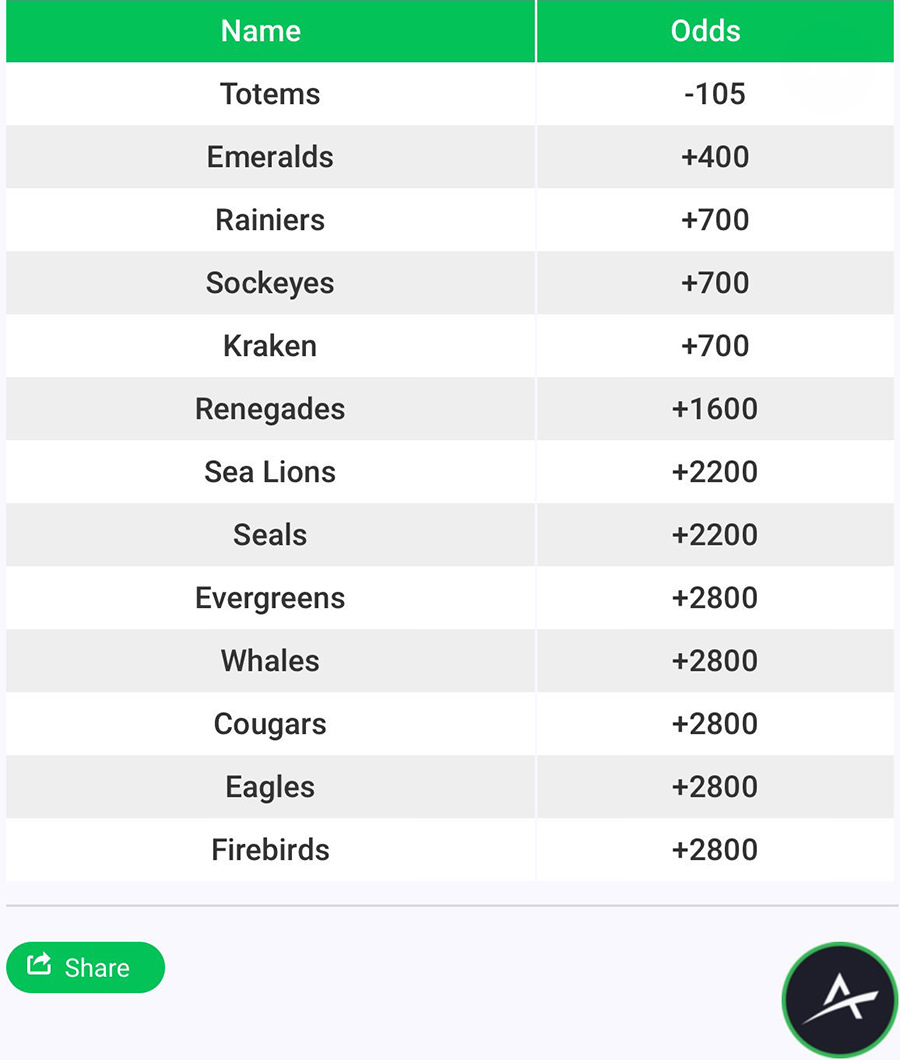 Oh dear Lord. The odds favorite is the Totems?!? Now, I get it... that's the historic name for the team. It's a name which has emotional appeal to those who have been fighting to get a team here for a very long time. BUT COME ON! Are we really going to go down the cultural appropriation route again? My team, the Blackhawks, was named in honor of Black Hawk, a real-life Illinois historical figure. The team has kinda gotten a pass on this because it's not an offensive stereotype (like "Redskins") but it is still mired in controversy...
In 2010, for instance, Joe Podlasek stated that, "The stance is very clear. We want the Chicago Blackhawks logo to change. For us, that's one of our grandfathers. Would you do that with your grandfather's picture? Take it and throw it on a rug? Walk on it and dance on it?" John Blackhawk, Chairman of the Winnebago Tribe of Nebraska, has suggested that the change in position for the American Indian Center may be connected to contributions the Blackhawks organization has recently begun making to the center: "We all do contributions, but we don't do it for the sake of wanting to be forgiven for something we've done that's offensive."
— Wikipedia
So can we please just not this time? Personally I'm really liking the Sockeyes. There's a lot of logo potential there, and it's a fish that has cultural significance to Seattle both past and presence. The Emeralds isn't bad, but what do you do with it for a logo? And tying the name to The Wizard of Oz is kinda silly. Rainiers is already tied to a crappy beer. Kraken might be fine, but it's too abstract since it's mythological and all. Renegades, Cougars, and Eagles are boring and done to death. Sea Lions, Seals, and Whales just sound silly. Evergreens would give us a frickin' TREE as a logo? I dunno. Might work in the right hands? Firebirds isn't bad, but it's within spitting distance of Totems for me.
So... can we just be the Sockeyes and be done with it? Please?

• So Long, Fuckers! I finally managed to transfer everything away from my previous web hosting company, Media Temple. After being a loyal customer for over a decade and putting up with their broken promises and bullshit, the last straw was the horrific way I was treated when I tried to get an issue resolved. No help, shitty service, and a bill for $38 that they wouldn't reverse. Seriously, what a bunch of assholes. If you're looking for a place to host your stuff, keep looking.

And that's the end of that. See you next week.
Tags:
Blackhawks
,
Bullet Sunday
,
Hockey
,
Movies
,
Music
,
Pet Shop Boys
,
Seattle
,
The Avengers
,
Weather
Categories:
Bullet Sunday 2018
,
Movies 2018
,
Music 2018
—
Click To It:
Permalink
—
3 Comments: Click To Add Yours!
Posted on February 1st, 2018

This evening it snowed a little bit, but that quickly turned to rain and everything melted away.
It's the first day of February, and it's feeling very much like late March. Possibly even April. Which okay, I suppose... but we sure didn't get much winter this season. So now it's time to start worrying about drought for this coming Summer.
Turns out that if you live in my neck of the woods and want to build a snowman, your time is running out...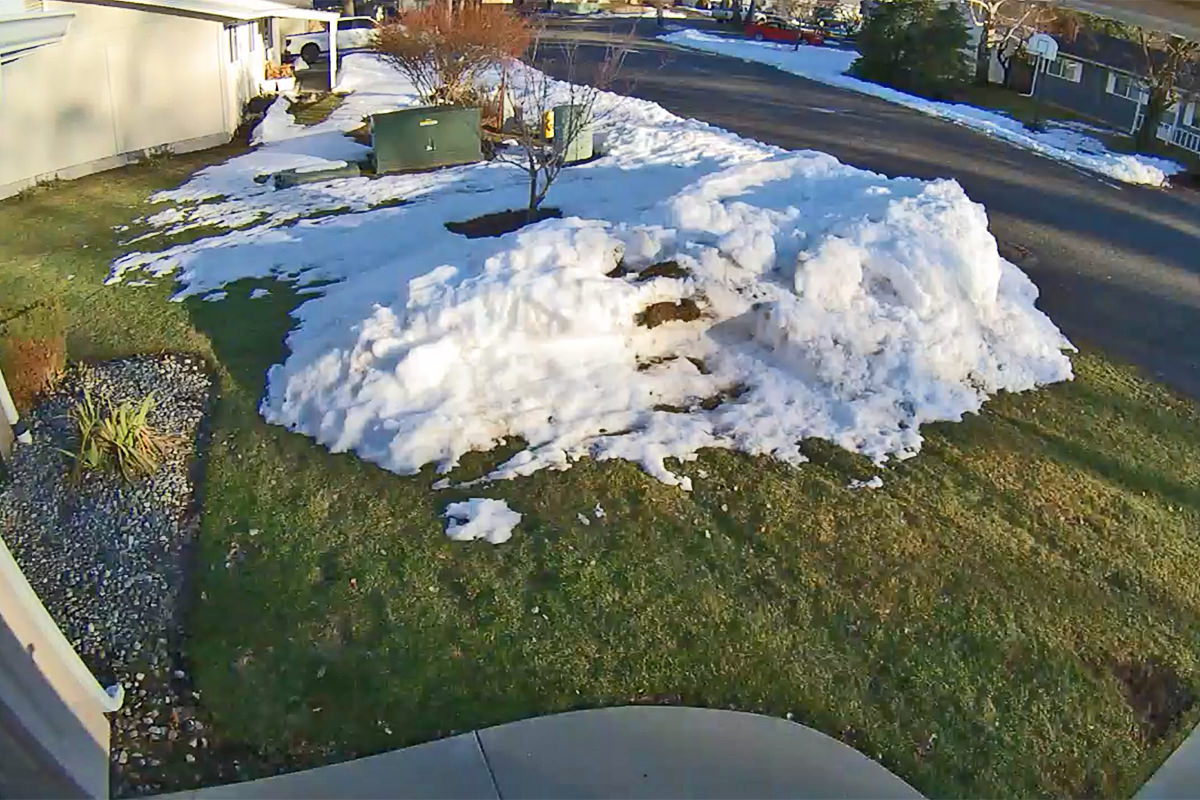 Note that the only reason my yard has this much snow on it is that Mr. Plow deposited everything from the driveways onto it (and took a chunk out of my lawn again).
Guess it's a good thing that my snowman-making days are behind me...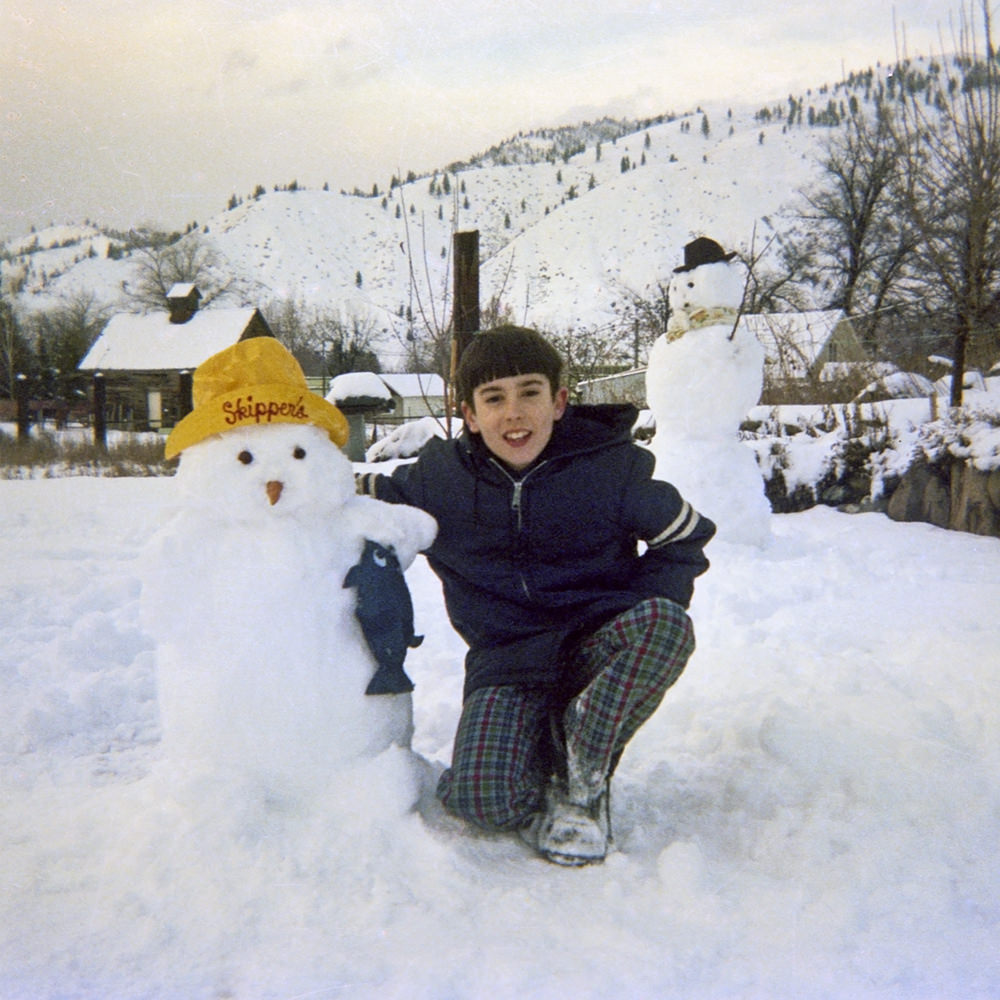 The good news to come out of all this? Pretty soon I'll be able to park my car outside and turn my garage into a wood shop again.
Posted on October 30th, 2017

It's been getting colder. I know this because the heat has been coming on from time to time. And last week I was mostly freezing from the minute I got out of bed... all the way to work... most of the day at work... all the way back home... then right up until I crawled under my electric blanket at night.
But yesterday and today?
Heatwave!
Well, not really, but it's been unseasonably warm out. My cats have been lapping it up... hanging out in the catio as if they know that the warm days are numbered. They are not always easy to spot out there, however...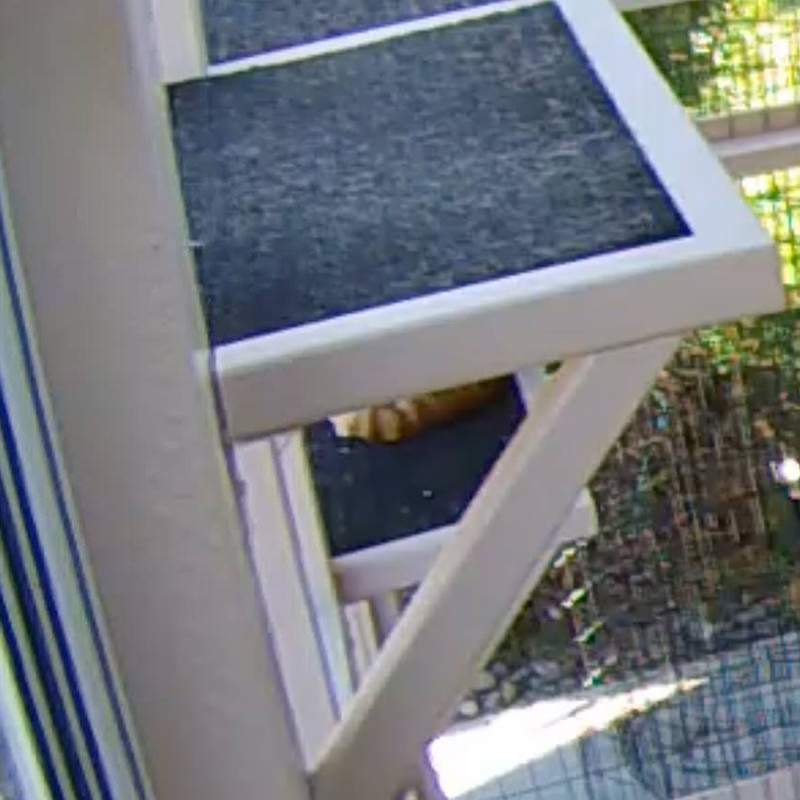 Enjoy it while it lasts... enjoy it while it lasts.
Posted on October 9th, 2017

Yesterday as I was driving over the mountains I noticed that the snow-line had lowered to an alarming degree.
Winter is indeed coming.
And soon...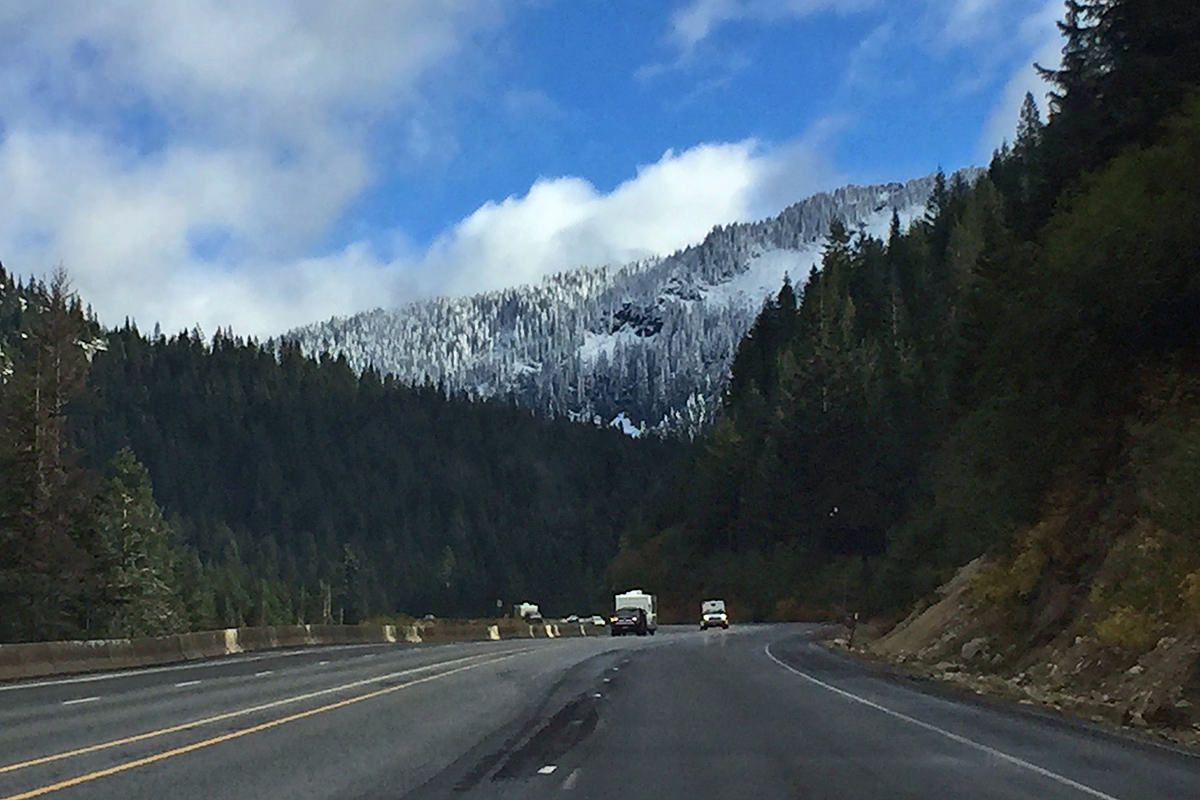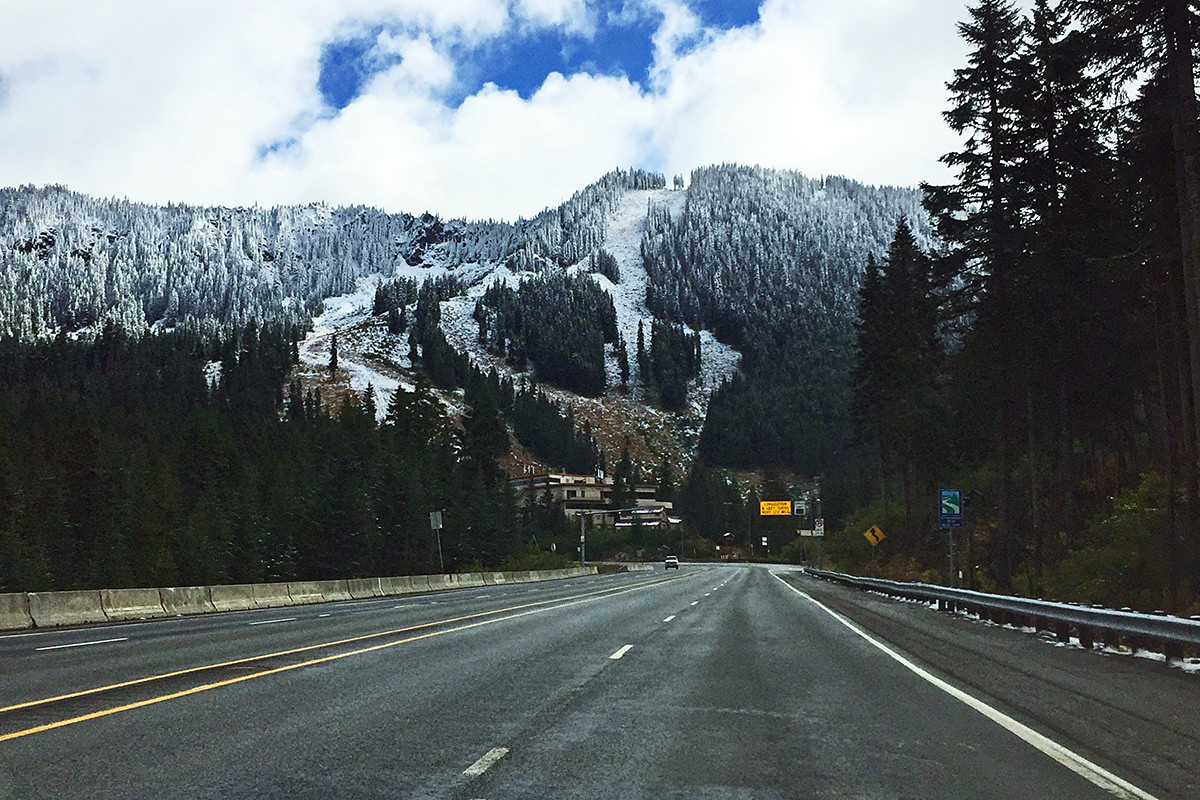 I guess I don't mind so much. But it would be nice if we could at least put off snow at my home until November rolls around.
Posted on December 4th, 2015

I got home in the nick of time.
The weather here is getting a bit crazy.
Kinda pretty though... if you can ignore the crummy road conditions. Looks better from the air though, which I found out as I was flying home yesterday morning...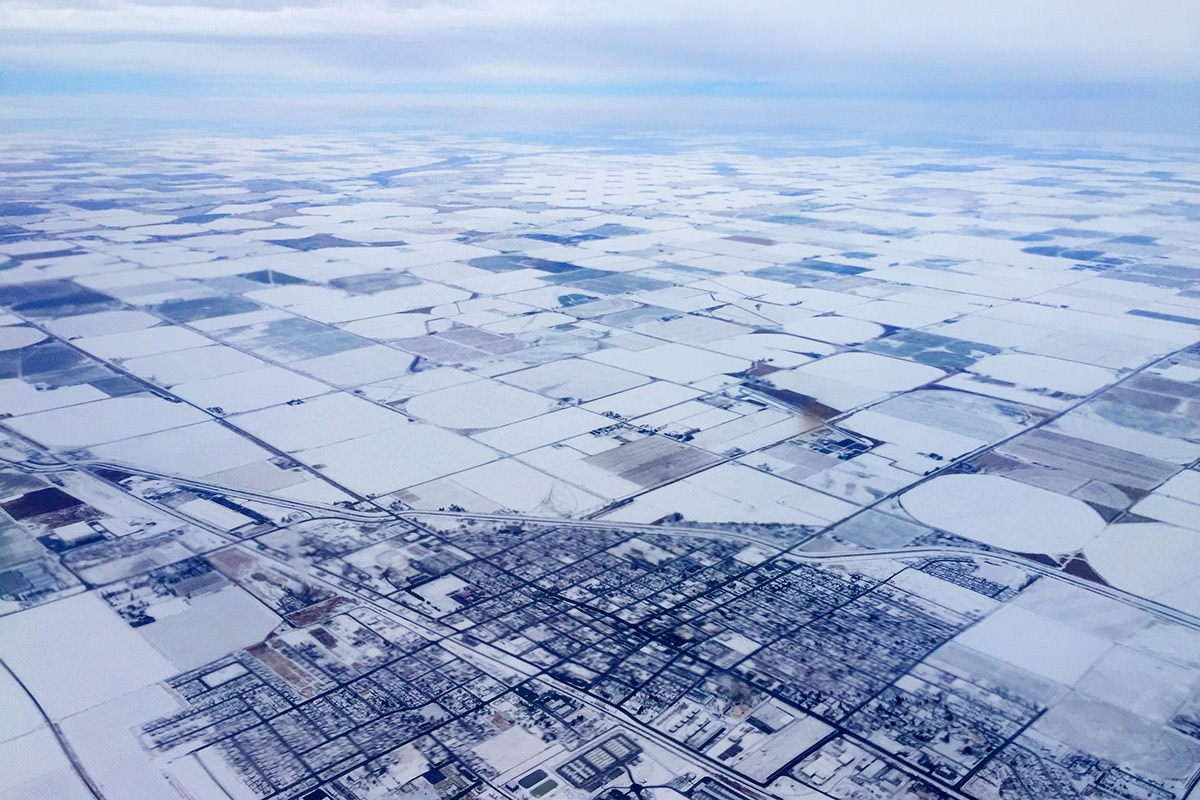 Happy Friday.
Posted on February 19th, 2015

Tomorrow I fly to San Diego for Jester's 40th birthday party.
The odd thing is that the weather in Southern California is going to be overcast, cool, and rainy... whereas here in Central Washington it's clear, warm, and sunny skies.
I am having to dig out my coat, which is something I haven't had to wear here for weeks.
I am also updating my 11-inch MacBook Air, which is the best travel companion ever. Small, fast, light... if only my electric mixer was this easy to travel with.
Posted on January 6th, 2014

As somebody who has been stuck because of weather many times, this so-called "Polar Vortex" that has descended on North America has me incredibly grateful that I'm not traveling right now.
And yet... when I try to recall horrible experiences I've had while being stuck traveling, it's not as easy as I thought it would be. Yeah, spending hours on end at an airport waiting for weather to clear is awful, but when it comes to serious travel delays... e.g. days... it's not so bad. I don't know if that's because I tend to make the best out of a bad situation or what, but I have only good memories of the times I've been stranded for extended periods.
I was once stuck in Germany for three days. It was a very expensive problem to have because hotels were pricy and difficult to come by... but I drank a lot of beer and spent time goofing around the local Christkindlmarkt (Christmas Outdoor Market) so I didn't mind at all.
I've also been stuck in Japan for three days because my work ran late and I couldn't find a flight home... but that was almost like a mini-vacation, because it was over a weekend and I had friends in the city to keep me occupied.
Domestically, I've been stuck overnight many, many times, and that's not so great. But the time I was stuck in New York for four days? Glorious! Two unplanned days in Orlando? Great! A half-week stuck in Chicago? So awesome.
Even my worst delay ever of nine days ended up being a lot of fun...
First I was stuck in Arkansas.
Then I was stuck in Minneapolis (fun times at Mall of America!).
Then I was stuck in Seattle (funner times spending an unplanned five-day Christmas vacation with my sister!).
By the time I finally got "un-stuck" I was a little depressed at the idea of having to go back home.
So maybe I shouldn't be quite so grateful that I'm not traveling after all. Maybe I'm missing out on an awesome adventure by being stuck at home instead of being stuck someplace interesting. Maybe serious weather delays are the best excuse ever for skipping out on life for just a little while.
Maybe.
Darn it.
Posted on November 12th, 2013

The weather here has reached a transitional phase between Fall and Winter. It's not cold enough to snow so you get this kind of dreary, cold drizzling rain that makes your days depressing and grey. Add that to the fact that it starts getting dark around 4:00, and it's not a happy time of year for me. Today was even more of a bummer than usual because there was a fire somewhere that filled the air with smoke.
Not a great start to my Tuesday.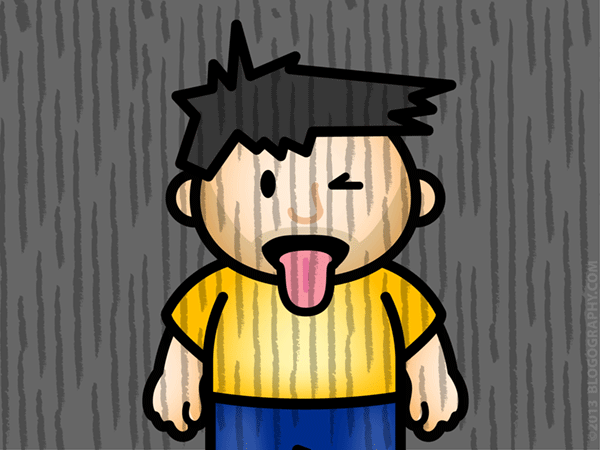 But don't worry. Things got much worse.
Posted on November 10th, 2013

Stop pondering how many licks it takes to get to the middle of a Chicken McNugget... because Bullet Sunday starts now...

• Blacklisted. As a James Spader fan, it was a no-brainer to add his latest television effort, The Blacklist to my DVR. But the previews and ads for the show kind of led me to believe that it was a bad Silence of the Lambs rip-off with Spader as a poor man's Hannibal Lecter, so I kept putting it off (there's already a television version of that running). Well, yesterday I finally got around to watching it... and am completely hooked. Yes, there are familiar elements here, but the show itself is so much more...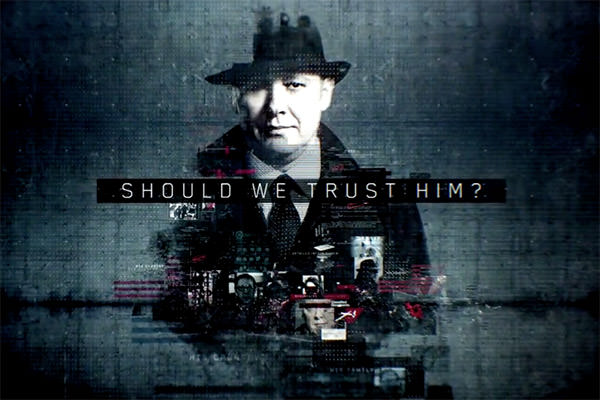 But the highlight is Spader, of course. Very few people could pull off this role in a way that's so darkly entertaining yet somehow likable. This... this... is everything the Hannibal television show should have been, but doesn't quite reach. Highest recommendation. If you've been missing it, the iTunes Music Store currently has a Season Pass for the show on sale for $35 so you can start from the beginning (and I recommend you do).

• Lion. If you haven't yet read about the lion cub that was rescued by two guys from the Modisa Wildlife Project in Botswana, here you go!
The TED Talk by the Modisa Wildlife Project's Mikkel Legarth is also worth a look.

• Faith. I... do not... have the... words... God exists, and he's working at Taco Bell...
I'll be trying these bad boys post-haste!

• Visits. Most "States I've Visited" maps are a binary "yes or no" type affair. Jeremy Nixon has come up with an alternative that provides a much better picture...
Red states are those you've barely visited. Orange states you know a little better. Blue states you've spent quite a lot of time in. Green states are those you know extremely well. Cool, huh? You can make your own map over at Jeremy's Defocus Blog.

• Dyslexic. I was very lucky that I was diagnosed early and got help when I was young enough to make a difference in my life. I'm also fortunate that my form of dyslexia is mild and I was able to train my brain to cope with it relatively easily. Still, dyslexia is something I have to deal with every day, so I was really happy to see this amazing project on Kickstarter called "I wonder what it's like to be dyslexic" which features a book that attempts to illustrate what it's like to struggle with reading. They've reached their funding goal, but such a beautiful and educational book deserves to be seen by everybody, so here you go!
More information can be found on Kickstarter.

• Storm. My thoughts are with everybody in The Philippines after Super Typhoon Haiyan ravaged the region this past week. The devastation looks horrendous, and they are estimating the dead could top 10,000 people across the country. As I type this, the storm has landed in Vietnam, and is expected to cause heavy rains and flooding in the northern part of the country... including Hanoi, where I was visiting just last month...

Haiyan chart image taken from NOAA.
As if these storms aren't frightening enough, scientists are projecting that things are only going to get worse. Severe storms are going to form more frequently and be stronger than ever before. If science is right, life on this planet is going to have to change quite dramatically over the next century. Whether we like it or not.

See you in seven days.
Posted on May 10th, 2013

I always love watching lightning crash outside an airplane window.
But not as much as I love thunderstorms causing a landing delay.
Okay... I'm totally lying. I don't love either of those things. But that's just part of the travel game, and it does happen from time to time. All you can do is hope that you've drank enough alcohol that you don't mind so much. Otherwise? Not fun. Well, it is fun to track your flight path after you've landed and see what crazy loop-de-do holding pattern your flight took...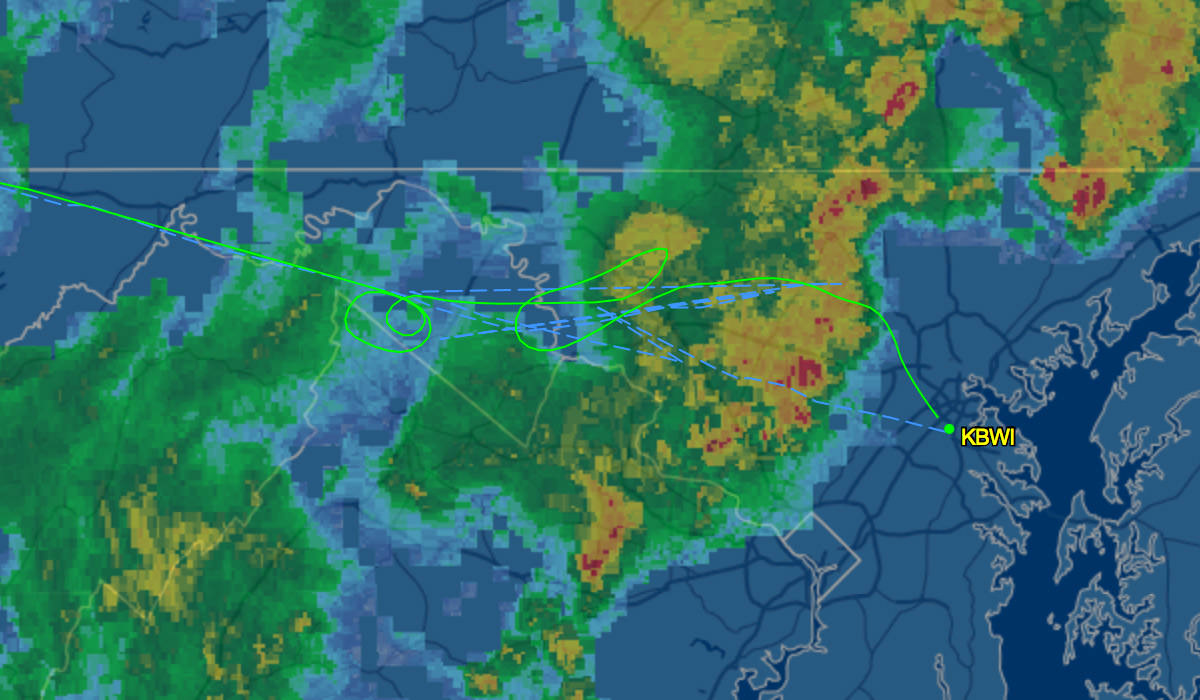 Flight tracking map courtesy of FlightAware!

And so now it's 12:40am after one long-ass day of travel and all I want to do is go to bed.
But my internal clock is still on West Coast time and there are people screaming outside my hotel room, so I guess you really don't always get what you want.
And speaking of that...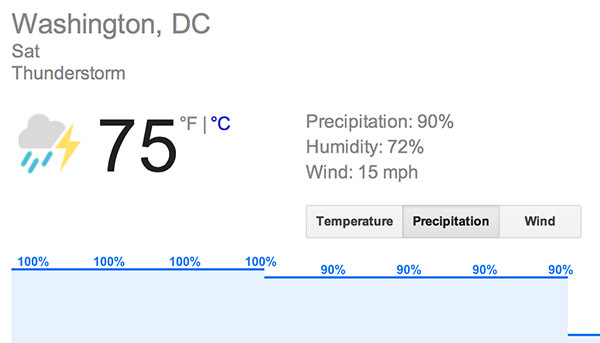 Guess it's a good thing I brought a raincoat.