Posted on July 17th, 2012

It is really thundering out there. Here's hoping the walls stay standing.
And so the final rushes for THRICE Fiction No. 5 have been sent off to the Editor in Chief. Once RW has had a chance to approve everything, I'll start running out all the various files needed to unleash our fifth issue on the world.
This has been a rougher ride to completion than usual thanks to a bug with Adobe InDesign on my new MacBook. I ended up losing a full week of work-time while I was in Nassau and Atlanta, so... instead of being able to get ahead while I was traveling, I ended up getting way behind.
It's always something.
And right now... it's lightning and rain to go along with the thunder...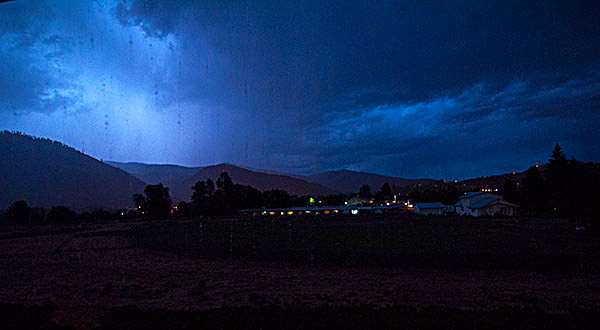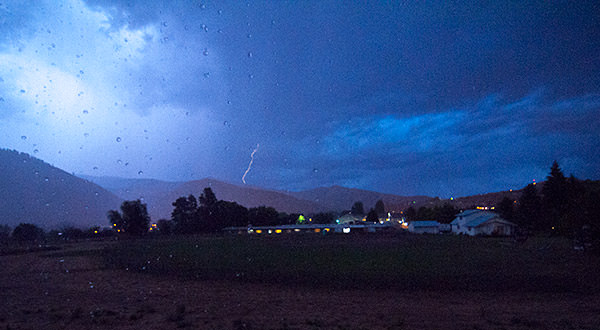 Gotta love a summer storm.
Posted on July 12th, 2012

Whenever anybody outside of Washington State asks where I'm from, I just say "Seattle" because that's pretty much the only place in Washington that anybody has ever heard of. Seattle, of course has a reputation for rain (which is true... but not quite to the extreme as people might believe).
Anyway, it's been pouring down rain here in Georgia, which has people who know I'm from "Seattle" saying "thanks for bringing the rain with you!" But not sarcastically, as usual! Apparently, there's been quite a dry spell, and farmers are glad to be getting some moisture this summer.
Though, if the forecast is any indication, they'll be happy I'm leaving this weekend...

In the meanwhile, it is crazy wet outside, so I'm doing my best to stay indoors.
Which is good because I need to be working, except... Adobe has a big problem with their software running on the new MacBooks and MacBook Airs. For example, Adobe InDesign (the program I use to do page layout for things like THRICE Fiction Magazine) crashes a horrible death almost constantly. I've scoured for tips on how to make it happen less often, but it's still an impossible situation. So now I am in the horrible position of having to wait until I get home before I can finish a number of projects that are due... including the latest issue of THRICE Fiction Magazine.
This sucks so hard.
Almost as hard as the length of my work day. Right now I am so exhausted that the only thing that keeps me going is 5-Hour Energy shots and cookies. But the cumulative effect of downing three 5-Hour Energy shots to stay awake the past 15 hours is starting to make my brain haze over. The fact that I've got another four hours left to go doesn't bode well for my sanity.
Now, if you'll excuse me, a sea urchin just waddled up to my desk and asked me if I want to go see a movie with him and his friend the kangaroo (who, oddly enough, is named "Mr. Camel"). Since I could use a break, I think I'm going to accompany them... though I hope it's not another art-house cinema festival, because last time I never did manage to get the smell of popcorn out of my ferret.
Posted on June 25th, 2012

So this is what the weather is like at End of Days.
Since Saturday we've been flipping between gorgeous blue skies one minute... followed by thunder showers just minutes later... followed by gorgeous blue skies again soon after. And while the changes are shockingly rapid, they're actually really cool to watch. Today on the way to work I watched a rain shower crash down from the mountains like a wave. As I was driving home I saw a thundershower retreat to the horizon like smoke in the wind. It's weird. It's wacky. It's wonderful in a way that only Mother Nature can deliver.
Which leads me to...
The Newsroom premiered Sunday on HBO. It's weird. It's wacky. It's wonderful in a way that only Aaron Sorkin can deliver.
Remarkably (for HBO anyways), they've just made the first episode available on YouTube in its entirety. Because of Sorkin's near-flawless run on The West Wing, his totally-flawless run on Sports Night, and his mostly-flawless run on Studio 60, I had no choice but to give it a watch... despite the rather shocking number of poor reviews it's been pulling.
Unsurprisingly, I really liked it.
Partly because it stars Emily Mortimer, whom I love more than chocolate pudding, but mostly because Sorkin's commentary on the state of "news" in this country mirrors my own to a scary degree.
Not to say there aren't problems. First of all, this first episode felt exactly like the first episodes of Studio 60 and Sports Night. Twice on the opening similarities I could forgive... but three times feels like Sorkin is fresh out of ideas on how to start a new show. Second of all, too many situations go too dramatic too fast. Not every little thing in life has to end in high drama (except if you're Aaron Sorkin, apparently). Lastly*, the show takes place not in present-day... but back in 2010. This means every show is going to be re-living news that already happened (starting with the BP Deepwater Horizon disaster this episode). I can only guess that this is due to Sorkin wanting to run the news as it really went down instead of approximating news events that are currently going on. Yawn. The West Wing handled a kind of "faux current" reality so beautifully, why is The Newsroom stuck in the past? I'm hoping this doesn't end up boring me.
Regardless, I'm just happy to have Sorkin back. Nobody writes television like he does, and anything he's involved in is bound to be worth watching. You can decide for yourself by clicking over to YouTube.
*Well, not lastly. "Lastly" would be that The Newsroom is so overrun with placement advertising for Dell Computer that I have to wonder if Michael Dell is secretly blowing Aaron Sorkin in addition to handing over sticky wads of cash. It's downright embarrassing, and a huge distraction.
Posted on October 23rd, 2011

Another week, another Bullet Sunday.

• Colder. The weather is definitely taking a turn for the worse. This week I started having to scrape frost off my car windows in the morning, which is never a good sign. This means that snow, crazy-ass winter drivers, travel delays, and freezing my balls off any time I step outside can't be too far behind. On the bright side, doesn't this mean that Santa will be coming soon?

• Accessorize. I'm not much of an interior decorator, but my kitchen now looks about 210% better thanks to the addition of a Jägermeister bar mat next to my sink! Thanks to Lynne for thinking of me when she ran across it. How totally cool is this?

• Peel. Despite constant moisturizing, my sunburned skin finally decided to start peeling... three whole weeks after getting burned. Like Judgement Day, I guess you can only delay it, not stop it altogether. Such a bummer, BECAUSE IT ITCHES! IT ITCHES SO BAD!!

• Annual. There's a meme floating around about what you were doing a year ago. It asks a lot of complicated questions about relationships, diet, work, and other stuff I'm not interested in answering... BUT it did get me curious as to what in the heck I actually was doing a year ago. Fortunately, I have a blog so I can look that up.
Apparently, on October 23rd, 2010, I was recovering from being run down in the street. All while blogging about flying to Albuquerque and not masturbating. Good times. Good times.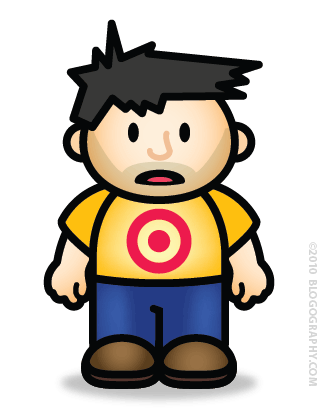 • Annual Redux. Ah, you may ask, but what were you doing two years ago today? Well, okay, you probably didn't ask, but I was curious. Turns out I was SWIMMING WITH FRICKIN' DOLPHINS!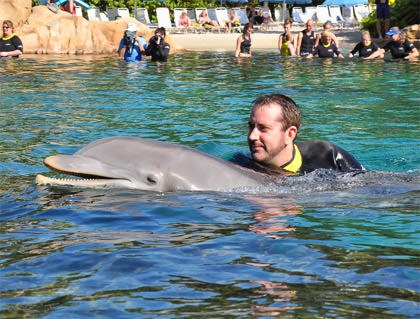 Wow. This year kind of sucks compared to that!

And now, speaking of things that suck, it's time to mentally prepare for tomorrow being Monday... by swallowing a handful of sleeping pills and letting nature take its course.
Posted on September 5th, 2011

I labored six hours on Labor Day, which is pretty much the opposite of how I should have been spending my time.
It happens.
Like the weather.
Last night it was so chilly that I had to close my window and add a blanket to my bed for the first time in months. Tonight I'm combatting the heat by wrapping an ice pack around my neck. The week is only supposed to get worse from here, with temperatures escalating to 97° by Thursday. I don't know why, but this year I am really ready for summer to be over. I just don't want to spend any more days sweating it out in temperatures like this.
Until the snow comes, of course. I'm sure then I'll have a different attitude entirely.
Now let's see if I can manage to get a couple hours sleep while it's still a holiday, shall we?
Posted on November 30th, 2010

Despite living with snowy winters most of my life, I can never seem to get used to that first snowfall.
Eventually I become accustomed the weather and it doesn't bother me that much. But today?

In the morning when going to work...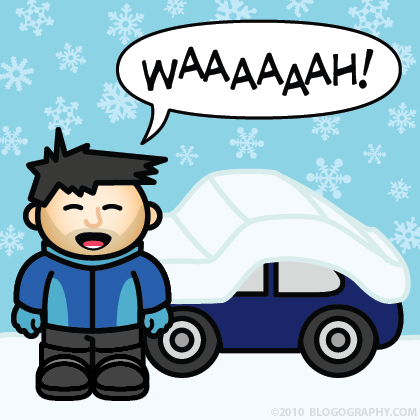 At night when going back home...

I hate it. I hate it. I hate it. I hate it. I hate it.
Why can't they make no-stick snow coatings for cars?
Posted on April 5th, 2010

This morning when I woke up it was snowing. When I got to work it was misty. When lunch came around, there was heavy rains and hail. When I got off work the sun was shining. I wish that the weather could make up its damn mind so I know what I'm supposed to wear each day. As it is, I just have to run the gauntlet and hope that I don't end up too cold or too hot or (worst of all) too wet.
What I wouldn't give to be back in Maui right now...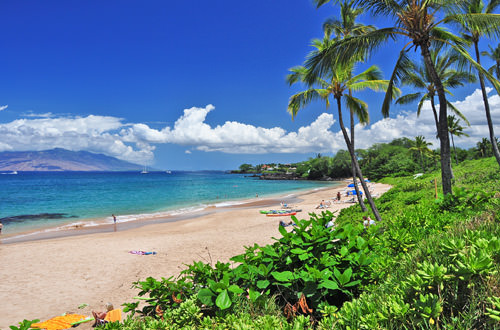 Oh well.
TequilaCon is in less than three weeks. That will do... no matter what the weather.
Posted on November 13th, 2009

This morning after waking up and working for a couple hours in bed, I took a shower, got dressed, and started packing up my crap to go into the office. Then I walked by my window, saw it was snowing, took my laptop back out of my bag, and sat down on the couch. I just wasn't in the mood to deal with snow on a Friday. Especially Friday the Thirteenth.
After an hour of winter denial, I scraped off my car and headed out into this snowy wonder bullshit.
Though I should probably clarify that it's not the snow that bothers me. It's the cold that comes with it...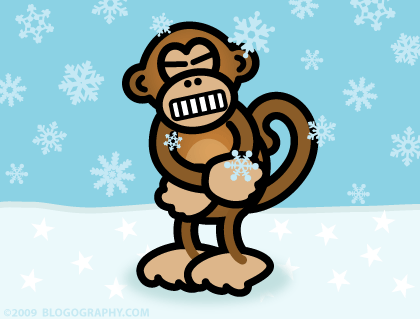 I just don't like being cold.
But even worse than the cold is having to travel in the winter.
Last year I was stuck in Seattle for a full week after weather shut down the entire airport, and busses and trains couldn't run.
Time to mentally prepare myself for my upcoming trips while trying not to freak at the thought of getting stuck. Again. As usual. Because going back through my blog, it seems to happen every year.
Waaah!