Posted on September 12th, 2018

More hurricanes.
And whether you believe that climate change is man-made (spoiler alert: very likely) and question whether it is responsible for the increase in hurricane activity (spoiler alter: very likely) everybody can agree that the death and destruction caused by these monster storms is a tragedy that never seems to end...
But no worries... a crazy old racist bigot piece of shit is on the case!
Hey, nobody hopes that he's right more than me.
After what another crazy old racist bigot piece of shit has done, the aftermath of a catastrophic storm is something we simply are not able to deal with.
To everybody in the path of these storms, be safe. Evacuate if you can.
UPDATE: Jesus...
Just when you thought that Hurricane Florence was the worst thing happening to this country right now.
Posted on September 22nd, 2017

It seems as though every corner of the earth is being assaulted by some kind of disaster... from floods and wildfires to earthquakes and hurricanes, it just doesn't seem to stop.
I'm particularly troubled by Puerto Rico. American citizens who are once again getting screwed when they are needing assistance because it's not politically advantageous to help them. I cannot help but wonder if Puerto Rican citizens could vote in US elections if our government's attitudes toward them in times of crisis would change?
My home state of Washington is finally having some luck in containing the wildfires which have been plaguing us. Oregon, Idaho, and Montana? Not so much. A shocking number of fires are still burning.
Guess it's a good thing the forecasters are predicting an early, harsh winter for the Pacific Northwest then.
Though I could really use another month or two of Fall, if that's an option.
Posted on September 10th, 2017

Wildfires and hurricanes got you down? Sorry to add to your troubles but another natural disaster has arrived, because an all new Bullet Sunday starts... now...

• Charitable! IF YOU HAVE A KIND HEART AND ARE ABLE TO DONATE TO FIRE/HURRICANE RELIEF... PLEASE VERIFY THAT THE CHARITY TO WHICH YOU ARE SENDING YOUR HARD-EARNED DOLLARS IS GOING TO MAKE GOOD USE OF IT. There are all too many charities which do not. A good place to start is to head to Charity Navigator, which reports on what charities do with their donations.

• Orville! The geek reviews for Seth MacFarlane's new sci-fi show The Orville were pretty bad. I decided to tune in anyway, just to see how awful it really was. Except... I actually ended up liking it. No, it's not Galaxy Quest like everybody expected... it's actually a faithful clone of Star Trek: The Next Generation, but with some funny moments scattered amongst the drama...
Actually, I'd argue it's superior to Next Generation, which I never really got into. My favorite part of the show is the helmsman and navigator (Scott Grimes and J. Lee) who have amazing buddy chemistry. Other characters are a bit glossed over, but the previews of upcoming episodes looks like they'll get their day. Is it a perfect show? No. It's a bit uneven and the pacing drags a bit in spots. But those are things that will improve in time as the writers, actors, and directors get everything figured out. The one thing they've nailed though is the special effects, which are pretty great. I've gone from zero expectations to high hopes over the course of just this one episode. May the rest of the season be worth my valuable time.

• Intermission! Of course, this was back when a candy bar was 5¢ and you could actually afford to GO to the lobby and buy a treat...
It just gets crazier as the video goes on. I remember some of this from the movie Grease where John Travolta has been stranded at the drive-in... branded a fool. What will they say Monday at school?
Oh Sandy.

• Danger! Just when you think you've seen it all, Delta Airlines has to come along and prove you wrong...
Delta claims that the flight was never in any danger. Weather radar implies otherwise, but okay.

• Polydactyl! Speaking of hurricane Irma close calls... I was very happy to learn that all 54 cats at Hemingway House in Key West were sheltered and made it through the storm. I haven't been there in over five years, but the place sure made an impression on me...
Kind of a cool place to visit if you're ever in Key West.

• Orlando! As I type this, Irma is headed to Walt Disney World. Here's hoping Mickey Mouse, Pluto, Buzz Lightyear, and company all stay safe!

And that's a gale-force Bullet Sunday... over and out.
Posted on August 28th, 2011

It's lunchtime. I can haz veggie burger while blogging?

• Irene. I suppose we should be grateful that New York passed same-sex marriage... obviously God was pleased with this since he reduced the hurricane down to a tropical storm before it struck the state. Oh... wait... you mean it doesn't work that way? Well that's odd. Because you know damn well that dumbass fucktards like Pat Robertson (or ChristWire) would be falling all over themselves to blame same-sex marriage if New York were devastated by a Category 3 storm. I don't know what it says about their followers that they would much rather take glee in God's wrath than His grace, but there you have it. UPDATE: Well, no surprise there.

• Irene Deux. In other hurricane-based commentary... better safe than sorry...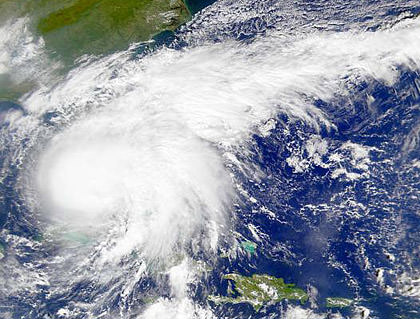 • Levine. It's nice to know that rock stars are starting to act like rock stars again and using their powers for good. Now it's Maroon 5's front-man Adam Levine, using his newfound jump in popularity from The Voice to slam MTV...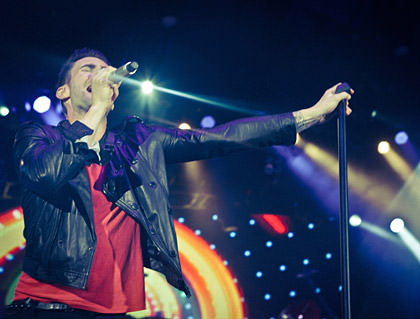 From his Twitter feed...
the VMA's. one day a year when MTV pretends to still care about music. I'm drawing a line in the sand. fuck you VMA's.
Spot. On. MTV "Music Television" is a joke. They rarely play music videos anymore... it's all The Jersey Shore and other stupid reality show crap. The only time you see music is when they think a cheap publicity stunts like the Video Music Awards will get them attention. They truly don't give a flying fuck about music and haven't in a very long time. And now people within the industry are starting to call them on their bullshit. Here's hoping it's just a start.

• Endorsement. Stay healthy, ladies!

• Ultimate. I travel. A lot. And I'm really grateful for the opportunity to do so. But when it comes to those "ultimate dream trips" I'd love to take, they're all out of reach. That National Geographic Expedition to the arctic... that Abercrombie & Kent trek to Nepal... that Windjammer cruise in the Indian Ocean... they're just not an option financially. For the cost of just one of those trips, I could take five if I watch my pennies.
So my dreams have to remain dreams. But Abercrombie & Kent have released a beautiful new iPad app that makes those dreams a little more real...
If you've got a lot of empty space on your iPad (the app is huge!) I highly recommend downloading the A&K Travel app to spark your travel dreams.

And that's a wrap! The veggie burger was delicious, by the way.