Bullet Sundaaaaaaaaaaaaaay! Let's get ready to Rrrrruuummmmmble!

• Tweet! Most of the time I'm too busy to pay any serious attention to Twitter, but every once in a while it's a scary insight into what I'm going through at any particular moment in time. Today was particularly telling, and had me wishing I self-censored a bit better. Oh well. Too late for that now...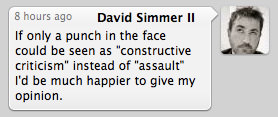 So many times when I'm asked for my opinion on something, I'm tempted to say "no" immediately because more often than not the person has no interest in getting an actual opinion... they just want your praise (whether they deserve it or not). Yet I foolishly try to be friendly and helpful with my critique anyway, sometimes getting burned in the process. It's really too bad, because good constructive criticism can be so much more helpful than faint praise... if people are willing to hear it. The question is, how many times will I get burned before I learn not to offer it in the first place? At this rate, not long at all.

• Fore! Oh how I love my new iPhone 4. It is superior to my iPhone 3GS in absolutely every way... especially signal reception. I can now actually make phone calls at my home without having them fade out, go choppy, or get dropped entirely. I've had no problems with the antenna while making calls, but have had some problems while texting or using apps when I cradle the iPhone to type. It took all of one minute to learn how to shift my hand to not block the antenna, so it's pretty much a non-issue now. If you have a case for your iPhone 4, it never was an issue to begin with. Personally, if I were going case-free and couldn't adapt to "holding different," this is my favorite solution...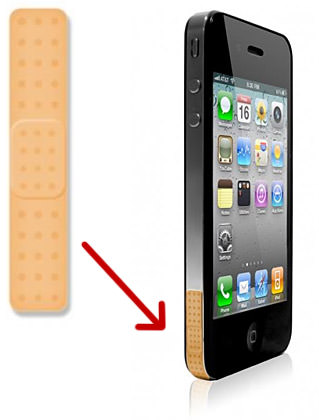 It's Antenn-Aid to the rescue!
And don't get me started on Apple's amazing "FaceTime" feature, which is the future made real...
But the main reason I upgraded to iPhone 4 was for the camera. My pocket camera is being held together with a rubber band and, rather than replace it, I decided to carry one less thing and just take snapshots with the iPhone 4. The camera has been so highly praised that I figured it was a realistic expectation, but was secretly worried it wouldn't live up to the hype.
And, while it is a vast improvement over previous iPhone cameras, it kinda doesn't live up to the hype. Particularly disappointing is night shooting. Sure the light sensitivity is improved, but the grain is outrageously bad... to the point of being unusable except at massively reduced sizes...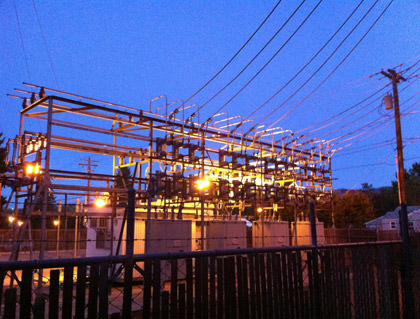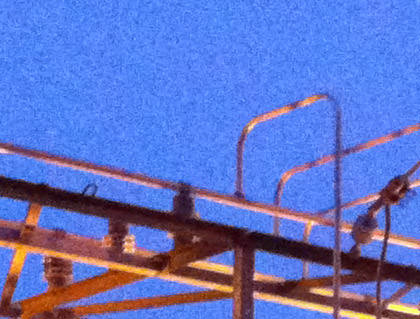 I shouldn't be surprised. The lens is just too small to accept enough light in a dim scenario like this. Shots in "normal" lighting are good... fantastic even... but it looks like my iPhone is no threat to my purchasing a new pocket camera for shooting in low-light. Darn it anyway.
Still, in every other respect, the iPhone 4 is pure WIN, and I really do love it. Heaven only knows what Apple has planned for the iPhone 5.

• Freedom? From watching the news and seeing people re-tweet Sarah Palin on Twitter, you'd think that actual terrorists were wanting to build a monument to the Islamic extremists who died during their 9/11 attacks ON TOP OF "Ground Zero" where the World Trade Center once stood. This is so absurd that it might actually be true, so I looked it up and was disappointed to discover that it was, in fact, not. Some American citizens are just wanting to build a Islamic cultural center and mosque TWO BLOCKS AWAY from Ground Zero on PRIVATE LAND. From what I've read, the mosque won't even be visible from the Ground Zero memorial that's being planned. This type of crazy shit drives me insane. The non-stop parade of lies and crazy exaggerations being sold to people for political gain on both sides of the political spectrum have me hoping for the complete collapse of democracy in this country. If people are so damn stupid as to keep falling for this kind of bullshit, then obviously they can't be trusted with democracy. If people are so hot to have somebody tell them what to think and don't care whether it's true or not, I suggest a nice dictatorship, with ME as Supreme Leader. I am more than happy to tell people what to think. Or to go fuck themselves.
UPDATE: I would have just said "Fuck you, Sarah Palin, you bigoted piece of shit," but Mayor Bloomberg is a much more eloquent and inspiring speaker than I could ever be (thanks for the tip, Etienne!)...

And now... time to put my aching head to bed.
Hopefully to sleep this time.