The big news of this past week here in the Pacific Northwest is the closure (and eventual destruction) of Seattle's Alaskan Way Viaduct, an elevated double-decker highway that runs along the city. Built in pieces over the entire decade of the 1950's, it's long been a controversial structure because it divides Seattle from its waterfront...

Photo by David Simmer II — Viaduct highlighted in pink, click image to embiggen.

Even though it's not solid like a wall, it's a big, clunky, ugly, double-layer structure which casts giant shadows that make it feel like a wall...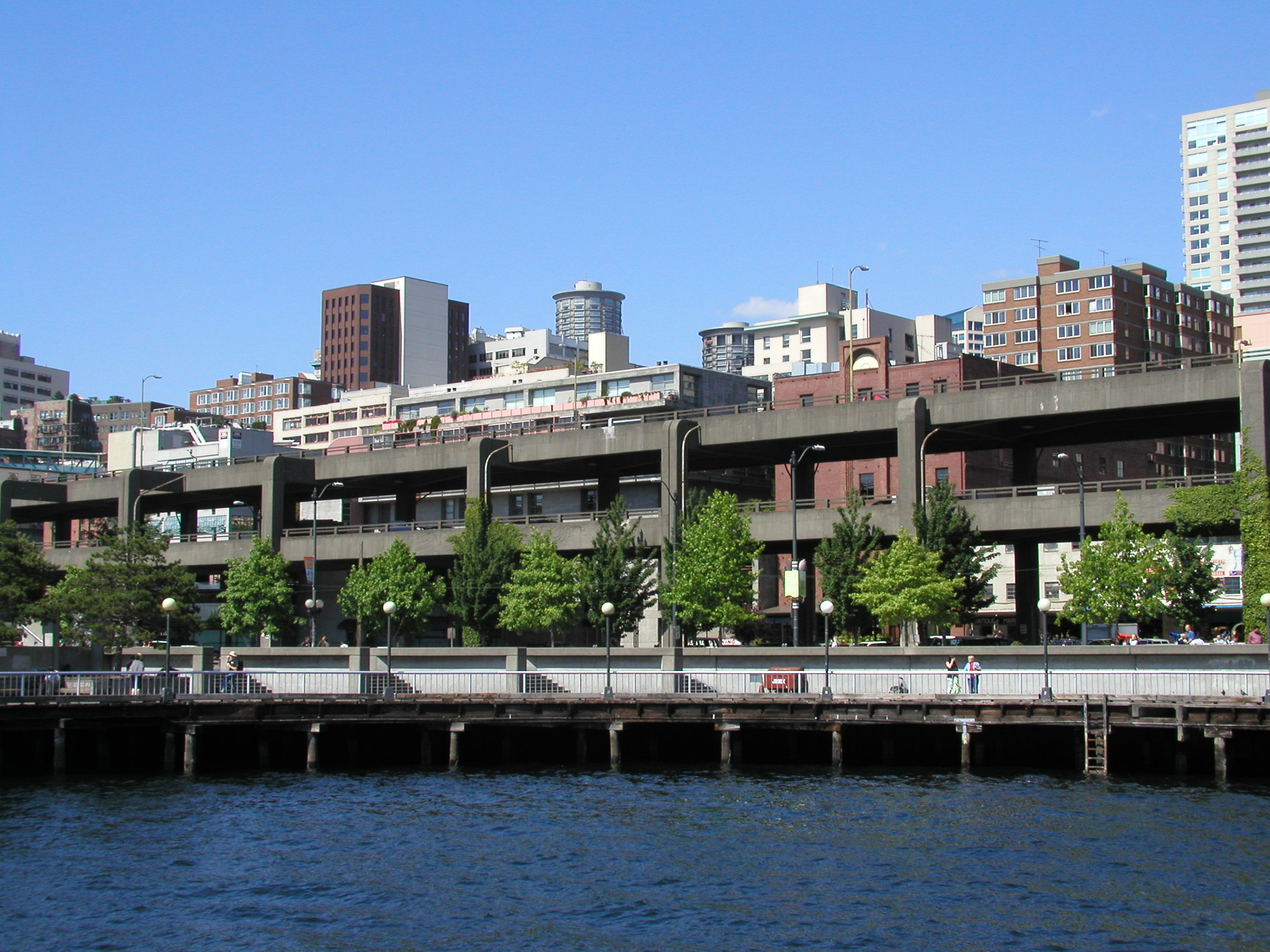 Photo by Waqcku — Courtesy of Wikipedia's Wikimedia Commons.

I've driven the viaduct many, many times when getting from my work in West Seattle to my hotel downtown. It's kinda scary at times because the lanes are a bit narrow and the exits are awkward. That being said, the views of the city and Elliott Bay could be stunning, as shown in this terrific drone video...

There are many reasons that removing the viaduct is a good thing. In addition to getting rid of an eyesore, it also gets rid of a major earthquake hazard. Like all cities along the Pacific Rim, Seattle is in constant danger of a major earthquake which could easily flatten the viaduct and pancake anything underneath.
To replace the viaduct, Seattle built a massive 2-mile long, $3-billion tunnel that runs the length of the city. We're told that it's far safer to be in the tunnel during an earthquake than on the viaduct, but I'm not anxious to find out first-hand if that's true. It is a really cool structure though...

Image Courtesy of WSDOT.

The digging began in mid-2013 using "Big Bertha," the largest tunnel-boring machine in the world at the time which cost $80-million. The construction was fraught with criticism and had its share of problems. The biggest of which was a 2-year delay that happened when Bertha broke down after less than five months of digging.
But now it's all over, the tunnel is finished, and roads are being rerouted over the next three weeks so traffic can finally use it starting February 2nd.
And while the new SR-99 Tunnel is exciting and everything, it's not a perfect solution.
For one thing, the tunnel is two lanes in each direction. The viaduct was three. This will be offset, in part, by a new surface street which runs where the viaduct used to be. But the fact remains that there is one less lane bypassing downtown Seattle, which could be highly problematic given how bad the traffic is.
Another issue is that the tunnel will be an electronic toll road to drive on. The price will vary depending on traffic and such, but it kinda sucks that you'll have to spend minimum $2 a day to get to and from work if you live north of the city and work south of the city (or vice-versa).
Another issue is the loss of an area many of Seattle homeless use as shelter.
Yet another issue? Just look at this hot mess...

Image Courtesy of WSDOT.
I hope Google Maps is ready to navigate this pretzel of a roadway.
The plans for the space once occupied by the viaduct look nice. In addition to the afore-mentioned surface street, there are plans for greenery, bike lanes, a pedestrian walkway, some parks, and other cool stuff which will completely transform Seattle's waterfront...

Image Courtesy of Waterfront Seattle Program.

Overall, I like the plans I've seen very much. Where it falls apart for me is the proposed signage, which is trying way too hard to do way too many things. Signs should be pretty, yes, but their primary function should be to TELL PEOPLE HOW TO GET TO WHERE THEY WANT TO GO. But the "wayfinding markers" that were in the proposal kit are a jumbled mess of ideas that don't do a very good job of it...

Image Courtesy of Waterfront Seattle Program.

I mean, seriously, how in the hell is this ugly mess helpful? Especially from a distance. You'll have to be right on top of it to make use of the thing...

Image Courtesy of Waterfront Seattle Program.

The design also looks dated before they've even been built. I am hopeful that common sense will prevail and somebody will rethink things to create a more clean, simple, easy-to-read signage design which also reflects Seattle culture and its location in the Pacific Northwest.
And so...
I am anxious to see how all the plans pan out. Seattle has the potential for one of the most beautiful waterfronts in the country. But it's been buried under chunks of steel, concrete, pavement, and heavy shadows for far too long.
It will be nice to see all that change.