My new cat sitter doesn't start until tomorrow, so Jake and Jenny are on their own for another day. Not a big deal, as I've been gone a lot longer than this and they've been fine. Thanks to Litter Robot, Feed-and-Go, and my security system, they are in good hands. So there's no need to worry about them. And, hey, if something comes up, I can always call a neighbor to check in. It's all good.
Except...
It's tough not to worry when you're 2,500 miles away and you've got all this crazy crap going through your head.
Take, for example, feedings.
In the past I'd fill the automated feeder to max levels so I was assured that the cats wouldn't go hungry while I'm gone. But then Jake had to be put on a diet, so that wasn't a good option any more. Now I put the exact amount each cat gets in the feeder so they aren't over-eating.
But then I started worrying that if Jake scarfs down his dinner... and wants more (which he always does)... will he push Jenny out of the way and steal her food? This is a genuine concern. He's a much bigger cat and, while Jenny doesn't put up with his shit, she's also not in a position to shove him back when she's such a petite little lady.
Last night I got my answer. The feeders activated and Jake and Jenny came running to eat...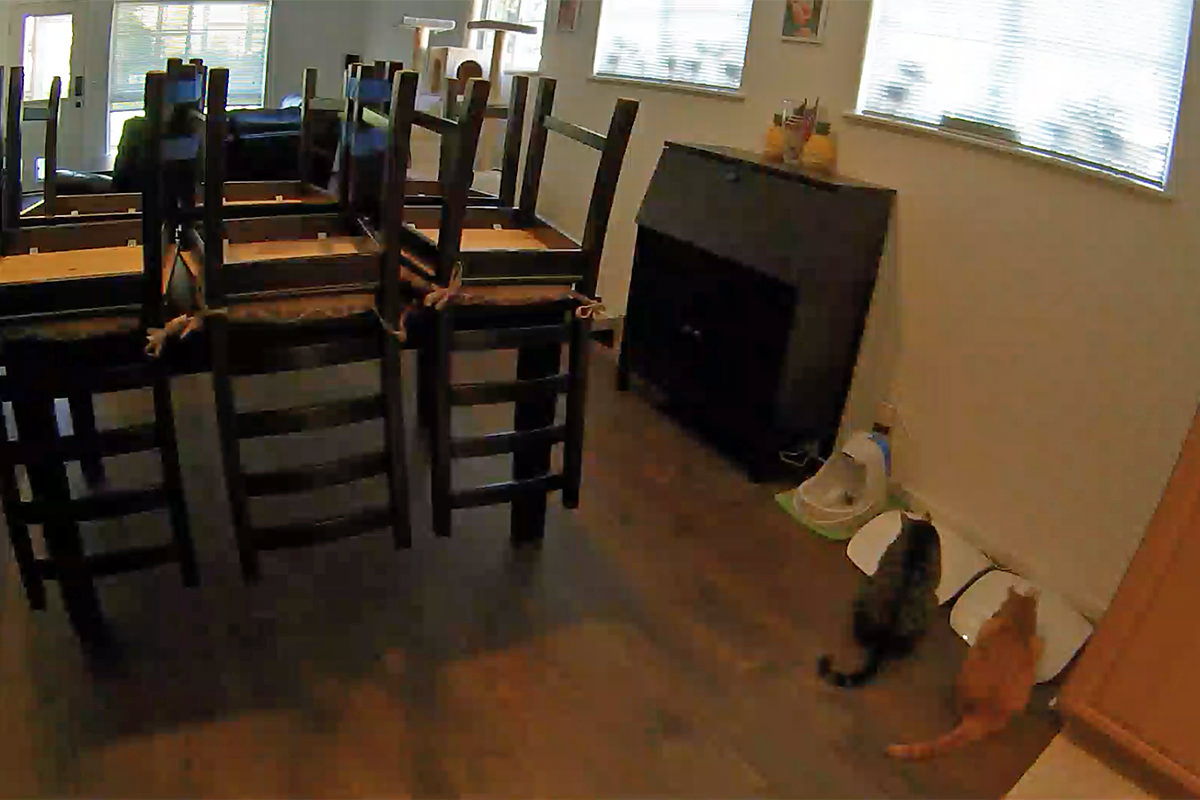 As expected, Jake mowed through the bulk of his dinner before Jenny had even taken a couple bites. Would he force his sister out of the way to steal her food? Turns out... no... he wandered away...
That's a relief... but I know for a fact that when he's hungry later on, he won't hesitate to eat whatever food is left, and he doesn't care whose bowl its in.
In other news... Carl got stuck under the media center this morning. I heard three beeps over the security camera, which means he's sucked up something he shouldn't have. Probably a stray wire underneath. Jake was most concerned when his robot pal stopped working...
I asked Jake to pull Carl out and take him to his charging station, but that was apparently asking too much. Instead Jake climbed the cat tower and took a nap.
Which doesn't sound like such a bad idea. I've been up since 4:30am and work is just getting started now at 2:30pm.
I'm going to need a bigger Coke.