Posted on May 24th, 2022

I've been watching a series, The Offer, on Paramount+. It's about the making of The Godfather with all the crazy shenanigans that went on behind the scenes. It's a hot bloated mess of a series which has, at most, 6 episodes worth of material that's been dragged out to ten episodes (seven of which have aired). But the stuff that's actually relevant is entertaining enough to maintain my interest, so I endure.
The biggest surprise of the show has been who they got to play Marlon Brando... Alex Karev from Grey's Anatomy! I haven't watched the show since Season 02, so it took me a minute to recognize him, but he did a darn good job in an impossible role... so much respect to Justin Chambers.
Watching the series naturally lead to me to rewatching the entire The Godfather trilogy because I just can't help myself. I've seen them all a dozen times, but they're films I can watch over-and-over, and so I do.
The Godfather...
...is a problematic movie featuring time jumps that are glossed over quite badly, resulting in a choppy mess. It also has some violence that's almost comical in implementation. But then it has some of the most mind-bogglingly fantastic performances ever committed to celluloid. Say what you want about Marlon Brando, but he was glorious in his every moment on-screen. And then there's Al Pacino with his riveting, star-making role that culminated in one of the best finales of any film ever made.
The Godfather, Part II...
...is equally problematic in that the dual-narative structure, while ambitious, was better in concept than implementation. That being said, I love it every bit as much as the first film. The cinematography and set decoration create a lush, gorgeous world for the characters to inhabit, and are almost as memorable as the characters. Pacino's cold and calculating take on Michael Corleone is about as compelling as it gets. And De Niro's performance is flawless from the moment he walks on the screen.
The Godfather, Part III...
...in the interest of full disclosure, I was not a fan of this film when it debuted in 1990. Some nutty story beats married to an abysmal performance by Sofia Coppola in a key role plus Robert Duvall's absence left me cold. It was an unsatisfying conclusion to the trilogy. Over the years it's grown on me, however. I love the way the ending harkens back to the first film (with Connie, a character I couldn't stand in the first two films playing a satisfying part), and the way that Michael watches his world spin out of control while he's helpless to do much about it. While I don't think it's in the same league as the first films, it doesn't diminish them in any way, so I've made my peace with it.
There was a rumor that they were planning on picking up the movies again, but focusing on Vincent (Andy Garcia) as the next generation of Corleone. While I think that a film focusing on a hot-headed Don who wanted to watch the world burn could have been interesting, I'm grateful that it never happened though. The time frame for these films had passed and the only reason to go on would be to exploit a great franchise for the money instead of anything creative.
Not that this has ever stopped Hollywood in the past, of course.
Posted on May 23rd, 2022

As you may (or may not) have noticed, my blog wasn't updating this past week-and-a-half.
I continued to write as I always do, but when I went to post anything to the site, Blogography returned an error saying that my "connection had been refused." I automatically assumed that my WordPress installation was borked because it keeps happening with increasing regularity.
But this time it wasn't WordPress's fault.
Eventually I figured out that the VPN node I had been using to access the internet was the same node used by somebody trying to hack my blog. When my security plugin on WordPress detected the attempt, it blacklisted the IP address. When I switched to a different VPN node, I was able to post everything that had been stacked up.
What are the odds?
This does have me concerned that people who use VPNs (and, seriously, everybody should be using VPNs) are going to have increasing difficulties attempting to reach content on the internet.
And where would the internet be without Blogography?
Far, far worse off, I'd imagine.
And, oh yeah... the trailer for the new Mission: Impossible movie dropped today! It looks bonkers cool!
This entire franchise has had some great stories. And the stunts are incredible. Can't wait!
Posted on May 22nd, 2022

The sun may be shining outside where I'm at, but I'm not out enjoying it as I should be... because an all new Bullet Sunday starts... now...

• Breakfast! The season finale of Saturday Night Live was fairly mediocre... despite having Natasha Lyonne hosting and great send-offs for Kate McKinnon, Aidy Bryant, and Pete Davidson (and apparently Kyle Mooney is leaving as well?). HOWEVER... it introduced me to Japanese Breakfast, a band I never knew existed but fell in love with immediately. This has to be one of my favorite SNL performances ever...

• The Valet! I'm a huge fan of Eugenio Derbez, and his new movie The Valet on Hulu is great. At first I worried that it wasn't taking advantage of his talents, but boy did he bring it in the end...
Worth your valuable time. And we're also getting a second season of his show "Acapulco," which is something else you should be watching.

• Baymax! My favorite animated character since Stitch from Lelo & Stitch and Sully from Monsters, Inc. has his own show...
And how great is it that they kept the other characters from Big Hero 6 to be in it as well?

• Umbrella Academy 3! I've been in awe at just how good the Netflix adaptation of the Umbrella Academy comics have been... actually improving on the material in some ways. And now we're at Season 03 and it's looking as cool and bonkers as ever...
With Netflix being an absolute shit-show as of late, and their tradition of killing shows after 2 or 3 seasons, I'm more than a little worried about getting Season 04.

• She-Hulk! This is what happens when a show looks like it has a very good chance of exceeding your expectations. People of earth, I give you She-Hulk: Attorney at Law...

• Marvel! And now that Ms. Marvel is nearly upon us, Marvel Studios is giving us a bigger taste of what's to come...
I. Cannot. Wait.
If nothing else, casting Tatiana Maslany in the lead is 100% pure win.

• Heartstopper Redux! And lastly, the news I've been waiting for ever since I watched the show... Netflix has renewed Heartstopper for two seasons...
While this is incredible news... had they waited any longer, the actors would be getting too old to play their characters... it's also a bit disappointing. From my estimation, they'll need four seasons to get through all the graphic novel material which has defined Nick & Charlie's relationship, so why not renew for three? And boy oh boy do I hope that they fold in more material for Charlie's sister, Tori (or, better yet) give her a series of her own and adapt Solitaire). In any event, not all the news coming out of Netflix is bad, it seems.

And now I need to get outside and tie up some of my flowers before they take over my yard!
Posted on May 15th, 2022

You can't keep a good blogger down, even in the middle of your blog not allowing you to upload images for some reason... because an all new Bullet Sunday starts... now...

• WAAAAAHH! The bastards at CBS canceled Magnum P.I.. The show's first season was incredible. The second nearly as good. They faltered a bit in the third season, but rebound beautifully in the fourth (and now final) season. What's interesting is that the final episode tied up a few things and answered a question which everybody had since the beginning... will Magnum and Higgins ever get together?
What's so shitty about all this is that Magnum P.I. was a fairly sold performer. Not stellar, but more successful than some of the stuff which gets renewed. Guess CBS is dedicating themselves to another shitty reality show that they can buy for cheap and cancel after a year. Well, duly noted. The entire cast was gold, I can't wait to see where they end up next.

• Lost! Okay... maybe it's the Hallmark fan in me, but I really liked this one! Lost City is funny, adventurous, and surprisingly sweet...
Everybody went all-in on their roles. Sandra Bullock, Daniel Radcliffe, Brad Pitt, all great... but it was Channing Tatum who completely owned his character. He was unafraid to play dumb as a box of rocks, and I loved it. If you see the movie (on Paramount+, the worst of the worst of streaming services), be sure to watch the credits for a scene that's pretty great.

• Remo! Fred Ward, Star of The Right Stuff, Tremors, Dies at 79. Except Fred Ward will forever be Remo Williams to me...

Though having Joel Grey play Korean will always be cringe.
And he was a big part of why Big Business ended up working as well as it did...
There were other roles, of course. The guy did great work for a long time. Rest In Peace, sir.

• Heartstopper! This actually is hope...
Kids are going to believe whatever they're taught to believe. But access to information is easier than ever, and sometimes the truth wins out.

• Fruit! When I was a kid, my mom used to pack little tins of Dole fruit in my lunch. Now, of course, they've switched to plastic like everything else. But here's the problem... there is no way... NO WAY AT ALL... to open these little containers without juice pouring out everywhere...
I have tried everything. Usually I go to the sink to open them, but when I'm trapped on a call and can't leave, I have to open it here. This is me trying to be my most careful when opening my pears... FUCKERS!!! Now I look like I had an accident in the bathroom or something.

• Moose! YESSSSSS! WHY IS THIS NOT AVAILABLE IN THE US?
Mayo Mousse. Genius.

I'm guessing eventually I'll figure out how to post this. Probably.
Posted on May 11th, 2022

It's no secret that one of my favorite movies of all time is The Fifth Element.
And this is the 25th anniversary year, believe it or not.
I can't even imagine how many times I've seen this film. At least two dozen. And I love it more with each new viewing. It's beautiful. It's visionary. It's a really good story. And now Milla Jovovich is talking about her part in it all to Vogue...
And now I just want to watch it yet again for the millionth time.
A part of me is glad that they never made a sequel.
A bigger part of me would really have liked to have gotten one.
Posted on May 8th, 2022

It only seems as though we're descending into a hells cape from which there's no escape, but don't let that get you down... because an all new Bullet Sunday starts... now...

• Water! Looks amazing, as we knew it would...
And no Paparus font to be found!
But the real question is... Will it have a decent story? Time will tell.

• KHAAAAAAN! Couldn't agree more...
It was so masterfully done that few other movies have managed to top it... despite there being a huge advancement in special effects since the movie was made.

• Virgin?! During the boring, irrelevant bits of The Offer (of which there are MANY), I have been running through the latest TikTok meme. It's glorious. They have a bunch of geeks ridiculing their own hobbies and lives with the "ARE YOU A VIRGIN?" sound (here's a link in case TikTok is being a dick)...
These are my people! I just love people who have a sense of humor about themselves.

• New Julia! Much to my happiness, it was announced that HBO Max has renewed Julia for a second season. If you haven't seen it yet, it's a series exploring Julia Child's early days as a television star, and it's gold...
This is a show that you really just don't want to end. And now we know that it isn't over just yet.

• Thor Four More Thor! I'll bet everybody who was mouthing off over Natalie Portman not being buff enough to play Thor are feeling pretty silly right now...
This looks fantastic, and I cannot wait to see what Taika Waititi has done this time around.

• Cosigned! Yeah, pretty much this...
It is fucking horrific that Roe vs. Wade is set to be overturned... and this is coming from somebody who personally doesn't endorse abortion outside of cases of rape, incest, or the health of the mother being endangered. But, for the millionth time, my personal feelings have no fucking bearing whatsoever on what somebody else chooses for themselves... and neither do the feelings of legislators and members of the fucking Supreme Court.

• BRAINS! Well here's something you should not watch before going to bed...
And, if you did, sleep tight!

And now I'm going to bed. AT LEAST I HOPE SO!
Posted on May 1st, 2022

The first day of May is here, but I'm pretending not to notice... because an all new Bullet Sunday starts... now...

• TREK! Early reviews for Star Trek: Strange New Worlds are trickling in, and more than one person has said it's the best new Trek in decades. Which would be refreshing. Because while I loved the first season of Discovery, everything that followed has been a whiny mess that I can't even bring myself to watch. And this does look pretty epic...
Finally. Star Trek being Star Trek again.

• KHAAAAAAAN! And speaking of Star Trek, I 1000% AGREE...
Even though special effects have gotten a lot better than this, the stakes rarely seem to hit this level. I remember when I first bought Star Trek II on LaserDisc, I watched the space battle over and over and over again. Still holds up.

• VAX! I'm not a big Biden fan, but he did okay at the White House Correspondents' Dinner. And his remark at the 4:00 mark had me howling. Whomever wrote that joke deserves an award...
I've watched this twice, and am just in awe that President Biden has overcome a stutter to be this good at public speaking.

• Trevor! And if you haven't seen Trevor Noah's remarks from the White House Correspondents' Dinner... it's a treat...
A part of me is dying to know how much of that Trevor wrote himself. I'm betting it's a significant chunk. The guy is smart as hell on top of being one of the funniest people on earth.

• Tampons! I love seeing somebody being true to themselves, living their best life, and still having kindness in their heart to think of others in a world where so many are showing them nothing but hate (here's a link in case TikTok is being a dick)...
She isn't taking anything away from anybody, so just be happy they know who they are and have found the courage to live their life authentically. We should all be so brave.

• Fairness! And speaking of transgender persons (here's a link in case TikTok is being a dick...
Some very interesting points made. And yet... here we are.

Hope your Sunday is a good one.
Posted on April 22nd, 2022

IT'S LET'S WATCH A MOVIE WEEK! Where I live-blog me watching a film and comment along the way! Most of these films I watched a while back, I just wanted to hold off talking about them until more people had a chance to see them. Because of the pandemic, and all that.
Today's movie is ... Death on the Nile!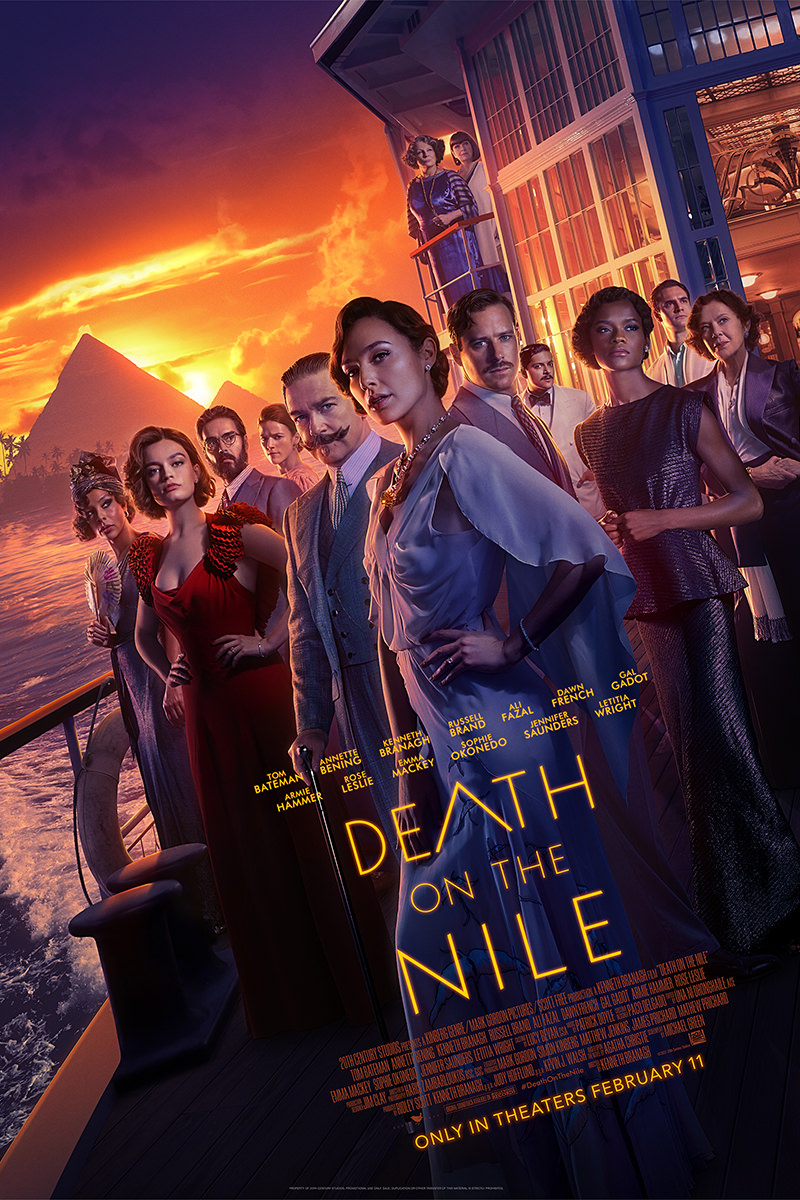 If you're somebody who just wants me to summarize and not have to read through the smalltalk to see how I felt, here you go: The 1978 film, Death on the Nile, is a far, far superior adaptation in every possible way (it's one of my favorite films ever). This new version is lazy, sloppy, and makes changes for the sake of making changes so that everything is about Hercule Poroit, not because they in any way improve the story. In short... go watch the Peter Ustinov original. It's amazing in ways that this version will never be.
GRADE: C-
If you haven't seen it yet, this will obviously be a spoiler-filled entry (I TOTALLY REVEAL THE MURDERER!). And probably not make a lot of sense. You've been warned.

Okay. We're using a de-aged Kenneth Branagh to show that he has always been hyper-observant. Interesting.
Ah. This entire pre-story exposition... ten whole minutes of scree-time... was to explain... HOW POIROT GOT HIS MUSTACHE?!? REALLY?!? Lord. And holy shit is this special effect close-up of the side of his face bad. His ear is hyper-focused while everything else is blurry? Takes me right out of the scene.
They're correcting a bit of a continuity error here. In the previous movie (Murder on the Orient Express) they said he was going to solve a murder mystery in Egypt. But that couldn't have been "Death on the Nile" because it wasn't a mystery he was called to solve, it was a mystery he ended up in the middle of. So they offhand-mention a different murder in Egypt that he solved.
Welp. They made Salome Otterbourne a musician instead of a writer. How in the hell will this play into her being a suspect now? Her whole deal was that she was being sued for defamation by the murder victim! WHY? HOW? Note that Otterbourne was played by the incomparable Angela Lansbury in the first film. She gave it 1000% and is one of the best parts of the movie.
This must be the last movie from Armie Hammer before he got cancelled? I always liked him as an actor. No idea he had a canibalism fetish, allegedly.
Gal Gadot as Linnet Ridgeway. In the original film, she was played flawlessly by Lois Chiles (who was famous as Bond-Girl Dr. Holly Goodhead in Moonraker).
All of this stuff with Poirot (now it's him being impulsive-compulsive over the number of desserts on his table?) is not important to the story... so why?
Jackie in the original was played by Mia Farrow and she was flawless in the role. Jackie ends up being driven mad (though not really) and Farrow totally got into in.
They really ripped away a huge chunk of Poroit's face as an excuse as to why he has such an elaborate mustache. Except his mustache wouldn't cover that big of a wound... nor would there be hair follicles to allow it, I think. So once again, what's the point of it all?
The pyramids are actually right at the edge of Cairo (not out in the middle of the dessert as is often thought), which means they had to go back in time with a CGI representation here. Gorgeous.
So... they're going to replace Colonel Race with Bouc (from the previous movie) in some kind of wild coincidence they they both happen to be at the Great Pyramid at the same time? Well, I do like Tom Bateman, but this is a really heavy-handed way to get him into the story. And of course Bouc is friends with Linnet Ridgeway and that's why he's in Egypt. Wow. This is bad. But they did get Annette Benning to play his mom, so I guess that's something.
In the first movie, they transitioned from Linnet meeting Jacquie's fiancé Simon... to Linnet and Simon's wedding in a smash-cut that was brilliant in execution.
So the socialist is not some young idealistic man as in the first film, but Jennifer Saunders? Who is wealthy? And has Dawn French as a caregiver? In the original film, there was a casting coup by getting Bette Davis to play this character (but not as a socialist, instead she was a bitter old wealthy woman that liked to torture her caregiver WHO WAS PLAYED BY DAME MAGGIE SMITH!)
And here's Bouc with an absurdly stupid monologue to explain the cast (and future murder suspects). This is so lazy. The original film managed this is a much more organic way. Of course, they've gone and made the relationships between characters a hell of a lot more intricate and unnecessary this time, so I guess they pretty much had to do it this way.
Cousin Andrew the corrupt lawyer was played by George Kennedy in the original. Heaven only knows how they will alter the character in this film.
So Rosalie, Salome Otterbourne's daughter, was a classmate of Linnet, and is now Salome Otterbourne's niece AND manager? I guess that's one way to make the part large enough to get Leticia Wright willing to play it.
And they've replaced Jack Warden as Doctor Besner with Russell Brand. And made him an ex-fiancé for Linnet? Lord, this is more convoluted than the British Royal family.
And heeeeeere's Jacquie. They are going for more of a slow-burn crazy this time instead of the manic crazy that Mia Farrow brought to the role last time.
I can only guess that the reason they wanted to use the wedding honeymoon on the Nile as an excuse to get everybody on the boat was to avoid comparison to the way they got everybody onto the train in Murder on the Orient Express. BUT THAT CHANGES THE STORY! Argh. They are making everything way too complicated and silly. And that's despite the fact that they are a lot more serious than the first movie was.
This whole pageantry crap with Gal Gadot adds nothing to the story. So what is it for? It's like they are removing the stuff that made the mystery Mae sense for crap that doesn't matter.
And they're finally on the Nile. In the original Agatha Christie novel, they provide a literal map at the front that shows you how all the cabins were arranged. It was critical to understanding how the murder(s) happened. The boat was a rather small, intimate affair. Unlike the massive riverboat
Kids playing in the river as the boat heads out. A striking difference to the kids who moon Bette Davis with their bare asses in the first film.
They actually had to write a scene where Linnet has to explain to Poroit that she doesn't feel safe with anybody on the boat. Lazy as hell. In the first movie it was far more subtle, which made the murder a bit more interesting.
Corrupt lawyer Cousin Andrew is the same in both movies. But this time, it's Rosalie who warns her about signing the contracts IN THE MOST RANDOM WAY POSSIBLE. In the first movie it was Colonel Race, and his entire reason for being on the trip was because he was asked by Linnet's British lawyers to keep an eye on the American lawyer, who couldn't be trusted.
Wait. Salome Otterbourne is going to be a romantic interest for Poirot? What the hell? AND HER NIECE ROSALIE IS IN A SECRET RELATIONSHIP WITH BOUC?!? BECAUSE OF COURSE SHE IT! THIS MOVIE CAN'T FUCKING HELP ITSELF!
Annette Benning is missing her carmine red paint. I can already tell that they are changing yet another part of the murder. It's nuts that a critical clue would be altered like this.
More idiotic distraction between Poroit and Salome Otterbourne that in no way services the story in any capacity.
SPOILER ALERT: THE MURDERER REVEALED HERE! The entire point of the murder was for Simon to inherit Linnet's money and go back to marrying Jacquie so they can both be rich. In the first movie, the giant block that fell nearly killed both Linnet and Simon. But in this version, SIMON LITERALLY SAVES HER LIFE BY PULLING HER OUT OF THE PATH OF BEING CRUSHED? HOW DOES THIS EVEN MAKE ANY FUCKING SENSE?!? HE SAVES HER SO HE CAN MURDER HER LATER? It's like... I don't even know what to think of this any more. Why not just push her into the path of the stone? This is dumb.
Absolutely nothing from Russell Brand's Dr. Besner. I guess once they announced that he was engaged to Linnet, his motive has been made and that's the end of it..
And when it comes to Louise, there was one offhand comment about her once being engaged. But her entire motive is missing. In the original film, Linnet was shown to be an awful person. It was no wonder she was murdered. The reason her maid, Louise, hated her was because Linnet refused a dowry because she had the fiancé investigated and didn't like what she found.
God. Then they make Poroit a creeper who takes Rosalie's journal. Something that was not a mistake. And the only reason he would have done that was to learn more about her aunt. STALKER MUCH? And it's like... WHY?!?
This movie would rather spend time doing anything except advancing the murder plot along. What does Poroit's tragedy have to do with anything? Anything at all? They could have been developing characters and foreshadowing murder motives. But nope!
"You were the only one who never cared about the money." Which is true I think. But boy did Simon care about the money.
This whole performance-as-an-alibi ordeal is entirely over-the-top, and yet it's understated compared to the original movie? How did THAT happen?
Russell Brand gets to speak!
And now, half-way though the movie, the murder finally happens. Gotta get their money's worth out of Gal Gadot's paycheck, I guess. Maybe it only seemed like it happened earlier in the first movie?
Simon's a great actor. He's even fooling the great Hercule Poirot!
So here we are... panning across all the suspects... and yet there's nothing to make you believe that any of them actually did it. In the original film, you have reason to believe that all of them were capable of killing her by now. AS IT SHOULD BE! This is awful.
See... and here we are finding out after the fact that people have motive to kill Linnet. And being sloppy about it. Poirot is drawing attention to Louise's story in a way that spoils a future plot point. The interrogation of Dr. Besner and his absurd past relationship with Linnet (it feels tacked-on BECAUSE IT IS).
WHAT. THE. FUCK? They are not doing reenactments to show how each person could have been the murderer? THAT'S THE BEST PART! It makes the viewer feel as though anybody could have been the murderer, because that's the way the story was designed! The first movie was absolutely masterful at the reenactments, which made it a truly great adaptation. This is absurd. The movie has gone from a C to a C- now.
Jennifer Sunders is Linnet's goddaughter? AND her servant Dawn French is her lover? How progressive to retroactively add lesbians to Agatha Christie's story.
So... Salome's motive for murder... is that when Linnet was a little girl she got her kicked out of the pool for being Black? At least they dismissed it immediately with the truth. If Salome Otterbourne were to kill everybody who was racist against her, she'd be a mass-murderer.
Gawd. In the original movie Bette Davis coveted Linnets pearl necklace, and her motivation for murder was to steal them. Her murder reenactment is LEGEND. This movie utterly fails in this. The necklace is found in in Annette Benning's stuff. In the original they were found on Linnet's corpse. SO much more dramatic!
Okay then. Poroit was not back in Egypt to spy on his old friend Bouc at the request of his mother Annette Benning. And that's why he took Leticia Wright's diary. Well, I suppose that's a little better. Not quite so stalkerish.
Louise is dead. And though her trajectory and purpose in the story is the same, they really sabotaged the impact of it by having Poroit draw attention to it before the story needed to. Yet another pity in a long line of pity.
Fight! Fight! Unnecessary fight! And an unnecessary flashback for Poroit. Eyeroll.
And now Bouc is a suspect. This is just absurd. In the original movie Colonel Race was a support system and sounding board to Poroit throughout the investigation. What we have here is just nonsense. Poroit is mad at Bouc for lying to him about finding Linnet dead and stealing the necklace and witnessing Louise's murder and not telling him about it. Which is a heck of a take given how Poroit was only there to spy on him and had been lying to him the entire time.
They killed Bouc! Guess that Tom Bateman won't be in any more sequels. This is just rubbish. More drama to heap on Poroit instead of focusing on the story. In the original film, it was Salome Otterbourne who witnessed Louise's murder and got shot... square in the middle of her forehead! I can't believe how utterly bonkers this version of the story is.
God. Overly-dramatic much? Locking everybody in the room and stopping the ship so Poroit can have his moment? This just keeps getting worse and worse.
They kept Cousin Andrew as the guy who pushed the giant block on Linnet... only for her to be saved by Simon. But it plays as absolute nonsense this time around.
In the original film, Simon used Linnet's red nail polish to fake blood from being shot. This time it was Annette Benning's paint. In the original this provided a clue. But in this movie? I have no idea. Sloppy. Why change something that works? And the bloody "J" that was left at the murder scene is absent this time around, which drops a cool point... THE ENTIRE WAY THAT THE MURDER WAS COMMITTED WAS TO THROW ALL SUSPICION ON JAQUIE SINCE SHE HAD AN AIR-TIGHT ALIBI!
Now making the focus of the murder reveal be... Poroit with this emotion over Bouc? This movie didn't think ANYTHING through, did it?
Ugh. Even the murder/suicide was handled so much better in the first movie. I've replayed the scene several times, and her arm suddenly ending up aimed at both of them through Simon's back never lines up. It all makes no sense. And would such a tiny gun/bullet even penetrate both of them like this? In the original, Jacquie shoots Simon, pays her respects to Poroit, then shoots herself. It was so much more satisfying. This was just so... meh.
SO AWKWARD. Everybody has to make an awkward pause while disembarking so they can have a moment with Poroit. And we're robbed of Bette Davis and her classic line "This boat is beginning to resemble a mortuary!"
And since this movie is all about Poroit instead of the mystery, here he is pining away over Salome Otterbourne... clean-shaven! And, yep, no way his mustache was covering that. I can only guess that Salome Otterbourne will be murdered in the next movie and drive the plot with an angsty Poroit, who grows his mustache back. Because why not? These films are all about Poroit, and the murders themselves are incidental.
Ugh. This movie should probably be graded a D because it's such a step down from the 1978 version... but it did have a great cast and excellent visuals, so I guess a C- it shall be.
Posted on April 21st, 2022

IT'S LET'S WATCH A MOVIE WEEK! Where I live-blog me watching a film and comment along the way! Most of these films I watched a while back, I just wanted to hold off talking about them until more people had a chance to see them. Because of the pandemic, and all that.
Today's movie is one that I saw only recently... The Hating Game!
If you're somebody who just wants me to summarize and not have to read through the smalltalk to see how I felt, here you go: The Hating Game is darn good at being exactly what it was meant to be... a fun, clever, rom-com romp. Sure it falls into a few tropes that had me wincing, but it also has one of the most romantic things I've seen in one of these.
GRADE: A
If you haven't seen it yet, this will obviously be a spoiler-filled entry. And probably not make a lot of sense. You've been warned.

I'm just going to get this out of the way... LUCY HALE IS ONE OF THE MOST GORGEOUSLY ADORABLE WOMEN I HAVE EVER SEEN! I MEAN, DAMN!
The whole "I hate him until I love him" trope has been used in half the Hallmark movies ever made, so I'm excrutiatingly familiar with the concept. And while Lucy Hale alone is enough to make me want to watch this film, they better have something more than that to make this movie worth my time.
ADHD is real, y'all. You can hate on the guy for whatever you want, but over something he can't control? Not fair!
Yeah. This is going to be another one of those movies where the cast wears hugely expensive wardrobes that they couldn't possibly afford with their job.
Oh yeah. There's one in every office... somebody who slides through their career on the hard work of others.
"Birthday Turkey!" LOL. Yeah, I can tell already that Lucy Hale is going to be the reason this movie works. If she can deliver lines like this and sell it, she can deliver anything.
Corbin Bernsen! I've always liked him. But it was his work on Psych that made me love the guy.
Nothing like a little cutthroat competition to make your heart melt!
"Shortcake?" Rude!
I'm not ashamed to admit... they could have made the entire film be two hours of Lucy Hale putting on lipstick and I would watch.
The witty banter is on-point so far. It's approachable, clever, and doesn't grind the movie to a stop.
"Shrimp?" Rude!
Who is this guy? Austin Stowell? Do I know him? He's not new... his IMDB page is pretty respectable. But I don't recognize him from any of these works. And this just in... HE PLAYED LARRY KING IN BATTLE OF THE SEXES?!? Wow. I can only guess that it's not that Larry King. Must be a relative of Billie Jean King?
Sex dreams. So annoying when they're with somebody you hate.
LOL. Pratfalls are never the answer, but it totally works here.
"Sex dream? Was I in it?" Cutting right to the point. I like this guy.
Okay. The dialogue in this is film is worth the price of admission.
Lord. They really went overboard with making this design guy as dorky as possible. I can relate.
This movie is surprisingly well-shot. It always looks good, even in mundane scenes. And then they go and insert these beautiful establishing shots which drive it home. Cinematographer Noah Greenberg looks to have been around a while, but the only thing I've ever seen of him was his work as DP in Doom Patrol.
We're what... only a quarter of the way through the movie... and they've already dropped the pretense! Exciting. What does this mean for the rest of the film? I'm intrigued!
"Bailey's. Rocks" They are really working overtime to make poor Danny a hopeless case. Kinda lazy.
So. It looks like Josh is the nice guy in this scenario. Refreshing.
How can she afford this amazing apartment? She's a publisher's assistant in a struggling publishing company?
He's a Mac guy. Usually that (and sexual solidarity) would have me be all "Team Josh!" But Lucy has much better lips.
Lucy has an active (and violent!) imagination. I love her more now.
So Lucy is a total pushover... with anybody except Josh.
I've never been paintballing. Looks like fun, though I'd probably suck at it.
The number of relationships that begin when a person pukes on another person seems high. In the movies, anyway.
When I'm sick... especially throwing-up sick... the last thing I want is somebody taking care of me. Just leave me alone to puke in peace, thanks.
I can only guess that when we see Josh's place, it will be immaculately organized. The set designer knows their stuff.
Isn't Josh afraid of catching whatever bug she's plagued with?
"I like her!" Yeah, get in line, buddy.
The old "Younger brother gets married before the older brother is embarrassing" trope. Some people just don't want to get married (like me!) and that should be okay.
So... not quite half-way through and there's already a love story. Which means something is going to come along to break them up so they can get back together. Groundbreaking.
God. The writers really want Danny to be the worst. Mission accomplished.
Yeah. I hate to say it, but Josh is quickly looking too good for Lucy. THE AUDACITY!
He is very tall. Or she is very short.
Okay. I really am Team Josh. His reasoning here is spot-on. As an aside: his breath must smell incredible for him to be breathing all over her like this.
Oh noes. There's no chemistry at all with Danny. I never saw that coming given how he's been portrayed as somebody who is essentially not worth her time.
Well, shit. This would be the end of a Hallmark movie.
Of course his place is frickin' amazing. My dream apartment, essentially.
HOLY SHIT HIS APARTMENT IS INCREDIBLE!
Obviously they couldn't have hired a normal guy to play Josh. It had to be somebody with impossibly defined muscles.
"Maybe some other time?!? That's what you say when you turn down a muffin, not sex!" — I sure hope that Josh has a really good reason for not sleeping with her. Likely just trying to make him the anti-Danny. He respects her too much!
"Roll Tide!" — LOL.
Lucy really knows how to dress to accentuate those incredible eyes.
Ha! Mop socks! I actually considered buying them... until my over-priced hardwood ended up having slivers all over the place.
Oh noes. Only one room left at the inn. Didn't see that coming.
"No keys. Everything's unlocked." The look on Josh's face is all of us right now.
Yeah. They didn't hire Austin Stowell for his looks at all.
This soundtrack is pretty great. I will have to look up these songs and put them in a playlist.
No need to look at the credits. The writer is clearly a woman writing Josh to be her dream man (Whoops! IMDB says it was two women writing Josh to be their dream man).
I covet the end-table lamps in this hotel. Very Frank Lloyd Wright. Could even be Frank Lloyd Wright in design.
Ah. I get it now. Lucy's dress is Benjamin Moore Calypso Green. The sheets on the hotel bed were Benjamin Moore Calypso Green. Lucy wears Benjamin Moore Calypso Green all the time. There's Benjamin Moore Calypso Green everywhere in this movie. And Josh's apartment walls are Benjamin Moore Calypso Green. He painted his wall to match her eyes. That is hands-down one of the most romantic things I've ever seen in a rom-com. The entire movie was built around it, and that's pretty great.
Welp. If your sympathies weren't with Josh, they sure are now. His brother married his girlfriend. Cold.
The bride is incredibly beautiful. But her wedding dress is awful. The clothing designer has been so good up until now.
So... Josh's dad is an asshole from start to finish. And sexist to boot.
YEP, THERE IT IS. HE TOLD HER ABOUT THE BENJAMIN MOORE CALYPSO GREEN ON HIS WALL. DAMN. I mean, seriously. Is she ready to have his children now? Because I sure am! And the reason he calls her "Shortcake" has everything to do with strawberries and nothing to do with her height.
Ah. So this is where we get the breakup. The old A HORRIBLE MISUNDERSTANDING THAT COULD HAVE BEEN CLEARED UP IN FIVE SECONDS IF ONLY SHE WOULD HAVE SAID SOMETHING trope. Sigh.
Danny. In Benjamin Moore Calypso Green pants. Doesn't hit the same as painting your wall though. Nice try, Danny.
Josh is confused. And you just know that there is a good explanation for what was said. I mean, I know that this probably happens in Real Life, but it's so lazy.
I dunno, Lucy. This presentation concept sounds like a terrible idea. Writing by committee (especially with fans at large) doesn't seem like it would work well at all.
It took the entire move for Lucy to realize that Josh is "The Nice Guy?" Kinda clueless of you, Lucy.
Once again with the soundtrack. Oh interesting. Two of the songs I liked most were both by "Dagny." Never heard of her before. Cool!
Okay. The final line of the movie is perfect. Sometimes that's all it takes to push a film over the top for me. Grade: A.
Benjamin Moore Calypso Green...
Not the best match to her eyes, but still a great part of the story.
Posted on April 20th, 2022

IT'S LET'S WATCH A MOVIE WEEK! Where I live-blog me watching a film and comment along the way! Most of these films I watched a while back, I just wanted to hold off talking about them until more people had a chance to see them. Because of the pandemic, and all that.
Today's movie is... James Bond in No Time to Die!
If you haven't seen it yet, this will obviously be a spoiler-filled entry. And probably not make a lot of sense. You've been warned.

If you're somebody who just wants me to summarize and not have to read through the smalltalk to see how I felt, here you go: No Time to Die is a fitting film for Daniel Craig's final outing as James Bond. There's the thrilling action you'd expect, but considerable depth as well. Alas, this sometimes causes the film to drag and make it feel overly-convoluted, but ultimately it has enough going for it to do the franchise justice (even if Rami Malek is not really given the opportunity to make his mark as a Bond villain). My favorite Bond of the Craig era will always be Skyfall, but No Time to Die is second... or at least tied with Casino Royale for second. Thanks to everybody for making this last hurrah worth watching.
GRADE: B
If I were this little girl, I would be screaming "HOLD YOUR FUCKING HORSES, MOM! I'LL GET YOUR GLASS OF BOX-O-WINE WHEN I HAVE A MINUTE!" I can't stand abusive crap like this.
Daddy's business dealings are paying a visit. Dressed in cultural appropriation. Oopsies.
Daddy is Mr. White? Well this will not go well.
See.
Well, this little girl did not come to play! She is going to fuck up this intruder with the upmost prejudice! And even clean up the body! How sweet!
Yeah... always put a couple rounds in the head just to be sure. That's a mistake you generally don't get to make more than once.
That not one of those bullets landed in her face is pretty remarkable.
"We have all the time in the world." — Um. James obviously hasn't seen his old movies (in particular, "On Her Majesty's Secret Service". That's not a very smart assessment to make.
Vespa really did a number on poor James's heart. And that explosion really did a number on James's head! Ouchies!
And here's what we REALLY want in a James Bond flick... a cool action chase! At least James has the luxury of being licensed to kill and of the fuckers who mess with him.
I want spikey bombs installed on my car! How handy would that be?
Daniel Craig has the bluest blue eyes. My ovaries are melting.
Damn, James. People are always lying to you and out to kill you. To blame poor Madeline based on the word of people trying to kill you is pretty cold.
Billie Eilish is as good a choice as any for an opening theme song. But, man, it will be tough to top Adele's Skyfall any time soon. This song is okay, but needs some elevation in there somewhere to feel like Bond. Oh well. At least it's better than that horrific Sam Smith pile of shit monstrosity... the worst Bond theme of all time.
This is another gorgeously-filmed Bond flick. They always get top-tier directors and cinematographers.
=sigh= Another bioweapon plot. I understand that this is a valid and very real scenario, but isn't there anything else going on in the world? This was well-covered in films like The Rock and Mission Impossible 2.
Moneypenny! She was so great when she first appeared, yet we see less and less of her. and as much as I miss Judi Dench, this role is perfect for Ralph Fiennes.
FELIX! Yay! Looks like we're getting all the players to say goodbye to Daniel Craig! I can say without a doubt that this is my favorite actor to play the part. Jeffrey Wright owned the role from his first scene in Casino Royale. This new guy with Felix is a dick. I hope that Felix isn't retiring and we get stuck with him for future films (assuming all the parts aren't recast).
Nomi. No Me. I see that they are intent on continuing with the double entendres. It's tradition!
Lashana Lynch would be a welcome choice as a Bond Girl. But she's an exceptional pick for the new 007. The fact that it caused heads to explode around the world... A WOMAN?!? A BLACK WOMAN?!??... just makes it even better. I, for one, would have zero problem if she continues on. Less than zero. How amazing would that be?
Hilarious. MI6 dicks around with James, so James decides to take Felix up on his offer. And therrrrrre's Nomi! LOL!
ANA DE ARMAS!!!! God she's adorable. I would watch her in absolutely anything. She stole my heart in Blade Runner 2049. She was fucking magic in Knives Out, and having her appear with Daniel Craig again is fantastic. I sure hope that her future in the movies is a good one. She can do anything. There's no need to relegate her to terrible films.
"Three weeks training!" LOL. Give me a Paloma movie, please! But given the movie tradition of killing off Bond girls, I'd settle for her just surviving this film.
Ah. So it is a targeted bioweapon. Bye bye Spectre. And it looks like the new 007 is no slouch at her job! You go, Nomi! And neither is Felix's agent! You go, Paloma with your three weeks training! Damn!
Fuck. Yes. GIVE US A PALOMA MOVIE! She can be Nomi's new Felix! So happy that they aren't making her an incompetent screw-up. And how awesome would a friendly competition spy flick be between the two of them? The possibilities!
"You were excellent." Yes. Yes she was!
Wow. Another long movie. Only an hour in... and there's still an hour and 45 minutes left? What happened to 2 hour movies? What happened to 90 minute movies?
Bond should put a bullet in Felix's dumbass co-worker. Or maybe Felix will do it.
Oh... Ash is a bad guy. Yikes. AND OH SHIT! HE SHOT FELIX!!! Dang. I hope Felix doesn't die. Again. Haven't they killed the character once already? I remember him getting eaten by sharks in License to Kill, but I think he survived (but his wife died, of course).
Yep. Felix is dead. Sad. Especially since he's my favorite Felix.
Bond. James Bond. Complete with the theme music! I live for this shit!
LOL. Moneypenny and Nomi has the funniest exchange yet!
Okay... they made Q a gay man. Bravo. Progress. But I am willing to bet a hundred bucks that you won't see his boyfriend. Which is to say that he might as well not be gay at all. We get a reference to "him" and that's as far as it will go. To actually show him in a relationship with a man would just be bridge too far. It usually is. Even in 2022.
So... Q learned his lesson. Sandboxing tech from an unknown source. Good boy.
And... told you.
Will Madeline not recognize the man who killed his mom? She saw a big chunk of Safin's face, and they gave him some very recognizable and unique scars. And yet she forgot everything, I guess. — Ah. She remembers his mask though! Well that's nice.
NANOBOTS! Well okay then. At least they tried to make bio-weapons new! If somebody can build nanobots which would only target email spammers, the world be forever grateful.
Well then. Madeline is going ahead with using Nanobot Potion No. 9... so bye bye Blofeld, I guess. That's the last of Spectre.
Oopsies. James touched Madeline's wrist, which means now he's infected with Nanobot Potion No. 9! So cool that Christoph Waltz is making another appearance. He's perfect casting for Blofeld, I just wish that his movie could have been better. Spectre was kinda disappointing. It was tired. And haphazard. And lacking in thrills. But it was a slick entry... Waltz made it worth a watch, that's for sure.
This whole "Once Heracles is there, it's there forever!" angle is kinda nonsense. I mean, surely a second nanobot could be created to eliminate the first one? And how hilarious is it that Bond took a cue from Mission Impossible 2 to name their virus. The virus was "Chimera" in MI:2 (and the cure was Bellerophon).
Oh James. No means no. Except to him no almost always means yes, so I suppose he is unfamiliar. And let me guess... this little girl is James Bond's kid? — Except Madeline says that she's not. Which means that she most definitely is. At least James has a good sense of humor about it all. Assumably Madeline would be carrying the blue-eye gene recessively to make this possible, because her eyes are brown.
"We're going on an adventure, darling." Oh I'll just bet!
Damn! Good on you Madeline! Put a cap in his ass!
And here's revenge on Ash for Felix. Good. No offense to James, but I would have saved him so that I could have strangled him with my bare hands.
"Thank you, 007." Yes. YESSSSSS! They didn't bring in Lashana Lynch just to sideline her when things get moving!
The sight gag with Q's tea set is so good. They've actually given us a lot of callbacks and cool nods like this, which is appreciated.
Rami Malek is a talented actor and I was really looking forward to seeing how he would do as a Bond villain. To his credit, he's done a darn good job with the material he was given... he's menacing, evil, sadistic, creepy, and cruel... but he seems so underutilized. It's the villain which defines a Bond film, and it's always been that way because villains come and go while Bond is always the same (even when played by different actors). But Malek isn't really given an opportunity to make his mark. There's been no show-stopping moment. His biggest flexes so far have been showing up in a mask and taking a little girl away from her mother. Perhaps he will yet have his moment, but we're running out of time.
God. Just shoot this Obruchev guy so that even if you fail with the mission, Safin can't make this piece of shit construct any more designer viruses to target people.
Yeah. This little discussion with Safin is grinding the film to a stop. Somebody should have rethought this.
At last. Thank you, 007. Jesus this little Obruchev worm was annoying as fuck. I have no idea why he wasn't killed immediately. Good luck creating your master race with your balls melting off, asshole.
Yeah... see... this entire endgame should have been rethought. Bullets flying everywhere and I'm bored. It's all just so random and unfocused. If somebody would have tightened this up, the movie would have earned a B+ from me. But right now it's feeling more like a B or B-.
Though, I have to say, Bond doing it all his own way while ignoring Q's intricate plan is funny.
Welp. I guess we know how this is going to end.
See... I am so much more awful than James Bond. I would have shot Safin in the balls and let him lay there in agony while waiting for the bomb to drop.
And they killed James Bond. Or this iteration of James Bond, rather. I have to wonder if Daniel Craig requested this of the writers in order to come back one last time (he wanted to quit two or three movies ago). The question remains... will they start all over with a new James Bond? Or will they give Nomi a shot? Even just one shot. Give her a 007 flick and see what happens. Why not? Well, that's obvious... the status quo is where we live. Even in the movies.
Louis Armstrong's gorgeous song is an apt closer. While never an actual James Bond Theme, it was the defacto theme from On Her Majesty's Secret Service.
BUT COME ON! JUST GIVE US A NOMI AND PALOMA MOVIE! WE DESERVE THAT MUCH!!!