Posted on March 15th, 2022

I hate to say it... but I was a bit underwhelmed by WandaVision and The Falcon and The Winter Soldier. WandaVision was not what I was hoping to see from those characters and The Falcon and The Winter Soldier was too convoluted and the overall story was lacking (though the magical chemistry between Anthony Mackie and Sebastian Stan made it totally worth watching).
Then came Hawkeye and Marvel Studios totally redeemed themselves. That series was SO good. Very faithful to the original Matt Fraction and David Aja comics and incredibly entertaining thanks to fantastic performances from Jeremy Renner and Hailee Steinfeld (not to mention every other actor in that series... it was impeccably cast). All of a sudden I was excited for the Disney+ series again.
Then we got the trailer for Moon Knight and that looks fantastic too.
And now Ms. Marvel...
The original Ms. Marvel comic book series was great. I absolutely loved how it blended so many elements into something that felt new. If you haven't read it, you should really take a look.
When I heard that the character was coming to the MCU, I was thrilled. But also worried. Because Ms. Marvel's powers are essentially Mister Fantastic (of the Fantastic Four) but come across more like Plastic Man. Since Fantastic Four is coming to the MCU in their own movie fairly soon... it would be weird to have the stretching/distorting powers already belonging to an existing character...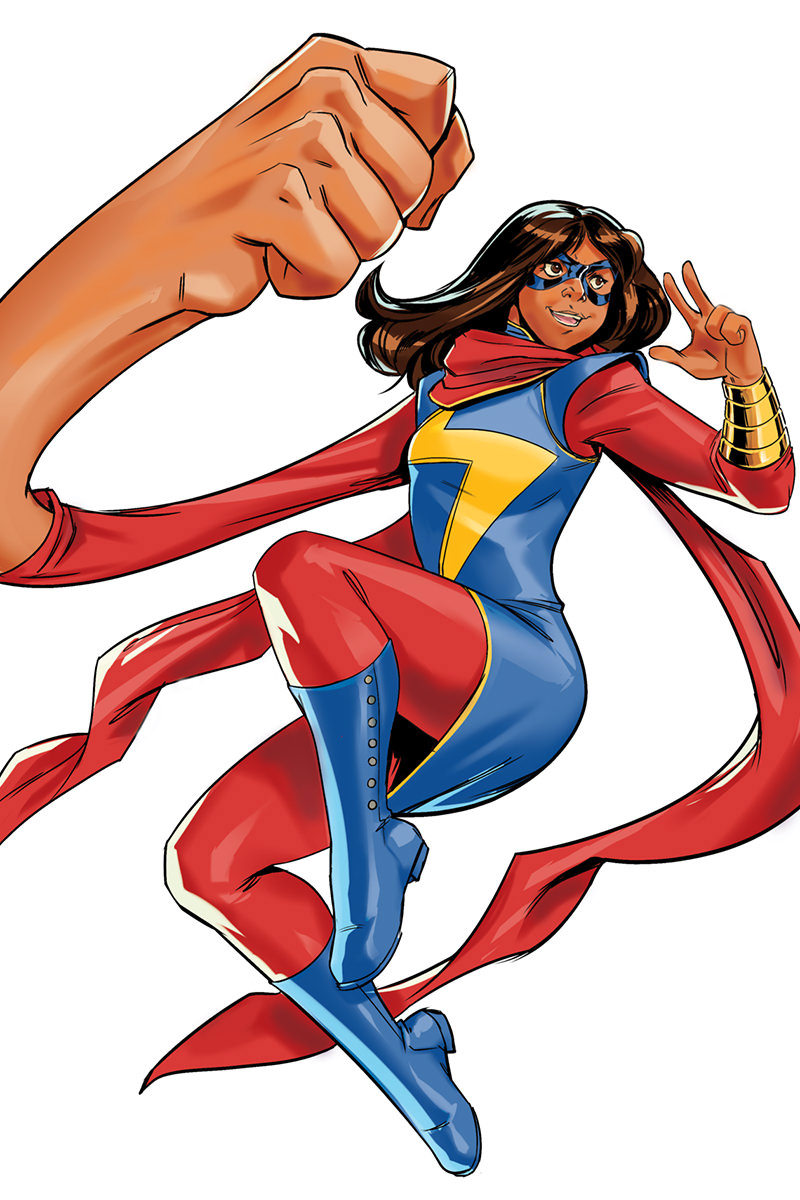 @2022 Marvel
But (fortunately) Kevin Feige and Marvel Studios aren't falling into this trap.
So they adjusted Kamala Khan's powers to be more energy-based, like her hero, Captain Marvel. And they look fantastic, don't they? She's kinda got what we were hoping that Green Lantern would have... and yet it very much harkens back to her comic book powers with the giant fist projecting like that. Cool.
What's so wonderful about what Marvel Studios is doing is trying to give all their franchises a different feel. And Ms. Marvel looks completely different from anything we've seen yet. Sure, the Spider-Man movies have played on Peter Parker's high school life... but it wasn't rooted there. And now we have it, which will be fun to see.
Alas, we have to wait until June 8th... which seems a very long time from now.
Posted on February 23rd, 2022


Well now Marvel Studios is just messing with us...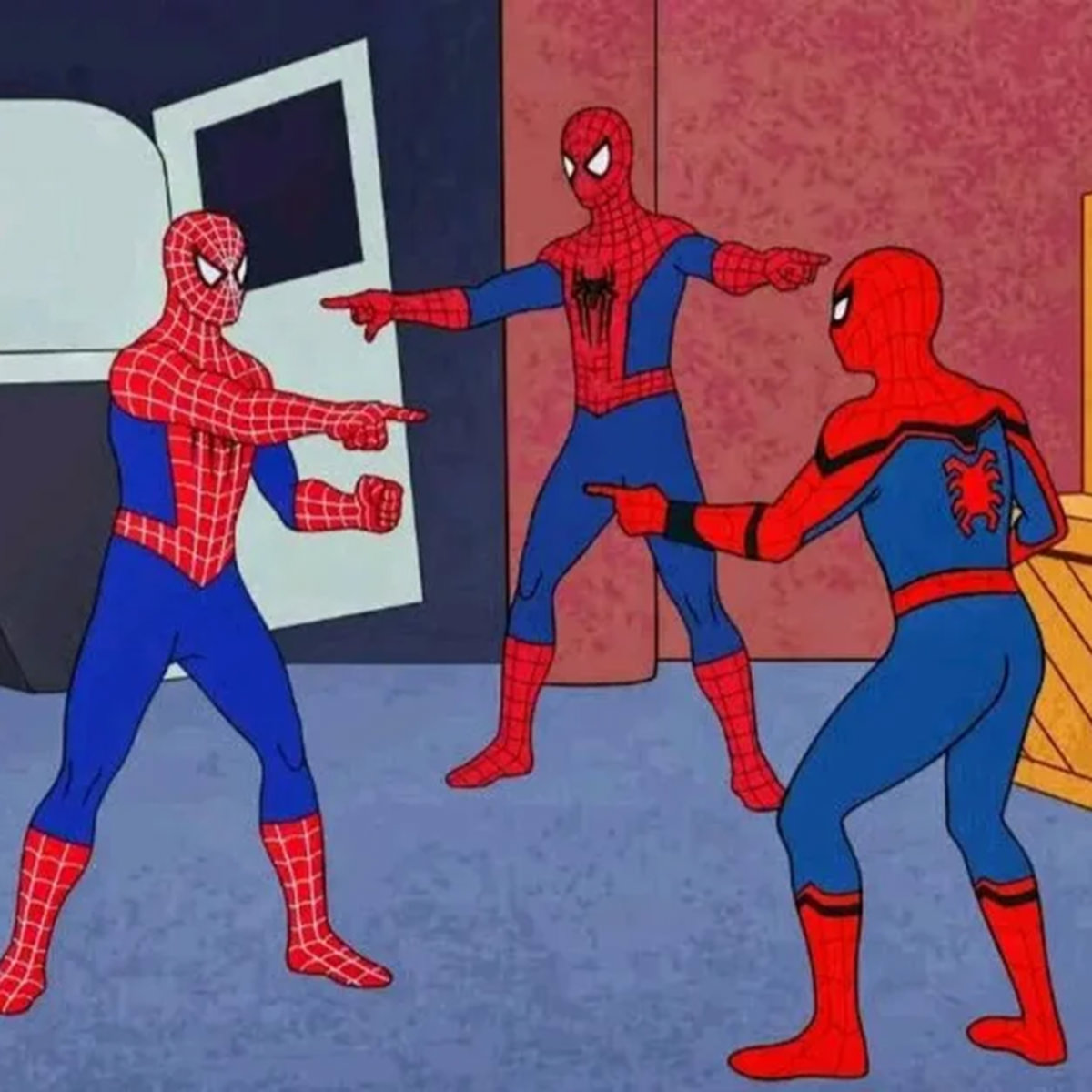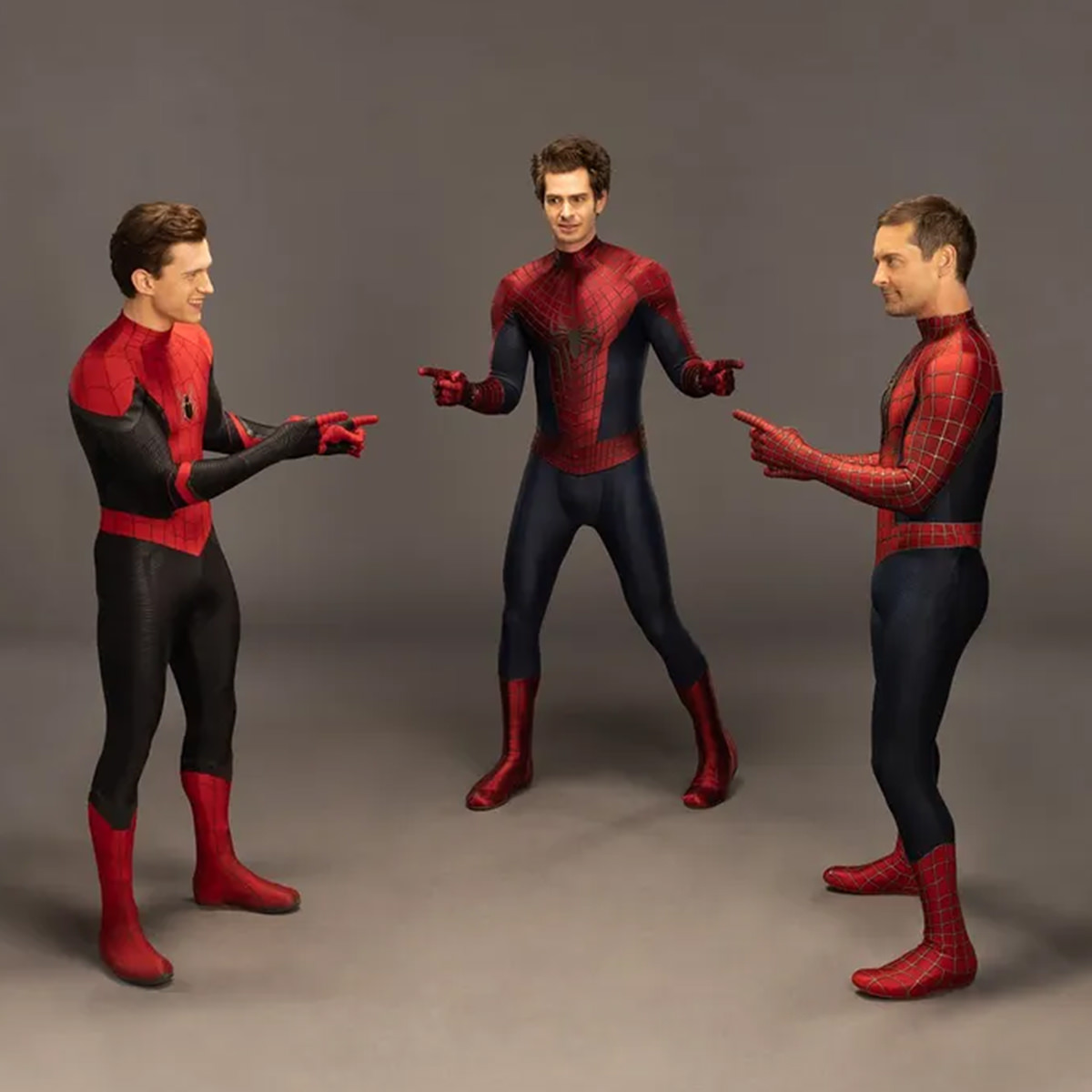 Spider-Man: No Way Home comes to home digital on March 22.
Posted on January 19th, 2022

The only two heroes in Marvel Comics that I was invested in was Doctor Strange and Black Panther because DC Comics had nothing like them. As time went on and DC kept making bizarre creative choices, I slowly migrated some of my reading to Marvel, which had some very interesting things going on.
Enter Moon Knight.
The first I remember seeing him was in some reprint comic of a Spider-Man story (most likely Peter Parker The Spectacular Spider-Man #22). Or maybe it wasn't a reprint? I dunno. In any event, I bought the comic specifically because it had a very cool cover with Moon Knight on it. But I didn't become a true fan of the character until a series of backup stories by Bill Sienkiewicz. At the time I was a major fan of his art, and would buy absolutely anything he did. This series essentially turned Moon Knight into Batman (my favorite DC Comics super-hero), and I was definitely here for it.
The success of these stories led directly to Moon Knight getting his own title in 1980...
They attempted to differentiate Marc Spector and Moon Knight from Bruce Wayne and Batman by giving him multiple identities. It wasn't much of a change because Bruce Wayne adopted all kinds of identities over the years.
But then it happened.
Moon Knight was canceled and revived in a mini-series called Fist of Khonshu in 1985 (Khonshu being the Egyptian moon god that gave Marc his powers). Now Marc Spector didn't just adopt multiple identities, he literally had dissociative iodentity disorder (AKA "Multiple Personalities"). His power also grew or waned with the phases of the moon and were steeped in Khonshu mythology). With this one series, Marc Spector finally became more than "Marvel Comics Batman"... even if the way some of the material was handled ended up being a bit cringe by modern standards.
Eventually I kinda lost track of Moon Knight. He would pop up in team books I'd buy, but they last I remember buying a Moon Knight book was in the late 90's when yet another mini-series was getting some traction.
Fast-forward to today, and we're getting an Oscar Isaac Moon Knight TV series that looks to be leaning heavily into the dissociative identity disorder angle from the comics...
But boy is that "English accent" a show-stopper! Somebody on the internet compared it to Dick VanDyke's hilarious accent in Mary Poppins and now that's all I can hear!
I do very much like the way that his costume appears and wraps him like a mummy. Very apropriate, and something I don't recall seeing in the comics. But the moon symbol on the hood is weird and unnecessary given that it's huge on his chest. These kind of odd and distracting details are usually avoided by Marvel Studios (and embraced by the shittier DC Comics movies), so this is puzzling to me.
All I can say is that I am really, really looking forward to this series. It looks like a much more violent and unique take on the super-hero genre for Marvel Studios, which is probably why they moved forward with it. They try to make all the characters unique, which is quite a challenge given that they're all super-heroes from comic books. And, if nothing else, getting Oscar Issac to play Marc Spector is an interesting and talented choice.
So long as that "English accent" is used sparingly.
Really, really sparingly.
Posted on January 12th, 2022

Since many people aren't making it to theaters to see movies, I've been waiting for them to appear on home video before delving into my spoiler-laden thoughts. Not that I'm worried about spoilers, mind you, since I always hide things in an extended entry and give plenty of warning... but because it doesn't make sense to talk about something that many people haven't seen yet.
Today Eternals was released on Disney+ (though I bought it from iTunes anyway because I really want to support the movies I love), and so here we are...
And... spoilers ahead in an extended entry. You've been warned.
→ Click here to continue reading this entry...
Posted on December 30th, 2021

And it's time once again for my annual wrap-up of my favorite TV shows that came out this year.
Or, more accurately, a "wrap-up of TV shows that I saw which came out this year." As always, there's a bunch of shows I never got around to watching that might have ended up on my list... and (more likely) shows I loved but have forgotten about. And here we go...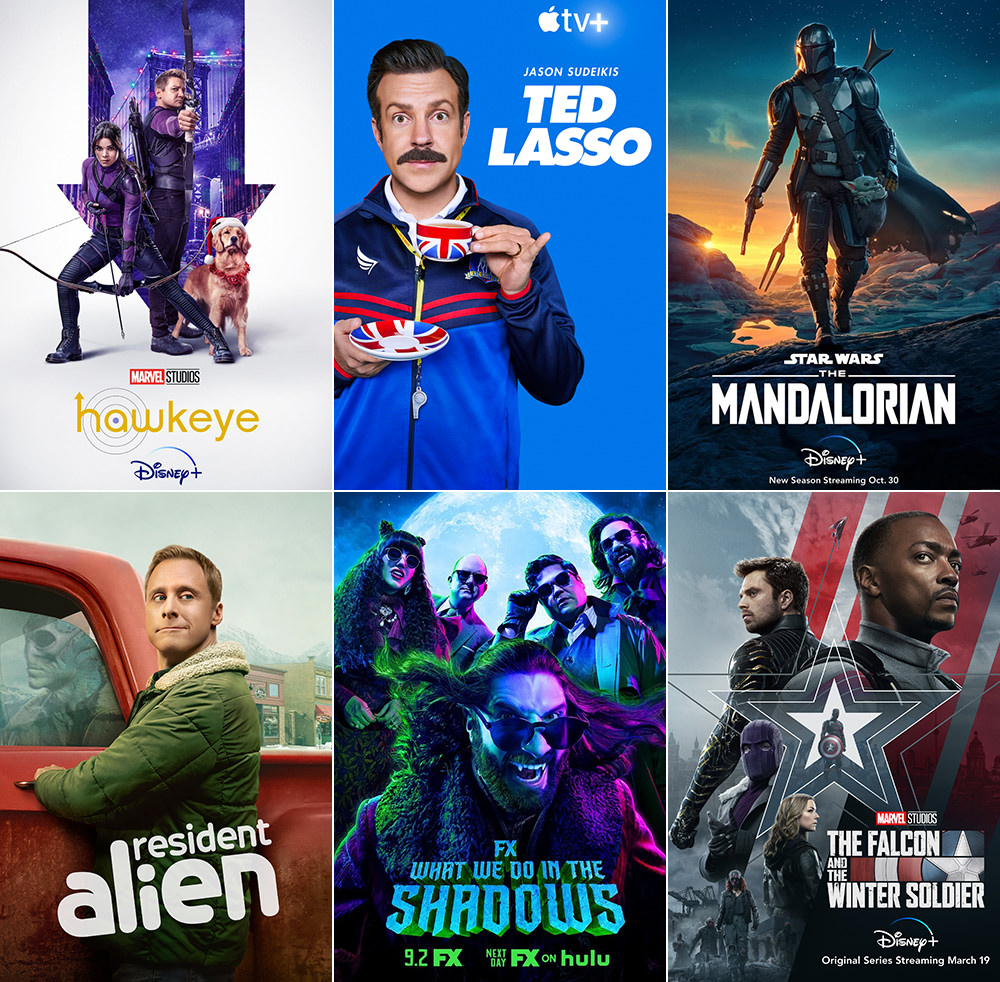 #1 Hawkeye (Disney+)
If you had walked up to me and told me that my number one show of 2021 would not be Ted Lasso just last month, I would have slapped you across the face. Mostly because you aren't wearing a mask, but partly because it's just so inconceivable. But here we are. After getting off to a slow start, Hawkeye managed to go out with a bang and seal that top spot. The series takes so many of the things that I love from the original Matt Fraction and David Aja comic book series then blends them seamlessly into the Marvel Cinematic Universe we know and love. Though pretty much flawless, I maintain that had the first two episodes been merged into a single episode... and they split the final episode into two parts with more Yelena in them... we would have got more of what made everything so darn good. Like that cast! Jeremy Renner is at his best yet as Clint Barton. Hailee Steinfeld is sublimely perfect as Kate Bishop. Alaqua Cox nailed it as Maya Lopez. Florence Pugh is hilariously great as Елена Белова. And we also get some new characters that are all perfectly cast... along with the return of a character that was better than could have been hoped for. The best Disney+ series from Marvel Studios yet and my favorite show of 2021.

#2 Ted Lasso (Apple TV+)
Following up one of the most flawless seasons of a show ever created had to be a daunting task. There was literally nowhere to go but down. But darned if the people behind Ted Lasso didn't manage to come darn close. Even if they had to utterly destroy one of my favorite characters to get there. And speaking of favorites? Roy Kent... my favorite television character ever... had a run for his money thanks to Sarah Niles playing Dr. Sharon Fieldstone. If I have a criticism it's that the season was all build-up to the endgame coming next season. The conflict came very late and it was just feel-good moments piled on top of each other. But they were such good moments, weren't they?

#3 The Mandalorian (Disney+)
If anything, Jon Favreau, Dave Filoni, and Crew elevated their game to give us something that may be better than even the first season. Partly because they worked hard to push things into new directions... partly because we got a mix of terrific new characters and a return of old favorites... and partly because they know exactly what the fans want to see, then they 100% deliver on it. One has to wonder if they had been in charge of the movie prequels and sequels... would they have ended up as shitty as they were? I'm willing to bet not. Though Book of Boba Fett just started and is not exactly blowing my socks off, so perhaps. Oh well. So long as Disney keeps pumping out amazing content like Mando Season 02, Star Wars will be just fine. And just think... Obi-Wan, Andor, Ahsoka, Lando, and more are coming. Oh happy day.

#4 Resident Alien (SyFy)
I knew I was going to like this show the minute I saw the trailer. Any time you wind up Alan Tudyk and let him run wild you're guaranteed terrific entertainment... and this time they put him in the wacky world of a comic book series that he actually elevated to something even better. Tasked with destroying the Earth, but then crashing into it instead, an alien has to assume the identity of a doctor who died while attempting to repair his ship, avoid being spotted by a boy who can see his true identity, and burying his growing affection for earthlings. The result is hilarious television that has me eagerly anticipating what we're going to get in the second season.

#5 What We Do In the Shadows (FX)
I honestly anticipated that this show would burn through whatever good ideas they had after two seasons then deteriorate into something that's a shadow of what we started with. Well, thank heavens that's not the case, because the third season was every bit as great and sets things up for yet another spectacular season. Or maybe I'm just in love with Nandor. But who isn't in love with Nandor? Consistently one of the funniest shows on television and they haven't had a bad episode yet.

#6 The Falcon and The Winter Soldier (Disney+)
This show was badly hampered with having to deal with the ramifications of half the planet being blipped into existence after five years dead from Thanos snapping his fingers. Had they been able to just work towards Sam taking up the mantle of Captain America without spending so much time being distracted, we would have gotten a better show. But it is what it is, and there was enough on-screen magic in the Sam/Bucky love/hate relationship to make this series far more entertaining than it had a right to be. The Flag Smashers weren't great as a threat. Counterfeit Captain America was just a way to set-up future shows (and did not deserve the hate he got online). And the arc for Sharon Carter is something that's likely going to either be forgotten... or hung around the neck of a future Marvel Studios series.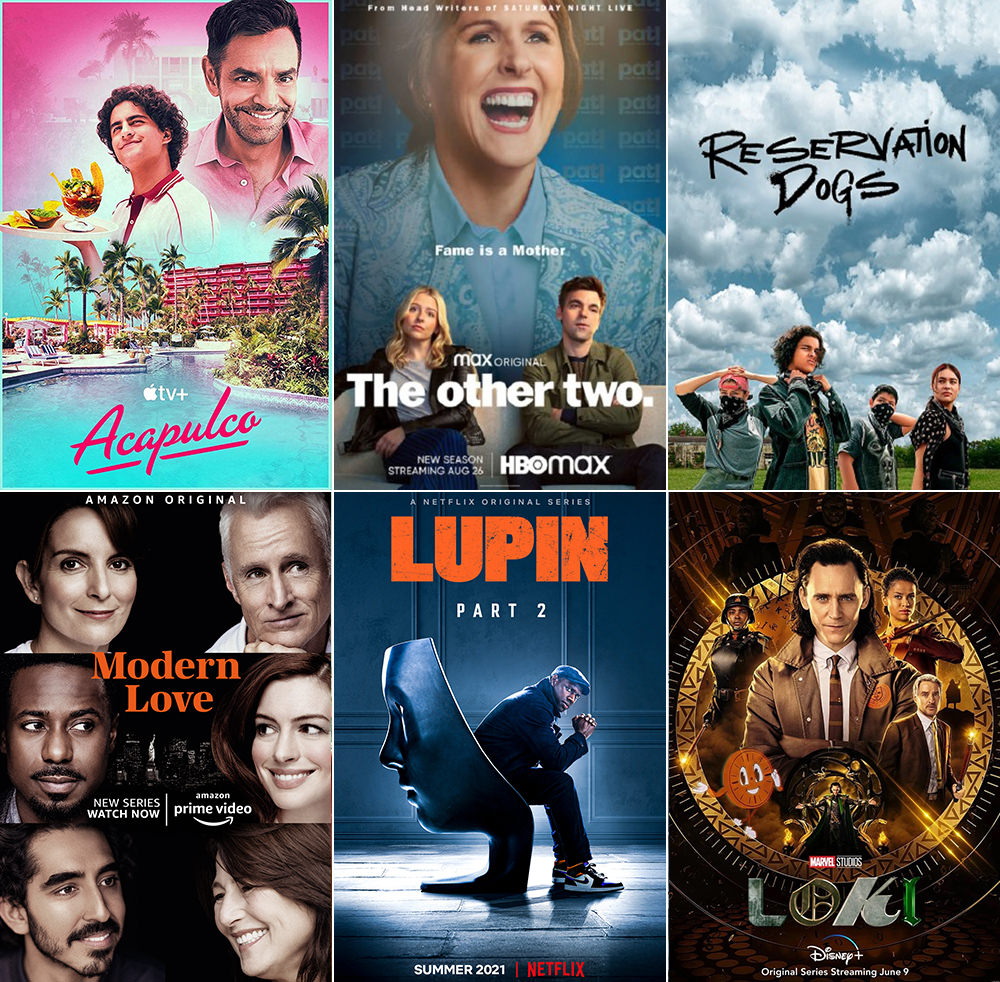 #7 Acapulco (Apple TV+)
I have quickly become a major fan of Eugenio Derbez. His performance in the Overboard remake was classic... he had a fantastic bit part in one of my favorite 2021 films, CODA... and he's done a load of fantastic voice work for various animation. So when I heard that they were building a series around his character from How to Be a Latin Lover AND he would be reprising the role? I had no idea what to expect. But it wasn't the sweet, charming, funny, and wholly entertaining show. There's no word on if we're getting a second season, but I sure hope so.

#8 The Other Two (HBO Max)
In their first season this show was so horribly demented and wrong... but all the more hilarious because of it. This time around they did not back down, going to even worse places to mine for laughs, and striking gold more often than not. A part of me is embarrassed that I like this show so much, but it just can't be helped. It's so very, very funny. But also so very, very wrong.

#9 Reservation Dogs (FX/Hulu)
All I had to hear was "Taika Waititi is producing" and I was in. But in for what I had no idea. A comedy about indigenous teens who want to move from Oklahoma to California, but have to commit petty crimes in order to ear the money they need to do it? Okay then. The result is a lot of subtle, deadpan humor that always seems to land perfectly. The show is funny and painfully relevant, making it must-see television for anybody who appreciates shows like that.

#10 Modern Love (Amazon Prime)
You know how I found this show? I heard a song, liked it, then found out that it was the theme song for this show which is now in its second season. Based on a popular column from The New York Times by the same name, each episode is a stand-alone story which talks about love in all its forms (BONUS: in the first season all the episodes end up tying together at the end). Charming, funny, awkward, heartbreaking, uplifting, painful, and wonderful... this series is all the things that love can be.

#12 Lupin (Netflix)
Netflix really hurt the show by splitting the first season into two parts because the second half was not as good as the first. And yet it's hard to get too caught up in all that when Omar Sy's gentleman thief is so compelling a character. Revenge stories are as old as time, but you'd be hard-pressed to find one done as stylish as this. At the end of the season Lupin is essentially forced to cut off some dead weight that was dragging the show a bit. What I hope that the writers do is have the guts to leave it be so they can focus on Lupin alone, which is when the show absolutely shines. Of course I have no idea if it will even get a second season, but given how it was Netflix's most-watched non-English program before Squid Game came along, it's likely pretty likely.

#13 Loki (Disney+)
I'm just going to get this out of the way... the Loki variants like Gator Loki and Thor Loki and Female Loki were not something I thought worked very well. What did work exceedingly well was everything else. The writers wisely decided to snap Loki out of his element and comfort zone so he has to evolve past the merry prankster he was before he "died" in Avengers: Endgame. And it was handled so beautiful. After getting apprehended by the TVA (Time Variance Authority) AKA "The Time Police," Loki thinks that all his problems will be solved if he can just get The Tesseract and its Infinity Stone back after the TVA took it from him. Then he will have the power to do whatever he wants. Again. But very quickly he finds out that the Infinity Stones which Thanos used to eliminate half of all life in the universe are mere trinkets to everybody working at the TVA. That "The Power" he's been chasing since Avengers was never what he thought it was. And at that moment when you can see it dawn on him (holy shit is Tom Hiddleston an amazing actor) is when you realize that this series is not going to be what you thought it was. And the story was darn good... if not a bit meandering.

#14 The Underground Railroad (Amazon Prime)
Historical fiction is a tricky business. When you stray too far from the real events, you might very well diminish the things you are trying to tell your story around. And here we have a series where the Underground Railroad is made into a literal railroad?!? It's like... why would you do that? And I very nearly skipped out until people started telling me how good it was. And while I'm ultimately glad that I saw it, I'm the first to admit that it's difficult to watch at times... a boring slog at times... and challenging to the viewer always. It ain't going to be for everybody. But what makes it so worth it is how beautifully the series is crafted. When you get to those bright spots, the show's epic scope unfolds and reveals itself. This show is the very definition of "powerful television." If you think you can handle it, you really should.

#15 For All Mankind (Apple TV+)
There's something to be said for how this series coasts on the sheer quality of it all. It's not the best thing on television. But everybody working on it treats it as if it is, and that goes a long, long way. In my opinion, For All Mankind is often times as good as it was the first season, but there are still issues that pop up which have me scratching my head. They're 100% invested in this being an alternative history series one minute... then it feels as if they're scrambling to fill in the gaps the next, and it makes for an uneven ride. Like they come up with really great ideas in the broad-strokes, but don't know where to go with the details from time to time to get there. But it's still a very good ride. Thrilling even. And one that I'm happy to keep taking.

#11 Magnum, PI (CBS)
This series started so brilliantly, but then kinda lost its way after the first two seasons. The chemistry was there. The cast was still amazing. And Higgins was so great that she could carry her own show. But it just wasn't working as well as it once was. Then they kinda earned something back in this, their fourth season. I still find myself hoping for more Rick &amp T.C. because they are woefully underutilized too much of the time, but am glad that they're still around at all. Their job is to ground the show more often than not, and they excel at that.

#16 WandaVision (Disney+)
For a Marvel Studios fan like myself, WandaVision was a tough sell. Because it was The Vision and the Scarlet Witch from the Avengers... but not really. Told through the lens of old television shows and exploring Wanda's trauma over losing The Vision, I understand why the show was so critically acclaimed. Honestly I do. I'm just not one of the people who was able to buy into it. I wanted to see the characters have some cool super-hero stuff to do, but we didn't really get that.

#17 Hacks (HBO Max)
Jean Smart completely caught me off guard with her performance in HBO's Watchmen series. She was absolutely glorious and pushed that role in a direction that not many other actors could. I can't even say if she knew the material she was a part of... but she knew her character. She had a handle on that much from her first moment. And now she's done it again with Hacks. As an aging comedian in Vegas who is forced to take a look at herself and her world after taking on an assistant (who has problems of her own, let me tell you). I don't think that every episode is a home run. But overall as a series I was digging it. And that was mostly thanks to Jean Smart, who I am paying very close attention to for whatever she decides to do next.

#18 Mythic Quest (Apple TV+)
The first season was exceptional. I loved every minute of it. And their COVID special was one of the better ones. But this second season, while still pretty darn good, is no longer must-see television for me. It's more of a "I like it... but when I get around to watching" kind of show. Maybe it's because the whole "behind the scenes of a video game company" blew through so much funny in the first season that it's running out of gas? Maybe I've grown tired of it already? That very well could be, because I know people who think that the second season is better than the first. So I dunno. I still love the characters and what they're trying to do... I'm just not as hyped for the result as I once was. Still made my list though.

MUST SEE TELEVISION SPECIALS AND DOCUMENTARIES...
This year was a weird one in comedy because one of my all-time favorite comedians was cancelled... or is getting cancelled... or is somebody people want canceled... or whatever. In an effort to clarify the material he used in a previous special about the trans community, Dave Chappelle actually dug himself into an even deeper hole. And it's pretty cringe because he devoted so much time to it. But even worse? It wasn't very funny. The ultimate comedy sin. He would have been better of saying nothing, but instead we get a huge chunk of an entire special prefaced with "I can't be transphobic because I have a trans friend who died." A horrible take to be sure. I don't think the actual material was as bad as its been blown up to be, but it's my least favorite of his specials, so there's that. What were my favorites this year though? Glad you asked...
Nate Bargatze: The Greatest Average American. It's not up to the level of The Tennessee Kid, but its still observational humor that's very funny done very well. The fact that Bargatze can manage all this while performing clean? That takes quite a lot of talent.
Bo Burnham: Inside. A good chunk of this lockdown experiment was disturbingly funny... but in a way that's different from the Bo Burnham material he's given us so far. And it's great fun. But the best part? He's got some seriously good songs in here. One in particular, Content, is so good that I wish he'd flesh it out to a full song. I'd buy that single.
Tig Notaro: Drawn. Tig is already one of the funniest people on the planet, but that wasn't good enough so she decided to kick it up a notch and animate a special. And the result is even more hilarious than I expected.
Jimmy Carr: His Dark Material. I always hesitate before saying that I like anything Jimmy Carr does because he's so terrible that I'm almost afraid of getting "canceled" by osmosis. If you're a Carr fan, this is more of what you love... horrible takes on things made hilarious.
Phil Wang: Philly Philly Wang Wang. I actually watched this twice. The first time I was only kinda paying attention. But then the ending had me wanting to sit through it all over again to see what I missed. This is terrible, but I actually think it gave me a better appreciation for the show.

TELEVISION HONORABLE MENTION...
Schmigadoon! I'm not a "musicals" guy, but this was incredibly entertaining with a cast that's perfect.
The Expanse As of this writing, we're only half-way through the final season of the show, and I'm honestly not sure what to make of it. The first episode was 100% wasted. They got six... SIX!... episodes and just threw away 1/6 of it. Then things picked up. Whether or not they can manage to land this plane without shitting the bed is anybody's guess. But Im willing to give them the benefit of doubt that they can. But after that first episode? Well... we won't know until next year's list, will we?
Squid Game. I'm a big fan of South Korean films and television, and this was the one that really broke the genre wide open for the US... becoming one of Netflix's most popular shows. And while I liked it (and liked it a lot) there were some leaps of logic that were just too far for me to make and kept it from breaking into my list.
Love, Victor. The first season of the show was very well done, expanding on the show in a way that felt fresh while giving fans more of what they liked about the movie Love, Simon. The second season really took a bizarre turn, adding unnecessary drama where it didn't really need to exist. Victor's life would be interesting enough without it. Hopefully they'll figure this out in the next season, if we're getting one.
Pen15. The final season was as good as it ever was and I was sad to see it end. Though maybe going out on top was the smart move when it comes to a show like this? Probably.
CSI Vegas. Was the revival anything exceptional? Not really. Were the murder mysteries the best you'll find on television? Not even close. But it was a chance to see Gil Grissom, Sara Sidle, and Jim Brass return to our television screens, and I was all for that. The overall mystery arc of who framed David Hodges was actually solved fairly early... but they didn't take it home until the very last episode. At which point it was almost moot. But it was all good. I'm guessing it will get renewed without William Petersen and Jorja Fox, at which point the only reason to watch will be gone. But I'm might give it a go.
LuLaRich. I was on a real documentary tear for a while there, and this one was pretty crazy from a "how in the heck did this actually happen?" kind of way. But there's a lot of that going around, so... yeah.
Superman & Lois. This is not the best Superman television show. That would be Superman: The Animated Series. But it's likely the closest thing to being the best live action version of the character since the first two Christopher Reeve movies. Part of it is just how good Tyler Hoechlin is in the role. But Henry Cavill was a good Superman, and his movies suck. So I think it comes down to the version of Superman that we're getting. This is a more hopeful, measured take, and one that you actually want to watch. Doesn't hurt that this show is taking big swings with the stories and everything looks so fantastic on top of that.

ANIMATION TO WATCH
Invincible. This was an animated comic book series which I seriously expected to be dulled down to the nib. And I was oh so wrong. If anything, they took the source material to the next level and gave us a violent, bloody, take-no-prisoners approach to super-heroes that even puts The Boys to shame. Very well done adaptation that's not for the faint-at-heart.
Rick and Morty. The fifth season is more a mixed bag than ever before and there were episodes that I thought were pretty bad. But when the show is good, it's one of the best things ever made, so I kind of end up in the middle somewhere.
What If.... I gotta say, the thing that I will forever take away from this series is that it was the last time we got to have Chadwick Boseman as Black Panther. Otherwise I was kinda underwhelmed. Individual episodes were often short-changed in service of the bigger narrative being built, and I don't think the payoff was worth it. Still... nice animation, great talent, and a few really good episodes made this something I was happy to see in 2021.
Inside Job. Inappropriately funny. But in a good way! Actually more consistent an animated series than Rick and Morty right now! Never thought I'd be saying that!

HAVEN'T SEEN, MIGHT HAVE MADE MY LIST
Only Murders in the Building. I have never found Martin Short funny. Ever. Not once. I might have cracked a smile or two when he was on SNL, but his other roles have all rubbed me the wrong way. So I was going to take a big ol' pass on this show. Until the rave reviews started pouring in.

OVERRATED BUT OKAY
The White Lotus. The premise of this show was alright. Horrible wealthy white people doing what horrible wealthy white people do... exploit everything and everybody without giving it another thought. And while there were some fascinating characters, interesting scenarios, and an idea that worked, the implementation fell flat for me. Trivial situations are taken too far, which was great... until they went more than too far. At which point the show faltered for me.
Mare of Easttown. You will get absolutely no argument from me that this was a well-written show with a cast to die for. But there's a point when you can just look at this as one of those British police dramas being stretched to tedium and so mired in drama that it can't breathe. We've seen this show a million times before. Not always done this well, but enough that I was hoping for something more.
Succession I honest-to-God don't get it. For all the hype, I expected to find Jesus while tuning in to this show... but instead I found writing that wasn't great, acting that wasn't great (with a few exceptions), and stories that were outright boring. None of the devious intrigue I was counting on was present... the episodes unfolding more like a bad comedy than a dark comedy done well. After a hugely disappointing first season, I started powering through... despising how Nothing. Ever. Changes. No. Matter. What. Happens. and that the status quo would always be preserved. Then things started improving a bit. Season 03 was the best of the lot, but that's not saying much from my perspective. The series is "just okay" and, in my humble opinion, grossly overrated.
Maid. The show is dark and depressing. And I don't know that the "happy-ish" ending makes up for sitting through it all. Because while you are definitely given reason to cheer for the protagonist as she does whatever she can to make the best life possible for her daughter and herself while also maintaining her honesty and integrity... there are times that she just doesn't earn it. At which point you're supposed to be all "but at least she owns up to it." And it's like... yeah... but by then I've stopped caring. The message of the show is how some people just can't get a break in a system designed to oppress them. And we know it's true because we see the result of it every day. But when you stack crap on top of that which makes you not care about the hero of the story, you risk losing the viewer. And this show lost me like that too many times, even while it was okay as a whole.

DISAPPOINTING
Lucifer. Most definitely didn't stick the landing. Not terrible, it's just that this season didn't live up to what came before. And I kinda get it. It was supposed to end on the fifth season, but then Netflix changed their mind, so the writers had to undo what they did and find a compelling way to keep things going. It didn't work for me.
Star Trek: Discovery. The last season was so phenomenally bad that I decided I was done with it. But then I figured I might as well give it another try since they were kinda rebooting it, and immediately wish I hadn't bothered. How can a show which was so frickin' incredible in its first season... fall to something quite mediocre in the second... fall even further to total weepy, whiny shit in the third... and then hit rock bottom by completely dying a horrible death in its fourth? How? It's almost as if the writers were trying to kill it.
The Wheel of Time. I've never been a huge fan of the books, as they feel so bloated, but I thought that they might streamline things enough to make a good TV show. AND it's got Rosamund Pike in it. Well, despite some decent special effects, I was bored to tears through the first two episodes and couldn't go any further than that.
Masters of the Universe: Revelation With Kevin Smith runnning the show, I was anxiously awaiting the series to debut. And when it did I was in for crushing disappointment because I didn't like any of it. Well, maybe the voice cast. But not the stories or anything else that matters. What kills me here is that the second take on the material in 2021, He-Man and the Masters of the Univers, which was meant to be more kid-freiendly was actually the far superior show.

TOTALLY SHIT THE BED
Foundation. I don't get it. I honestly don't. This critically acclaimed show is horrendously shitty. It brings new definition to the word "shitty." Boring, plodding, meandering, senseless drama that totally fucked over the source material by dragging it out so they can keep the actors around for longer. God. I would hate this pile of shit even if I wasn't a fan of the books.
Jupiter's Legacy. Jesus. Here we go again. Take source material that CANNOT FAIL but then adapt it so badly by folding in prequel shit that NOBODY cares about and watch it fail spectacularly. And so it went.
Kevin Can Fuck Himself. I was highly enthusiastic to see what Annie Murphy was going to do after her turn on Schitt's Creek. And the concept for this show seemed original and interesting. Until I watched it. Holy crap what a joyless, boring, awful show. Which can totally work... but not like this. Not even remotely like this. In the end I was saying This Show Can Fuck Itself.
Posted on December 28th, 2021

Welp, you know what time it is... my annual wrap-up of my favorite films of the year! Or, to be more accurate, my favorite films that I actually saw. Which is not as many as usual, thanks to COVID, but here we are.
Interesting to note that my Number One is not a Marvel Studios movie. Last year it couldn't be because Marvel didn't release any movies... but I'm pretty sure that there's been one of their films in the Top Spot for the previous decade I've been doing this! Shocking, I know!
THE TWELVE BEST...
These are my favorite movies from this year that I actually saw.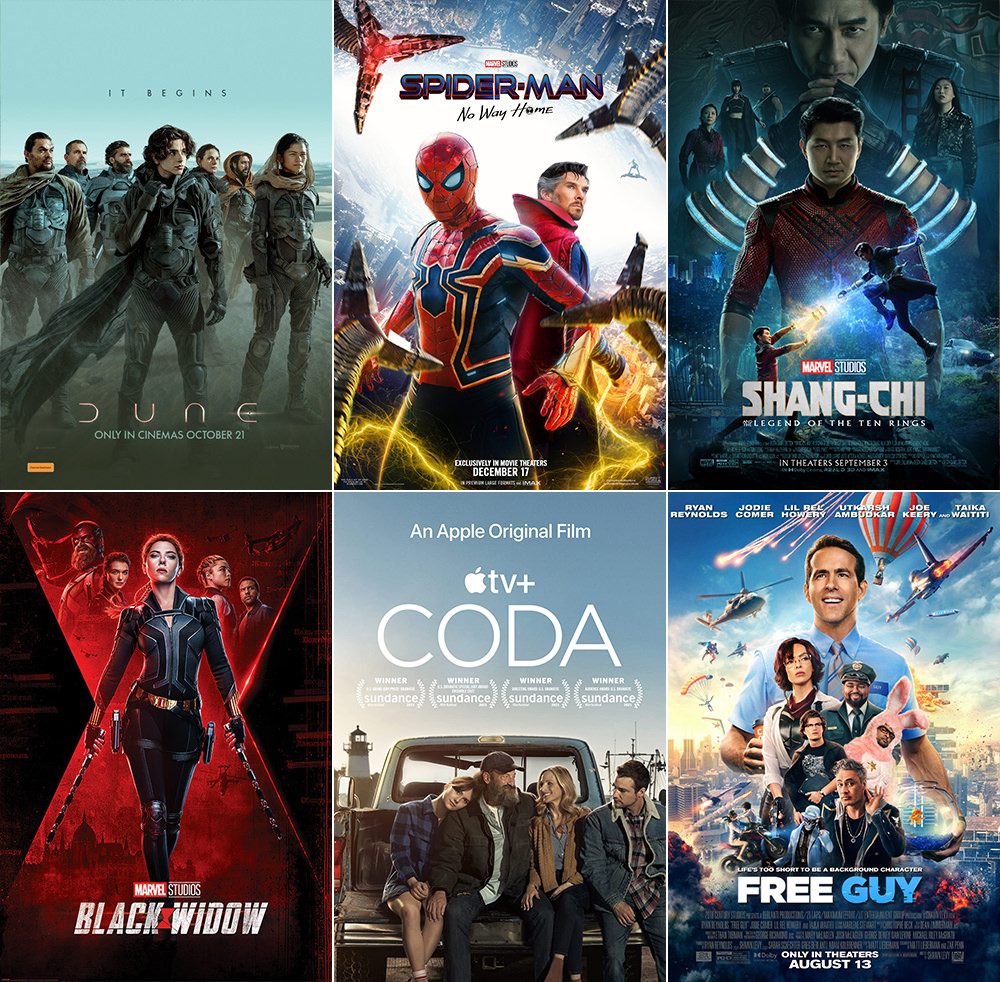 #1 Dune (Warner Brothers)
I'm one of those rare people who actually liked the David Lynch Dune effort in 1984. No, it wasn't "Real Dune" but how could it be? For what it was, it was entertaining and visually interesting, and that was enough for me. Then along comes Denis Villeneuve with his version of Dune and I was hopeful. He split the impossibly complicated novel it into two parts, which seems like it gave him a great start. Then I saw it. And saw it again and again and again. Because I was in disbelief that he actually pulled it off. And the way he pulled it off was to do something I never thought that I'd endorse... he cut out a lot of stuff that seems critical... but was actually not so critical after all. By streamlining the story, he let the parts he kept truly shine. And it was the most important parts, which is what makes this adaption so bloody brilliant. Cannot wait for the second part. And the third, if we get so lucky.
#2 Spider-Man No Way Home (Sony & Marvel Studios)
I fully admit that I was expecting to not like this movie. I thought the appearance of the alternate universe villains would overwhelm the story and take the focus off Spider-Man all in the name of fan service. Well, this movie was all about fan service. One could argue that this was the only thing it was about. Much to my surprise, it actually worked. The villains were an accessory to Peter Parker's story, as they should have been. And getting Doctor Strange to appear was icing on the cake. I could have watched Spider-Man battle Doctor Strange for hours. So clever. So well-constructed. So very, very comic book! In fact, this is probably one of the most "comic booky" of the Marvel Studios films so far. And it's for that reason that it's landed in the #2 spot for 2021. Even though I can't even touch on much of what really makes it so good out of fear of spoiling stuff. Suffice to say that every single person who appears in this movie is beyond exceptional in their roles. If you saw it, you know. If you don't know, you should know. What's truly exciting is what comes next. We're left at a very interesting place for Peter Parker in his next trilogy of movies.
#3 Shang-Chi and the Legend of the Ten Rings (Marvel Studios)
What can I say? They utterly and totally nailed it. That's not surprising. What is surprising is that two movies edged out Shang-Chi on my list! The film provides super-heroic thrills in a way that Marvel excels at... but gives us something new by steeping it in Asian culture and Chinese traditions. The result is magic (and it doesn't hurt that Michelle Yeoh is in it!). Simu Liu and Awkwafina are unassuming valets at a hotel who get dragged into a mystery (with plenty of action) once Shang-Chi's immortal father comes calling. From there we get epic battles with fantastic special effects that run the gamut. One minute we're getting Jackie Chan style kung-fu... the next minute mystical action that is beautifully realized. But the flawless action is tempered with some very nice quieter moments that make you completely forget that this is yet another origin story. Instead it's a really good story that's executed very well. And Michelle Yeoh is in it!
#4 Black Widow (Marvel Studios)
What bothers me so much about this film is that it feels as though Natasha Romanov is a supporting character in her own film. She's not... not really... but it feels that way. Taking place prior to her death in Avengers: Endgame (Spoiler Alert!) but after her turn in Captain America: Civil War, this is pretty much a set-up for her sister Yelena Belova to take her place in the Marvel Cinematic Universe of today. Which is most certainly not a bad thing. Yelena is actually a truly great character who was flawless in the Hawkeye Disney+ series... but was it too much to hope that we'd get a little more Black Widow in her first (and likely last) solo film? There's so much going on... Yelena, Red Guardian, Dreykov, Melina Vostok, The Widows, and a weird adaptation of the villainous Taskmaster from the comics... when it would have been nice to just get more Natasha out of it all. We did get a peek at her past (and finally get some questions answered about Budapest and Dreykov's daughter) which was nice though. Ultimately this was an entertaining film that had some terrific action and introduced some memorable characters. But as a send-off for Black Widow it was merely adequate.
#5 CODA (Apple TV+)
I don't know that the story synopsis grabbed me (the sole hearing member of a deaf family tries to live her own life while still trying to live up to the expectations and obligations of her family)... but the fact that Marlee Matlin and Eugenio Derbez star in it certainly made me take notice. And then I watched it. At which point I wondered for a millionth time how many gems like this are buried or go unnoticed by me every year. Because if not for Apple picking it up and promoting it heavily during episodes of Ted Lasso, I likely would have never knew it existed (which reminds me of last year's #3 film, Uncle Frank). The title, CODA, means Children Of Deaf Adults, and this coming-of-age tale stuck with me long after the credits rolled. There's just so many wonderful moments that are sublimely acted, and it's almost too good to be true that the film ever came together in the first place. Because that's all you really all you get... wonderful moments that are sublimely acted... which, in this case anyway, is more than enough. No fights or explosions. No hokey plot devices that seem tacked-on. No absurdly over-the-top dramatic moments. No yelling passed off as drama. No badly-shoe-horned plot devices. It's just a story that neatly sidesteps all the things I usually hate about movies like this. Just a story. But a really, really good one.
#6 Free Guy (20th Century Studios, now Disney)
This movie shouldn't have been as good as it is. It really shouldn't. A regular, every-day, boring guy discovers that he's actually a character in a video game? Who watched Tron and decided to reimagine that? Well, much to my surprise, the result is darn funny and has some seriously good action beats. Ryan Reynolds is the least "Ryan-Reynold-sy" he's been in a while, seamlessly meshing into a role that seems a bad fit... but one that he manages to pull off exceptionally well. And I'm most grateful that he got the chance. This film merges pop culture with video game culture to give us something special in a way that Ready Player One failed miserably at achieving (though I still enjoyed the book quite a bit). And just when you think that the movie has peaked... you're proven wrong. And you'll be happy to keep being wrong as everything piles up to a satisfying conclusion that makes you happy to have invested time in "just another video game movie."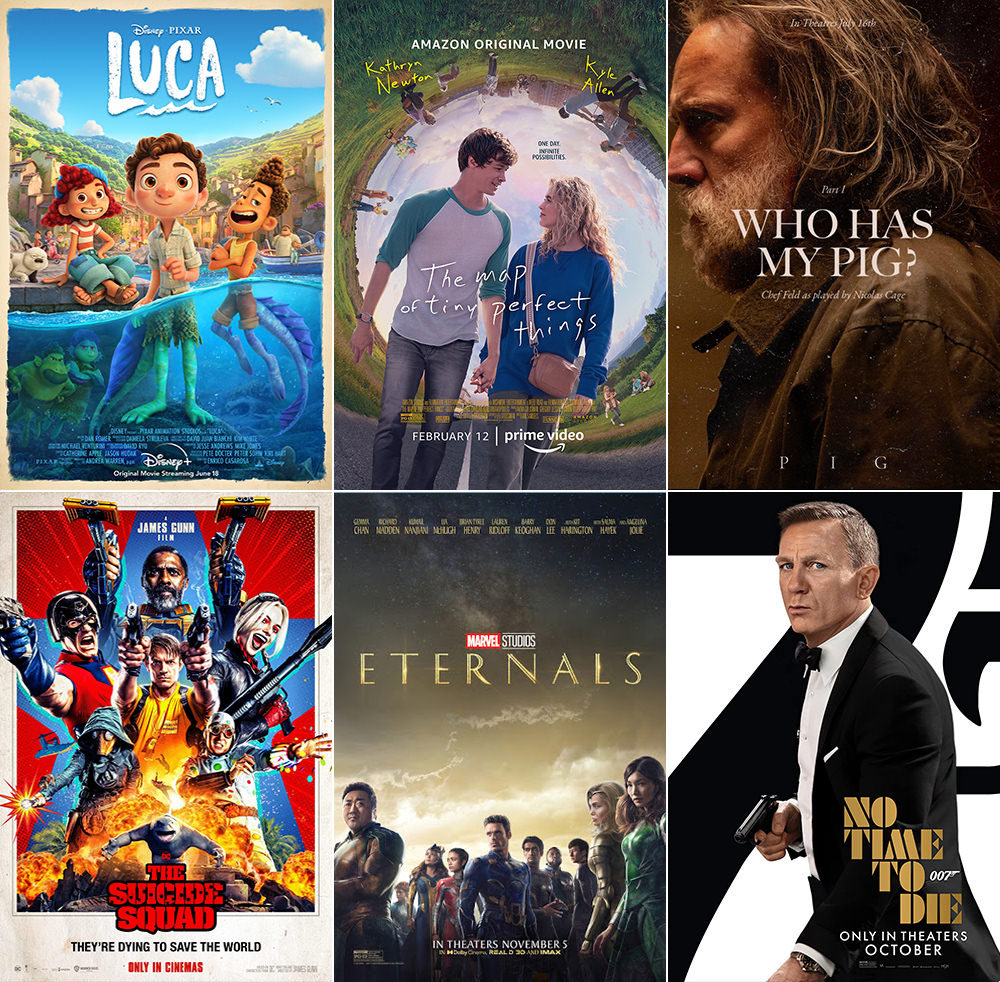 #7 Luca (Disney Animation)
This film would be amazing even if the story was lacking because it just looks so incredible. Animation so beautifully realized that I couldn't take my eyes off of it, and ended up watching three times in two days because I wanted to pore over every scene. The story takes place in the Italian Rivera, and the animators put the time in to capture it flawlessly. And, oh yeah, this story of a sea monster wanting to live a life outside of the water is wholly wonderful, combining heartwarming story beats with genuinely funny moments in a way that almost seems to have a Hayao Miyazaki Studio Ghibli feel to it instead of a Disney Animation feel. I can't possibly offer more praise than that.
#8 The Map of Tiny Perfect Things (Amazon Prime Streaming)
So there I was blazing through the streaming services I subscribe to looking for a movie to watch while I work. Amazon Prime recommended this film. And because Prime has an uncanny ability to recommend films I like, I decided to give it a shot. And was rewarded with this wonderful story that so totally absorbed me. Which was great from a movie standpoint... but truly terrible from a productivity standpoint since I didn't manage to get a lick of work done while I'm watching it. Twice. And what's so surprising is that this is yet another attempt at Groundhog Day where people are caught in a repeating time loop. But, like Palm Spring before it (my #7 film of 2020), they actually brought something new to the table and had something to say. The story is fun and sweet. The performances are all brilliant. And the way it comes together at the end really made me feel something. A treat that took me by surprise and was a total treat from start to finish.
#9 Pig (Al-Film)
Nicholas Cage in a masterful performance that's as challenging as it is beautiful. So much so that no movie surprised me more than Pig this year. Throw your preconceived notions out the door, go into it with an open mind and heart, and prepare yourself for something great. This is a thinking person's action flick in all the best ways, and the less I say about it before you indulge the better.
#10 The Suicide Squad (DC & Warner Brothers)
With James Gunn involved, I was hoping for the best. And that's pretty much what we got. This sequel/reboot of the franchise was a bloody good time and actually fought to live up to the title. Super bad guys get recruited to save the world on a "suicide mission" that will probably kill them, but will reduce their prison time if they survive. If there's a fault for me, it's that the character I most wanted to survive did not, and the character I most wanted to die did not. But, oddly enough, this probably made me like the film better because of it? It's tough to know. It's difficult for me to discuss the story in a way that doesn't spoil it all... but suffice to say that it's got some hilarious beats over some amazing action that made it worth my valuable time to watch.
#11 Eternals (Marvel Studios)
It's not that this movie is bad. It's just that it could have been so much better than what we got. It's tough to lay all of this on director Chloé Zhao's doorstep... she was offered a story entirely stuffed with too many characters trying to do too much and had to run with it. And because it's Chloé Zhao, everything certainly looks fantastic. But it's just not enough. These ancient beings who have been hidden amongst us humans finally realize their true purpose when the earth and all of humanity is threatened. Eternals Assemble. Or something. I guess. What's so sad is that they could have streamlined the character list, dropped the unnecessary diversions, and ended up with a movie that would have seriously kicked ass. But alas... we end up with unnecessary set-ups regarding The Black Knight. Characters who were superfluous and there for representation or death fodder only. And characters that I fucking hated so hard that they very nearly sabotaged the movie entirely (I'm looking at you, "Sprite"). But even so... Gemma Chan's Sersi, Mukail Nanjiani's Kingo, Brian Tyree Henry's Phastos, Don Lee's Gilgamesh, and most of all... Angelina Jolie's Thena... were enough to carry the film for me. Had we just focused on them and jettisoned the rest as the padding they were, we might have gotten yet another Marvel Studios classic. Instead it was a minor disappointment and the first true stumble to come out of Marvel.
#12 No Time to Die (MGM Studios)
This film barely makes my list. And it does so when, in my heart, I know that other movies from my Honorable Mentions list should probably he here instead. And yet... it's a Daniel Craig James Bond film, which guarantees a certain level of entertainment that's tough to dismiss. The problem is that this film is ultimately... boring. Truly shocking is that Rami Malek, an actor I adore, was woefully underutilized as the villain. Had they truly invested in him, we could have gotten all kinds of devious scenery-chewing scenes. But instead he's kinda boring as well. In the end I can't say that this is a bad film (because it's not) but I will say that it's a huge missed opportunity given that Daniel Craig is retiring from the role.
HONORABLE MENTION...
The Baker's Son
Yes, it's a Hallmark rom-com movie... and, yes, it deserves to be on my list because it's that good. Eloise Mumford and Brant Daugherty have chemistry for days, and their story is tempered with humor that lands just right. When Hallmark finally releases this gem to home video, I anticipate playing many times as background noise while I work. It's comfort food that will merit repeat viewings.
Nomadland
While not as enamored with this film as the critics (and general populace, apparently) I still enjoyed it very much. Chloe Zhao may have faltered with Eternals in the scope of Marvel Studio movies, but that takes nothing away from what she's done here. Frances McDormand is at her absolute best playing a woman who loses everything, but manages to find what's important in her journey through the Western USA.
I'm Your Man
Dan Stevens is one of those actors where you just know the project has potential. But to have him playing a robot in a genuinely sweet but equally bittersweet rom-com? That's a recipe for cinematic gold, and I was not disappointed. Note: This is a German film, but since Dan Stevens is fluent in German and French, it wasn't a problem for him. His performance is as wonderful and nuanced as you'd hope.
Our Friend
Based on an article I read long before it was adapted, I was surprised at just how well this narrative of a friend who becomes far more than "merely" a friend after a woman battles cancer plays out on screen. The performances are all touching and crafted with a care that comes from knowing that you are portraying actual people. And while I'm sure some liberties were taken with the facts to create a more compelling film, it's hard to fault that when the result is so beautiful.
The Green Knight
I don't mind challenging movies. I don't mind vague movies. I don't mind movies which leaves what happened to the viewer. But when you take risks like this, you had better do it well, or else you're just going to piss me off. But when a film does do these things well, they are massive plusses in my book, because they involve me like no other. The Green Knight combines all three with compelling acting and gorgeous visuals. I really loved it, and am very much looking forward to what David Lowery does next, because they guy just excels at crafting wonderful cinema.
Red Notice
This movie was panned more than praised and I just don't get it. The story is great with nice twists to keep things interesting. Ryan Reynolds and The Rock are at their most entertaining. The action sequences are pretty darn sweet. And I was entertained from start to finish. No, this isn't Shakespere, but for what it actually is, I enjoyed it quite a bit. This is what I was hoping to get from The Hitman's Wife's Bodyguard.
The Paper Tigers
I do love me a really good kung-fu action flick, and this one is a notch above. Three guys who were once known as "The Three Tigers" when they were kung-fu stars at the top of their game must avenge their sensei's murder. Sounds like a movie you've seen a dozen times before, right? Nope! This one is hilariously fun and entertaining in a way you might not have seen before.
Val
This documentary on Val Kilmer is a compelling watch. His story is far more complex than I ever realized, and it makes me love the man as a person and not just as an actor (for Real Genius and Top Secret alone!).
DIDN'T SEE, MIGHT HAVE MADE MY LIST...
The French Dispatch — I wanted so badly to see it, but could never make it happen. As a huge, mega-huge Wes Anderson fan, this likely would have made my list.
Ghostbusters Afterlife — I still know absolutely nothing about this movie other than it has Paul Rudd and plays on the heartstrings of the original in a way that a lot of my friends really liked.
Last Night in Soho
Roadrunner: A Film About Anthony Bourdain
Paper Spiders
The Velvet Underground
Beyond the Infinite Two Minutes
Passing
OVERRATED BUT STILL GOOD...
Encanto
I was so looking forward to this animated feature once the trailer hit. It looked interesting, fun, unique, and special... not to mention beautiful. And while it was all those things, it also missed the mark for me by ultimately being totally average in every one of those respects. Still, those Lin-Manuel Miranda tunes were good, there's some funny moments that totally worked, the characters are wonderful, and it was amazing to look at... I just wish they had polished the script more to push the movie somewhere that made it truly special.
The Mitchell's vs. The Machines
Make no mistake, this is a darn good animated movie about a resourceful family who has to battle a robot invasion. I enjoyed it. I thought it was beautifully made. And the voice performances were top-notch. But the story felt like it had been told a hundred times before and really brought nothing new to the table. These characters have been done to death, and I was really hoping for something more.
Candyman
When I found out that they were remaking the Tony Todd classic, my first thought was "Why?" And my second thought was "How?" It just seems impossible that anybody could possibly top Tony Todd's memorable performance in the original. But then I saw that Yahya Abdul-Mateen II is in it (not as Candyman), and I was thinking "Maybe?" Turns out that Nia DaCosta had a very clear vision for where she wanted to go, and then drove straight there without making any detours. Unfortunately this didn't turn out to be such a good thing... any genuine horror in this horror film is nowhere to be found, and I kept waiting for it to deliver any actual scares. It's more focused on ideas than fright, which is not a bad thing, per se, but it wasn't what I was hoping for when it comes to a movie picking up the mantel of Candyman.
DISAPPOINTING
Matrix Resurrections
Because I'm a huge fan of Keanu Reeves, I took a chance on Resurrections despite how much I hated Reloaded and Revolutions. The Wachowskis thought they were being new-level smart with their psychobabble bullshit sequels, but it was just a messy narrative that wasn't any fun. Certainly not compared to the brilliance of the original The Matrix. The way that Resurrections works is that Lana Wachowski went all meta on our asses and, sadly, it wasn't terribly successful. There were some great action sequences, as expected, but I found myself asking "To what end?" as they unfolded. While not terrible, it's still missing the mark. Still... it's better than the previous two sequels. Alas, that's a bar so low that it really had to be, didn't it?
TOTALLY SHIT THE BED...
Reminiscence
A sad attempt at smooshing together Blade Runner and Strange Days in a way that fails in just about every way possible. I was hopelessly bored through most all of it and kept thinking over and over how completely unnecessary this movie was when the originals they were taking so liberally from still hold up today. How they roped Hugh Jackman, Rebecca Ferguson, and Thandie Newton into this comically executed dud is a mystery. They all deserved better.
Posted on December 21st, 2021

And so the finale of Hawkeye aired at midnight tonight. And because I wanted nothing spoiled, of course I stayed up to watch it.
Suffice to say that this was everything I could possibly hope for. The finale was fantastic stuff, filled with all the action you've been dying for all along. Yeah, things seemed a little rushed... I remain convinced that had they combined the first two episodes and split this one into two parts it would have made for a much better series overall.
Not that there was much room for improvement. In a shocking move that I never saw coming, Hawkeye will undoubtedly take the top spot in my annual list of favorite television shows. It was just that good. It took liberally from the Matt Fraction and David Aja comic book series I love so much... but was firmly rooted in the Marvel Cinematic Universe in a way that neither WandaVision nor The Falcon and The Winter Soldier really managed...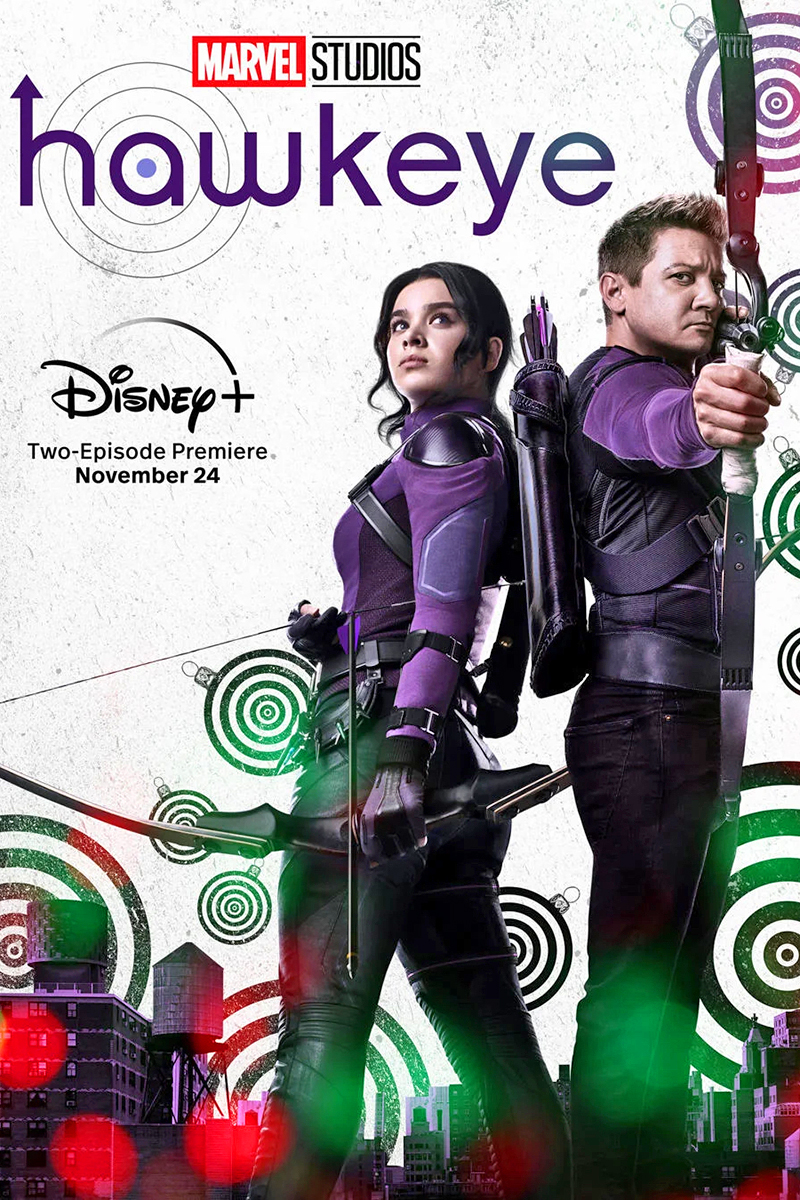 If we could just get more series like this, I would be ever so happy.
In discussing the finale (in an extended entry) of course there's going to be loads of spoilers. If you haven't watched the series yet, then you should do that right away and look no further.
→ Click here to continue reading this entry...
Posted on December 15th, 2021

The penultimate episode of Hawkeye was released at midnight last night and of course I had to stay up for it (I was working late anyway). It's incredible. And it pisses me off. This should have been Episode 04, not Episode 05... because this is where things are getting good, and you just know that the conclusion is going to be rushed if it's all crammed into a single episode. I can only guess that the story is going to be badly truncated or it's all just setup for other series. Which is definitely is. But it shouldn't be that in a way that short-changes Clint Barton, which is the guy we're all here to see...
The last thing I want to do is spoil the show for those who haven't seen it yet, but I do want to get into this episode. So... if you're not up to speed on Episode 05, here's your chance to bail before some serious spoilerage gets dropped on your head.
And if you're not watching Hawkeye? I can't recommend it highly enough. You may remember that I ranked all the Marvel television shows a few days back. Well, this series is now in my #1 spot by a wide margin. It is easily the best of the Marvel Studios shows, and worth getting a Disney+ subscription just for this (but there's a lot of good stuff on there, so it's a price I'm happy to pay for each month).
My spoiler-filled commentary is in an extended entry...
→ Click here to continue reading this entry...
Posted on December 1st, 2021

Disney+ and Marvel Studios debuted Hawkeye last week with two episodes. And while they were great, I was a little disappointed that they were dragging out the series with such a large amount of build-up. I know that Kate Bishop and her world has to be established since we've never seen her before... but come on. They could have easily done that in a single episode! Instead 1/3 of the series was pretty much over before we got to what we're wanting to see.
And then the third episode dropped today and, yep, now we're EXACTLY where the second episode should have started. This is everything I was dying to see from the Matt Fraction and David Aja comic book series come to life...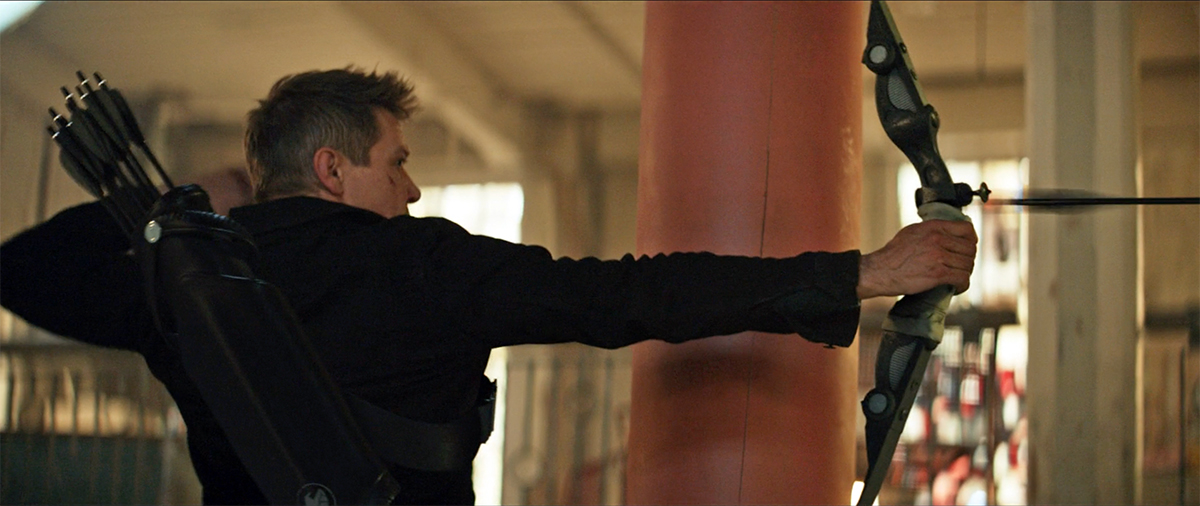 Echo, who appeared at the end of last episode is given some back-story this time around. And yet it's not drawn out so it infringes on the absolutely wild action we get to see. Seriously, watching Clint Barton escape from the mess he's in is thrilling. Jeremy Renner has nailed the character so thoroughly that I seriously hope that he doesn't disappear entirely after the mantle is passed to Kate Bishop. It's entirely possible for her to go on to do her own thing while still giving us a second season of Hawkeye.
And now is the time that I implore you to check out the comic book series upon which this television series is lifting from. It is, in all honesty, in my top ten comic book series of all time, and I've read through the Fraction/Aja run at least a half-dozen times now...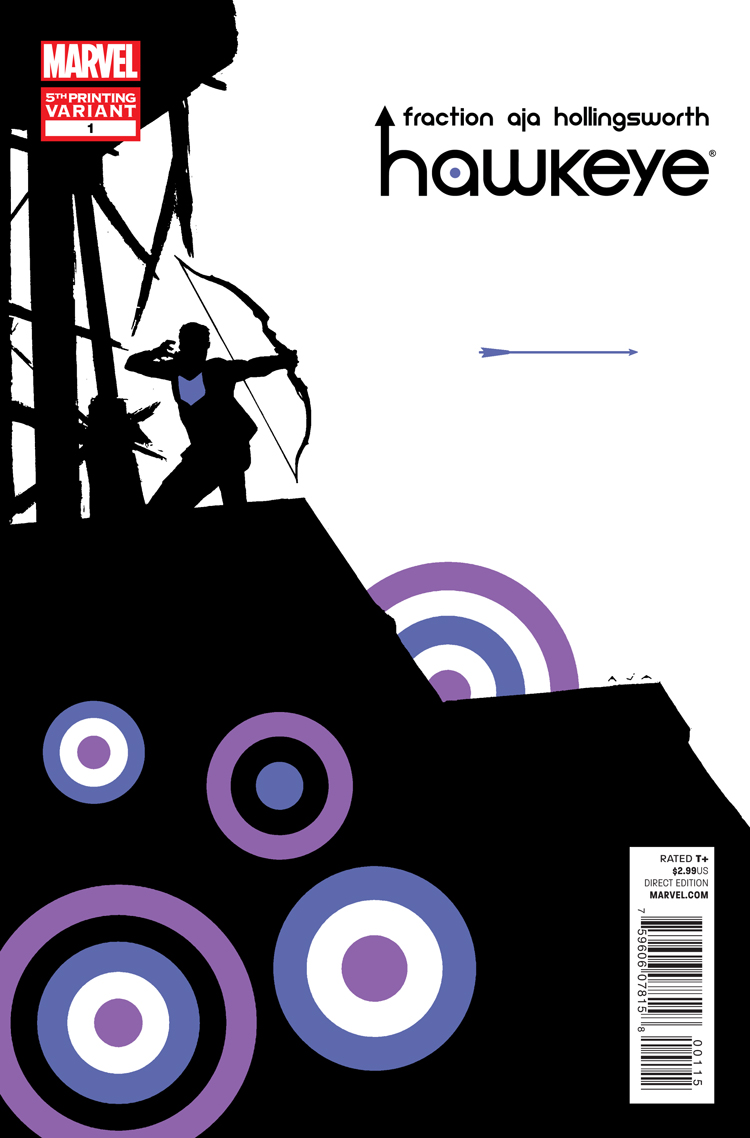 Well, well worth your valuable time.
Posted on November 24th, 2021

Last night when I turned on the television so I had background noise running while I work, a movie recommendation popped up. X-Men: Dark Phoenix. I was floored. Why in the hell would they be recommending the worst super-hero comic book movie ever made? And then I was like... wait... second worst. Because first on that list is Wonder Woman '84, and no other movie will likely dethrone it from the top spot.
At least I sure as hell hope not.
It got me to thinking about all the horrible super-hero comic book films that got made, so I thought I'd run through those I remembered.
Wonder Woman '84
What makes this horrifically shitty film so painful is that the first Wonder Woman film was so amazing. But this time we get plot holes so inexplicably huge and a story so embarrassingly stupid that it's impossible to believe that everybody who was involved has anything to do with the original. And yet... they were. In addition to one of the stupidest fucking villains with one of the the stupidest fucking powers doing the stupidest fucking things, we also got Wonder Woman pulling powers out of her ass left and right in a way that made you think she can do whatever the hell she wants to do. Plus a bizarre take on The Cheetah which is disappointing enough to put this film on the list all by itself. As if all that weren't enough, there was no internal logic or consistency. Patty Jenkins and the writers didn't give a shit about making anything make sense. So we end up with functional planes being gassed up and ready to go at a museum and scores of other idiotic dumbassery that makes this not even the worst comic book movie ever made... but one of the worst films ever made period.
ALL X-Men Films (except First Class)
Anything that Bryan Singer touches goes to shit, and nowhere is that more blatantly apparent than his grotesque take on the X-Men. At first, I was willing to cut them some slack because technological limitations of the time made depicting all their various powers difficult and expensive. BUT THEY COULD STILL COME UP WILL STORIES THAT WEREN'T SHIT! My God. They just kept getting progressively worse... then there was the bright spot we got with the prequel X-Men: First Class... only to have Bryan Singer come back and take a massive steaming dump all over everything. To add insult to injury, they wrapped everything up with Dark Phoenix, which is about the worst take of them all. Thank God Marvel Studios have the licensing back. I am praying that they manage to come up with something actually good for a concept that has never made great movies.
Superman Returns
Not content to let Bryan Singer fuck up the X-Men, DC Comics wanted to let him ruin Superman as well, allowing him to effectively kill the franchise for a second time. And it was really too bad, because I thought Brandon Routh made a fantastic Superman. But even a group of talented actors couldn't save the shitty story... which was essentially a bad retread of the original Superman. That being said, there is one solitary moment in this film that I thought was incredibly well done. It's after Superman has been taken to the hospital and is dying. Out side is a throng of people waiting for news to see whether he's alive or dead. In the crowd is Martha Kent. Even though she's Superman's mom, she has to wait outside with everybody else because nobody knows that Clark Kent is Superman. It's absolutely heartbreaking, and made you realize that there was probably a good film in this mess somewhere... it's just that Bryan Singer was incapable of finding it.
Superman III and Superman IV: Quest for Peace
The reason these hit so hard for me is that Superman: The Movie and Superman II were so sublimely good. And that was after the Salkinds ripped the movie away from Richard Donner and tried their best to fuck them up. Christopher Reeve was Superman. But, even more important, he was Clark Kent. Then you drop in a flawless Gene Hackman as Lex Luthor... plus some incredibly ambitious stories... and it was absolute magic (then they brought back the Donner cut of Superman II and it was as if every fanboy's prayers had been answered). But then they made two sequels that went beyond bad, and the only thing left was Christopher Reeve. Good as he is, even he can't make something out of nothing.
Man of Steel and Batman vs. Superman and Justice League
Zack Snyder had one good movie (300) and one okay movie (Watchmen) and apparently that was enough for DC Comics to hand over the keys to the entire DC Comics Cinematic Universe. The result was an absolute disaster that, in some ways, is even worse than the Bryan Singer movies because at least Snyder had cutting-edge special effects to make his movies work. Unfortunately, he decided that enduring characters which people had been loving for decades needed "improving upon" and put his own spin on things. And apparently his whole plan was to come up with shitty, convoluted stories which revolve around deadly-serious, dreary, boring, films that are utterly devoid of joy... or common sense. And while the casting is mostly good, there were some bone-headed decisions for critical characters (see: Lex Luthor) that were so horribly off the mark that the films would have been sabotaged even if they were actually good. Which they were definitely not.
Fantastic Four, Fantastic Four: Rise of the Silver Surfer, Fantastic Four
How you can fuck up a Fantastic Four movie is a real head-scratcher. But Fox managed to do it three times over. I'm just going to ignore the first two and focus on the attempted reboot in 2015, because it's the one which is really driving this. It was awful. Beyond awful. Not a damn thing made any sense and the casting was inexplicably bad (ironically the casting that was the most controversial, Michael B. Jordan as Human Torch, was the only thing that worked for me). And then there's the fact that the Fantastic Four never even show up until the very end. Lord, what a waste.
Catwoman
Yet another case of flawless casting being utterly destroyed by a horrible story. Halle Berry deserved far better. As did we all.
The New Mutants
Why? Just... why? The idea of a super-hero comic book movie being given a horror slant is not a bad one. On the contrary, it seemed like a good idea for something new. The problem is that they fucked it up from start to finish and it failed all genres that it stepped in. Wasn't scary. Wasn't exciting. Wasn't a comic book movie. Wasn't much of a film. In all honesty, Disney should have just stuck this 20th Century Fox mess in a vault and never let it seen the light of day. Not that it matters. Anybody who ever saw it likely forgot about it within 24 hours. Or wish they had.
Green Lantern
They wise enough to make the decision to cast Ryan Reynolds as Hal Jordan and Mark Strong as Sinestro... so what the hell went so terribly wrong? EVERY. OTHER. DECISION. Where's the fucking story? Green Lantern could have been a story of cosmic scope that defied belief. But instead they just utterly trashed the character for no good reason. Everything from his hideously bad CGI costume to the gawdawful take of both Parallax and Hector Hammond as "villains" just made this so very, very disappointing.
Batman Forever and Batman and Robin
The first two Batman films were Tim Burton weirdness that didn't 100% work... but they were at least entertaining. And they gave us Michelle Pfeiffer Catwoman, so there's that. But then Joel Schumacher took over and gave us these stupid, campy films which had so many poor decisions piled up that there was no room for actual Batman stories in them. It was made doubly bizarre, because the casting wasn't exactly terrible... Jim Carrey as The Riddler? Perfect. Tommy Lee Jones as Two-Face? Great. Uma Thurman as Poison Ivy? Nice! Alicia Silverstone as Batgirl? Flawless. Arnold Schwarzenegger as Doctor Freeze? Weird, but okay. Chris O'Donnell as Robin? Too old, but I get it. And even Val Kilmer and George Clooney weren't terrible choices for Batman. Which means it all comes down to the writing and direction, which was embarrassing in a way that even the 1960's television show couldn't beat.
Elektra
I think had they invested the money so the script could have revolved around an actual story, an Elektra spin-off was a great idea. But instead they cheaped out, leaving us with something that was bizarrely detached from the character that Jennifer Garner created in Daredevil.
Spider-Man 3
The first two Toby Maguire films were darn good. Better than they had a right to be, actually. But then things went completely off the rails. Sam Raimi crammed in too many villains in too many ways with too many bizarre turns for this movie to have any hope at all. But the thing that just dropped this one in the gutter was the way they completely trashed all the characters. Mary Jane was written horribly. Peter Parker (under the influence of the symbiote) became devoid of everything that makes Peter Parker be Peter Parker. And then there's Venom... a villain which was made a laughable shadow of the character that was established in the comics. So many bad choices. They say that the studio interfered with what Sam Raimi wanted to do, which makes a lot of sense. But is inexplicable given the success he had with the first two films.
Amazing Spider-Man and Amazing Spider-Man 2
After screwing up the Toby Maquire franchise, Sony decided to take another shot at the character and rebooted Spidey with Andrew Garfield. Ultimately you have to wonder why they bothered, because they didn't really do anything new. On the contrary, they went back to arcs that were already explored with the first trilogy, then made things so horribly complicated with Peter's dead parents being spies (or whatever) that it was as if they didn't feel Spider-Man could carry a movie. Which is understandable... Sony had a Spider-Verse to build. Alas, those plans were scrapped when Amazing Spider-Man 2 bombed.
Hulk
Ang Lee taking on The Hulk seems like a dream come true. But the movie was just not very entertaining. There were some ideas that were cool enough... but there just wasn't much going on past that. It was seriously troubling that the script's many problems weren't worked out before filming ever started. The fact that they weren't is really difficult to understand. I guess they just trusted Ang Lee to figure it out, but ultimately he didn't want it to be the super-hero movie that it needed to be and we got this. In truth, the follow-up film wasn't a heck of a lot better, but at least they tried to make Hulk be Hulk.
Yikes. More than I thought I'd remember. It's almost as though I should rewatch all the Marvel Studios movies for the hundredth time so I can have good super-hero comic book movies back in my head.