Given my genius-level intelligence, it should come as no surprise that I like the mental workout provided by the game show Jeopardy. The questions are always fairly tough at the higher dollar amounts, and I only manage to answer Final Jeopardy correctly half the time. This kind of challenge is what makes the show so much fun.
It is my understanding that every contestant on the show has been tested for a good knowledge of trivia and overall smarts. This is wise, because the competition wouldn't be much fun if the contestants were all idiots.
Unfortunately, the "smarts" they test for must not include basic math skills.
I am beginning to lose track of the number of times I've watched an otherwise smart person fuck up and lose everything during their Final Jeopardy wager because they couldn't add properly. They'll write down the wrong number for some dumb reason, answer the question correctly, LOSE, and then poor Alex Trebek has to explain to them that they're a moron.
Even worse are the "Daily Double" questions, where a contestant can double their wager if they answer correctly. You regularly see people who bet some pathetic amount when they are in last place, even though they should have risked it all so they could stay in the game.
It's sad, really.
If it were ME running Jeopardy, and some dumbass decided to wager $100 when they're so far behind that their only chance is to wager everything they have... well, my reaction would be a lot different from Alex Trebek's kindly smile and condescending banter...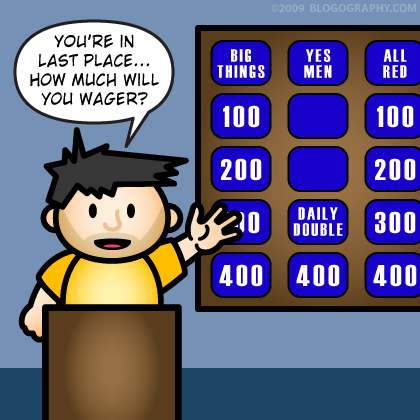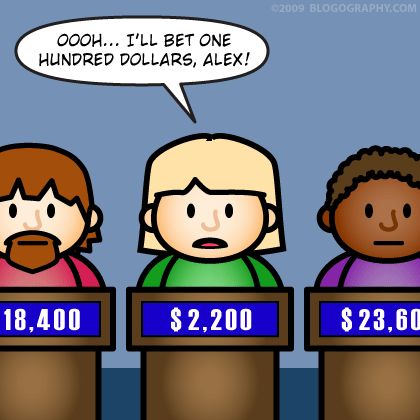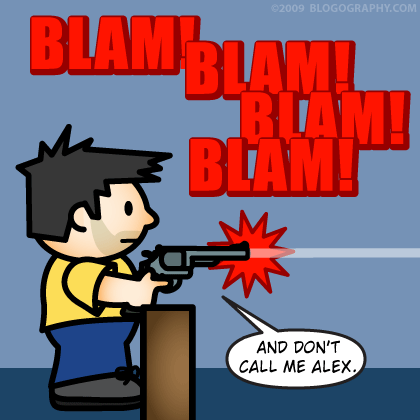 Because, seriously, nobody that frackin' stupid deserves to be on Jeopardy... they spoil it for everybody.
And by "everybody" I mean "me."
Oh well. New episodes of Burn Notice start tomorrow! So very soon now I won't have to rely on game shows to see something new on TV.
I can't wait.