This morning I started out the same way I begin every Martin Luther King Jr. Day... by listening to his beautiful I Have a Dream speech in its entirety.
As always, those words have proven relevant and timely in oh so many ways.
A couple days ago Representative John Lewis says he feels that President Elect Trump is an illegitimate president and that he won't be attending the inauguration.
Trump fired back, responding to Lewis by saying he's "All talk, talk, talk - no action or results."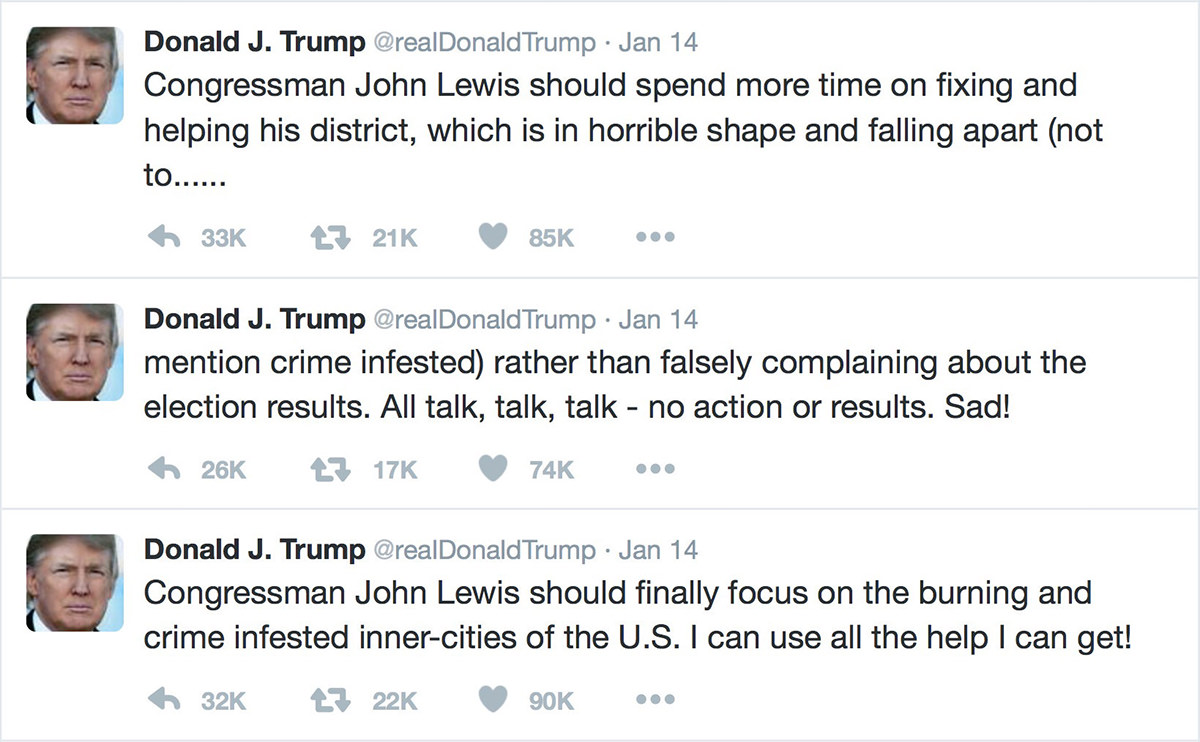 Now, say what you like about Representative Lewis's remarks. You can agree with him. You can disagree with him. Whatever. But to attack somebody who has been at the forefront of The Civil Rights Movement... who marched with Dr. King and was one of The Big Six... who has fought tirelessly for human rights... who has been beaten, jailed, and paid for his activism in blood... to say such a man is "All talk, talk, talk - no action or results"... is the height of ignorance.
Not that ignorance is unknown to Trump, but still...
What's even more disturbing than the President Elect being this stupid is that 74,000+ people "loved" his Twitter dumbassery.
If you're one of them, may I suggest you get yourself a copy of Volumes 1-3 of Representative Lewis's wonderful March graphic novels, which tells the story of the U.S. Civil Rights Movement from his perspective. Which is a fairly important perspective since, you know, HE LIVED IT...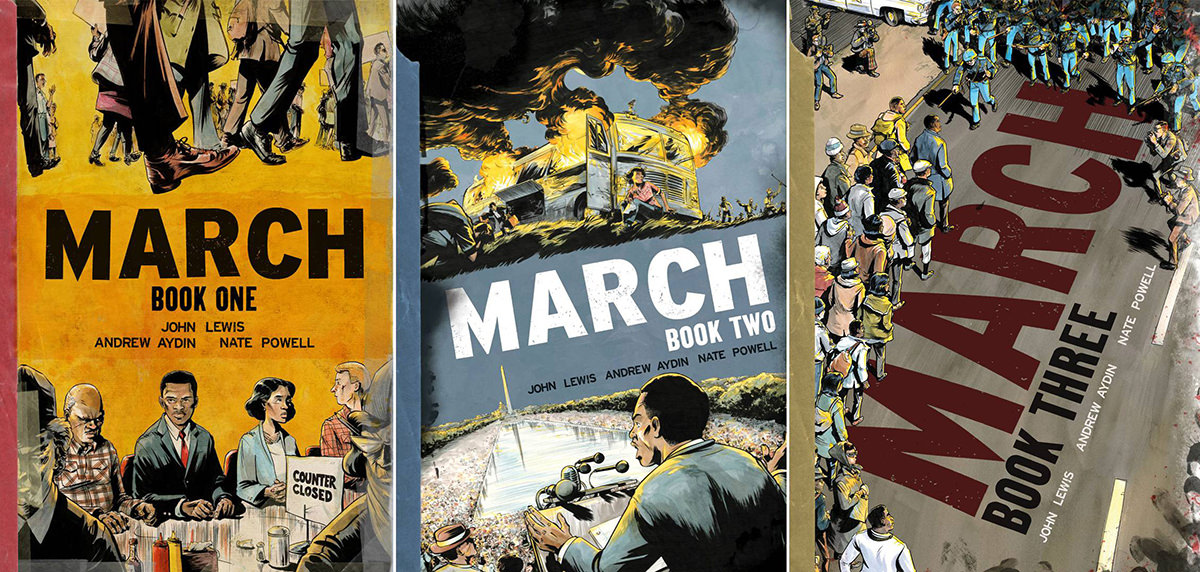 And, while you're at it, perhaps you could buy an extra set and send them off to "comedian" Rob Schneider, who felt the need to explain Martin Luther King Day to Representative Lewis...
I don't know if starring in such films as Deuce Bigalow: Male Gigolo and The Hot Chick could be considered a benefit to humanity... so perhaps Rob Schneider has done him part... but still...
You can get the entire March trilogy at Amazon by following this link.

Here we go again.
I'm probably going to link to this video every time the clocks change from here to eternity...
Genius.
A reminder to all you presidential candidates out there... any candidate... any candidate... who promises to abolish the idiocy of Daylight Saving Time gets my vote. Republican? Democrat? Libertarian? Communist? Nazi? Whatever... my vote is yours if you JUST MAKE THE MADNESS STOP!

Given my genius-level intelligence, it should come as no surprise that I like the mental workout provided by the game show Jeopardy. The questions are always fairly tough at the higher dollar amounts, and I only manage to answer Final Jeopardy correctly half the time. This kind of challenge is what makes the show so much fun.
It is my understanding that every contestant on the show has been tested for a good knowledge of trivia and overall smarts. This is wise, because the competition wouldn't be much fun if the contestants were all idiots.
Unfortunately, the "smarts" they test for must not include basic math skills.
I am beginning to lose track of the number of times I've watched an otherwise smart person fuck up and lose everything during their Final Jeopardy wager because they couldn't add properly. They'll write down the wrong number for some dumb reason, answer the question correctly, LOSE, and then poor Alex Trebek has to explain to them that they're a moron.
Even worse are the "Daily Double" questions, where a contestant can double their wager if they answer correctly. You regularly see people who bet some pathetic amount when they are in last place, even though they should have risked it all so they could stay in the game.
It's sad, really.
If it were ME running Jeopardy, and some dumbass decided to wager $100 when they're so far behind that their only chance is to wager everything they have... well, my reaction would be a lot different from Alex Trebek's kindly smile and condescending banter...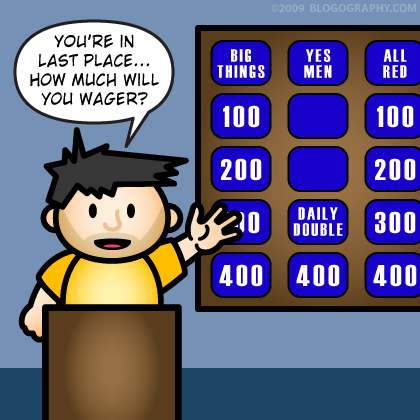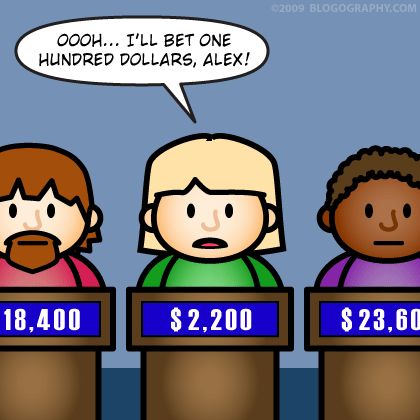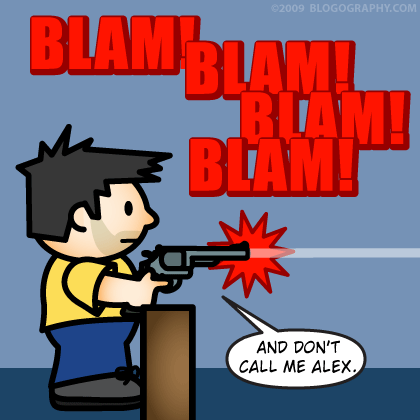 Because, seriously, nobody that frackin' stupid deserves to be on Jeopardy... they spoil it for everybody.
And by "everybody" I mean "me."
Oh well. New episodes of Burn Notice start tomorrow! So very soon now I won't have to rely on game shows to see something new on TV.
I can't wait.

I've written, erased, rewritten, edited, restored, revised, and held this entry for entirely too long now.
This is abnormal for me, because I usually just hammer out an entry, post it, then forget it. It's my blog voicing my opinion and point of view, so I don't worry about the consequences of what I post. Most of the time, that's not a big deal because the stuff I do here is hardly incendiary. It's silly. It's fluff. It's useless crap. It's cartoons with monkeys in them. That doesn't stop people from finding something to bitch about, but there's simply nothing here that's worth getting that upset over.
But every once in a while an entry like this comes up where I actually have something to say.
These times require that I be very careful, because there's a real possibility that I'll write something in a way that can be misinterpreted or unintentionally inflammatory. I mean, let's face it, I'm a terrible writer who is barely able to construct a coherent sentence. That's why I use photos and cartoons to communicate most of the time.
So when I say that Paul Marx, professor of English emeritus at the University of New Haven can go fuck himself... you'll know that I really put some thought into it.
Because seriously? Fuck you, Paul Marx. Fuck you sideways you ignorant piece of shit.
To understand why I would verbally abuse a dumbass like the retired professor here, you have to know three things...
I am for peace, and truly believe that resorting to violence is a complete failure on the part of humanity.
I am a longtime supporter of POW/MIA issues, and have a site dedicated to the POW/MIA soldier whose name has been worn on my wrist and remembered by me every single day for over 13 years.
Paul Marx is the moron who wrote this idiotic piece of op/ed bullshit at the Baltimore Sun for Memorial Day.
Now, there are many, many things about the "Viewpoint" article for me to get upset about. The author is writing out of ignorance and stupidity when it comes to POW/MIA issues, and has no grasp whatsoever when it comes to explaining what the POW/MIA flag means to people like me, or why we continue to fly it. Even worse, he presumes to speak for us with no attempt at perspective, and presents his personal opinions and interpretations as absolutes. My initial reaction as I read the piece was one of disbelief (I was NINE YEARS OLD when the war ended... his premise doesn't even make sense for somebody like me!). But, rather than going into a profanity-laden tirade, I was going to take a pass... partly out of respect for those who gave their lives for their country on this day set aside to remember them, but mostly because it's senseless to get too upset over somebody who can't grasp simple concepts (like friends and families of soldiers still missing wanting to know what happened to their loved ones).
But then I kept reading and got to a part which sent me into meltdown...
"It (the POW/MIA flag) continues to be flown mostly out of ignorance or indifference. But those who want it up see it as a protest against the outcome of the war. To them, the flag states that the war should have been fought until the North Vietnamese surrendered. If it took a nuclear bomb to attain that goal, that would've been OK."
This guy is a professor of English emeritus so I can only guess that, unlike myself, he knows how to construct a sentence in a way to get his meaning across. That his meaning is so detached from reality is unfortunate. That his meaning is presented as a statement of fact is what makes the guy such a fucking douchebag.
First of all, I do not promote POW/MIA causes or fly the flag out of ignorance. On the contrary, unlike Paul Marx, I have spent untold hours researching POW/MIA issues so that I can better help raise awareness of the plight of our missing soldiers and those seeking answers as to what happened to them. But, even more importantly, my eyes are wide open when it comes to working towards a full accounting of our servicemen and servicewomen who go missing in future conflicts. I mean, holy shit... don't they at least deserve that much? Are human beings so expendable and inconsequential to Marx that writing them off as victims of a "mistake" is what passes for "reason?" Perhaps if citizens show they are relentless about knowing what happens to our soldiers, governments will be more cautious in deploying them. George Santayana once said "Those who cannot remember the past are condemned to repeat it." Part of the importance of flying the POW/MIA flag is so that WE NEVER FORGET! This can not be overstated... this issue is far bigger than a war fought 34 years ago in Vietnam. It is an issue that continues to be of critical importance today... and tomorrow.
Second of all, to imply that the POW/MIA flag is being flown out of "indifference" is a statement of sublime irony. People are indifferent because they haven't been educated. How can people be educated if we're just supposed to sweep something under the rug because some people (including our own government) find it inconvenient or unpleasant? It was Jesus who is recorded as saying "and the truth shall make you free"... but we don't know the truth. And when it comes to our POW/MIA's, we're never going to be free of the Vietnam War until there is a full accounting. Those of us who remember them will make sure of it for the sake of future generations. The very reason the POW/MIA flag must continue to be flown and promoted is precisely because of uneducated persons like Paul Marx.
And, lastly, saying that those who want the flag up (me) would be thrilled if the United States of America had nuked North Vietnam... well, that's where I lost it. It was at that point in the article where I could no longer contain myself, and dashed out four versions of this entry where I tore Paul Marx to pieces for being such a stupid fucking asshole. That I am still doing so after five progressively calmer entries just goes to show how bad of a writer I truly am.
But, whatever, the point is this...
Showing support for people who sign up to defend this country's citizens and freedoms with their lives does not automatically make me a warmongering psychopath that relishes the idea of unleashing a nuclear bomb on the population of an entire country.
Paul Marx truly is a raging fucktard if he cannot understand something so elementary, and there's really nothing more to say.
It's tough to know how to end something like this when you're all worked up and there's really nowhere to go but down, so I guess I'll just stop.
Or not.
Because truly, honestly, and sincerely from the bottom of my heart... go fuck yourself Paul Marx. You say the POW/MIA flag is "a statement in favor of not caring about the other side's point of view, never acknowledging that there are human beings on the other side," but you seem to be forgetting that there are human beings on THIS side as well. That you so readily discount them undermines your entire argument, and has me seriously questioning your ability to form an educated opinion on anything (which, given your credentials, is more than a little disappointing).
Oh yeah... and fuck the Baltimore Sun for publishing such a piece of ignorant, disrespectful, and all-around screwed up piece of garbage on Memorial Day.