I woke up at 5:00am this morning... crossing my fingers that the emails I was waiting for had been answered so I could get to work. I really, really wanted to start in early so I could get off work early and continue cleaning my garage. But, alas, no work emails.
What I did get was a notification that Marvel Studios' Captain Marvel trailer and poster had been released. Something that I've been waiting and waiting and waiting for.
Worth the wait (as if there were any doubt)...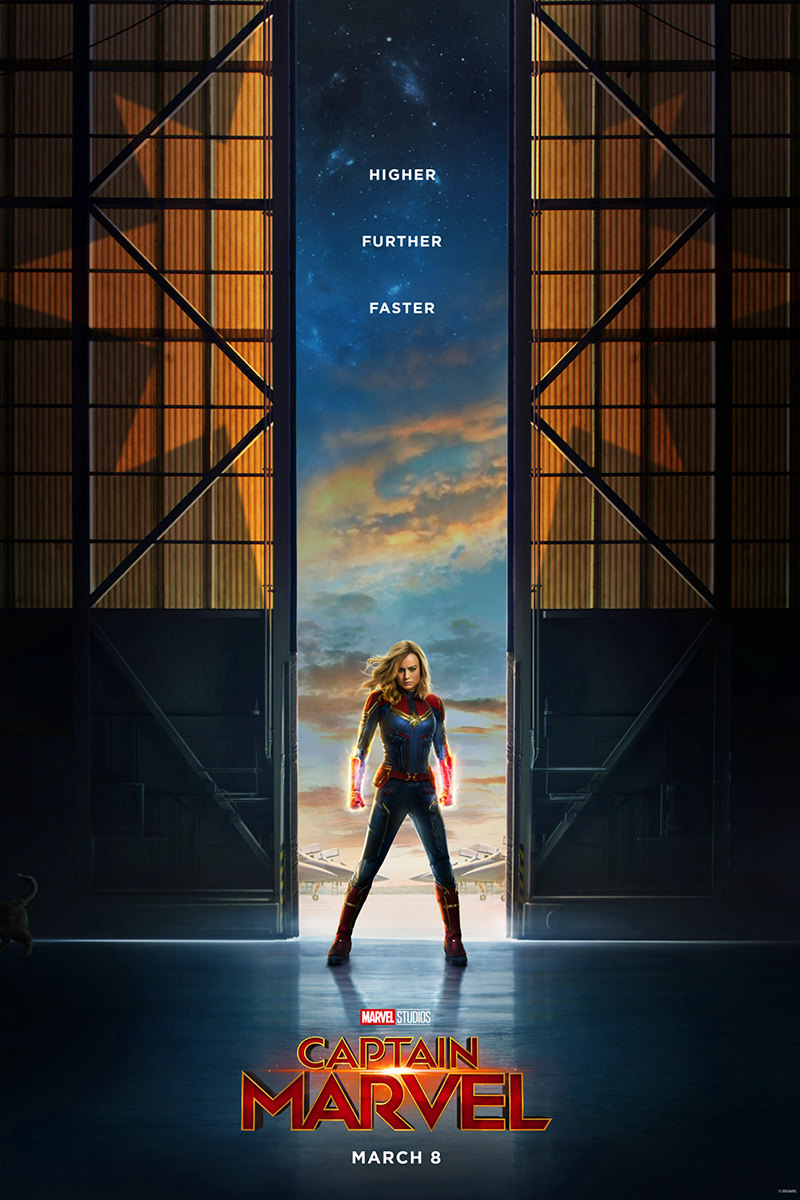 Totally worth the wait...
And so I spent the next 20 minutes obsessing over the trailer and what we were going to get out of the finished movie. As one does. Let's unpack this, shall we?
We start with Carol Danvers crashing into a Blockbuster. Just in case you needed a big ol' slap in the face that this movie takes place in the past...
LOL. Yep! That's aughtta do it...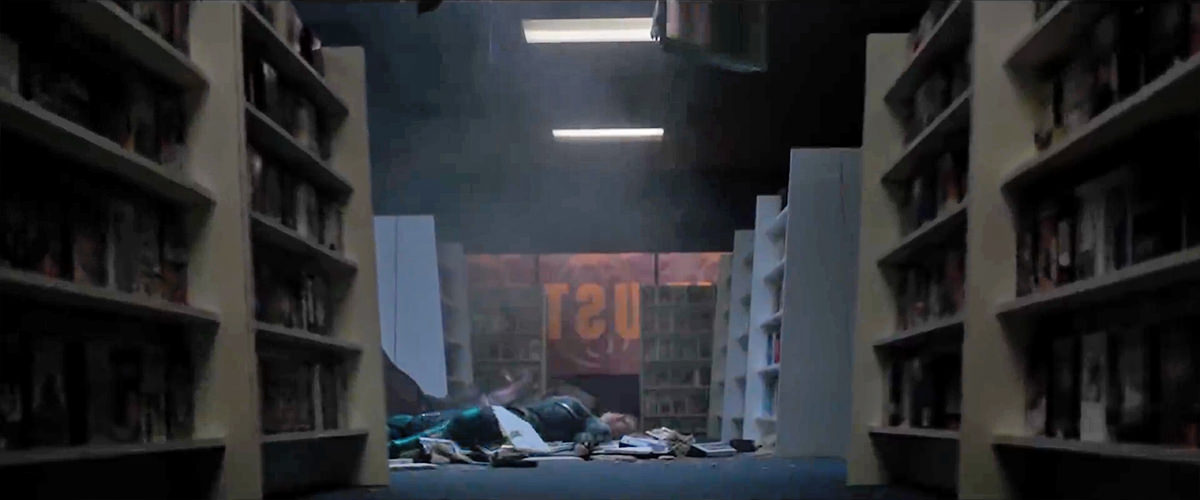 At this point, Carol is still in her Kree warrior costume. I'm not entirely sure how the movie will interpret her long, complicated comic book history, but it would seem that she originated on earth, ended up a part of the Kree Empire due to her hybrid genetic makeup, and eventually ends up back on earth. Assumably to thwart a Skrull invasion (the Skrulls being longtime enemies of the Kree)...
Interesting to note that people are totally ignoring her costume. I mean, yeah, this is New York... but super-heroes are not a "thing" at this point in time so you'd think it would be a strange sight?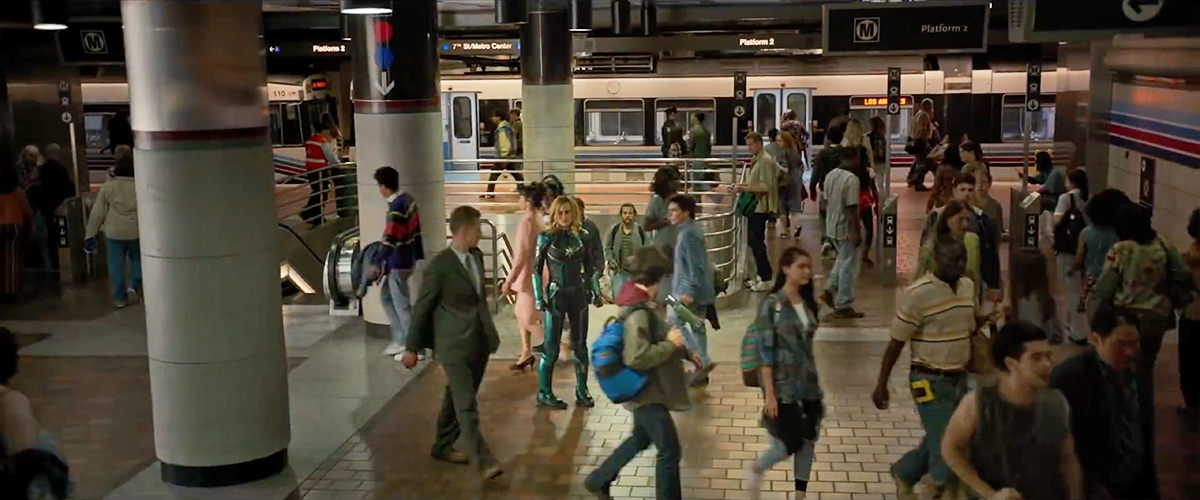 And... here's Samuel L. Jackson as Agent Nick Fury hanging around a Skrull autopsy. And that other guy in there... could it be?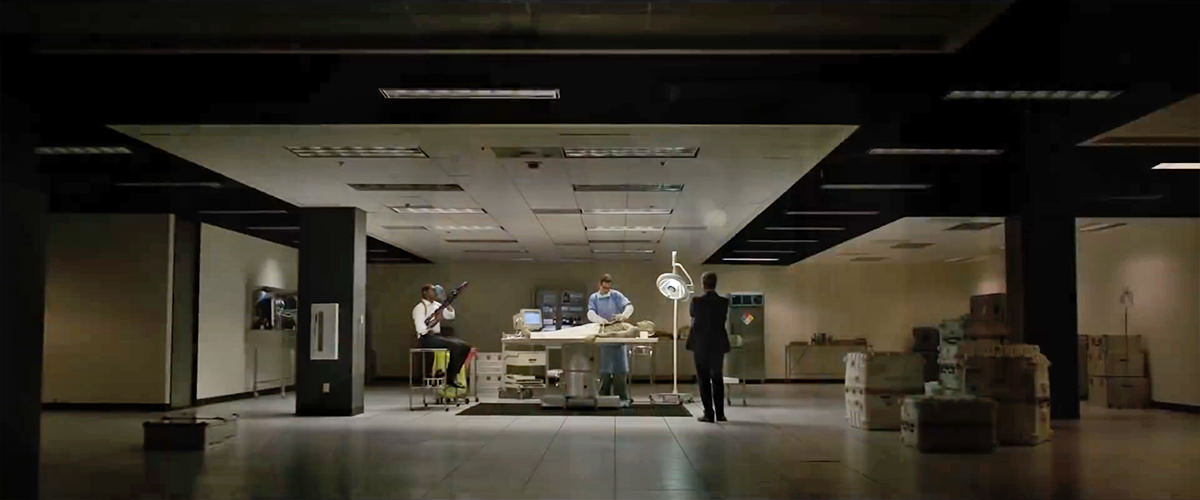 I am guessing that this is where Carol Danvers life is changed forever. She's a fighter pilot for the US military heading into space to investigate a spaceship. I'm guessing it's at this point that her DNA is merged with that of Mar-Vell, a Kree warrior, paving the way for her to become Captain Marvel...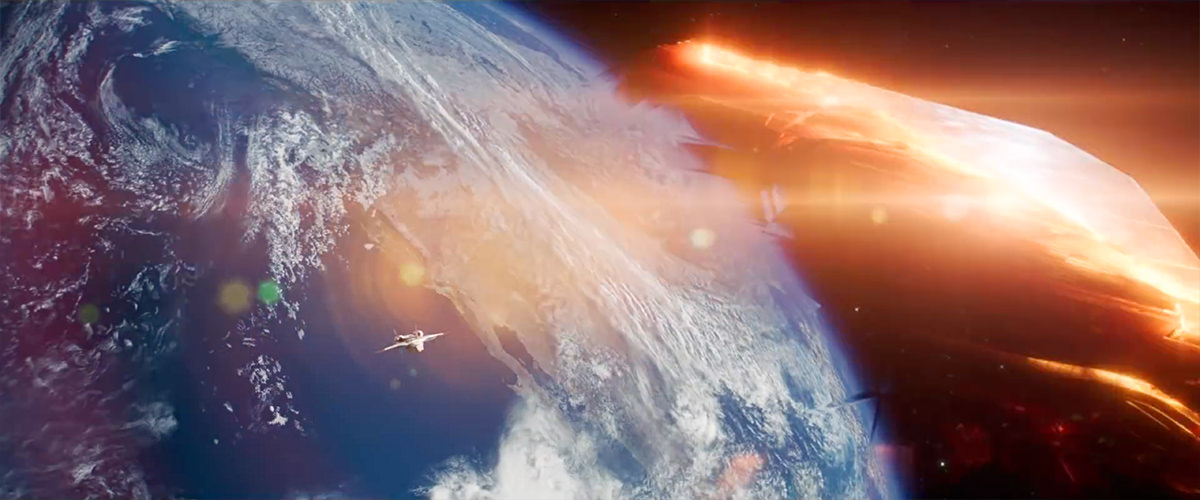 Annnnnd... here's the money shot. To me at least. Carol in full Captain Marvel gear blasting the shit out of something with her energy beams. I had a real concern that Marvel would downgrade her power set because she's Just. That. Powerful. and they didn't know what to do with her. Eliminating her energy manipulation powers was the obvious way to do that. But... here we are... praise be to Kree-Pama...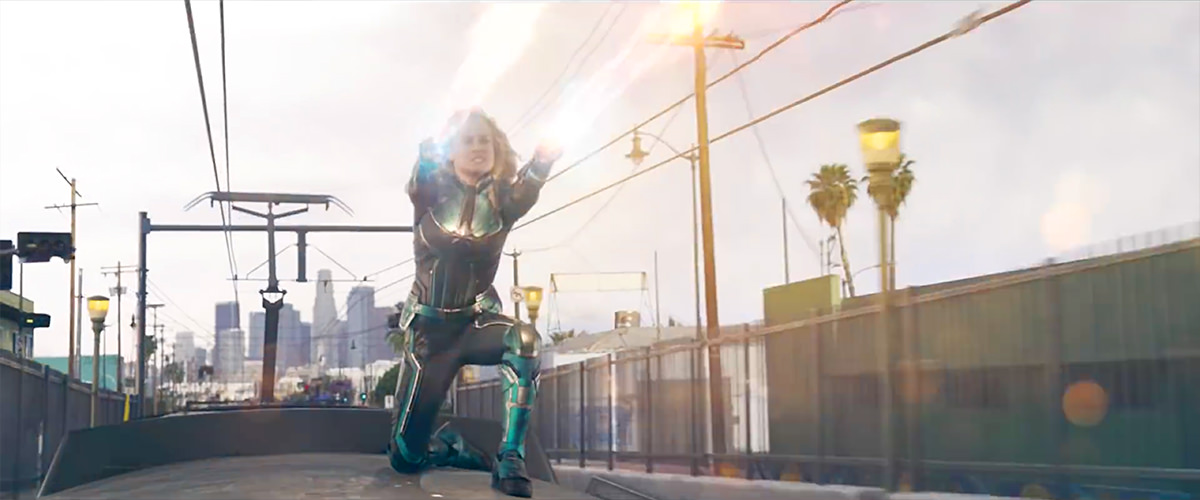 We knew that Samuel L. Jackson would be appearing as his younger self in this movie. And while nobody does de-aging special effects better than Marvel, it does seem a little uncanny valley when you take a frame out of the context of motion...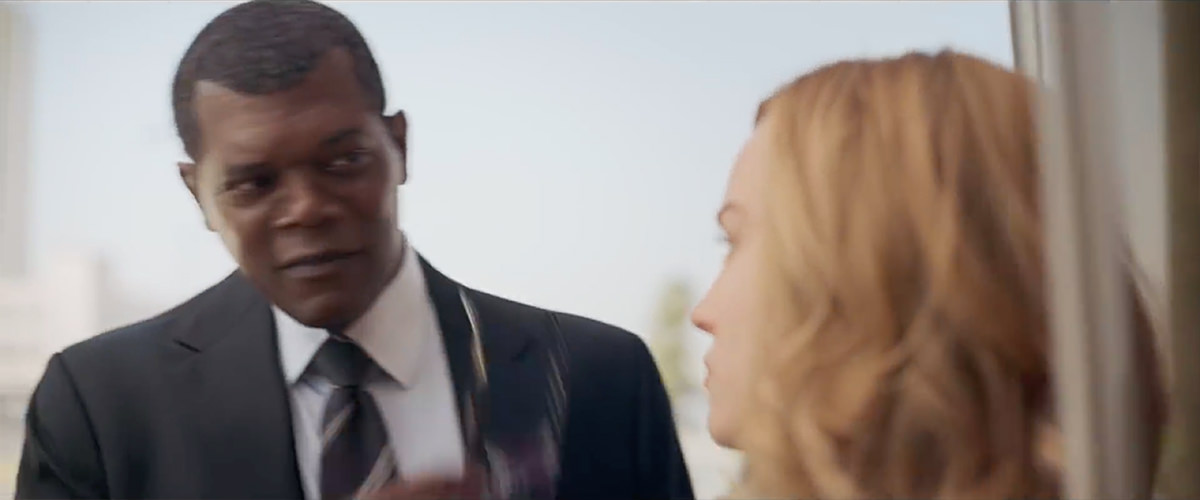 "Soooo... you're not from around here..." — "It's hard to explain." — Indeed it is...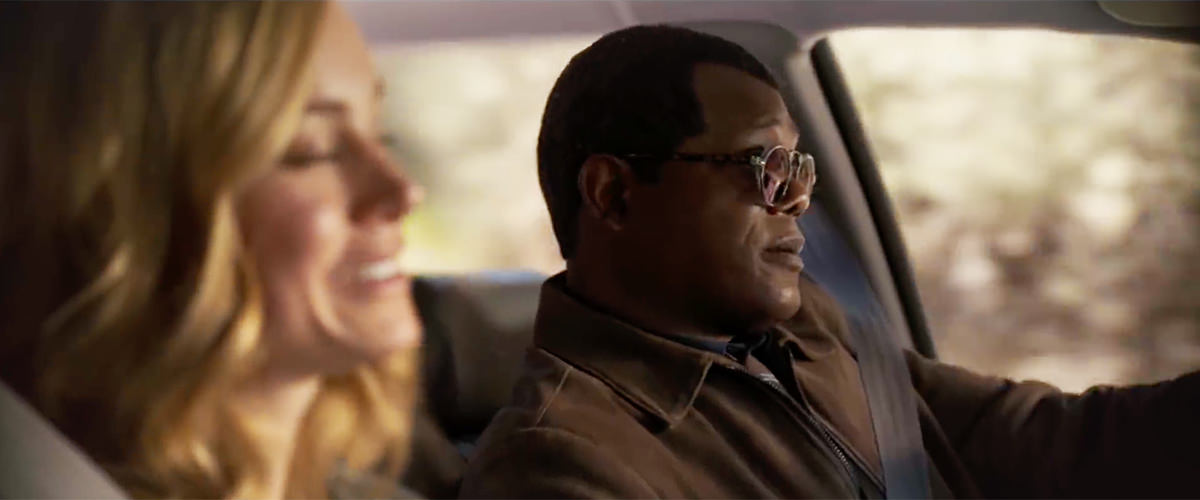 Back into space. I don't think this is earth, so I'm guessing this is the spaceship carrying Carol Danvers to the Kree Homeworld (which is probably Hala, at this point?)...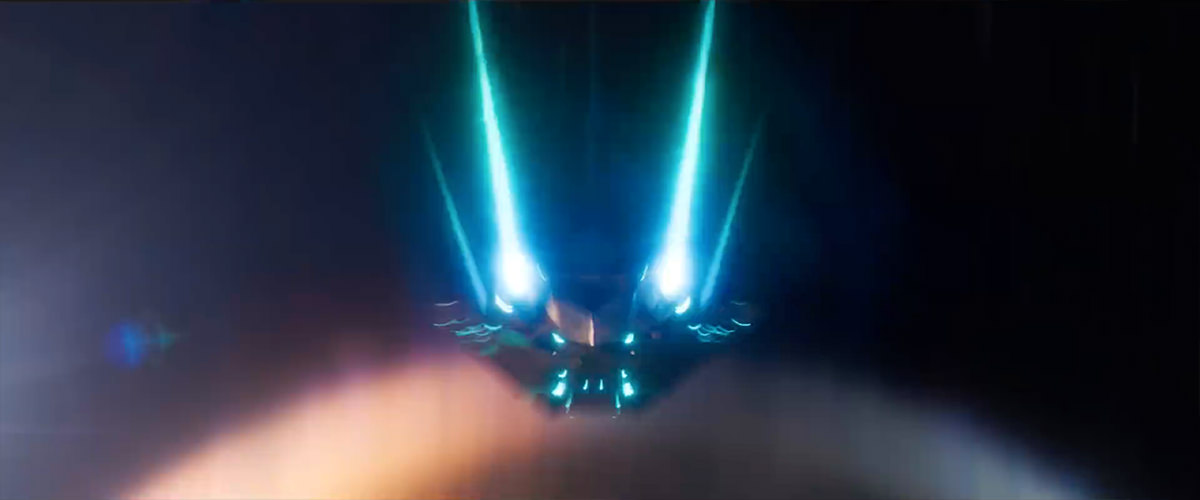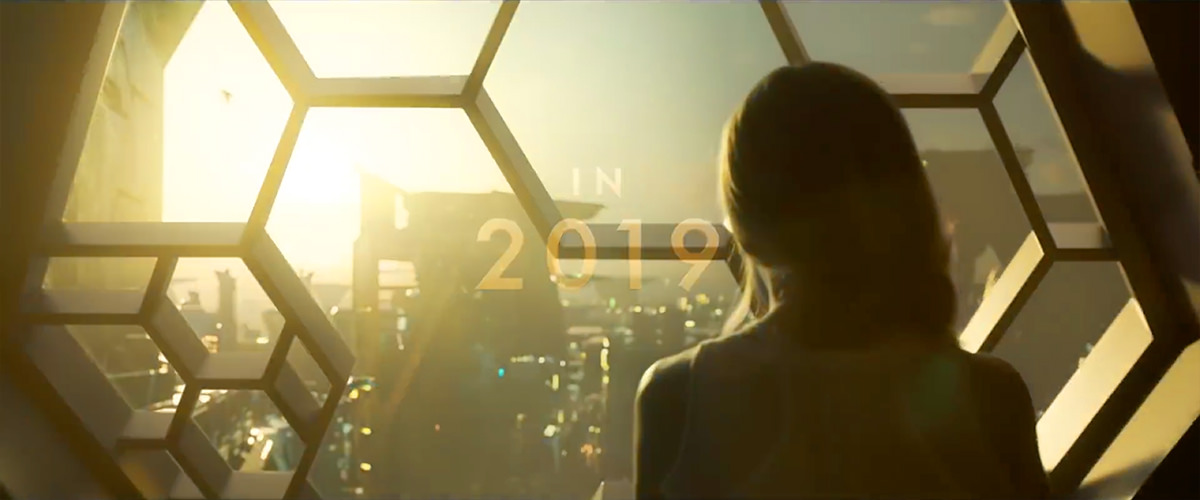 And we're jumping around time and space again. Back to earth. Here's Carol Danvers with Maria Rambeau. Not Monica Rambeau from the modern-day Marvel Cinematic Universe... but Maria "Photon" Rambeau from the past. Which makes her Monica Rambeau's mom... I'm guessing? Monica Rambeau is best known as the super-hero Photon, but was also Captain Marvel at one time. She was also "Pulsar" and "Spectrum"...
Here's where things get interesting. Carol Danvers falls back to earth after her run-in with the Skrulls/Kree. I'm guessing this is after her DNA has been infused with Kree goodness, because otherwise she'd be dead... wouldn't she?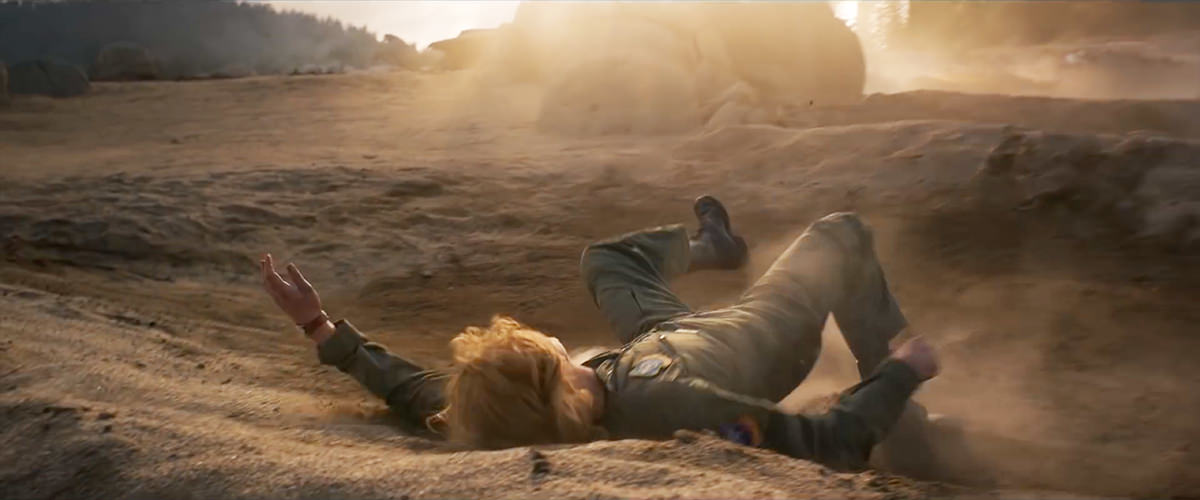 And now we're jumping ahead again because Carol is in her blue, red, and gold uniform instead of her green Kree uniform. Apparently she's been captured. And they're experimenting on her? Or maybe just confining her...
Jumping back in time again... because here's Carol in her Kree warrior uniform again. In the comics there are Blue Kree (apparently the default) and Pink Kree and a long, complicated history between them. No idea how that will be streamlined for the movies...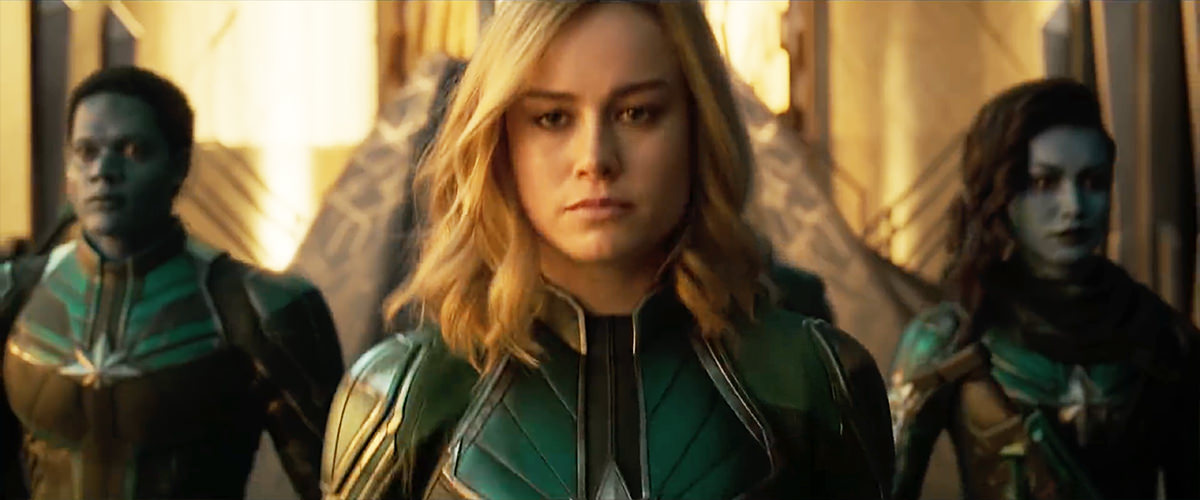 And... Mr. Jude Law, everyone! My guess (along with every other fanboy on the internet) is that he is playing Mar-Vell. Which is the original Captain Marvel in the comic books...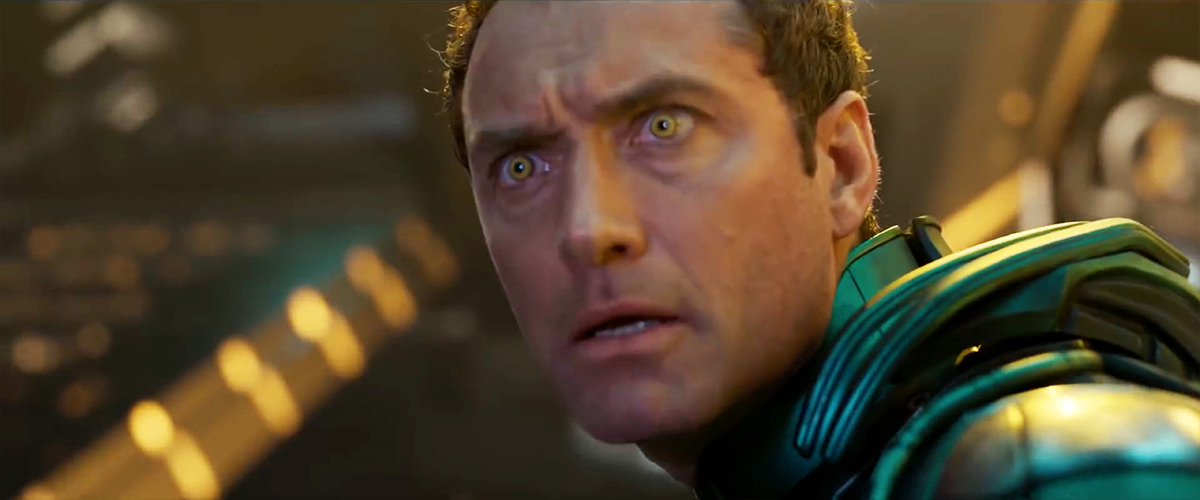 The Skrulls... arriving on earth, I'm guessing...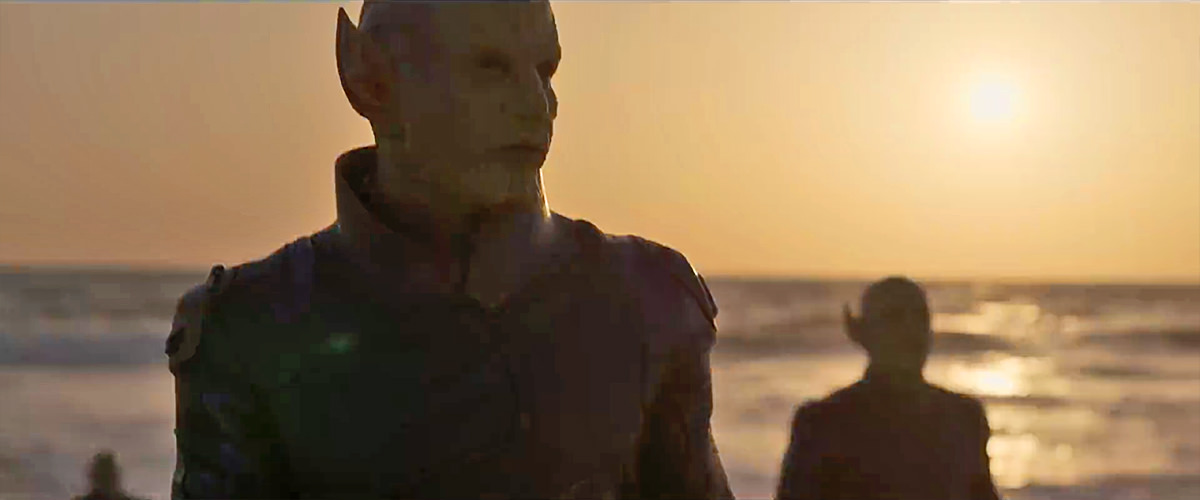 Oh look! Carol is punching a kindly old woman in the face! Except... we all know that she's not a kindly old woman. She's a shape-shifting Skrull pretending to be a kindly old woman! Mark my words... the Skrulls are going to be a major story in the upcoming Marvel Cinematic Universe. If events follow the comics, there are Skrulls who have replaced several Marvel super-heroes and are just waiting for their Skrull brothers and sisters to return to earth for another shot at domination...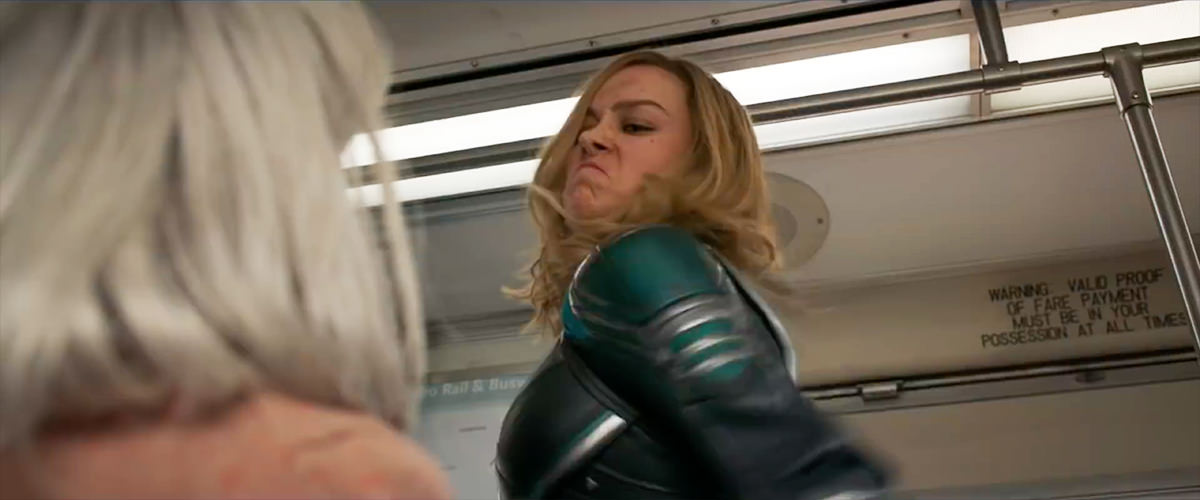 And... heeeeere's Ronan, everybody! This is long before Ronan the Accuser manages to get his hands on an Infinity Stone and make trouble for the Guardians of the Galaxy. At this point he's just a regular Kree. And possibly Carol Danvers' boss...
There we go! It's young Phil Coulson! Whose first name I'm pretty sure is "Agent." Needless to say, I am positively thrilled to see him return to the Marvel Cinematic Universe. I don't watch the Marvel's Agents of SHIELD television show (loathe it so hard), so it's nice to see such a great character again...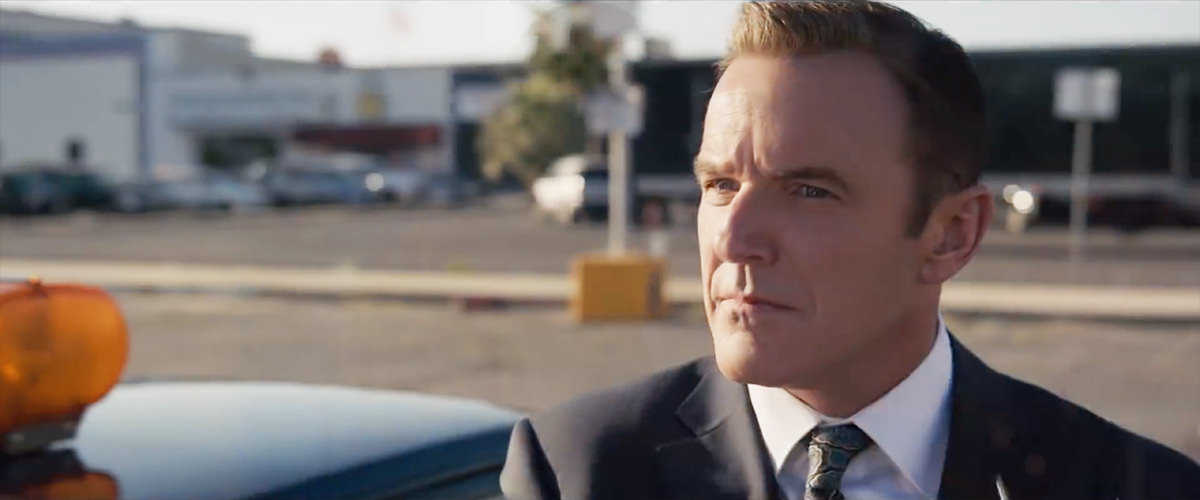 It's Nick Fury with his pocket pager! A different model than the pocket pager he uses to summon Captain Marvel at the end of Avengers: Infinity War...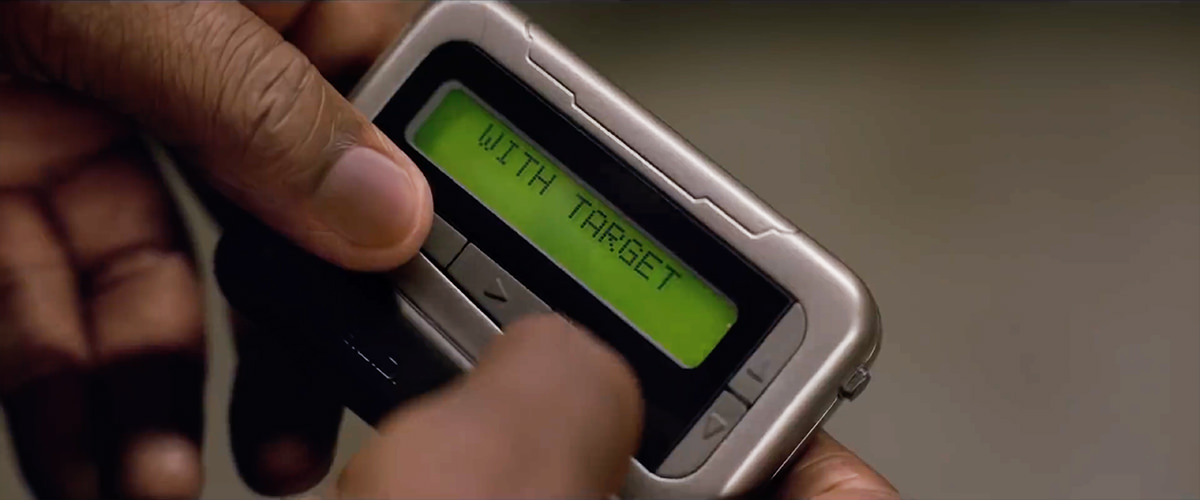 Underwater Kree! I am really hoping that this is Carol Danvers in this shot. At one point in the comics she had a mohawk, so this would be a fun nod to the source material...
Uh oh... somebody just got zapped...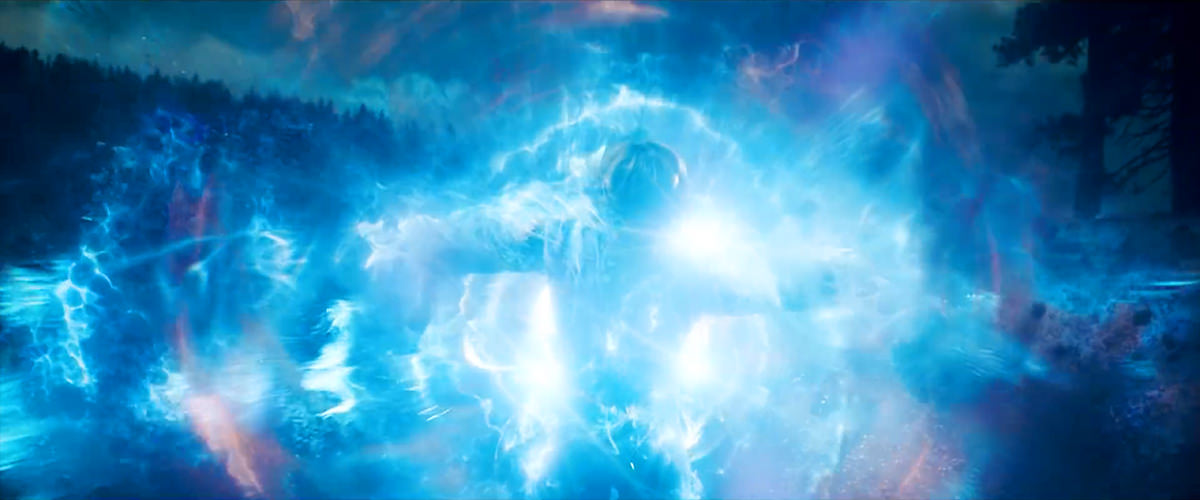 Yep, looks like Carol to me!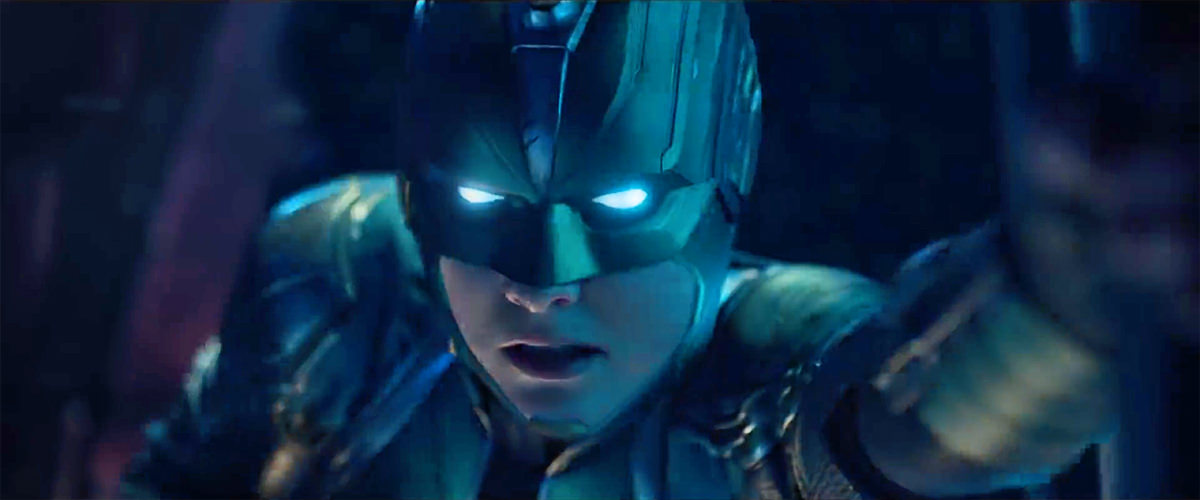 Annnnnnd... could that head be MONICA RAMBEAU?!? I sure hope so! Boy oh boy am I excited to see her join the Marvel Cinematic Universe...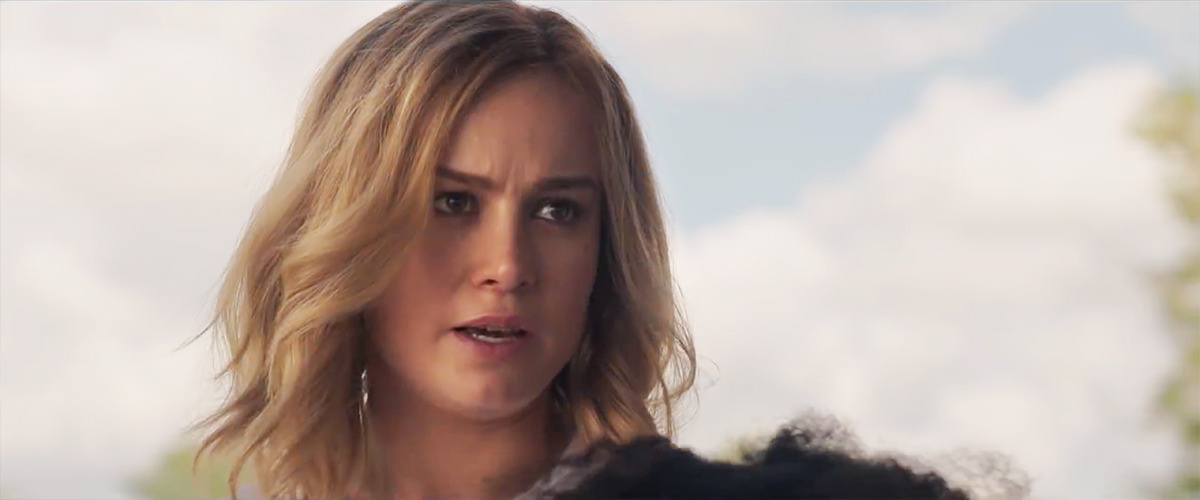 And here's Captain Marvel's final costume in all its glory...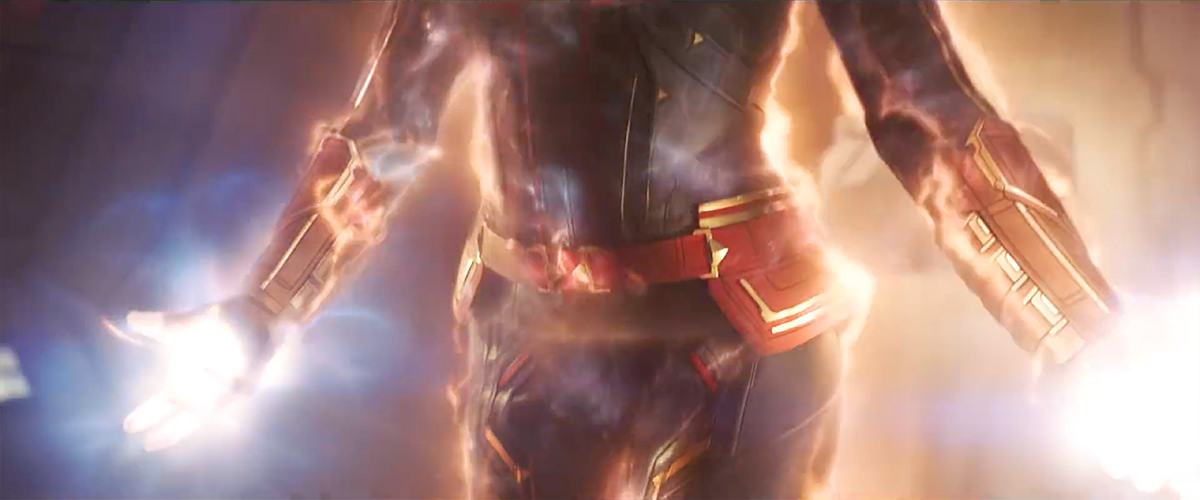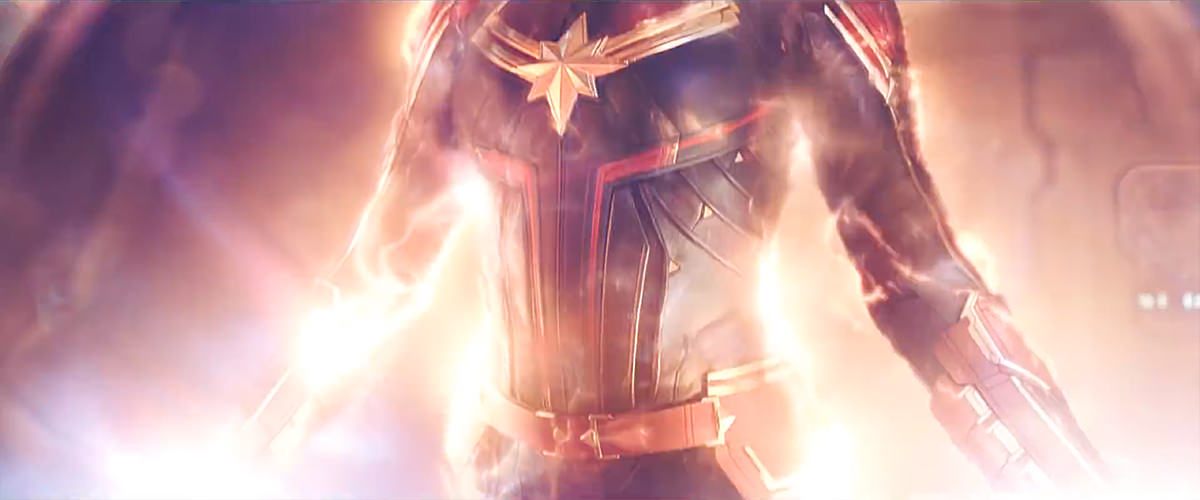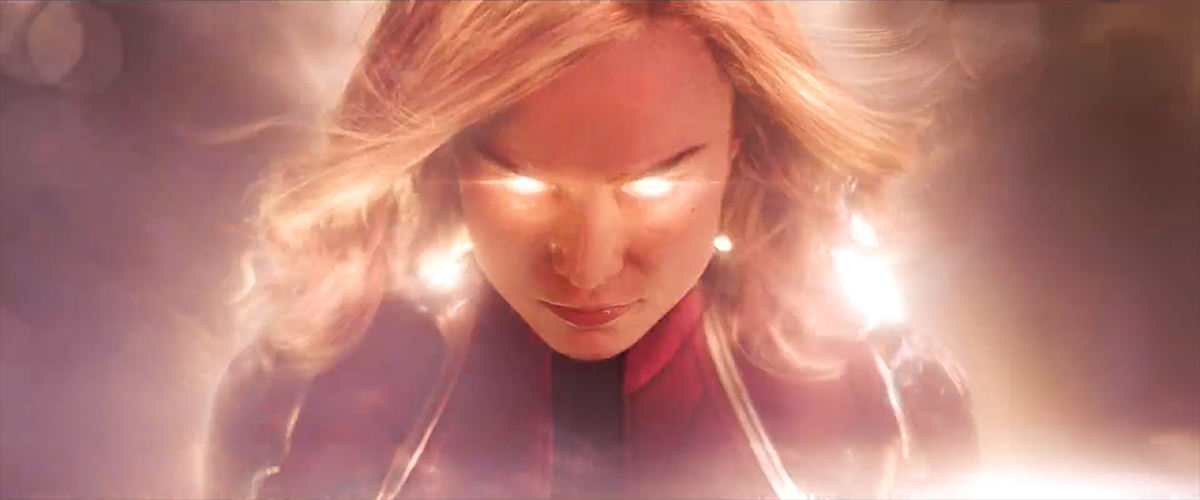 "I'm not what you think I am." Nice! And we end with the movie logo, which is oh so pretty...
Needless to say, I am 1000% stoked to see this movie. Having to wait until March 8th, 2019 is a bit harsh, but I just know it will be worth the wait. Marvel ain't about to start screwing up now. Not that they've been absolutely killing it movie after movie for ten years!
If only I could go into a coma until then so I wouldn't have to be here all anticipating it and stuff. I am not a patient man.