Posted on August 2nd, 2020

2020 never seems to end, but neither does the bullets... because an all new Bullet Sunday starts... now...

• Umbrella 2! I liked the first season of The Umbrella Academy despite the fast that it took some serious liberties with the comic book source. The second season just dropped and I binged it all in a day...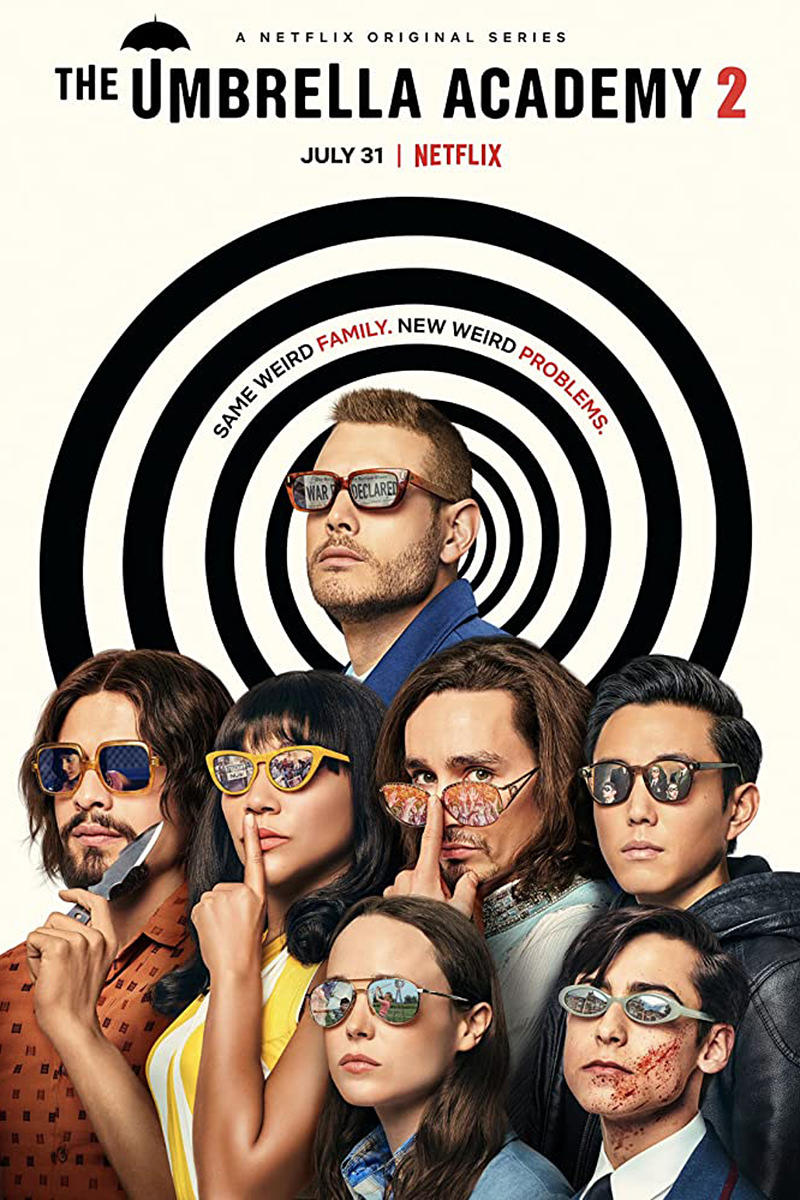 Even better than the first season! Number 5 must be one of the best comic book characters ever brought to life on the small screen. If I have a small bit of criticism, it would be that the series got a bit mired in personal drama that was boring and not terribly important towards moving the story forward. Particularly Vanya's time on a farm(?)... a diversion that could have been adequately addressed in 1/3 the screen time. Otherwise? genius.

• Just Do It! There is some serious image re-mapping and aligning going on here and it's incredibly well done. This is beautiful to behold...
Bravo to the art director and their team for how this came together.

• Cheapness! A couple people asked me about the "cheap movies" I bought and where I bought them. I monitor a site called Cheap Charts then, when I find the cheapest price on a sale movie I want, I go ahead and buy it if it's from iTunes (because that's where all my movies are). If it's not on iTunes, I check MoviesAnywhere to see if the movie can be bought at a member site, which means iTunes will import it automatically. Usually iTunes is the most expensive place, with Amazon Digital and Microsoft Digital being the cheapest. If the movie is not a part of MoviesAnywhere, then I usually don't buy it... unless it's super-cheap, then I just suffer through having to use Amazon or Microsoft's player to watch it. And now you know.

• How to Mask! Sarah Cooper has been on fire with her last several videos, but this one is just beyond...
Nice to know at least one thing to laugh about when it comes to the horror show we're currently trapped in.

• Biscuits! Thanks to friends on Facebook, I've finally cracked the puzzle of making the perfect Egg & Cheese McBiscuit! I start with FROZEN Pillsbury Grands and smear the tops and bottoms with butter. Cook pushed together as directed. THEN I smear the tops with butter AGAIN... separate the biscuits AND FLIP THEM OVER. Increase the heat to 400º and cook for four minutes longer so the tops get fried on the hot cookie sheet. VOILA! Perfectly crispy biscuits with fluffy insides that taste every bit as good at McDonalds!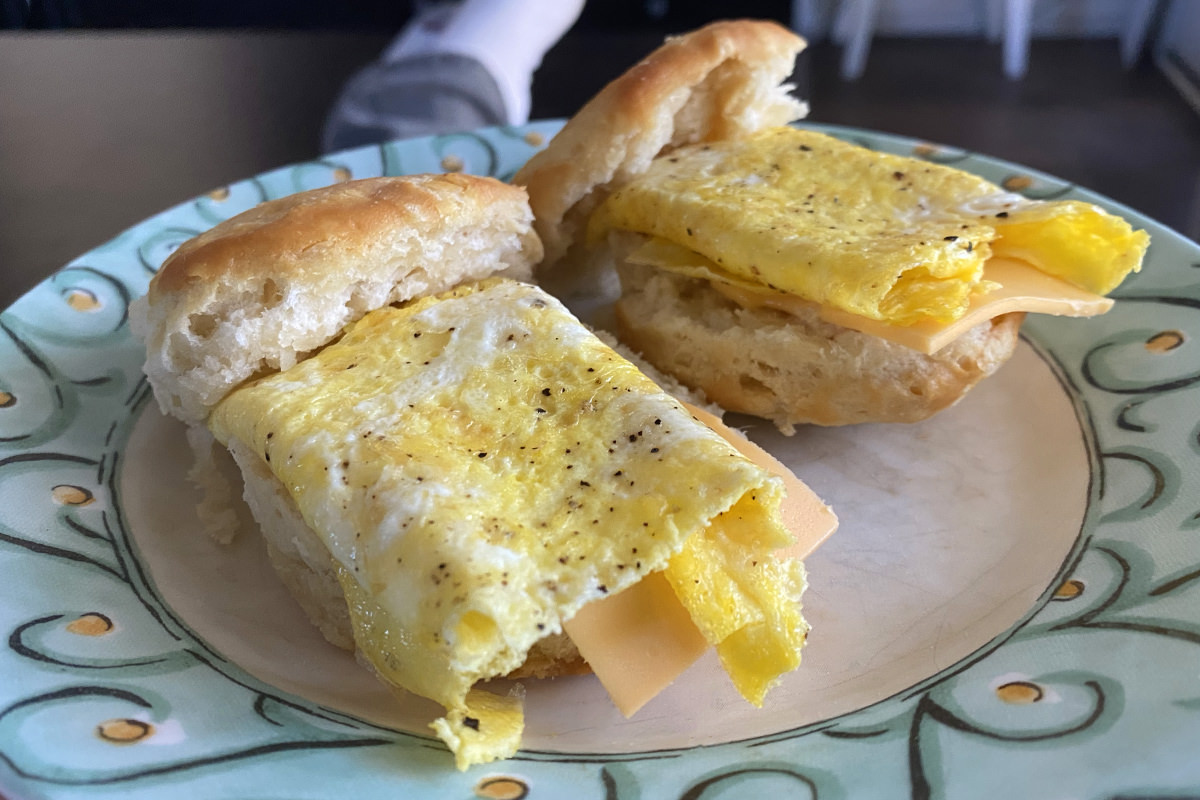 Now I no longer have to pay ridiculous prices (THREE DOLLARS AND FORTY-NINE CENTS EACH?!??) to get one of my favorite treats! Hooray!

• US History! It's easy to see how the reason so many people are so ignorant about how things actually are in this country is that they don't have an accurate picture of how we got here. The mind boggles...
Smartly done. But the people most needing to see this and understand this are exactly the people who will never watch it.

• Memory! Face, Velvet, Church, Daisy, Red. Yep, still got it a week later.

I guess that's all I got for this week. See you next Sunday.
Posted on July 12th, 2020

I'm too dang tired for bullets, but it's not like I can stop... because an all new Bullet Sunday starts... now...

• Nuke 'Em! I've been using my microwave less and less. I prefer my food cooked in an oven or on a stove with real heat, and that's how I've been preparing my meals for a long while now. The rubbery texture and uneven heating don't make the convenience and speed worth it. And then I discovered microwave pancakes and French toast. If ever there was a perfect application for a microwave, this would be it. Since the items come frozen after having been fully-cooked, you're not really cooking them so much as reheating them, and they reheat beautifully, evenly, and without cold spots...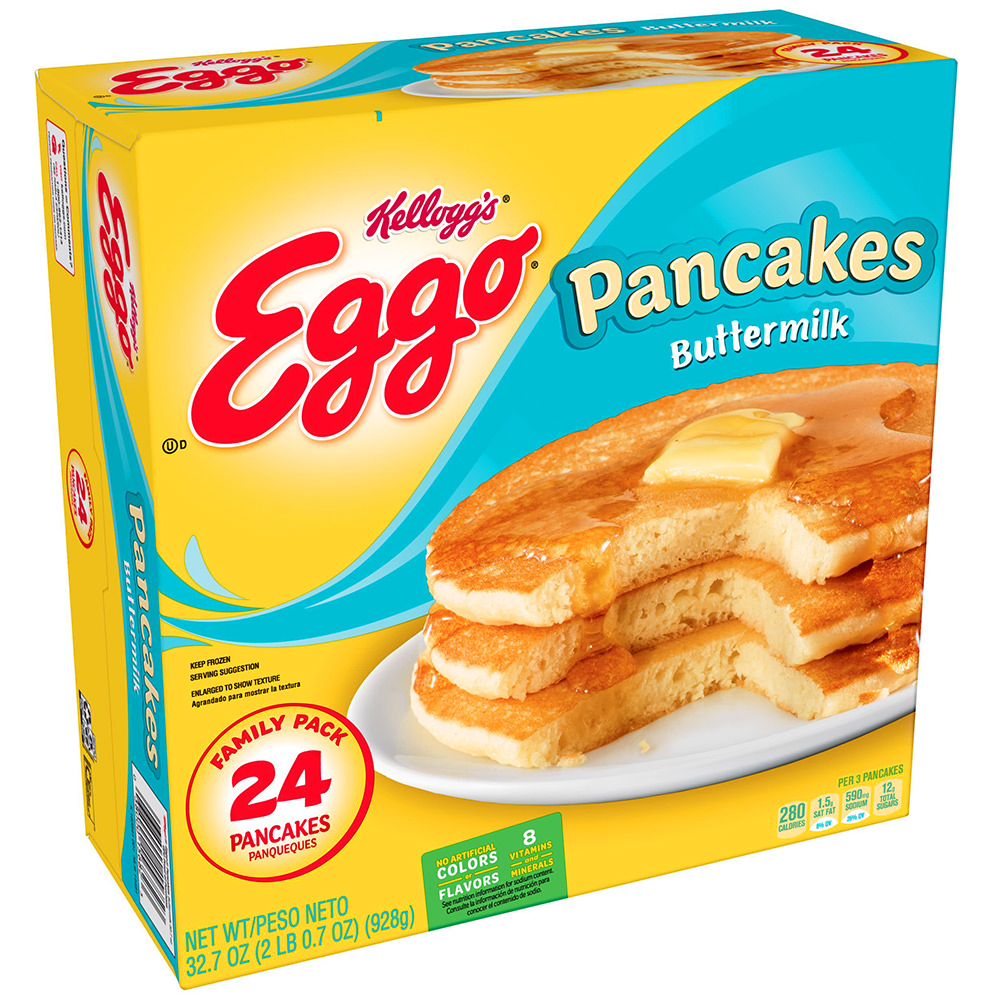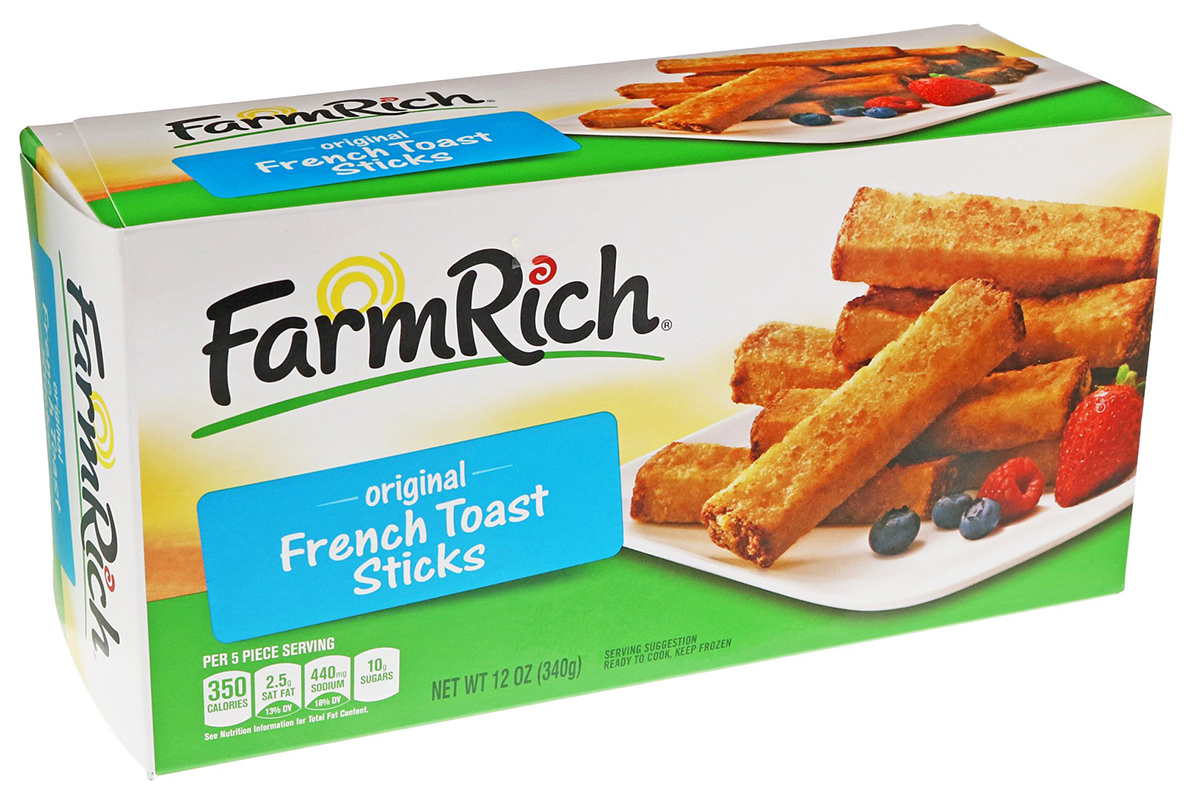 I like the Eggo pancakes great. But FarmRich has better French Toast Sticks.

• NEWSFLASH! American Passports Are Worthless Now — "I think it is difficult for Americans to understand that they are, to use an epidemiological term, completely fucked."

• NEWSFLASH! Netherlands plans to remove gender from ID cards entirely — Sensible. Because what possible fucking difference does it make? You don't have to be male to vote or drive a car... at least not in this country... so why is this something that has to appear on your identification?

• Risk!

• NEWSFLASH! Disney World Emphasizes Safety Protocols Ahead of Reopening: "You Must Follow All Posted Instructions" — Be our GUEST! Be our GUEST! Put your health up to the test! Be our GUEST! Be our GUEST! The worst than can happen is your death!

• Grey! The Tom Hanks WWII movie Greyhound on Apple TV+ is such a wasted effort. Yes, the battles are thrilling... but there's nothing personal about any of these characters so you can relate to their struggle against overwhelming odds. You root for them just because you know you should root for them, not because they've earned it. I know this is supposed to be based on a true story, so they likely wanted to restrain embellishment, but they might as well just made a documentary.
And don't get me started on the musical score. The MUSIC parts are not bad at all, but they accent it with stupid-ass sound effects that sounds like whales screaming and other horrific shit that assaults your auditory senses and makes you want to put the entire movie on mute so you don't have to listen to this shit. Who approved it? It's awful, awful, AWFUL.

And that's enough for tonight. Have a good one.
Posted on July 9th, 2020

My favorite burger... by a wide, wide margin... is the Impossible Whopper at Burger King.
It used to be the Boca Burger "Streamliner" at Johnny Rockets, but then Boca was bought out by Kraft and they decided to "new and improved" their recipe into something that tastes like toxic sludge, feels like fiber, and has a grotesque artificial brown color that looks like (literal) shit. Johnny Rockets couldn't serve that to their customers, so they replaced it with a Spicy Black Bean Burger. It's not bad, but not what I want. At least it's edible though. Red Robin replaced Boca Burgers with their own disgusting "ancient grains and quinoa" patty which tastes like vomit.
Since losing Boca Burger, I've tried dozens of other vegetarian burgers to eat at home. The one I end up going back to is Morningstar Farms "Grillers Original," but the texture is awful. It's squidgy and gross and I only eat it when there's nothing else in my freezer.
Impossible Burger finally released their heme-infused burger "meat" in frozen form a while back.
I finally found some to buy at the local Albertson's so I could give it a shot.
And it's everything I was hoping for. When cooked in a hot skillet you can get a nice brown sear on it, so the taste and texture are flawless. Which is to say that now I can make my own Impossible Whoppers at home whenever I want. Impossible Burger is expensive... $10 for 12 ounces... which works out to about $2 a burger because I like them really thin... about 2-1/2 ounces...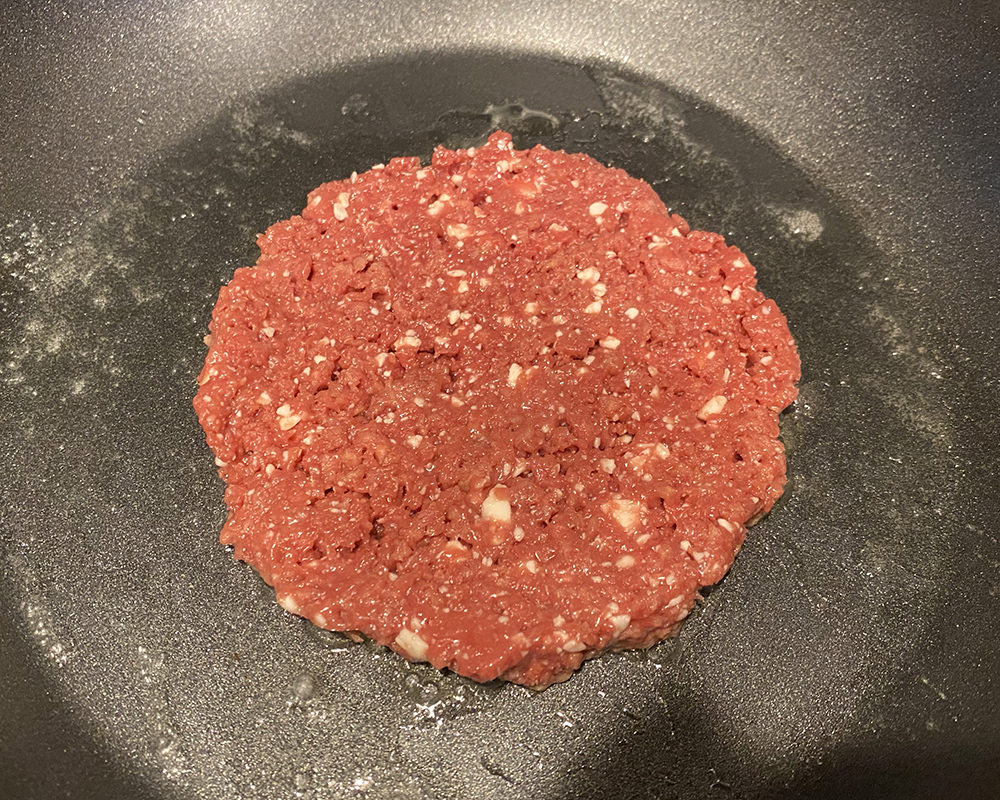 I get a skillet really hot... then squish a ball of Impossible Burger between two plates lined with wax paper... drop in some butter... then fry it up for a couple minutes each side (weirdly enough, it smells like chocolate as it cooks).
Just look at the glorious char. It adds flavor and a thin, crispy exterior that tastes great...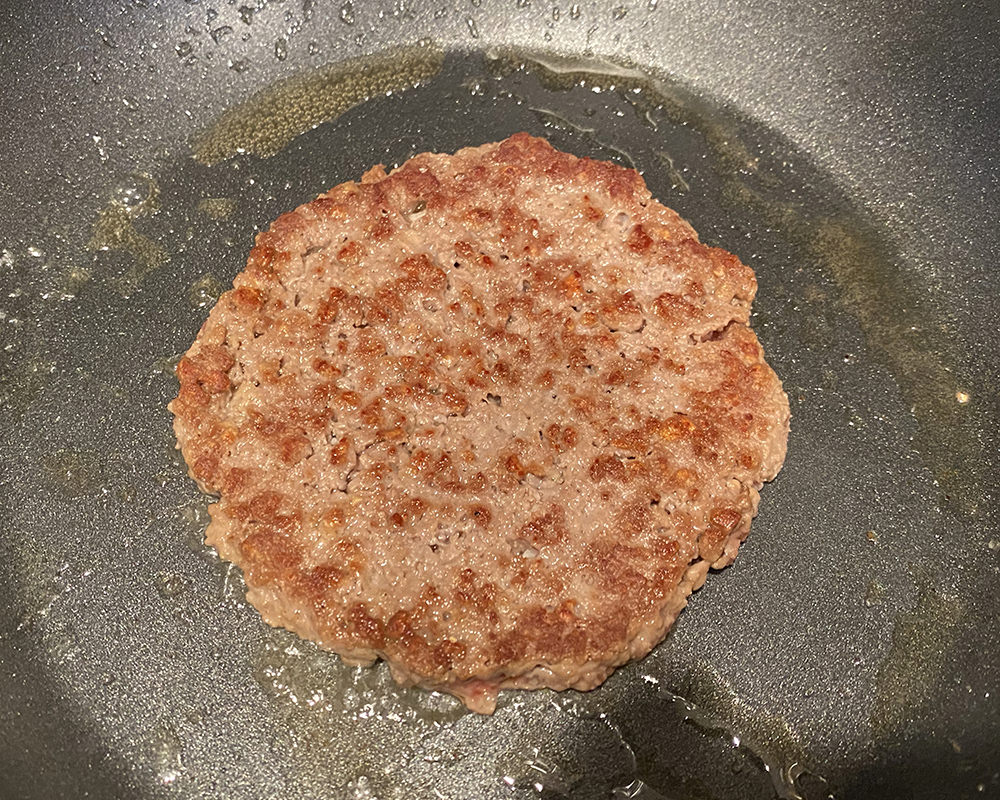 I haven't barbecued them yet, but I'm anxious to try it because it might taste more like an Impossible Whopper that way. I just worry about my burger falling apart on the grill, so I might have to try freezing it before cooking.
The good news is that I finally... finally... have a decent vegetarian burger to eat at home. That's no small feat... even though it seemed like such a simple thing. But, hey, being able to tell Kraft to take their shitty "Boca Burgers" (that are not Boca Burgers at all) and shove them up their asses is something I've been dying to do.
But what to have for dessert?
Posted on July 8th, 2020

My mom had a particular way of mixing chocolate milk when I was a kid. She wouldn't just pour a glass then dump in the Nestlé Quik powder... instead she would pour an inch of milk, add the Nestlé Quik, then mix and mix and mix until all the powder was gone. THEN she'd pour in the milk and stir it up into chocolatey goodness.
I was thinking of that last week and made a note to get some Quik when I went to the store. But when I got to Safeway, I couldn't find the cans of Quik anywhere...
Eventually I found something called Nesquik in a plastic box, which I assume was the same thing. I kinda recognized Quik the Bunny, despite the fact that he's wearing stupid human clothes and no longer has a big Q necklace on...
Here's Quik the Bunny I remember...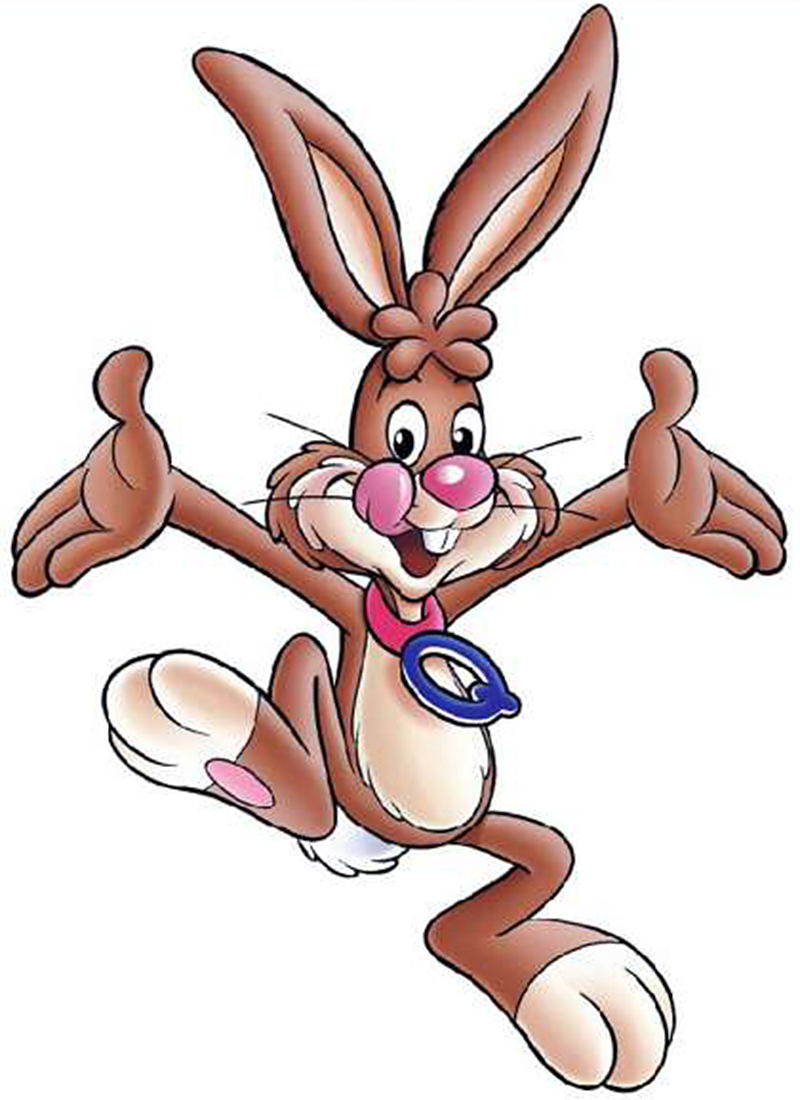 It tastes pretty much like I remember. Unlike Hershey's Syrup which is bitter and shitty, Quik... ahem... Nesquik... is sweeter and tastes more like you want chocolate milk to taste.
And, yes, I mixed it just like mom used to make.
Posted on July 7th, 2020

This was starting out to be yet another killer day at work so I decided to get up early. This way I had a minute for breakfast, which allows me to work on perfecting the perfect egg and cheese biscuit sandwich.
So I got up... I fed the cats... then I went to grab a pan to fry up some eggs... and... whoops. All my pots and pans were dirty. And I just didn't feel like washing them by hand, which you have to do because they don't recommend the dishwasher since it ruins the coating. It's not even like it's that hard. My pots and pans are totally easy to clean because nothing sticks... it's just having to stand at the sink and turn on water and squirt the soap and scrub with a brush and dry them off and put them away... no individual task is tough or takes long, but when taken all together it seems like a lot in the morning when I'm trying to get out of the house.
So instead I went out back to take a look at my hydrangeas.
These things are amazing because after having been chopped to the ground in the Fall, they don't seem to do anything when all my other flowers are starting to sprout in the Spring. Then... in what seems like a few days... they explode with growth. Seriously, it's several inches a day, and then the flowers magically appear out of nowhere. Last night I noted that they were all in full bloom...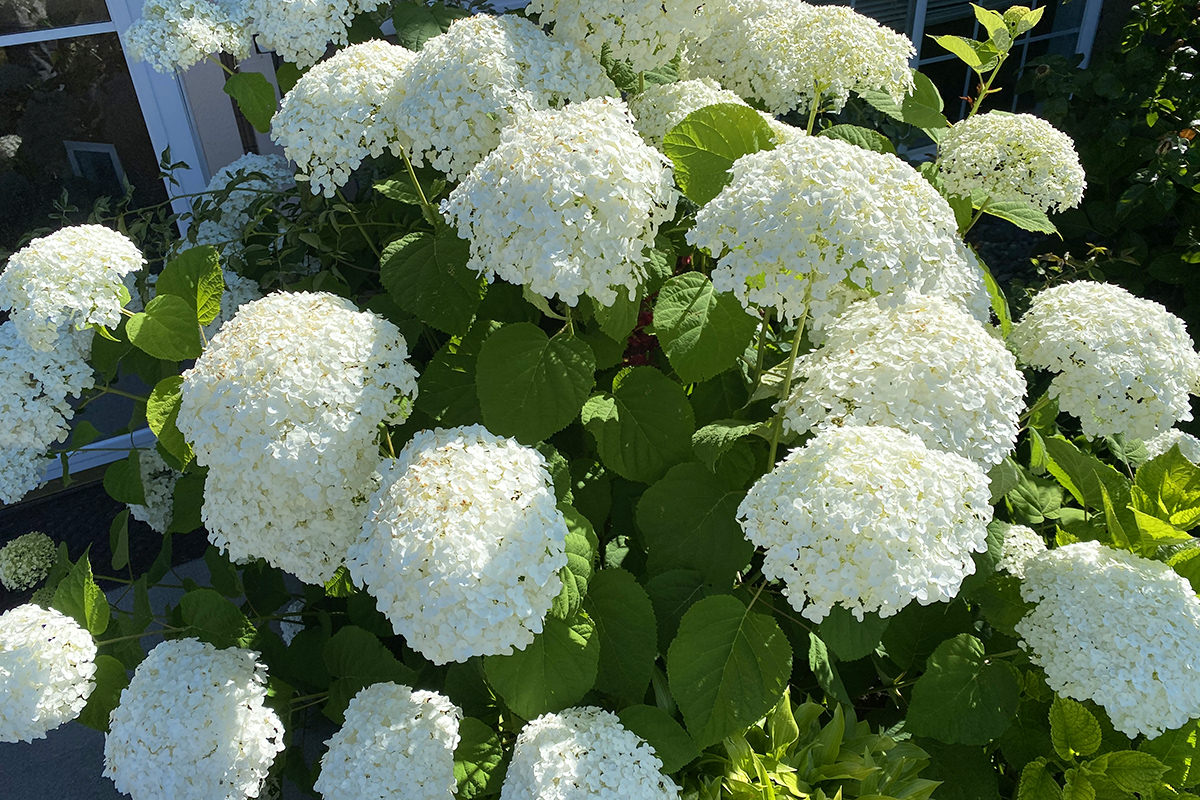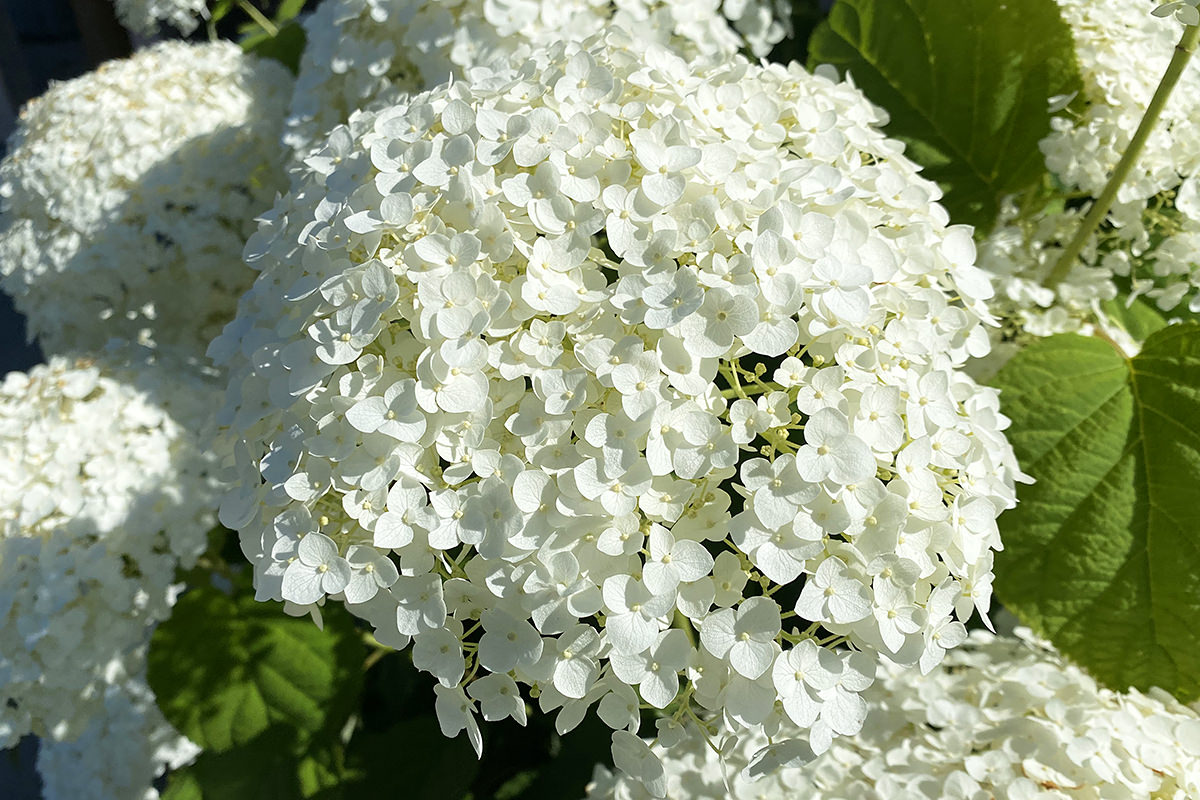 Madonna famously loathes hydrangeas, but I think they're pretty. They certainly take up a lot of space... and they don't stink, which is nice. I'm happy to just let them keep growing year after year since it doesn't require any effort by me (except to chop them down again in October).
When I got home I really wanted some creamy walnut sauce on pasta.
But I was so tired after 12 hours working that, once again, I had very little motivation to scrub my pots and pans. And since every last one of them was dirty, I figured I'd just take a pass.
But then I couldn't bring myself to eat another peanut butter sandwich like I did last night, so I spent the 15 minutes it took to clear my sink and start cooking for 25 minutes.
Totally worth it...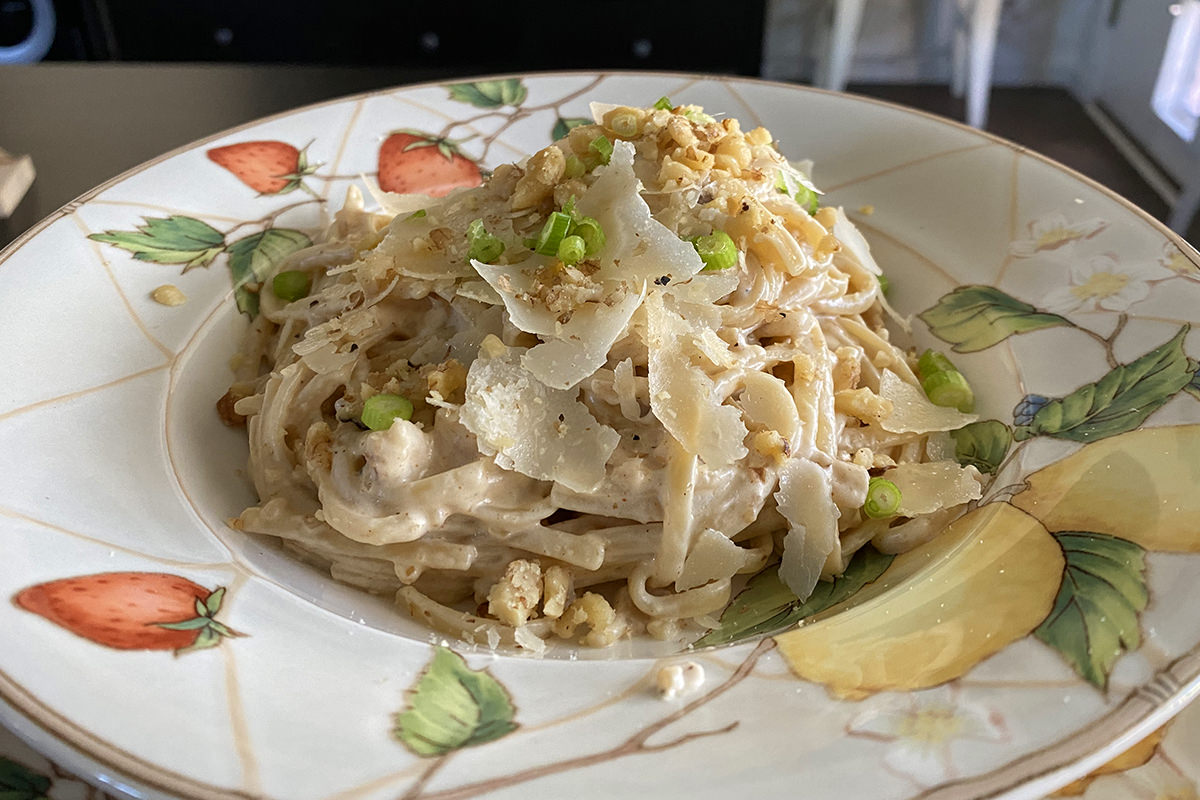 Delicious to the last bite. Except now I've got a sink full of pots and pans again.
Then it was time to ignore the dirty dishes and hunker down with Jake and watch television, which was pretty much all I had the energy for...
Except for a bowl of chocolate ice cream with walnuts and whipped cream, of course.
Posted on July 1st, 2020

I've been avoiding trips to stores whenever possible. My reduced lung capacity (which is why I stopped SCUBA diving) makes me an excellent candidate for death if I catch COVID-19, so I just don't risk it. I think the last time I went was two weeks ago, but it was just an in-and-out at Safeway for some rice noodles and Sriracha. I didn't hang around to do any serious shopping.
Which means that my groceries are running low.
Which means I have to psyche myself up for my monthly grocery run.
I was planning on going yesterday, but I had my Martha Stewart & Marley Spoon recipe box to use up, so instead I cooked Salsa Verde Cheese Enchiladas with Sour Cream & Scallions, which was phenomenal...
Then tonight I had Pasta & Fresh Tomato Sauce and Seasoned Ricotta, which was also excellent...
I can only really afford to get Martha's boxes when I have a coupon, so they're a rare treat now-a-days. And a delicious one, when the recipes end up being as amazing as these.
And now that I'm done with my meals-by-mail, I have to start thinking of groceries again.
I started making a list... trying to think of things I really love that can be prioritized by how quickly they expire. Fresh fruits and vegetables are used up in the first week or two... canned, frozen, and dry goods are saved for the rest of the month. Which is to say that my early meals are awesome, then get progressively worse as time goes on. I try to plan my meals so it's not too horrible, but when you can't run to the store for a missing ingredient, it's tough.
Especially when all I really want are cookies.
Every trip to Safeway I talk myself out of buying them because I am far better off without the refined sugar load packed into a cookie. And every time I get home I regret it because cookies are all I can think about and the only thing I want to eat.
So this time they are going at the top of my shopping list, and we'll see if I'm strong enough to talk myself out of it again.
Posted on June 5th, 2020

When I was a kid, we'd climb into our big Chevy Blazer each month after payday and head into the nearby Big City for dinner out (hopefully at Pizza Inn, my favorite)... then head to Prairie Market for groceries.
Prairie Market doesn't exist any more (neither does Pizza Inn, at least not here), but it was a discount warehouse grocer from the 60's which was most notable for all the inexpensive generic foods they sold. Black and white boxes. Black and white labels on cans and bottles. Black and white signs on the big bulk food bins. It was nothing like the "generic" foods sold today, which are essentially re-branded in-house store brands, these were generic-generic. And it all came rushing back to me when I removed the sleeve from my tub of Feta Cheese and saw this...
All of a sudden I was 4th grade again.
Just like shopping for groceries today, nothing at Prairie Market had prices on it. But unlike today, where things are rung up by their UPC bar code, at Prairie Market you grabbed a grease pencil and wrote the price on every item. My mom would pick out what she wanted. My dad would write the price on it with his impeccably perfect handwriting, then my brother and I would stack it on the giant slab cart (like you find at Home Depot) before heading to the next item.
It was a really smart way to shop, because the food was just as good as the name-brands you could buy (probably because the name-brand companies manufactured it) but cheaper because every aspect of the experience was done as cheaply as possible. In addition to not paying to price-sticker stuff, they didn't stock anything on the shelves. They just cut the face off the case and threw it on a rack. There were checkers to ring you up, but they had to key-in every item. And they were fast. You bagged your own groceries, of course (in real paper bags, natch).
I don't remember when Prairie Market closed. I think in the late 70's or early 80's maybe? Probably when all the grocery chains started consolidating and developed their own name-brand alternatives. And UPC code scanners came along.
The giant cement building that Prairie Market built is now a toy store-slash-sporting goods store. I shop there once or twice a year, and I'm able to remember exactly how it used to be every time. The ghost of all those generic packages still haunt me.
As do the banana chips.
One hot summer day we ended up buying a big bag of dried bulk banana chips. Then my brother and I ate them all the way back home. In a hot car. For twenty minutes. Not long after we pulled into the driveway I was puking my guts out and everything tasted... and smelled... like bananas to me for days. It was years before I could eat banana chips again. And I still can't eat them alone, even to this day. Only if they're scattered in a trail mix or something. And even then I have unpleasant flashbacks.
If only food prices were as cheap now as they were at Prairie Market back then.
Holy crap are things expensive now. Even when adjusted for inflation, food in 1970's was crazy cheap compared to today. Vegetables for 15¢ to 20¢ a can? I think only meat and dairy are cheaper now (with adjusted pricing) than they used to be... and that's thanks to government subsidies artificially making them cheaper. Without it, I'm sure they'd have massive price tags like everything else.
But, hey, the packaging is prettier, so there's that.
Posted on May 31st, 2020

I don't even know what to say... but here's a new Bullet Sunday anyway...

• BLM! Despite being so crestfallen about the state of politics in this country that I'm trying not to blog my rage on a daily basis... something needs to be said. I fully believe that an unarmed citizen should not be dragged from their car by the police and get choked out on the street... all while crying out because they can't breathe as other citizens are telling the officers they they're killing somebody. For nine minutes. That's not law enforcement, it's murder. And when the murder disproportionately targets Black Americans? Well, that's why people are protesting. And I support the protesters 1000%, because this shit has got to stop. And, quite honestly, I don't understand why everybody can't support the protesters. I mean, my God, Black Americans have been trying to get attention to their plight via peaceful protest forever now. And no matter how they try to protest and bring awareness, they get criticized for it. Can't kneel at a football game (even though a veteran advised you it was a respectful way to protest) because people don't like it. Can't try to mention what's happening in an award speech because people don't like it. Can't have a sit-in. Can't have a march. Can't hold a rally. Can't carry a sign. Can't write an article. Can't make a movie. Can't do anything without pissing people off who don't want to be reminded of the horrific systemic racism which plagues us (and from which they likely benefit). Well, too fucking bad. Your "inconvenience" is what's going to lead to change. That's how shit gets done in this country. Just ask those who took part in the Boston Tea Party.
And, lastly, for the love of everything holy, STOP EQUATING PEACEFUL PROTEST TO LOOTING! The vast, vast number of people protesting are not looting a damn thing. As more and more information comes to light, the looting and violence are being started not by protesters, but by others for their own ends. Which include Far Left Anarchists, Far Right White Supremacists, and The President of the United States of America. They want to watch the world burn so they can start something new. Black Americans just want to be able to walk down the street and not get shot by the people sworn to protect them. Don't get me wrong... I support the idea of a police force. And I believe that officers on the front lines should have the tools they need to do their job and stay safe. But the grotesque militarization of our police has only served to escalate violence, and the lack of training for de-escalating situations before they turn violent is woefully inadequate. Instead we've got rogue police officers acting like judge, jury, and executioner. That's heinous. That's wrong. That needs to stop. Today. And a lot of police officers agree, which is why they are joining up with the protesters. It's their community too, and any officer true to their mission should be supporting peaceful protest of law enforcement abuses.
And now I'm going to go scream for a half-hour.

• Predictable! And meanwhile, this is happening...
Holy shit.

• Misbehavin'! One of my favorite TV shows from 2019 took me completely by surprise... it was The Righteous Gemstones starring John Goodman as a mega-church televangelist pastor. And one of the best bits to come out of that show was the performance of a song called Misbehavin' by the wife of John Goodman's character and her scheming brother...
I've watched that video at least a dozen times. And if your curious about how the song came about, here's an article for you.

• From My Ranch To Your Kitchen! I've not been cooking much lately because I just haven't felt up to it. But yesterday I decided that I really need to start using the ingredients I've purchased while they're still good, so I started looking for ideas. Then somebody on Facebook reminded me of one of my favorite cooking channels on YouTube... De mi Rancho a Tu Cocina. Sure, she cooks most everything with meat, but it's fascinating. And, thanks to Google's auto-translation subtitles, you can actually follow along fairly well when you turn them on (CC button) and select "auto-translate" in the settings (gear button)...
Great stuff. Love her. It was this channel that convinced me to give a recipe with tomatillos a try with my Martha Stewart recipe box subscription.

• Armchair Traveler! So many museums and cool places are putting up virtual tours and I'm absolutely loving it. But the best one I've seen so far is the Statue of Liberty, which is sensational. You can go around and inside of it and look around 360°. Here's just a sampling of what I saw when I virtually-visited...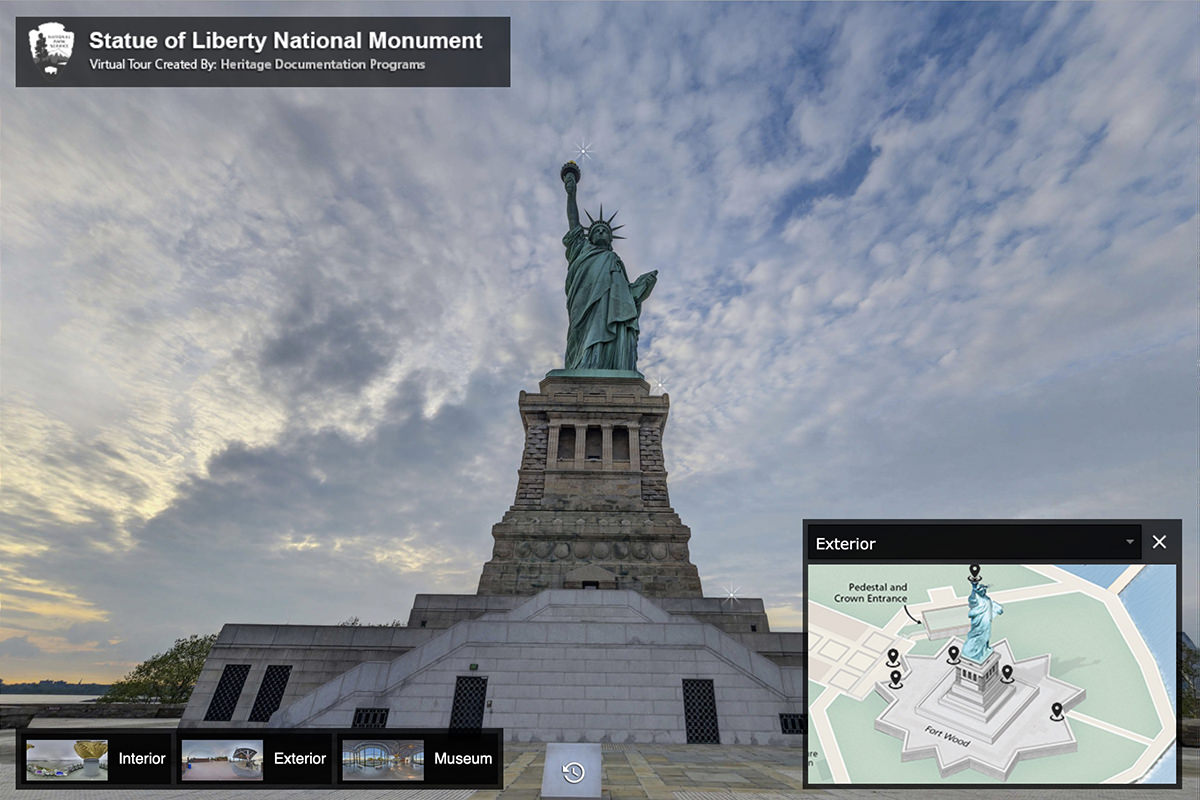 In the day time. But there's also night views from the exterior...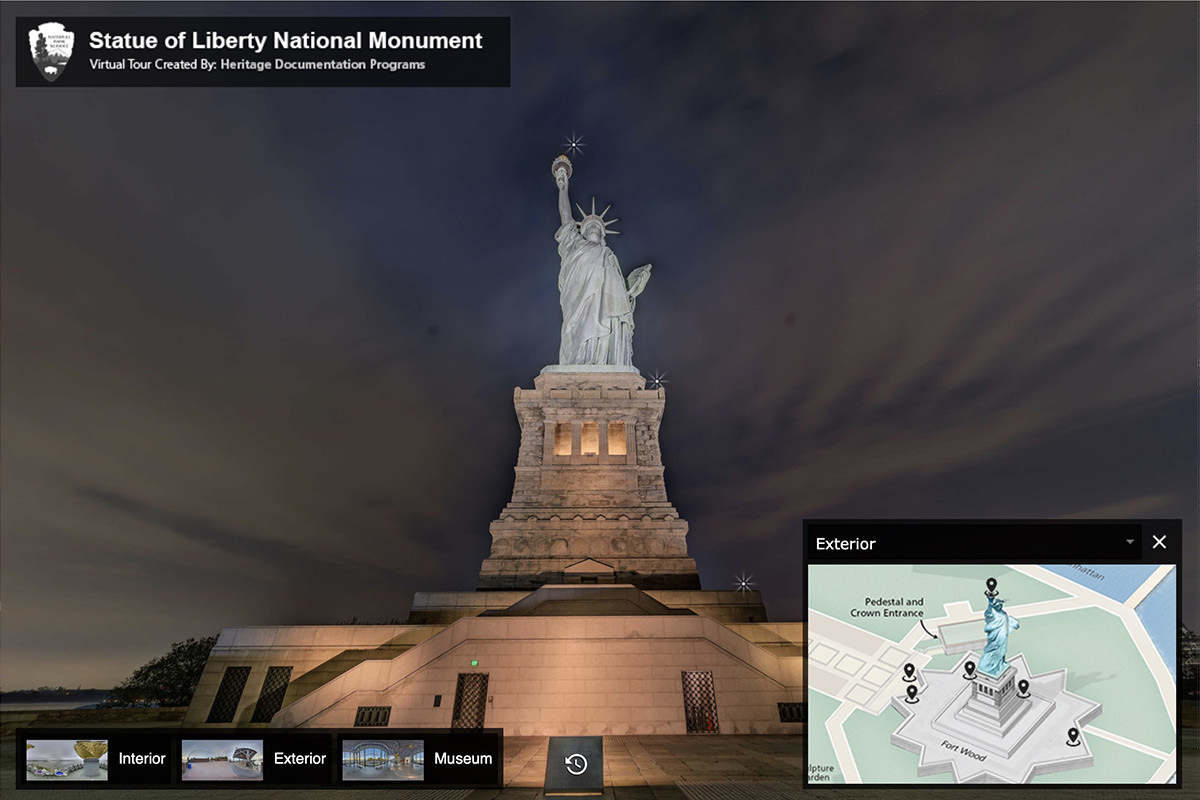 Having been up the Statue of Liberty a couple times, I fully admit that the dizzying heights and cramped quarters aren't something you can reproduce virtually, but at least you can get a taste of it. This is a view inside the crown...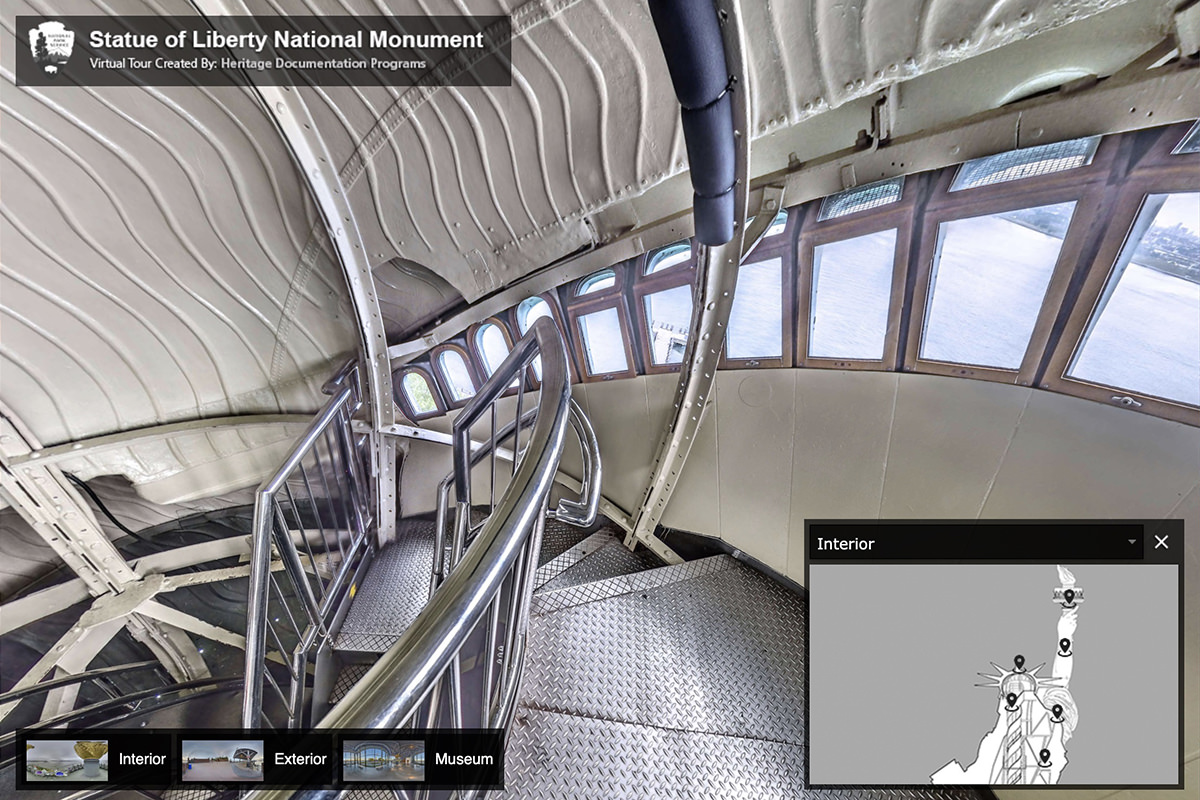 Looking down...
The photos I just posted (courtesy of the National Parks Service) really don't do the experience justice. Head over to their site to see for yourself.

• Dates! One of my favorite vloggers, Johnny Harris, has yet another cool video up. This time he's exploring the International Date Line and why it's the way it is...
This wouldn't be the first time Google Maps has screwed up. A decade ago there was an error which caused Nicaragua to invade Costa Rica. So even though Google Maps is often viewed as a definitive source of information because it's so heavily used, it really shouldn't be. Always check your sources. And if you can't get enough Johnny Harris, check out this fascinating video about Swiss neutrality.

Stay safe, everybody.
Tags:
Bullet Sunday
,
Cooking
,
Food
,
News
,
Politics
,
Television
,
Travel
Categories:
Bullet Sunday 2020
,
Food 2020
,
News – Politics 2020
,
Television 2020
,
Travel 2020
—
Click To It:
Permalink
—
0 Comments: Click To Add Yours!
Posted on May 20th, 2020

The latest meme making its way around social media is people sharing photos from their "last day of normal." I don't even know what that means, but I do know the last day that I did something normal with my friends before lockdown was when we all got memorial tattoos on February 28th.
But things in my life were far from normal, even back then.
My volunteer work had been shut down 11 days earlier. Usually by late May I'd have already taken anywhere from four to six trips for that. This year I haven't been anywhere. The last time I traveled was December 26th. I have no idea when I'll travel next.
Given I have no idea when my normalcy went away, I try to create it by slipping into comfort meals I like. Up near the top of that list is heating up a bag of Uncle Ben's Ready Rice Whole Grain Medley, toss in a handful of almonds, and call it dinner. When I was at the store last month, I was sure to grab a couple bags.
Then tonight when I finally cooked it I noticed that it looked funny. It smelled funny. It tasted funny.
I dug the garbage to see if I purchased expired rice only to find that it wasn't what I usually buy... my local grocer replaced the "Whole Grain Medley" I get (which was apparently subtitled "Brown and Wild") with a new blend that's "Quinoa & Brown with Garlic." I didn't notice because the packaging had been changed...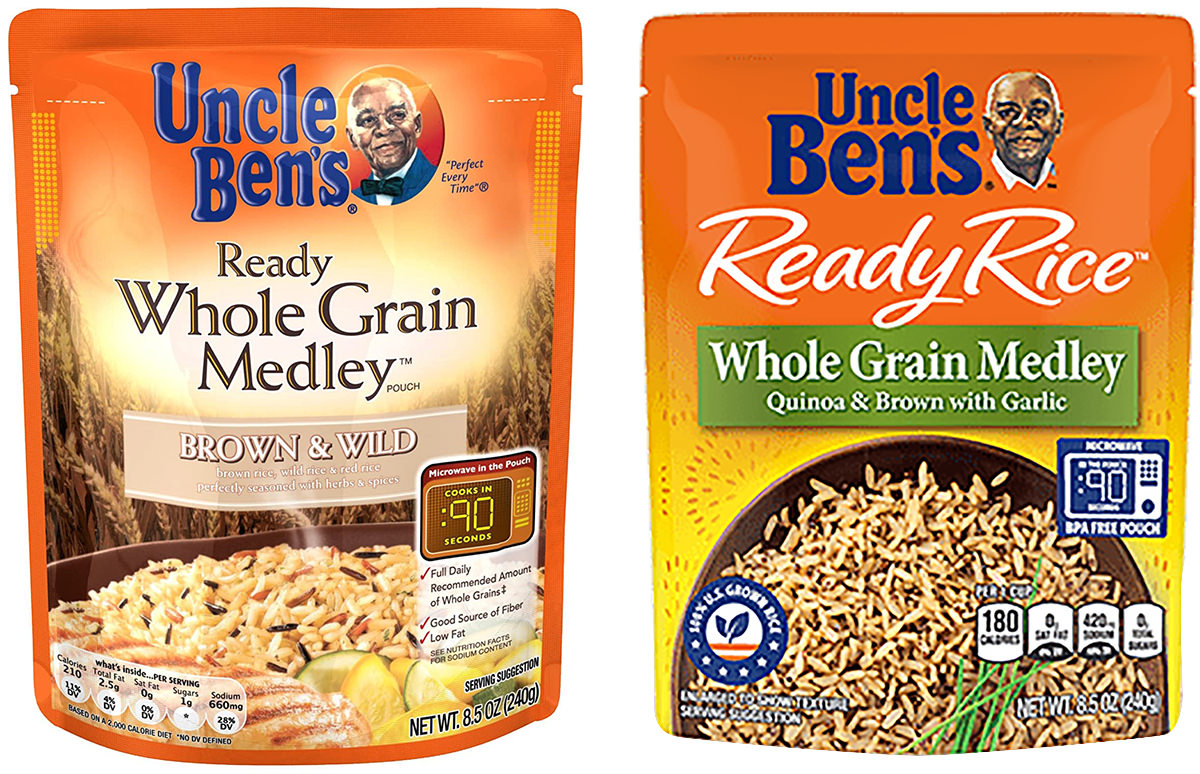 Well, fuck.
So much for my comfort food. This is not comforting at all. QUINOA ISN'T EVEN A FUCKING RICE!
AND ON CARB APPRECIATION DAY, NO LESS!
I might have been able to overlook gross quinoa if it actually had garlic as advertised, but the garlic was barely there. Uncle Ben's? More like Uncle Bullshit! They even got rid of the guy's awesome bow tie on the package!
Just one more sign that things will never go back to normal again.
Posted on May 12th, 2020

I've finally reached my potato salad nirvana.
It's been a long road to get here. I've experimented with dozens of recipes and married that to the way my mom and grandma used to make it. My biggest breakthrough occurred when I didn't have any eggs so I decided to add small cubes of Dubliner Cheese as a substitute.
It was sublime.
Hard boiled eggs are squidgy and don't add any flavor that isn't already well-represented by the mayo. They also add a stink to the salad that's a bit off-putting.
This is my current recipe, and I think I'm done now because it's exactly where I want it to be and I've reproduced it a half-dozen times now...
1/2 cup Mayonnaise
1/2 cup Sour Cream
1/2 cup Purple Onion or Sweet Onion (chopped)
1/2 cup Dill Pickle Chips (chopped)
1/2 cup Dubliner or Sharp Cheddar Cheese (cubed small)
1 Tbs. Yellow Mustard
1 tsp. White Wine Vinegar
1 tsp. Ground Black Pepper
1/2 tsp. Johnny's Seasoning Salt
1/2 tsp. Celery Seed
Chopped Fresh Dill or Green Onion and Paprika (optional for garnish)
Mix above together and put in refrigerator to chill. Cook 1 package of Simply Potatoes dices in a mesh basket in an Instant Pot with 1-1/4 cup of water for 6 minutes, then quick-release. Put potatoes in the refrigerator to cool for 10-15 minutes. Fold potatoes into dressing mixture, then chill for 20 minutes or more before serving (I usually can't wait and end up eating it while still a bit warm, and it's delicious). Garnish with paprika (or, if you have it, smoked paprika) and chopped fresh dill or green onions sliced thin. Because I can't help myself I always add more little cubes of Dubliner on top. Sometimes I like crushed potato chips on top too!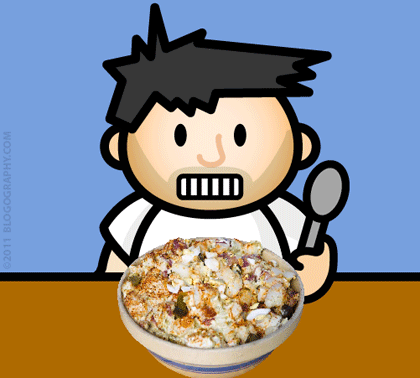 After refrigeration, the potatoes soak up a bit of the mayo and sour cream so things can get a little dry, I just stir in a tablespoon of mayo and everything is good again!
Enjoy!