With nothing but work to write about, I've decided to take a look at some films I've seen recently.
So grab your popcorn... because a Special All Movie Edition of Bullet Sunday starts now...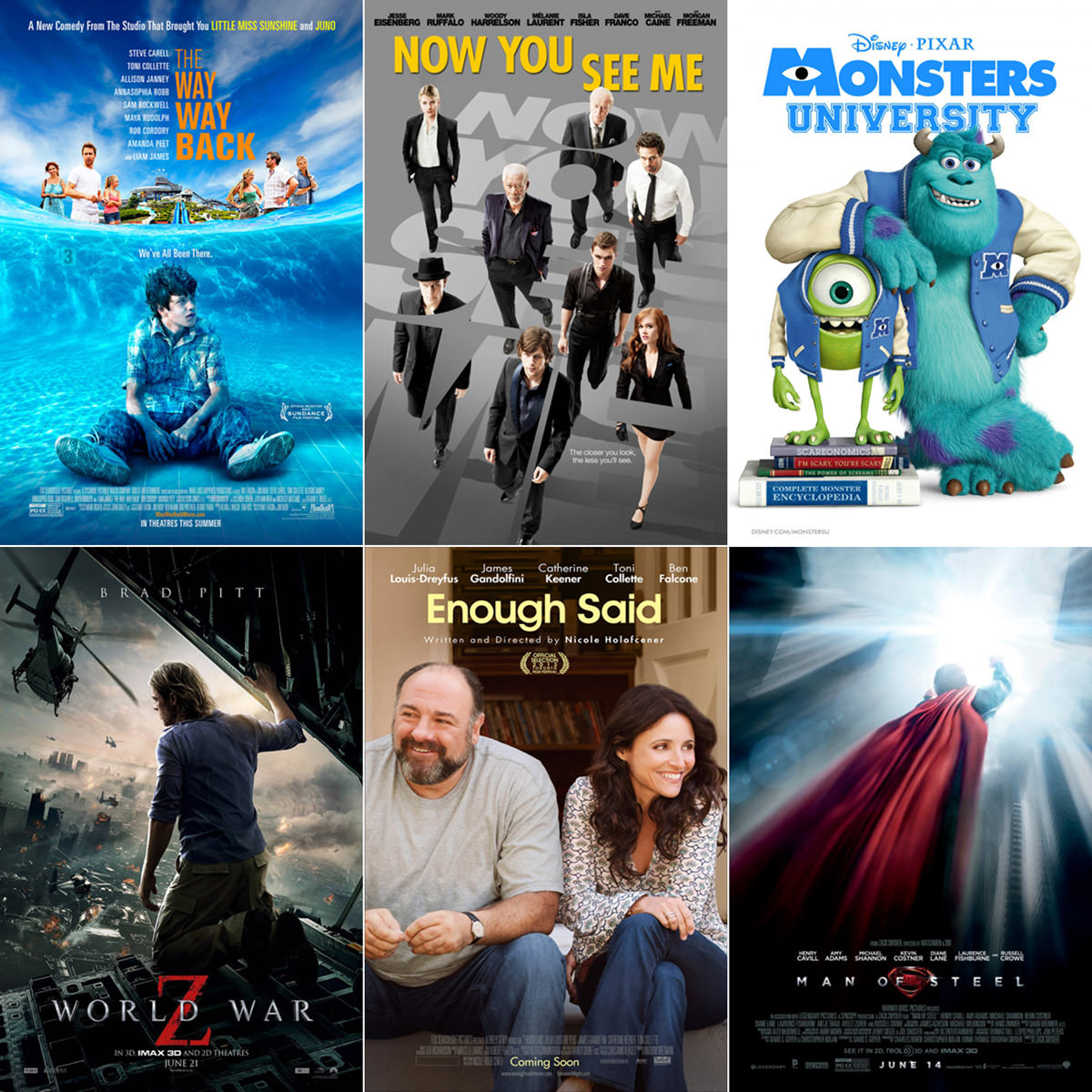 • The Way Way Back (B+). Every once in a while you tune into a movie on a long plane ride simply because it's the least unappealing option out of the crap you haven't seen. In this case, I picked The Way Way Back because the cast included Toni Collette, Allison Janney, Steve Carell, and the amazing Sam Rockwell. Turns out it's a really good "coming of age" story about an awkward kid named Duncan who is forced to accompany his mom, her boyfriend, and her boyfriend's spoiled daughter to a summer resort town. There he meets the slacker manager of the local Water Wizz theme park, learns what life is really about, and has his life forever changed. Yeah, it sounds like a movie you've seen a hundred times before, but it's surprisingly fresh (despite the ending, which falls back to more familiar territory). The great cast and smart performances were just the icing on the cake.
• Now You See Me (D+). Holy crap what a stupid, stupid film. The movie begins as four D-list magicians are recruited by a mystery man to band together to become the hottest magic act in the world, "The Four Horsemen." Of course, absolutely no explanation is given as to how they actually become the hottest magic act in the world... all of a sudden they just are. With their fame escalating, they perform their biggest show yet (or one would assume, since you don't see a single magic trick before the finale), where they proceed to "magically" rob a bank. Thus begins a tedious game of cat and mouse between The Four Horsemen and a special investigator (Mark Ruffalo), his Interpol collaborator (Mélanie Laurent), and a famous magician de-bunker (Morgan Freeman). With each new show the foursome become inexplicably more famous... and understandably more wanted by the law for the crimes they perform on stage. Along the way they perform elaborate but unnecessary magic tricks which make -zero- sense to the plot (why in the hell pretend to rob a vault and come back later for the money when you can just JUST TAKE THE FUCKING MONEY IN THE FIRST PLACE?!). And that's the problem... nothing here really makes sense. Even the things that might make sense go unexplained, which doesn't make sense. Regardless of whether or not the magicians get away with their crimes... they're still going to be wanted by the law. And for what? To join some secret society that nobody gives a shit about except them? And the ending is about as stupid as it gets... the nonsensical "trap" set for one of the characters can be defeated in five minutes if the character calls a lawyer... or ANYBODY... to explain who set the trap and what happened. Dumb. SO dumb. I'm embarrassed for everyone involved.
• Monsters University (B). Make no mistake, Monsters, Inc. is my favorite Pixar film by far, and the idea of getting to revisit that world had my expectations running high. And I wasn't let down. Mike and Sully were just as funny and appealing as ever, and Pixar's attention to detail was shining through stronger than I've seen in years. So why did this feel like a sorry retread of Revenge of the Nerds via a made-for-TV animated special? Probably because it didn't really break any new ground. Since it's a prequel to Monsters, Inc., characterization actually takes a big step backwards so you can start from the beginning. Not that it wasn't cute to see a young Mike Wazowski and James P. Sullivan pal around, but I'd rather see what they're doing now instead of looking back at where they were. Still, the story isn't all bad. After starting out as rivals, Mike and Sully team up with the nerds of a forgotten Monsters University fraternity to prove they have what it takes to become "scarers" at Monsters Inc. Except they don't, which means the entire premise of the story was moot. Oh well. It had funny moments and was beautifully imagined... that alone from Pixar is better than most movies you'll see.
• World War Z (B-). Anybody expecting that this film will in any way resemble the brilliant novel by Max Brooks (or the even more brilliant audiobook of the same novel) is in for severe disappointment. This is an action flick which just happens to share a name with the afore-mentioned book, and that's all. However... if you are able to put that behind you, it's a pretty good action flick. Gone are the lumbering zombies of old, these zombies are shockingly fast and virtually unstoppable. Lucky for us, Brad Pitt arrives on the scene to save us all as a United Nations investigator intent on scouring the globe for a cure. What ensues is an intense and dark thriller that relies on really good special effects and some surprisingly good acting talent. At times the combo proves lethal, sucking you in and suffocating you with a plague that never seems anything less than overwhelming. It's for this reason that I enjoyed the film so much, despite fully expecting to hate it. As if that weren't delicious enough, there are scenes that won't leave your head any time soon, and I can't offer bigger praise than that.
• Enough Said (C). I went into this film with high hopes given the 95% positive rating from Rotten Tomatoes. It was painted as a romantic comedy, which I generally hate, but the previews featuring James Gandolfini and Julia Louis Dreyfus looked as though it was a rom-com that was thinking outside the box. Unfortunately, the exact opposite proved to be true. This movie is so far inside the box that it simply didn't work for me. I go to movies to escape my boring life, and Enough Said was so pedestrian that it had me longing for the more exciting things I experience every day... like sitting on the toilet. What's worse is that the big "twist" at the center of the story (Julia Louis Dreyfus finds out that she is dating the man her new best friend divorced) is something right out of a bad Seinfeld plot, but not as funny. Not even a little bit. It's actually painful to watch, and the predictable outcome is so unsurprising that you'll wonder what the point of the movie was in the first place. From what I can tell, it was to prove that James Gandolfini is a gifted actor who has unexpected range. And he does. He's easily the most enjoyable part of the film, and about the only thing I enjoyed in it. Which makes his passing all that more painful.
• Man of Steel (F-). When I first saw the latest Superman re-re-boot, I loathed the film so much that I didn't even want to think about reviewing it. Instead I decided to wait until it hit video so that I could look at it with fresh eyes and see if I would revise my opinion. Nope! If anything, I hate the movie even more upon second viewing. This is incredibly painful to type given that I love the character of Superman, felt the cast assembled was top-notch, and had such high hopes for the film. Instead I was disappointed at every turn. I hated just about everything to do with Man of Steel, and am horrified that this abomination is the cinematic future direction for the character. The is not Superman. Not the Superman I know, anyway. This imitation origin story begins on planet Krypton where scientist Jor-El is predicting doom and gloom for the planet, and decides to salvage the legacy of his people by stealing "The Codex"... a wholly unnecessary plot device masquerading as some kind of genetic program that breeds Kryptonians. This raises the ire of General Zod, though who knows why. Anyway, Zod is exiled to the Phantom Zone, Krypton goes boom, and baby Kal-El is rocketed to earth where he is raised as human Clark Kent by Kevin Costner and Diane Lane (easily the two best things about the film). The death of his father results in Clark wandering the earth... saving lives and trying to find his place in the world. Meanwhile intrepid reporter Lois Lane tries to track down this "mystery man" and stumbles upon one of the worst-kept secrets ever. But that's not Clark's only problem, as General Zod has escaped and returned to Earth to reclaim The Codex and remake our planet into a new Krypton... destroying everything in the process. Loads and loads of laughable super-battles and disaster porn ensues. None of it even remotely worth watching. The controversial moment in the film comes when Superman chooses to kill General Zod because humans are too fucking stupid to run away when somebody is trying to vaporize them with heat vision, at which point I didn't give a shit if Superman, Lois Lane, Perry White, or any other idiotic characters in the film lived or died. And why should I? The people behind this atrocity aren't writing about Superman and don't give a flying fuck about maintaining the integrity of the characters. Next up? Imitation Superman vs. Ben Affleck Batman. Oh how thrilling. Praise be to Odin's raven that Marvel's new Thor and Captain America films are coming to rescue us.
And now it's time to update my "Y2K Super-Hero Comic Book Renaissance Scorecard" as follows...
The Amazing Spider-Man... B-
The Avengers... A+
Batman Begins... A
Batman Dark Knight... A+
Batman Dark Knight Rises... A
Blade... B
Blade 2... B
Blade Trinity... B-
Captain America... A+
Catwoman... F
Daredevil... B-
Daredevil (Director's Cut)... B+
Elektra... D
Fantastic Four... C
Fantastic Four: Rise of the Silver Surfer... D
Ghost Rider... C
Ghost Rider: Spirit of Vengeance... D
Green Hornet... D
Green Lantern... C+
Hellboy... A
Hellboy 2: Golden Army... A
Hulk... C-
Incredible Hulk... B
The Incredibles... A+
Iron Man... A+
Iron Man 2... A-
Iron Man 3... A+
Jonah Hex... F
Kick-Ass... B+
Kick-Ass 2... C
Man of Steel... F+
Punisher... C+
Punisher War Zone... C
R.I.P.D.... C-
Spider-Man... B+
Spider-Man 2... A
Spider-Man 3... D-
Amazing Spider-Man... B
Superman Returns... C+
Thor... B+
Watchmen... B
The Wolverine... B
X-Men... C
X-Men 2: United... D
X-Men 3: Last Stand... F-
X-Men Origins: Wolverine... D
X-Men: First Class... B