Posted on December 14th, 2018

If Facebook has a redeeming quality, it's their "Memories" feature where they give you a run-down of what you were doing on this day a year ago... two years ago... three years ago... and so on.
Well, kinda redeeming. I find that much of the time there's at least one painful memory which you'd just as soon not re-live, but that's life I guess. In general, it's a good thing though.
And that got me to thinking...
I should be able to do something like that for my blog!
I started writing out the code I would need, then remembered that there's nothing new with WordPress, and surely somebody else had already done this. Sure enough, there's a bunch of plugins available.
Alas, none of them work for me.
And so... I'm back to coding.
How else would you know that a year ago today I was returning from my Antarctica trip?
Or two years ago I was wishing you a Happy World Monkey Day?
Or five years ago I was saying goodbye to Peter O'Toole?
Or twelve years ago I accidentally smacked myself in the balls with a shampoo bottle?
Heaven only knows your life isn't complete without reading all about that!
Posted on April 5th, 2015

Put on your Easter bonnet... because Bullet Sunday starts... now...

• Egg! Happy Easter!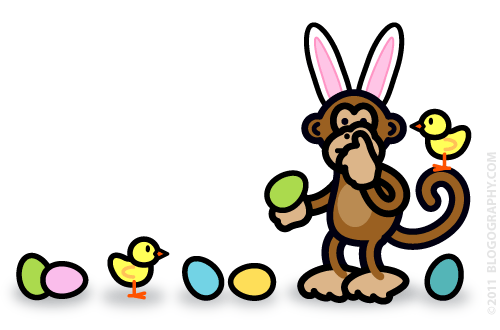 • Trek! Happy First Contact Day!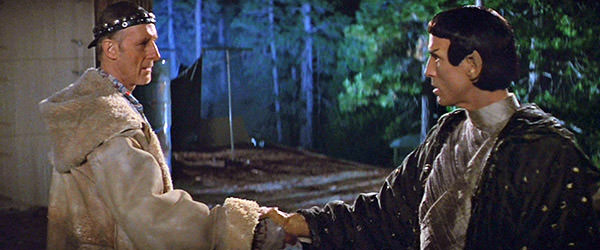 • Seder! And... hope you had a happy Passover yesterday!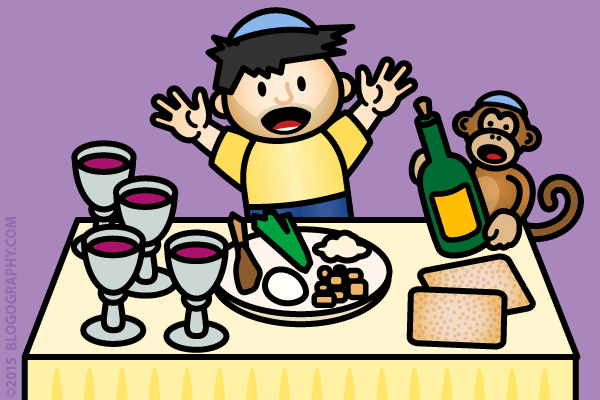 • Watch! Still not sold on Apple Watch, but have to admit the thought that went into creating it is pretty amazing.
Too thick. Too expensive. For me.
For now.

• Like! Yep.
Expectations inside the social media bubble.

• Burberry! When "To Serve and Protect" involves showing up to somebody's house by mistake and shooting their dog, something is very, very wrong...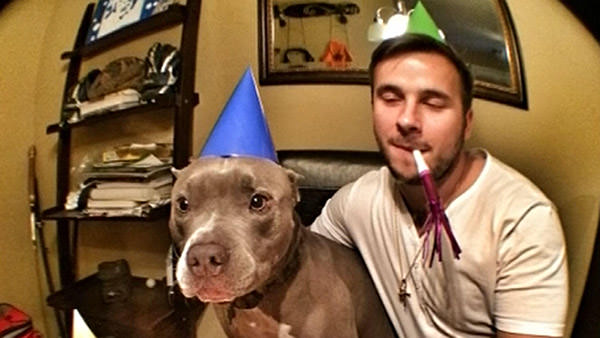 Errr... more wrong.

• Pat! Jesus.
The fact that people continue to take this dipshit seriously... let alone send him their money... boggles my mind.

And... time for an egg salad sandwich!
Tags:
Apple
,
Apple Watch
,
Bullet Sunday
,
Davetoons
,
Dumbassery
,
FaceBook
,
News
,
Pat Robertson
Categories:
Apple Stuff 2015
,
Bullet Sunday 2015
,
DaveToons 2015
,
News – Politics 2015
—
Click To It:
Permalink
—
3 Comments: Click To Add Yours!
Posted on February 22nd, 2014

It seems so very simple. If you have a penis, you're male. If you have a vagina, you're female. Yes, there are people who are born with/without sexual organs that challenge this two-party system, but it's a rare event and shouldn't change established conventions, right?
Right!
Unless you happen to be one of those precious few people who aren't born 100% male or 100% female, in which case being forced to check a box on a form that doesn't address your sexual identity seems unfair. Society treats your existence like some kind of a mistake, when you're just living your life the way God or biology made you. And that IS unfair.
But it's just the tip of the iceberg.
Because a person's sex... even if defined 100%... doesn't necessarily match your intrinsic sexual being. Which is where gender enters the picture.
I was once working with a team on a massive project that consumed our lives. As the days flew by, all our waking moments were spent in each other's company and we became quite close. As we were eating dinner one evening, one of the guys was lamenting how tough the gay dating scene had become. He thought that "Straight World" had more opportunities for finding someone than "Planet Gay," and he had resigned himself to dying alone. I didn't know if it's true that straights have more opportunities, but I assured him that it was no easier for dorky straight guys like myself to find somebody. One of the ladies chimed in with horror stories of being a woman in dating hell, and the competition for who had it worse was on. Until...
"You all have it easy. Try being trans and finding somebody to date!"
Turns out Margot had started out in life as Mark.
This was a bit confusing to me. Trans? Meaning transexual? What does that even mean? The extent of my knowledge on the subject was hearing a crude joke about "chicks with dicks," which meant I knew absolutely nothing. And since I hate wallowing around in ignorance... especially when it comes to somebody as great as Margot... I did the only thing I knew how.
I asked her.
A part of me worried that asking about something so personal would be offensive, but Margot wasn't offended at all. I guess she would rather somebody care enough to ask than to speculate, which is true for all of us, I suppose. And so I found out how being born with a penis is not necessarily the defining attribute of a person's sexuality. Yes, young Mark liked boys, but his feelings went beyond identifying as "gay." He was never comfortable as a boy, never felt like a boy, didn't fit in as a boy, and felt trapped pretending to be a boy. It's not that he didn't want to BE a boy... penis notwithstanding, he simply WASN'T a boy. Not on the inside. So when it came time for the boy to become a man, Mark decided his sanity and survival depended on giving up on pretending and finally embracing who he was always meant to be... which turned out to be a woman.
Simple, really.
Which is why I just don't get the continuing drama over Facebook adding a bunch of gender identity options for people's profile page. Apparently it makes some people "uncomfortable" to be exposed to the idea that humans exist who are not decisively male or female. And because they are "uncomfortable," these humans should be forced to conform to somebody else's personal standards as to what constitutes "gender."
And how fucked up is that?
Somebody telling you how to define who you are?
I mean, seriously, how does somebody wanting to identify as "trans" affect you? It makes you "uncomfortable?" Welcome to LIFE. If it makes them happy, makes their life bearable, makes them feel true to themselves, why would you give a fuck? It's their life. They are the one who has to live with it. Just be happy they're happy and live your own life for a change.
I don't understand how anybody thinks this world would be better off if everybody conformed to the exact specifications they have in their head as "normal." I have even a harder time understanding why people who feel this way decide to force their "normal" on others. Because, hey, everybody is abnormal to somebody.
Even you.
Margot went through a fucking gauntlet to get to where she needed to be. Her entire childhood was a battle that most people wouldn't survive. She faces challenges in day-to-day life that would humble most people. And yet she made it through. She's figured out what makes her happy, and is content being who she is.
I think she's fucking earned the right to define her gender however the heck she wants to.
Anybody who disagrees doesn't have the strength to put themselves in her shoes for even ten minutes.
Which is a shame, because she always wears such nice ones.
Posted on August 27th, 2010

Dear Facebook,
For a company that makes millions of dollars off the advertising you serve up on every page of your site, I would have thought that you would be smarter about how you do your business. I mean, sure you don't know dick about privacy concerns for your users, but I'd think you'd have a clue when it came to your bread and butter. Anything less would make you fucking stupid.
Apparently you're fucking stupid.
When you sign up for Facebook, one of the first things you have to do is tell Facebook whether you are a man or a woman, whether you're interested in men or women (sexually, I'd imagine), and why the hell you're stupid enough to sign up for Facebook in the first place. My profile looks like this...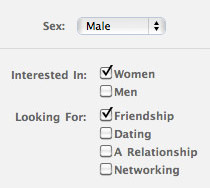 And there you have it. I am a man who is interested in women and looking for friendship on Facebook.
I'm "looking for friendship" because you forced me to pick something, and you don't have a checkbox for "I'm not looking for a damn thing, I'm only here because I want to keep in touch with people I know are here on Facebook."
I am not looking for "dating" or a "relationship" because I have no interest in online dating. None. I am not looking for "networking" because I think that's a stupid buzzword that basically means "I'm looking for people I can exploit for personal gain" (and while this may be true, it's not something I want to announce to the entire internet).
NOW... since I have made it very clear that I am NOT interested in dating or finding a relationship through Facebook, would you mind explaining why I see these skanky whores plastered on every fucking page?

WTF? I've told you why I'm here. Or, more to the point, why I'm not here for. Do you think I'm going to change my mind? That I'm going to take a look at some tongue-thrusting piece of eye candy and suddenly decide I want to start a relationship with her? Really? I mean... maybe I'd change my mind if there were additional options as to why I'm here...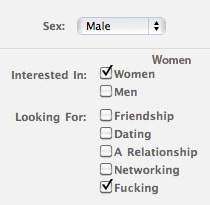 But since there's not an option for "I'm looking for a piece of skanky ass to have a one-night-stand with"... what's your excuse? I'm putting my money on "BECAUSE YOU'RE FUCKING STUPID!"
After finally getting tired of being distracted by skanky whores on Facebook, I've started to mark all those ads as OFFENSIVE because I'm OFFENDED that Facebook is so fucking stupid as to serve up personalized ads that I've specifically stated I'm not interested in...
I figure if I mark enough of these things as OFFENSIVE they will eventually get the hint and stop pestering me with them.
So what did I get today? This...
Apparently, the reason those ads for skanky whores are "offending" to me is because they're in English. Switch them over to Spanish, and everything's all good.
That's a whole new level of dumbass right there.
I just don't know how much longer I can patronize a website where the people running it are so fucking stupid that they can't target advertising properly... despite knowing everything there is to know about people from when they fill out their profiles. It's like trying to sell a T-bone steak to a vegetarian when they've fucking told you that they don't eat meat and are wearing a T-shirt that says "MEAT IS MURDER!" How much of a fucking clue do you need?
Anyway, in return for telling you how to improve your revenue by serving ads to your users they might actually respond to, I'll just say YOU ARE WELCOME!

Best Regards,
Dave2 from Blogography

UPDATE: Thanks to the commenters who pointed out that you don't have to check anything at all. It actually works! I'm now a non-sexual who is looking for nothing! Which, given the current state of my love-life, is about right.
Though I still think it's incredibly stupid that Facebook can't manage to use the information it has readily available to serve relevant ads. That's online marketing 101.
Posted on October 5th, 2009

"Let me get this straight. You're traveling half-way around the world... for a party?"
Lately I've been reconnecting with some of my former high school classmates on FaceBook. It's been kind of fascinating to me because we've never been close as a group, even though some of the close friendships are still intact. Case in point: our 25-year Class of 1984 reunion fell apart before it ever got started this year. It's sad, but not a big deal to me because I undoubtedly would have been traveling and couldn't go anyway (just like our 10-year). But we all served time together in the public school system so there's a common bond there that can't be broken no matter how hard we try.
So far as I know, only two of my graduating class are blogging. One of them is me. What this means is that I'm pretty easy to track down, even though I'm not so much tied to my "real name" but my "online identity" of Blogography. All it takes is a Google search and there I am. And now that I'm connecting on FaceBook it's even easier to find me because I'm linked to a bunch of former classmates there.
And this is where it gets interesting. Because my blog entries are duplicated on FaceBook as "notes."
It's interesting because my blog is highly superficial, as I don't talk about work, family, relationships, or anything I consider to be "personal." So while people from my past can find me easily enough, they can't really know me online. This is a paradox to be sure, and lately I've been trying to grasp what it must be like for old friends and acquaintances to stumble across my online life.
And let's face it, the online version of my life is pretty bizarre.
To say the very least.
This was driven home last Wednesday when one of my former classmates wrote and said "Let me get this straight. You're traveling half-way around the world for a party?"
Answering this question in the affirmative just raises more questions, namely "You're traveling half-way around the world to stay with random people you met on the internet?!? Are you crazy? And there's no real way to explain that to somebody who isn't involved in a blogger community and still appear sane. Believe me, I've tried.
Though, even if you remove blogging from the equation, it doesn't make much difference in my case. I once flew to Copenhagen for just 9 hours so I could attend a birthday party of a non-blogging friend. I guess I am crazy like that.
Oh well.
At some point you have to stop trying to explain your life and just live it.
I guess I'm there.