Dear Facebook,
For a company that makes millions of dollars off the advertising you serve up on every page of your site, I would have thought that you would be smarter about how you do your business. I mean, sure you don't know dick about privacy concerns for your users, but I'd think you'd have a clue when it came to your bread and butter. Anything less would make you fucking stupid.
Apparently you're fucking stupid.
When you sign up for Facebook, one of the first things you have to do is tell Facebook whether you are a man or a woman, whether you're interested in men or women (sexually, I'd imagine), and why the hell you're stupid enough to sign up for Facebook in the first place. My profile looks like this...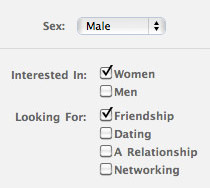 And there you have it. I am a man who is interested in women and looking for friendship on Facebook.
I'm "looking for friendship" because you forced me to pick something, and you don't have a checkbox for "I'm not looking for a damn thing, I'm only here because I want to keep in touch with people I know are here on Facebook."
I am not looking for "dating" or a "relationship" because I have no interest in online dating. None. I am not looking for "networking" because I think that's a stupid buzzword that basically means "I'm looking for people I can exploit for personal gain" (and while this may be true, it's not something I want to announce to the entire internet).
NOW... since I have made it very clear that I am NOT interested in dating or finding a relationship through Facebook, would you mind explaining why I see these skanky whores plastered on every fucking page?

WTF? I've told you why I'm here. Or, more to the point, why I'm not here for. Do you think I'm going to change my mind? That I'm going to take a look at some tongue-thrusting piece of eye candy and suddenly decide I want to start a relationship with her? Really? I mean... maybe I'd change my mind if there were additional options as to why I'm here...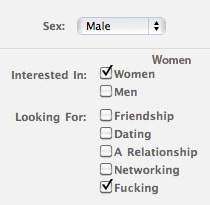 But since there's not an option for "I'm looking for a piece of skanky ass to have a one-night-stand with"... what's your excuse? I'm putting my money on "BECAUSE YOU'RE FUCKING STUPID!"
After finally getting tired of being distracted by skanky whores on Facebook, I've started to mark all those ads as OFFENSIVE because I'm OFFENDED that Facebook is so fucking stupid as to serve up personalized ads that I've specifically stated I'm not interested in...
I figure if I mark enough of these things as OFFENSIVE they will eventually get the hint and stop pestering me with them.
So what did I get today? This...
Apparently, the reason those ads for skanky whores are "offending" to me is because they're in English. Switch them over to Spanish, and everything's all good.
That's a whole new level of dumbass right there.
I just don't know how much longer I can patronize a website where the people running it are so fucking stupid that they can't target advertising properly... despite knowing everything there is to know about people from when they fill out their profiles. It's like trying to sell a T-bone steak to a vegetarian when they've fucking told you that they don't eat meat and are wearing a T-shirt that says "MEAT IS MURDER!" How much of a fucking clue do you need?
Anyway, in return for telling you how to improve your revenue by serving ads to your users they might actually respond to, I'll just say YOU ARE WELCOME!

Best Regards,
Dave2 from Blogography

UPDATE: Thanks to the commenters who pointed out that you don't have to check anything at all. It actually works! I'm now a non-sexual who is looking for nothing! Which, given the current state of my love-life, is about right.
Though I still think it's incredibly stupid that Facebook can't manage to use the information it has readily available to serve relevant ads. That's online marketing 101.