Saw an absolutely incredible performance by Depeche Mode tonight in Salt Lake City with Marty and WarpedGirl16...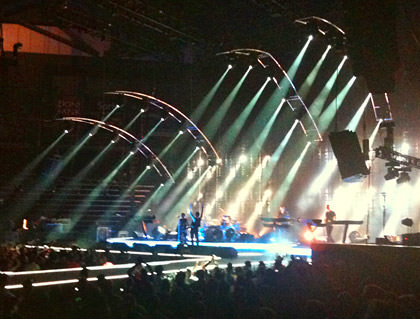 For a spoiler-filled set list and some additional photos, you can get all that in an extended entry.
If you haven't seen the concert, but are planning to, I'd really not read anything past this point until you have.
The stage tech was fantastic! The lighting rigs almost seemed alive as they transformed to various configurations as the show went on. There was also a "half-sphere" glued to the top of a giant screen which was playing all kinds of material (both live and recorded) for a very cool experience overall...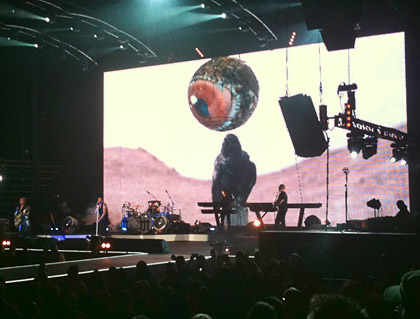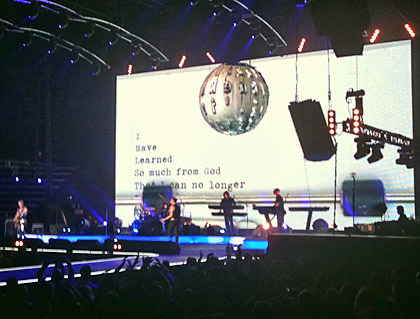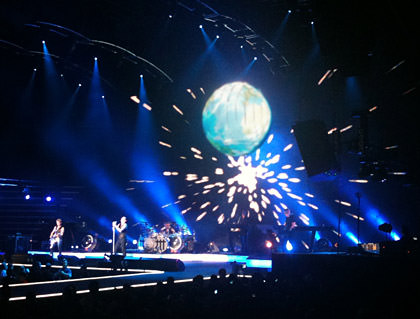 The set-list was pretty darn good, providing a balance of new and old material, just as it should be...
In Chains. Great song off the new album, and the perfect song to start the show. The musical arrangement was very, very well-done, as it kind of kept building up right to the end.
Wrong. Fantastic new song performed exactly as it should have been. You felt. the song as much as heard it, which just made it all the better.
Hole To Feed. Not one of my favorite DM songs, but sounded excellent live.
Walking In My Shoes. YES! This song is awesome live, and was performed flawlessly.
It's No Good. The first surprise of the evening, I was thrilled to get this great song from their back-catalog in the set.
A Question Of Time. Another nice surprise.
Precious. I think they went a little too far on the musical arrangement here, as they tried to run it through acid for a heavier sound. The result is still great to listen to, but not as good as when they performed it more "delicately" during their previous concert tour.
Fly On The Windscreen. This song took me completely by surprise, and I loved it. Like most of the older tracks, they added a harder edge, but were completely faithful to the original song. A smart... very smart... addition to the set list that was guaranteed to blow the fans away.
Jezebel. I hate... hate. this song on the new album. It's just so... lazy... I guess is the word I'm looking for. The music is boring. The lyrics are just plain bad ("They call you Jezebel. Whenever we walk in. You're going straight to hell. For wanted acts of sin." WTF?). Martin could have sang any number of songs here during his turn (Home comes immediately to mind) but we got this mess. BLARGH!
A Question Of Lust. Martin kind of redeemed himself here, performing a classic tune exactly how the audience wanted to hear it.
Miles Away / The Truth Is. Hands-down the standout track of the entire show. I liked the song when I listened to the studio track. I now love the song after hearing it live. It's as if it were written specifically four touring, and everything from the rockin' musical arrangement to the giant screen background was flawless.
Policy Of Truth. Loved it! Really loved it. Modified just enough to sound fresh, but not so much that it destroyed the beautiful balance that the original kept so well.
In Your Room. The live arrangement was not as strong as I've heard at other shows... but still an incredible song that was performed to fantastic effect.
I Feel You. Another amazing live track that blew the doors off the arena... in a good way.
Enjoy The Silence. Not overly thrilled with the way they reworked the music here, but it's one of my all-time favorite DM tracks, so I was very happy to get it anyway they wanted to serve it.
Never Let Me Down Again. Really wishing they would have worked in the "Route 66" remix stuff here, but was so happy they included this song in the set list that it didn't really matter.
Encore 1: Shake The Disease. GAH! They took one of my favorite Depeche Mode songs and utterly destroyed it. This track does not work as a ballad, and just died on stage for me. Disappointing, because had it been performed as it was originally written I would have peed myself.
Encore 1: Stripped. A fantastic song which Dave pushed to the limit.
Encore 1: Strangelove. I don't know what's cooler... that they included this classic track... or that they had some rather =ahem= racy visuals playing playing on the giant screen behind them.
Encore 2: Personal Jesus. The music powered over the vocals in places, but was absolutely brilliant. They took a song that everybody knows and didn't really mess with it so much as added an edge to it.
Encore 2: Waiting For The Night. This is not how I would have closed the show, as it kind of leaves the audience deflated after all the harder songs that were belted out... but still, it's a lovely song that was beautifully performed as a duet between Martin and Dave, so it's hard to be upset about it.
All in all, an amazing show. Depeche Mode is one of the greatest live bands ever, and I highly recommend their "Tour of The Universe" if you have a chance to see it...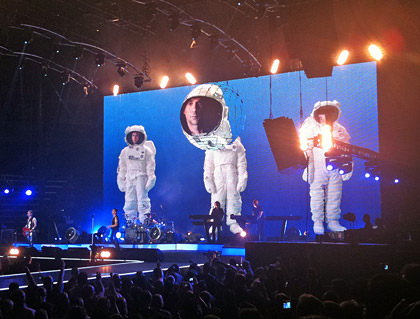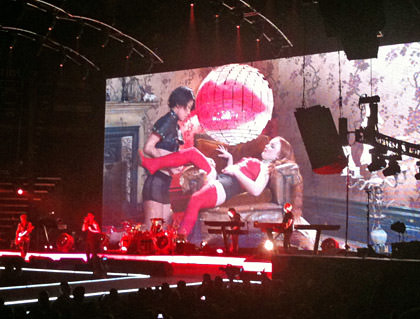 All my photos were taken with my iPhone and don't look that great. Fortunately, Marty brought his "real" camera and has a great set up at Flickr...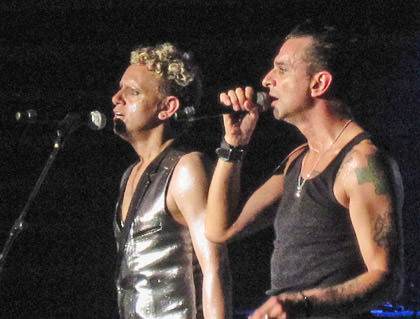 Now I suppose it's time to get some sleep before having to fly back home tomorrow...