Don't touch that mouse, Bullet Sunday starts... now.

• Higgs Boson. For science geeks like myself, Saturday was kind of a special day, as we were granted an audience with Professor Peter Higgs via a rare interview in The Scotsman. Fresh off of winning the Edinburgh Award, he made the bold prediction that the stupidly nicknamed "God Particle" that bears his name will finally be found this summer after 48 years. Bring on the Nobel Prize.

• Joke. Really? Attacking President Kennedy now? I gotta hand it to Rick "Piece of Shit" Santorum, he's got balls the size of watermelons to be trash-talking one of this country's most beloved presidents. Especially when Santorum is so petty and insignificant in the grand scheme of things...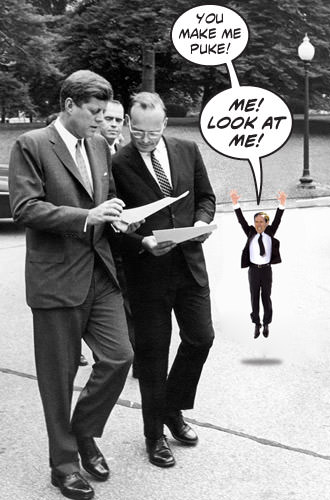 Santorum's tiny, insignificant, flea-like body from Ambro
How embarrassing. At some point even the craziest of crazies who are supporting this moron are going to wake up and say "What the fuck?!?"

• Astronomical. Apparently there was a spectacular alignment of planets happening in the heavens this weekend. Venus, Jupiter, and the Moon are all lining up to some kind of cool visual. I wouldn't know, of course, as the sky was totally overcast...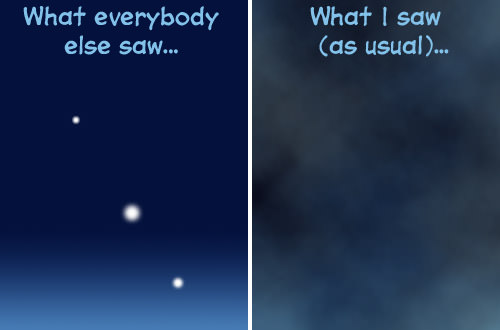 I swear, no astronomical events ever happen here. I get screwed by the weather every time.

• Finally. One of my favorite actors ever, James Earl Jones, was finally given his due with a Lifetime Achievement Academy Award...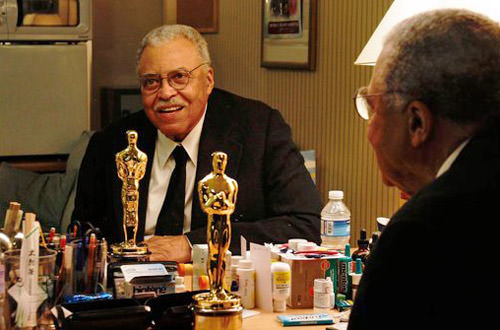 Photo from Luke Macgregor/Reuters
Can you imagine any of his movie appearances with somebody else in the role? Field of Dreams? The Lion King? Sneakers? The voice of CNN? THE VOICE OF DARTH VADER?!? No. No you can't. He's and incredible talent, and seeing him get an Oscar makes the award almost relevant again.

• Oscar. I am not a fan of the Academy Awards. They so rarely get it right when it comes to those deserving of a win. Case in point?
Captain America: The First Avenger — Best Picture.
Robert Downey Jr — Best Actor for Sherlock Holmes: A Game of Shadows.
David Fincher — Best Director for The Girl With the Dragon Tattoo. Stanley Tucci — Best Supporting Actor for Captain America: The First Avenger.
Meryl Streep — Best Actress for The Iron Lady.
Jennifer Aniston — Best Supporting Actress for Horrible Bosses.
And how many of those trophies were correctly awarded? One. Congratulations Meryl. You're amazing as always.

And now... I've got to pack a suitcase...