Posted on March 29th, 2015

Don't touch that back button... because Bullet Sunday starts... now...

• Arthur! After a long, long wait in Swedish Doggy Quarantine... Arthur, the stray dog who joined an adventure racing team in Ecuador, has finally been released!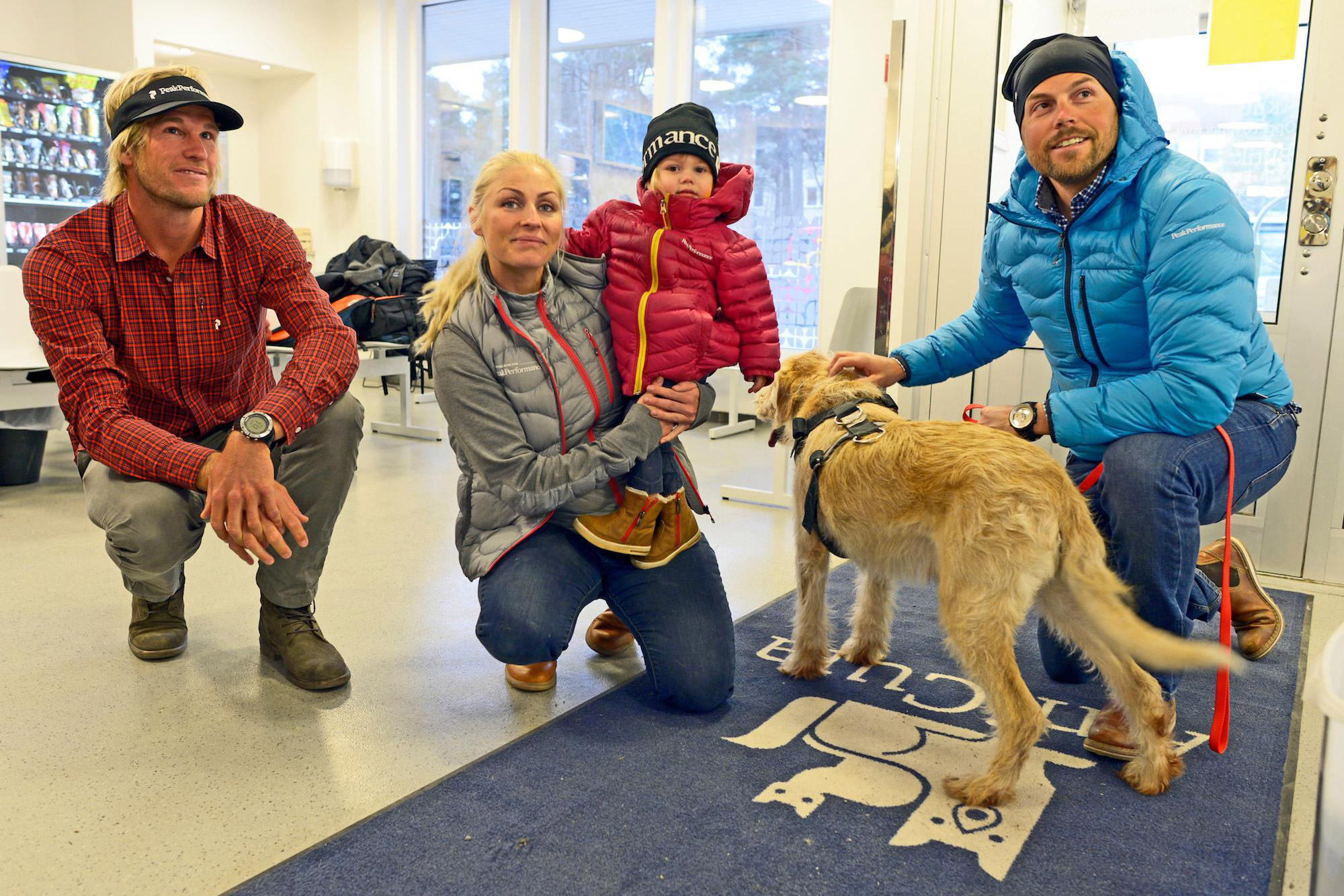 In case you're not up on this genuinely heartwarming story, here ya go...
Congrats to Arthur and Team Peak Performance!

• Clean Sheets! Doesn't everybody love them?

• TWO! In addition to the upcoming Clerks 3, Kevin Smith has unveiled plans for Mallrats 2, much to the surprise of just about everyone. Negotiations appear to be ongoing, but it seems as though the majority of the cast has signed on, including Smith, Jason Lee, Jeremy London, Ethan Suplee, Shannen Doherty, Stan Lee, Jason Mewes, Michael Rooker, and Renee Humphrey...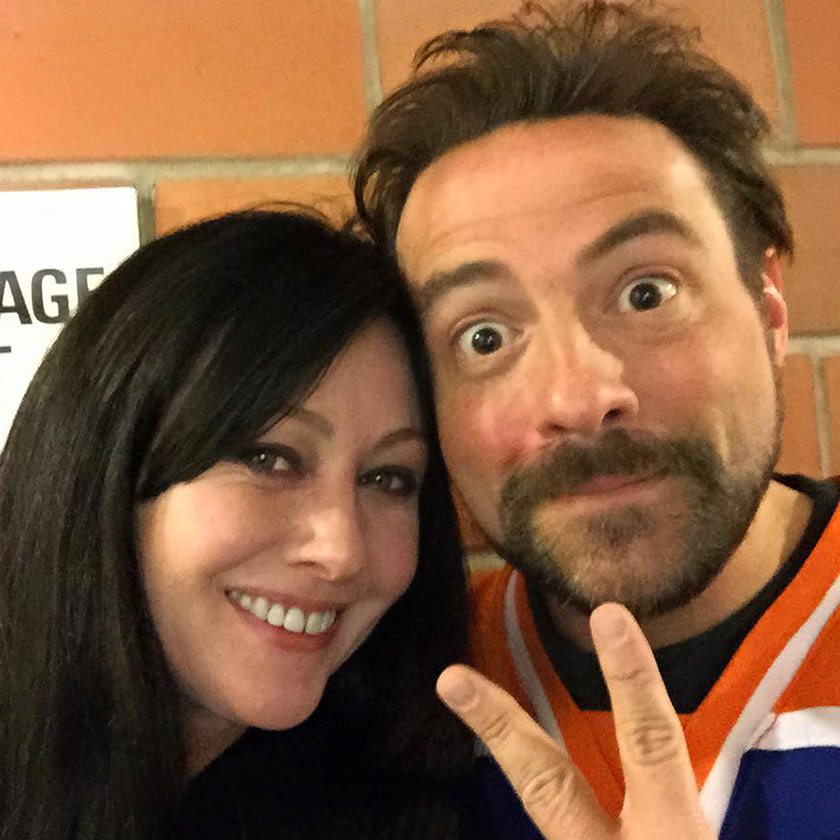 • Ninja! Well this is pretty epic...
Whatever this guy is making, he's underpaid.

• Freedom to Discriminate! Uh huh...
I'm guessing that's a "yes" then?

And there you have it... no more bullets for a week!
If you're lucky.
Posted on December 22nd, 2013

Times to put down that snow shovel and grab a mug of delicious hot chocolate... because Bullet Sunday starts... now...

• Thrice Nine. I am very happy to announce that today we have released the ninth issue of THRICE Fiction Magazine, featuring a bevy of talented writers and artists all wrapped up in this stunning cover by the amazingly talented Katelin Kinney...
Do yourself a favor and go download a FREE copy at the THRICE Fiction website... you'll be glad you did!

• Light. If I ever come up lacking blog fodder, all I have to do is drive down Wenatchee Avenue (the main drag running the entire length of the city of Wenatchee). Today I nearly ran over a guy crossing the street against the light while hauling a filled body bag! Filled with what, I have no idea. But that's not all, as I also saw... two white guys poppin' and lockin' on a street corner... a woman in a motorized wheelchair dragging a wagon filled with Christmas presents... a little girl twirling like she just don't care in front of an Indian restaurant... Santa Claus... a guy in shorts and a fur parka sitting on the trunk of his(?) car smoking a cigarette and drinking from a giant coffee mug... AND this...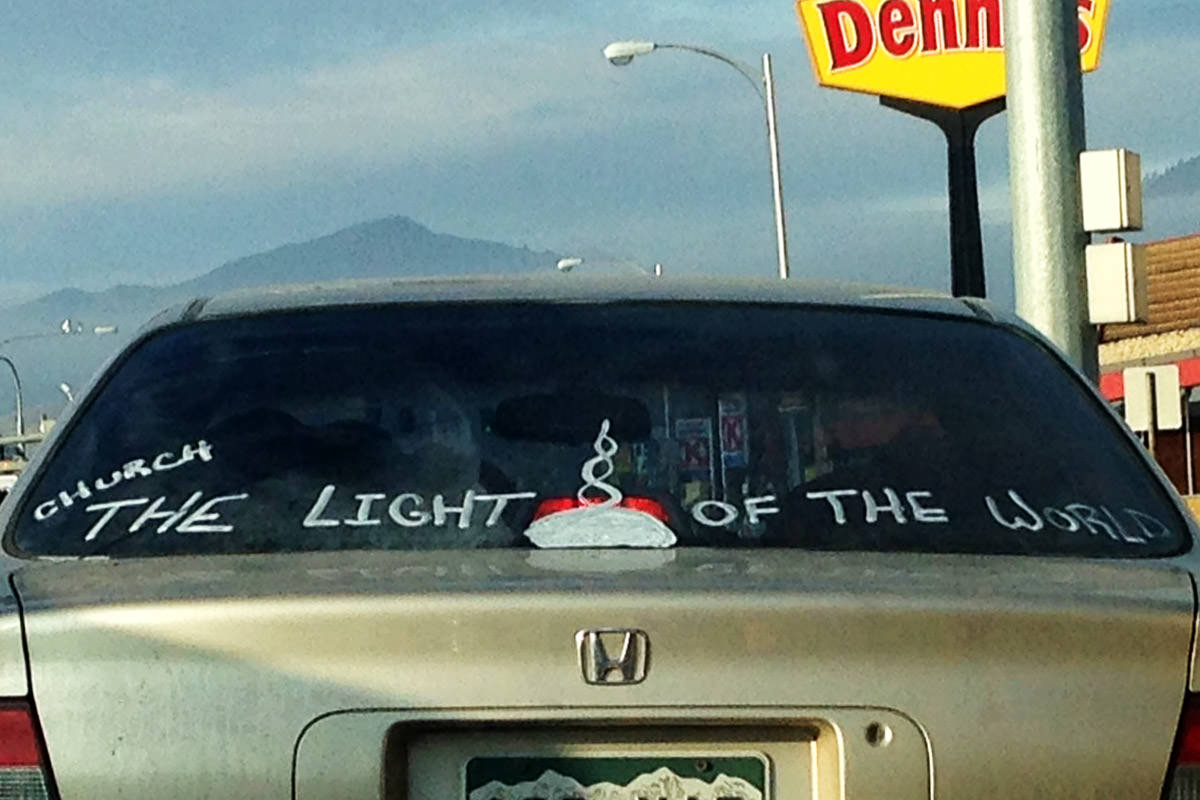 It says "CHURCH THE LIGHT OF THE WORLD"... but they drew a streaming pile of shit in the middle of it? Which is covering the secondary brake light, rendering it useless. Oh... and if you think that I managed to get into Denny's at 2:30 on the Sunday before Christmas? NO! No I did not! Which makes me sad, because that Hobbit Specialty Menu ain't gonna last forever.

• Mango! I'm a Kool-Aid kid. I would rather have a cold glass of Kool-Aid than soda pop any day. Tropical Punch is my favorite flavor, but I try to shake things up by making classic flavors like Orange, Grape, Lemon-Lime, and Watermelon. I also have tried specialty flavors that pop up from time to time like Purplesaurus Rex, Arctic Green Apple, and Sharkleberry Fin. And then this week I found Mango, which I almost skipped because I worried it would be too weird like the Pineapple flavor I tried last month. But, sanity prevailed, and I thought I'd give it a try...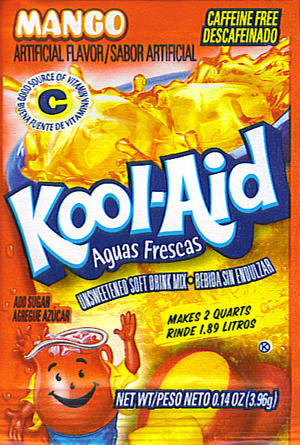 Delicious! Really good color, aroma, and flavor! If you like mango, then this is absolutely worth a shot.

• Reel. I've mentioned a couple times how I'm really stoked to see the Russian film Stalingrad, which takes place during World War II in the middle of one of the bloodiest battles in world history. The trailer looks absolutely amazing, even though I'm not a big fan of war movies. And now they've released a special effects real showing how they were rendered for 3-D. It's pretty mind-blowing...
Needless to say, I want to see the movie now more than ever. I guess it's in limited release, because I haven't seen it playing anywhere yet. It'll be a pretty big bummer if it leaves theaters before I can see it.

• Bittersweet. On one hand, New Mexico and Utah have joined the marriage equality bandwagon...
On the other hand, Uganda has passed an "Anti-Homosexuality Bill" which mandates life in prison for anybody having gay sex. I suppose we should all be thankful that the punishment wasn't set to "death," which was their original idea for a sentence. But I'm too busy being absolutely horrified. Even more so because anti-gay abominations of humanity here in the USA played a part in it. The very ideal of "The United States of America" is one of a beacon of freedom and hope known throughout the world. What in the hell happened? Our government is spying on its own people. We're passing horrific laws allowing the indefinite unlawful detention of American citizens. Our politicians are bought and paid for by Special Interest money with no consideration given to the people they profess to serve. Our media so thoroughly polarizes us that we've become a country hopelessly divided in venom and hate. And now? Now? We have assholes so filled with blind hatred and homophobia that they're exporting it to other countries because their efforts are finally failing here at home. Hardly a new concept, to be sure, but still fucking abhorrent given that these people are professing to be spreading hate in the name of religion. God bless America.
Because somebody has to.

• Pass. And lastly, in what I can only describe as a Christmas miracle come early, BARRY EFFIN' GIBB actually made an effin' appearance on The Barry Gibb Talk Show on last night's surprisingly funny Saturday Night Live...
Ordinarily, I wouldn't spoil the surprise like this, but... 1) he's right there on the video frame, and 2) The show featured guest host Jimmy Fallon and musical guest Justin Timberlake... was there any question that The Barry Gibb Talk Show wasn't going to make an appearance? Not the best installment of the long-running sketch, but certainly one of the most eventful! And a sad reminder that Robin Gibb is no longer with us, having died May last year.

And... time to make some holiday magic happen, people...
Tags:
Bullet Sunday
,
Equal Rights
,
Hate
,
Kool-Aid
,
Marriage Equality
,
Movies
,
SNL
,
Television
,
THRICE Fiction
Categories:
Bullet Sunday 2013
,
DaveLife 2013
,
Food 2013
,
Movies 2013
—
Click To It:
Permalink
—
4 Comments: Click To Add Yours!
Posted on November 20th, 2013

Every time another giant piece of ice breaks off Antarctica, I feel a pang of regret that I haven't yet visited the continent. This time the piece was "only" 252 square miles... which is slightly smaller than the massive 278 square mile chunk that calved off the last time I blogged about it back in July. That's over 500 square miles within a four-month period, which is pretty scary when you consider this is only going to accelerate from here on out.
As will my regret, I'm sure.
Which is a difficult concept for somebody who tries to live without regrets.
In other news...
Congratulations to Illinois!
You've joined my home state of Washington and just became the 16th State to legalize marriage equality!
Hmmm... didn't I just do this a few days ago? Why, yes. Yes I did!
34 to go.
Posted on November 13th, 2013

Congratulations, Hawaii!
You've joined my home state of Washington and just became the 15th State to legalize marriage equality!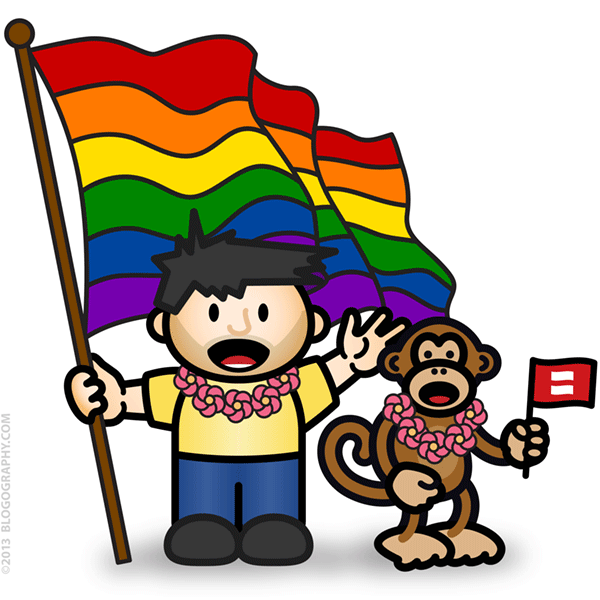 It's amazing that my gay and lesbian friends can now tie the knot in one of the most beautiful places on earth!
Thanks and much mahalo for recognizing that love is love... and everybody deserves to marry that one person who makes their life complete!
Posted on September 29th, 2013

Say hello, wave goodbye... because Bullet Sunday starts now...

• Bad! I've been dreading the impending final episode of Breaking Bad for months. I love the show, didn't want it to end, and was worried sick that the writers would build everything up to a shitty, "artistic," non-ending ending like The Sopranos. Or, more recently, a shitty, shitty, non-ending ending like Dexter... both of which sucked ass. But, surprise, Vince Gilligan and the rest of the Breaking Bad crew actually pulled it off...
If the show had to end, this was a great way to do it.

• Go Martha! Heaven only knows I am no Martha Stewart fan... there are times I downright despise the woman... but her taking a stand against patent trolls has me cheering her on. If only we could get rid of these do-nothing, innovation-killing shit-bags for good.

• So Long! If somebody were to unfriend me for supporting my friends or family, then they were never my friend to begin with, and wouldn't be missed...
People who live in the past should be left there. If they remove themselves from the game, so much the better.

• Delicious! For those of you keeping up with my love/hate relationship with Earl of Sandwich, THE PHILADELPHIA AIRPORT LOCATION STILL HAS THE EARL VEGGIE ON THE MENU!!
A little saltier than I remember (I think they over-did the salt/pepper/spice mix) but still oh so delicious.

• High Society! Betty Who's "Somebody Loves You" is getting a lot of attention... but my favorite track off of her her "The Movement" EP is called "High Society." And seeing her perform it live in this video has now made seeing her in concert a priority for me...
If you haven't picked it up yet, The Movement EP is worth a listen.

And, I guess it's goodbye!
Posted on July 16th, 2013

Maybe because I'm just so exhausted, but I'm just not getting it.
Why is it that all these homophobic bigots seem to think that gay people are all about gay sex and ONLY gay sex? That there couldn't possibly be something more to their lives than their sex life? That it is impossible for a hetero-challenged man or woman to possibly be interested in something other than where they like to put their bits and pieces?
Because, I gotta tell you... any time I've been hanging out with friends who are gay, their sexuality rarely enters the conversation. We talk about travel... or movies... or books... or restaurants... or music... or work... or pretty much all the same things I talk about with my straight friends. And yet here is how I picture Barber & Crampton must think the conversation goes...
ME: Hey lesbian friend, what's up?
LESBIAN FRIEND: Pussy. Vagina, pussy. Labia, labia, breasts, pussy. PUSSY!!!
ME: I hear that! How about you, gay friend?
GAY FRIEND: Cock. COCK COCK COCK COCK COCK!

I'm not saying that relationships and sex never come up, but it's never the single all-consuming topic of conversation that these idiots seem to think it is.
No. The only people who are interested in talking about gay sex and ONLY gay sex 24/7 seem to be homophobic bigots like Barber & Crampton.
Which kind of makes me wish they'd just fuck each other and get it out of their system already. Maybe if all of them did that, I wouldn't have to keep hearing about gay sex every time I'm on the internet or turning on the television.
Heck, even the gays and lesbians must be tired of it by now.
Posted on July 3rd, 2013

The past several days have been extremely difficult for me on many levels.
Which is why waking up to a very nice email first thing in the morning was enough to have me walking on air all day.
The letter was from "somebody you don't know" who wrote to thank me for keeping Blogography going, then tell me that today he removed a DaveToon from his cubical at work that had been hanging there ever since I first posted it to my blog over four years ago.
I was a little confused as to why he would write to me about REMOVING a cartoon I made... until I followed the link in his email and saw this...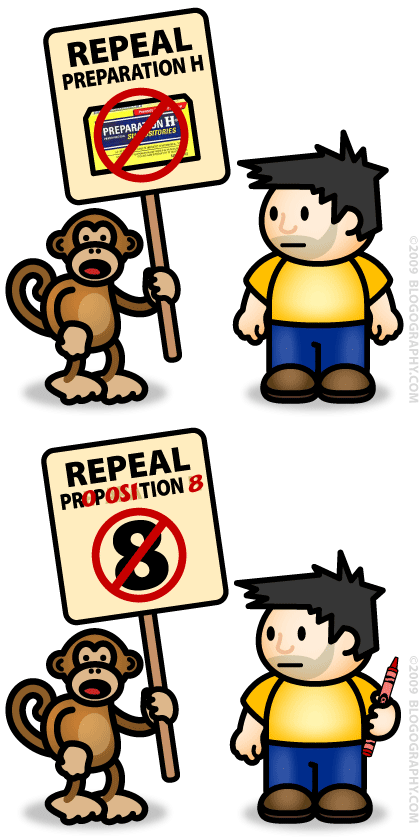 All I could say in return was "Thanks so much. I'm sorry you had to wait this long... even sorrier I had to draw it in the first place."
Which is hardly adequate, but I meant every word.