Posted on April 2nd, 2018

A while back I decided I wanted to build a pergola over the section of my patio which isn't already occupied by my catio enclosure. Initially I had the idea of fitting a cat-run on the outer edges, but ultimately decided that wouldn't work because it obstructed too much of my view. Instead I think I want something much more simple and open. I also like the idea of having a porch swing on one end and a low-fence creating a barrier at the back. That way I could put a small table and a couple chairs up against it...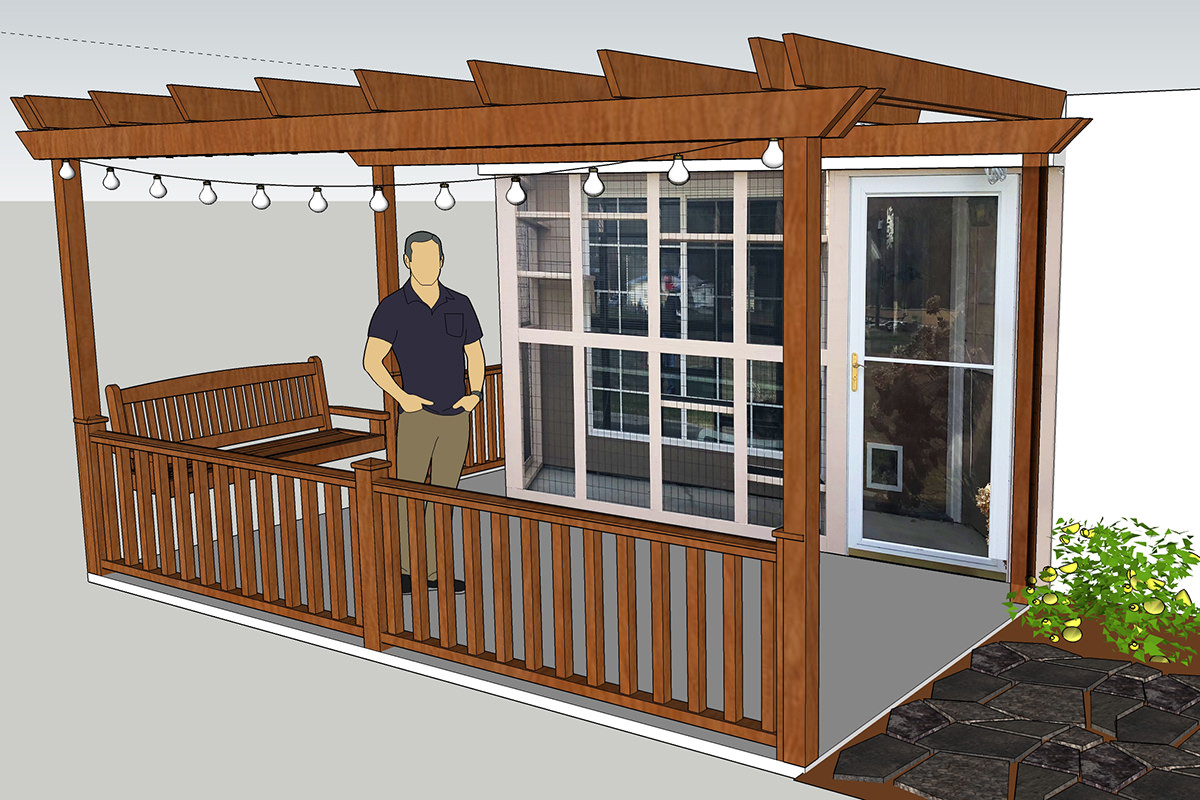 I also like the idea of having a cat-run extending from the catio to a viewing platform on top of the pergola for Jake and Jenny. By making it fit between the slats, I could easily remove it if I ever wanted to...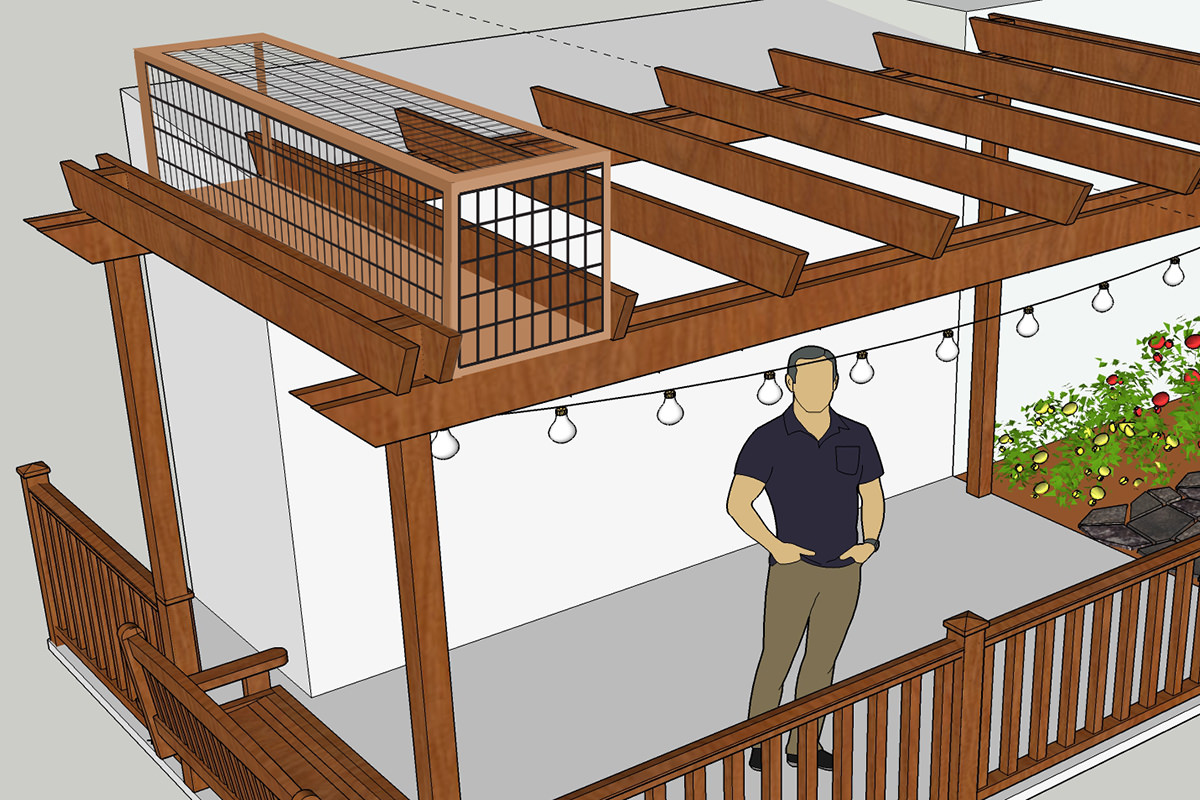 And so... I'm making a parts list and saving my money for the materials needed. It shouldn't take too long to get it put together once I've cut all the pieces, probably just a three-day weekend.
Can't wait for wood-shop season to begin.
Posted on February 21st, 2018

My addiction to home renovation shows has reached critical mass. My list of woodworking projects I want to do has gotten so long now that I would have to retire if I even wanted to make a dent in it.
Right now I'm excited for Spring to come so I can turn my garage into a woodworking shop again and get started on two (well, actually three) projects...
Custom Picture Frames. I am building a wall collage in my stairwell of family and friends photos. I'm to the point where there are no frames I can buy to fit in the places I need to fill, so I need custom frames to make it work. Alas, they are SO expensive, so I bought a router table and am going to make my own. It's so much easier than I thought it would be. I also have some prints that I'd love to display, but could never find frames to fit. Now I can make my own.
Remodel My Laundry Room. I want some narrow shelving that will be easy to build, but the main thing I want to do is build new cabinet doors as practice for...
Remodel My Kitchen. I ran out of money when I was remodeling my home, so I never got to replace the kitchen cabinets which I hate hate hate. I then decided I would just reface them with new doors and drawers, but that was also insanely expensive. So then I decided to buy the tools to build my own doors and drawers. I'm also confident that I can tile my own backsplash. About the only thing I am not confident about is replacing the countertops, so I'll have to hire somebody after I'm done with what I'm going to do.
That's months of work given that I can only work nights and weekends.
And yet...
I've got another project I'd really like to tackle.
I want a pergola on my patio.
Well, a pergola over the part of the patio which remains after I built a catio out there. It might also be cool to build a cat run into it with seating on top, like yo...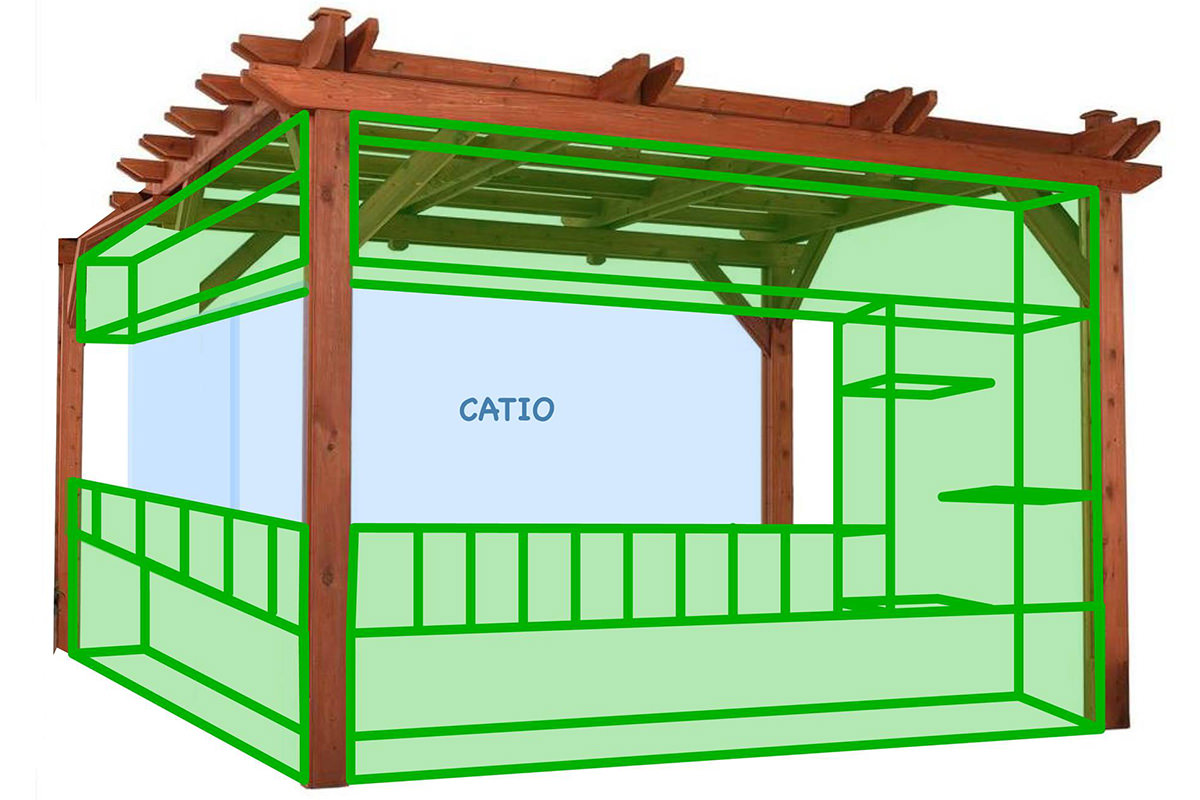 That way I could sit outside and read a book under a little bit of shade while my cats run around. Big Fun for all of us!
By far, the biggest project I've ever tackled, if I end up doing it... but it looks like a lot Big Fun to build too!
Posted on January 22nd, 2018

I always make fun of the people who say "Are you kidding me? Are you KIDDING me? ARE YOU KIDDING ME RIGHT NOW?!???" when they see their finished home revealed at the end of Fixer Upper (the home renovation show on HGTV). I mean, who says that? It's like, the stupidest thing you could say. YES, WE ARE KIDDING YOU! THIS IS NOT YOUR HOUSE!
Then just now I was unloading a box of cat stuff from Chewy. The cats were obsessed with the shipping box... until I opened the cupboard where the cat food is. Then they abandon the box come ripping into the kitchen like they're going to be fed dinner... an hour and a half early! It was then I found myself saying "Are you kidding me? Are you KIDDING me? ARE YOU KIDDING ME RIGHT NOW?!???" — And then I realized either A) I watch way too much Fixer Upper, or B) People actually say that, and I should probably apologize to all the people on TV I've made fun of.

It's probably a combination of both those things. My television is tuned to HGTV 90% of the time. I've seen every episode of Fixer Upper eleventy-billion times. I have all the clients memorized. It only stands to reason that the stupid crap people say on these shows is going to get embedded in my brain.
In many ways, watching shows like Fixer Upper is torture this time of year. I want nothing more than to clear out my garage and set up my wood shop so I can get started on all the projects I've dreamed up for my home this year... but that has to wait until Spring when I won't have to worry about my car being piled over with snow.
The last thing I want to do is walk outside in the morning, find an avalance on my car, and find myself screaming "Are you kidding me? Are you KIDDING me? ARE YOU KIDDING ME RIGHT NOW?!???"
Posted on June 12th, 2017

Ask anybody who knows me... I am most definitely not into clothes.
But I do want to wear nice clothes, so I save my money all year long and purchase everything on Black Friday. This is essentially doubling my buying power, even though any summer clothes I get will be "last year's models" by the time I end up wearing them. Oh well, because: affordable clothes. Which I hate shopping for. And the only thing I hate more than shopping for clothes? Finding a way to organize them in my closet.
When I moved into my new home one of the first things I looked at was the closets. Since the place was built in 1997, I was hoping it was "modern" enough to have smart closet spaces. But it didn't. Same old rod with a shelf on it that I had in my last place. This means all my shirts will end up scattered around while my suits hang in the corner and all my jeans get stacked on the shelf. Again.
Such a waste of space.
So I looked into some of those "closet organizer" websites where you can custom design exactly what you need. For me, this is rather simple...
A central shelving unit to organize my growing collection of denim.
Separated spaces for my shirts and suits.
Space for my dirty clothes hampers, which I am tired of tripping on.
This ends up looking something like this...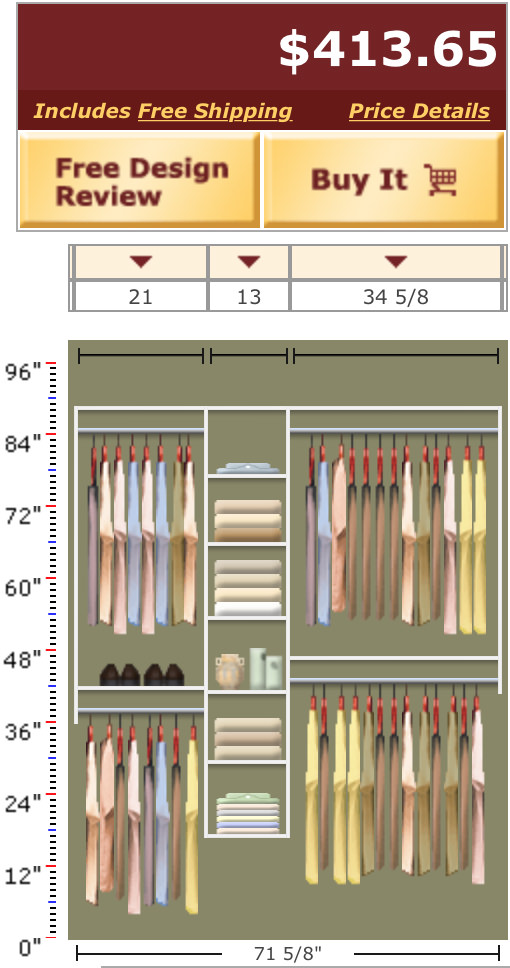 There are several problems here...
I'd have to toss out the rod on the bottom right to make room for the hampers.
The shelves are those wimpy "peg & hole" kind, which I hate. I am not even sure that they would support the weight of denim jeans stacked six high.
There is wasted space under the shelves where I would rather have more shelves!
The pieces hang on the wall, which seems dicey as hell.
The don't let you fill in all available space.
It's not real wood, so the quality will suck.
FOUR HUNDRED AND THIRTEEN DOLLARS FOR THIS PIECE OF SHIT? ARE YOU OUT OF YOUR FUCKING MINDS?!??
And so, I added "Closet Organizer" to my list of woodworking projects. Then, a couple weeks ago I sketched out what I needed, headed to Home Depot for lumber, then worked on the thing whenever I had a spare moment. It turned out amazingly awesome in every way...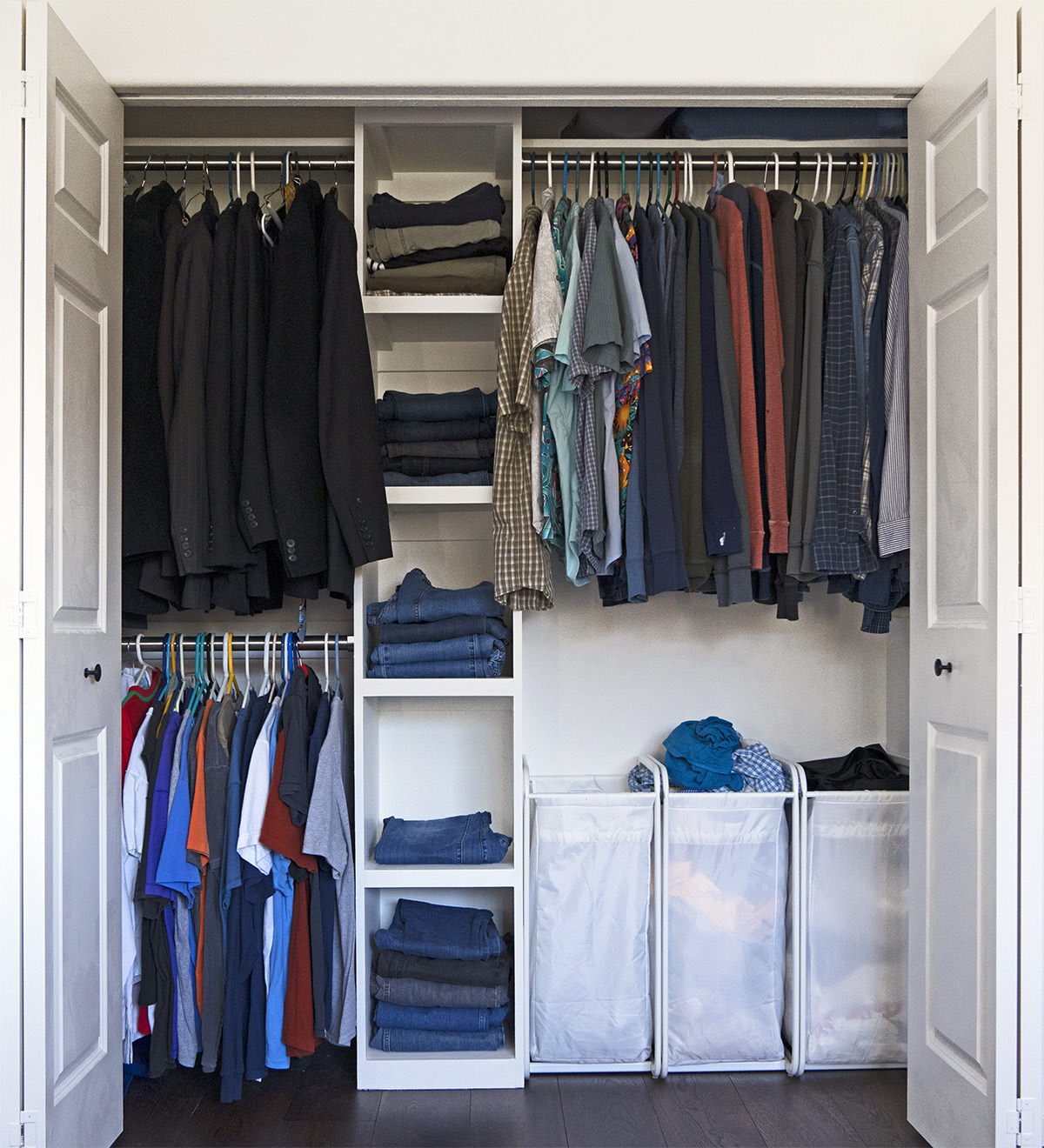 Features...
Solid wood and built like a tank.
Shelf supports for extra strength... won't collapse even when packed with heavy jeans.
Plenty of space for my 36-pair denim collection (biggest Black Friday savings).
Still room in the header for blankets, pillows, and storage.
Brushed stainless steel rods and hardware to match my ceiling fan.
Separate spaces for suits, shirts, and T-shirts.
Room for easy-access laundry hampers.
Beautifully constructed! Does not look like a cheap piece of crap.
$189 in materials. LESS THAN HALF THE COST OF THE SHITTY ONLINE ALTERNATIVE!
Well, it's kinda half the cost of the shitty online alternative. I ended up buying a biscuit cutter to join boards together, which added a $100 expense to the project that I wasn't anticipating. Even so... I still saved around $125 AND I've got a biscuit cutter than I'm sure to use on many future projects!
Oh... I think the cats like it too...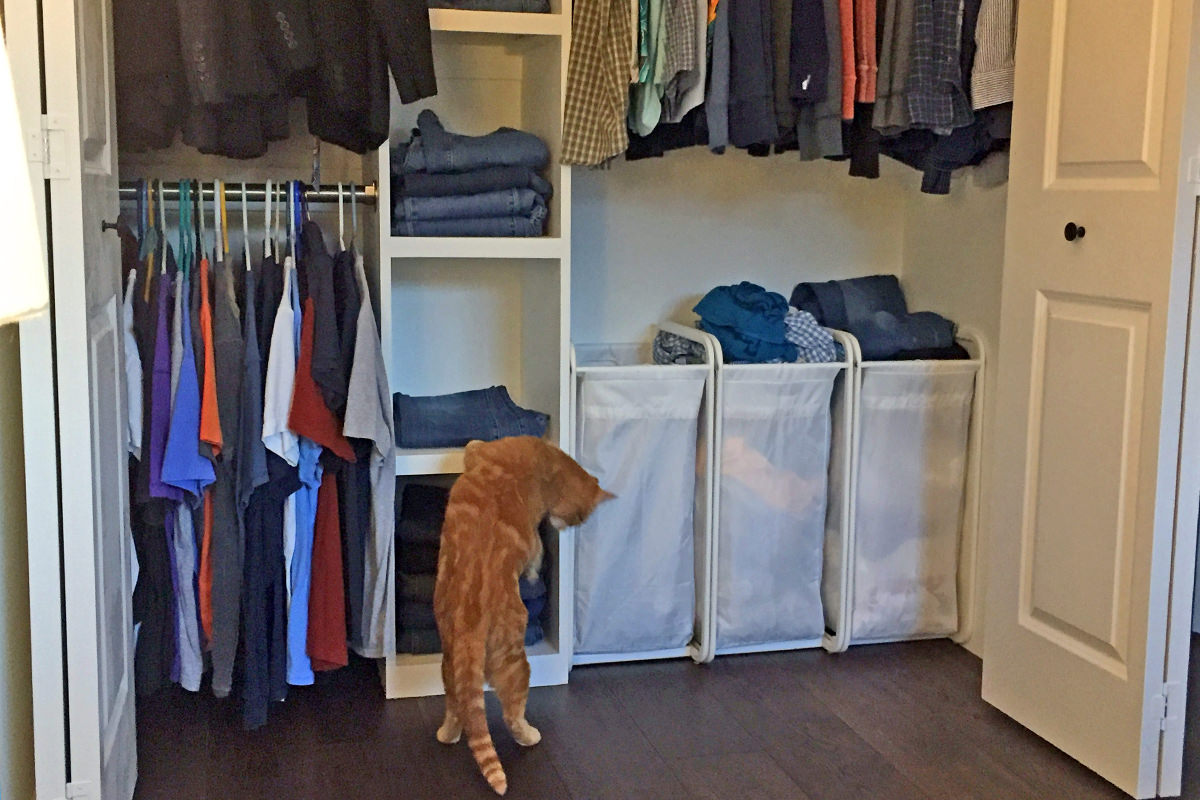 So... all in all a fantastic investment of my time. And I had fun building it to boot... almost no swearing!
On to the next project, whatever that will be.
Posted on June 3rd, 2017

No matter how many tools I buy, there's always something more.
My latest purchase? A plate joiner... better known as a "biscuit cutter." This very cool tool cuts notches in the side of a wood board so they can be joined together with a small piece of oval-shaped wood (a "biscuit"). The biscuit swells when glue soaks into it, which makes the joints quite strong...
A biscuit cutter became necessary for a number of reasons. First is that I can't fit large pieces of wood in my car. Second is that my sliding miter saw can only handle lumber 8" deep, and when I need a precise angle I don't want to use hand-saw. Aligning small pieces of wood so they can be joined into a large piece of wood is tricky business without a plate joiner, so I bit the bullet and spent the $100.
It works fantastic...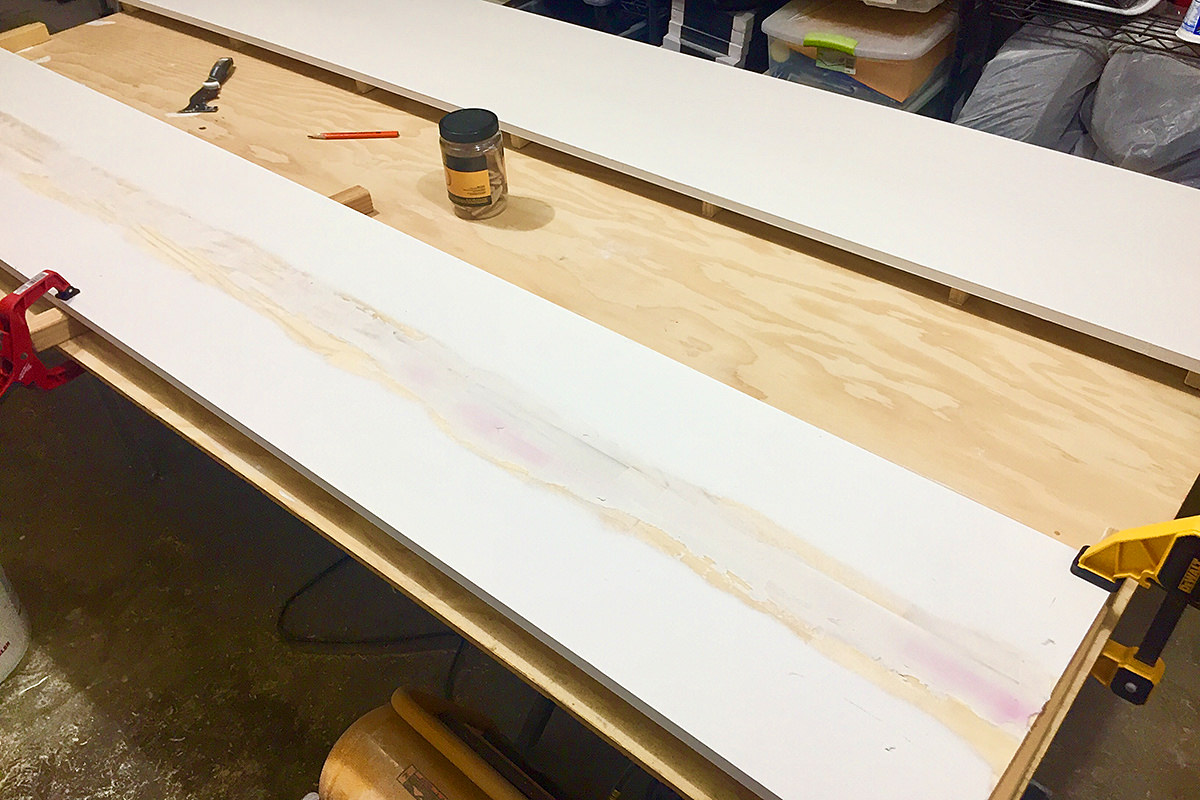 That's three pieces of 8-foot wood that's been biscuit-joined into a single piece, then filled and sanded smooth. The biscuit joint is not really meant to be for strength... it's more for alignment... but the board is about as solid as it gets. Nice!
The only problem is that every time I use my biscuit cutter, this song goes through my head...
All thanks to my Facebook friend, John, who just couldn't let me enjoy my biscuit cutter without Ivy Levan!
Posted on April 15th, 2017

Originally, my guest room was upstairs next to my bedroom. Eventually I decided to move the guest room downstairs so that everybody has a bit more privacy. This left me with an empty room that I decided to turn into an office.
And so I moved a desk and some shelving into the spare room and all was good.
Except the cats decided that they wanted the room. Anything I put in there was immediately thrown on the floor and shredded.
I finally got the message and removed my office stuff. Then I tossed in a litter box, some toys, and a couple cat tunnels. The cats wasted no time taking it over. They have their own play room now and they love it.
And while I usually work from the couch so I can watch television, every once in a while I still need a desk to work at. And so I dug out the laminated slab from my garage that used to be at the head of my stairs... extended it... re-covered it in leftover wood from my floors... then bolted it to the walls.
Voilà... my beautiful new desk...
I then built a roly cart for my laser printer since I didn't have room for it on the desktop.
Needless to say, Jake and Jenny wasted no time taking over my new office space. Just like they have every other space in the house.
Posted on April 14th, 2017

And so I've finally converted my garage to a woodworking shop for the season.
Now it's just a matter of working through the projects on my list for 2017...
Built-in desk for reading nook (with printer cart).
Back patio fence
Back patio bird feeder pole.
Catio run to sun room extension.
Catio grass bed and toy wall.
Catio climber/scratcher posts.
New farmhouse bed for guest bedroom.
Wall bed for

office

cat's play room.
Closet shelving and organizer.
New kitchen cupboard and drawer facings.
Living room kitty condo.

Office

cat's play room kitty condo.
Collapsible wall-mount tool bench.
Collapsible miter saw and table saw closet.
How many projects I get through depends on how much time I can scrape together over the summer.
But I'm starting now.
Posted on March 27th, 2017

Call me paranoid, but home security is something that I take very seriously. In addition to having electronic door locks, motion sensors, breakage sensors, trip sensors, and three sets of security cameras, I've got a very cool system that ties it all together with a redundant processor and independent power supply.
One set of cameras has battery backup and records to a secure local location. That way, if the power gets cut or the internet is down, I still have recordings of everything that goes on. The other two sets of cameras record to separate locations in "The Cloud" and are far more fun. The NestCams are my favorite, having really good optics and the best-of-class online storage. I pay for the 10-day option... which is more than I need, but the least you can get... which does have the side-benefit of browsing backwards in time.
This morning as I left for work I noticed that the snow had completely melted from my yard, and made a GIF from snapshots of the past ten days...
Pretty amazing given that this shot of my yard was taken on February 8th where the snow was over 6-feet tall and piled out into the street...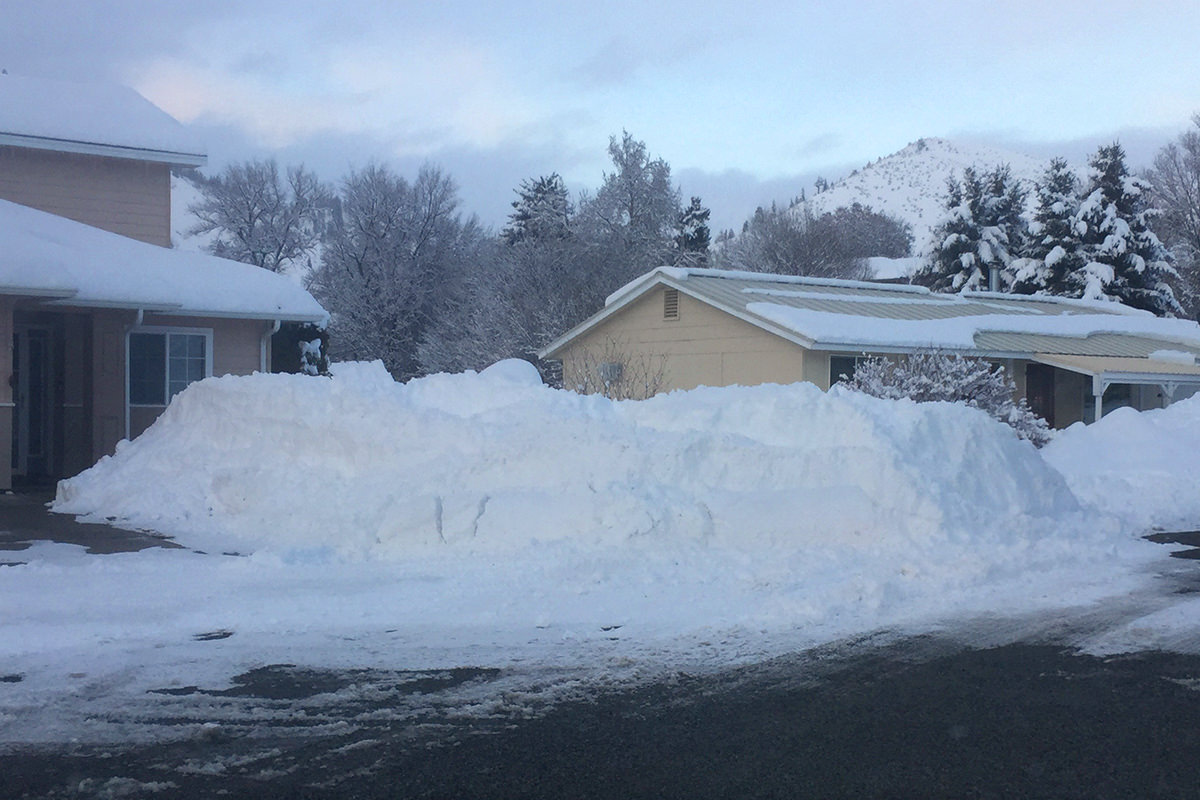 Now that the snow has gone, I'm excited to turn my garage into a wood shop once again. In addition to building Catio Phase Two, making my own cat furniture to replace the carpeted monstrosities I have now, and building new kitchen cabinet doors... I also want to rebuild my closet to make use of every bit of available space. I can't believe how inefficient stock closets are. It's like they are built to intentionally waste space and be as inconvenient as possible.
I'm finding a lot of ideas online, but what I really need is a "Pimp My Closet" show on HGTV. Closets are some serious business, yo.
Posted on November 12th, 2015

As I've mentioned many times over the years (and have as #76 in my 100 Things About Me list), I love carpentry. There's something about being able to take a stack of wood and turn it into something functional, beautiful, or useful that appeals to me.
And now that it's time for my mid-life crisis to begin, I've finally decided to do something about it.
But where to begin?
Probably with some woodworking tools.
I decided to start with a drill so I can make holes and put screws in them. That seems like an important thing to be doing when it comes to wood, doesn't it?
I own an electric drill of course, I'm a civilized person after all, but it's a crappy 7.5 volt bargain basement brand that barely has the torque needed to drive a screw into a stick of butter. And that simply will not do. Nope, if I'm going to be screwing, I want to be able to drive my screw so hard and deep that my wood will cry out for mercy as it's impaled by a force so overwhelming that it cannot be denied.
So off I went to the local home improvement store, The Home Depot.
Which is an exciting experience for two reasons...
Every time I go to Home Depot, I always run across something that I never knew existed, but discover I can't live without.
I never feel so manly as when I'm pulling into the parking lot of Home Depot to buy power tools.
So there I am in an entire aisle devoted to drills trying to look like I know exactly what I'm looking for. An entire aisle!
At the far end of the aisle are massive drills that take two hands and a certificate from your doctor stating that you are fit enough to use them. Needless to say, I won't be going that far. I stay safely at the near end of the aisle where sanity prevails. I want to drill holes in a piece of wood... not rip a hole in the fabric of space-time.
So then... questions...
18 volt or 22 volt?
Cordless or corded?
Brushless or not brushless?
Drill or drill/impact driver?
DeWalt, Ryobi, Bosch, Makita, Milwaukee, RIGID, Black & Decker, or Metabo?
Or the only question that really matters...
Yellow, lime green, industrial blue, teal blue, red, orange, black, or forest green?
My new drill is a pretty red one!
Oh... and that thing I didn't know existed but found out I cannot live without?
ROLL O' RAGS!!!
Genius!
Let the impaling begin.