I may be ankle-deep in sawdust, but here I am... because an all new Bullet Sunday starts... now...

• Push Back. The impeachment trial is absurd. There is overwhelming evidence of wrongdoing in a number of areas, and it's clear the president is exploiting his office for personal gain at every possible opportunity. But because Republicans in The Senate are 100% willing to enable his abhorrent behavior, he's going to remain in office. Which is why This post from Dan Rather is so important. "As many of us focus on the news out of Washington, let us not forget on these cold, winter nights, many are struggling with hunger and hopelessness. There are the lonely, the homeless, the sick, and scared. Service to others is a way to push back at the cynicism of our times."

• TEMPORARY! OH MAN! TIME TO STOCK UP MY FREEZER! YOU SIMPLY CANNOT BEAT THESE SAVINGS!!!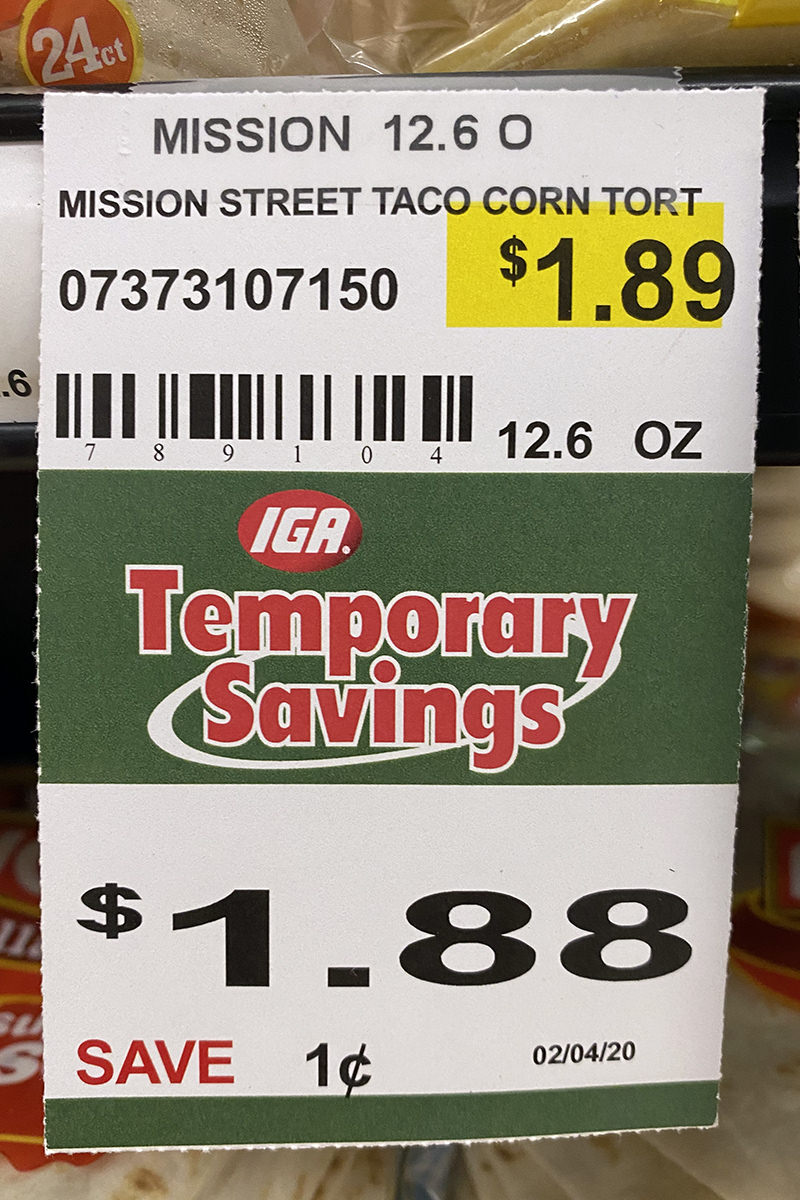 As I've made known many, many times, I rarely buy anything at the grocery store that's not on sale. I build my meals around what I can find that's inexpensive. I very nearly grabbed these for taco night until I was like "Wait a minute! Aren't these usually about $2?!?" Stores are pretty devious. They expect people will grab something on sale without looking for how much it's on sale.

• Dance Dance Dance. A new bird has been discovered. It's feathers are like a black hole, absorbing most light. This results in a very cool mating dance you gotta see...
It's amazing that we keep discovering new animals as scores of others are going extinct.

• Scraps. It's hard to complain about working on the weekend when I get to set up my wood shop and build displays! I cut the pieces for a rack display I will assemble tomorrow, and now I am building a half-dozen little fruit-crate-inspired booklet displays. They will have a small standee sitting next to them with info and pricing...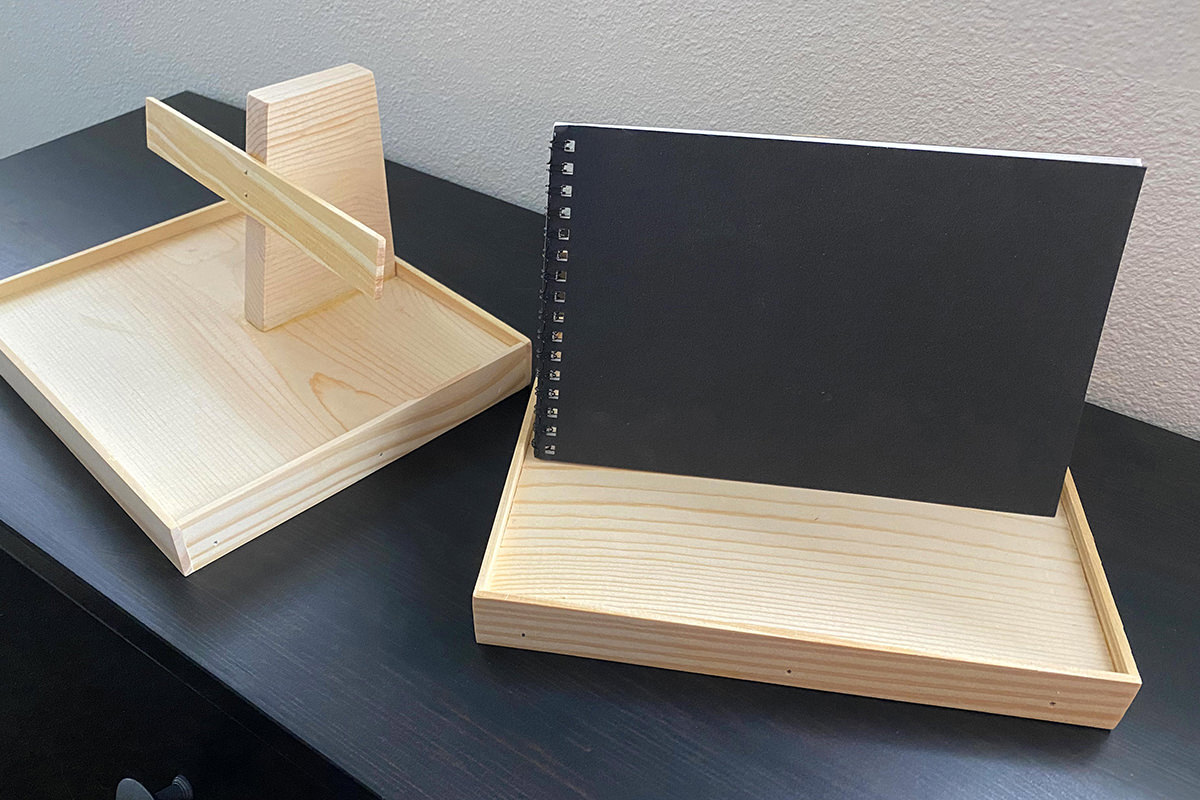 As thrifty as I am for my own projects, I've doubly so when spending money for work. The stands had to be heavy so they wouldn't move... and deep so they wouldn't tip over. I made the tray part look nice, then used whatever scraps I had laying around for the back-stops since they don't show. Works like a charm, and they ended up costing a whopping $2.20 each. =sigh= Designing and building displays is the best part of my job. Wish I got to do more of it.

• Peanut Hell. Killing time until 10:00 so I can fire up the power tools... I'm watching SNL from last night with Adam Driver. The cold open takes place in hell where Flo from the Progressive Insurance commercials is visiting. She sold her soul to the devil so she could be on television forever. THEN can you guess what commercial comes on? Just guess! I hope that was planned and SNL contacted Progressive to have it happen, because that's genius.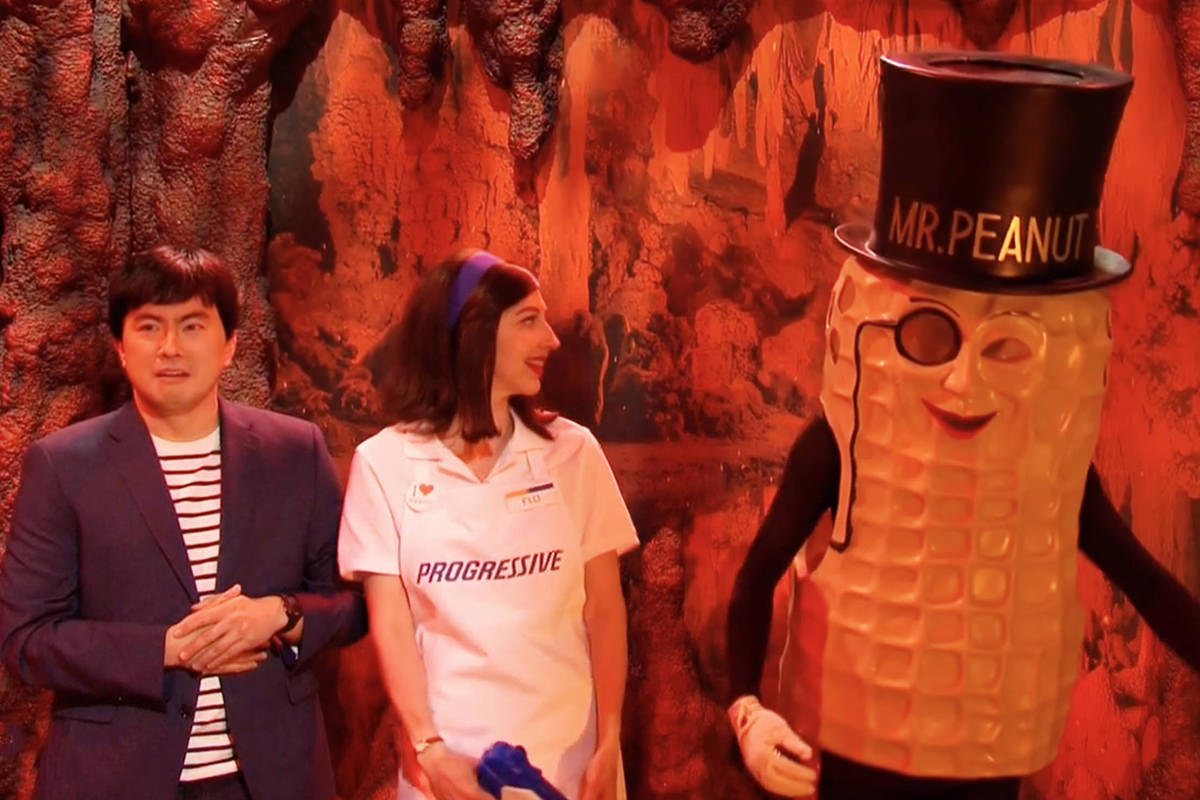 In other news... POOR MR. PEANUT! Guess he shouldn't have killed all those kids with peanut allergies!

• Art. I recently read a Facebook post by Rachael Eliot Barker that's so important to me that I am reprinting it in its entirety...
"Recently, there was a dust-up over The Comedian, a piece in which Italian artist Maurizio Cattelan taped a banana to the wall of a gallery and sold it for $120,000. A gallery patron made additional news by pulling the banana off the wall and eating it. Interviews made it clear that everyone involved was trolling. The saga was catnip to people who believe that conceptual art is full of shit.
Maurizio Cattelan is clearly full of shit, but his work begs the question: could an artist ever walk into a gallery with some snacks, say 'This may look like something I picked up at the bodega on the way here, but it is in fact my Art, behold my Art,' and NOT be full of shit?
In my opinion, the answer is yes.
My opinion is heavily informed by this 1991 piece by Felix Gonzalez-Torres. Untitled (Portrait of Ross in L.A.) is a pile of free candy. Visitors are invited to take one piece of candy. Frivolous, right? The piece may be staged in any gallery that follows a few simple rules. The most important rule is that the pile should weigh 175 pounds.
175 pounds was the healthy weight of Gonzalez-Torres' partner Ross Laycock, who died of AIDS.
González-Torres had a Roman Catholic background, and taking the candy is meant to be an act of communion. The patron partakes in the "sweetness" of Ross while participating in his diminishment and torturous death.
The decision to use candy has political significance. In 1991, public funding for the arts and public funding for AIDS research were both the hottest of hot-button issues. HIV positive gay male artists were being targeted for censorship. González-Torres was desperate to be heard, and part of the logic of Untitled (Portrait of Ross in L.A.) was that you can't censor free candy without looking ridiculous. The replicability of the piece makes it indestructible; González-Torres had an intuitive, ahead-of-its-time understanding of virality that came from dealing with an actual virus rather than the internet.
I've never seen this piece staged, but I think about it all the time. The artist, sadly, is no longer with us. But we will always have the most brilliant, heartbreaking free candy to ever be heaped in a corner. The key to conceptual art is storytelling — how well can you tell a story without words OR a "proper" picture? The banana on the wall sucks because it doesn't tell a story about anything but attention-seeking and greed. I can't stand Banana Guy or the media coverage surrounding him because stunts like that make people close their minds to unconventional art and storytelling, which can be just as sophisticated and moving as conventional art and storytelling."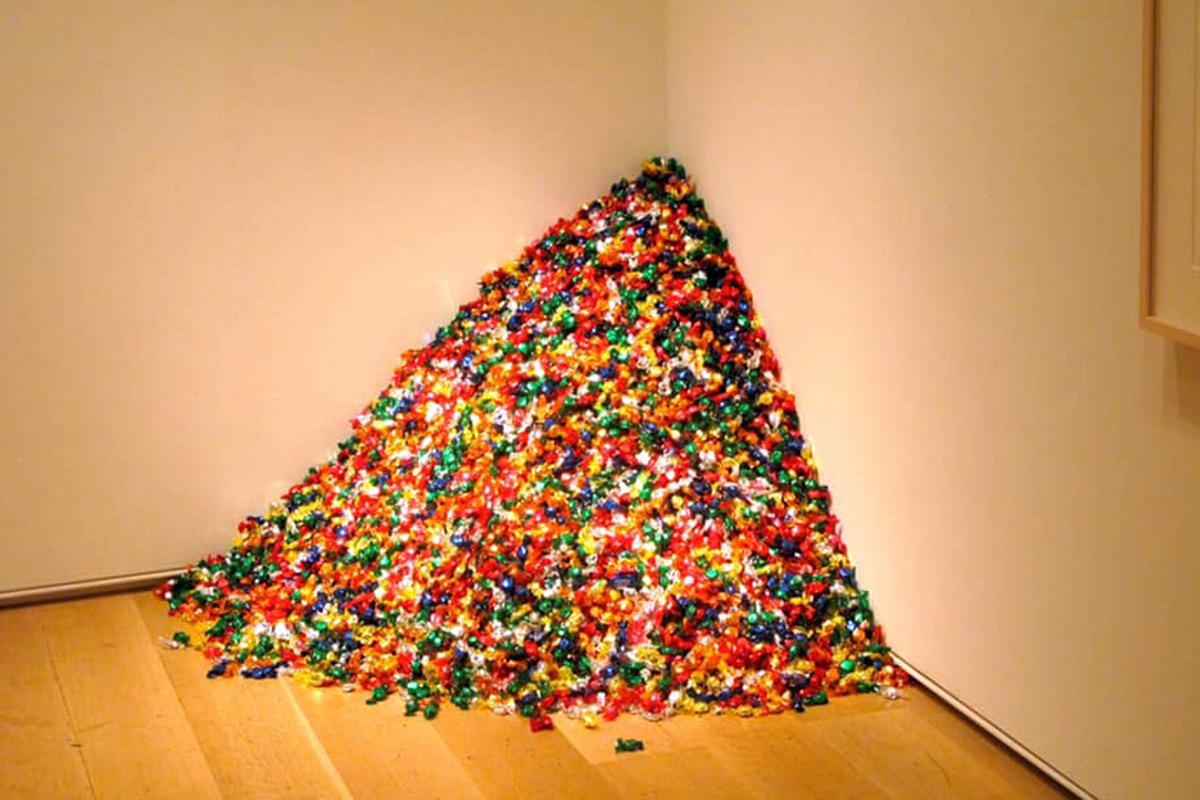 I always assume that there's a story like this behind every artistic endeavor. I may not understand it... I may dismiss it... I may not like it... I may disagree with it... and all that is okay. So long as it means something to the artist and not just a stunt, I can at least respect them putting themselves out there like this.

And that's it for Sunday bullets.