Posted on October 31st, 2013

I was too tired to drive home in the dark last night, so I decided to save myself the agony and head back home this morning. As an added bonus, I decided to wait until 8:45 so I would miss rush-hour traffic. It was a solid plan. Doomed to fail, of course... but it did look good on paper.
Within 10 minutes of hitting the road, I realized that my pricey windshield wipers were useless. Never mind that I bought them just last year... they're already incapable of cleaning off my windshield. And for the life of me, I just can't figure it out. I remember when a pair of crappy wipers would last forever. Now, with all our modern technology, a pair of ridiculously expensive blades can't even last a year? That's progress for you.
Siri located an AutoZone just ten minutes away, so I mentally prepared myself to drop $30 on new wiper blades while speeding through the driving rain.
And that's when the oil light came on.
I've suspected my car has been burning oil for a while now, as Jiffy Lube always tells me that my levels were way down whenever I drop by for service. Now it would seem that I'm not even able to make it between oil changes.
Guess AutoZone is getting another $8 of my hard-earned money for a quart of synthetic.
How typical.
At some point, car ownership becomes akin to pushing your money into a big pile and lighting it on fire, doesn't it?
And because my morning has already gone to hell, it seemed appropriate to stop at McDonalds so I could get an Egg & Cheese Breakfast Sandwich. Well, technically, I pay for a Bacon, Egg, & Cheese Breakfast Sandwich, then have them hold the bacon... because McDonalds is nothing if not efficient about getting you to pay for something you won't eat... but, hey, at least they're willing to make it the way I want. That' ain't nuthin.
As if punishing myself with unnecessary auto costs and an unhealthy breakfast wasn't enough torture... I had to stop three times for road construction and follow assholes who felt going the speed limit and paying attention to the road are optional if the leaves are changing color. This resulted in my screaming "PULL OVER IF YOU WANT TO LOOK AT THE PRETTY LEAVES, DICKWAD!!!" many, many times.
But there was good news to be found today.
I had no trick-or-treaters. Zero.
So that huge bag of candy I bought last week? Mine. All mine!
Posted on October 31st, 2012

Stay safe this All-Hallows' Eve...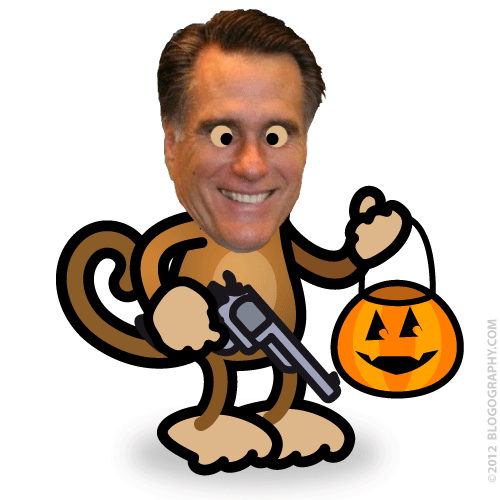 Posted on October 13th, 2012

This morning I boarded a plane for Cincinnati, Ohio so that I might rent a car and drive to Lexington, Kentucky. I would have flown to Lexington directly, but the cost of the ticket was hundreds of dollars more expensive, so I took a pass. The two-day car rental was a fraction of the price and a much better bargain.
The reason I was off to Lexington was to attend a party being thrown by The Couple Formerly Known as Mr. Fabulous and Turnbaby. I hadn't been to the previous two parties (despite having a fantastic time at their ConFab event back in 2009) so I knew I had to get to this one. Because, hey, how many parties can you go to where snorting heroin off of Secondhand Karl's ass is a topic of conversation?
Well, okay, lots of them. But not in Kentucky.
The theme of the party was "Hollywood Nights" and every attendee had to show up dressed as a recognizable movie character. As I was trying to decide what in the heck I was going to be one night, The Princess Bride was playing on television. So... The Dread Pirate Roberts I was to be...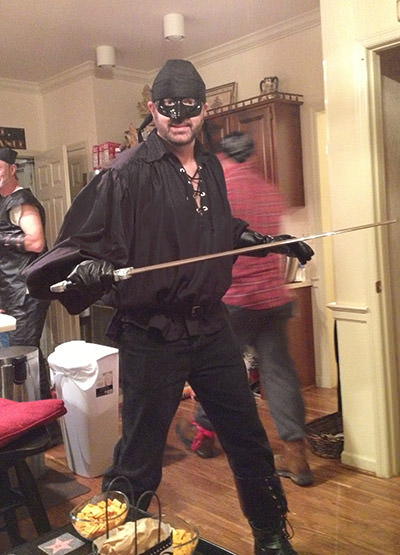 As you wish! Photo by Adam Heath Avitable
I bought the head-scarf, mask, gloves, collapsible sword, and boot toppers... but sewed the shirt myself, and it turned out great. Luckily I had taken a sewing e-course from Whipstitch, so I already knew how to do the tricky bits required for constructing a poofy shirt. Good thing too, because you never know when that kind of knowledge will come in handy.
Anyway... it was all worth it, because the party was great and a good time was had by all.
And I got to dress up like a pirate.
Posted on October 31st, 2011

Hope everybody had a safe and happy Halloween!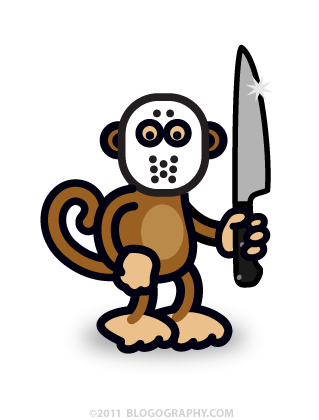 Posted on October 31st, 2010

It's a Very Special Halloween Edition of Bullet Sunday!
This year I've decided to put my bullets to good use and run a Bullet Sunday Countdown of the Halloween costumes I am most afraid of having show up at my door...

• #1) David Caruso...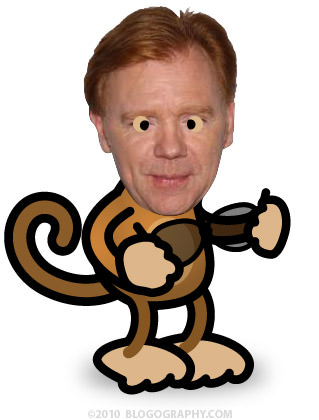 • #2) Glenn Beck...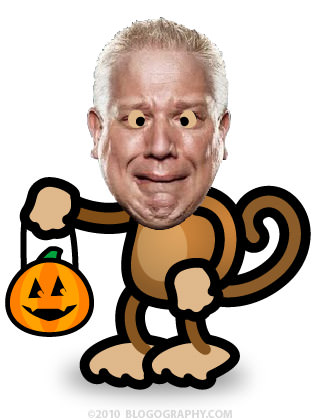 • #3) Sarah Palin...
• #4) Bill O'Reilly...
• #5) Rush Limbaugh...
• #6) Judge Judy...
• #7) Avitable...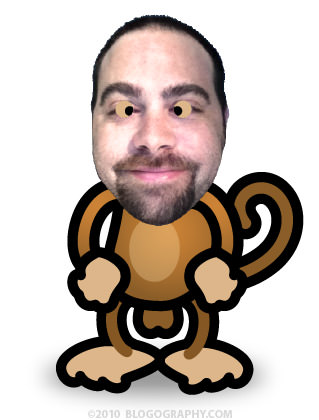 I was going to put CLOWNS on the list, but that's obviously a given.
Posted on October 24th, 2009

Your beloved King and Queen of the People's Republic of Blogistan made an appearance at Avitaween tonight...

Thanks to The Avitables for yet another genius Halloween party extravaganza!
Posted on October 17th, 2009

I can't blog today because I'm flying all the way to Florida for a visit with Hilly-Sue followed by random encounters with other bloggers and a big Halloween party.
There are definitely worse ways to spend a week.
Posted on August 31st, 2009

Avitable has announced this year's theme for his annual Halloween bash, and it's a good one: INVADED!
Like last year, Adam asked me to create a T-shirt design to help raise money for the party, and with an awesome theme like "alien invasion," I could hardly say no. The challenge would be to find a new way of having fun with the DaveToon characters so that I wouldn't be bored. After a little thought, I decided to try an old "Sci-Fi Comic Book" design and see if I could make that work. All the best alien invasion stuff could be found in the pulp comics and films of yesteryear, so it seemed like a good fit.
After an hour of goofing around, this is what I came up with...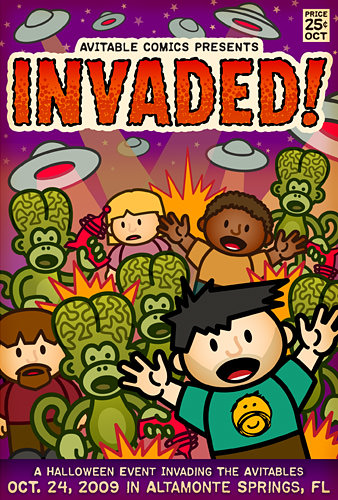 If you want to support the Avitaween party (or just want to look really cool), you can buy the shirt at Adam's Zazzle Shop.
If you want a behind-the-scenes peek at how the design was created, I've got that in an extended entry...
→ Click here to continue reading this entry...