This morning I boarded a plane for Cincinnati, Ohio so that I might rent a car and drive to Lexington, Kentucky. I would have flown to Lexington directly, but the cost of the ticket was hundreds of dollars more expensive, so I took a pass. The two-day car rental was a fraction of the price and a much better bargain.
The reason I was off to Lexington was to attend a party being thrown by The Couple Formerly Known as Mr. Fabulous and Turnbaby. I hadn't been to the previous two parties (despite having a fantastic time at their ConFab event back in 2009) so I knew I had to get to this one. Because, hey, how many parties can you go to where snorting heroin off of Secondhand Karl's ass is a topic of conversation?
Well, okay, lots of them. But not in Kentucky.
The theme of the party was "Hollywood Nights" and every attendee had to show up dressed as a recognizable movie character. As I was trying to decide what in the heck I was going to be one night, The Princess Bride was playing on television. So... The Dread Pirate Roberts I was to be...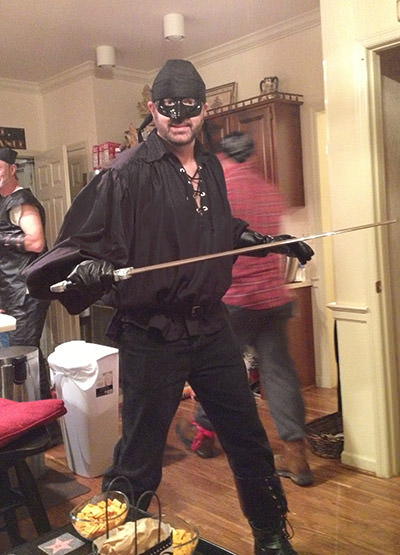 As you wish! Photo by Adam Heath Avitable
I bought the head-scarf, mask, gloves, collapsible sword, and boot toppers... but sewed the shirt myself, and it turned out great. Luckily I had taken a sewing e-course from Whipstitch, so I already knew how to do the tricky bits required for constructing a poofy shirt. Good thing too, because you never know when that kind of knowledge will come in handy.
Anyway... it was all worth it, because the party was great and a good time was had by all.
And I got to dress up like a pirate.