Posted on March 11th, 2013

Today would have been the 61st birthday of one of my all-time favorite authors, Douglas Adams.
Sadly, he died twelve years ago, leaving a void in the universe where his wit, humor, and astounding talent once resided. Best known as the author of Hitchhiker's Guide to the Galaxy, he was also a big supporter of the environment and tireless advocate for wildlife conservation... in particular those animals which are most threatened. One of his lesser-known works, Last Chance to See, is among my most favorite books, and documented Adams' attempts to see some of the world's most endangered animals... perhaps for the very last time.
Today Google came up with a Google Doodle in his honor...
It features his most famous phrase "Don't Panic" from his most famous work and it has been words I've tried to live by for decades.
I've met the man at book readings three times. Each time I was allowed to get an item autographed, and these pieces are among my most treasured possessions...
The deluxe leather-bound edition of The Hitchhiker's Guide to the Galaxy.
A copy of Last Chance to See.
The credit card application prop from the Infocom game Bureaucracy.
The credit card form was chosen very carefully, as I wanted something unique that he probably hadn't autographed very many times. As I handed it to him, he said "Well this is a first!" as he signed it, and then told me that if I got the credit card approved with his name on it, to please restrain myself when using it.
My favorite memory of Mr. Adams was at a reading for one of his books... I'm thinking perhaps Mostly Harmless, but it could have been The Long Dark Tea-Time of the Soul. Anyway, at this particular reading he had a sign language interpreter that he decided to torture for his audience's amusement. All of a sudden he'd read a paragraph impossibly fast, then put the book down and stare at the interpreter while looking at his watch and tapping his foot as he waited for her to catch up. Later in the reading he got to a passage where the character had an impossibly long and complex name (akin to Hitchhiker's "Slartibartfast"). After saying it, he immediately glanced wryly at the poor girl so he could watch her struggle to spell out the name. It was all in good fun, and the interpreter got a hug at the end, which was just the sort of wonderful thing you expect from Douglas Adams.
I cherish everything he wrote, and have read his books many times over. But oh how I wish he had lived to tell more stories. Just as it always goes, you can never get enough of the good things in life.
Happiest of birthdays to you, Mr. Adams.
Posted on December 12th, 2012

And so... today I got pulled over for expired license tabs. Which means that I never got my renewal notice, because I always pay my annual licensing fees immediately after I receive that little card in the mail. Fortunately, the police officer wasn't a dick about it, and just asked me to get it taken care of. Which I did, straight away. And now I've told my iPhone to remind me every year so I don't have to rely on state government efficiency.
In other driving-related news... Google Maps is now available as an app for iOS...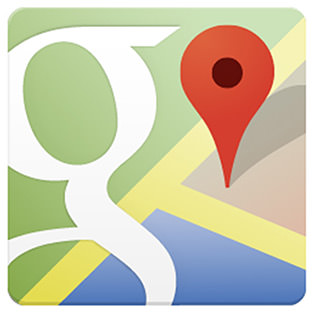 Apple dropped Google for their mapping service because Google wasn't updating the iOS maps as quickly as their own Android mapping service. Android got turn-by-turn directions... the iPhone did not. And so on. This put Apple at a competitive disadvantage, so they really had no choice but to drop Google and create something of their own that would feature-map what the competition was getting.
And we all know how that turned out.
Except...
Now that I've actually been using Apple Maps... I prefer some aspects of their app more than I do Google (even on my Android phone). Especially when it comes to caching map data, turn-by-turn directions, and the look and feel. But there was one area where Apple falls flat. And continues to do so. Location data. Google's database for mapping locations is insanely massive. Apple's is pretty much shit. And, as if that wasn't bad enough, it's also stupid. Google can make pretty good guesses, even when you misspell something. Apple has a hard time finding shit even if you spell it out completely and accurately.
This is something that Apple will get better at with time.
And they do have to keep getting better (=cough= public transit maps =cough=).
Because that's what's going to keep Google from shitting all over iPhone users by refusing to give them the same features of their own Android OS maps. Odds are, if Apple hadn't dumped Google, we would still be without turn-by-turn directions.
But now iOS users have turn-by-turn on both Apple maps and Google maps. They can choose what works best for them.
For me, it will probably be a combination of both.
Whichever one will get me to the Department of Licensing on time.
Posted on October 14th, 2012

Time to deal with that hangover... because Bullet Sunday starts now...

• Flip! While I was trying to come up with things to do to kill time before the Matt & Kim concert last Friday, I found out that The Muskrat was flying into ATL that same day, so we decided to meet up for lunch. He took me to "Flip" which is an upscale burger "boutique" restaurant created by Top Chef: All-Stars winner Richard Blais. Their vegetarian choice was a "Fauxlafel Burger"... which is a kind of falafel patty topped with marinated vegetables. I fucking hate burgers with non-burger crap on them, so I asked to have a "Classic Burger" but substitute the "Fauxlafel" patty. They were happy to accommodate me, and the resulting burger was fantastic! Wished the bun was a little bigger... but other than that it was really flavorful and delicious. Flip's claim to fame is their "Krispy Kreme Shake" which has a doughnut blended into it...
Absolutely amazing. It really did taste like a Krispy Kreme, and I was definitely left wanting more. Overall, a great experience at Flip, and I would absolutely go back.

• Pre✓ And so there's a new program from the TSA which gives frequent fliers the ability to receive "Trusted Traveler" status. I had never heard of it before today, but am happy that it exists. I'm even more happy that Delta Airlines opted me into the program...

Going through the Pre✓ line meant that I didn't have to take off my shoes. I didn't have to take off my light jacket. I didn't have to take off my belt. I didn't have to remove my baggie of liquids & gels from my bag. I didn't even have to remove my computer from my backpack!
Well... if I didn't have a big block of cheese given to me by The DutchBitch, I wouldn't have had to remove my computer. Turns out that cheese looks like organic explosives or something, so they actually did have to remove my laptop for a second scan.
In any event, this is an awesome perk for people who have to fly a lot. It's a much better program than the stupid "Regular/Family/Experienced" lanes that they had tried earlier... those programs were doomed to fail because everybody piled in whatever lane was shortest. Many, many times I got behind somebody in the "Experienced" lane who didn't know what the hell they were doing. With Pre✓, it's invitation only to "experienced" travelers, so newbies can't get in to fuck everything up.
In all honesty, I don't know how effective all the crazy security stuff is that the TSA has in effect. What I do know is that Pre✓ goes a long way towards making me not mind it so much.

• Holy Crap! I've been skydiving. And, even though I have a fear of heights, I didn't have any problems because there's a point where the scale of the height is so big that you don't really recognize it as something to fear. But then there's this...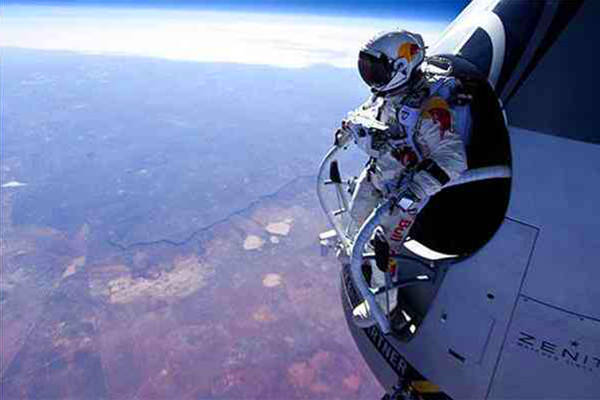 Photo by Felix Baumgartner himself
I'm pretty sure that I would lose my frickin' mind if ever I faced a jump of 28,000 feet. That's 24 frickin' miles! And yet... Felix Baumgartner took it on like a boss. Kind of makes skydiving look like a walk in the park. Next up? Lunar jumps!

• Frothy! It would appear that everybody's favorite gay-sex obsessed piece of shit, Rick Santorum, is still in Washington State drumming up hate against equality...
It used to be the only reason I wanted marriage equality for my home state was so that my friends here who want to be married but are unable to will finally be able to fulfill their dreams. But more and more I want it to pass so that ridiculous, bigoted, homophobic idiots like Rick Santorum will fail utterly... thus sending a message to other ridiculous, bigoted, homophobic idiots that their time has passed. And good riddance.

• Lawdy! And, speaking of ridiculous, bigoted, homophobic idiots... I think this one is my favorite one of all...
Oh horrors! The law will apply to everyone... not just the well-adjusted, well-educated, sophisticated, wholesome, gays... it'll also apply to the gays with drug problems and who are mentally unstable! Well, shit! We simply cannot have that! Can you imagine if there were straight couples with drug and mental problems having families? What would we do then? Clearly, this is the strongest argument against marriage equality ever.

• Nemo! Please tell me you saw the wonderful Google Doodle celebrating the 107th anniversary of Winsor McCay's Little Nemo in Slumberland...
Absolutely brilliant... just like Little Nemo, which remains one of the most imaginative things to come out of human history.

And... I suppose now that it's 2:00am I should see if I can get some sleep. It's been a long day.
Posted on September 16th, 2012

Tonight will be my last night of refuge on the coast.
Tomorrow morning I bite the bullet and head back to my smokey home. So put on your gas mask... because Bullet Sunday starts... now...

• Five. I stayed up until midnight so I could pre-order my iPhone 5 on Wednesday...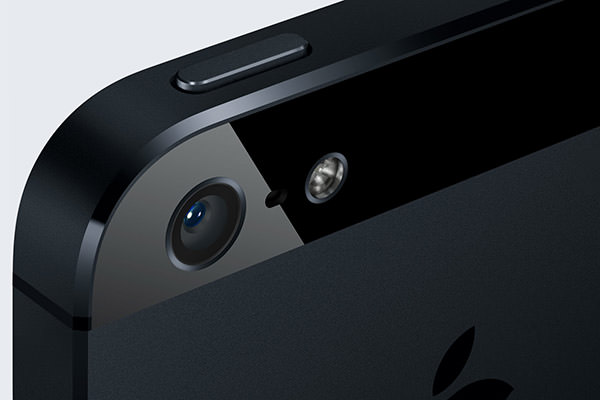 It was precisely the cluster-fuck I knew it would be. Couldn't order at Apple because my AT&T billing address is a PO box and they won't deliver to a PO box. Have no clue as to why I can't enter a separate street address for delivery... but whatever. And so I had to pre-order at AT&T's site, which is an even bigger mess. Every single time you press a button, you have to re-press it dozens of times in order for the site to do anything. Every time you fill out a form, you have to re-fill it out and submit it dozens of times in order for the site to accept the data. This took TWO HOURS AND FIVE MINUTES. Insanity. And I have no idea when I'm even going to get it. I may have stayed up until 2:05am for nothing. I understand that these sites are getting completely slammed by thousands of people... but come on. There has got to be a better way of handling this.

• Carrier. Make no mistake. The only reason I renewed with shitty AT&T was because I could grandfather in my unlimited data plan. The very minute that AT&T tells me that I can no longer have unlimited data is the minute that I switch to Verizon. AT&T call quality just keeps getting worse and worse, and now data service is in the shitter as well. In cities like Chicago and Las Vegas, my iPhone is practically useless. Hopefully having 4G-LTE will help in cities where 3G fails, because... damn.

• Bacon. In what can only be considered a boon to all humanity, you can now check a star's Six Degrees of Kevin Bacon directly in a Google search...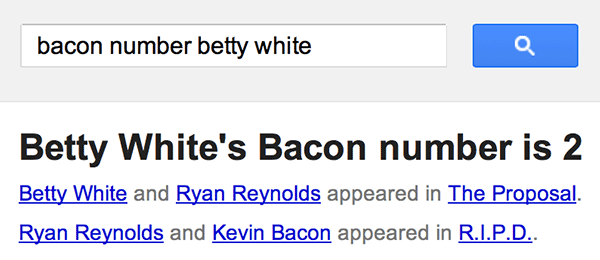 It never ceases to amaze me how Bacon numbers just keep falling. Mr. Bacon's appearance in
X-Men: First Class
really
chopped a lot of numbers down for younger and up-and-coming stars.

• Trek. Speaking of Google... they had a genius interactive doodle for the 46th anniversary of Star Trek last week...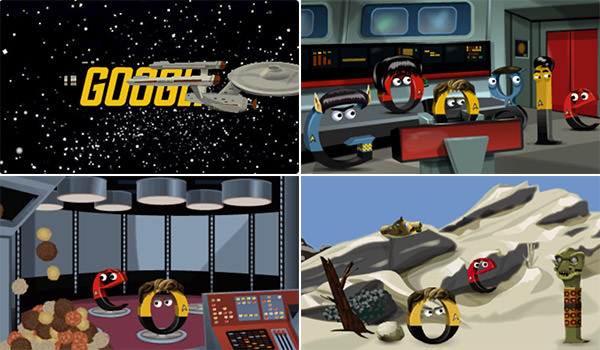 So awesome.

• Alcoholic. The news broke that Disney will be offering beer and wine for sale at their new French restaurant in Walt Disney World's "Magic Kingdom." Unsurprisingly, people are losing their shit. They're saying everything from "Walt Disney is turning in his grave!" to "BOYCOTT DISNEY!!" Never mind that the three other Disney World parks (Animal Kingdom, Hollywood Studios, and Epcot) have all been serving alcohol for years... somehow serving it in the Magic Kingdom is going to DESTROY DISNEY WORLD! And never mind that visitors can just get shit-faced in the parking lot before they even enter the park... oh no... WE'RE ALL DOOMED! And never mind that the alcohol Disney's going to be selling at heinous prices is only available in the evening and must be consumed before leaving the restaurant... WE'RE ALL GOING TO DIE!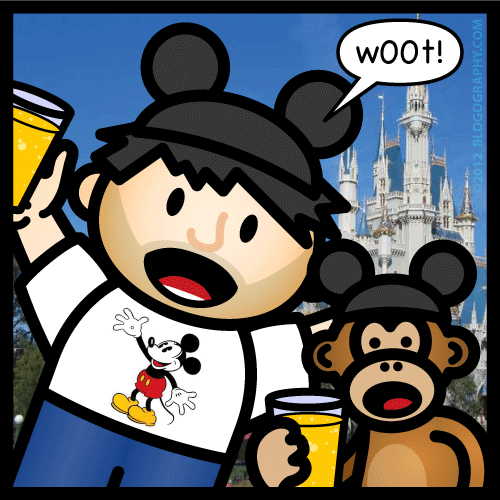 Give me a break. I am so sick and tired of people going bat-shit crazy over things that will ultimately have -zero- effect on them. Like a glass or two of wine with dinner is suddenly going to turn Walt Disney World into a drunken brawl where kids will have to stumble over hookers and heroin addicts on their way to "It's a Small World." I never thought I'd be saying that there are people too fucking stupid for Disney World, but here we are. Oh well... more beer for me then.

Blargh... time to start thinking about my last smoke-free sleep.
Posted on July 3rd, 2011

Oh, wipe your tears away... Sunday, bloody Sunday...

• Plus! Annnnd... Google debuted their "Google+" social media services this week. As a so-called "Facebook killer" it's pretty interesting. I like that its smarter at controlling who sees the things you post. I like being able to organize people into my "Circles"... which are kind of like old rotary phone dials...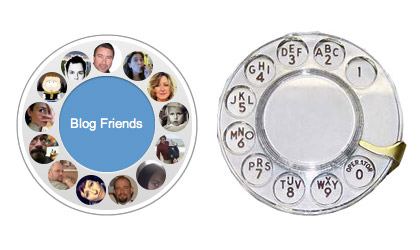 Of course, if you have a hundred friends, you can only see thirteen in your little dial until you click on it, but I guess that's better than nothing.
Except...
I've already got Facebook, Twitter, and this blog sucking up my time. Do I really need another "thing" cutting into my already mega-packed offline life? I mean, I suppose I can give up sleeping and going to the bathroom, but is Google+ really worth it? Time will tell.

• Colbert. This past week Stephen Colbert of Comedy Central's Colbert Report received approval from the FEC to form his own Political Action Committee. But, unlike regular PACs, he formed a Super PAC which has no restrictions on the amount of money he can raise. I'm absolutely fascinated at the prospect of a comedian having access to a PAC, and can't wait to see how much he can raise and what he's eventually going to do with it.
So I donated some money. And got an autographed photo for my trouble...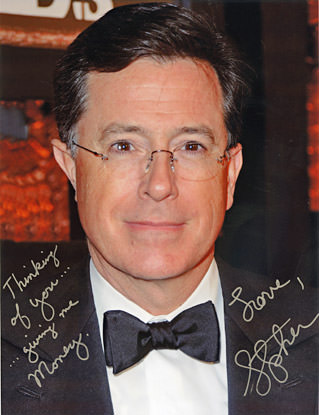 Whatever he does with his money, I'm betting it's going to be a heck of a lot more interesting than what Sarah Palin has been doing with her PAC monies.

• Roundabout. I noted an article link over on Neil Turner's Blog about how the British roundabout is conquering the US. This is something I can confirm as true. Years ago, the only roundabouts I'd ever seen in the USA were in Massachusetts. But now they are popping up everywhere. The first I remember seeing in my home state of Washington was at the I-90 interchange in North Bend...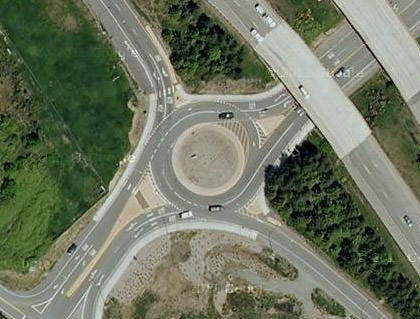 Image taken from Google Maps
And now, even small local cities like nearby Wenatchee are getting roundabouts.
The problem is that nobody here seems to know how to drive on them. Most of the time I've seen people encounter a roundabout, they full-stop instead of yield. And, even then, they don't know what to do, preferring to just sit there for a while until they get up the courage to enter. Hopefully this will change as they become more prevalent, but right now they're more trouble than they're worth.

• Arrietty. The next film by animation genius Hayao Miyazaki's Studio Ghibli is called Arrietty, and is based on the beloved book The Borrowers by Mary Norton. As with everything Miyazaki touches, it looks stunning...
My loved of all things Miyazaki is well documented. He has been a massive influence on me for decades, and his works are without peer in the animation world (the people at Pixar practically worship the man, for example). That he has continued to work after his "retirement" in 1998 has been a source of absolute joy to me, and seeing yet another film with his fingerprints on it makes me happier than I can possibly express. And while his role at Ghibli seems mostly supervisory now (though he appears to still be doing some writing and drawing too), he seems to have good people (including his son) carrying on his work...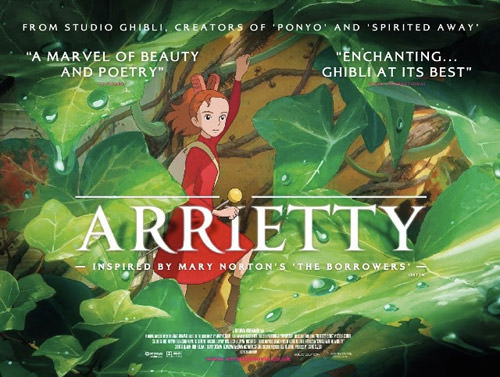 Arrietty was released in Japan almost a year ago and I have yet to see it. Today I learned that it won't reach the USA until FEBRUARY, 2012!! And while I would prefer to see the movie with the original Japanese soundtrack and subtitles, the North American release is certain to be an English dub (as usual). I don't even care. I just want to see it! Then hopefully the Blu-Ray release will preserve the Japanese version like Ponyo did. In the meanwhile... I wait.

And that's all she wrote since I have to get up early for work in the morning. Here's hoping all my fellow USAsians have a good holiday tomorrow!