Posted on January 10th, 2016

Your cold, boring January day is about to get better, because Bullet Sunday starts... now...

• AUTOMANIMAL! If you're a child of the 80's like I am, you're a massive fan of Glen A. Larson's two epic masterpieces of cheesy television perfection... Automan and Manimal... NOW AVAILABLE ON DVD!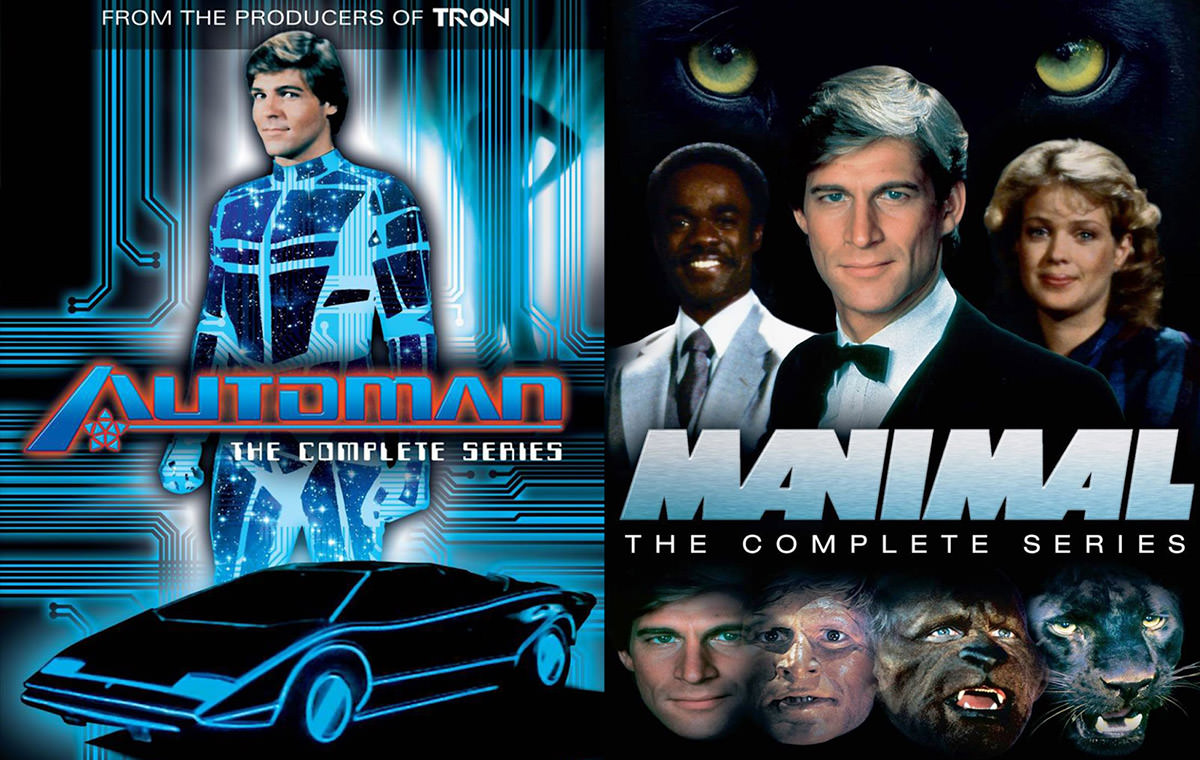 Really cool that these shows are available again. Something tells me that they won't hold up... but that just makes them all the more perfect.

• CLOSED! Macy's has announced that they're closing 40 stores. Our local Macy's isn't on the "close" list... thankfully... but there's two Macy's on the list I'll be sad to have go. Downtown Spokane, which has been open since 1947 (94 people losing their jobs) and Downtown Pittsburgh, which has been open since 1946 (170 people losing their jobs). Shopped at both of them. The Spokane location had an amazing men's department... the Pittsburgh location had a great sports shop... and I will miss them both.

• COLBERT! While I am not a fan of the music that Jon Batiste and Stay Human blast through commercial breaks over at The Late Show, their opening credits song is probably my favorite late-night theme ever. Melodic, playful... beautiful, really... it fit the tone of the show perfectly. As if that wasn't awesome enough, the opening credit visuals by Fernando Livschitz are amazing. Lucky for us, they released a "director's cut" with tons more footage for our viewing pleasure...
Wonderful.

• JUSTICE? Well isn't that cute. Alabama Chief Justice Roy Moore is overruling the Supreme Court. Um... yeah... me no think that works like you think it works. How small of a penis do you have to have in order to be waving your gavel around with this kind of delusion of grandeur? I mean, clearly he's compensating for SOMETHING. I dunno. Maybe he's scared to death that marriage equality will be too tempting and he's going to end up marrying the pool boy? The mind boggles.

• POOL! I have to say... this is looking very faithful to the comics...
In many ways, I'm glad that Deadpool is not a part of the Marvel Cinematic Universe and is stuck over at 20th Century Fox. That way he gets to be his insane self in a contained environment.

Annnnd... time to go play in the snow.
Posted on September 8th, 2015

Why I won't be watching The Late Show with Stephen Colbert...
(Hint: It's the same reason I stopped watching Ellen)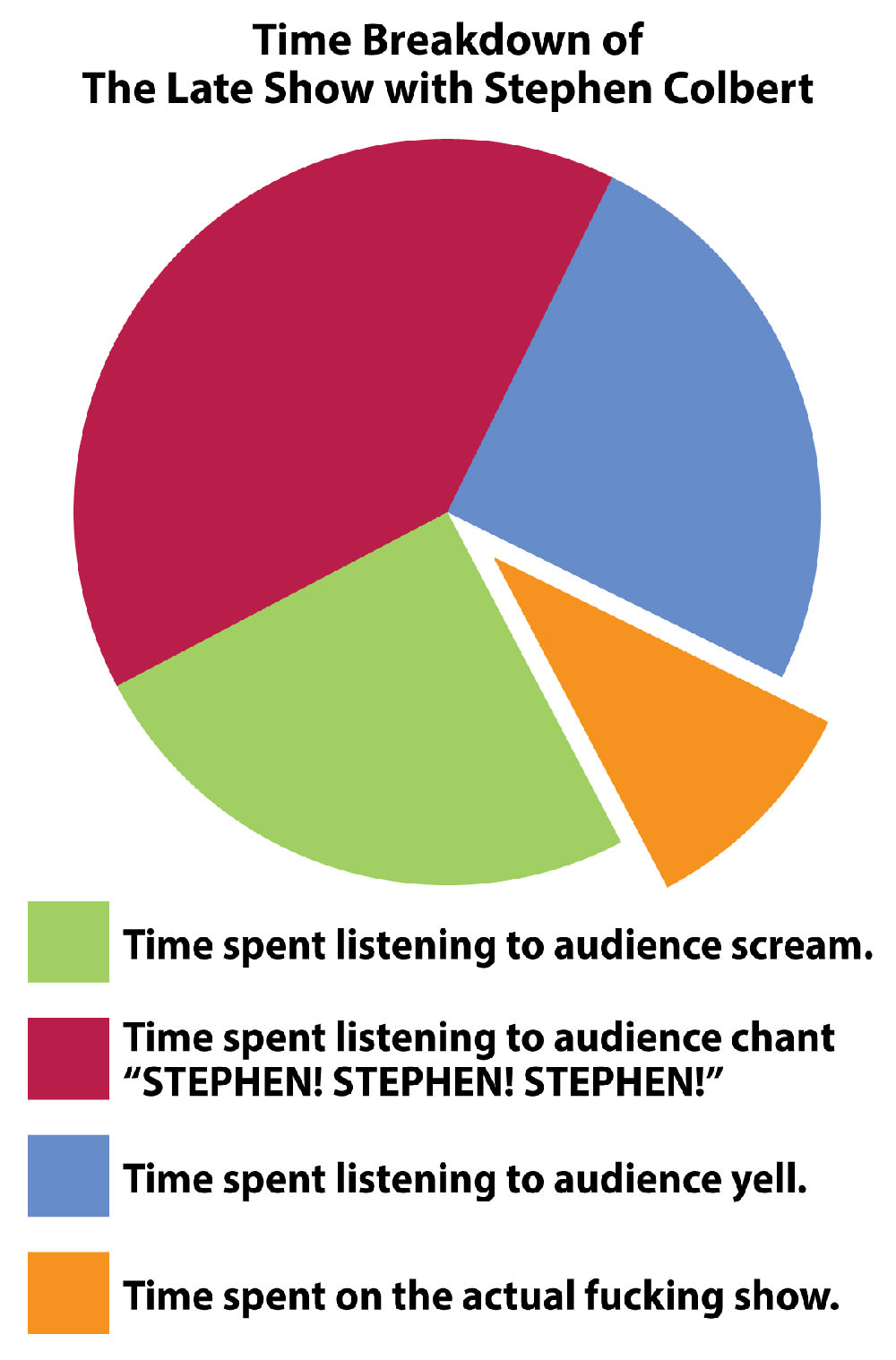 I just don't get it.
I mean, yeah, I get it. It's a live show and you want to remind the television viewers that it's a live show so you have to break in with the studio audience every once in a while... but this is fucking ridiculous. It's almost a full hour of people screaming, yelling, and chanting which completely overwhelms the actual show. Sure it's annoying on The Tonight Show with Jimmy Fallon, but at least there it's tolerable. On Colbert it absolutely is not.
And now that The Nightly Show with Larry Wilmore is starting up with the stupid-ass name chanting as well ("LARRY! LARRY! LARRY!"), I'll probably stop watching it too. I know his fucking name is "Larry," I don't need the audience fucking screaming it every ten minutes WHEN HIS NAME IS IN THE TITLE OF THE DAMN SHOW!
Next up? Laugh tracks. If you have to tell your audience when to laugh, YOUR SHOW ISN'T FUCKING FUNNY!

P.S. Also... YOUR LOGO IS HIDEOUS!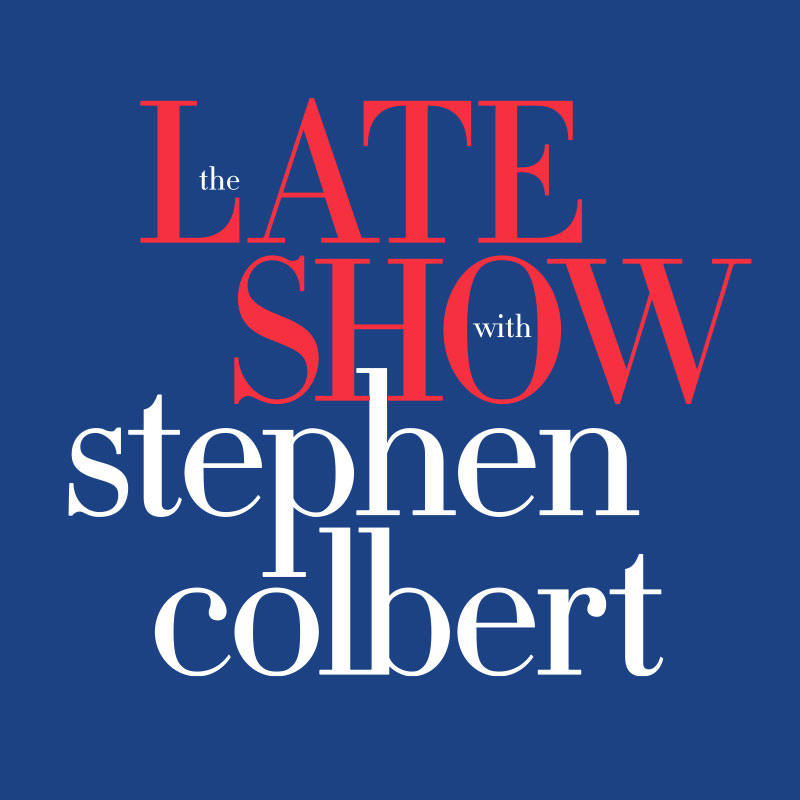 LET'S JUST FUCKING JAM EVERYTHING IN THERE SO IT'S AN UNREADABLE WORD BLOB! THAT'S THE TICKET!
Posted on December 21st, 2014

Don't let that crazy solstice celebration get out of control... because Bullet Sunday starts... now...

• Goodbye! After nine years of being a huge fan of The Colbert Report, I was saddened that the show had to come to the end this past Thursday...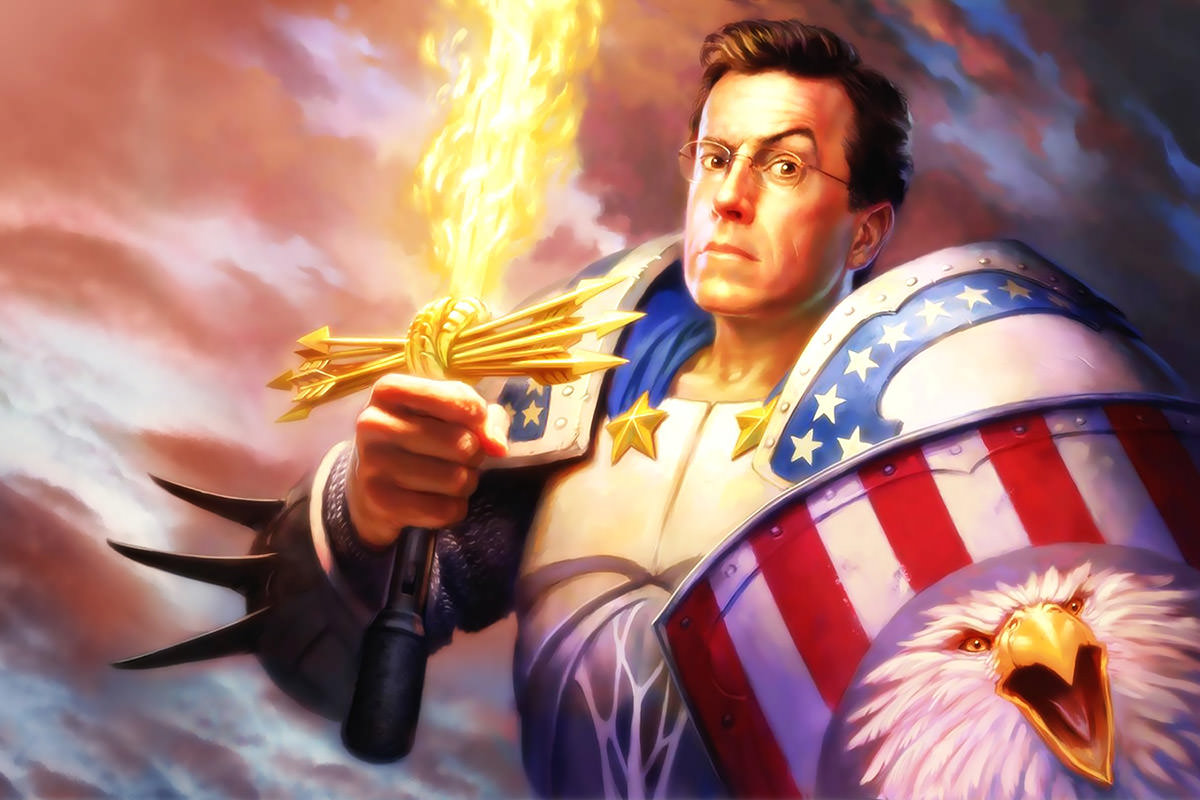 Best of luck to Stephen Colbert when he takes over The Late Show next Spring.

• Primate! It was only a matter of time before we figured out how to translate monkey-speak... and Scientific American says we are there...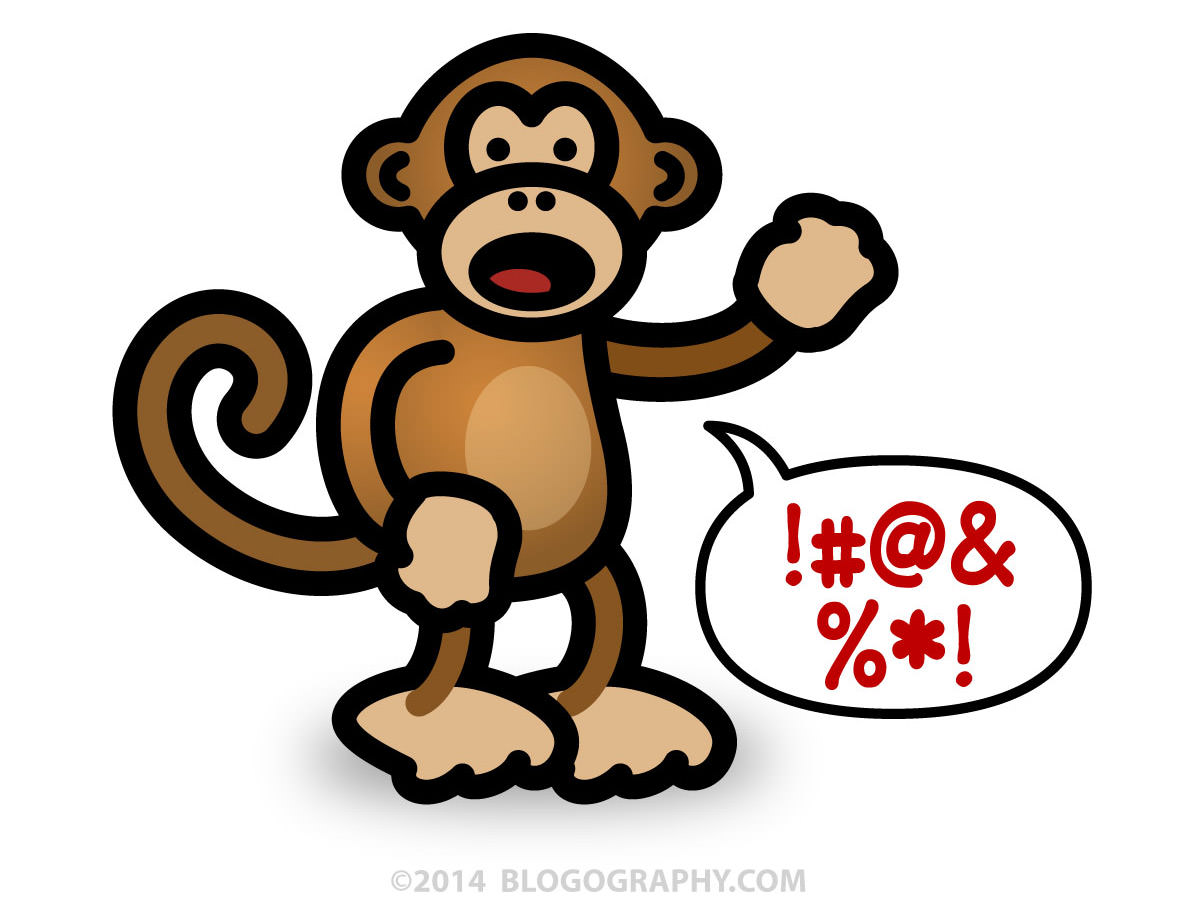 I wonder how you say "GIVE ME THE BANANA AND NOBODY GETS POOP THROWN AT THEIR HEAD!" —?

• Wrench! BEHOLD THE MAJESTY OF SCIENCE!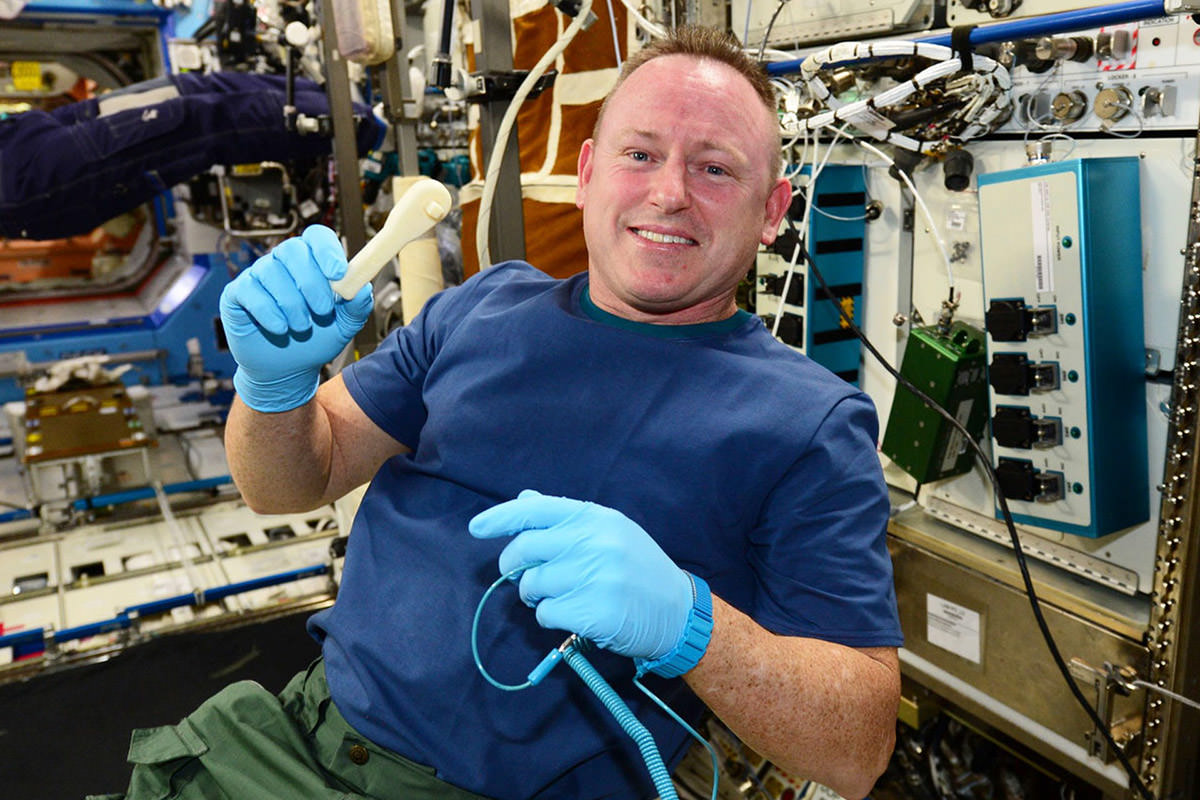 Photo courtesy of NASA.
When the commander of the International Space Station needed a specialty wrench, NASA emailed it to him for printing on the lab's 3D printer. The future is now, people.

• Leia! Just because I want to keep the internet adorable...
"It's actually a pretty good look for her."

• Trek! Over at Playboy they have an article that ranks ALL THE STAR TREK! And that includes the animated episodes! For the Star Trek fan, it is must-read material. I agree almost completely at the bottom of the list... disagree a little at the top... and disagree a lot with the middle (but I'm not much of a fan of the non TOS episodes, so shoot me)...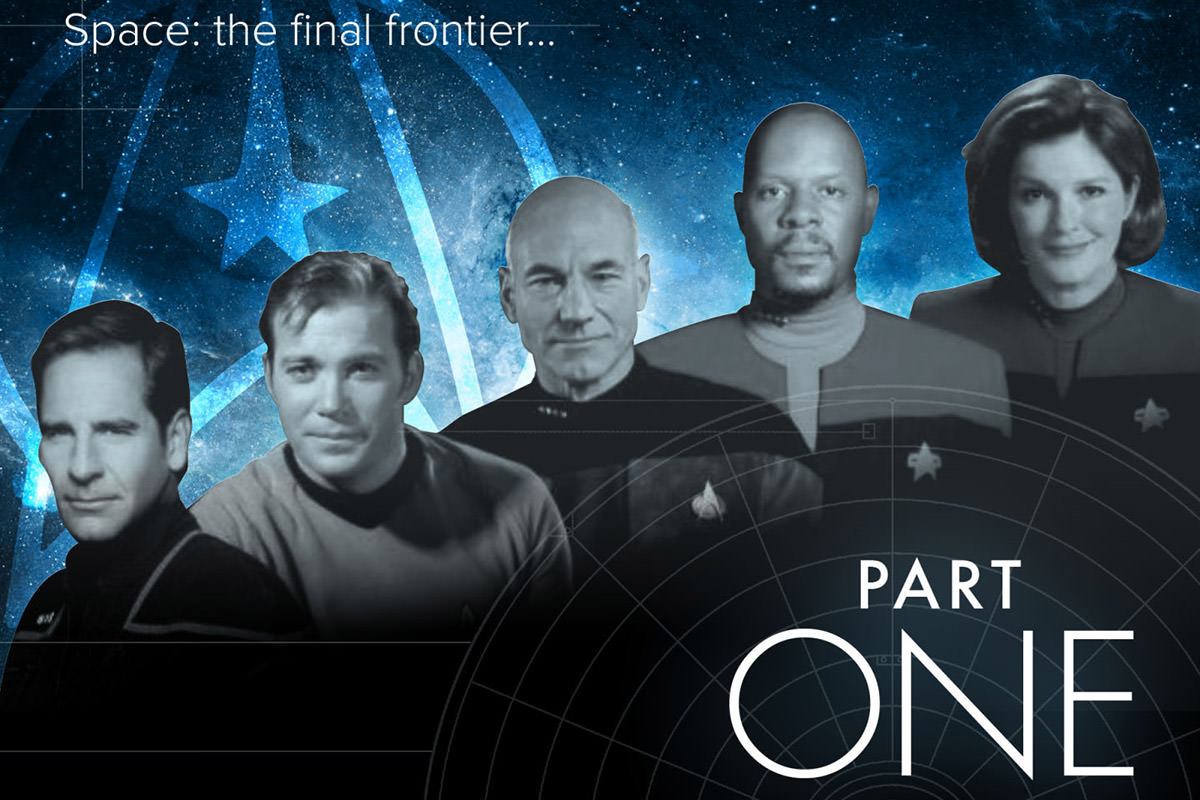 Many of my differences with the list are debatable, but the one episode that just baffles me beyond all reason is the Enterprise episode Carbon Creek at THREE HUNDRED SEVENTY-TWO?!?? WTF?!?

• OBAMA! Thanks to my laptop and the internet, I can work anywhere in the world where I have access to both. But apparently The President of the United States can't work from Hawaii (despite being one of the most well-connected people on earth) since every moron with a lifeline to FOX "News" is shitting all over him for spending the holidays away from the White House during the "North Korean Hacking Crisis." Stupid shit like this drives me insane. What... is the president's desk MAGICAL and he loses all his "Leader of the Free World Powers" whenever he's away from it? Hackers IN NORTH KOREA can run the film industry from half a world away, but The President of the United States can't gather information for a response because he's back home? Do the idiots who say this moronic crap actually listen to the words coming out of their mouths? Even if President Obama DID cancel his trip, the same dipshits would STILL lambast him because they he'd be "letting the terrorist win" by not keeping to his schedule. The ultimate irony being that a job like "President of the United States" doesn't actually get ANY vacation days, because the world doesn't stop, there's always a crisis somewhere, and your job as president never ends... no matter where you are.

Annnnd... back to your solstice celebration.
Posted on May 1st, 2012

Was Diane Keaton frickin' high on "The Colbert Report" last night?
Because that had to be the single most awkward and embarrassing interviews I've ever seen. Despite numerous efforts by Colbert to get her to talk about her damn book, she just would not stop being a complete jackass. I don't know if she thought she was being funny with her bat-shit hostility or what... but holy crap...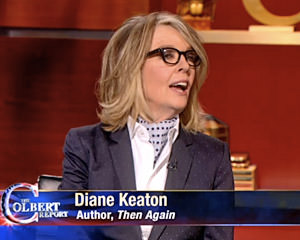 The fact that Colbert managed to keep the interview going... and stay funny under the onslaught of Keaton's insanity... speaks volumes as to his talent...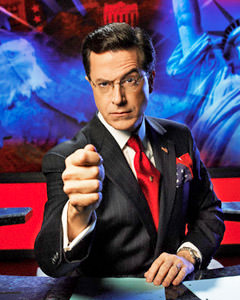 I really don't know what I'll do once Stephen Colbert and Jon Stewart decide to retire. It seems as though The Colbert Report and The Daily Show are the only "news" programs I can stomach now-a-days.
Posted on January 12th, 2012

Picking up from where I left off in my last entry where I started talking about Stephen Colbert...
Yesterday morning I went to the Colbert Nation website so I could take another look at a particularly outrageous video showing just how huge a piece of shit Rush Limbaugh is. The footage hadn't been posted yet, but I did find something equally interesting. All of the heroes who donated money to the Colbert Super PAC could type in their name and see a video clip where Stephen Colbert thanked them on his show. Sweet! Here's me...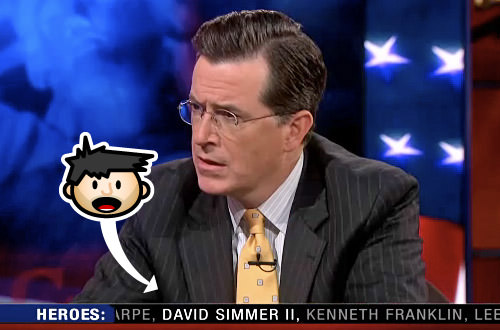 Oh... and last night I checked again and the video I wanted to watch again had been posted...
Yes! Such is the irrefutable integrity of FOX "News" and Rush Limbaugh. And do you think they'll even consider issuing a retraction? Or even a clarification? I suppose it depends on how big of a fallout there is from a fucking COMEDY NETWORK SHOW fact-checking the Conservative agenda at FOX. As I've said a dozen times, I don't give a shit where anybody chooses to get their news. But be honest about it. Anybody watching FOX "News" (or any network, really) who believes that they're getting a "Fair and Balanced" look at politics and current events is hopelessly deluded. Go sell that bullshit somewhere else.
In any event... I, for one, am thrilled to see that my tax dollars are actually going to a good cause for once...

Trick-or-Treat! — Official White House Photo by Pete Souza
Ever since we first had a White House, our presidents have held extravagant events for all kinds of reasons. President Reagan once held a massively pricey State Dinner for Princess Diana (and invited John Travolta for heavens sake). But because this is President Obama we're talking about, first he gets eviscerated for throwing some military families a Halloween party, then gets accused with lies of having covered it up?
Seriously?
Spending crazy amounts of money on a visiting princess from a foreign country doesn't register outrage, but spending money to treat American heroes who have sacrificed so much for our country... well... they're just not worth it.
But regardless, you'd think that Fox "News" would have brought up some of the expensive White House events from the past in the interest of being "Fair and Balanced"... but no. And it's not like anybody would expect that sack of shit Rush Limbaugh to ever utter a single fucking word that wasn't in some way attacking this country's president. His listeners would probably have an embolism if he were to tell them that Ronald Reagan also threw expensive parties at the White House during a time of economic crisis. Even if he didn't relate LIES that the government then covered it up. Because you can make up whatever outrageous crap you want about President Obama, but don't you dare say anything even remotely disparaging about President Reagan! He was a Founding Father of this great nation and a True Christian... not some kind of Secret Muslim Socialist like Obama!
I swear, sometimes the dumbfuckery of the gullible American public is so overwhelming I have to sit back and marvel at the fact that half the populace has the brain power to even breath... let alone think for themselves. And why should they do that? There's a bloated asshole on the radio manipulating them with bullshit and lies they're too fucking stupid to ever question. Because thinking is hard.
GAH! It's enough to drive you crazy.
I really need to start drinking more.
Posted on July 3rd, 2011

Oh, wipe your tears away... Sunday, bloody Sunday...

• Plus! Annnnd... Google debuted their "Google+" social media services this week. As a so-called "Facebook killer" it's pretty interesting. I like that its smarter at controlling who sees the things you post. I like being able to organize people into my "Circles"... which are kind of like old rotary phone dials...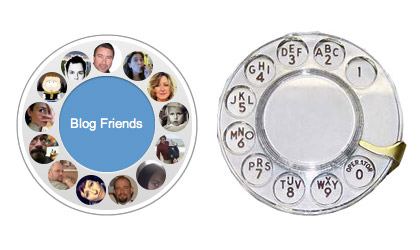 Of course, if you have a hundred friends, you can only see thirteen in your little dial until you click on it, but I guess that's better than nothing.
Except...
I've already got Facebook, Twitter, and this blog sucking up my time. Do I really need another "thing" cutting into my already mega-packed offline life? I mean, I suppose I can give up sleeping and going to the bathroom, but is Google+ really worth it? Time will tell.

• Colbert. This past week Stephen Colbert of Comedy Central's Colbert Report received approval from the FEC to form his own Political Action Committee. But, unlike regular PACs, he formed a Super PAC which has no restrictions on the amount of money he can raise. I'm absolutely fascinated at the prospect of a comedian having access to a PAC, and can't wait to see how much he can raise and what he's eventually going to do with it.
So I donated some money. And got an autographed photo for my trouble...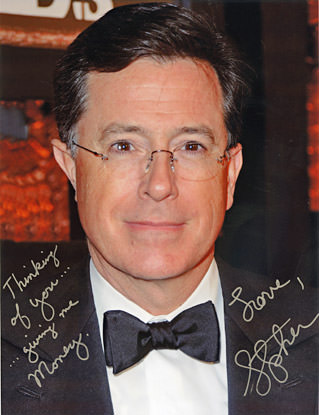 Whatever he does with his money, I'm betting it's going to be a heck of a lot more interesting than what Sarah Palin has been doing with her PAC monies.

• Roundabout. I noted an article link over on Neil Turner's Blog about how the British roundabout is conquering the US. This is something I can confirm as true. Years ago, the only roundabouts I'd ever seen in the USA were in Massachusetts. But now they are popping up everywhere. The first I remember seeing in my home state of Washington was at the I-90 interchange in North Bend...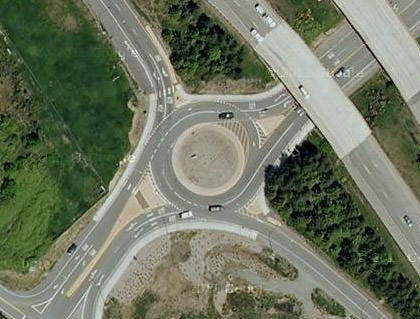 Image taken from Google Maps
And now, even small local cities like nearby Wenatchee are getting roundabouts.
The problem is that nobody here seems to know how to drive on them. Most of the time I've seen people encounter a roundabout, they full-stop instead of yield. And, even then, they don't know what to do, preferring to just sit there for a while until they get up the courage to enter. Hopefully this will change as they become more prevalent, but right now they're more trouble than they're worth.

• Arrietty. The next film by animation genius Hayao Miyazaki's Studio Ghibli is called Arrietty, and is based on the beloved book The Borrowers by Mary Norton. As with everything Miyazaki touches, it looks stunning...
My loved of all things Miyazaki is well documented. He has been a massive influence on me for decades, and his works are without peer in the animation world (the people at Pixar practically worship the man, for example). That he has continued to work after his "retirement" in 1998 has been a source of absolute joy to me, and seeing yet another film with his fingerprints on it makes me happier than I can possibly express. And while his role at Ghibli seems mostly supervisory now (though he appears to still be doing some writing and drawing too), he seems to have good people (including his son) carrying on his work...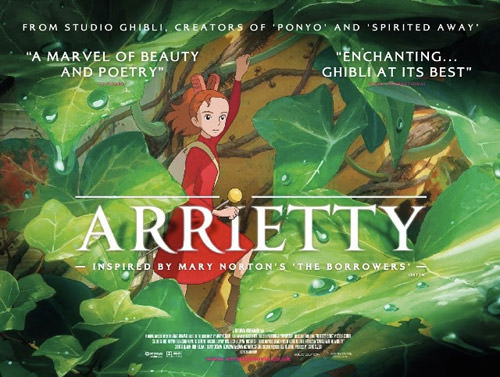 Arrietty was released in Japan almost a year ago and I have yet to see it. Today I learned that it won't reach the USA until FEBRUARY, 2012!! And while I would prefer to see the movie with the original Japanese soundtrack and subtitles, the North American release is certain to be an English dub (as usual). I don't even care. I just want to see it! Then hopefully the Blu-Ray release will preserve the Japanese version like Ponyo did. In the meanwhile... I wait.

And that's all she wrote since I have to get up early for work in the morning. Here's hoping all my fellow USAsians have a good holiday tomorrow!
Posted on January 23rd, 2011

I'm a little depressed tonight because Hannah Montana is over. I'm also a little stressed because I'm leaving the country later this week. I'm also a little hungry because a slice of toast doesn't make for a very fulfilling dinner. And I'm also a little tired because I've been sleeping even less than usual. Life can be so hard.

• Forever? After putting it off as long as I could, I finally decided to watch the very last final forever episode of Hannah Montana. I fully maintain that it's one of the funniest shows on television, and always enjoyed it as an entertaining distraction from life. Though it definitely lost something in the last season (especially after Miley retired Hannah and revealed her secret to the world)... I think they wrapped it up on a high note. The cameo appearances by Amber & Ashley and Jesse & Oliver were a nice touch. Jackson and Rico had a great moment. Miley and Lilly had a terrific send-off. I honestly can't think of a way they could have ended the show any better. Good bye, Hannah...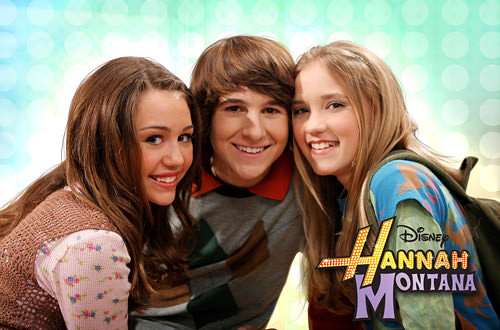 • Incomprehensible. When it comes to organizations like The Trevor Project which was created to prevent suicides among lesbian, gay, bisexual, transgender and questioning (LGBTQ) youth... I never know how to feel. Part of me is saddened to the point of despair that such organizations have to exist. Part of me is angry to the point of blind fury that such organizations need to be formed at all. Part of me is relieved to the point of anguish that such organizations do exist for youth who desperately need their help. Because when I read about all the violence against kids who are different and just trying to get through life one more day... and when I read about yet another suicide from some poor teenager who couldn't take the abuse any longer... and when I remember back to when one of these kids reached out to me for help because he had nowhere else to turn... there is no emotion inside of me that is not affected. I simply cannot fathom how anybody could torture a young life to the point where The Trevor Project needs to be there to talk them out of taking their own life. Even more incomprehensible is how we live in a society which would allow such a thing.
But it gets worse. Entirely too many people are happy to write this off as "a gay problem" and ignore it. But anybody paying attention knows that this just isn't true. Bullying knows no boundaries. Earlier this week a young girl in Pennsylvania may have committed suicide because of bullying... and there's nothing to indicate it had anything to do with her sexuality. At some point people are going to have to stop treating youth suicide as "a gay problem" and start treating is as everybody's problem. Thinking your kid is excluded is the first mistake. Get involved.

• Olbermann. I never watched Keith Olbermann's Countdown for the same reason I never watch anything on FOX News... it's all just destructive partisan bullshit rhetoric designed to tear this country apart. What kills me is the outbreak of sheer joy by Conservatives across the blogosphere now that Olbermann and MSNBC have retired Countdown. I mean, who gives a shit? It's not like any of them watched his show. Keith Olbermann was just somebody to hate. As usual, the venom being unleashed by the hardcore Right is baffling. The general consensus seems to be something like "HA HA! I'M SO HAPPY OLBERMANN'S DISGUSTING LIBERAL TRASH IS OFF THE AIR!" which is ironic on so many levels. I mean, as opposed to what?!? The disgusting CONSERVATIVE trash that's being unleashed daily from shows like The O'Reilly Factor and The Sean Hannity Show and The Glenn Beck Program?
If FOX News is where somebody chooses to get their information, more power to them. This is a free country, and people can believe what they wish (at least for the time being). But saying FOX News is some kind of "fair and balanced news source" instead of the partisan propaganda machine it obviously is... then crucifying Olbermann for doing the same thing on the opposite side of the fence... it's just plain stupid. All any of these people ever do is keep Americans at each other's throats because it makes them money. I choose to repudiate such reprehensible, anti-American behavior in the hopes that we can all be respectful of each other's opinions and beliefs and work together to make this a great country FOR ALL OF US. Granted, this is even more delusional than somebody believing FOX News isn't partisan hackery, but at least I don't go around hating people because somebody tells me to. I hate people because of their actions... just like our Founding Fathers intended.

• Limbaugh. And one of the people I choose to hate for their actions is Rush Limbaugh. This absurdly stupid pile of shit apparently has an amazing talent to make people turn off their brains when they listen to him. Unbelievable, I know, but it's the only explanation that makes any sense when you hear the vile bullshit he spews every time he opens his mouth. His latest racist rant against the Chinese offends me on so many levels that I couldn't even listen to his fucked-up crap until Steven Colbert injected jokes into it...
I mean, seriously. What the fuck?
How could anybody listen to such utter idiocy and take Rush Limbaugh seriously? Who could hear this bullshit and think Rush Limbaugh is not a complete dumbass? He doesn't comprehend how anybody could possibly communicate in any language except English? He doesn't understand that waiting until a somebody finishes speaking to a live audience before interrupting with a translation is just extending respect and courtesy due a WORLD LEADER? He doesn't think that if there was a major mis-translation of the speech that anybody would notice? He thinks making fun of a language spoken by over a BILLION people with "ching chong chung ching chang" isn't offensive? He honestly feels that President Obama being polite by paying attention to Chinese Paramount Leader Hu Jintao is stupid because Obama doesn't understand Chinese? (what the fuck would Rush Limbaugh do? Take out a Q-Tip swab and clean his ears?). What am I missing? How do people not see that Rush Limbaugh is nothing more than a moron with a severely diminished mental capacity and a microphone?
It's one thing to be upset over China's sad record on human rights. Or to be upset that the USA owes China such a staggering sum of money. Or to be confused by the customs, languages, and laws of foreign countries. But it's another thing entirely to think that being a self-important, xenophobic, rude asshole to a visiting foreign leader is how we should be conducting foreign diplomacy. It is painfully obvious that the people of this nation desperately need to travel outside our borders (not necessarily physically) and see more of the world so that disgusting voices like Rush Limbaugh's don't define our ignorance. Sadly, it may already be too late.

And, on that sour note, I think it's time for bed. Just maybe I'll actually be able to get some sleep tonight.