Tonight will be my last night of refuge on the coast.
Tomorrow morning I bite the bullet and head back to my smokey home. So put on your gas mask... because Bullet Sunday starts... now...

• Five. I stayed up until midnight so I could pre-order my iPhone 5 on Wednesday...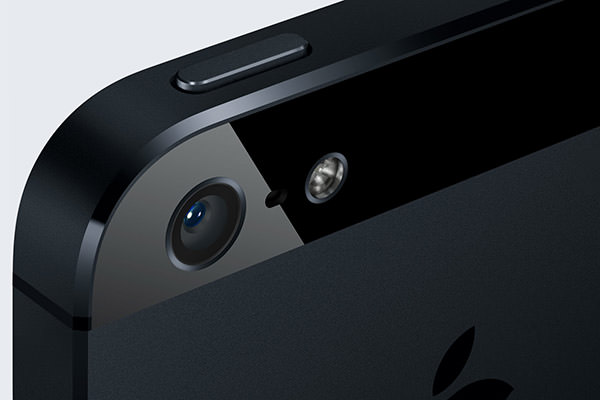 It was precisely the cluster-fuck I knew it would be. Couldn't order at Apple because my AT&T billing address is a PO box and they won't deliver to a PO box. Have no clue as to why I can't enter a separate street address for delivery... but whatever. And so I had to pre-order at AT&T's site, which is an even bigger mess. Every single time you press a button, you have to re-press it dozens of times in order for the site to do anything. Every time you fill out a form, you have to re-fill it out and submit it dozens of times in order for the site to accept the data. This took TWO HOURS AND FIVE MINUTES. Insanity. And I have no idea when I'm even going to get it. I may have stayed up until 2:05am for nothing. I understand that these sites are getting completely slammed by thousands of people... but come on. There has got to be a better way of handling this.

• Carrier. Make no mistake. The only reason I renewed with shitty AT&T was because I could grandfather in my unlimited data plan. The very minute that AT&T tells me that I can no longer have unlimited data is the minute that I switch to Verizon. AT&T call quality just keeps getting worse and worse, and now data service is in the shitter as well. In cities like Chicago and Las Vegas, my iPhone is practically useless. Hopefully having 4G-LTE will help in cities where 3G fails, because... damn.

• Bacon. In what can only be considered a boon to all humanity, you can now check a star's Six Degrees of Kevin Bacon directly in a Google search...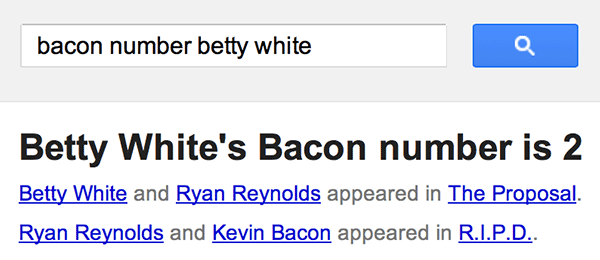 It never ceases to amaze me how Bacon numbers just keep falling. Mr. Bacon's appearance in
X-Men: First Class
really
chopped a lot of numbers down for younger and up-and-coming stars.

• Trek. Speaking of Google... they had a genius interactive doodle for the 46th anniversary of Star Trek last week...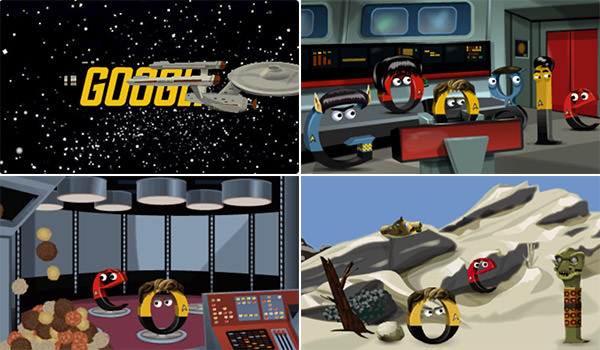 So awesome.

• Alcoholic. The news broke that Disney will be offering beer and wine for sale at their new French restaurant in Walt Disney World's "Magic Kingdom." Unsurprisingly, people are losing their shit. They're saying everything from "Walt Disney is turning in his grave!" to "BOYCOTT DISNEY!!" Never mind that the three other Disney World parks (Animal Kingdom, Hollywood Studios, and Epcot) have all been serving alcohol for years... somehow serving it in the Magic Kingdom is going to DESTROY DISNEY WORLD! And never mind that visitors can just get shit-faced in the parking lot before they even enter the park... oh no... WE'RE ALL DOOMED! And never mind that the alcohol Disney's going to be selling at heinous prices is only available in the evening and must be consumed before leaving the restaurant... WE'RE ALL GOING TO DIE!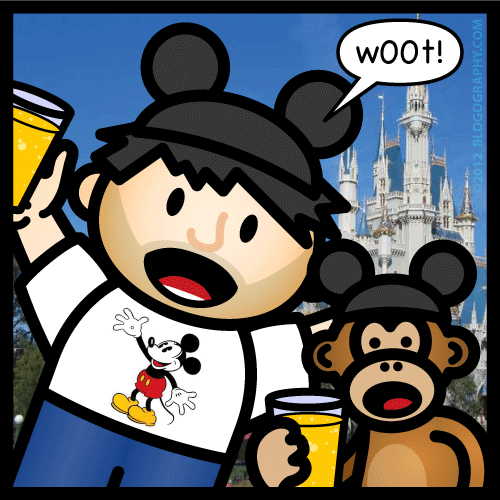 Give me a break. I am so sick and tired of people going bat-shit crazy over things that will ultimately have -zero- effect on them. Like a glass or two of wine with dinner is suddenly going to turn Walt Disney World into a drunken brawl where kids will have to stumble over hookers and heroin addicts on their way to "It's a Small World." I never thought I'd be saying that there are people too fucking stupid for Disney World, but here we are. Oh well... more beer for me then.

Blargh... time to start thinking about my last smoke-free sleep.