Time to deal with that hangover... because Bullet Sunday starts now...

• Flip! While I was trying to come up with things to do to kill time before the Matt & Kim concert last Friday, I found out that The Muskrat was flying into ATL that same day, so we decided to meet up for lunch. He took me to "Flip" which is an upscale burger "boutique" restaurant created by Top Chef: All-Stars winner Richard Blais. Their vegetarian choice was a "Fauxlafel Burger"... which is a kind of falafel patty topped with marinated vegetables. I fucking hate burgers with non-burger crap on them, so I asked to have a "Classic Burger" but substitute the "Fauxlafel" patty. They were happy to accommodate me, and the resulting burger was fantastic! Wished the bun was a little bigger... but other than that it was really flavorful and delicious. Flip's claim to fame is their "Krispy Kreme Shake" which has a doughnut blended into it...
Absolutely amazing. It really did taste like a Krispy Kreme, and I was definitely left wanting more. Overall, a great experience at Flip, and I would absolutely go back.

• Pre✓ And so there's a new program from the TSA which gives frequent fliers the ability to receive "Trusted Traveler" status. I had never heard of it before today, but am happy that it exists. I'm even more happy that Delta Airlines opted me into the program...

Going through the Pre✓ line meant that I didn't have to take off my shoes. I didn't have to take off my light jacket. I didn't have to take off my belt. I didn't have to remove my baggie of liquids & gels from my bag. I didn't even have to remove my computer from my backpack!
Well... if I didn't have a big block of cheese given to me by The DutchBitch, I wouldn't have had to remove my computer. Turns out that cheese looks like organic explosives or something, so they actually did have to remove my laptop for a second scan.
In any event, this is an awesome perk for people who have to fly a lot. It's a much better program than the stupid "Regular/Family/Experienced" lanes that they had tried earlier... those programs were doomed to fail because everybody piled in whatever lane was shortest. Many, many times I got behind somebody in the "Experienced" lane who didn't know what the hell they were doing. With Pre✓, it's invitation only to "experienced" travelers, so newbies can't get in to fuck everything up.
In all honesty, I don't know how effective all the crazy security stuff is that the TSA has in effect. What I do know is that Pre✓ goes a long way towards making me not mind it so much.

• Holy Crap! I've been skydiving. And, even though I have a fear of heights, I didn't have any problems because there's a point where the scale of the height is so big that you don't really recognize it as something to fear. But then there's this...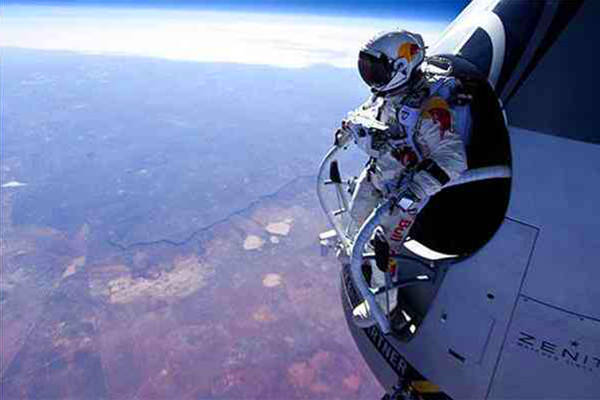 Photo by Felix Baumgartner himself
I'm pretty sure that I would lose my frickin' mind if ever I faced a jump of 28,000 feet. That's 24 frickin' miles! And yet... Felix Baumgartner took it on like a boss. Kind of makes skydiving look like a walk in the park. Next up? Lunar jumps!

• Frothy! It would appear that everybody's favorite gay-sex obsessed piece of shit, Rick Santorum, is still in Washington State drumming up hate against equality...
It used to be the only reason I wanted marriage equality for my home state was so that my friends here who want to be married but are unable to will finally be able to fulfill their dreams. But more and more I want it to pass so that ridiculous, bigoted, homophobic idiots like Rick Santorum will fail utterly... thus sending a message to other ridiculous, bigoted, homophobic idiots that their time has passed. And good riddance.

• Lawdy! And, speaking of ridiculous, bigoted, homophobic idiots... I think this one is my favorite one of all...
Oh horrors! The law will apply to everyone... not just the well-adjusted, well-educated, sophisticated, wholesome, gays... it'll also apply to the gays with drug problems and who are mentally unstable! Well, shit! We simply cannot have that! Can you imagine if there were straight couples with drug and mental problems having families? What would we do then? Clearly, this is the strongest argument against marriage equality ever.

• Nemo! Please tell me you saw the wonderful Google Doodle celebrating the 107th anniversary of Winsor McCay's Little Nemo in Slumberland...
Absolutely brilliant... just like Little Nemo, which remains one of the most imaginative things to come out of human history.

And... I suppose now that it's 2:00am I should see if I can get some sleep. It's been a long day.