Oh, wipe your tears away... Sunday, bloody Sunday...

• Plus! Annnnd... Google debuted their "Google+" social media services this week. As a so-called "Facebook killer" it's pretty interesting. I like that its smarter at controlling who sees the things you post. I like being able to organize people into my "Circles"... which are kind of like old rotary phone dials...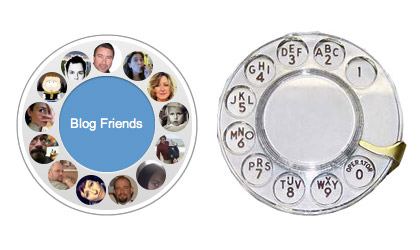 Of course, if you have a hundred friends, you can only see thirteen in your little dial until you click on it, but I guess that's better than nothing.
Except...
I've already got Facebook, Twitter, and this blog sucking up my time. Do I really need another "thing" cutting into my already mega-packed offline life? I mean, I suppose I can give up sleeping and going to the bathroom, but is Google+ really worth it? Time will tell.

• Colbert. This past week Stephen Colbert of Comedy Central's Colbert Report received approval from the FEC to form his own Political Action Committee. But, unlike regular PACs, he formed a Super PAC which has no restrictions on the amount of money he can raise. I'm absolutely fascinated at the prospect of a comedian having access to a PAC, and can't wait to see how much he can raise and what he's eventually going to do with it.
So I donated some money. And got an autographed photo for my trouble...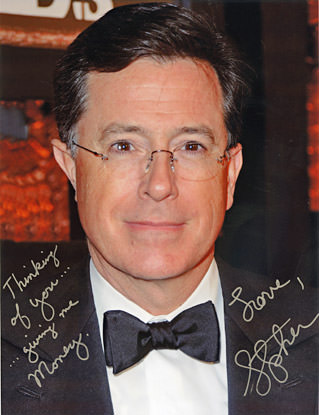 Whatever he does with his money, I'm betting it's going to be a heck of a lot more interesting than what Sarah Palin has been doing with her PAC monies.

• Roundabout. I noted an article link over on Neil Turner's Blog about how the British roundabout is conquering the US. This is something I can confirm as true. Years ago, the only roundabouts I'd ever seen in the USA were in Massachusetts. But now they are popping up everywhere. The first I remember seeing in my home state of Washington was at the I-90 interchange in North Bend...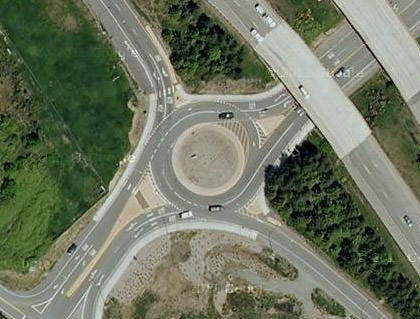 Image taken from Google Maps
And now, even small local cities like nearby Wenatchee are getting roundabouts.
The problem is that nobody here seems to know how to drive on them. Most of the time I've seen people encounter a roundabout, they full-stop instead of yield. And, even then, they don't know what to do, preferring to just sit there for a while until they get up the courage to enter. Hopefully this will change as they become more prevalent, but right now they're more trouble than they're worth.

• Arrietty. The next film by animation genius Hayao Miyazaki's Studio Ghibli is called Arrietty, and is based on the beloved book The Borrowers by Mary Norton. As with everything Miyazaki touches, it looks stunning...
My loved of all things Miyazaki is well documented. He has been a massive influence on me for decades, and his works are without peer in the animation world (the people at Pixar practically worship the man, for example). That he has continued to work after his "retirement" in 1998 has been a source of absolute joy to me, and seeing yet another film with his fingerprints on it makes me happier than I can possibly express. And while his role at Ghibli seems mostly supervisory now (though he appears to still be doing some writing and drawing too), he seems to have good people (including his son) carrying on his work...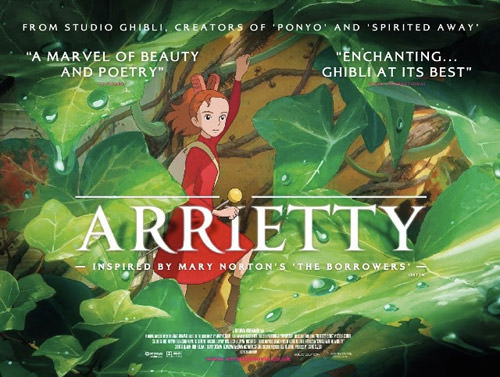 Arrietty was released in Japan almost a year ago and I have yet to see it. Today I learned that it won't reach the USA until FEBRUARY, 2012!! And while I would prefer to see the movie with the original Japanese soundtrack and subtitles, the North American release is certain to be an English dub (as usual). I don't even care. I just want to see it! Then hopefully the Blu-Ray release will preserve the Japanese version like Ponyo did. In the meanwhile... I wait.

And that's all she wrote since I have to get up early for work in the morning. Here's hoping all my fellow USAsians have a good holiday tomorrow!