Posted on March 29th, 2015

Don't touch that back button... because Bullet Sunday starts... now...

• Arthur! After a long, long wait in Swedish Doggy Quarantine... Arthur, the stray dog who joined an adventure racing team in Ecuador, has finally been released!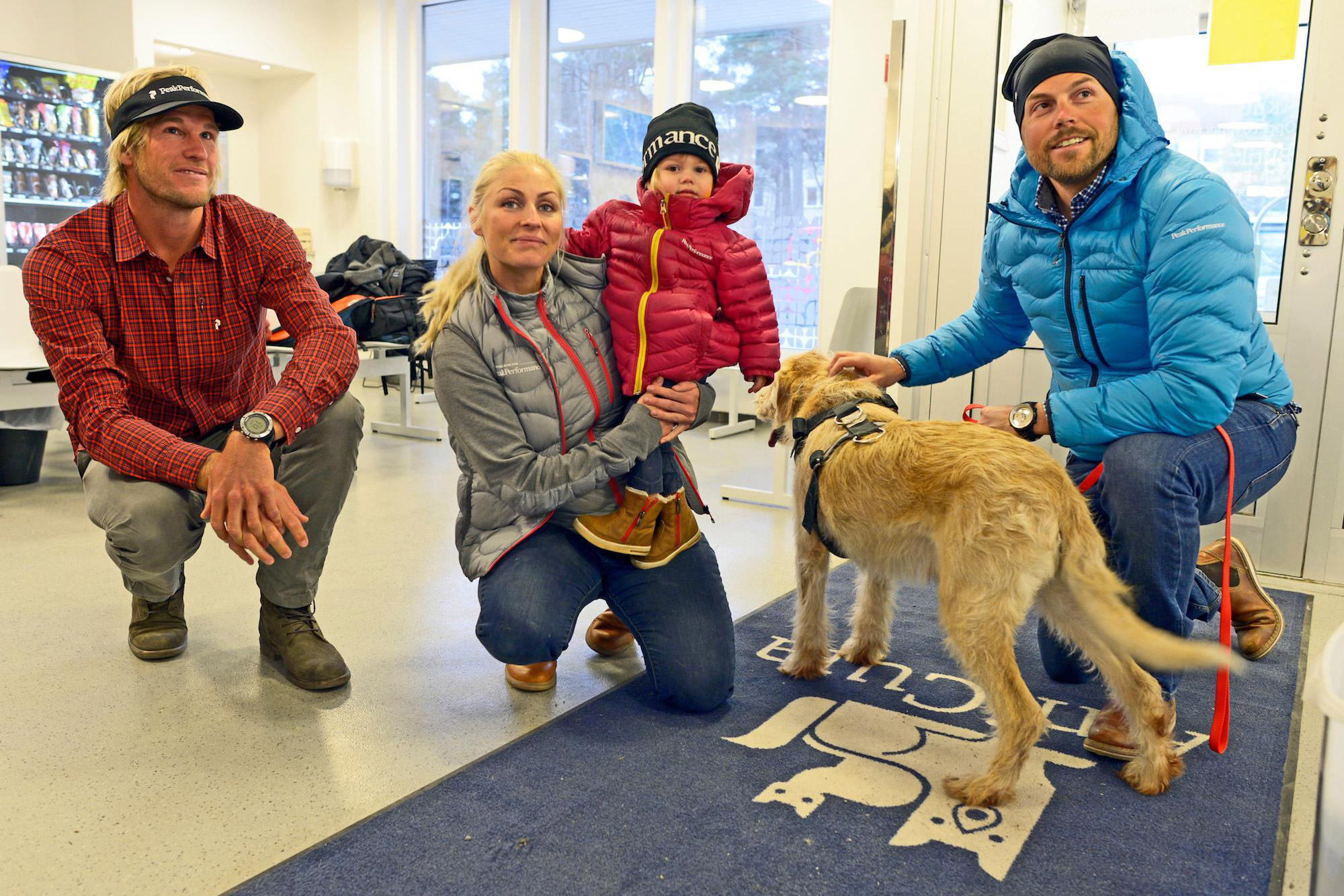 In case you're not up on this genuinely heartwarming story, here ya go...
Congrats to Arthur and Team Peak Performance!

• Clean Sheets! Doesn't everybody love them?

• TWO! In addition to the upcoming Clerks 3, Kevin Smith has unveiled plans for Mallrats 2, much to the surprise of just about everyone. Negotiations appear to be ongoing, but it seems as though the majority of the cast has signed on, including Smith, Jason Lee, Jeremy London, Ethan Suplee, Shannen Doherty, Stan Lee, Jason Mewes, Michael Rooker, and Renee Humphrey...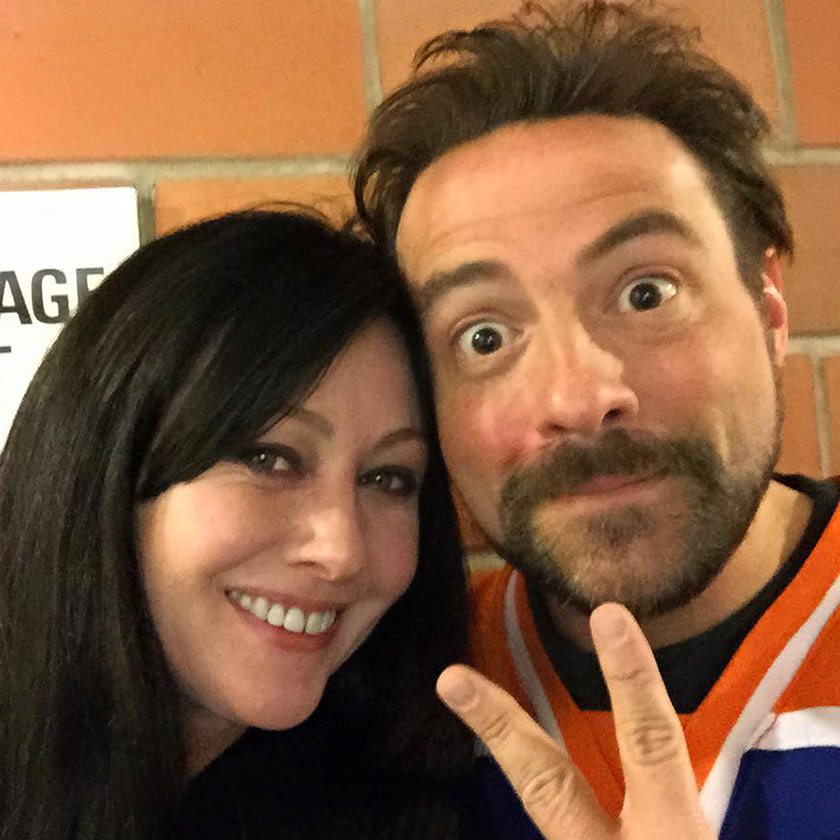 • Ninja! Well this is pretty epic...
Whatever this guy is making, he's underpaid.

• Freedom to Discriminate! Uh huh...
I'm guessing that's a "yes" then?

And there you have it... no more bullets for a week!
If you're lucky.
Posted on May 13th, 2014

Fun trip to the eye doctor today.
Apparently my astigmatism, which has been growing progressively worse over the past six years, has done gone missing. Evaporated. Disappeared. Since I totally blamed my worsening eyesight on society's indoctrination by The Gay Agenda™, I figured I'd be completely blind by now since Washington State (and a bunch of other states) passed marriage equality and Michael Sam got drafted into the NFL as its first openly gay player.
But instead... my eyesight actually improved after Washington State (and a bunch of other states) passed marriage equality and Michael Sam got drafted into the NFL as its first openly gay player. So I guess I had it all backwards. Once marriage equality goes nation-wide and an NFL player's sexuality isn't considered news... I fully expect to get Superman's X-ray vision. Or his heat his vision. Or his microscopic vision. Or his telescopic vision. One of those visions. Maybe all of those visions.
Wow, Superman sure has a shit-ton of super-visions!
I guess that's why he's Superman.
But putting aside the fucking insane people who belief that The Gays are responsible for everything that goes wrong in the world... many happy congratulations to Michael Sam!
And his boyfriend, surely...
For the life of me, I cannot comprehend why two guys kissing caused a chunk of Americana to lose their fucking minds. Turn the channel and you've got people murdering each other... people abusing drugs... people having drunken sex... The Kardashians... and yet it's two guys kissing that makes people want to shoot their television and boycott ESPN?
"BUT, ZOMFG! THINK OF THE CHILDREN!!!"
Kids only think that something is a big deal if adults make it into a big deal for them. If your children are freaking out, it's because you're making it happen. Don't go all homophobic crazy, and Michael Sam's kiss is just another kiss in a parade of thousands of kisses that happen on television every day.
Maybe people will finally be able to see that with their super-vision once we finally get an openly gay president.
Posted on February 16th, 2014

Time to put House of Cards on pause, because an all-new Bullet Sunday starts... now...

• Random! Sometimes when I'm stuck on a phone call, I'll fire up Wikipedia and click on the Random Article link for a while (WARNING: no telling where that link takes you). It never ceases to amaze me what pops up. Yes, there's a lot of random stubs that flash by... but there's always a few articles of substance that will teach you something. Today my articles were... HUMAN TOOTH SHARPENING!... CERATONYKUS!... FRISKNEY!... and the HOUSTON THUNDERBEARS! — But be careful. If you click too fast, you could skip by something interesting (like NEW KOREAN ORTHOGRAPHY!) and not be able to get back to it (your browser's back button won't work). And who knows what knowledge tomorrow will bring? (perhaps the BARCELONA INTERNATIONAL EROTIC FILM FESTIVAL!).

• Ellen! Even without her personal announcement, Ellen Page's speech for the Human Rights Campaign this week was powerful, inspiring, and well worth watching...
I hope Ellen Page knows just how much her words mean to a lot of kids struggling with acceptance... not only with their sexuality, but with all the challenges they face because they're different... or merely perceived to be different. The more people keep speaking out for treating people with decency and respect, the more attitudes will change. And the more kids will feel less alone as they struggle to figure out their path in life.

• Please! Oh please please please please please please please please please please please please please please please please please please please please please please please please please please please please please please please please please please please please please please please please please please please please please please please please let this happen.

• Bloop! Because I just can't help it, I now present The LEGO Movie blooper reel...
Awww! Is there anything cuter than LEGO minifigs?

• Search! For years, I've been integrating Google Custom Search into Blogography. But it's grown increasingly unreliable, and I'm tired of having it fail when I go to use it. So when I switched to WordPress, I decided to dump it. Only to find that WordPress search sucks. It sucks so bad. And so I found my way to the Relevanssi plugin. It's an order of magnitude better than what comes with WP, for which I'm grateful. I just wish it had pictures like Google does. Everybody loves search that comes with pictures! Bummer. I do like how it highlights the search terms though.

• Archive! And while I'm on the never-ending subject of my migration to WordPress, I am compelled to bring up how crappy their archiving is compared to what I was using with Movable Type. Hopefully one day you'll be able to navigate between monthly archives without a plugin, but not today. Hopefully one day you'll be able to navigate subcategories within a category without hard-coding IDs in an array, but not today. Both of these are not revolutionary features by any means, and it mystifies me as to why they aren't included. Luckily WordPress is ever a work in progress. So maybe one day.

And now, if you'll excuse me, another episode of House of Cards awaits...
Posted on November 13th, 2013

Congratulations, Hawaii!
You've joined my home state of Washington and just became the 15th State to legalize marriage equality!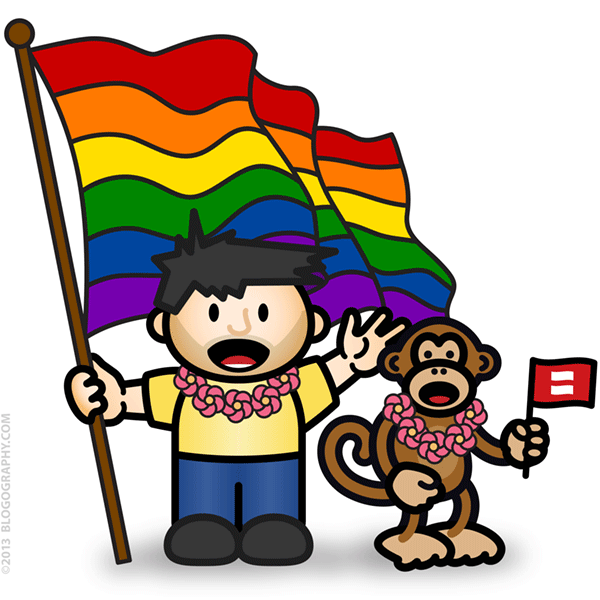 It's amazing that my gay and lesbian friends can now tie the knot in one of the most beautiful places on earth!
Thanks and much mahalo for recognizing that love is love... and everybody deserves to marry that one person who makes their life complete!
Posted on September 29th, 2013

Say hello, wave goodbye... because Bullet Sunday starts now...

• Bad! I've been dreading the impending final episode of Breaking Bad for months. I love the show, didn't want it to end, and was worried sick that the writers would build everything up to a shitty, "artistic," non-ending ending like The Sopranos. Or, more recently, a shitty, shitty, non-ending ending like Dexter... both of which sucked ass. But, surprise, Vince Gilligan and the rest of the Breaking Bad crew actually pulled it off...
If the show had to end, this was a great way to do it.

• Go Martha! Heaven only knows I am no Martha Stewart fan... there are times I downright despise the woman... but her taking a stand against patent trolls has me cheering her on. If only we could get rid of these do-nothing, innovation-killing shit-bags for good.

• So Long! If somebody were to unfriend me for supporting my friends or family, then they were never my friend to begin with, and wouldn't be missed...
People who live in the past should be left there. If they remove themselves from the game, so much the better.

• Delicious! For those of you keeping up with my love/hate relationship with Earl of Sandwich, THE PHILADELPHIA AIRPORT LOCATION STILL HAS THE EARL VEGGIE ON THE MENU!!
A little saltier than I remember (I think they over-did the salt/pepper/spice mix) but still oh so delicious.

• High Society! Betty Who's "Somebody Loves You" is getting a lot of attention... but my favorite track off of her her "The Movement" EP is called "High Society." And seeing her perform it live in this video has now made seeing her in concert a priority for me...
If you haven't picked it up yet, The Movement EP is worth a listen.

And, I guess it's goodbye!
Posted on July 16th, 2013

Maybe because I'm just so exhausted, but I'm just not getting it.
Why is it that all these homophobic bigots seem to think that gay people are all about gay sex and ONLY gay sex? That there couldn't possibly be something more to their lives than their sex life? That it is impossible for a hetero-challenged man or woman to possibly be interested in something other than where they like to put their bits and pieces?
Because, I gotta tell you... any time I've been hanging out with friends who are gay, their sexuality rarely enters the conversation. We talk about travel... or movies... or books... or restaurants... or music... or work... or pretty much all the same things I talk about with my straight friends. And yet here is how I picture Barber & Crampton must think the conversation goes...
ME: Hey lesbian friend, what's up?
LESBIAN FRIEND: Pussy. Vagina, pussy. Labia, labia, breasts, pussy. PUSSY!!!
ME: I hear that! How about you, gay friend?
GAY FRIEND: Cock. COCK COCK COCK COCK COCK!

I'm not saying that relationships and sex never come up, but it's never the single all-consuming topic of conversation that these idiots seem to think it is.
No. The only people who are interested in talking about gay sex and ONLY gay sex 24/7 seem to be homophobic bigots like Barber & Crampton.
Which kind of makes me wish they'd just fuck each other and get it out of their system already. Maybe if all of them did that, I wouldn't have to keep hearing about gay sex every time I'm on the internet or turning on the television.
Heck, even the gays and lesbians must be tired of it by now.
Posted on July 3rd, 2013

The past several days have been extremely difficult for me on many levels.
Which is why waking up to a very nice email first thing in the morning was enough to have me walking on air all day.
The letter was from "somebody you don't know" who wrote to thank me for keeping Blogography going, then tell me that today he removed a DaveToon from his cubical at work that had been hanging there ever since I first posted it to my blog over four years ago.
I was a little confused as to why he would write to me about REMOVING a cartoon I made... until I followed the link in his email and saw this...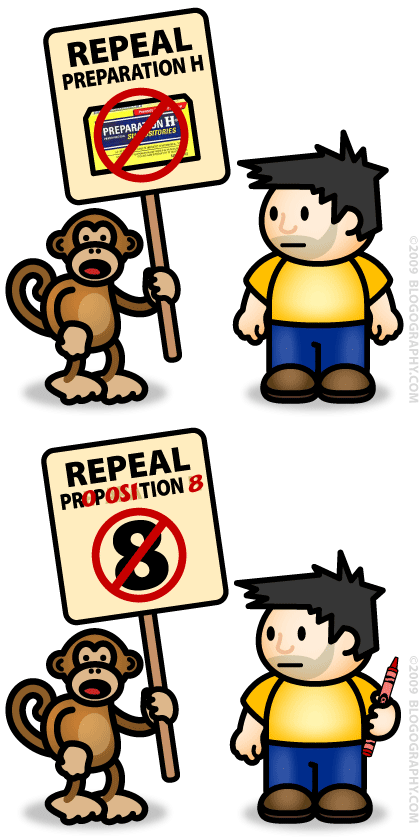 All I could say in return was "Thanks so much. I'm sorry you had to wait this long... even sorrier I had to draw it in the first place."
Which is hardly adequate, but I meant every word.
Posted on August 14th, 2009

I was hoping that this homophobic crap would be laughed off of Washington's ballot... but it looks as though the protections we have for same-sex couples and their families here in the Evergreen State is going to be challenged come November. And this isn't even a "marriage" issue... it's just for their domestic partnership rights! Apparently opponents of equality managed to find 120,577 people who are so insecure in their beliefs that the very thought of somebody being allowed to have different beliefs was scary enough to sign a petition.
Riiiiiight.
The divorce rate is rapidly approaching 50% in the USA, yet we need to pass laws to protect the sanctity of this institution from the "gay agenda."
Riiiiiight.
Two atheists can get married in a non-religious ceremony so long as they have opposing genitalia, and yet making laws to define marriage by one group's interpretation of their religious views is not at all discriminatory towards homosexuals.
Riiiiiight.
Forcing somebody to live by your standards and stripping them of their rights when they don't is not hating on them.
Riiiiiight.
This would all be laughable if it weren't so very sad. I find it positively absurd that two consenting adults living in the United States of America in 2009 have to fight to have the same rights afforded to everybody else because of who they choose to love. Apparently, some people haven't done the math...
Well, whatever.
I refuse to buy into such blatant discrimination. I am of the opinion that people are people and should be treated equally. I believe that love is love. I feel that there is enough room in society for consenting adults to decide for themselves if they want to marry. I know that devaluing somebody in the eyes of the law because of their sexuality is wrong. I say NO H8...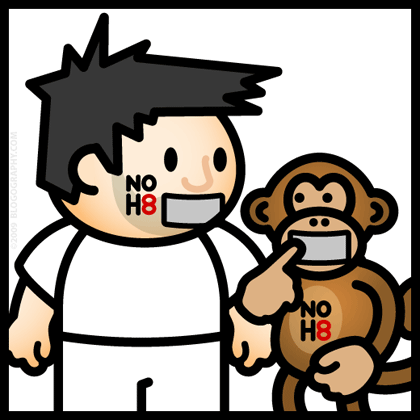 I hope that one day people are going to wake up and start taking responsibility for their own lives rather than making others responsible for their problems. In the meanwhile, we have to deal with bullshit like this when there are far greater issues we should be focusing on.
Like squirrels ruining our photos...
We really should be doing something about that.