A second entry for Friday? Lucky you!
If you've been reading this blog for any length of time, you undoubtedly are aware of my Disney theme park obsession. Heck, I even designed my own parody theme park DaveLand because my Disney love goes pretty deep...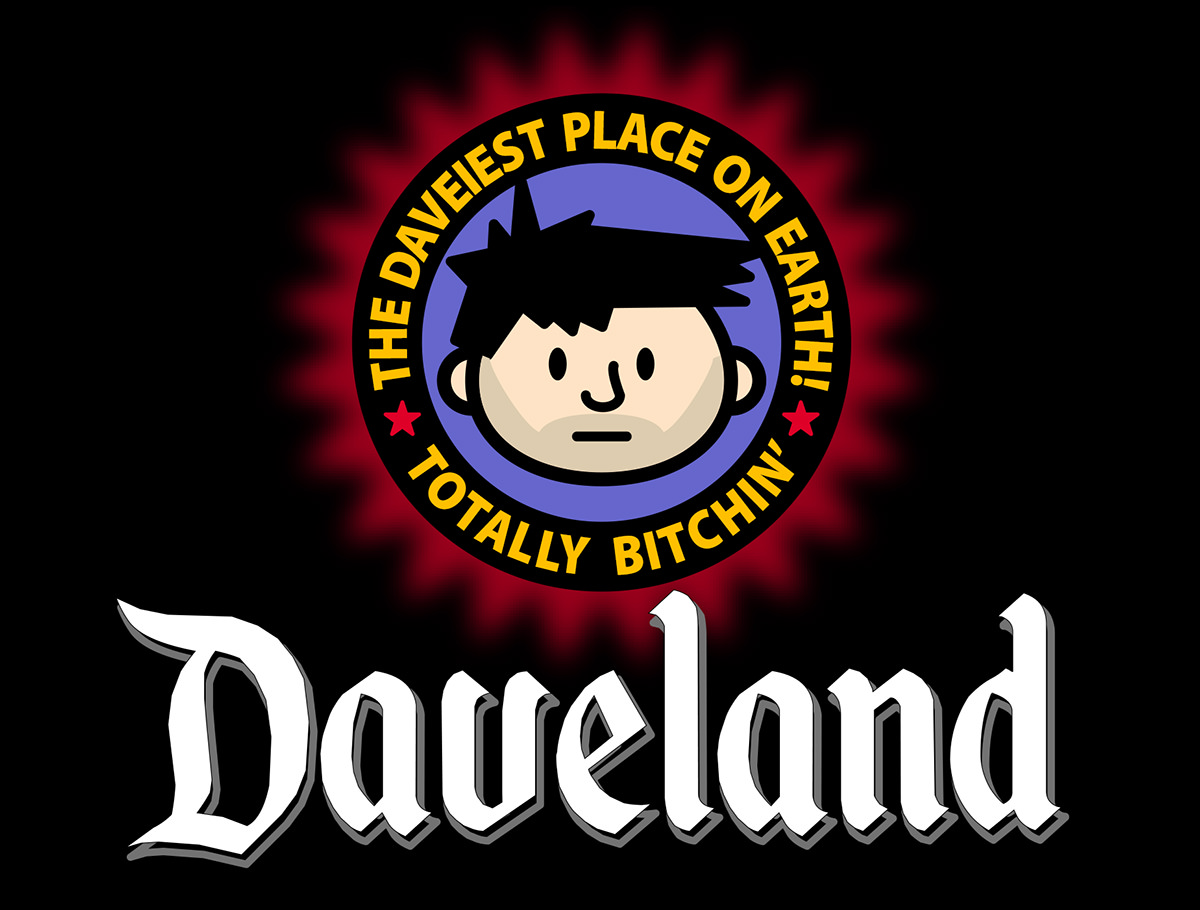 I collect the map pamphlets from the Disney parks. I have the wall maps. I bought the map book. And every time Disney announces anything new or any kind of expansion, I am compelled to figure out what they're going to do and how they're going to do it.
The lastest news is more announcements for the Disneyland Resort "Westside Expansion" which will turn a bunch of parking lots into an expanded hotel/shopping/dining/entertainment experience...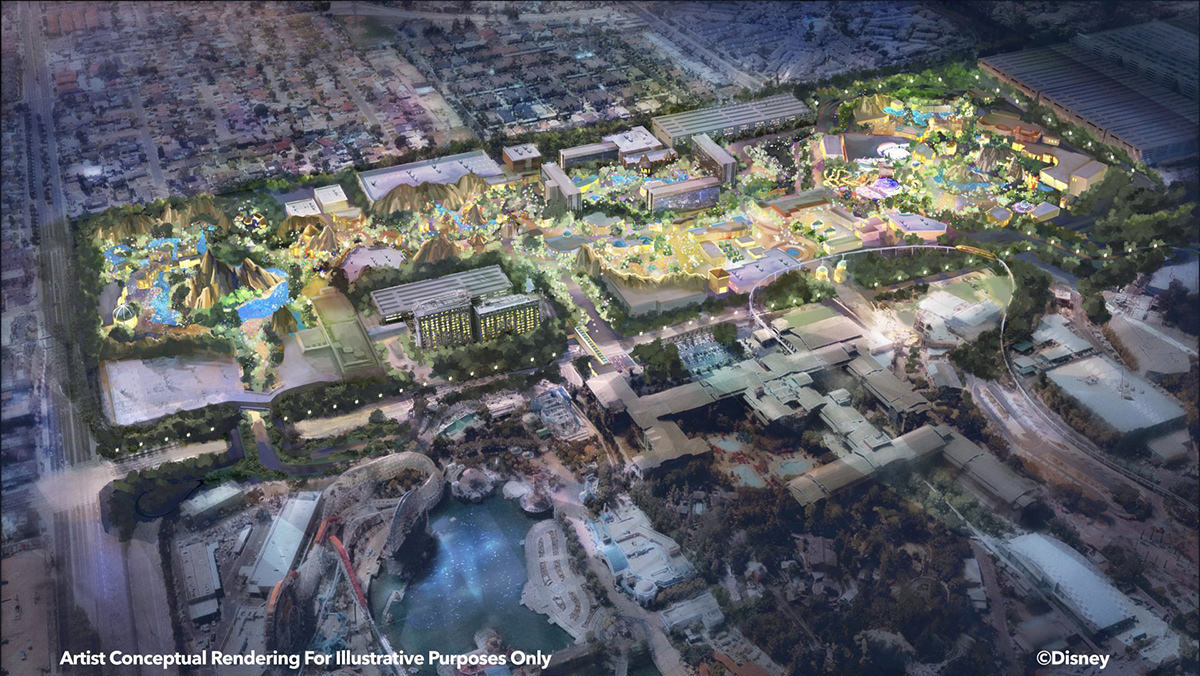 Now, this concept illustration is not in any way final (indeed, it looks like the previous plans for the "Mickey Mouse Hotel" have been drastically altered or scrapped... and does anybody remember the plans for "Westcot?"). And it's a bit deceptive, which we'll get to in a minute. But you can see that the idea is to add more stuff to snag tourist dollars than they already do. Looks like there's a lazy river tube ride to the left there. The above-mentioned "Mickey Hotel" in the middle. Three entirely new hotels to the far right. A live stage venue just in front of them. And of course more shopping and dining. Disney quite clearly doesn't want you sleeping, shopping, or dining at anything except Disney-owned properties.
As I was saying, the illustration is a bit deceptive though because about 1/3 is already developed with The Disneyland Hotel and Disney Paradise Pier Hotel, which will be surrounded by new construction (which I've shaded in magenta)...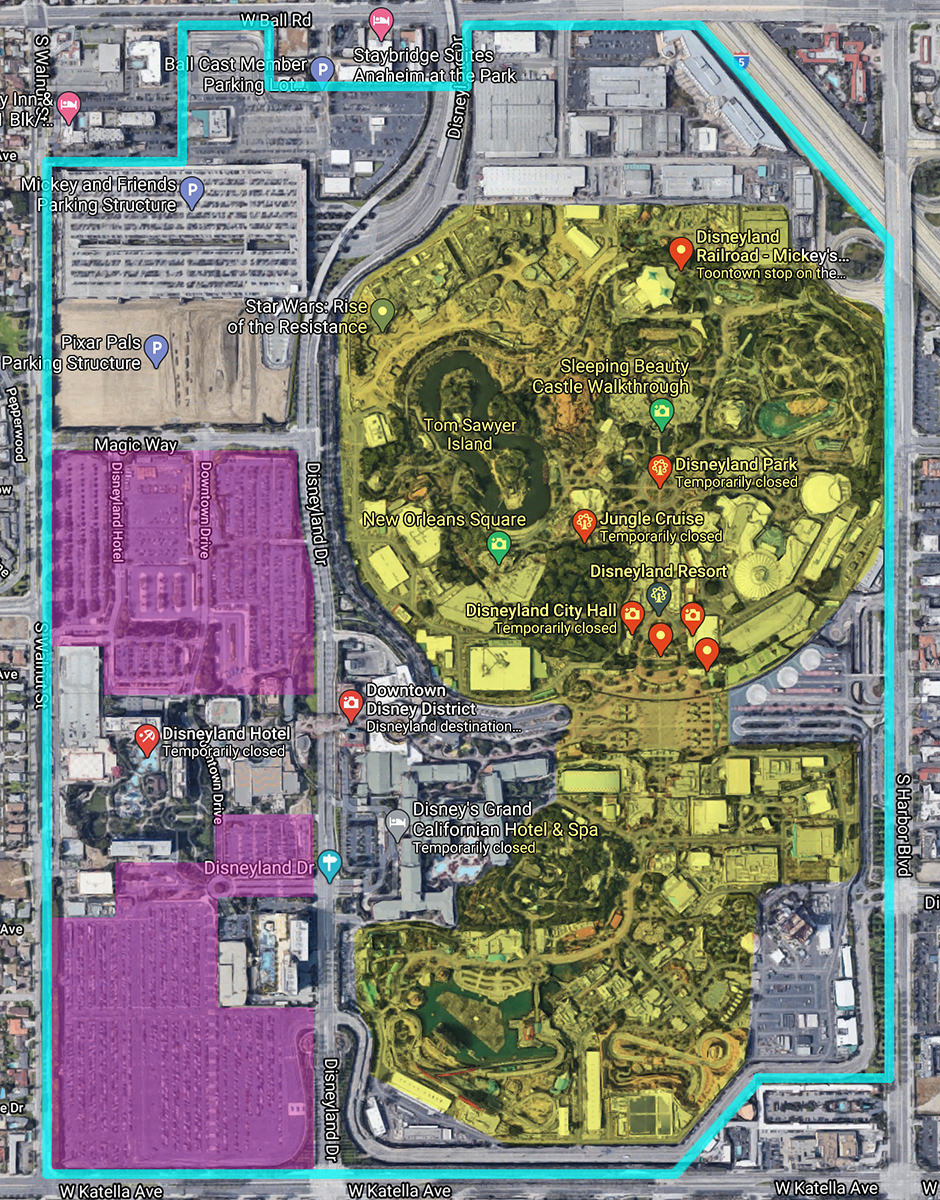 © Google Maps... Click to Embiggen
Yellow shading is over Disneyland and California Adventure so you can compare sizing. Suffice to say, this is not a small endeavor... nor will it be cheap. I'm not sure where all that parking will go. Could be it will be constructed underground. Could be they will expand the Pumba lot that's wayyyy off to the East or the Toy Story lot that's wayyyy off to the Southwest (see below) to be a multi-story garages like they did for the Mickey & Friends and Pixar Pals parking structures that are in the upper-left corner of the map.
It's interesting to note that Disneyland is pretty much at its limit here. To the South is the Anaheim Convention Center. To the North and West is suburban sprawl with hundreds of homes that Disney would have to purchase.
But then there's the land to the East.
And here's where my speculation takes a bit of a sinister turn.
Right now, most of the land to the east is occupied by a bunch of hotels, with the exception of the afore-mentioned Pumba Parking lot (outlined in cyan) which I'm guessing is owned by Disney. The red outline is the land I'm talking about...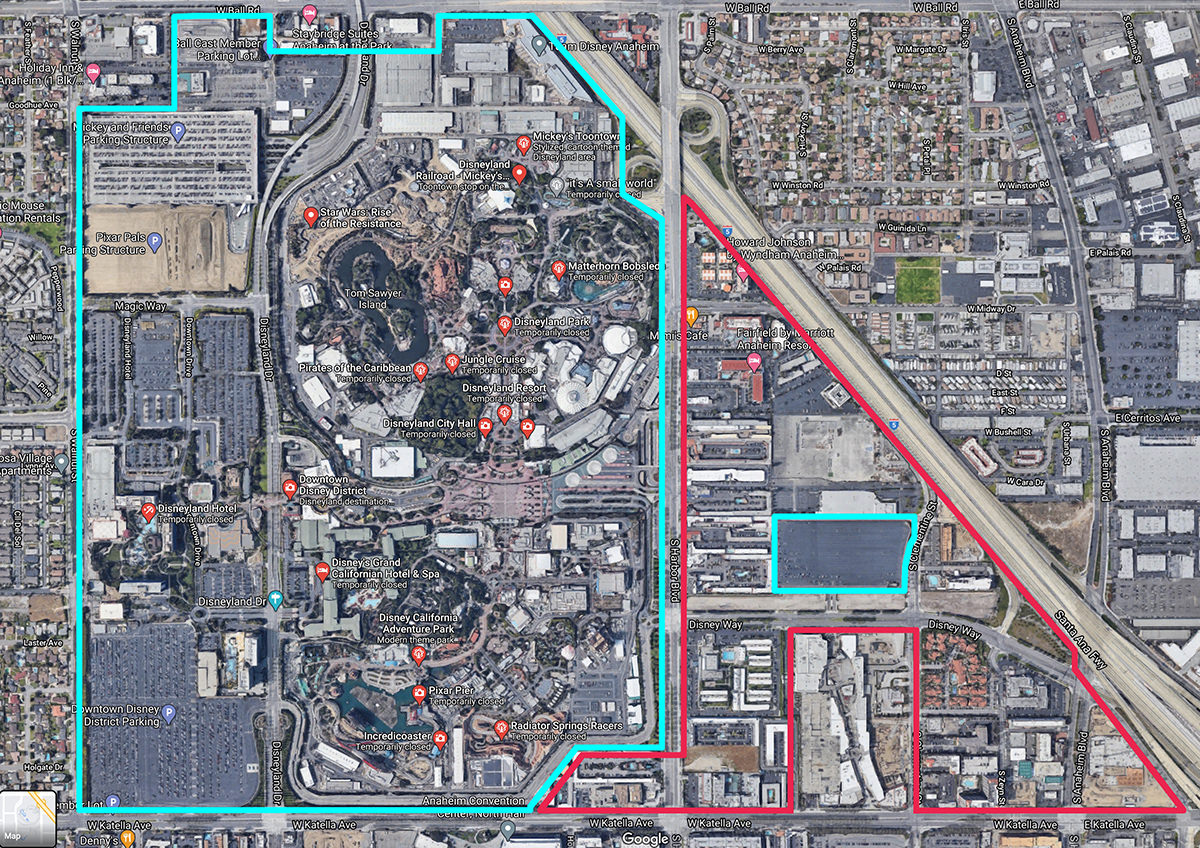 © Google Maps... Click to Embiggen
Unfortunately for Disney, there's a shopping Mall to the South of the Eastern region that's likely there to stay unless Disney acquires it (if they haven't already) in which case they could rebrand it as yet another Disney shopping experience.
But let's think about this for a second.
The Disneyland Resort Westside Expansion has at least four high-capacity hotels planned. That's going to take business away from the hotels which popped up to the East of Disneyland. Which means the price to buy them out may cheapen. After enough lost business, they may consider selling to Disney... something that's inconceivable as things currently stand because their occupancy must (normally) be pretty darn high and very profitable. And once that first hotel domino falls... and Disney re-themes it as a Disney hotel... and people flock to it because Disney dangles enough perks... and more hotels lose more business... well, it's not difficult to see how it might be "bye bye Candy Cane Inn"... followed by the rest of them one-by-one.
This, of course, is all conjecture. It could be that Disney has zero interest in the budget hotel business, or that the existing hotels will continue to be so popular that the selling price would be insane. Or maybe the chain-owned hotels don't care about lost business and just want a Disney-adjacent property in their portfolio. It's hard to say. All I know is that both parks are overcrowded year' round now, so maybe it's worth it to Disney to buy everything up... and simply not provide budget lodging. At least not as it looks right now. A Disney "Budget Hotel" will be cheaper when compared to their other hotels, but still Disney-pricey. Because if there's one thing that Disney knows how to do... it's make money. Lots of it.
And they could, of course, use the land to build a third theme park. Or relocate the structures that are currently to the North of Disneyland so they can expand the park there. Or just shift the Mickey & Friends and Pixar Pals parking to the East so another big chunk of land opens up for entertainment and hotels on the Westside.
However...
That's not the end to Disney's (estimated) land holdings. They either own or lease a rather large piece of land to the Southeast which is currently the Toy Story parking lot. Not sure if the parking for the hotels/businesses to the North is Disney-owned (that's outlined in green)... but if Disney does own this, they could build a massivley huge parking structure which could replace all the lost parking for Westside... and absorb parking for any hotels they buy, which could then be expanded or rebuilt... or replaced with more theme park to attract more customers (or maybe spread the crowds out a bit)...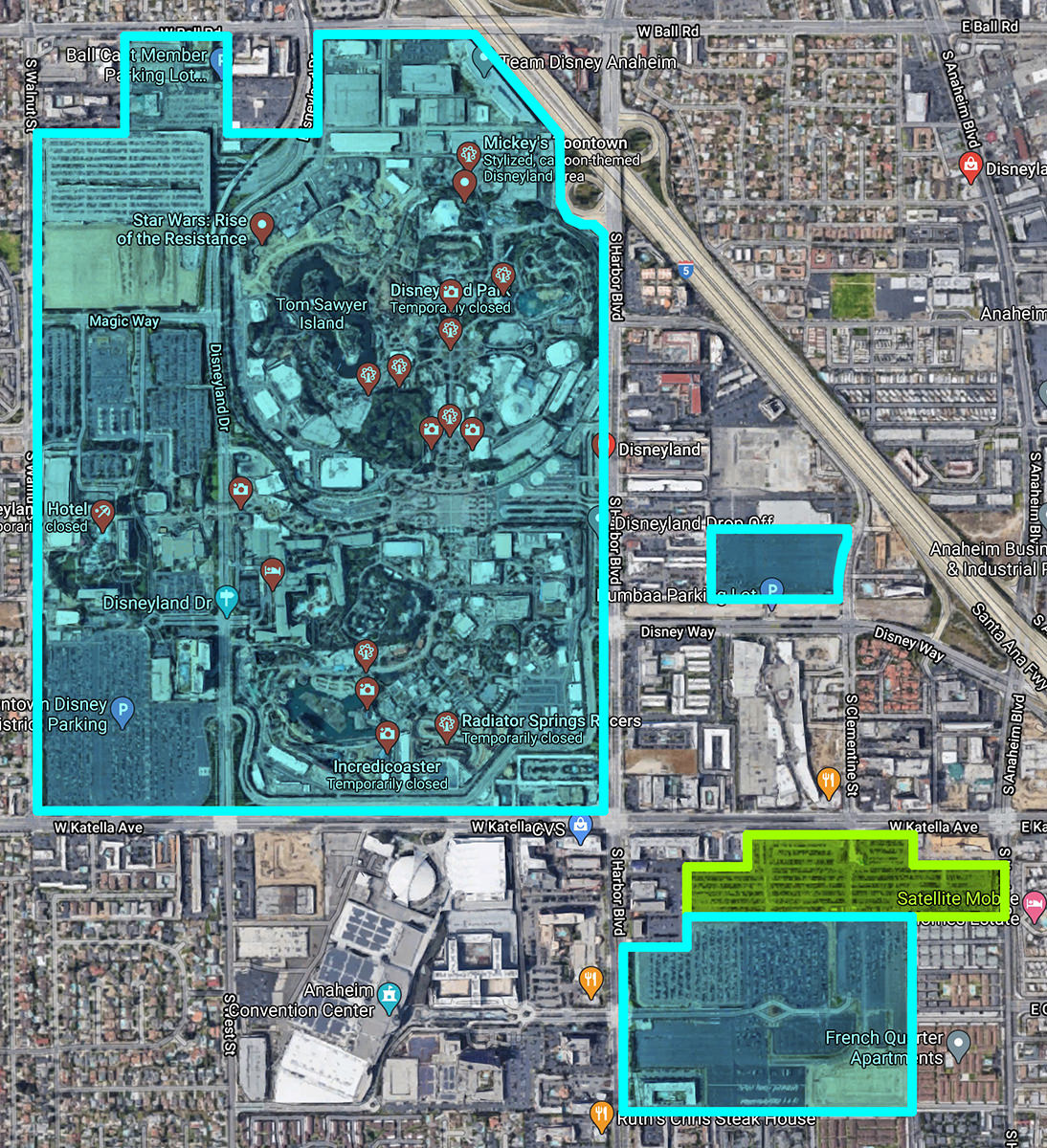 © Google Maps
I dunno.
All I do know is that Disney gobbling up that Eastern parcel... along with the area above the Toy Story parking lot... creates a nicely contiguous chunk of land which would nearly double what they have now.
Not that contiguous land is essential. Just look at Walt Disney World. Build another monorail or an air-tram... or expand the bus system... and that third theme park could end up in the Southwest section. Or anywhere, really. I remember reading how Disney wanted to expand to a beachfront property in L.A. or something. Heaven only knows how much land in the greater L.A. area they own either directly or via shell companies.
What I wouldn't give to work for the team at Disney which gets to plan all this stuff. That's my dream job right there. But since I don't, all I can do is have fun speculating and be excited for what's coming next.
Until then, there's always Daveland.
UPDATE: Well looky what we have here... a site that Disney created to shame Anaheim into rezoning their property for multi-use purposes called Disneyland Forward. It doesn't do anything to curb speculation because it's just Disney tossing out ideas, but it does clarify a few things. First of all is their plans for expanding into the Westside property and Northward...
Note that Disneyland gets an addition to the West, so those weren't hotels, they were attraction buildings. The only hotel expansion looks to be another tower for Paradise Pier?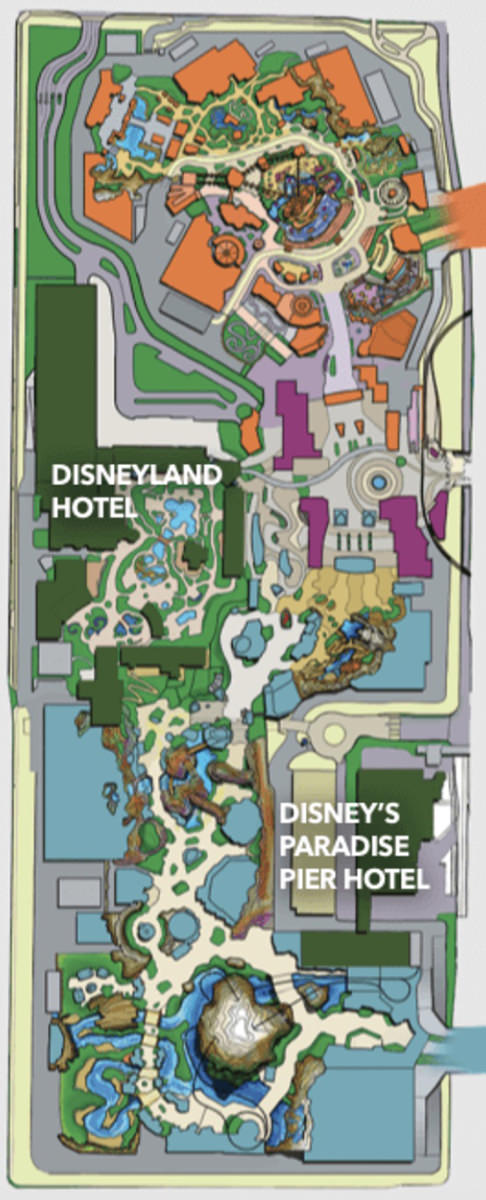 Which is not to say that Disney couldn't change their mind and drop a bunch of hotels once they get their way so that they can still buy out everything to the East and raze it for a third theme park. And idea which still makes a lot of sense. Though remember that land to the Southeast? Hotel and shopping have been dropped there as an example of what could happen...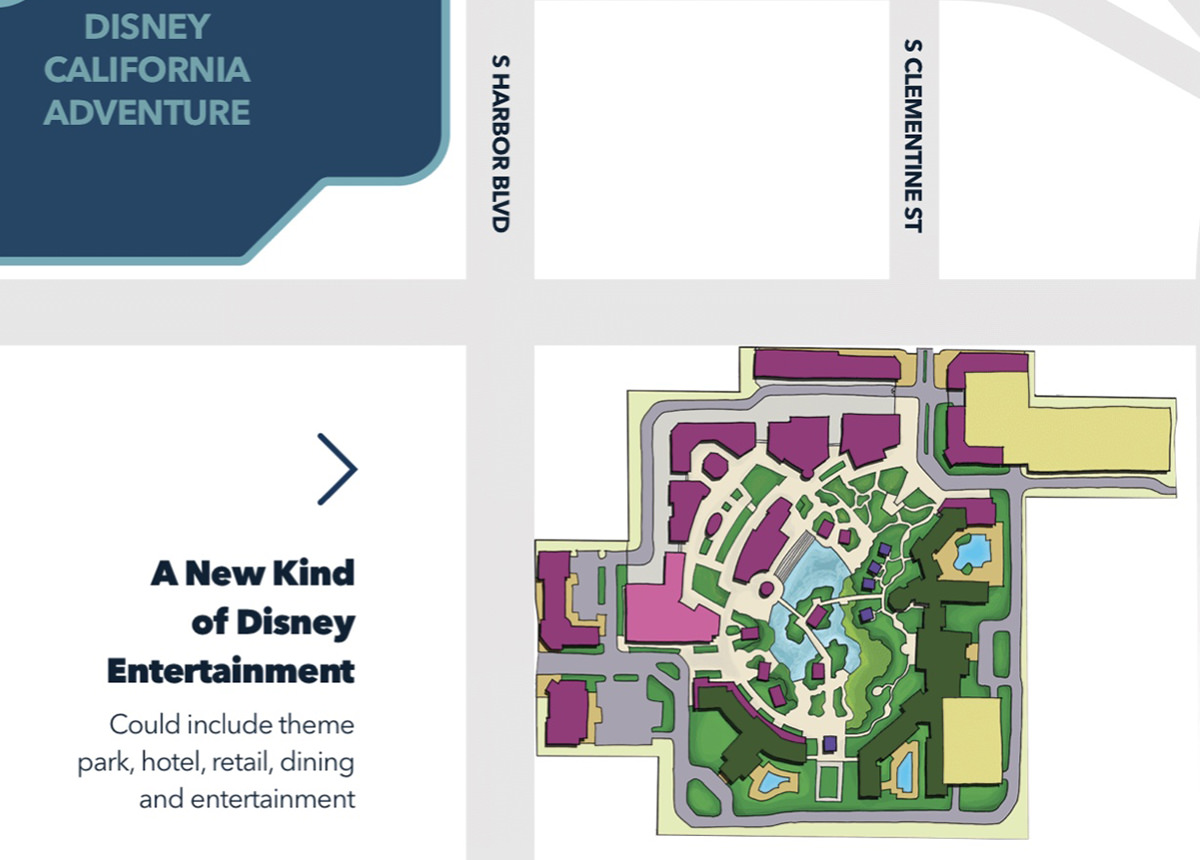 Interesting stuff! You can see everything for yourself at Disneyland Forward.