Posted on December 8th, 2011

Unlike most every other day, I didn't bring any work home with me tonight. I'm dangerously close to a major case of burn-out, and just needed one night... one night... away from work. And so I took it!
And then spent all night worrying about the work that I'm not getting done. I knew I should have picked up a fifth of Jägermeister on the way home.
Last night on the way home, I went to Costco and bought cheese. There's not a lot of foods I eat enough of to buy in bulk. Cheese and chocolate pudding are about it. Though, thanks to Costco contributing 22 million dollars to the campaign to privatize alcohol sales in Washington State, it looks like I'll be able to buy Jägermeister in bulk come March 1st...
I think we can all look forward to that.
In the meanwhile, I think I'll eat some cheese.
Posted on June 19th, 2011

It's a busy busy Bullet Sunday!
If I were smart, I'd blow off blogging today so I could get caught up with work. Oh well. Blogging is a tough habit to break. Even when it's bad for you. Especially when it's bad for you.

• Holiday. Happy Father's Day to all the dads out there! Including mine...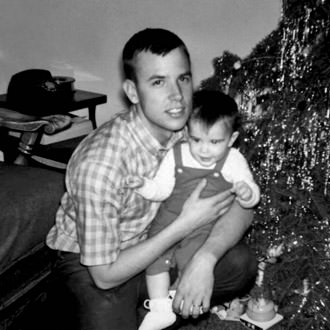 • Cheesy. I think it aught to be a law that companies who make low-fat and fat-free cheese products should be REQUIRED UNDER PENALTY OF DEATH to label their products with giant warning labels like they put on cigarettes...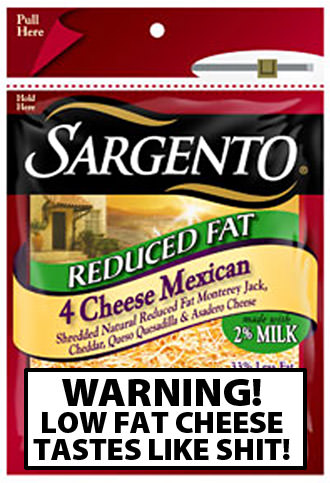 I am tired of accidentally buying the wrong cheese at the store because I'm in a hurry and don't notice the beautifully-integrated low-fat declaration. If there were an offensively large warning label requirement, I'd be less likely to mistakenly purchase this crap.

• Batmobile. Batman is my favorite comic book hero. By far. He doesn't have any super powers, so the stakes are always higher for him than say.... Superman. How Batman compensates for being merely human is those wonderful toys he uses to fight crime. The most famous of which would have to be the Batmobile. As Batman's vehicle of choice, it's taken a lot of different forms over the years. Some good. Some bad. Some meh. Kind of like the latest Batmobile designed by Gordon Murray(!) for the new Batman Live touring show. In the right light, it's kind of sexy...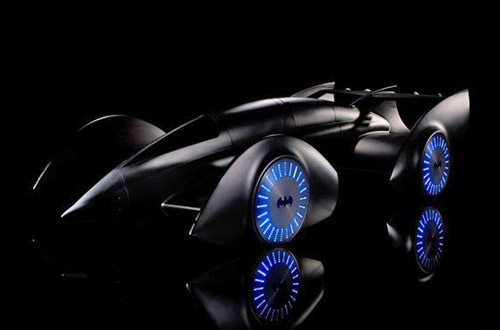 But in the wrong light... such as, say... DAYLIGHT... it looks kind of boring and lame...
Still, it is a step above the massive tank-like "Batmobile Tumbler" from the current Batman films, I guess. I mostly didn't care for the theatrical and goofy nature of the Tim Burton movies, but I think he had the best Batmobile on the big screen so far.

• Flush. I am sick of all these commercials touting "Flash" as an awesome "feature" on the Android Tablets. Flash sucks. It's battery-draining, crash-happy, annoying bullshit and I hate it. Apple choosing to dump the buggy shit from its iPhone, iPod, and iPad was one of the best things to happen to the internet, because it's forcing web developers to stop using Flash and turn to modern HTML 5 elements instead. I am reminded of just how smart Apple is every time I visit a Flash site on my MacBook and it either crashes or sucks my battery dry.
My favorite thing to do is fill out crash reports whenever Flash crashes (which is a lot)...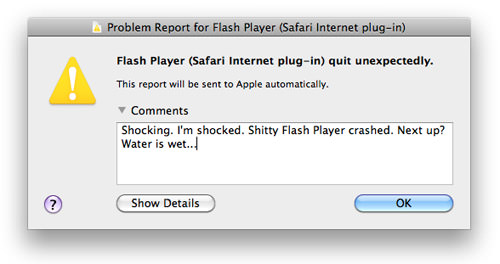 Not that it's any news to Apple... hell, they're trying their best to kill Flash. But I'm easily frustrated and a total smartass.

• Cloudy. Speaking of Apple competitor suckage... why is buying music from Amazon such a frikin' joke? It's an awful, awful experience. It's so mind-boggling horrible that I'd rather pay $1.29 for a song from Apple than to suffer through buying the same song for 69¢ from Amazon. And now that they force you to go through their "Cloud Drive" for everything, a bad situation is even worse. Partly because their "Cloud Drive Player" is shit and stutters and stalls every time I try to listen to a song. But mostly because you can't just download your music when you want. You still have to use Amazon's unbelievably crappy downloader utility, which is just fucking stupid. Apple's iCloud service won't be ready until July (Mac) and September (iOS), but it's bound to be worth waiting for given Amazon's terrible solution. Guess I'm in no danger of turning in my Certified Apple Whore credentials any time soon.

And now I think I'll eat cookies and watch episodes of The West Wing. After all these years, it remains some of the best television ever aired.
Posted on June 11th, 2010

And so here I am in DutchyLand.
There was a bit of an adventure leading up to this moment, because my airport hotel caught on fire at 11:45pm last night. Except not really... it ended up being a false alarm that caused the entire hotel to be evacuated for 30 minutes. The alarm was a continuous piercing shriek that gave me an instant headache of massive proportions. This made getting any sleep a total impossibility. Which is a lovely thing to have happen before hopping on an airplane for nine hours...
So I haven't slept in two days, and still have a full day ahead of me.
Yay! I'm a zombie! Again!
After landing, The DutchBitch and Lady Penelope picked me up for a trip to the city of Alkmaar, where they have a famous cheese market and cheese museum. As a lover of all things cheese, I had been dying to go for years, and the ladies were nice enough to indulge me.
As were were making our way through Alkmaar Centraal, I started noticing these badges embedded in the street...
This was very confusing to me, because it looked like an invitation for you to let your dog take a shit here. I asked DutchBitch about it, and she said that the red ring indicates that the action within is FORBIDDEN.
Back in the USA, the sign would look like this...
Alkmaar has a serious dog shit problem, so they should put more of these signs up. Perhaps if they switched to the American version, it would help make things more clear?
In any event, I'd think what Alkmaar really needs to worry about is this...
Because eating too much cheese can definitely have unpleasant effects on a person's digestive system.
The Cheese Market itself is fun. They have a kind of reenactment you can watch with cheese runners and the whole bit...
Behind the festivities is a beautiful Cheese Museum that shows a lot of cheese history and cheese-making stuff. You ever get a view down to the market...
But the most IMPORTANT thing about the Cheese Museum at Alkmaar is that you get a free sample of cheese! Because the cheese is free, it's undoubtedly the cheapest, crappiest cheese Dutch Euros can buy... but it still kicks the shit out of 95% of the cheese you can buy in the USA.
Lunch, of course, consisted of an Old Cheese Sandwich and Patatjes Met. Which is about my favorite lunch on earth when freshly made in the Netherlands...
Hooray for cheese!