I get it. Most of my readers don't even bother to look at other sites. Blogography gives you everything you need to survive, so it's pointless to go anywhere else. Which is why I feel it's important for me to review stuff that may be an essential piece to your well-being. Like the latest food monstrosity from Pizza Hut... CHEEZ-IT Pizza!
And I have to admit... I was looking forward to this experience. I love pizza. I love CHEEZ-ITs. And Pizza Hut is okay in my book.
So I dropped by to pick up an order of the cheese-stuffed version (they also have pepperoni) just to see if combining some of my favorite stuff was magic... or tragedy.
My first impression was good. The box is a beautiful flaming red. I spent a minute holding it up to the light just so you can get an idea how pretty it is...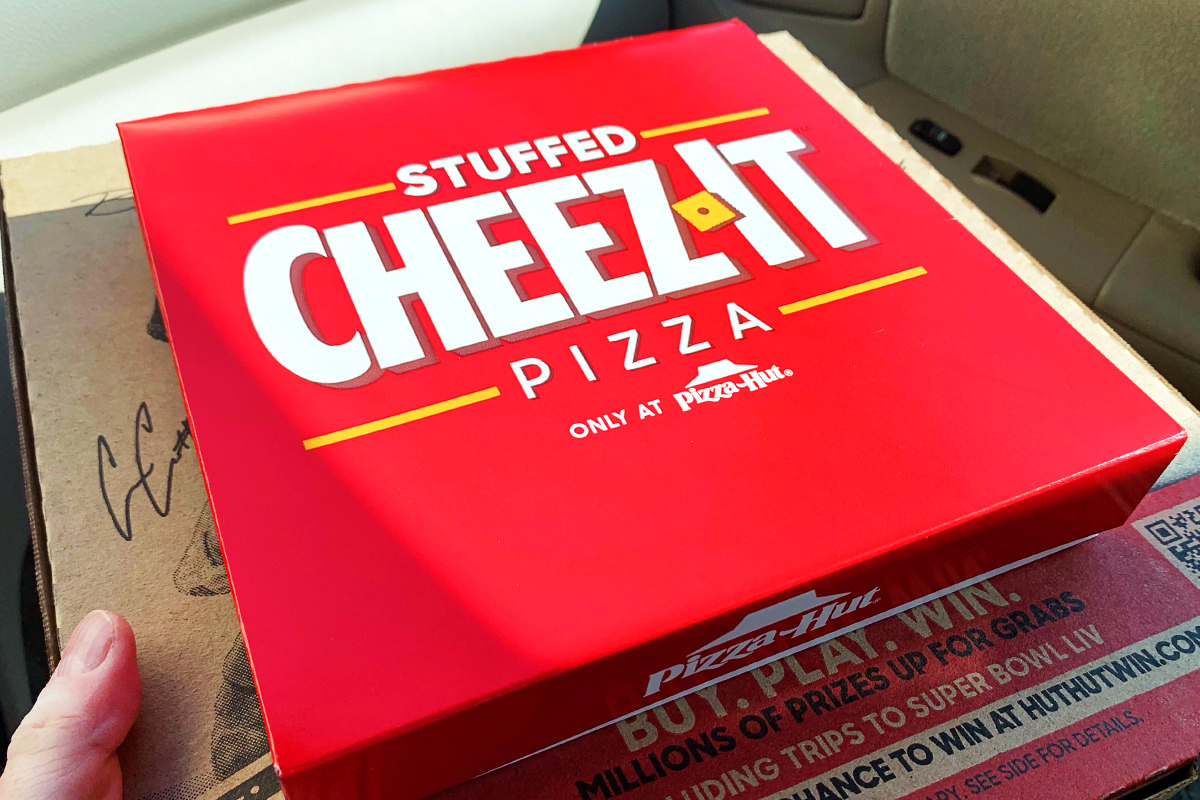 Inside you get four massive squares that look somewhat like inflated CHEEZ-ITs. You also get a tub of Pizza Hut marinara sauce...
Now... here's where things start going terribly wrong. I was anticipating that these would be crunchy like a CHEEZ-IT cracker. They most definitely are not. They are more like a pastry than a cracker. Kinda flakey... but not necessarily in a good way because the texture becomes a bit gummy when you chew it. Like flour paste...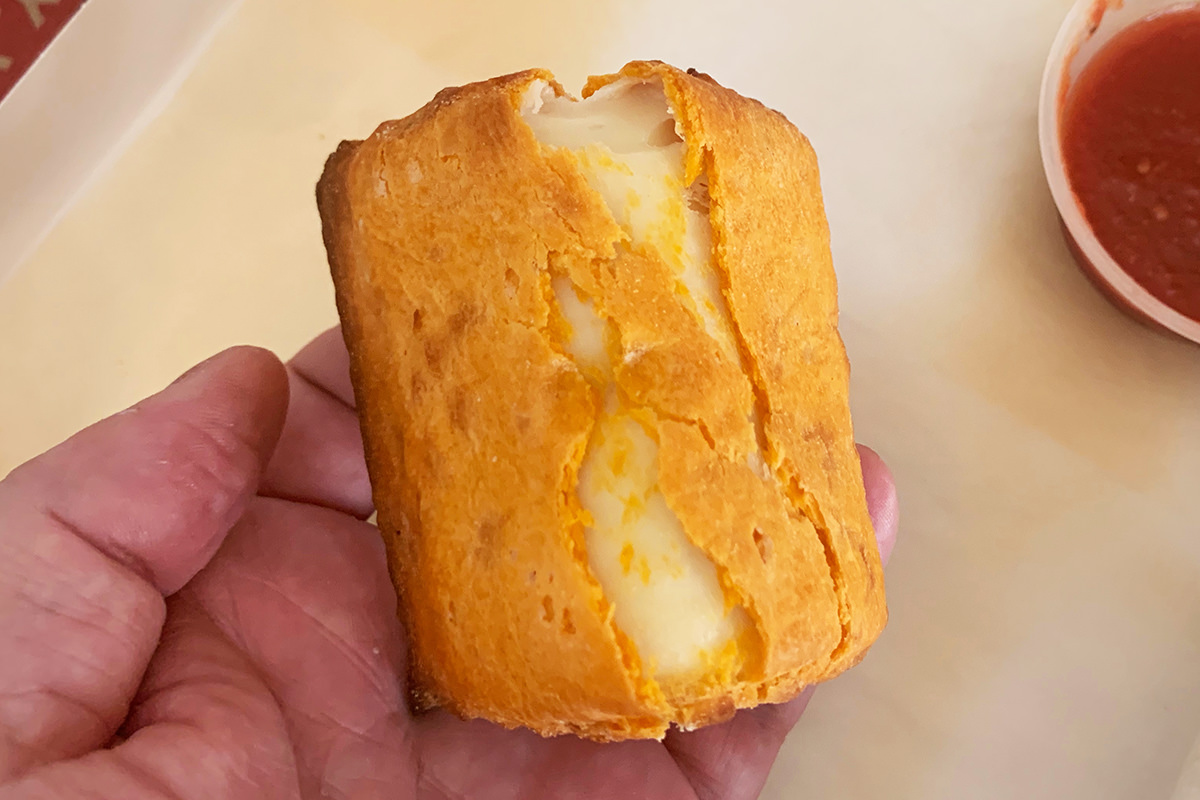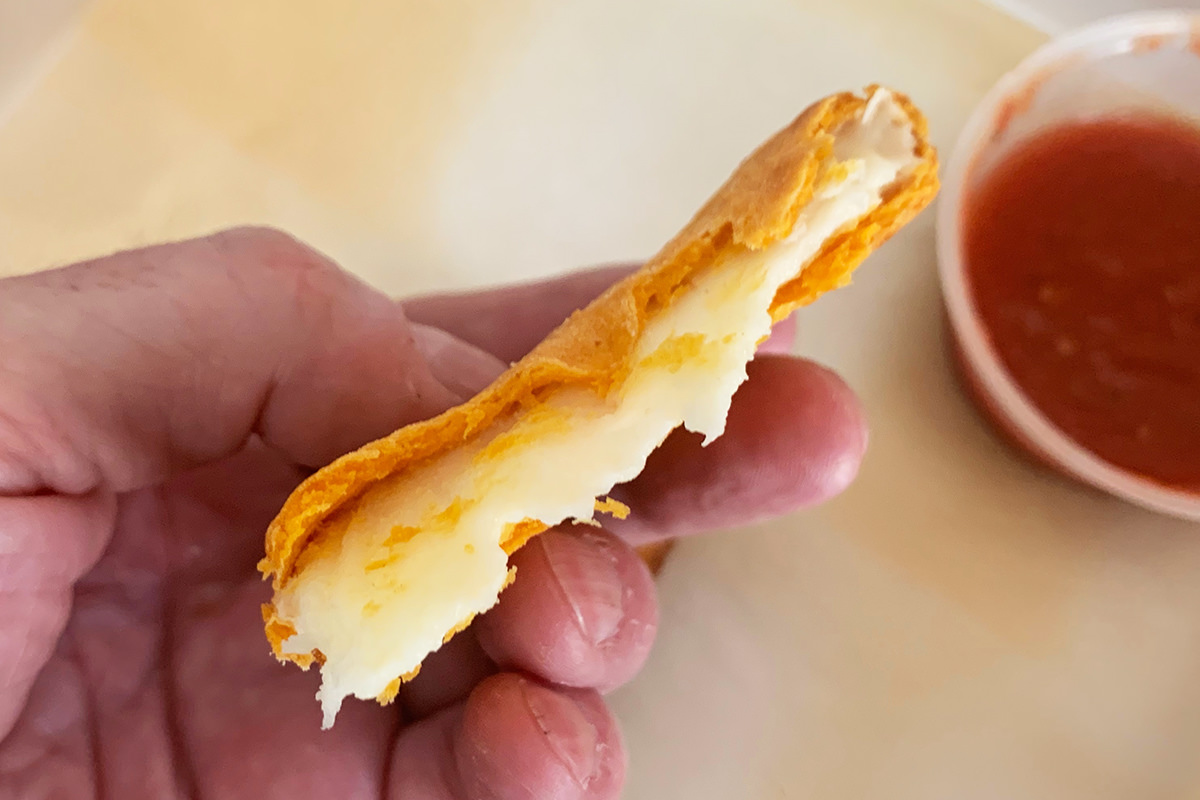 A few thoughts...
The CHEEZ-IT "cracker" is supposed to be a sharp cheddar. I wasn't getting that at all. There was a vague cheddar flavor, but mostly it tasted like flour.
The cheese inside is greasy. No real flavor... just greasy.
Eaten hot out of the box, they at least have a pleasant ooze to them. The second they start to cool, however, they are just a congealed mass.
Didn't Pizza Hut used to warm their marinara sauce? I thought I remember them ladling it out of a crock-pot like warmer. The stuff I got was cold. Not cool, but cold. Makes a bad experience even worse.
The price of $7.50 is outrageously expensive for how cheap these things are.
Overall I found Pizza Hut CHEEZ-IT Pizza to be a bit gross. I'd certainly never buy them again.
If I'm being honest, this was a bit shocking to me. After the amazing Cinnabon product launch they had, I was expecting something at least passably good. But this was a complete misfire on all fronts, and it has me questioning why Pizza Hut would risk serving up something like this. I was expecting another Doritos Locos Taco mashup that Taco Bell gave us... instead I got something that shouldn't have ever been sold in the first place.
Dave2 rating for CHEEZ-IT Pizza —







(7 bombs out of 5 stars)
If you want my advice, just go buy a brick of decent-quality sharp cheddar and a box of giant CHEEZ-IT crackers. It'll cost you less while giving you a much better eating experience.