Posted on Saturday, October 3rd, 2020

I cannot win with my cats.
In order to climatize them to the absurdly stupid tradition of changing the clocks twice a year, I always move the time in small increments the month prior to the change so it's not a shock to them. As you can imagine, the Spring is far, far more difficult because I am serving their meals progressively later. They do not like this.
You would think that being fed earlier in the Fall when D.S.T. ends would be something they love. And yet... not so much. THIS was their reaction to be woken up 15 minutes early for lunch today...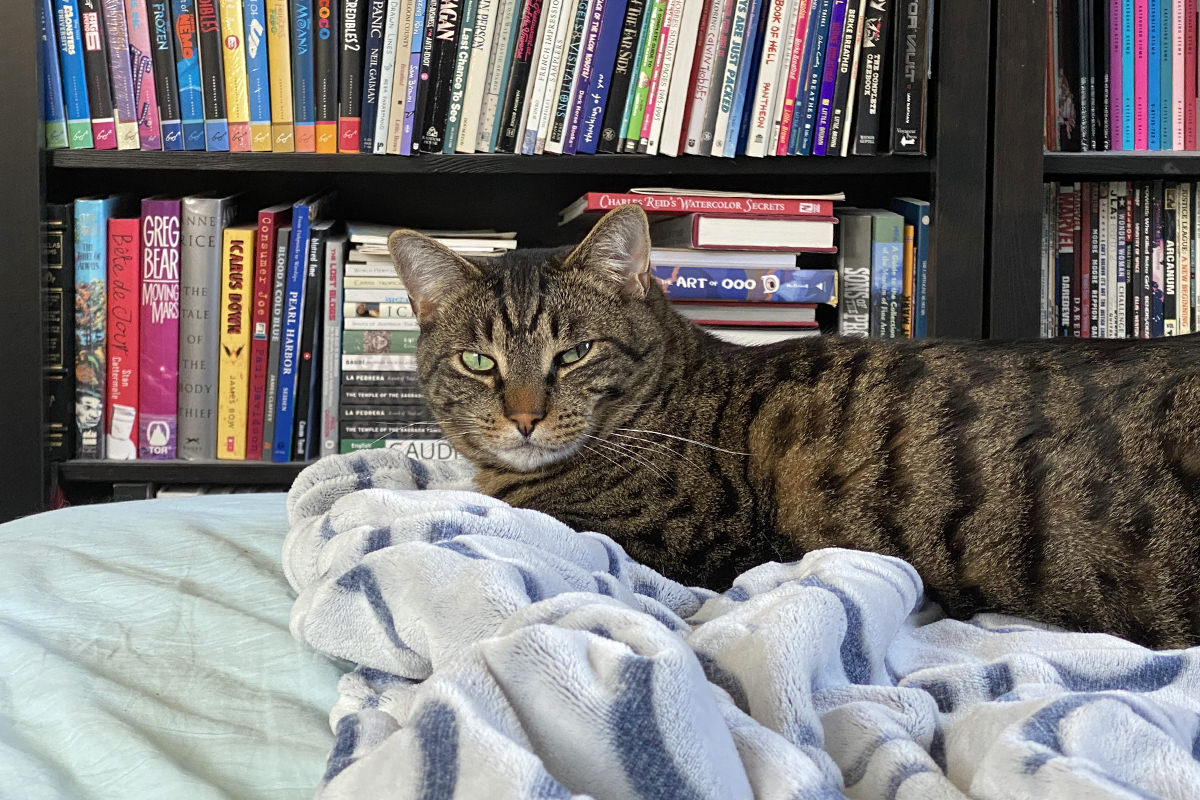 Usually when the feeder goes off? They bolt downstairs to scarf their little mid-day meal. But now? They just lay there glaring at me like food is the worst thing in the universe... then eventually saunter downstairs to begrudgingly eat.
I apologize to them, even though I hate Daylight Saving nonsense more than they ever could.
The time change (15 minutes a week for four weeks) has had a domino effect... ramping up the disdain for even thr smallest inconveniences. Take Jenny wanting to get into the laundry room, for example. The door is tough to open and close. Which is why I leave it open just a bit while washing clothes so it's easier to slide. Sometimes I leave it open a bit too much and Jenny is able to force her way in. But this time I didn't leave it open enough and she was pissed that she couldn't get it open. Pissed...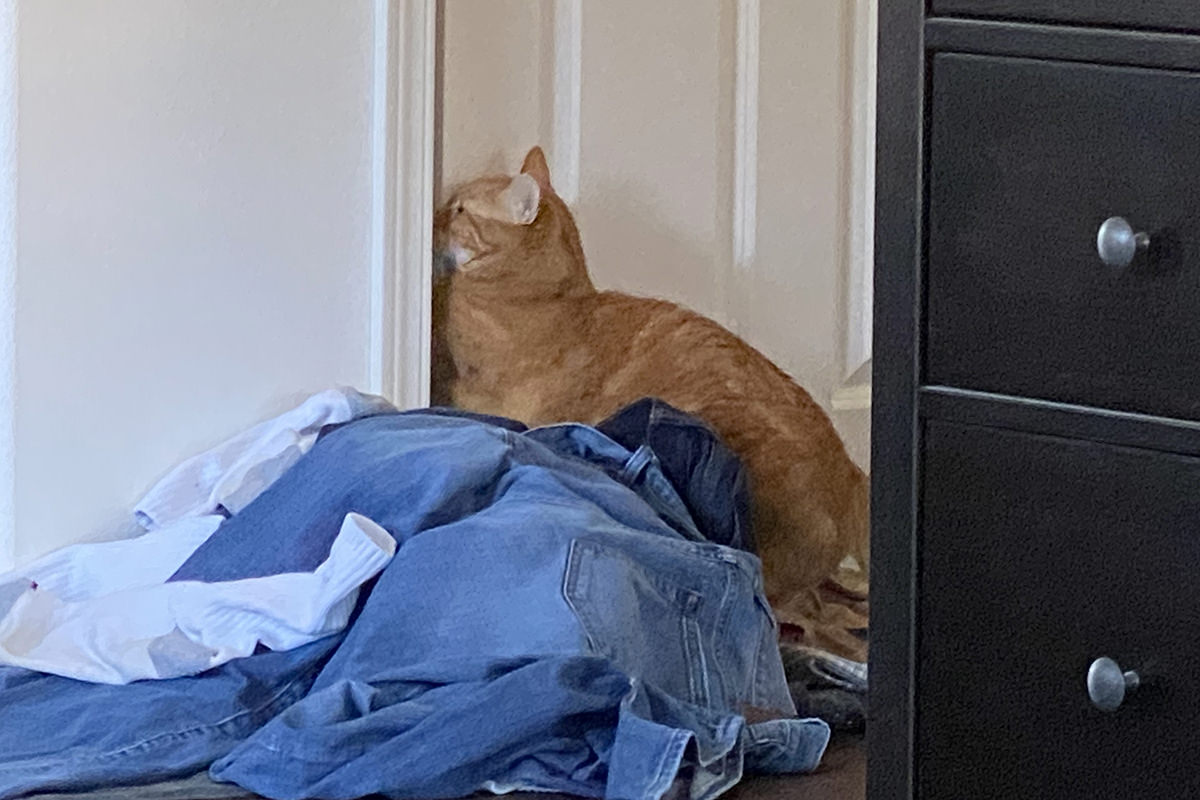 Here she is preparing to unleash a meow of frustration like she's never done before...
Fun!
There is a good thing about Fall arriving. I wake up every morning with Jake snuggled up to me. His favorite spot is behind my knees...
There are better ways to wake up.
But there are many, many worse way to wake up as well.
Posted on Friday, October 2nd, 2020

The world won't slow down even for a minute and it's so overwhelming that it's getting tough to know where to turn, what to do, where to go... and how to feel.
I didn't realize exactly how bad it had gotten until I tuned into the season finale of Ted Lasso and felt like bursting into tears two minutes in. As good and inspiring and hopeful as the show is... and it is 100% the best show of 2020... it's just ridiculous that a frickin' TV series should have that kind of effect on a person, right?
Well...
Maybe not. Because it ended up being one of the most sublimely perfect episodes to air on the silver screen in the history of television, and you wouldn't be human if you didn't feel like bursting into tears at least ten times while watching it.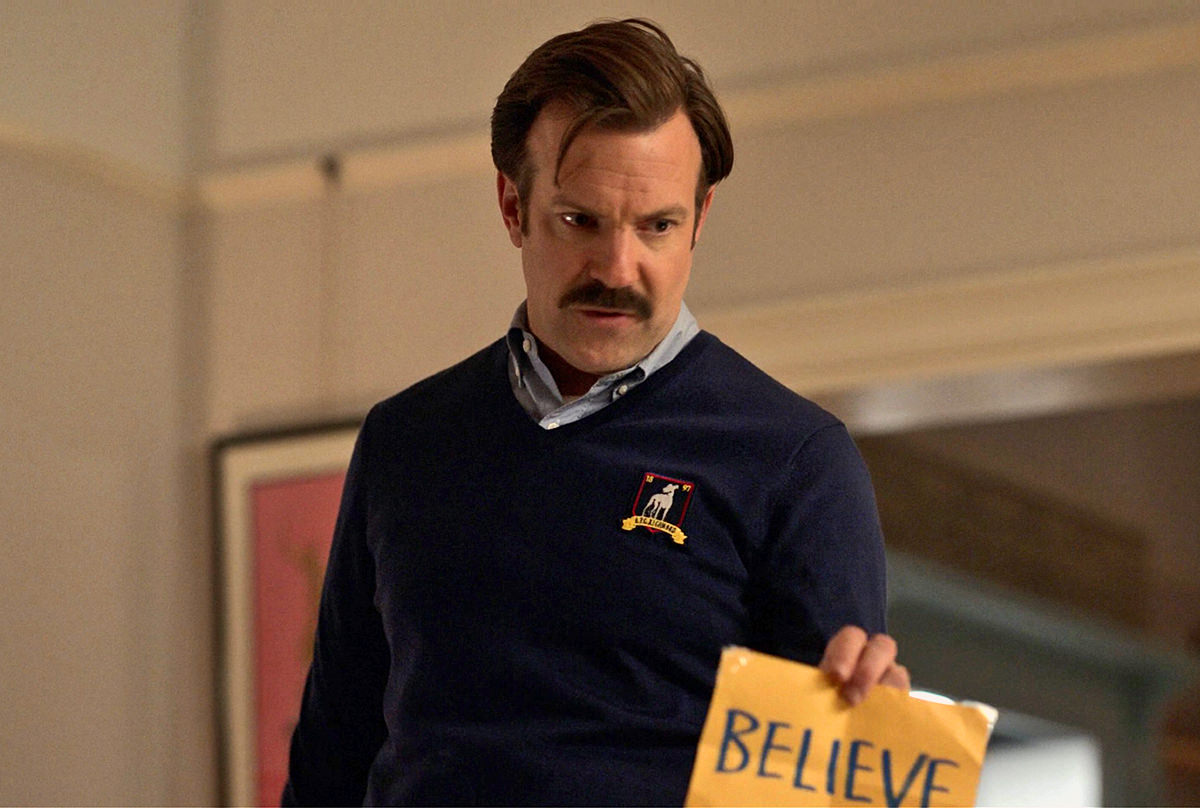 A bright spot in the pile of shit that is 2020 to be sure.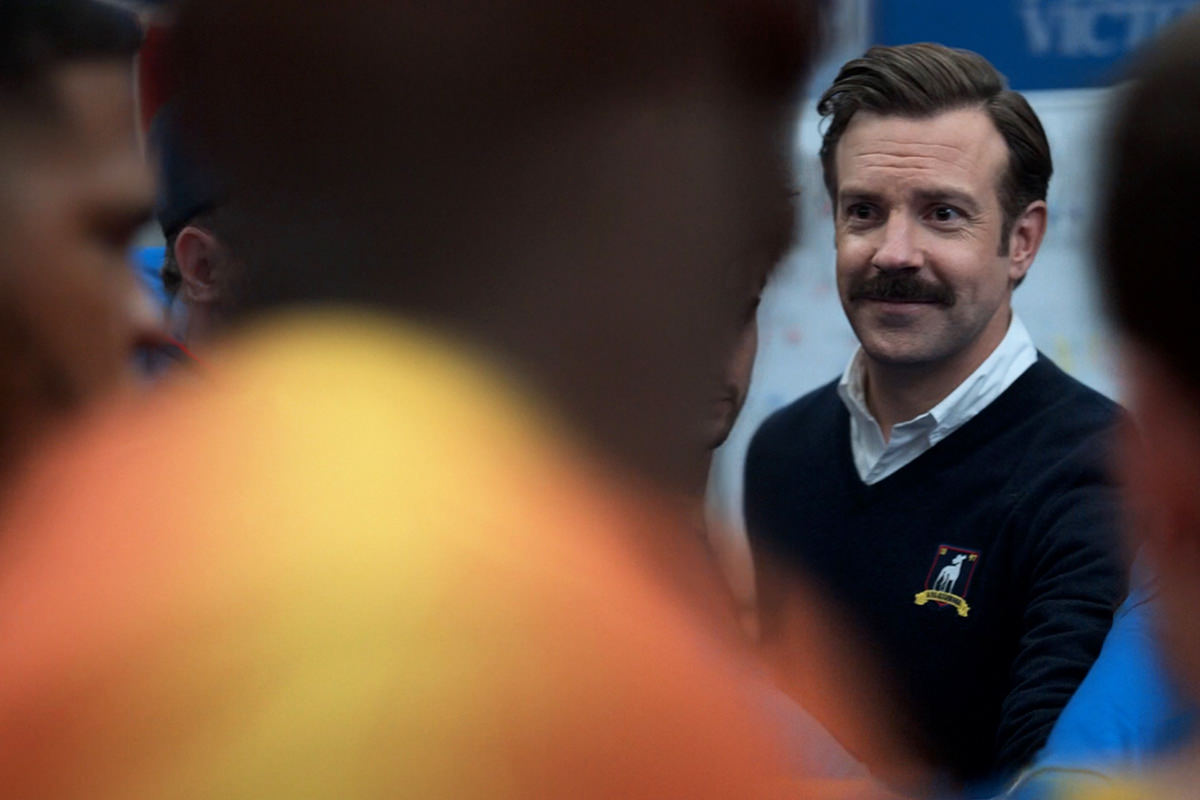 As for the rest?
Well... as tempted as I am to show President Trump and his Now-Revealed-to-be-Equally-Horrendous-First-Lady the exact same lack of concern and dismissive attitude that they have afforded the 200,000+ American citizens who have died from COVID-19 or COVID-19-related complications, I'd like to think I'm a better person than that. Because all I can think about is their fourteen-year-old son who has done nothing to deserve losing a parent... or contracting the virus himself... being yet another victim here. His dad may be blaming everything on China when he was ultimately the one to address how we dealt with a global pandemic, but what does Barron have to do with that? Was he the one to say "Hey, dad... I know that countries like Italy have been completely overwhelmed with death and destruction from the coronavirus and you might think we should be acting quickly to make sure it doesn't happen here... but can you instead lie to everybody and tell them it's a hoax that will disappear without us doing anything so that your billionaire friends have their stock investments protected at the expense of American lives?"
Of course not.
So, no. I absolutely do not wish death or harm on anybody here. Instead I'll just say "Best wishes for a speedy recovery Mr. President and First Lady Melania! I'm sure the exceptional round-the-clock health care afforded you both by your wealth and position will ensure you are safe as houses... even though it's a shame that you are doing everything you can to strip even the most basic healthcare from a great many American citizens whose lives you hold in your hands during this crisis."
Well, okay... maybe I do wish that President Trump loses his sense of taste and smell so he can't enjoy all that KFC and McDonald's that he eats... the asshole deserves it after what he's done to this country... but he's a human being like the rest of us and deserves compassion and our best wishes.
Not much of a human being, admittedly, but still... we're all in this together. GO TEAM AMERICA... BREAK!
Tags:
Apple TV+
,
Assholes
,
COVID-19
,
Fucking Assholes
,
Fucking Scumbags
,
News
,
Pandemic
,
Politics
,
Ted Lasso
,
Television
Categories:
Apple Stuff 2020
,
News – Politics 2020
,
Television 2020
—
Click To It:
Permalink
—
0 Comments: Click To Add Yours!
Posted on Thursday, October 1st, 2020

With television production shut down and the new television season pushed back for the foreseeable future, I've been turning to YouTube for entertainment while I work. There's just so much to experience. And since everybody else is probably in the same boat with running out of stuff to watch, I thought I'd go through some of my favorite YouTube channels that I watch regularly. I did this a while ago but wanted to update after I learned that Great Big Story is shutting down.
Channels I watch because I want to learn something. There are so many brilliant educational channels that it blows my mind, and I'm regularly linking to them in my Bullet Sunday posts. When I'm alerted that Veritasium has a new video available, I drop everything and watch immediately. Derek Muller breaks down science like nobody else, and his latest video is the kind of stuff I obsessess over...
There are many many learning channels I love. CGP Grey, Kurzgesagt – In a Nutshell, Johnny Harris, Doctor Mike... they all have cool stuff to open my mind towards.
Channels I watch because I just think what they do is so fascinating. Baumgartner Restoration is just video after video of Julian Baumgartner restoring fine art... mostly paintings. That alone would be amazing to me. But it's the things he develops to be able to do the work that blows my mind out of the back of my skull. He did a SIX PART SERIES on restoring a painting which was painted on wood. But before he even got to the point where he was working on the actual paiting, he had to use his engineering and fabricating skills to build a special table to do it...
Baumgartner is like some kind of renaissance guy who can do everything. And he has one of the most soothing voices and most agreeable personalities of anybody I've ever seen. There are few things I can watch which will calm my mind faster than Julian working on his latest project. Another brilliant channel for watching somebody make magic happen? My Little Bakery is filled with Nadia's incredible icing artistry and has to be seen to be believed. I mean...
Another fascinating thing to watch is Calligraphy Masters which was originally for learning calligraphy, but also features beautiful lettering art I can't get enough of. And then there's the cool stuff that Mark Rober does, which is about as fascinating as it gets.
Channels I watch because I love woodworking and home reno. My favorite hobby is working in my garage wood shop and doing my own home renovation. YouTube has been invaluable in learning how to do all this stuff. The channel I look at first is always Home RenoVision DIY where Jeff will give you all the dirt on how to get professional results from your projects and save money while doing it...
Another person doing God's work for learning renovation and home improvement is skateboarder Ben De Gros at Vancouver Carpenter. For pure woodworking, Peter Millard is another great channel. And I love Fix This Build That as well.
Channels I watch because I want to keep up on tech. My favorite tech blogger is Marques Brownlee. The guy is smart as hell, has a subtle funny streak that makes him fully relatable. He reviews the stuff you want to see, but doesn't get bogged down in too many details nobody cares about. I didn't see his Apple Watch Series 6 video before I bought mine, but I was livid when I finally got to see it because HE HAS THE WATCH I WANTED TO BUILD THAT APPLE WOULDN'T LET ME! A Project RED watch with a black band...
Marques may not want a red watch... BUT I DID! Except I couldn't get it with a black band. =sigh= If you're looking to majorly geek out to tech, Linus Tech Tips has been around forever and sometimes goes reeeeeally deep into the nuts and bolts of it all. And then there's Unbox Therapy, which is exactly what it says in the title.
Channels I watch because I want ideas for new things to cook. But many of them I watch because I just like to watch cooking channels. Especially foreign cooking channels where you can turn on auto-translated subtitles and see how masters of their craft work. Like De mi Rancho a Tu Cocina...
And if you love pasta, the artistry found on Pasta Grannies is remarkable...
There's also channels like Pro Home Cooks, budget-conscious cooks like Joshua Weissman, and exceptional bakers like John Kirkwood... the list goes on and on and on.
Channels I watch because I want to be more informed on Current Events. All media is biased. All of it! but when you recognize their biases you can use that to expand how you see the world. I'm not saying I'm going to watch Far-Right assholes or Far-Left assholes... that's just torture. But I'll tune into channels by those on the Right or Left if I think that they have something to actually say on a subject and aren't just parroting extremist talking points and don't consider their views to be above the facts. David Pakman is highly opinionated towards the Left, but not beyond all reason. Somebody who is labeled as Right, claims to be more Left, but strives to ride down the middle and distill information wherever it lands, is Joe Rogan Experience. Rogan gets a lot of hate from both sides, some of which is justified, but he has thoughtful commentary and does a really good interview. Here he is with Pakman and some fantastic discussion that really needs to happen...
There was another interview with Pakman which was equally good and equally important from this year (and highly disturbing in hindsight). Seriously. Tune into that.
Sure, Rogan skates on the edge of conspiracy theory sometimes, but the guy got me to change my mind on Bernie Sanders, and that ain't nothin'...
I love that there are conversations which can make me look at a person or an event or an ideology in a different way... or even change my mind. Joe Rogan's show is really good at this kind of thing. Even though I definitely don't always agree with him or his guests, I keep watching.
Channels I watch because I want to challenge how I see and live. I know that Russel Brand can be problematic. The guy has some views which I consider to be naive, impractical, and just plain bonkers. And yet... he is one of the smartest, most caring, most insightful humans on this planet. And he's hilarious. And it's because of this that I tune into every one of his videos. A third of the time I have to bail because the discussion is not something I'm interested in exploring with him, but the other two-thirds? Fascinating stuff. Take this short 12-minute video where he discusses the presidential "debate" fiasco we just endured...
Yep. Yep. Yep. I mean, Russel is more "big picture /slash/ in the grand scheme of things" here than he might should be... if you believe in a woman's right to choose (to throw out one example) then there is a huge difference between President Trump and Joe Biden getting elected. But is he wrong that our political system is primarily interested in self-preservation over addressing the needs of a diverse population and that the big-picture items won't change much because it's all run by people who only care about money? Fuck yes, he's right. Or, to be more accurate, he's not wrong. And it's not just politics and the hideous crap going on in the world today. Russell has a number of videos on self-help and personal growth that can be inspiring and helpful. Another channel along these lines is Rich Roll. It's not like he's going to convince me to adopt a 100% plant-based diet or become an endurance athlete, but Rich has some very good insight on living a healthier, most enlightened life and I enjoy hearing his thoughts.
Channels I watch because I want to see people being human. It's really easy to get disassociated from humanity even when there's not a pandemic. It's not good for us. It's not healthy for us. It's not fun for us. But it happens. So there are a few channels I subscribe to simply because I like to watch and feel more connected to people. Yes Theory is a good example. The crew there do things and go places and ponder ideas that are just so very... human, and I love to see it. Take a look at this video where Thomas visits the least-visited country on earth to see what I'm talking about...
God I love videos like this. How can you not? The crew's latest video is where they paid somebody to be their friend for 12 hours. The result was wonderful...
Another channel which is sometimes sweet, sometimes shock, sometimes stupid, but always human to a crazy degree is MrBeast, which I talked about here.
And there you have it! Some of my favorite YouTube sites! And I didn't even get to those sites that I watch just to be entertained. I guess that's a list for another time.
Tags:
Apple Stuff
,
DaveLife
,
News
,
Politics
,
Stuff
,
Technology
,
Travel
,
Videos
Categories:
Apple Stuff 2020
,
DaveLife 2020
,
News – Politics 2020
,
Stuff
,
Technology
,
Travel 2020
—
Click To It:
Permalink
—
1 Comment: Click To Add Yours!
Posted on Wednesday, September 30th, 2020

I stopped walking to work because of the pandemic. But I started again when I got my Apple Watch because it kept telling me to STAND and MOVE and EXERCISE.
It's also been a nice way of seeing new stuff since I haven't been traveling and likely won't be able to travel for quite some time. Yesterday, for example, I saw that somebody was giving away a bag of free play-food...
It looked like a lot of fun (TOY PIZZA!) but I figured there was likely somebody 1/6th my age who could make better use of it.
So... not too exciting.
But what is exciting is closing all my rings on my Apple Watch each day. You get a little fireworks show...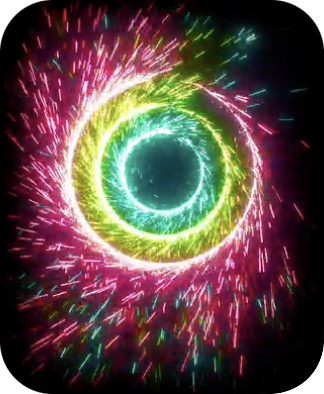 Yes, this is what passes for excitement to me now.
Yay!
Posted on Tuesday, September 29th, 2020

Welp.
That was stupid as shit.
I have to admit that I was only half-paying-attention to the presidential debate because it just doesn't matter. I'm decided. But if I wasn't decided? If I was supporting one or the other and looking for something to change my mind? Boy, I just don't know. Trump was a lying, abusive asshole, but that's what some people like about him. Biden was pie-in-the-sky vague about his ideas, but that's what some people like about him. Trump embraced white supremacy, but that's what some people like about him. Biden is straddling the center and embracing nothing, but that's what some people like about him. Trump is Trump, Biden is Biden, and they likely ain't changing anybody's minds about who they're voting for with this shitshow of a debate.
Over the years I have come to despise the Republican Party and the Democratic Party in equal measure, but the Republicans gave us our current situation, so I despise them more. They have embraced persecuting people I care about, so I despise them more. They have given everything to wealthy elites while fucking over the poor and middle class, so I despise them more. Republicans have seriously lost their way, lost their humanity, and lost their ability to control what they're supposed to stand for, so I despise them more.
And so Republicans lost my vote because I would never vote to reelect President Trump or anybody in the party who supports keeping him in office. And it fucking sucks that Biden and the current crop of Democrats are where my votes go.
Holy shit do we have to get rid of this fucked-up, disgusting, anti-American two-party system which has hopelessly fucked this country. Ranked voting has got to happen to give third parties a chance. Maine is playing around with it this election... which is nice, but it hasn't a prayer of changing anything so long as Republicans and Democrats ultimately control our political landscape.
In order for ranked voting to ever make a difference, the Republican Party and Democratic Party will have to get behind it. And I think we all know that's never going to happen. The only thing that the Republican party and Democratic party hate more than each other is the idea of somebody else getting a piece of the pie.
Posted on Monday, September 28th, 2020

I've posted a couple times about making my own burritos so I can freeze them, microwave them, and serve up a tasty and convenient meal. Plus it can be healthier and far less expensive than buying them pre-made at the grocery store.
The problem is that I have never found a way to make and freeze breakfast burritos. When you microwave them they end up tasting horrible. The eggs are awful. The potatoes are awful. The salsa bleeds into everything. It's a gross, rubbery mess.
And so you have to make them fresh every time.
It's not a big deal, really. Scramble some eggs, cook up some tater tots, get out the cheese, salsa, and sour cream. Fry up some fake meat or real meat if you want it. Then slap everything together in a warmed flour tortilla.
So, not a big deal... but more of an ordeal than I want to mess with.
How I compensate is by making them every morning for an entire week. Once you get the process down and have all the ingredients grouped together in the refrigerator, it's easy to just stick with it.
I've just my eighth straight day of breakfast burritos and I think I'm done.
Until the next time.
Now I have to figure out what breakfast food I'm going to get addicted to next so I can get sick of it and have to find something new again. It's a vicious cycle.
Sorry, but thanks to the COVID pandemic and the fact that I can't travel, this is the kind of thing I have to blog about now.
Posted on Sunday, September 27th, 2020

September may be coming to a close, but not everything has to end... because an all new Special Video Edition of Bullet Sunday starts... now...

• Yikes! Need to be filled with awe and wonder today? Need to be filled with awe and wonder while shitting your pants? Well here you go...
There are some places you'd swear that man was not meant to go. Which is why they go, I suppose.

• Panda! Think wrangling kids is tough? Try looking after pandas...
It's the cutest kind of mischief, I suppose.

• Circles! I may not like a lot of Posty's music... but this song and video are sublime...
That he had a hand in writing it as well just makes it all the mor impressive a track.

• Hello! "912, what's your white emergency?"
If. Only.

• Enola! Looking for something good to watch? Netflix has a movie about Sherlock Holmes's teenage sister, Enola Holmes...
Really, really hope that we will be getting a sequel.

• Ted! Dang. Apple TV Plus is finally releasing shows compelling enough that I may actually want to pay for it when my free subscription runs out. Mythic Quest, Central Park, and Long Way Up are great television. But Ted Lasso is next level. Funny, sweet, and surprisingly deep... it's sure to make my Best of 2020 list...
And to think... Foundation is still on the way!

There it was... that was the last bullet for September.
Posted on Saturday, September 26th, 2020

Given how Jake is the cat that's a little chonky, you'd think that he would be the one constantly begging for food and first to the bowl when the automated feeder dispenses a snack. But, nope, that would be Jenny.
When the automated cat feeders goes off, she is first to her bowl. And every time I go to the kitchen, she comes running no matter where she is because she's hoping for a treat. It's like she spends her entire day waiting for it to happen. And when I don't give her a treat? Let the meowing commence...
I mean, she is the sweetest, most loving and gentle kitty you'll ever meet. But when she is expecting a treat and doesn't get one?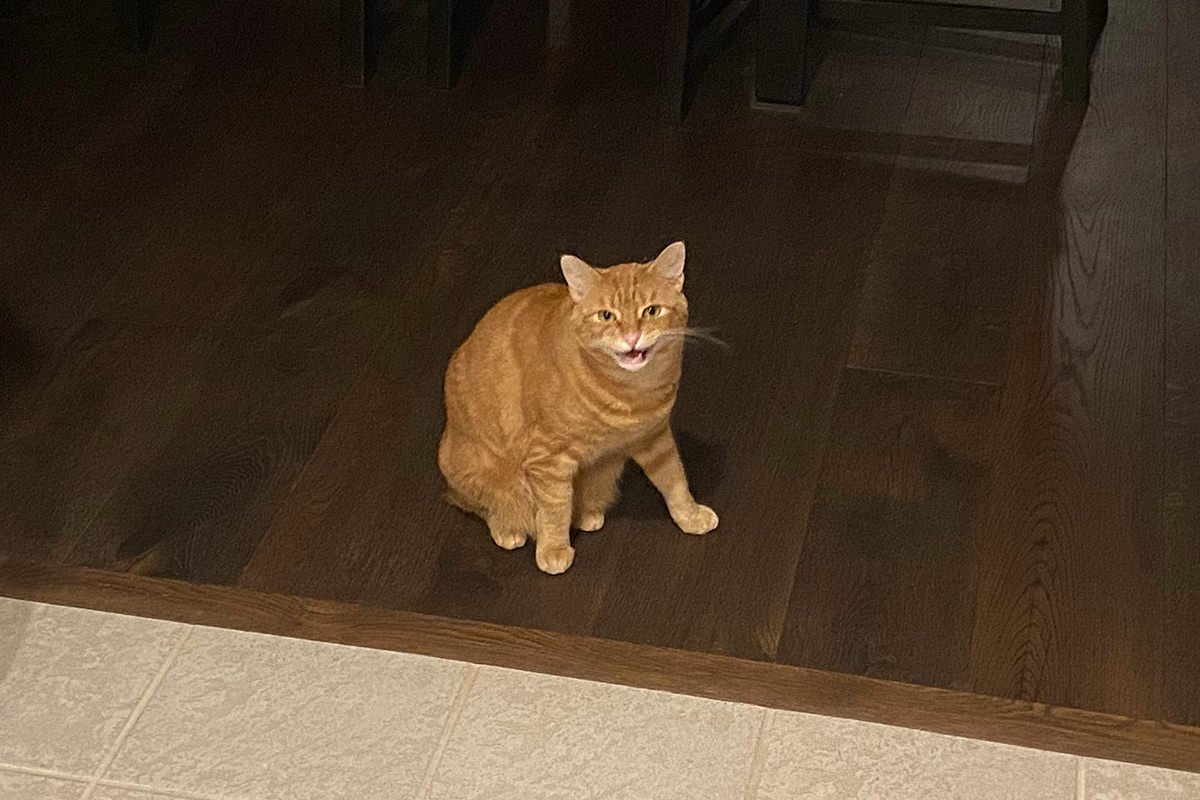 As the weather gets colder, Jake is more inclined to use me as a heating pad. How I don't wake up when he's crawling all over me is a wonder. I finally started putting a pillow out so he will lay on that instead of on me...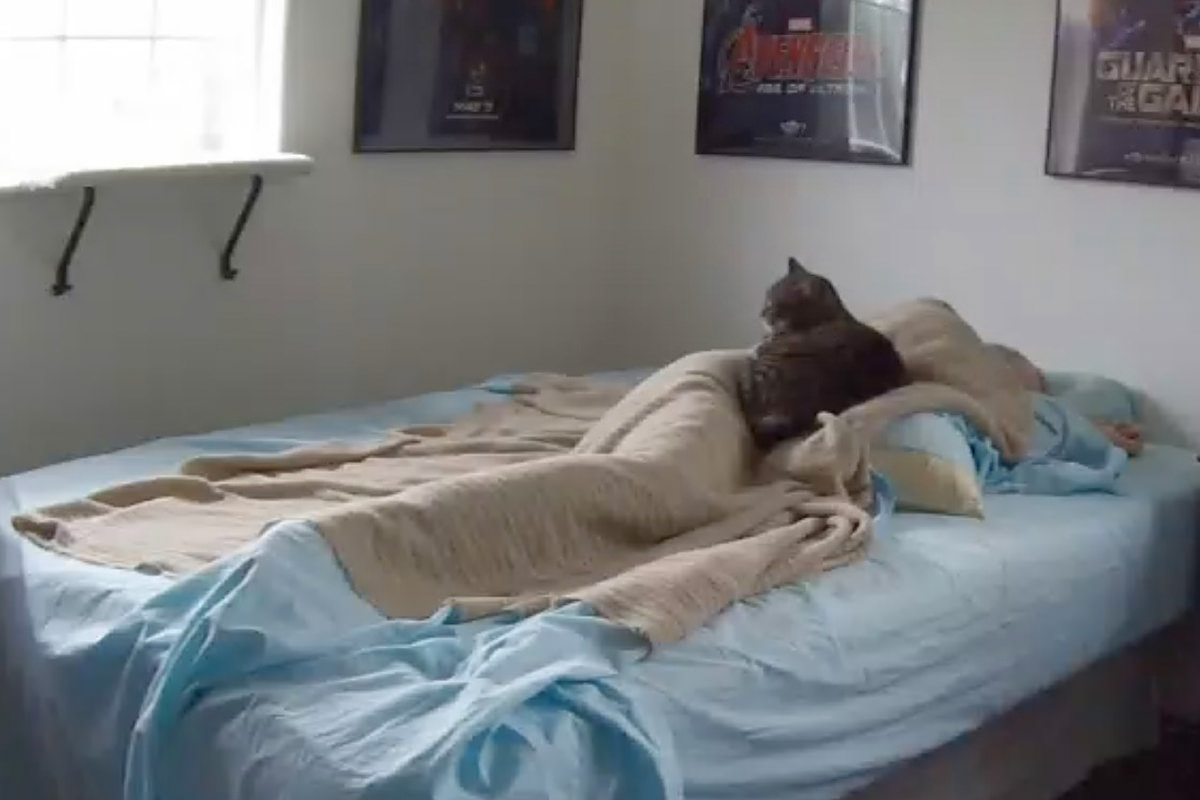 But it is fun waking up and finding him there. He's such a sweet boy...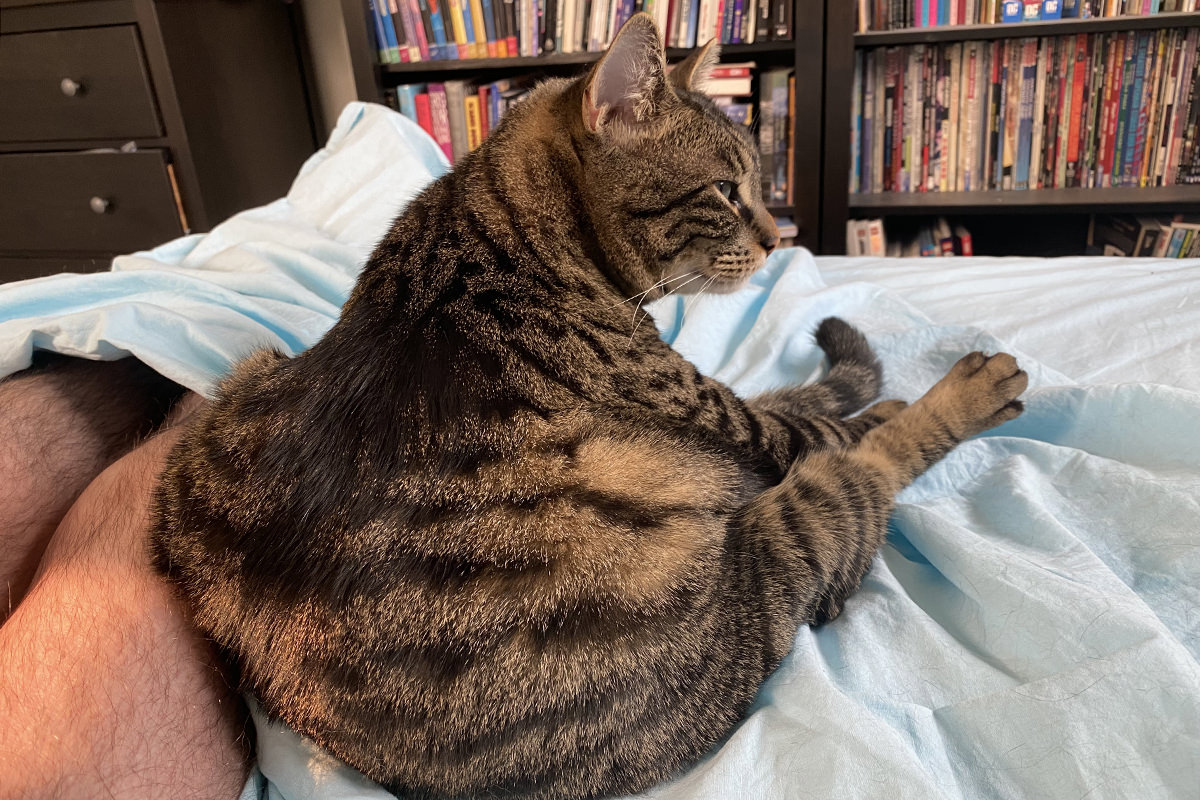 Always happy to remind me I need to take a break from work...
Always happy to remind me that cats love boxes, even when their flat...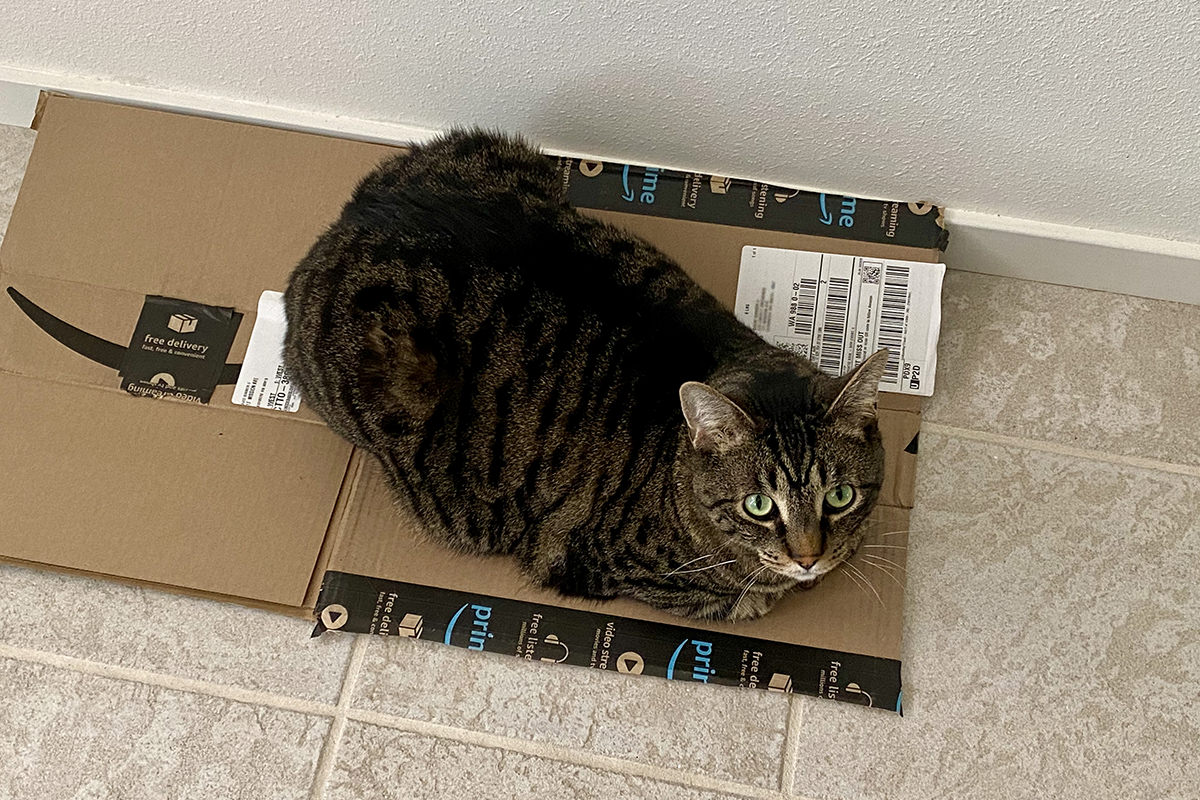 In other cat news, there's a new cat in the neighborhood. My cats are not happy about it. Whenever the cat comes to visit Jake goes running out howling and Jenny goes running out hissing her most intimidating hiss. But the guest cat? Isn't the least bit phased. He just stands there...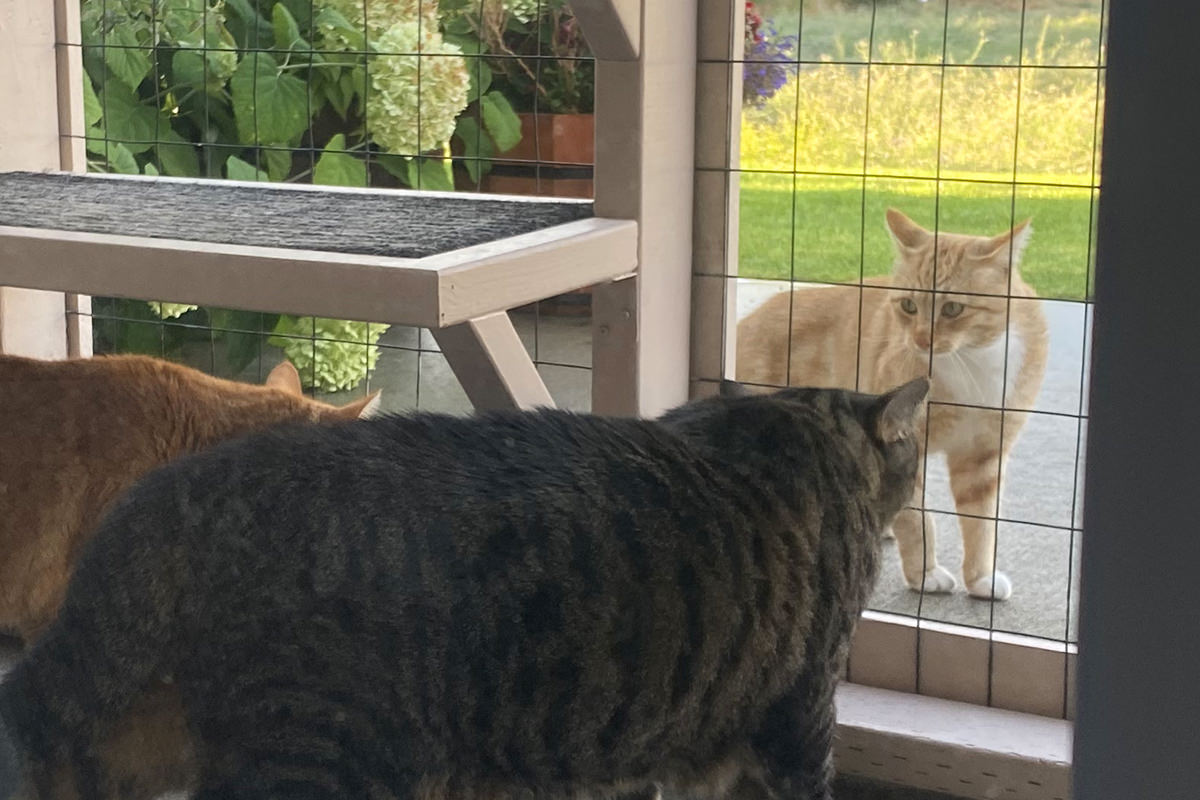 Eventually he gets bored of Jake and Jenny's drama, so he turns and sashays away...
Speaking of the catio... the afternoons are perfect weather right now. Not too hot. Not too cold. And even when it was pour rain out earlier this week, they can't get enough of it. The view from my window is often this...
And that's my Caturday.
Posted on Friday, September 25th, 2020

After living with my Apple Watch for an entire weekday week, I thought I'd revisit the thing while stuff is still freshly accumulating in my head. If you haven't read my initial impressions, you can find that here.
Shall we begin?
SURPRISE
My Apple Watch is surprising me daily. When I bought it, I fully expected that the only reason I'd be using it would be for the health risk stuff. A safety net for my declining years, as it were. That hasn't been the case at all. It has proven useful in a number of areas, most of which you can't anticipate before having one on your wrist. After ordering, there was a part of me thinking it might be returned to Apple. Now I don't want to live without my Apple Watch! Good on you, Apple! Another surprise? There's already an update out...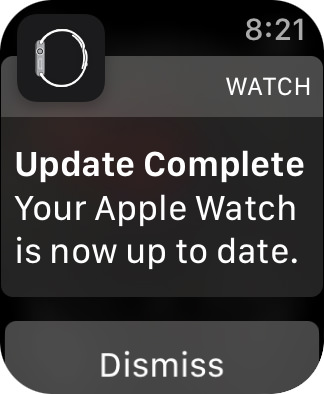 The notification that an update was available popped up on my iPhone, and it's your iPhone which downloads and installs it. Pretty easy and seamless.
DATE?!?
Once the "newness" had worn off... let's say, Day Two... I was looking for things my watch could do for me. I rarely need to know what time it is, but I am constantly needing to know what DATE it is. I tried adding it to the various watch faces I had set up, but it proved impossible. Most faces don't even have an option to display the date... A BASIC WATCH FUNCTION FOR FOREVER. But even the watch faces which do, don't seem to work. "Infograph" makes you THINK it can display the date. All you have to do is turn it on, right?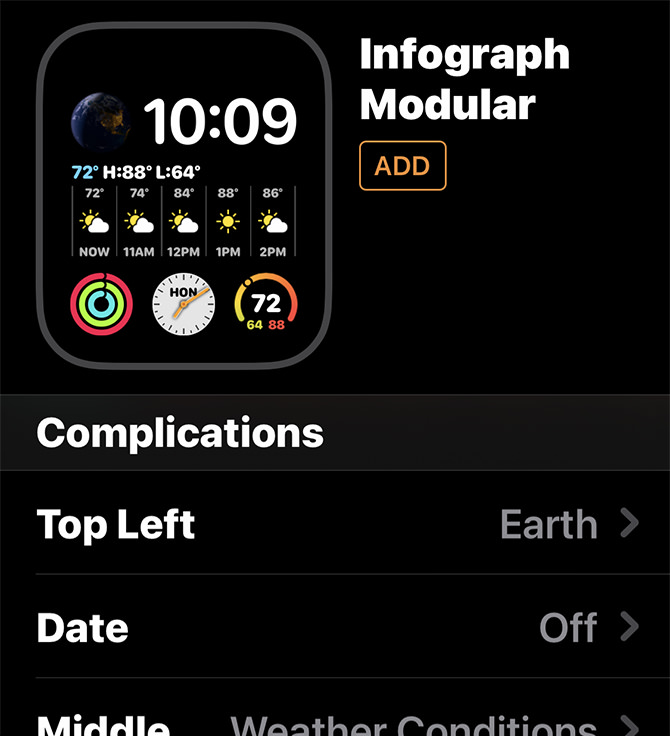 Not so much, no. Even if I turn off every other option to make room for the date, there's no way to turn it on. Just a way to confirm that it's OFF...

This is the most inexcusable, inexplicable disaster for a watch imaginable. How in the hell can you not tell your watch... IN ANY CAPACITY... to display the damn date? Apple Watch can tell you your blood oxygen level, can make phone calls, but can't display the date? Is ANYBODY at Apple paying attention? Do you know how I finally got my Apple Watch to display the date? I PAID TWO DOLLARS TO PURCHASE A "COMPLICATION" CALLED "BETTER DAY"...
Once installed, Better Day can add the date to any watch face which allows "complications"...
Including Mickey Mouse...
As an added bonus, you also get a full month calendar when you tap on the date...
Apple CEO Tim Cook must be out of his damn mind to allow this idiocy to propagate at his company. Does he even wear an Apple Watch? If he does, he must not care about what day it is.
UNLOCK
After a couple days, all three of my Macs dropped an alert asking me if I wanted my Apple Watch to automatically unlock them. I thought "Well that's nice!" and agreed. The model MacBook Pro I have includes a little fingerprint sensor for unlocking it that's easier than typing a password, but the Apple Watch unlock is even easier. Press a key to wake it up... and you don't even see a login screen! It's just... ON... and ready to go. Ditto for my other Macs...
The watch makes a little "clink" unlock sound once your Mac has been unlocked. Very cute. This is exactly the kind of thing I'm talking about when I say "I don't want to live without my Apple Watch.
INPUT
Since I've always got my iPhone on me, I did not anticiapte ever using my watch for anything requiring text input. But that hasn't been the case at all. My iPhone is often left in my backpack now. It's just so much easier to use my watch for simple text replies and such. There are third-party keyboards you can buy, but Apple's built-in "Scribble" is pretty great...
I'm not saying that I would type a letter on it, but I do use it for text more often than I imagined I would. It's quick, easy, and accurate.
SOUND
I was anticipating my Apple Watch telling me that the sound level is dangerous to my hearing when I'm at a concert or something, but the other day I got this alert... in the shower...
Perhaps water droplets hit the microphone or something? Bizarre.
OXYGEN
And so... guess this whole "masks cause hypoxemia" idiocy can be verified as bullshit by scientists... medical professionals... and now me. I tested my blood oxygen level several times during the day. Seems my "normal" is 97% (though I sometimes hit higher). That's what I keep getting. Including this morning at 10:12am...
It was also 97% immediately after a brisk walk home from work... WEARING DOUBLE MASKS AS I ALWAYS DO IN CASE I RUN INTO SOME RANDOM STRANGER ON THE STREET...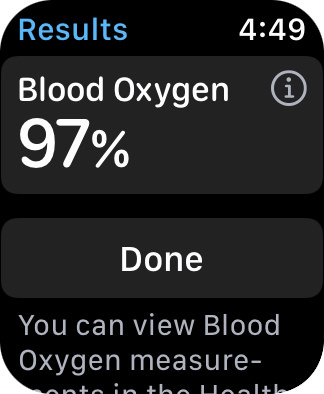 So there. Maybe all the scientists and doctors of the world are totally lying to us all the time... but you can totally trust me to tell the truth! OR CAN YOU? You may never know for sure.
RINGS
For somebody who's not fitness-oriented, I didn't think that Apple's fitness goal tracking was going to be something I cared about. Turns out I was really wrong about that. Once I started paying attention to how much I MOVE, EXERCISE, and STAND, I was caring quite a lot about closing my "fitness rings" each day. It doesn't hurt that my watch is spurring me on with inspirational messages and congratulating me as my rings close one-by-one...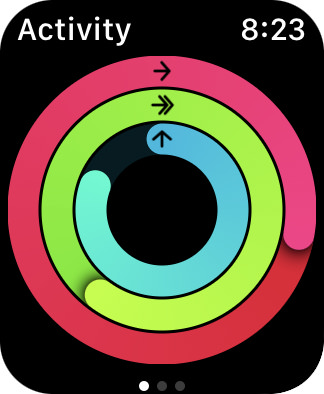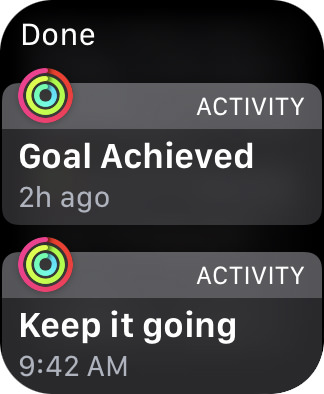 I haven't thought much about the Fitness Achievements you can earn... that may be going too far for me... but who knows? Maybe one day getting all these checked off will be something I feel like doing...
What I'm hoping is that Apple Watch will make me want to do more and more exercise, which can only benefit me health-wise. But even if that never happens I'm still much better off than I was by having moderate fitness goals instead of no goals at all. Thanks, Apple Watch!
STAND
One of the three parts of Apple's fitness ring theory is to "stand" 12 hours a day, and Apple Watch will give you regular reminders to do that...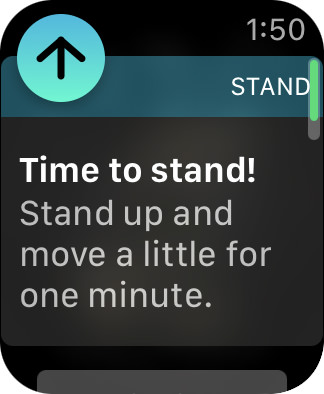 This is a weirdly large amount of time and makes zero sense to me. Unless I change to a standing desk (which is something I hate) I will never make this goal. And so I dropped it down to a more manageable 8 hours which I can meet if I get up and walk around when my watch tells me to. That's probably a good thing since sitting or laying down for too long can contribute to health problems.
BREATHE
My Apple Watch was pestering me to "breathe" a couple times a day. At first I was like "Pshaw. I'm already breathing! Leave me alone!" But then one day I decided to humor the watch and just do the breathing exercise it's been asking me to do. It's only a minute of my time, so what's the big deal...
I was surprised that my heart rate was 92bpm during an exercise meant to calm and center myself, but I have to be honest here... it was a really nice little break during my day! And so now I am taking a breathing break every time my watch wants me to. I'm totally into it, and think it's absolutely beneficial.
SLEEP
I touched on this in my first impressions, but the more I have to deal with Apple's absurdly stupid "sleep tracking" feature the more outraged I get. Apple Watch will only track your sleep during a set period of time that you have to tell it. Contrast and compare this inflexible nonsense on a $400 (minimum!) Apple Watch... with a $25 Wyze Band. Sure, the Wyze Band isn't as accurate, but if you were forced to have it be on a sleep schedule it sure would be! I just randomly set a schedule because I have to... even though I'm rarely in bed by 11:00pm...
It's just so bad! If you have a variable sleep schedule? Too damn bad. You have to go in and manually change your sleep schedule and risk losing sleep data when you do EVERY TIME! If you have to get up early for a trip? Too damn bad. Your watch is scheduled to be asleep during this time since you're scheduled to be asleep, so you have to force it awake in order to even use it. Have to stay up late? Too damn bad. You told your watch you would be sleeping, so it's asleep now and you have to force it awake in order to use it. Want a nap to count towards your sleep? Too damn bad. There is no way to tell your watch that you're sleeping outside of the schedule you're forced to set. And it just gets worse from there. Once I went to bed after midnight (something I do a lot) and my data was posted on the following day's sleep. Which means the data from that night didn't post at all because Apple Watch thinks I had already been to sleep? I cannot express in mere words just how jaw-droppingly crazy this all is. Trying to get a handle on my insomnia was something I was fully expecting to accomplish easily on an Apple Watch. Turns out that unless you go to sleep AT THE EXACT SAME TIME EACH NIGHT and get up AT THE EXACT SAME TIME EACH MORNING, Apple's way of doing things won't work for you. At least not very well. At the absolute bare minimum Apple needs to add a "complication" button which allows you to manually tell Apple Watch you're sleeping. That's a lot more work than I was planning on putting into sleep monitoring... but it's better than the worthless pile of crap Apple's handed me now. This is a 100% FAIL! on every possible level.
BATTERY
Turns out the battery longevity /slash/ charging stuff I was complaining about wasn't quite the issue I made it out to be... for me! If you are using the watch a lot... and using it for extra tasks like listening to music or texting all day long... then the use/charge disparity is likely still a problem. As for myself, I charge my watch to 100% every night around 9:00pm. It takes anywhere from an hour to an hour-and-a-half, and then I'm good to go. My iPhone alerts me when it's done charging and I can check the battery level and charge status there any time...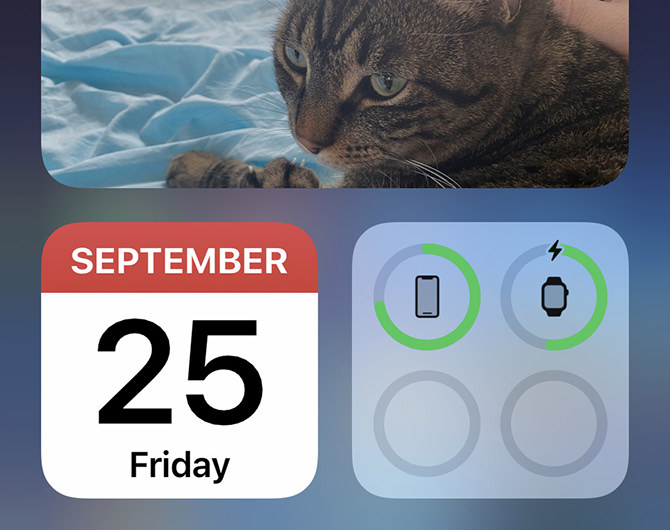 When I wake up in the morning I've got around 75% battery left, which keeps me going until I charge at 9:00pm again...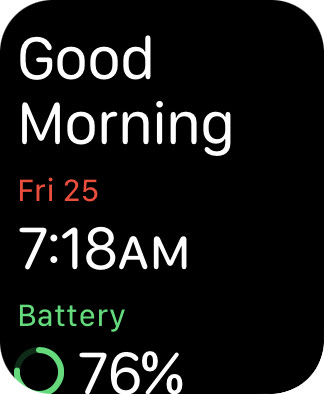 This is a huge relief, because the idea of having to charge the battery twice a day in order to use the sleep tracking was a major sticking point to me. I guess Apple was being conservative with its battery life estimate and trying to factor in people who use their watch a lot more than I do.
BAND
Welp. My Solo Loop watch band went from being a little too snug... to being just perfect... to now being a little loose. OVER THE COURSE OF FIVE DAYS! I am understandably worried that it's going to continue to loosen over time, which would suck since that means the watch will float up and down my arm instead of staying in place. What sucks is that you only get 14 days to return an item to Apple. By the time I know if it's going to be too loose for me to keep using it, the return period will be over. Hopefully Apple will consider this to be defect if it's not the size I ordered after a month or two. Guess we'll see. I sure love not having to buckle/unbuckle a watch band.
LYD
If you have a SONOS system, Lyd (which means "sound" in Norwegian) is a must-buy app for your Apple Watch. For only $2 you gain control of your SONOS system, and its abilities are far more extensive than I had expected. Everything from volume and track fast-forward/rewind to playlists and speaker group management...
You can even record a message on your watch and play it on speakers around your home! Fantastic work all the way around. It can also be used as a "complication" so it's ridiculously handy to immediately be able to access SONOS control from your main watch face. Congratulations to Alexander Heinrich for making me love my Apple Watch even more than I already do!
WISH-LIST
It hasn't been a week yet, so I'm still discovering how my watch can help me through the day and what it can do for me. I'm also still discovering things I wish it did (or did better) and am keeping a list...
WiFi Indicator Complication. It would be nice to see at a glance if my Apple Watch is connected to WiFi without having to swipe up for control center. Important info like this should be avaiable at a glance with no futzing.
FIX SLEEP TRACKING! Seriously. This is insane. Sleep monitoring on a $400 Apple Watch is crappier than what you get on a $25 Wyze Band. Embarrassing.
ADD THE DATE! The fact that I have to spend an additional $2 to get the damn date on my watch is absolutely bonkers. AGAIN, THIS IS A $400 WATCH!
Matching Accessories. I am still very, very raw that the "black" band is shown as matching the warm tones of my Space Grey watch on Apple's website... but the band you get is blue-toned and doesn't match at all. It's horrifying that an overly-image-conscious company like Apple is okay with this. Somebody on quality control was asleep at the wheel, then Apple lied to customers by Photoshopping the band color on their website. Not cool at all for something that costs FIFTY DOLLARS!!! Bait and switch bullshit.
Watch Face Builder Kit. Come on. Here we are at Series 6 and we're still stuck with only the faces Apple dictates we get to have? Granted they are beautiful and highly customizable, but I want to build MY OWN faces. Is that really too much to ask? At the very, very least Apple should allow third-party faces to be sold.
There will be more to come, I'm sure.
GOING ON ONE WEEK...
On one hand I'm sad I waited so long to jump on the Apple Watch bandwagon... it's just such a hugely useful and handy piece of tech to have. On the other hand, it's nice that I jumped on with Series 6 because some of the things I really love about having an Apple Watch are recent additions to the hardware. The good news is that this was the last piece of the Apple ecosystem I was missing, so I guess my status as a Certified Apple Whore is still in good standing. At least until they release Apple Glass, which is something I'm really excited to see happen.
Posted on Thursday, September 24th, 2020

I live and die by my planning calendar, and absolutely everything gets entered there no matter how big or small. Usually it's a lot of travel. Dates I'm gone. Where I'm at. What my flight times are. Where my hotel is. What rental car company I check into. Any appointments I've got. This year, of course, there hasn't been any travel, so my calendar is mostly empty.
Except for those plans that I made before the pandemic that are still on my calendar and didn't get deleted. This morning I got an alert that the New Order and Pet Shop Boys concert I'm attending is coming up this Saturday.
Except it's not.
The concert, along with so many other things in my life lately, has been canceled.
Or, to be more accurate, it has been rescheduled, which is how TicketMaster wants to play it so they don't have to refund tons of money for all these canceled events. This is a bummer because I've never seen New Order perform live and have always wanted to... but less of a bummer than being in the audience with potentially hundreds or even thousands of COVID-infected attendees.
And now I'm off to make breakfast burritos for dinner. I had them last night and they were so good that I couldn't not have them again this evening. Scrambled eggs, tater tots, cheddar cheese, and salsa in a flour tortilla with sour cream and more salsa on top. I would add guacamole as well, but the batch I made yesterday is gone.
The guacamole, along with so many other things in my life lately, has been canceled.