Posted on Thursday, July 21st, 2022

It's always sobering when you find out that the something you've enjoyed... or even mindlessly acknowledged... has a dark story behind it. Songs that are rooted in racism. Movies built around homophobia. Books written with misogynistic undertones. The list goes on and on. And most times you never know about these stories because it's well-hidden or omitted.
Take, for example, the Woman Yelling at a Cat meme. It's everywhere on the internet, and many of them are hilariously funny...
But, like so many things, what's behind it isn't that funny. I never watched The Real Housewives of Beverly Hills so I never even knew who the woman is in these things.
Well here she is, and her story is triggering for domestic abuse...
Which just goes to show... you never know.
All I know is that I won't look at these memes the same way again.
Posted on Wednesday, July 20th, 2022

I begged my doctor for an appointment to deal with this non-stop cough. His office took pity on me, and worked me in tomorrow. Thank heavens. Because three hours of sleep each night is not sustainable.
Something else that's not sustainable?
Housework.
I am so busy with work and everything else in my life that finding time to clean up my pit of despair (AKA my home) is almost impossible. Usually this is a task for my weekend, but it just hasn't been possible so I've been doing a little bit here and there when I get home from work during the week.
MY CATS DO NOT LIKE THIS!
Tonight I decided to deep clean my downstairs. That's when I pull out the corded vacuum (which is far more powerful than my cordless) and steam clean everything. This is something I do once a month because I have cats wandering around. And while they are actually very clean animals, they also dig around in a litter box and shed everywhere.
So I turn on the vacuum and the cats go bolting upstairs to flee the noise. I then pull out the steam floor cleaner, which my cats hate even worse because of the hissing sound it makes. I have separate pads that I use on it... one for the kitchen, one for the cat feeding station, one for the living room and guest room, and one for the bathroom. That way I'm assured that I'm actually cleaning instead of transferring filth from one place to another.
In-between changing pads, Jenny comes marching downstairs... meows at me... then runs right back upstairs.
I guess this was her letting me know just how mad she is about my need to have a clean house.
But hey, I'm not exactly thrilled about it. I just wasted hours on housework that I could have spent doing something I enjoy.
Though then I'd be freaking out because I hadn't done a deep clean and probably wouldn't have enjoyed myself much anyway. So I guess it's a wash.
So to speak.
Posted on Tuesday, July 19th, 2022

Today was a long, long, very long day at work. I started at 5:30am, finished at 1:15am, and only stopped to each lunch and dinner (plus bathroom breaks). So... nineteen hours, give or take.
I think it might actually be tolerable if I was able to get some sleep, but for the past three weeks my allergies have been in overdrive, which means I'm coughing my fool head off most of the night. Interestingly enough, my cats have become so accustomed to it that they don't even flinch when I'm hacking up a lung. Quite a change from the days when they would dart under the couch or run upstairs and hide if I were to so much as clear my throat.
As if the coughing and lack of sleep wasn't bad enough, I seem to have been locked out of my bank account somehow. Which is to say that I'm effectively without funds. My credit/debit/ATM card is "frozen" and when I try to login to see what's going on I can't get in that way either. Tomorrow (=ahem later today) I will have to call my credit union and find out what the heck is going on. Hopefully it's not because somebody has hacked my account and taken all my money... that would really suck. Though perhaps bank and credit union accounts are insured against that kind of thing? I have no idea.
But I bet you I will real soon now!
I've counted out money from my change jar just in case I need to have that exchanged for real money. I could have sworn I had a $20 bill tucked away in my wallet, but I do not. Apparently I spent it and forgot about it. Entirely possible given how I almost never use cash any more.
I guess my spare change savings is all I got, apparently.
Maybe I should think about trying to find my checkbook? That would be a big help right about now.
Posted on Monday, July 18th, 2022

When I got up this morning, I could barely move. I worked in my wood shop all day yesterday, and was definitely feeling it. A part of me wishes that I would have put that effort into cleaning the mess that is my home (currently nicknamed "The Disaster Area"). You'd think that living alone would preclude a mess being made, since I clean up after myself as I go... but I have two cats. And they are forever shedding and dragging their toys out everywhere and tracking kitty litter throughout the place... and they never clean up after themselves!
Though Jake must have spent some time cleaning his butt, because it's been surprisingly clean lately!
You'd think that this would inspire me to clean my toilet, but it has not.
Though my butt has also been surprisingly clean lately, so I'm trying not to be too hard on myself.
Posted on Sunday, July 17th, 2022

It's too hot to go outside, but not too hot to blog... because an all new Bullet Sunday starts... now...

• 988! The National Suicide Prevention Lifeline has been given a new easy-to-remember number... 988, an obvious play on the 911 used for emergencies. This is an important thing to have happen, and I can only hope that 988 becomes as well-known as 911 in case somebody ends up in crisis.

• OKOYE! This just in from the It's About Damn Time department, Nerdist is reporting that there's an Okoye series in development for Disney+ (assumably starring the always-awesome Danai Gurira). Second only to Black Panther himself, she was one of the most memorable parts of Black Panther...
Now where's my M'Baku series?

• Appliance! @mcmullanappliance TikTok has fantastic videos that have taught me a lot. Like adding Pine-Sol in the wash cycle with the detergent (never in the softener dispenser)...
And then there's this...
His channel is a total rabbit hole you will be happy to fall down.

• Dud! How in the heck did I completely miss the show Lodge 49? It's a bit slow... methodical... but it's also brilliant, heartfelt, and has purpose. It's about how we go on with our everyday lives feeling lost and alone, meandering in the fog of existence... while something bigger... something magical(?)... may be at play...
The show is random, all over the place, and impossible to describe. I am liking it a lot, but don't know exactly why I do. It's bizarre. And it's on Hulu if you want to check it out.

• Bog Hero! Finally got around to watching BAYMAX! It's adorable and beautifully animated (as expected)... but also very well written. They went places that I wasn't expecting for Disney to go, which just made the episodes even more interesting...
Good stuff. I hope we get a second season.

• It's a Frigidaire! Boy. Refrigerators sure have taken a dive in cool features over the years...
That veggie tray is just cool as all getout.

And now I return to my air-conditioned life of luxury.
Posted on Saturday, July 16th, 2022

After returning home from my work trip to Seattle, I ended up having to deal with Jake's separation anxiety. I honestly think that it gets worse the shorter my trip is. If I'm gone for a week, he's happy to see me, but not the clingy mess he is when I'm only gone for just a night or two.
Thursday was about as bad as it's ever been, with him waking me up with his howling at both 10:30pm and 3:30am. This wouldn't be bad, except for the fact that I was desperately trying to get caught up on some sleep...
So much for going to bed two hours early.
And Jake doesn't really make much sense. He comes to bed with me, then leaves to get a drink or go to the bathroom or whatever... forgets that I'm upstairs in bed... and starts walking around the house howling at full volume. I holler down at him to come upstairs, he does, he falls asleep, then I fall asleep, then he wakes up and wanders away, only to end up howling again.
Poor guy.
Jenny doesn't keep me up at night after I return from a trip, but she does have a tough time deciding whether or not she wants belly rubs. Which is nothing new. Except now she's much more likely to let me know when she's had enough by using claws...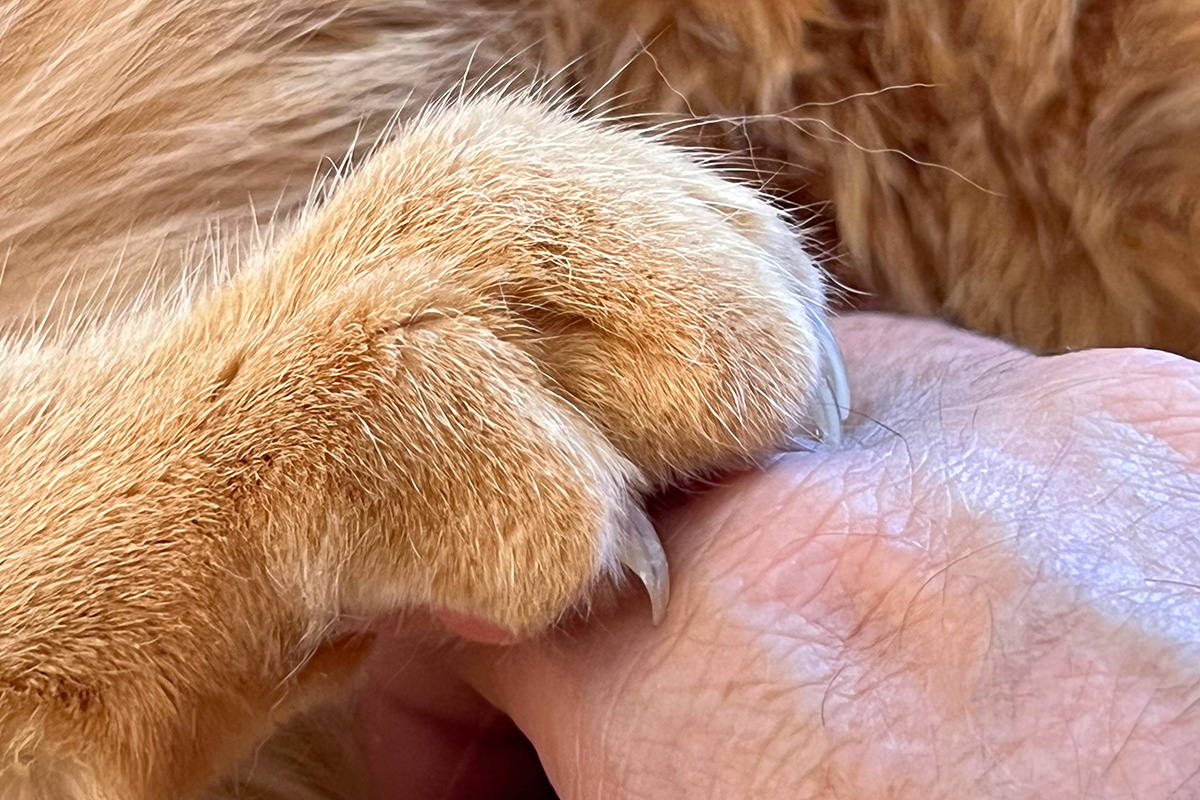 Now, don't think that she's going for blood here... she's not. Neither of my cats have ever really done this. Jenny clawed me once when she was a kitten because I grabbed her to cut her surgery collar off. And Jake clawed me once when I grabbed him after he escaped out of the catio. But in both cases they were terrified. I was forced to grab them... they were forced to try and defend themselves.
Jake is mostly back to normal now. He's still following me around like a lost puppy any time I'm home, but he's not howling any more.
I hope.
Posted on Friday, July 15th, 2022

Sad video flashback time.
Back in the day, I preferred Windows Phone over iPhone (shocking, I know). I personally never bought one, but received them for development and spent a lot of time with them. Interestingly enough, all the GUI work I did... for four separate Windows Phones apps... never went anywhere because the apps were never released.
There are still things about Windows Phone that I wish Apple & Android would adopt. Windows Phone is weird in that Microsoft was both behind and ahead of their time...
Interesting to think about what it would take for a new mobile OS to break the strangelhold that Apple iOS and Google Android OS has on the market. I honestly think it can't be done. It's going to take some huge technological leap to get there.
Assuming we're still using phones instead of some kind of chip implanted in our head.
Posted on Thursday, July 14th, 2022

Yesterday before I went back to my hotel and worked the night away, I stopped by the 7-11 because I needed a Coke Zero and a bottle of water. Except the place was packed, so I went next door to a place called "Momo's Kebab." They had a Coke cooler visible through the window, and that's all I needed.
When I walked in, the place smelled like what I thougt heaven probably smalls like.
I saw that they had a falafel pita and Greek fries on the menu, so I figured I'd go for it and save myself the trouble of figuring out what to do for dinner.
The falafel sandwich? Incredible. Five out of five stars. The melange of flavors and seasoning is everything you could want, and it looked beautiful...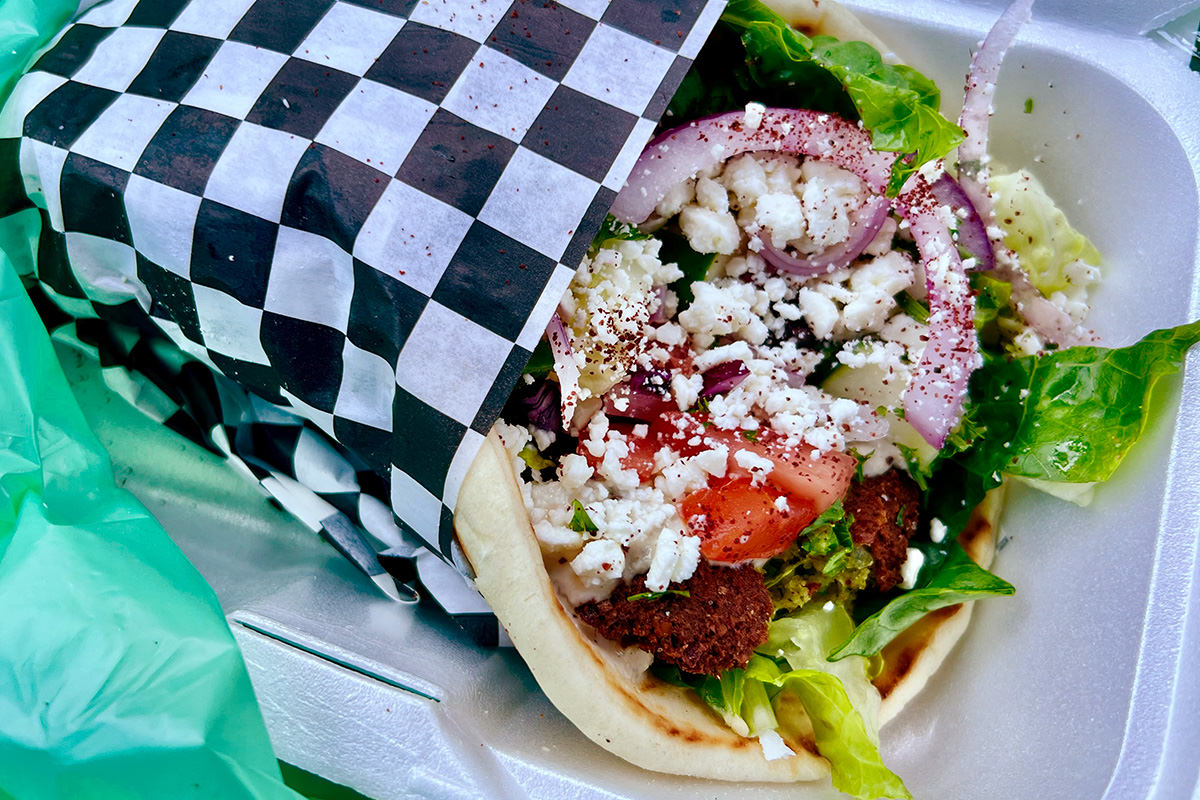 BUT THOSE GREEK FRIES THO!!!!
If I had to use a single word to describe them, I think it would be "orgasmic." Probably the best I've ever had. Flawless. Eleven out of five stars. (they looked more amazing than that photo, but I mixed them around before I thought to take a photo).
It's a darn good thing that I live 2-1/2 hours away from Momo's, because I would double in size from eating these daily.
Indeed, I've just arrived home after a long drive and it's taking all of my willpower to not drive back over to Seattle so I can have some.
Posted on Wednesday, July 13th, 2022

The season finale of Ms. Marvel Season 01 aired and I have thoughts.
My spoiler-free review of the series would go something like this... "While deviating from the comic book in many ways, the Disney+ adaptation kept what made the series so compelling from the very start: it's heart. When married to the flawless cast (headed perfectly by Man Vellani) we're left with something that made for great television, despite some fumbling when putting a history lesson ahead of story. This doesn't surpass Hawkeye as my favorite Marvel Studios series, but it's a solid second place and comes to a satisfying conclusion."
So... nod bad at all...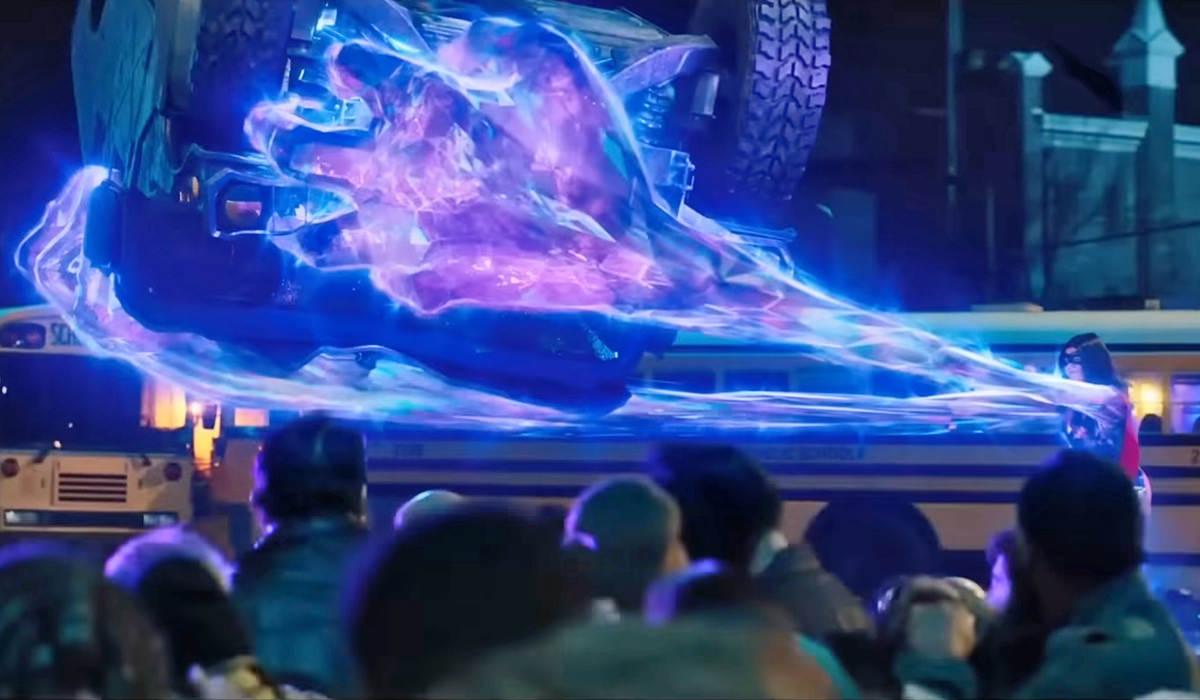 And now for those spoiler-filled thoughts of mine...

Okay... believe it or not, Captain Marvel swapping places with Kamala was not the biggest bombshell dropped in the final episode. But it was cool...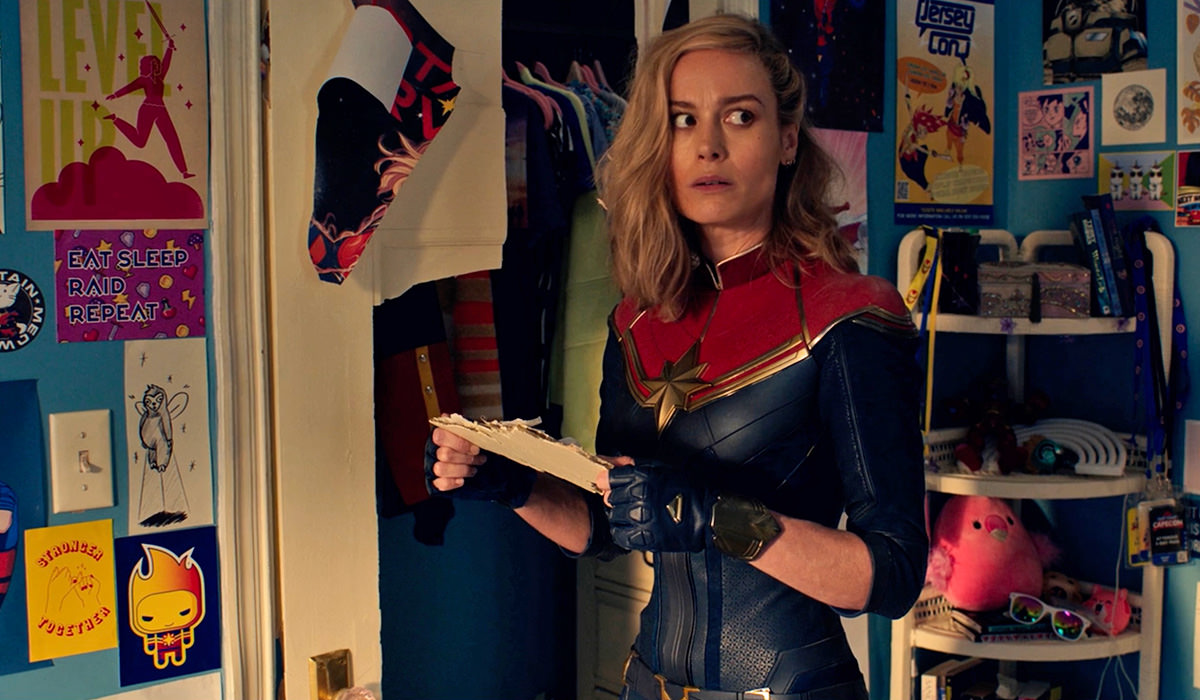 As is Carol's new costume.
No, the big reveal is that Kamala Khan is a mutant.
Which means that the X-Men are on their way to the Marvel Cinematic Universe (assuming that they are not already here, and are just in hiding... or, in the case of Patrick Stewart, in an alternate reality of the Multiverse).
But anyway...
As I mentioned, I thought that they shoehorned The Partition of India and Pakistan into the series in a way that put a history lesson above the story. Not that I don't like it when a show can help educate people on history, I just thought this one was a bit sloppy when compared to... let's say... Watchmen... building a story around The Tulsa Race Massacre. Had Ms. Marvel been handled like that, it could have been a brilliant addition instead of something that turned out to be a bit of a distraction. Even so, I'm hopeful that people who see this series and aren't fully unaware of the tragedy that came out of The Partition are inspired to look into it further.
Setting that aside, the series was pretty great overall.
I know that they changed Kamala's powers in a significant way, but by the end they made it very clear that they were adhering to the spirit of her powers.
Ms. Marvel is a part of the upcoming Captain Marvel sequel... The Marvels... and it's obvious that this series is leading directly into that. So Kamala ain't going anywhere. I just hope that we get a second season of the TV show, because it would be nice to catch up with her family.
Posted on Tuesday, July 12th, 2022

NASA released four images from the WEBB Space Telescope, and lo did the people of earth lose their minds. And well they should, because the images are absolutely jaw-droopingly stunning.
The best we could really do prior to this was the images that came out of the Hubble Space Telescope. And, amazing though they were, technology has come a very long way since Hubble was launched in 1990.
A guy released a tool for comparing Hubble to WEBB, and it's impossible to overstate what a drastic difference it is...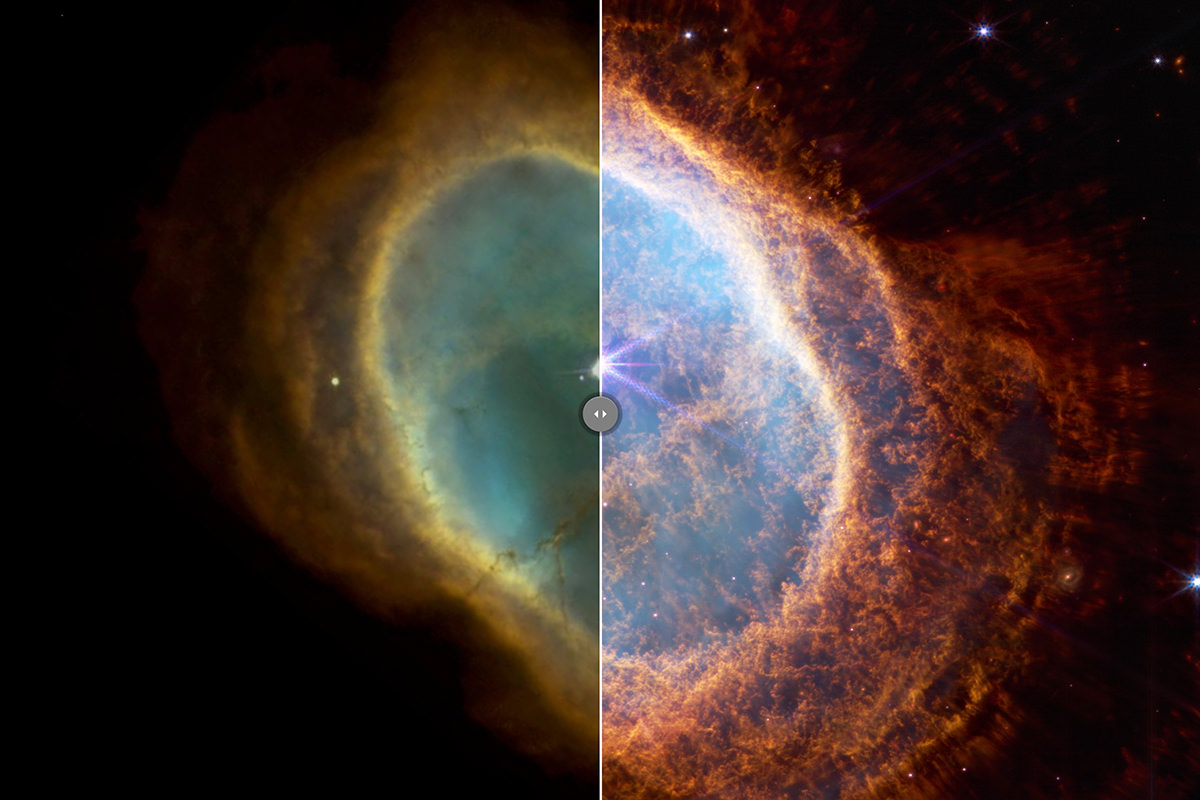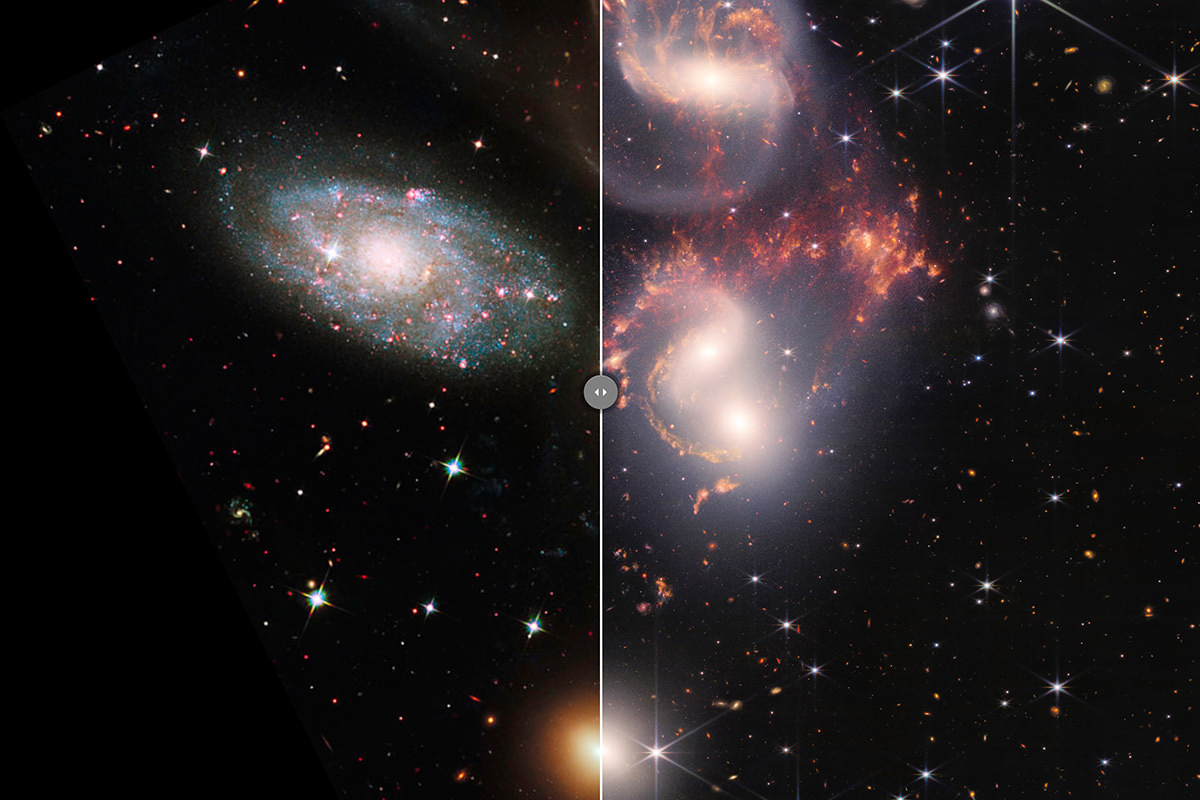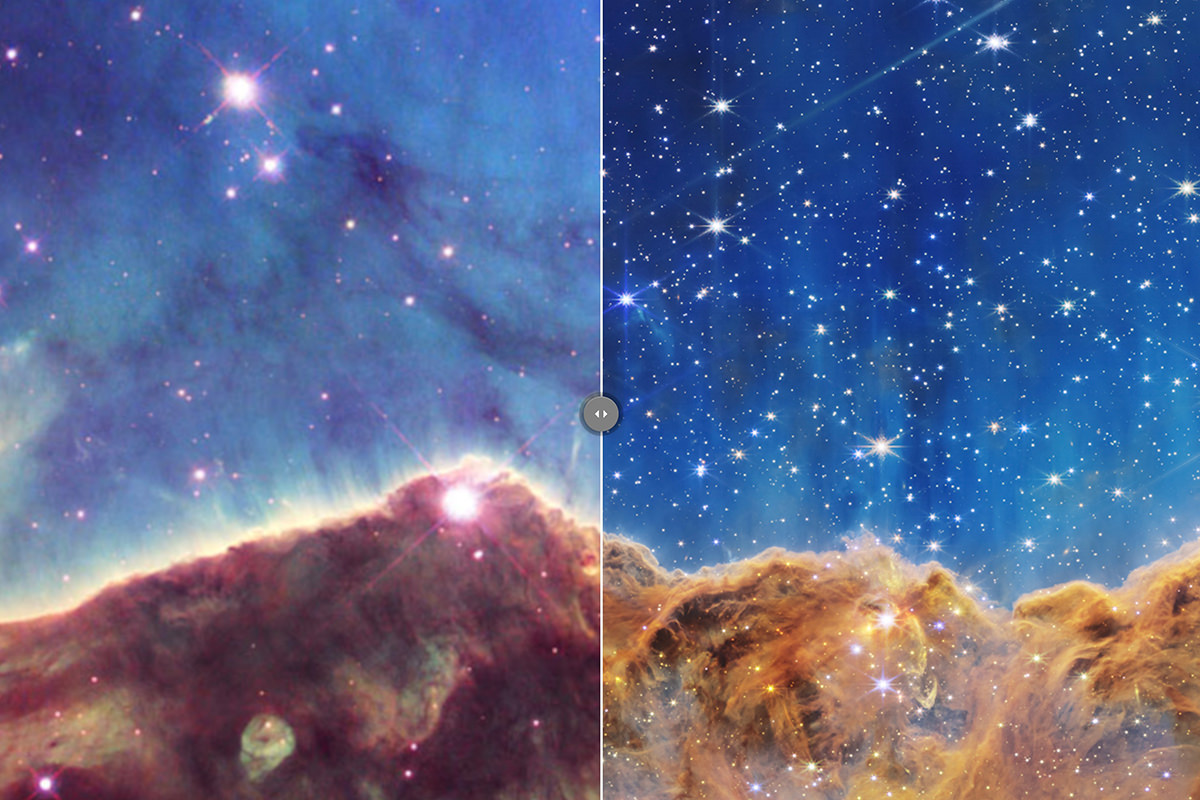 But that's just the beginning.
Not only can we see more stuff better, we can see further back in time. 4.6 billion years and counting.
This astounding shot of Stephan's Quintet is mind-boggling. Each of these four massive nebulas contain millions of stars. But each of those little dots scattered around them? Galaxies with hundreds of thousands of millions of stars each. There's billions upon billions upon billions of stars in this image. And many of those could have planets. Many of those could have planets with life. Odds are very good that we are not alone...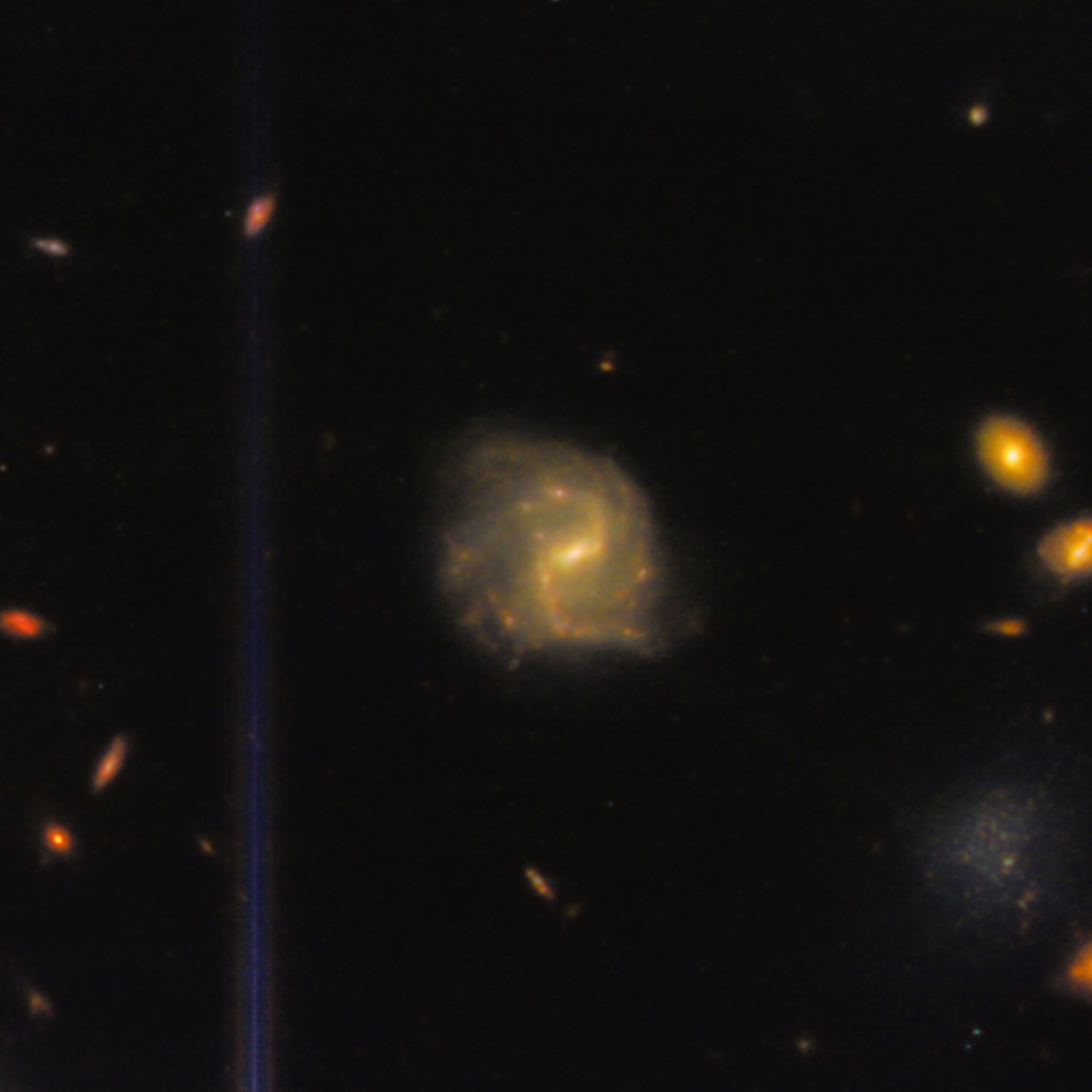 The photos we're going to see from WEBB will most certainly continue to astonish for decades to come. And the amount of learning opportunities for all of humanity are likely staggering.
I dunno about you, but I like the idea of tax dollars going to occasional programs like this instead of exclusively fueling a war machine that's already bigger than most other countries on the planet combined. WEBB cost $10 billion. That's a massively-huge amount of money, no doubt. But considering an aircraft carrier costs $14 billion... and the jets that are onboard cost a cool $80 million each... well, if there's money for that, there's money for this.