Posted on Friday, January 7th, 2022

And lo did the city plow my street this morning! For which I am grateful, because I know they have been completely overwhelmed and have a lot of people complaining that their street hasn't been plowed. On my street, they plow just enough room for two cars to pass each other. The snow is essentially pushed to the side of the street. But on many streets, they don't have that option. They have to physically remove the snow and haul it away because there's no place for it to pile up on the sides. There's sidewalks and stuff to consider.
And now I have a 7-foot tall pile of snow in my front yard. Which is not unusual. Unless it's a warm winter, I often have a lot of snow piled there. Except it's usually over weeks of snowfall... not a single day! Once I saw that I could get out and drive into the office, Mt. Simmer was already crumbling. I got stuck and had to go forward and back to escape my driveway! But I did it...
There's a lot of snow out there. Which is kinda pretty to look at...
My joy at being able to excape from my house was tempered by the fact that Sindey Poitier died. Coming so quickly off the heels of Betty White dying, it was tough to take.
I've seen Sidney Poitier in many, many movies. Always great. It may be sacrilegious to say this given the importance of his many roles... but my absolute favorite performance by Mr. Poitier is in Sneakers. Yes, you read that right... Sneakers. I adore him as Crease in that movie. He was funny as hell... and brought a gravitas to the movie that even Robert Redford didn't have. Seriously one of my favorite movies ever made, and Sidney Poitier was a huge part of why...
And speaking of Sneakers... I haven't seen it in a year or two, so I'm going to get on that.
Rest In Peace, Mr. Poitier, sir.
Posted on Thursday, January 6th, 2022

So... it snowed a little bit last night.
Okay, it snowed a lot last night. I woke up and the first thing I see is snow from the roof piled up in my upstairs bedroom window. That's at least 30 inches or so...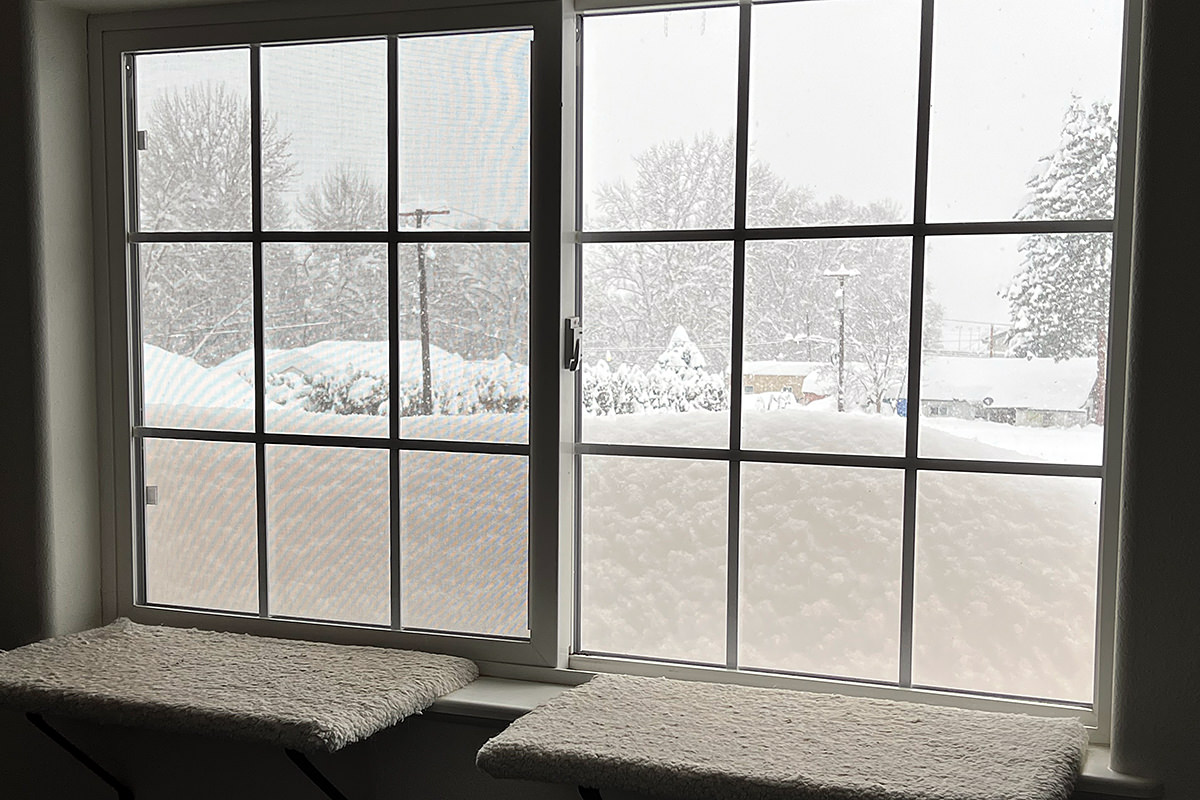 Upstairs at the front of my condo I only have little windows because there's a lot of roof going up that wall. They were covered. Can't see them at all...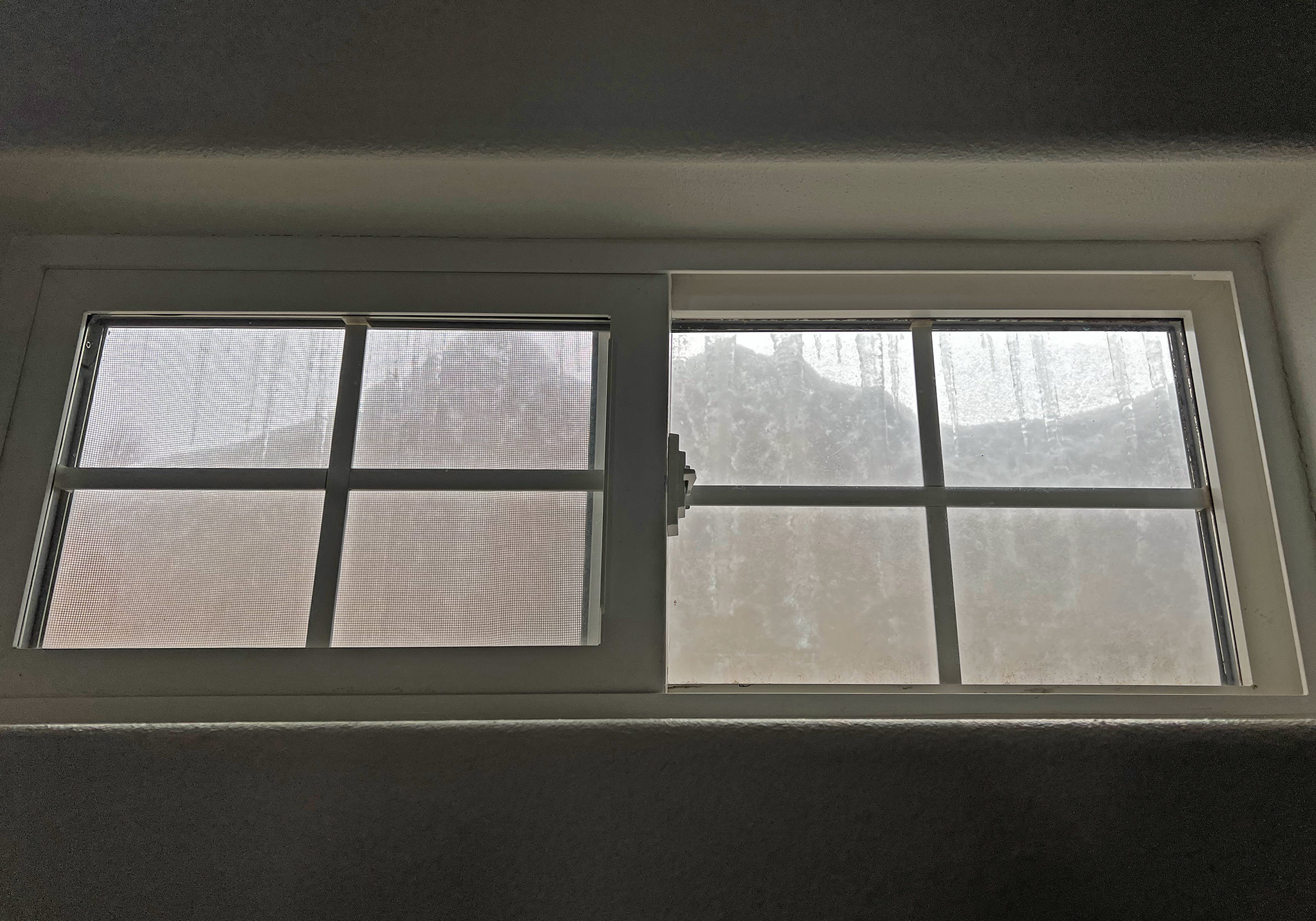 Turns out it was about three feet, 35 inches.
Jake and Jenny were not happy. Occasionally they would walk out to the catio and meow at the snow because it was blocking their view and they had to hop up on the perches to see out. And when they did that all they saw was snow, snow, and more snow, since it was still falling. My world was covered in white stuff...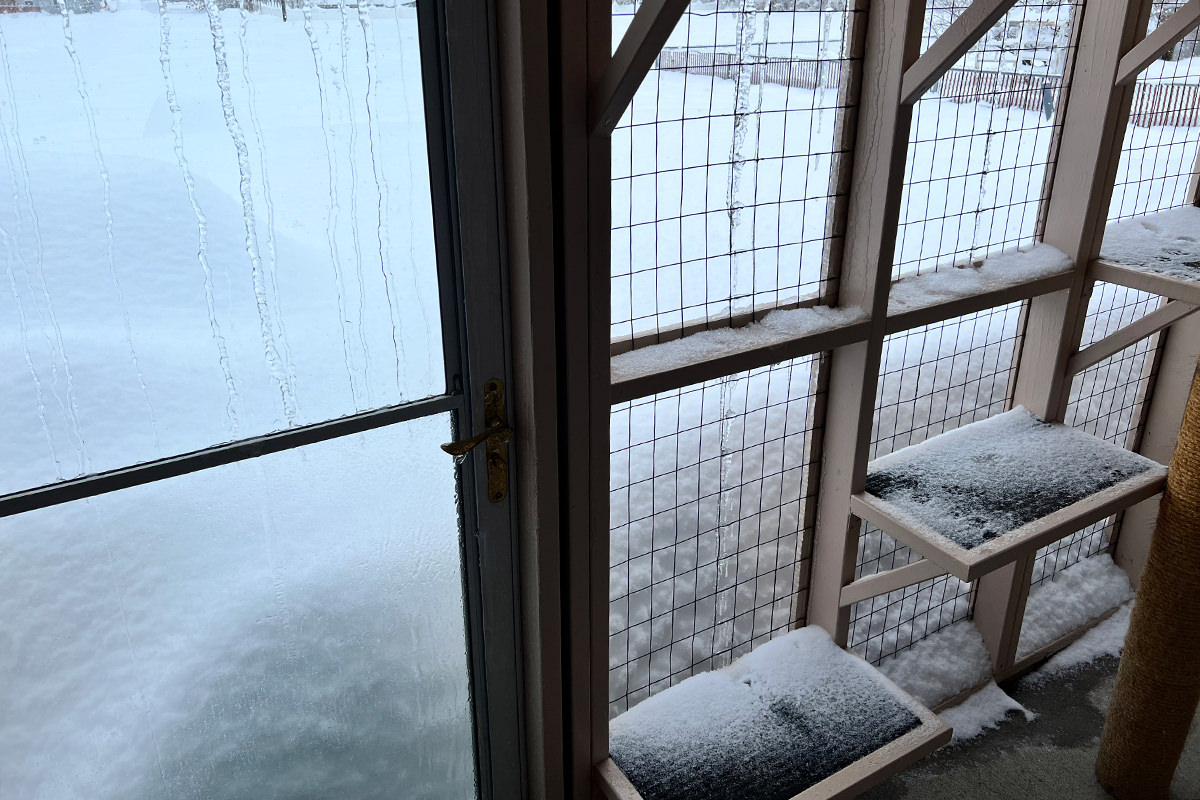 It ultimately probably ended up being around 4 feet, though the weight of it kept pushing it down, so it was tough to get an accurate read. Regardless, it was a lot of snow.
Now, when I was a kid, this was normal. We kids would regularly tunnel under the snow from one yard to the next so we had "secret passages." We were pretty nuts about it... spraying water inside the tunnels before nightfall so it would freeze and strengthen the tunnels.
Now, when my mom was a kid, it was normal for her to have snow so deep that kids would climb up on the roof and jump off into it.
Which is to say that the snow levels where I live have been dropping for decades.
Which is also to say that while the city where I live used to be accustomed to dealing with massive amounts of snow, they aren't now.
Which is ultimately saying that I was trapped in my house all day. The city couldn't get to my minor street because they were trying to remove snow from the major streets. And since my street wasn't plowed, the guys who plow my driveway couldn't get to it to plow (not that it mattered).
Since I was stuck, I turned on the television and got to work. My cats joined me soon after...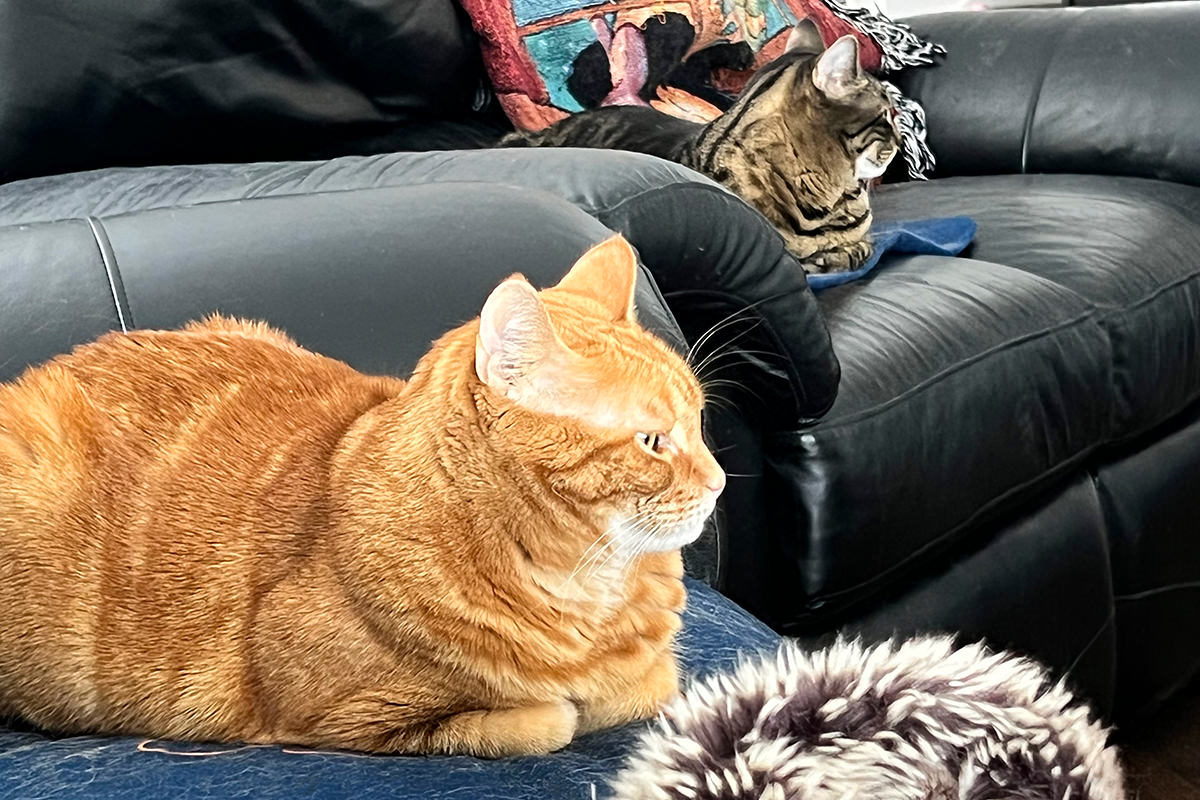 Eventually I went upstairs to work on my desktop computer because my laptop didn't have room for all the stuff I needed to see. Jenny had fallen asleep, but Jake wandered up to watch me work. Which is apparently very boring to him...
And here we are.
Still stuck at home. Fortunately, I just got a shipment of cat food and treats, so I'm in good shape for them. I have plenty of food for myself, but it's scattershot. I tried to make sure that I used up what I had so it wouldn't spoil over Thanksgiving and Christmas so it's just a few things here and there. But I won't starve or anything.
I fully expect that the city will get to my street tomorrow so I can be plowed out and go to the office.
And if not?
I guess I'll bore my cats some more.
Posted on Wednesday, January 5th, 2022

HEADLINE: Pope Francis warns that choosing pets over children "diminishes us."
The hypocrisy here is blinding.
Clearly the Catholic Church's parishioner counts are falling so the Grand Pontiff is wanting people to have more kids so the next generation of churchgoers can support him at the collection plate in the lifestyle to which he's become accustomed.*
How about this, Francis... why don't YOU have kids? Or why don't you let priests and nuns get married and have kids to get your numbers up so you don't have to shame childless couples? Though, I have to admit, this idea fills me with absolute terror. Priests have been sexually abusing children forever, and it's doubtful that they would suddenly grow a conscience when it comes to their own kids.
So here's a better idea... how about you shut the fuck up and say ABSOLUTELY NOTHING. Clean up your own house before commenting on my house or anybody else's. Because the simple truth is that you and your church has been the one to "diminish all of humanity" for a very long time now. You have zero business telling ANYBODY how to live their lives.
Fuck you. Fuck your church. And fuck anybody else who buys into this horrific level of shaming of personal choices that people make for themselves.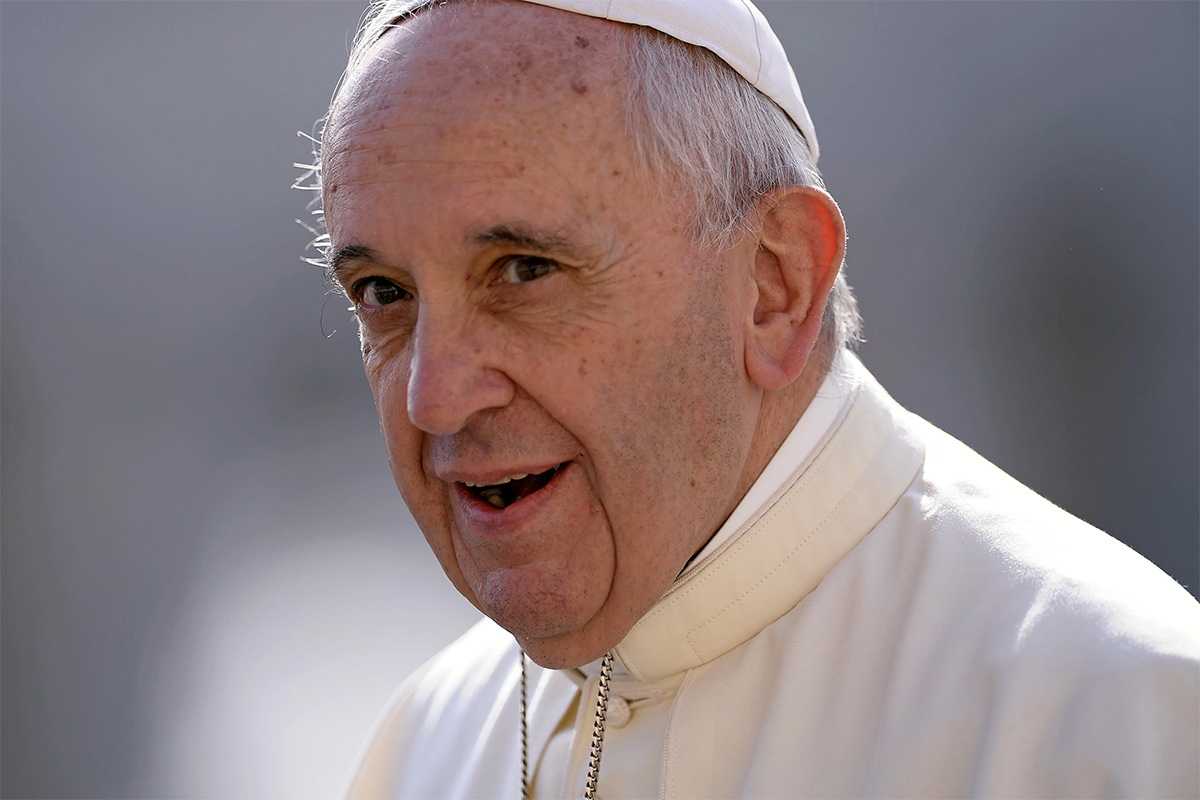 Photo by Filippo Monteforte, AFP/Getty Images
That's Pope Francis... on his way to pardon a bunch of priests for molesting some kids, I'm guessing. Given the number of people who keep coming forward with claims, that must be a full-time job. I feel so terrible that he had to drag himself away from such important work to shame childless couples.

*And, yes, I am still quite bitter than NONE of the THREE CHURCHES I contacted to give my mom her "last rights" bothered to get back to me. Except the one whose first question was "Is she a member of our church?" and, after explaining that she didn't grow up in Mill Creek and her church was two hours away told me "We're very busy so we'll have to get back to you." Then didn't. Apparently since my mother didn't give the local church money, she can just fuck off with her dying. Which is why the entire Catholic Church can just fuck off and die for all I care. Humanity will be better off without it.
Categories:
Uncategorized —
Click To It:
Permalink
—
2 Comments: Click To Add Yours!
Posted on Tuesday, January 4th, 2022

This morning I screamed at a toaster. Well, not a toaster... the Amazon Alexa Echo Dot in my bathroom... but it's essentially like a smarter toaster, isn't it? Here's how it went before I hopped in the shower...
ME: Alexa play Overpass Graffiti by Ed Sheeran.
ALEXA: Playing Overpass Graffiti by Ed Sheeran on Living Room SONOS.
ME: Alexa, STOP! Why play it in the living room when I'm here in the bathroom with you? ALEXA! PLAY OVERPASS GRAFFITI ON THIS DEVICE!
ALEXA: Playing Overpass Graffiti by Ed Sheeran on Living Room SONOS.
ME: "ALEXA STOP!!! WHAT THE FUCK?!? ALEXA! PLAY OVERPASS GRAFFITI ON ECHO DOT!
ALEXA: I am reading The Autobiography of Martin Luthor King Junior. I have eleven hours and 20 minutes remaining...
ME: ALEXA, FUCKING STOP YOU INSANE ASSHOLE! WHAT THE BLOODY FUCK IS WRONG WITH YOU?!?
You think I'm joking, but...
My home is ridiculously automated. Lights turn on as the sun goes down. Every switch can be voice controlled via Alexa. The thermostat uses less heat when I'm not at home. Gutter heat tapes turn on when the temperature drops below freezing. The garage door opens when I round the corner on my street. And so-on. And so-on. If I can automate it, it's been automated.
But all is not perfect in my home automation paradise.
Few of my devices can "talk" to each other because I bought each device based on which was the best device... not whether it worked with other devices. For the most part this has been fine. I have Alexa, Google Hub, and Siri all running at the same time, so all I have to do is address my commands to whichever ecosystem I'm needing to control. It ain't perfect, but it works. And I hardly even realize I'm doing it.
The problem is that when something goes wrong it completely fucks everything up.
And things go wrong a lot.
Right now, for example, Alexa refuses to control my "Philips Hue" lighting (in addition to not wanting to play Ed Sheehan while I shower). Every time I ask, she comes back with "Hmmm... that light is not responding." And yet when I open the Alexa app and control it from there, it works perfectly fine. So what the fuck? Alexa can control it manually, but forgets how when I ask the damn thing? I have uninstalled and reinstalled the Alexa service a dozen times. I have reset the Hue Hub. I've deleted and reinstalled the app. I'm at my wits' end here.
So what do I do? Throw out my Hue lights? I don't own many of them so I guess it wouldn't be a big loss. It's just frustrating that the whole reason I bought them is to control them via Alexa and that's the one thing I can't do. I've tried getting it set up with Google Hub, but that's such a convoluted pile of shit that I've given up.* I've tried setting them up with Siri, but Apple's HomeShit... oops... I mean HomeKit doesn't seem to want to work with it.
And then along comes Matter.
"Matter" is a new allegiance between smart home device makers which will be a common platform to control all your home automation stuff. No more having to do crazy configuration crap, your gateways will just know how to work with Matter gear the minute you plug it in. And since Apple, Microsoft, Google, and Amazon are all in the Matter group, eventually if I buy a Hue light and install it, they're all be able to control it automatically from their gateways. No more having to remember which gateway to use.
Sounds great.
But there's an XCD cartoon which flawlessly depicts why we shouldn't get our hopes up...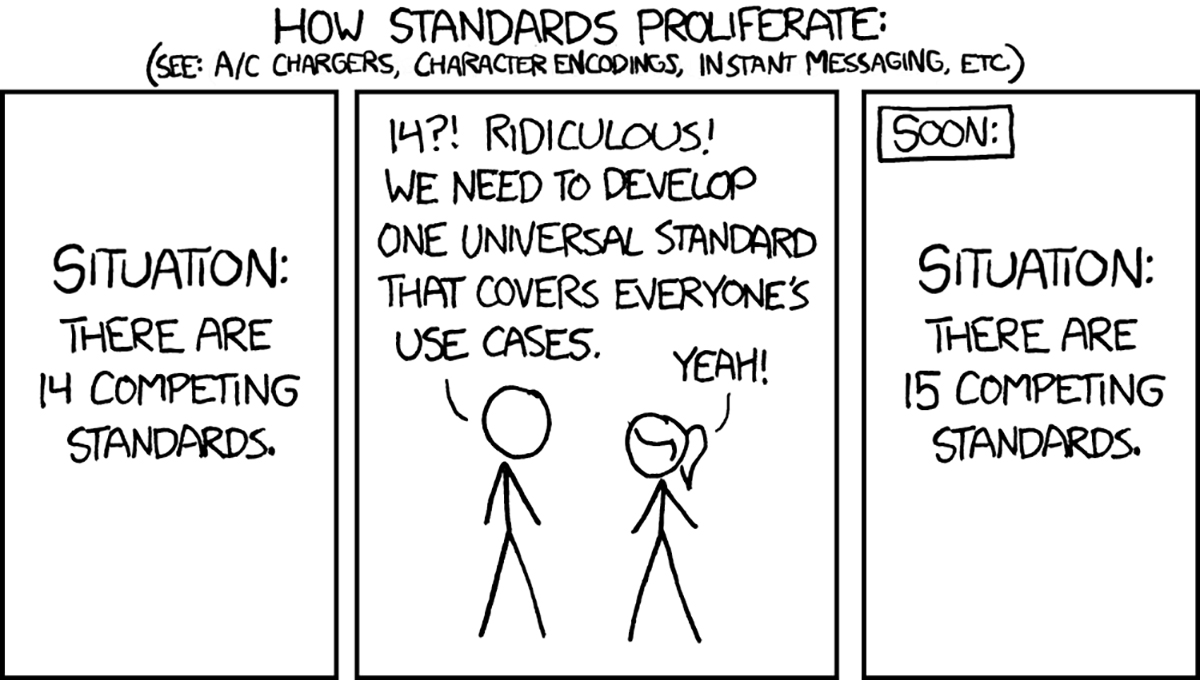 The cartoon was attached to an article over at The Verge which discusses "Matter" and why it may not fail like everybody expects it to.
I am not holding my breath. But I am hopeful.
Having to manually turn on a light switch is so last decade.
*UPDATE:
Finally got Google Hub working with my Hue Lights! No idea what went wrong the first time I tried it, but this time it linked to my Hue Hub no problem, and now I can use
"Hey, Google"
to control them. Assuming I remember to stop saying
Alexa...
to control them.
Posted on Monday, January 3rd, 2022

I am way behind on my Hallmark Christmas movies. And will only get further behind because I've got so many work projects on my plate and now Hallmark has Winter movies starting to run.
I keep telling myself that maybe this is the year I finally give up on Hallmark since all the movies are essentially the same at this point. Something made hilariously clear by the many, many parody videos that have been released...
Oh well. It's something to listen to while I work, isn't it? Though at this rate I'll still be watching Christmas movies in July.
JUST IN TIME FOR HALLMARK CHANNEL'S CHRISTMAS IN JULY MARATHON! WOOO!
Posted on Sunday, January 2nd, 2022

2022 may be feeling even worse than 2021, but I'm still spitting out those bullets... because an all new 2021 RETROSPECTIVE Bullet Sunday starts... now...

• Pizza! As anybody who's been reading Blogography for any amount of time knows, I've been searching for a decent frozen pizza for decades. And in 2021 I've finally found one. It's Red Baron Fully Loaded Five Cheese Pizza!
The sauce it great. The crust is amazing. The amount of cheese is a little excessive, but perfectly acceptable. Put it all together and it's the best frozen pizza I've ever had. With a caveat! As good as it tastes fresh out of the oven, it tastes horrible once it's gone cold. And reheating it in the microwave or oven does not bring it back. I've been sawing them in half and cooking only half and a time so I can eat the remainder at its best as well.

• Potato! As somebody who loves fries, I usually end up making them from scratch out of freshly-cut potatoes that I soak, pre-cook, freeze, then fry to get the best tasting ones I can get. But that's a horrible amount of work. So whenever I see a new frozen fries product, I give it a try. Usually I spray them with oil then put them in the rotisserie basket of my air fryer and they turn out okay. But in 2021 I discovered "McCains Quick Cook Fries." And they are a world different from anything else on the market...
The secret of the reason they cook "quick" with no flipping is that they are coated in oil. This is not a new trick. Ore-Ida did this years ago. But, for whatever reason, McCain's fries taste far better. Even though they do lie about the timing. Even when I preheat my oven, it takes closer to 20 minutes than the 13 minutes they advertise to get perfectly-cooked fries. Usually I don't bother to preheat. I just put them in and set the timer for 25 minutes. Bliss. Their crinkle-cut fries are so good that I'd rather have them that restaurant fries. Possibly even more than my own hand-cut fries! A half-bag is the perfect serving size for me and I anticipate eating a lot of these things in 2022.

• Sustained! I have been really trying to minimize waste more in 2021, recycling whatever I can and eliminating disposable plastics from my life. It's the least I can do, even though it's a ridiculously small dent in the amount of pollution produced (corporations are vastly more responsible than individuals, but convince people it's not their fault). One of the bigger steps I took was to stop buying Saran Wrap (plastic wrap). I used to go through a couple boxes every year, but the one I bought back in March will hopefully be my last. I've also greatly reduced the number of plastic bags I've been buying. My favorite replacement is "BioBag" products which decompose quite quickly in a landfill. They're expensive as hell though, so I've also brought "brown paper bag" sandwich bags for regular use...
They work great! But I also buy Reynolds wax paper bags for things that get sloppy (like the veggie burger with extra mayo I eat on my morning commute!). Or when I'm out of brown bags (like I am now). They have little stickers to keep them closed, which probably makes them bad for the environment, but they are fun to pack for lunch....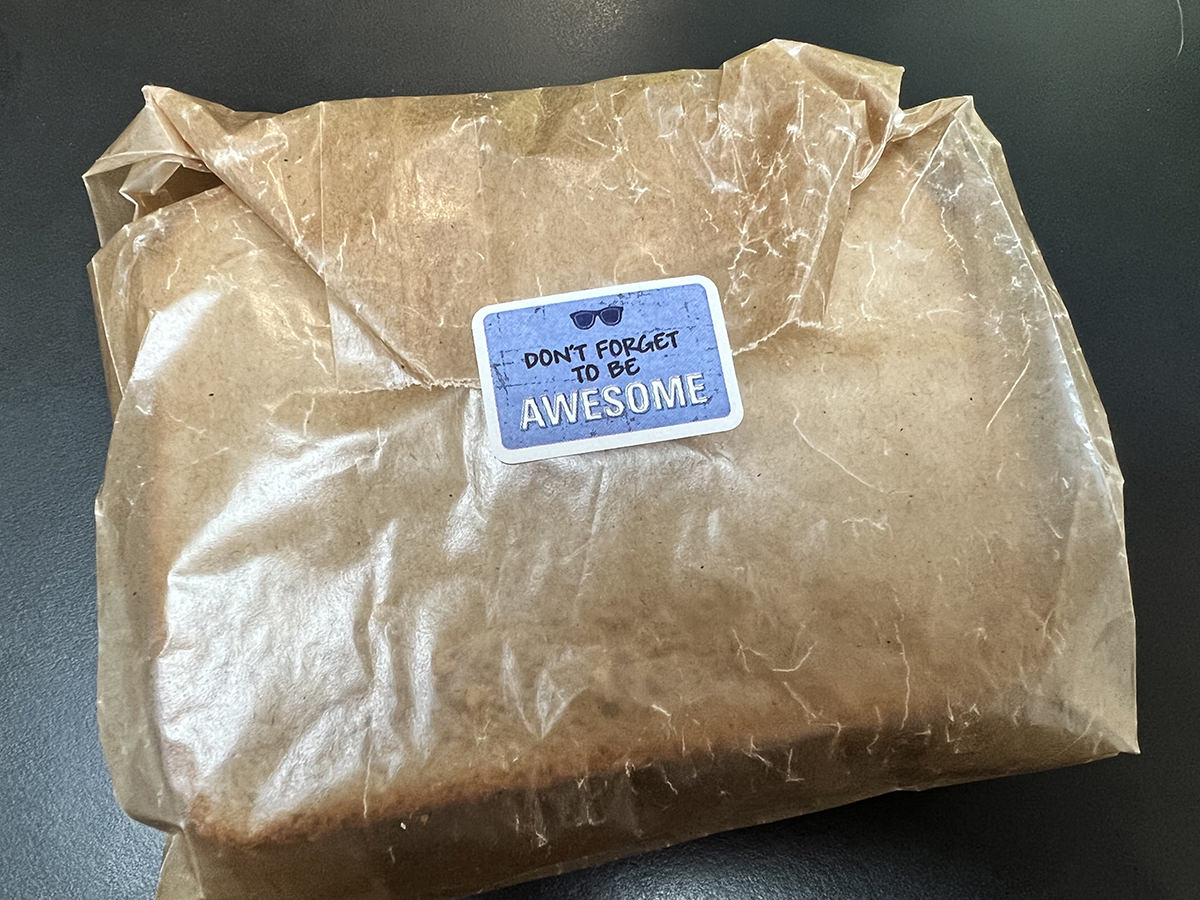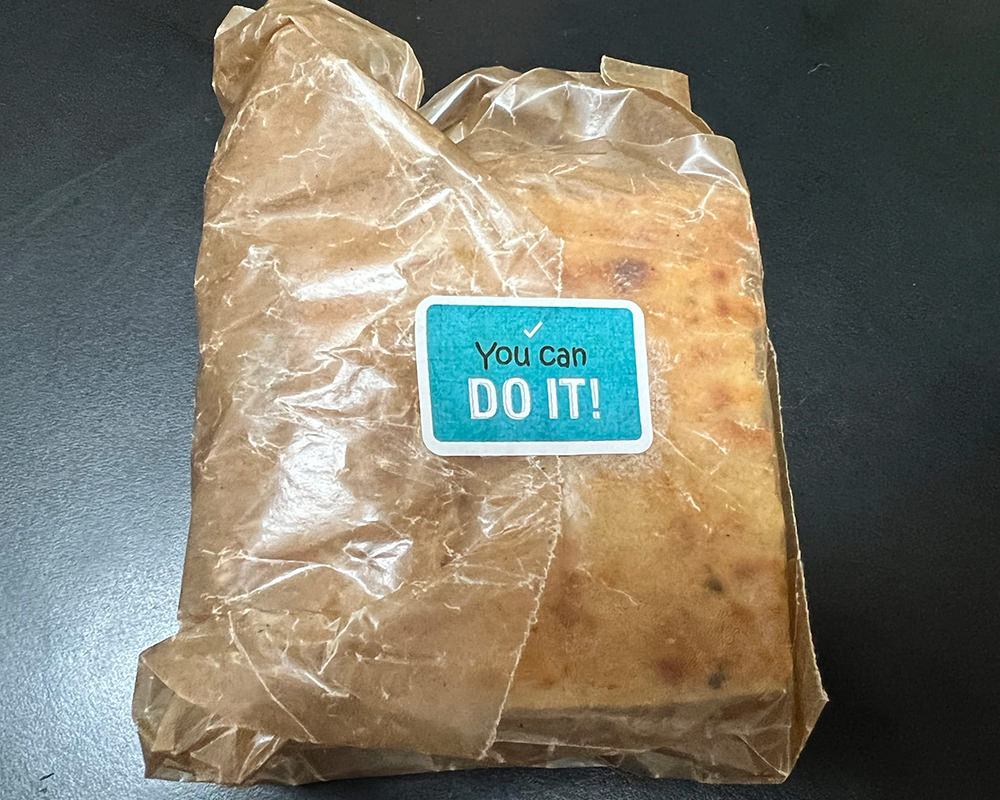 Wax paper doesn't biodegrade like raw paper (or BioBags), but it does biodegrade better than plastic. And uses more natural materials, so I'm chalking that up as a win (even though I'm trying to use them less and less since biodegradable bags are better). The best solution seems to be using glass containers with plastic lids which you can wash and reuse for years, so I've bought more Pyrex as well. Maybe one day they will come up with lids that aren't plastic but, in the meanwhile, they have lasted me over a decade so far, which is far less than if I were using plastic bags.

• Apples to Apples to Apples! This past year was a tough year for me financially because Apple ended up getting so much of my money. But boy was it money well-spent! My new iMac M1 is a (relatively) inexpensive Mac that flies through even my most demanding work. Despite it being on the low-end of the spectrum, it's the best desktop Mac I've ever owned. Then I traded in for the iPhone Pro Max 13, which is the best phone I've ever owned (and the heaviest). Then I traded in for the MacBook Pro M1 Max. Legit the best computer I've ever owned. And my favorite. Not even a contest...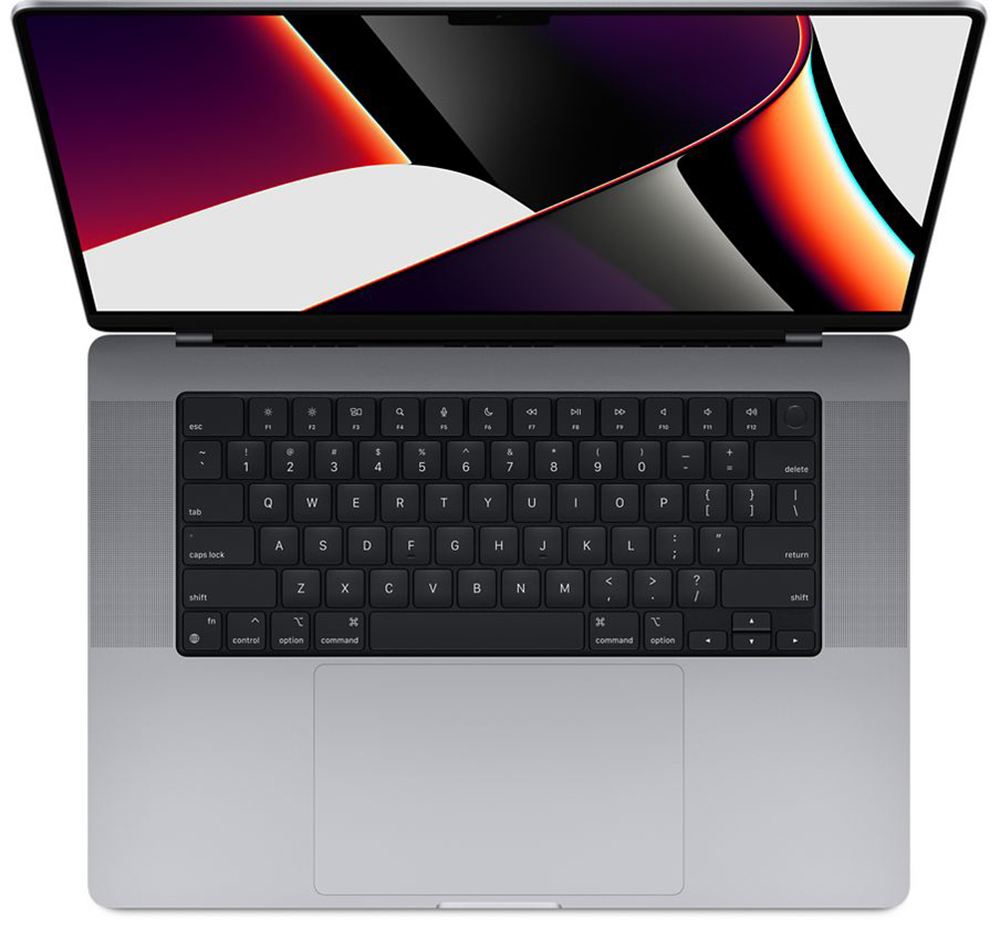 It is ridiculously fast and powerful, has incredible battery life, and is an absolute joy to work with. THIS is the kind of "pro" computer Apple should have been making for the past decade instead of the form-over-function bullshit they were married to. The weird thing is that this MacBook is still really beautiful despite being constructed for function over form. Yet "curviness" was more important than power to Apple for a decade, so that was what we got. Blergh. Hopefully they won't slide back to old habits. The wild acclaim for this computer by pundits and customers alike should tell them they are finally on the right track.

• Travel-less! It has been genuinely strange going from dozens of trips each year to zero in 2020 and one in 2021. Unless some miracle cure arrives which eradicates COVID from the face of the earth, I'm expecting the same for 2022. Because right now I have no plans to go anywhere. But still, that one trip I did take during Delta but pre-Omicron reminded me of what "normal" is like. Even though I was masked most of the time...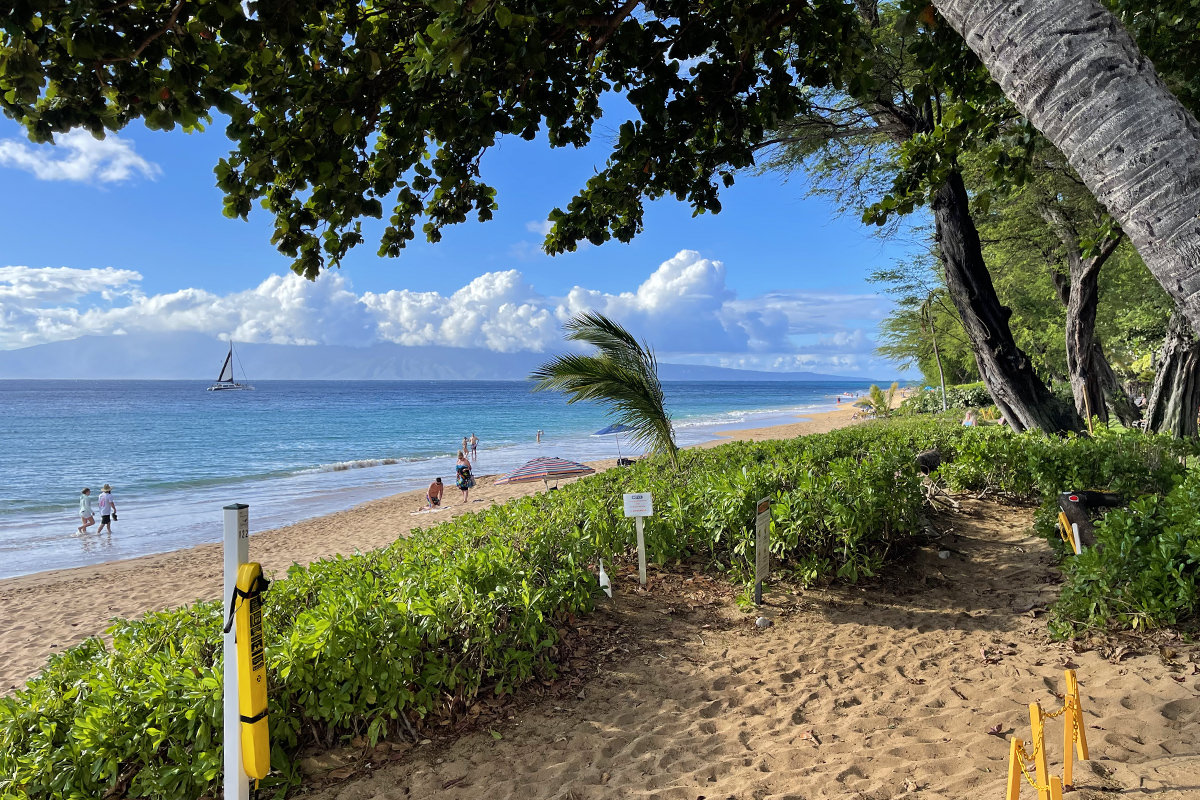 So maybe after they announce a fourth booster I will make a trip just to remember what "normal" used to be like? If I do, it will probably be a trip to San Francisco because that's where my tattoo artist is, and I've been wanting new ink for years now. Fingers crossed.

• Kitty! Once again the thing that saved me in 2021 were my cats. Even at times when I was at my lowest and didn't care about myself, I always cared about them. In 2021 Jenny learned to manipulate me better than in previous years, coming up with an entire menu of meows and behaviors to get what she wants. Jake and I have conversations now. He meows (or tries to) and I meow back. Then we go back and forth for a while. I have no idea what I'm saying, but it must be interesting enough to him that he feels a need to respond!

• Betty! I'm still crushed. I've been avoiding social media and the news so I'm not seeing news about her death over and over. What a shitty end to a shitty year.

• Boosted! I've had people sneer at me for getting boosted, saying that the COVID vaccine obviously doesn't work if you need to get a booster... "WHAT ARE YOU GOING TO DO? GET BOOSTER SHOTS FOREVER??" And the answer is yes. Fuck yes. Because there are mountains of data showing that staying current with vaccinations vastly reduces incidents of serious illness, hospitalization, and death. MOUNTAINS OF DATA! So give me all the shots. This is no different than getting a flu shot every year. Except COVID mutates so fast and the vaccine is so new that we may end up getting two boosters a year instead of one. As the science gets better, the boosters will get better. Eventually we may even have the option for a combo flu/COVID booster, and I will take that shot. 1000% I will take it. I have faith in the science which has given us so much. There's a learning process which goes along with scientific research, and I am happy to be a part of it. I have cats to take care of, after all.

So... yeah. Not a lot else happened in 2021, so I guess that's it. Pizza, fries, sandwich bags, Apple stuff, one trip, cats, the passing of a legend, and COVID. Not a banner year, to be sure.
Tags:
Bulle Sunday
,
Cats
,
COVID-19
,
DaveLife
,
Food
,
Pandemic
,
Travel
Categories:
Apple Stuff 2022
,
Bullet Sunday 2022
,
DaveLife 2022
,
Food 2022
,
Travel 2022
—
Click To It:
Permalink
—
2 Comments: Click To Add Yours!
Posted on Saturday, January 1st, 2022

Tonight while I was waiting for my dinner to get out of the oven, I glanced into the kitchen after I heard Jake and Jenny romping around in that direction. To my horror, I saw Jake on top of the kitchen counter. This is exceedingly rare. The only thing I will (gently) yell at my cats for is to get off the counters. After a couple years, they finally get the message, and just don't do it. I have a motion alert from my cameras that tells me when they've been up there so I know to sanitize and steam clean them... but it hasn't gone of in months. Probably even a year now.
So seeing Jake up there was pretty shocking.
And after I (gently) yelled at him to get down twice (I don't ever scream at my cats... just raising my voice a little is enough for them to get the message), I was disappointed that he was still up there.
So I walk into the kitchen to shoo him down and...
...it wasn't Jake. I left my backpack on the counter. Which is apparently Jake-shaped from a distance.
And now I felt bad, so I found him cowering in the guest bedroom and told him how sorry I was and gave him lots of pets so he would know that I wasn't mad at him. I was mad at me, apparently.
I ordered some things from Amazon that I couldn't get locally. It all came in a nice big box with a long string of packing pillows, so I was sure to set it out for the cats. They both love a nice-sized box filled with packing pillows. Jake just likes to stand around in there looking at everything. Jenny will jump in and smack all the pillows around and roll around like a maniac. It's adorable. The excitement usually wears off after a few days but, in the meanwhile, something new to do that's indoors where it's warm! They go out in the catio from time to time, but never for more than a few minutes now that the temperature gets below freezing.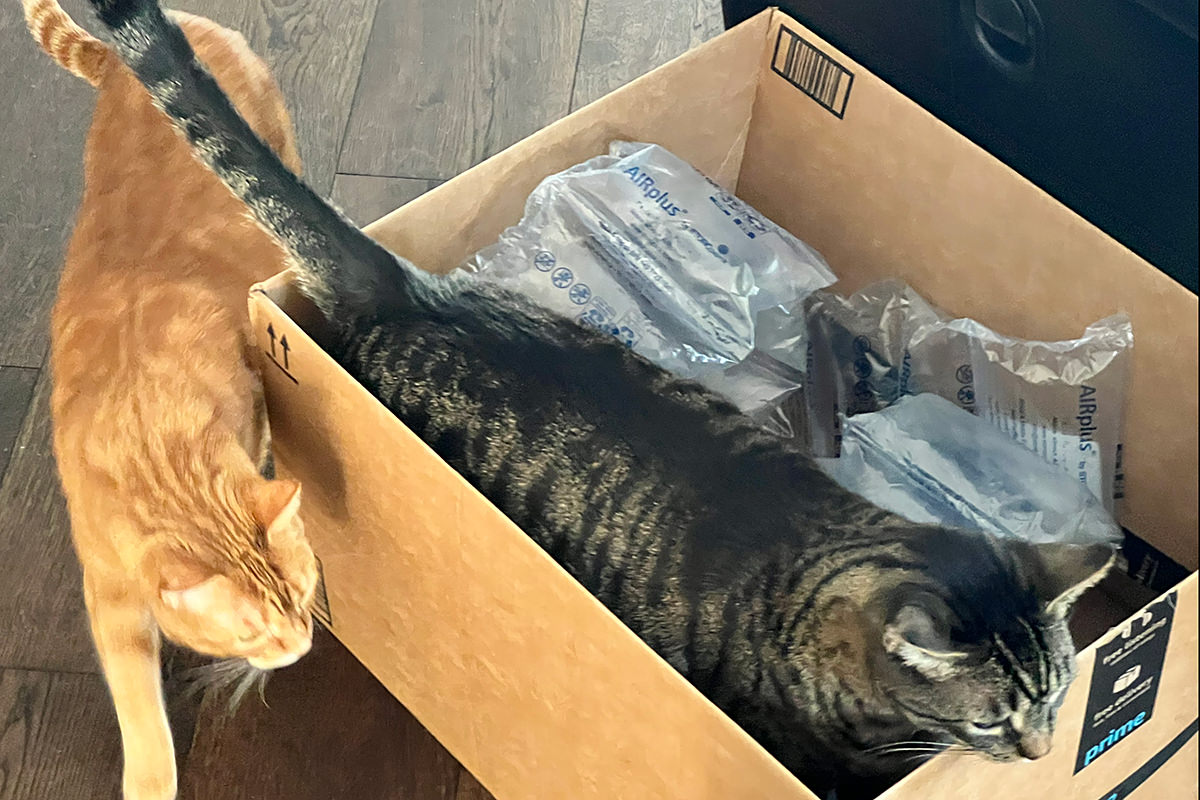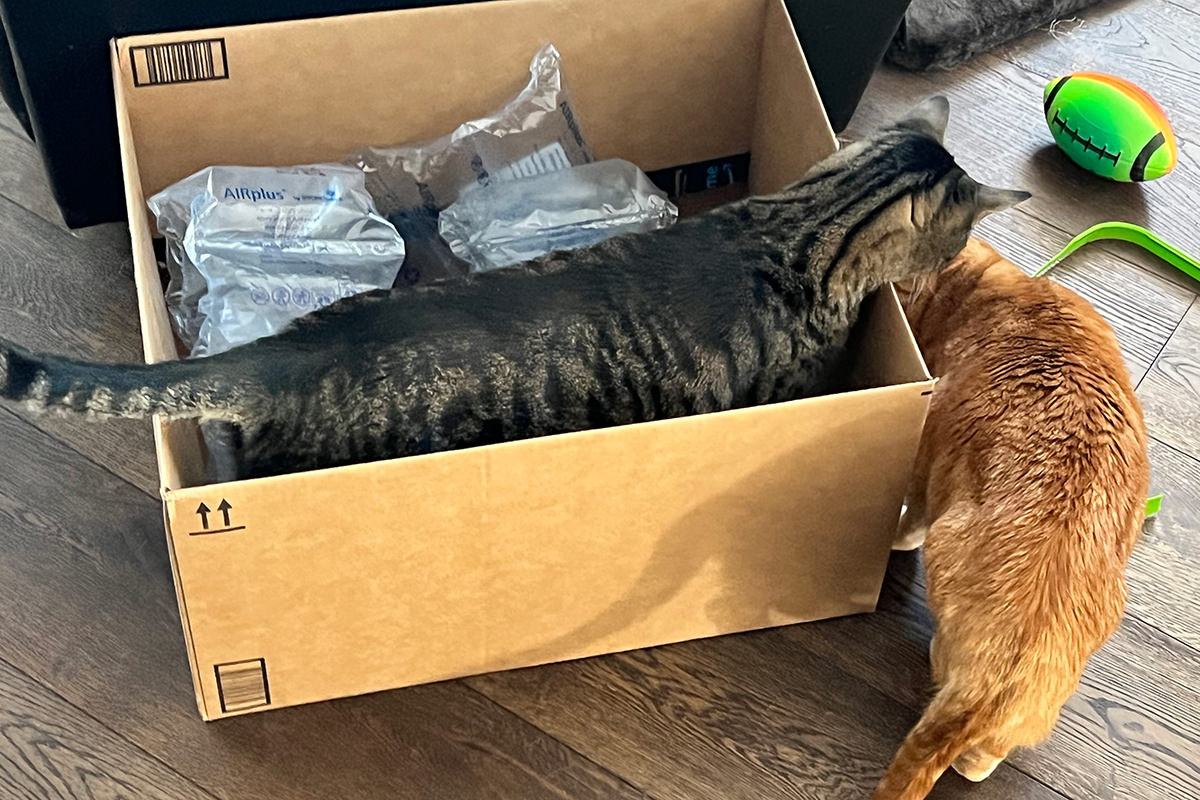 A box. Best toy money can buy!
Posted on Friday, December 31st, 2021

It was announce the Betty White died and I am devastated.
It would be easy to dismiss the above sentence as hyperbole. "How could you be devastated over somebody you never knew?" And I'm sure many people would say I'm a "psycho" or a "baby" or whatever put-downs are currently in vogue to describe people who have emotions.
But I did know Betty White. I've been getting to know her most of my life.
And, as I'm fond of saying, "I loved Betty White before it was cool."
I first became aware of Betty White on game shows (something I watched a lot of in my early years). Whether it was Match Game or Password or Hollywood Squares, Betty would show up and be the funniest person in the room. And the smartest. And the sweetest. I was captivated immediately.
Then our town got cable television.
This brought about dozens of channels made up of nothing but reruns, which is how I started watching Betty's character "Sue Ann Niven" on The Mary Tyler Moore Show, which was about as delicious role for a supporting character there could be, and Betty went for it with gusto. Eventually I struck gold with reruns of The Betty White Show. Suddenly it was all Betty all the time for me. Because in addition to the reruns, she was also popping up on The Love Boat or Mama's Family or talk shows or game shows or celebrity roasts. And so many guest appearances on dozens of shows (she was on Who's the Boss, for heavens sake). She never went away. She was always somewhere on my television.
Then 1985 happened...
If I didn't already love Betty White, the debut of the mega-hit The Golden Girls would have sealed the deal. As it did for most of the country, I'm guessing. Rose Nylund was one of the most unforgettable characters to ever appear on television, and Betty knew exactly how to play it. Her monologues about life growing up St. Olaf were hilarious and delivered as only she could do it.
Betty's renewed popularity was not wasted. She was in constant rotation on the late night talk shows being her hysterical charming self (Craig Ferguson must have been a favorite because she was one of his most popular guests, and she was joyous when she'd drop by). She was in commercials, naturally, (her most famous being that classic Snickers Super Bowl commercial). And, as people found out about my love for all things Betty, they'd send me videos and tapes and DVDs and magazine articles and such. My life was a constant parade of everything Betty, and I wouldn't have it any other way.
But her celebrity was also used to advance human rights... including her staunch support of the LGBTQ community and equality for all persons. But she was likely most famous for her charity work on behalf of animals, and her surge in popularity was a big opportunity for her to become even more visible in supporting them. Plus she started appearing in even more TV shows (like Bob and Boston Legal) and movies (like her expectation-crushing turn on Lake Placid which cemented her legendary status). She never stopped. Her Saturday Night Live guest hosting gig is widely viewed as one of the best to ever appear on the show. And even when it was too difficult for her to act, she was still charming us with her voice, showing up animated shows that culminated in Toy Story 4 where she played "Bitey White." And of course I've read her books. Her memoir If You Ask Me (And of Course You Won't) is essential reading for any Betty fan.
So, yeah... unless she had a secret life of kicking puppies (which, let's be honest, is something Betty White would never, ever, do)... I know the woman. And she's so worth knowing, as this small sampling of her best moments will attest...
That's a mere 20 moments. But let's face it... ALL of her moments were best moments.
I am not one for celebrity culture (unless I'm mocking it) or hero worship (with the exception of Steve Jobs, who will always be my hero and left us ten years ago). I see famous people as just people. People who do things that benefit or harm us. People who entertain or annoy us. People who have a voice that's louder than most of us, but likely less important because of the bubble in which they live.
But all that went out the window with Betty White. I adored her as much as any other important person in my life. She was a constant source of light and laughter, and will continue to be with me every time I pass by the infinite loop of Golden Girls reruns while channel surfing... or something she said pops into my head... or one of her many hilarious performances flashes across my brain... or any other time her legacy is remembered by the world.
Which I'm guessing will be a lot.
Because the only thing that can fill the void left by Betty White is Betty White.
Fortunately there's plenty of that to be had. She was in the business for 76 years and, with so many people loving her work, it ain't going away any time soon.
Posted on Thursday, December 30th, 2021

And it's time once again for my annual wrap-up of my favorite TV shows that came out this year.
Or, more accurately, a "wrap-up of TV shows that I saw which came out this year." As always, there's a bunch of shows I never got around to watching that might have ended up on my list... and (more likely) shows I loved but have forgotten about. And here we go...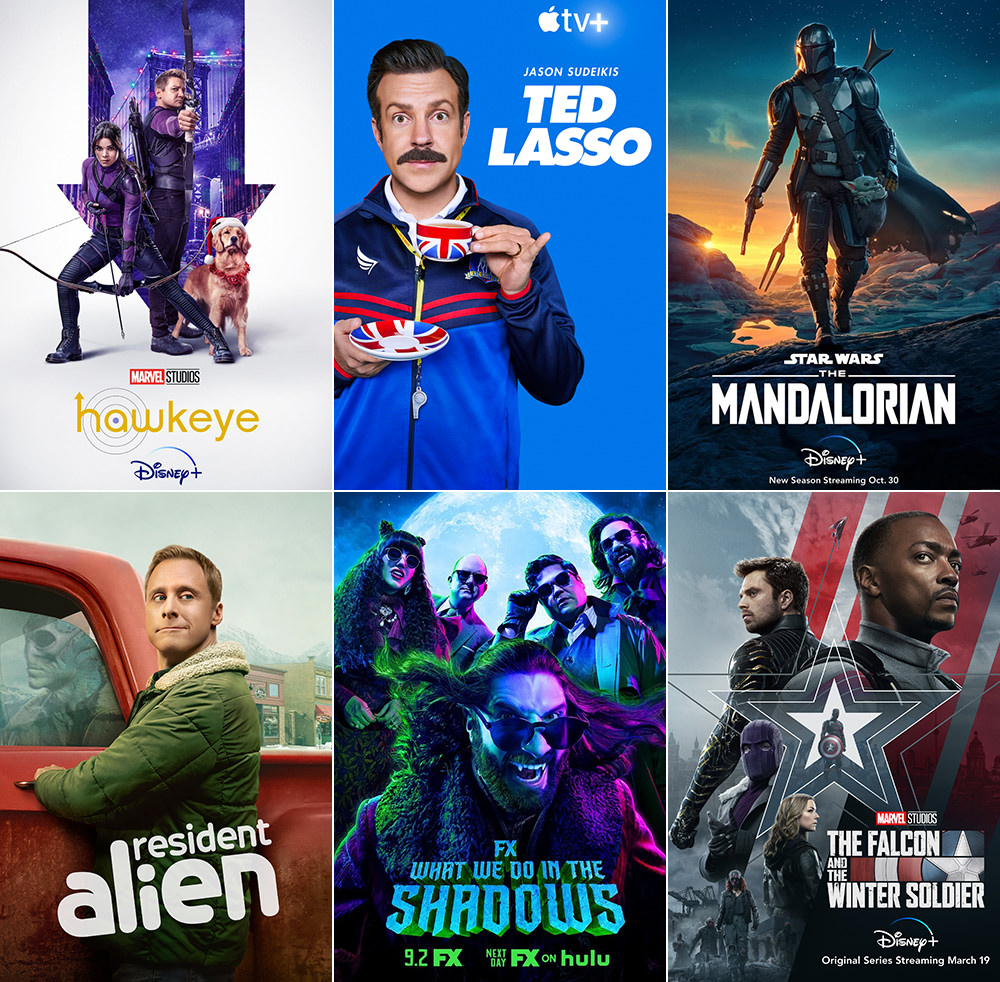 #1 Hawkeye (Disney+)
If you had walked up to me and told me that my number one show of 2021 would not be Ted Lasso just last month, I would have slapped you across the face. Mostly because you aren't wearing a mask, but partly because it's just so inconceivable. But here we are. After getting off to a slow start, Hawkeye managed to go out with a bang and seal that top spot. The series takes so many of the things that I love from the original Matt Fraction and David Aja comic book series then blends them seamlessly into the Marvel Cinematic Universe we know and love. Though pretty much flawless, I maintain that had the first two episodes been merged into a single episode... and they split the final episode into two parts with more Yelena in them... we would have got more of what made everything so darn good. Like that cast! Jeremy Renner is at his best yet as Clint Barton. Hailee Steinfeld is sublimely perfect as Kate Bishop. Alaqua Cox nailed it as Maya Lopez. Florence Pugh is hilariously great as Елена Белова. And we also get some new characters that are all perfectly cast... along with the return of a character that was better than could have been hoped for. The best Disney+ series from Marvel Studios yet and my favorite show of 2021.

#2 Ted Lasso (Apple TV+)
Following up one of the most flawless seasons of a show ever created had to be a daunting task. There was literally nowhere to go but down. But darned if the people behind Ted Lasso didn't manage to come darn close. Even if they had to utterly destroy one of my favorite characters to get there. And speaking of favorites? Roy Kent... my favorite television character ever... had a run for his money thanks to Sarah Niles playing Dr. Sharon Fieldstone. If I have a criticism it's that the season was all build-up to the endgame coming next season. The conflict came very late and it was just feel-good moments piled on top of each other. But they were such good moments, weren't they?

#3 The Mandalorian (Disney+)
If anything, Jon Favreau, Dave Filoni, and Crew elevated their game to give us something that may be better than even the first season. Partly because they worked hard to push things into new directions... partly because we got a mix of terrific new characters and a return of old favorites... and partly because they know exactly what the fans want to see, then they 100% deliver on it. One has to wonder if they had been in charge of the movie prequels and sequels... would they have ended up as shitty as they were? I'm willing to bet not. Though Book of Boba Fett just started and is not exactly blowing my socks off, so perhaps. Oh well. So long as Disney keeps pumping out amazing content like Mando Season 02, Star Wars will be just fine. And just think... Obi-Wan, Andor, Ahsoka, Lando, and more are coming. Oh happy day.

#4 Resident Alien (SyFy)
I knew I was going to like this show the minute I saw the trailer. Any time you wind up Alan Tudyk and let him run wild you're guaranteed terrific entertainment... and this time they put him in the wacky world of a comic book series that he actually elevated to something even better. Tasked with destroying the Earth, but then crashing into it instead, an alien has to assume the identity of a doctor who died while attempting to repair his ship, avoid being spotted by a boy who can see his true identity, and burying his growing affection for earthlings. The result is hilarious television that has me eagerly anticipating what we're going to get in the second season.

#5 What We Do In the Shadows (FX)
I honestly anticipated that this show would burn through whatever good ideas they had after two seasons then deteriorate into something that's a shadow of what we started with. Well, thank heavens that's not the case, because the third season was every bit as great and sets things up for yet another spectacular season. Or maybe I'm just in love with Nandor. But who isn't in love with Nandor? Consistently one of the funniest shows on television and they haven't had a bad episode yet.

#6 The Falcon and The Winter Soldier (Disney+)
This show was badly hampered with having to deal with the ramifications of half the planet being blipped into existence after five years dead from Thanos snapping his fingers. Had they been able to just work towards Sam taking up the mantle of Captain America without spending so much time being distracted, we would have gotten a better show. But it is what it is, and there was enough on-screen magic in the Sam/Bucky love/hate relationship to make this series far more entertaining than it had a right to be. The Flag Smashers weren't great as a threat. Counterfeit Captain America was just a way to set-up future shows (and did not deserve the hate he got online). And the arc for Sharon Carter is something that's likely going to either be forgotten... or hung around the neck of a future Marvel Studios series.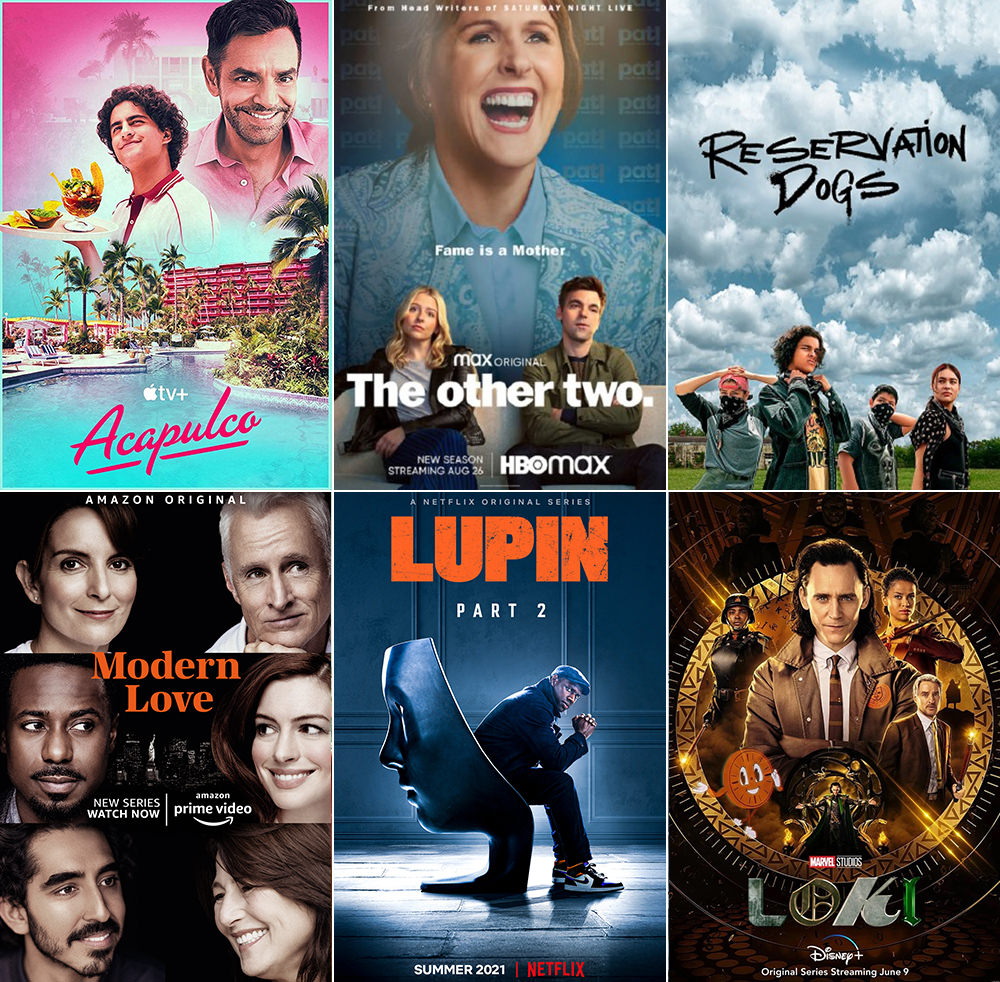 #7 Acapulco (Apple TV+)
I have quickly become a major fan of Eugenio Derbez. His performance in the Overboard remake was classic... he had a fantastic bit part in one of my favorite 2021 films, CODA... and he's done a load of fantastic voice work for various animation. So when I heard that they were building a series around his character from How to Be a Latin Lover AND he would be reprising the role? I had no idea what to expect. But it wasn't the sweet, charming, funny, and wholly entertaining show. There's no word on if we're getting a second season, but I sure hope so.

#8 The Other Two (HBO Max)
In their first season this show was so horribly demented and wrong... but all the more hilarious because of it. This time around they did not back down, going to even worse places to mine for laughs, and striking gold more often than not. A part of me is embarrassed that I like this show so much, but it just can't be helped. It's so very, very funny. But also so very, very wrong.

#9 Reservation Dogs (FX/Hulu)
All I had to hear was "Taika Waititi is producing" and I was in. But in for what I had no idea. A comedy about indigenous teens who want to move from Oklahoma to California, but have to commit petty crimes in order to ear the money they need to do it? Okay then. The result is a lot of subtle, deadpan humor that always seems to land perfectly. The show is funny and painfully relevant, making it must-see television for anybody who appreciates shows like that.

#10 Modern Love (Amazon Prime)
You know how I found this show? I heard a song, liked it, then found out that it was the theme song for this show which is now in its second season. Based on a popular column from The New York Times by the same name, each episode is a stand-alone story which talks about love in all its forms (BONUS: in the first season all the episodes end up tying together at the end). Charming, funny, awkward, heartbreaking, uplifting, painful, and wonderful... this series is all the things that love can be.

#12 Lupin (Netflix)
Netflix really hurt the show by splitting the first season into two parts because the second half was not as good as the first. And yet it's hard to get too caught up in all that when Omar Sy's gentleman thief is so compelling a character. Revenge stories are as old as time, but you'd be hard-pressed to find one done as stylish as this. At the end of the season Lupin is essentially forced to cut off some dead weight that was dragging the show a bit. What I hope that the writers do is have the guts to leave it be so they can focus on Lupin alone, which is when the show absolutely shines. Of course I have no idea if it will even get a second season, but given how it was Netflix's most-watched non-English program before Squid Game came along, it's likely pretty likely.

#13 Loki (Disney+)
I'm just going to get this out of the way... the Loki variants like Gator Loki and Thor Loki and Female Loki were not something I thought worked very well. What did work exceedingly well was everything else. The writers wisely decided to snap Loki out of his element and comfort zone so he has to evolve past the merry prankster he was before he "died" in Avengers: Endgame. And it was handled so beautiful. After getting apprehended by the TVA (Time Variance Authority) AKA "The Time Police," Loki thinks that all his problems will be solved if he can just get The Tesseract and its Infinity Stone back after the TVA took it from him. Then he will have the power to do whatever he wants. Again. But very quickly he finds out that the Infinity Stones which Thanos used to eliminate half of all life in the universe are mere trinkets to everybody working at the TVA. That "The Power" he's been chasing since Avengers was never what he thought it was. And at that moment when you can see it dawn on him (holy shit is Tom Hiddleston an amazing actor) is when you realize that this series is not going to be what you thought it was. And the story was darn good... if not a bit meandering.

#14 The Underground Railroad (Amazon Prime)
Historical fiction is a tricky business. When you stray too far from the real events, you might very well diminish the things you are trying to tell your story around. And here we have a series where the Underground Railroad is made into a literal railroad?!? It's like... why would you do that? And I very nearly skipped out until people started telling me how good it was. And while I'm ultimately glad that I saw it, I'm the first to admit that it's difficult to watch at times... a boring slog at times... and challenging to the viewer always. It ain't going to be for everybody. But what makes it so worth it is how beautifully the series is crafted. When you get to those bright spots, the show's epic scope unfolds and reveals itself. This show is the very definition of "powerful television." If you think you can handle it, you really should.

#15 For All Mankind (Apple TV+)
There's something to be said for how this series coasts on the sheer quality of it all. It's not the best thing on television. But everybody working on it treats it as if it is, and that goes a long, long way. In my opinion, For All Mankind is often times as good as it was the first season, but there are still issues that pop up which have me scratching my head. They're 100% invested in this being an alternative history series one minute... then it feels as if they're scrambling to fill in the gaps the next, and it makes for an uneven ride. Like they come up with really great ideas in the broad-strokes, but don't know where to go with the details from time to time to get there. But it's still a very good ride. Thrilling even. And one that I'm happy to keep taking.

#11 Magnum, PI (CBS)
This series started so brilliantly, but then kinda lost its way after the first two seasons. The chemistry was there. The cast was still amazing. And Higgins was so great that she could carry her own show. But it just wasn't working as well as it once was. Then they kinda earned something back in this, their fourth season. I still find myself hoping for more Rick &amp T.C. because they are woefully underutilized too much of the time, but am glad that they're still around at all. Their job is to ground the show more often than not, and they excel at that.

#16 WandaVision (Disney+)
For a Marvel Studios fan like myself, WandaVision was a tough sell. Because it was The Vision and the Scarlet Witch from the Avengers... but not really. Told through the lens of old television shows and exploring Wanda's trauma over losing The Vision, I understand why the show was so critically acclaimed. Honestly I do. I'm just not one of the people who was able to buy into it. I wanted to see the characters have some cool super-hero stuff to do, but we didn't really get that.

#17 Hacks (HBO Max)
Jean Smart completely caught me off guard with her performance in HBO's Watchmen series. She was absolutely glorious and pushed that role in a direction that not many other actors could. I can't even say if she knew the material she was a part of... but she knew her character. She had a handle on that much from her first moment. And now she's done it again with Hacks. As an aging comedian in Vegas who is forced to take a look at herself and her world after taking on an assistant (who has problems of her own, let me tell you). I don't think that every episode is a home run. But overall as a series I was digging it. And that was mostly thanks to Jean Smart, who I am paying very close attention to for whatever she decides to do next.

#18 Mythic Quest (Apple TV+)
The first season was exceptional. I loved every minute of it. And their COVID special was one of the better ones. But this second season, while still pretty darn good, is no longer must-see television for me. It's more of a "I like it... but when I get around to watching" kind of show. Maybe it's because the whole "behind the scenes of a video game company" blew through so much funny in the first season that it's running out of gas? Maybe I've grown tired of it already? That very well could be, because I know people who think that the second season is better than the first. So I dunno. I still love the characters and what they're trying to do... I'm just not as hyped for the result as I once was. Still made my list though.

MUST SEE TELEVISION SPECIALS AND DOCUMENTARIES...
This year was a weird one in comedy because one of my all-time favorite comedians was cancelled... or is getting cancelled... or is somebody people want canceled... or whatever. In an effort to clarify the material he used in a previous special about the trans community, Dave Chappelle actually dug himself into an even deeper hole. And it's pretty cringe because he devoted so much time to it. But even worse? It wasn't very funny. The ultimate comedy sin. He would have been better of saying nothing, but instead we get a huge chunk of an entire special prefaced with "I can't be transphobic because I have a trans friend who died." A horrible take to be sure. I don't think the actual material was as bad as its been blown up to be, but it's my least favorite of his specials, so there's that. What were my favorites this year though? Glad you asked...
Nate Bargatze: The Greatest Average American. It's not up to the level of The Tennessee Kid, but its still observational humor that's very funny done very well. The fact that Bargatze can manage all this while performing clean? That takes quite a lot of talent.
Bo Burnham: Inside. A good chunk of this lockdown experiment was disturbingly funny... but in a way that's different from the Bo Burnham material he's given us so far. And it's great fun. But the best part? He's got some seriously good songs in here. One in particular, Content, is so good that I wish he'd flesh it out to a full song. I'd buy that single.
Tig Notaro: Drawn. Tig is already one of the funniest people on the planet, but that wasn't good enough so she decided to kick it up a notch and animate a special. And the result is even more hilarious than I expected.
Jimmy Carr: His Dark Material. I always hesitate before saying that I like anything Jimmy Carr does because he's so terrible that I'm almost afraid of getting "canceled" by osmosis. If you're a Carr fan, this is more of what you love... horrible takes on things made hilarious.
Phil Wang: Philly Philly Wang Wang. I actually watched this twice. The first time I was only kinda paying attention. But then the ending had me wanting to sit through it all over again to see what I missed. This is terrible, but I actually think it gave me a better appreciation for the show.

TELEVISION HONORABLE MENTION...
Schmigadoon! I'm not a "musicals" guy, but this was incredibly entertaining with a cast that's perfect.
The Expanse As of this writing, we're only half-way through the final season of the show, and I'm honestly not sure what to make of it. The first episode was 100% wasted. They got six... SIX!... episodes and just threw away 1/6 of it. Then things picked up. Whether or not they can manage to land this plane without shitting the bed is anybody's guess. But Im willing to give them the benefit of doubt that they can. But after that first episode? Well... we won't know until next year's list, will we?
Squid Game. I'm a big fan of South Korean films and television, and this was the one that really broke the genre wide open for the US... becoming one of Netflix's most popular shows. And while I liked it (and liked it a lot) there were some leaps of logic that were just too far for me to make and kept it from breaking into my list.
Love, Victor. The first season of the show was very well done, expanding on the show in a way that felt fresh while giving fans more of what they liked about the movie Love, Simon. The second season really took a bizarre turn, adding unnecessary drama where it didn't really need to exist. Victor's life would be interesting enough without it. Hopefully they'll figure this out in the next season, if we're getting one.
Pen15. The final season was as good as it ever was and I was sad to see it end. Though maybe going out on top was the smart move when it comes to a show like this? Probably.
CSI Vegas. Was the revival anything exceptional? Not really. Were the murder mysteries the best you'll find on television? Not even close. But it was a chance to see Gil Grissom, Sara Sidle, and Jim Brass return to our television screens, and I was all for that. The overall mystery arc of who framed David Hodges was actually solved fairly early... but they didn't take it home until the very last episode. At which point it was almost moot. But it was all good. I'm guessing it will get renewed without William Petersen and Jorja Fox, at which point the only reason to watch will be gone. But I'm might give it a go.
LuLaRich. I was on a real documentary tear for a while there, and this one was pretty crazy from a "how in the heck did this actually happen?" kind of way. But there's a lot of that going around, so... yeah.
Superman & Lois. This is not the best Superman television show. That would be Superman: The Animated Series. But it's likely the closest thing to being the best live action version of the character since the first two Christopher Reeve movies. Part of it is just how good Tyler Hoechlin is in the role. But Henry Cavill was a good Superman, and his movies suck. So I think it comes down to the version of Superman that we're getting. This is a more hopeful, measured take, and one that you actually want to watch. Doesn't hurt that this show is taking big swings with the stories and everything looks so fantastic on top of that.

ANIMATION TO WATCH
Invincible. This was an animated comic book series which I seriously expected to be dulled down to the nib. And I was oh so wrong. If anything, they took the source material to the next level and gave us a violent, bloody, take-no-prisoners approach to super-heroes that even puts The Boys to shame. Very well done adaptation that's not for the faint-at-heart.
Rick and Morty. The fifth season is more a mixed bag than ever before and there were episodes that I thought were pretty bad. But when the show is good, it's one of the best things ever made, so I kind of end up in the middle somewhere.
What If.... I gotta say, the thing that I will forever take away from this series is that it was the last time we got to have Chadwick Boseman as Black Panther. Otherwise I was kinda underwhelmed. Individual episodes were often short-changed in service of the bigger narrative being built, and I don't think the payoff was worth it. Still... nice animation, great talent, and a few really good episodes made this something I was happy to see in 2021.
Inside Job. Inappropriately funny. But in a good way! Actually more consistent an animated series than Rick and Morty right now! Never thought I'd be saying that!

HAVEN'T SEEN, MIGHT HAVE MADE MY LIST
Only Murders in the Building. I have never found Martin Short funny. Ever. Not once. I might have cracked a smile or two when he was on SNL, but his other roles have all rubbed me the wrong way. So I was going to take a big ol' pass on this show. Until the rave reviews started pouring in.

OVERRATED BUT OKAY
The White Lotus. The premise of this show was alright. Horrible wealthy white people doing what horrible wealthy white people do... exploit everything and everybody without giving it another thought. And while there were some fascinating characters, interesting scenarios, and an idea that worked, the implementation fell flat for me. Trivial situations are taken too far, which was great... until they went more than too far. At which point the show faltered for me.
Mare of Easttown. You will get absolutely no argument from me that this was a well-written show with a cast to die for. But there's a point when you can just look at this as one of those British police dramas being stretched to tedium and so mired in drama that it can't breathe. We've seen this show a million times before. Not always done this well, but enough that I was hoping for something more.
Succession I honest-to-God don't get it. For all the hype, I expected to find Jesus while tuning in to this show... but instead I found writing that wasn't great, acting that wasn't great (with a few exceptions), and stories that were outright boring. None of the devious intrigue I was counting on was present... the episodes unfolding more like a bad comedy than a dark comedy done well. After a hugely disappointing first season, I started powering through... despising how Nothing. Ever. Changes. No. Matter. What. Happens. and that the status quo would always be preserved. Then things started improving a bit. Season 03 was the best of the lot, but that's not saying much from my perspective. The series is "just okay" and, in my humble opinion, grossly overrated.
Maid. The show is dark and depressing. And I don't know that the "happy-ish" ending makes up for sitting through it all. Because while you are definitely given reason to cheer for the protagonist as she does whatever she can to make the best life possible for her daughter and herself while also maintaining her honesty and integrity... there are times that she just doesn't earn it. At which point you're supposed to be all "but at least she owns up to it." And it's like... yeah... but by then I've stopped caring. The message of the show is how some people just can't get a break in a system designed to oppress them. And we know it's true because we see the result of it every day. But when you stack crap on top of that which makes you not care about the hero of the story, you risk losing the viewer. And this show lost me like that too many times, even while it was okay as a whole.

DISAPPOINTING
Lucifer. Most definitely didn't stick the landing. Not terrible, it's just that this season didn't live up to what came before. And I kinda get it. It was supposed to end on the fifth season, but then Netflix changed their mind, so the writers had to undo what they did and find a compelling way to keep things going. It didn't work for me.
Star Trek: Discovery. The last season was so phenomenally bad that I decided I was done with it. But then I figured I might as well give it another try since they were kinda rebooting it, and immediately wish I hadn't bothered. How can a show which was so frickin' incredible in its first season... fall to something quite mediocre in the second... fall even further to total weepy, whiny shit in the third... and then hit rock bottom by completely dying a horrible death in its fourth? How? It's almost as if the writers were trying to kill it.
The Wheel of Time. I've never been a huge fan of the books, as they feel so bloated, but I thought that they might streamline things enough to make a good TV show. AND it's got Rosamund Pike in it. Well, despite some decent special effects, I was bored to tears through the first two episodes and couldn't go any further than that.
Masters of the Universe: Revelation With Kevin Smith runnning the show, I was anxiously awaiting the series to debut. And when it did I was in for crushing disappointment because I didn't like any of it. Well, maybe the voice cast. But not the stories or anything else that matters. What kills me here is that the second take on the material in 2021, He-Man and the Masters of the Univers, which was meant to be more kid-freiendly was actually the far superior show.

TOTALLY SHIT THE BED
Foundation. I don't get it. I honestly don't. This critically acclaimed show is horrendously shitty. It brings new definition to the word "shitty." Boring, plodding, meandering, senseless drama that totally fucked over the source material by dragging it out so they can keep the actors around for longer. God. I would hate this pile of shit even if I wasn't a fan of the books.
Jupiter's Legacy. Jesus. Here we go again. Take source material that CANNOT FAIL but then adapt it so badly by folding in prequel shit that NOBODY cares about and watch it fail spectacularly. And so it went.
Kevin Can Fuck Himself. I was highly enthusiastic to see what Annie Murphy was going to do after her turn on Schitt's Creek. And the concept for this show seemed original and interesting. Until I watched it. Holy crap what a joyless, boring, awful show. Which can totally work... but not like this. Not even remotely like this. In the end I was saying This Show Can Fuck Itself.
Posted on Wednesday, December 29th, 2021

Much like in 2020 I found myself listening to old favorites rather than seeking out new stuff to enjoy. Comfort food for difficult times and all that. Once again it was 80's pop, classic old-school rap, and 80's metal that dominated my audio consumption. But there were a few bright spots to be had where new music made its way into my rotation, so let's get on with my favorites from this year...
#1 Silver Crane by Fly By Midnight
Here's yet another case of a band that I never knew existed somehow ending up reaching me and I become consumed with their music. Not only did I listen to Silver Crane over and over and over again... I had Alexa playing through their entire catalog for many, many days in 2021. There's few missteps in their body of work and I love most everything they've released. But focusing on my favorite album of 2021 (by a wide, wide margin) for a minute... there's a well-crafted pop sensibility that threads its way through every track, starting with the mellow beauty of Borrow Your Time... working it's way through lush tracks like Be Right There, Tomorrow, and When She's Dancing... then ending with the wonderful North... a dozen fantastic tracks that made my 2021 a little more bearable.
And because, like me, you may never have heard of Fly By Midnight before, here's more tracks that aren't off of Silver Crane, but might encourage you to look at their back-catalog...
And here's the first song I ever heard from Fly By Midnight the day after my birthday in the Year of Our Lord, 2021... originally released back in 2015!

#2 = by Ed Sheeran
It was Overpass Graffiti that got me. Lord what a beautiful song. — I have never been able to get into Ed Sheeran. I like a few tracks here and there, but his albums just don't appeal to me for some reason, even though he builds the kind of music I should like. But then I took a ride on = and ended up digging it. No idea if this is because he's changed... or I've changed... but there's an old-school pop undertone that's gone through a modern filter that hit just right for me in 2021 (and Overpass Graffiti is such an amazing track).

#3 Star Crossed by Kacey Musgraves
And she's back. One of the biggest surprises (to myself) when it comes to these lists was the fact that her previous album Golden Hour ended up being my second favorite album of 2018. I don't know that I like this album more... it's difficult to replace your first love... but it's sure got some beautiful tracks on it. Taking a page out of Taylor Swift's book, Kacey seems to be working through her divorce and taking us along. Or maybe I'm just reading that context into it, but regardless of where it came from, the music here is every bit as lovely as Kacey herself.

#4 Good Things by Dan + Shay
Country pop is not exactly a genre I seek out... but after hearing Dan + Shay provide the incredible Christmastime track Take Me Home for Christmas to the film Dashing in December last year, I've been all over their music... including their latest release, Good Things, which is exactly what the name implies. Track after track of good things. Highly enjoyable hopeful music that is just what 2021 needed.

#5 Times by SG Lewis
Disco is not dead, apparently. And maybe if it stayed as creative as this album, it wouldn't be dead at all? Interesting to note that while SG has been sneaking around for a while... releasing EPs and collaborating with, well, everybody... this is his first full studio album. Once again collaborating with a who's who of music (including Nile Rodgers, Robyn, Lucky Daye, and more!) this welcome release is a total treat from start to finish.

#6 Screen Violence by CHVRCHES
CHVRCHES was the opening act for a couple tours I saw, and it was always a pleasure to listen what they were up to... even if I didn't play their music when I get home. All that changed with Screen Violence. Lauren Mayberry rips through track after track with a sublime dedication to the lyrics that you can feel. The songs are an eclectic mix of pop-rock with a bit of an edge, and listening through the album is a rollercoaster of feels that you don't want to end.

#7 Montero by Lil Nas X
Nothing quite like an entire album of "fuck you" to all the people who made your entire life hell, and nobody did it better in 2021 than Lil Nas X. People told him he was going to hell for being gay? Fine, he'll take you to hell in a banger track with a video to match. People told him he belongs in jail for his subversive music and videos? Find, he'll take you to prison in all the ways they fear. But the album isn't just a kiss my ass dis release, there's some really good songs to be found that stay with you in the best way possible. And to those people mad about his success? GOOD!

#8 Music Of The Spheres by Coldplay
Say what you will about Coldplay, but they know how to construct a song that gets stuck in your head. They also know how to create killer videos that take what you think you know about their music and push it into a different direction entirely. Music Of The Spheres isn't revolutionary... it isn't even evolutionary... for the band, but it's filled with one terrific song after another, including a banger collaboration with South Korean sensation BTS (no idea how in the heck that happened!).

#9 Tasjan! Tasjan! Tasjan! by Aaron Lee Tasjan
Weird. Eclectic. Interesting. It's really hard to come up with a way to describe exactly what this album is. So I won't even try. I'll just say that it's a highly listenable mix of cool tunes that seeped into my playlist many, many times in 2021.

#10 Future Past by Duran Duran
I struggled as to where this should fit on my list... or whether it should even be here at all. On one hand... it's freakin' Duran Duran. But on the other hand? Hardly their best effort. But even a middle-of-the-road album by the band is something I like better than most of what got released in 2021. There's certainly some tracks that work better than others here... Beautiful Lies is a wonderful return to form, for example... but something is lacking when compared to their previous two albums (All You Need is Now and Paper Gods) which were both amazing.

HONORABLE MENTION: Firebird by Natalie Imbruglia
It's interesting how "The Torn Girl" is so much more than that one great track, but she doesn't seem to be able to break free of it. There are worse things, I guess, but she's such an amazing artist that I wish people would give her other music a try. Firebird is a perfectly lovely album that's all the things you love about her best-known song.

HONORABLE MENTION: You Signed Up For This by Maisie Peters
If I were to sum up You Signed Up For This it would have to be something like "eminently listenable pop." Great tracks that are nicely constructed and wonderfully performed that you can just listen to on repeat while working, cleaning the house, or talking to your cats. That probably sounds like a dis, but it's really not. Maisie Peters can effortlessly engrainin herself into your everyday life in a way that it feels like it could be a soundtrack to your existence or something. Even if that doesn't apply to you, this album is well worth your time to explore.

ALSO WORTH A LISTEN: Planet Her by Doja Cat
Welp. If anybody knows how to inject their music into the social consciousness by exploiting social media, it's Doja Cat. She was everywhere, and I was hypnotized into addiction so badly that I was listening to Her even when social media was nowhere to be found. So many fantastic tracks dripping with her delicious voice. And then she put some real money into her videos that were worth a look many times over.

ALSO WORTH A LISTEN: Fast Idol by Black Marble
Gotta love it when an album is released that feels like it was dropped into a black hole in 1986 and has only now emerged! I don't know exactly where Black Marble gets their influences, but it feels like it must be a smorgasbord of 80's synth-pop acts, which is exactly why I love Fast Idol so much.

ALSO WORTH A LISTEN: Human by OneRepublic
One Republic is one of those bands that is nothing if not consistent. They have a formula. It works. And they revisit it with each new album. In many ways, I appreciate that because their formula totally works for me. On the other hand... boy it would be nice if they would push into new territory, because I'm not sure how many more albums of the same thing will keep me interested (see: Imagine Dragons, who also released an album this year). In the meanwhile though? This is another good album by a band I really enjoy.

ALSO WORTH A LISTEN: Voyage by ABBA
I've been a huge ABBA fan for as long as I've been listening to music. And just when it seemed that we would never hear anything new from them as a band ever again, here comes this gem. What I would have loved is an album that burns through a dozen dance tracks that they do so well, but that's not what we got. Sure there are tracks like Don't Shut Me Down that are great, and sweet tracks like When You Danced with Me and No Doubt About It that I played more than a little bit... but Voyage is stuffed with slow, plodding tracks that are a nice listen, but not really what I hoped for. All I CAN hope for is that ABBA isn't done yet and will give us another album so I can combine the best of both for the album I've been waiting for.

FAVORITE MUSIC VIDEO OF 2021: One Right Now by Post Malone and The Weeknd
It came out on November 15th and I still haven't stopped listening to it almost daily. My appreciation for both Post Malone and The Weeknd just keeps growing, and it's because of tracks like this. As if that weren't enough, the video is pretty epic...

FAVORITE SURPRISE SINGLE OF 2021: STAY by Kid LAROI and Justin Bieber
I discover a lot of music on TikTok, and one of the most inescapable in 2021 was a snippet of STAY which, much to my surprise, is actually a darn good pop single...

FAVORITE THROWBACK TRACK OF 2021: Cold Heart by Elton John and Dua Lipa
Some songs will never get old. A great many tracks by Elton John fall into this category, and when he dusts them off for a modern take like this, I'm all ears...

FAVORITE PREVIEW OF 2022: 23 by Sam Hunt
My fifth favorite album of 2020 was a rare Country artist who knows how to craft some really nice songs. This September he dropped a preview track from his upcoming album and it's exactly the kind of thing that makes me love his music.